Robbinsville, North Carolina is an uncrowded mountain community located in the heart of one of the most popular outdoor adventure areas in the entire state. Scenic drives, waterfalls and plentiful hiking can be found in the secluded mountains of Graham County.
While Robbinsville isn't a much-publicized destination in NC, it is well-known and well-loved by outdoor adventure enthusiasts, especially motorcyclists. Those who have visited the area often come back looking for seclusion and privacy while enjoying the peace of nature.
Our Guide to Robbinsville, NC shows you the must-see attractions in this region close to the Tennessee border. While there are plenty of popular attractions to enjoy, perhaps the biggest draw of Graham County is just being able to relax outdoors without an itinerary or schedule.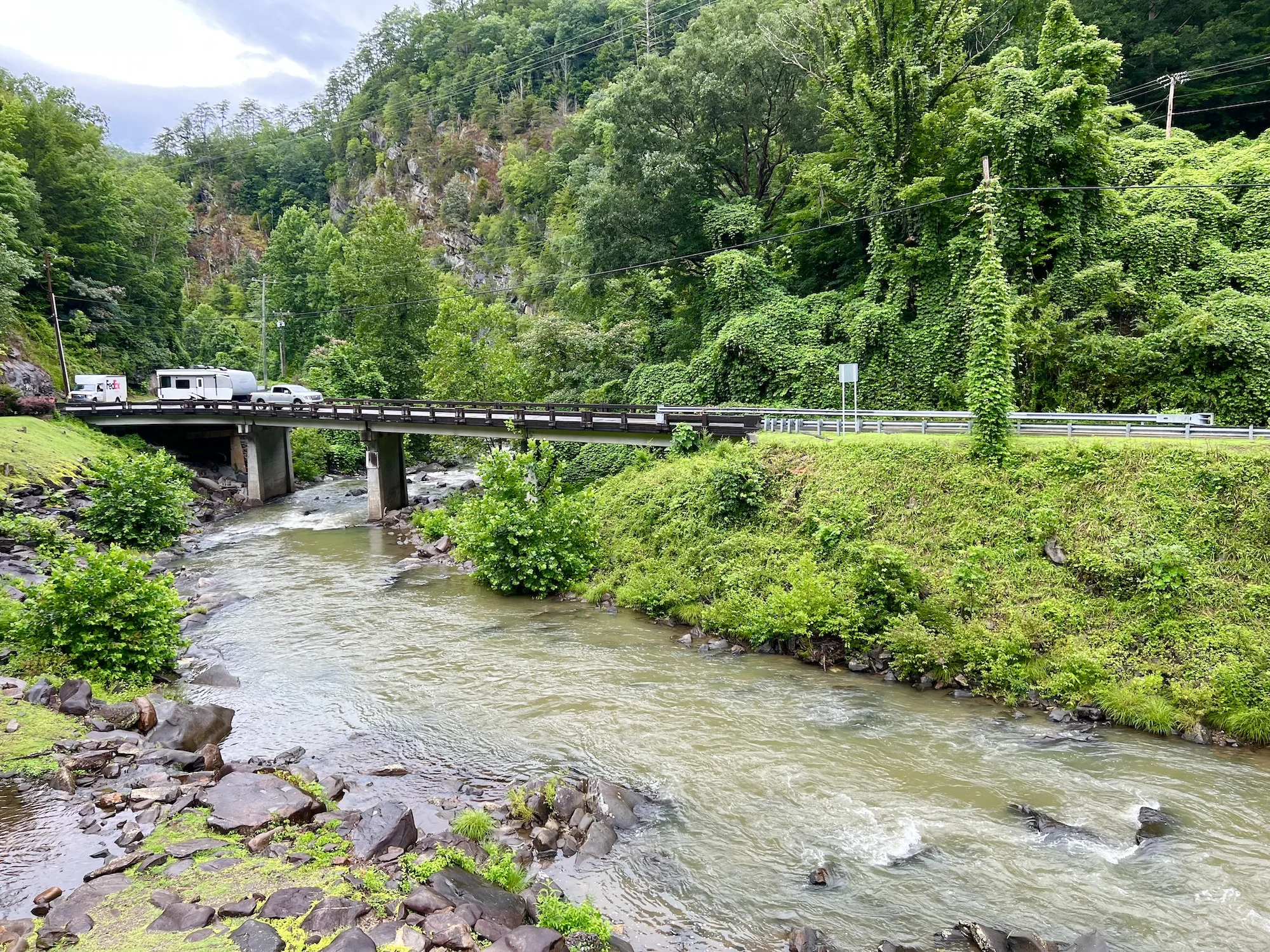 Driving Distances
While Robbinsville is in a part of North Carolina that most people are unfamiliar with, it is a destination that is not as far away as you might think.
Asheville, NC to Robbinsville: 1 hour, 45 minutes
Charlotte, NC to Robbinsville: 3 hours, 45 minutes
Raleigh, NC to Robbinsville: 5 hours
Atlanta, GA to Robbinsville: 2 hours, 45 minutes
Chattanooga, TN to Robbinsville: 2 hours, 30 minutes
Knoxville, TN to Robbinsville: 1 hour, 45 minutes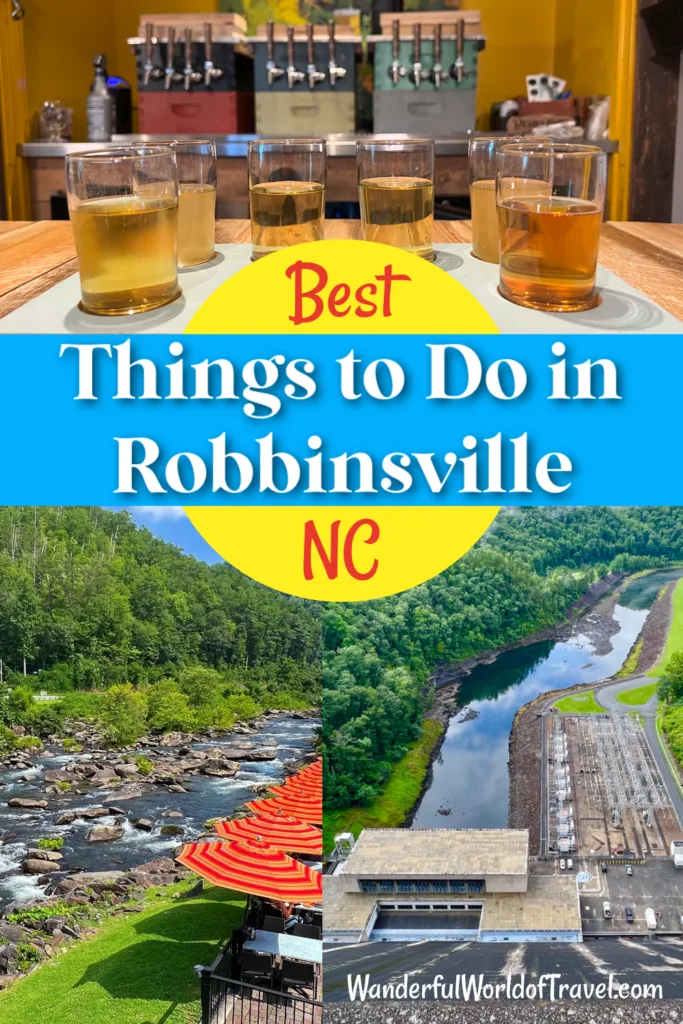 Helpful Tips for Visiting Robbinsville
Cell service is very limited in this area of North Carolina. It is wise to download maps and/or have paper maps and directions available when driving the roads.
Roadways in Graham and neighboring Swain county are generally curvy and windy. If you have a tendency towards motion sickness, be sure to take appropriate precautions, including these ideas for how to prevent motion sickness.
When traveling to Robbinsville and Graham County from Tennessee, be VERY careful that GPS doesn't route you through the "Tail of the Dragon" on Highway 129 (see below) if you are not looking for a dramatic and curvy drive! This is ESPECIALLY important if you are towing a trailer or boat.
Services, including stores and gas stations, are limited. It is wise to pack drinks and snacks (such as one of these 269 non-perishable foods) to enjoy at your destinations because there are few restaurants or stores available.
Motorcyclists and sports car enthusiasts love this area because they can test their skills in the curves. Regardless of what you drive, it is considerate to pull over when driving slowly and there is someone behind you because there are no four lane roads for passing. Everyone behind you is stuck behind you with no passing lanes and no passing zones available in the curves.
While you certainly can bring an RV or trailer through the area, keep in mind it will definitely be more challenging with the elevation and the curvy roads. In fact, the road to Fontana Dam from Robbinsville has two 10 mph-curves because the turns are so tight. As RVers ourself, we wouldn't want to drive these roads while towing, but everyone's tolerance of stress is different!
Medical care is not close by in this community so don't do stupid stuff out on the trails!
Definitely stop at the Graham County Visitors Bureau once you get into town! Their office is full of information, from maps and travel guides to a small museum. Since cell phone reception is scarce in this area, you definitely want to have some paper maps and itineraries on hand just in case!
Things to Do In Robbinsville
Wehrloom Honey
For all things sweet, stop at Wehrloom Honey and Taproom, just beyond Pineapple Whip (see below) and very close to the turn off on Highway 129 for Joyce Kilmer Forest.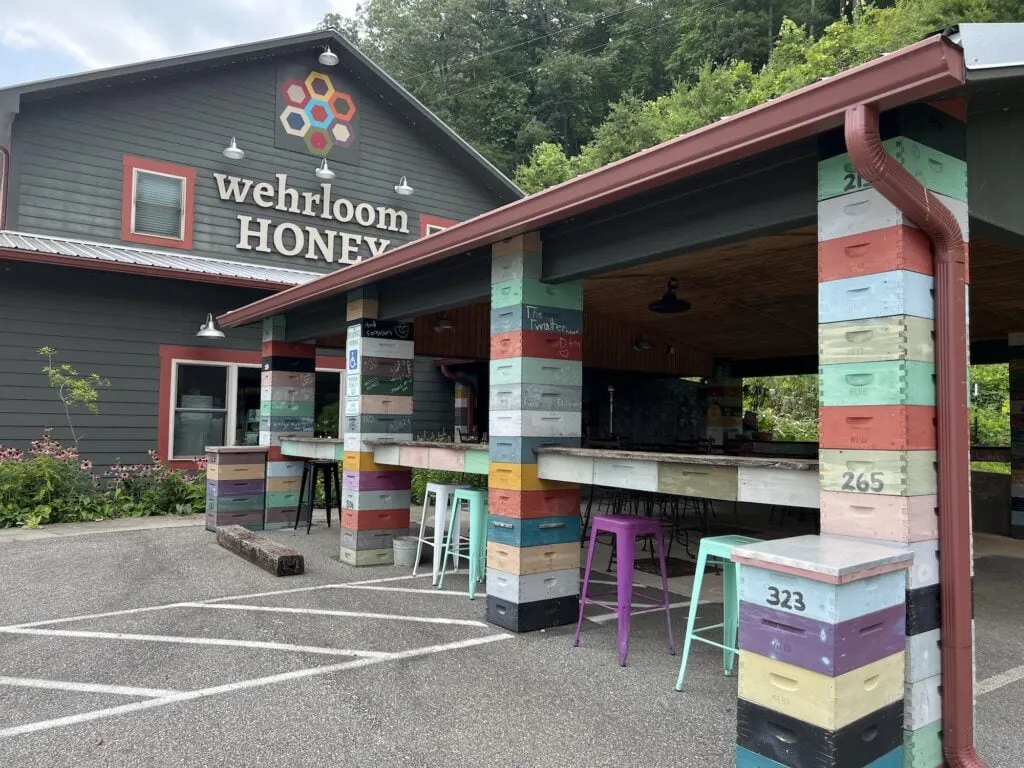 Wehrloom's gift shop has an amazing selection of flavored honey, as well as a tasting bar to try out the unique flavors.
In addition to jars of honey, you can find other honey products, such as body lotions, lip balms, soaps, shampoo bars and candles.
At the small tap room, you can try a tasting of their meads, an alcoholic drink made with honey. There are quite a few unique flavors, such as chocolate and coffee, as well as a jalapeño mead and a cherry sour.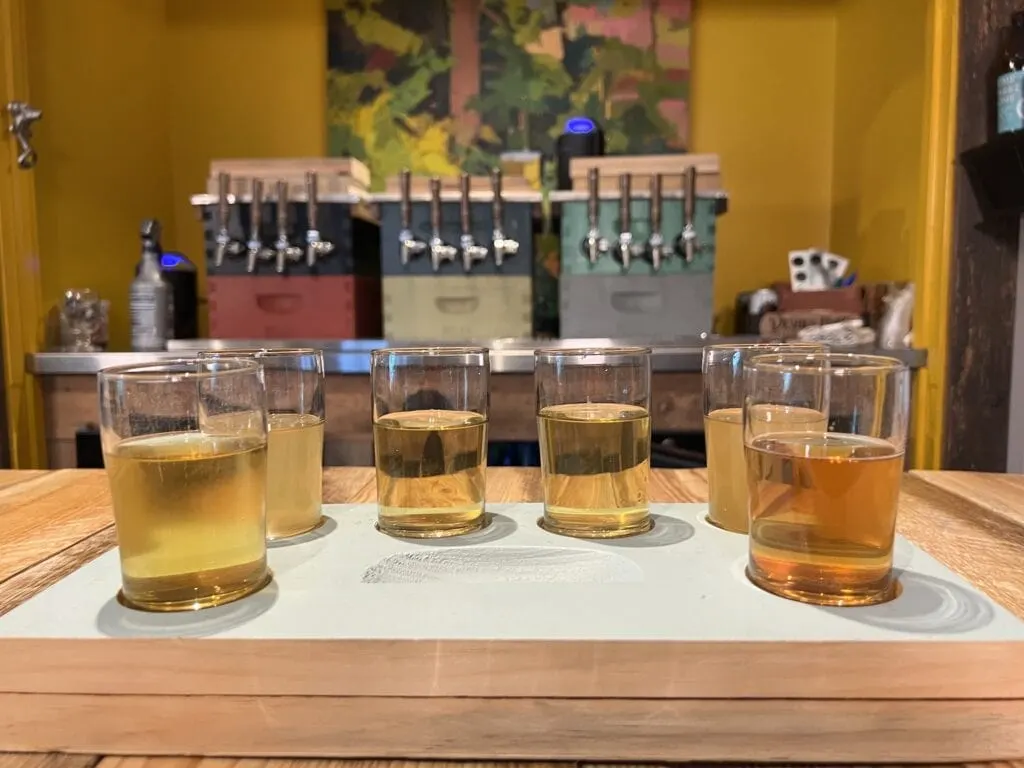 Joyce Kilmer Memorial Forest
This 3,800-acre forest located inside Nantahala National Forest was set aside in 1936 and dedicated to Joyce Kilmer, a poet who was killed in action in World War I during active duty in France. The Bozeman Bulger Post of the VFW asked the U.S. government to create a monument to Kilmer in 1934 and this protected old-growth forest that had escaped lumbering was chosen in tribute.
Kilmer's poem "Trees" is a beautiful ode to the beauty of nature.
Joyce Kilmer Memorial Forest is an old-growth forest that has not been touched. More than 100 tree species are found in the forest, including some that are over 400-years old and many that are over 100-feet tall and 20-feet in circumference.
Enjoy a walk through this wilderness on the 2-mile loop trail with upper and lower loops that each have a different variety of trees. Th big trees are located in the .75 miles upper loop.
Among the trees you will find are:
Poplar
Hemlock
Red Oak
White Oak
Beech
Sycamore
Basswood
This forest is part of the 17,000-acre Joyce Kilmer-Slick Rock Wilderness, part of the National Forest Service. It is adjacent to Great Smoky Mountains National Park.
Yellow Creek Falls
A short 0.3 mile trail off of the main road through Robbinsville will bring you to Yellow Creek Falls. This waterfall is on Yellow Creek, which is a major tributary to the Cheoah River.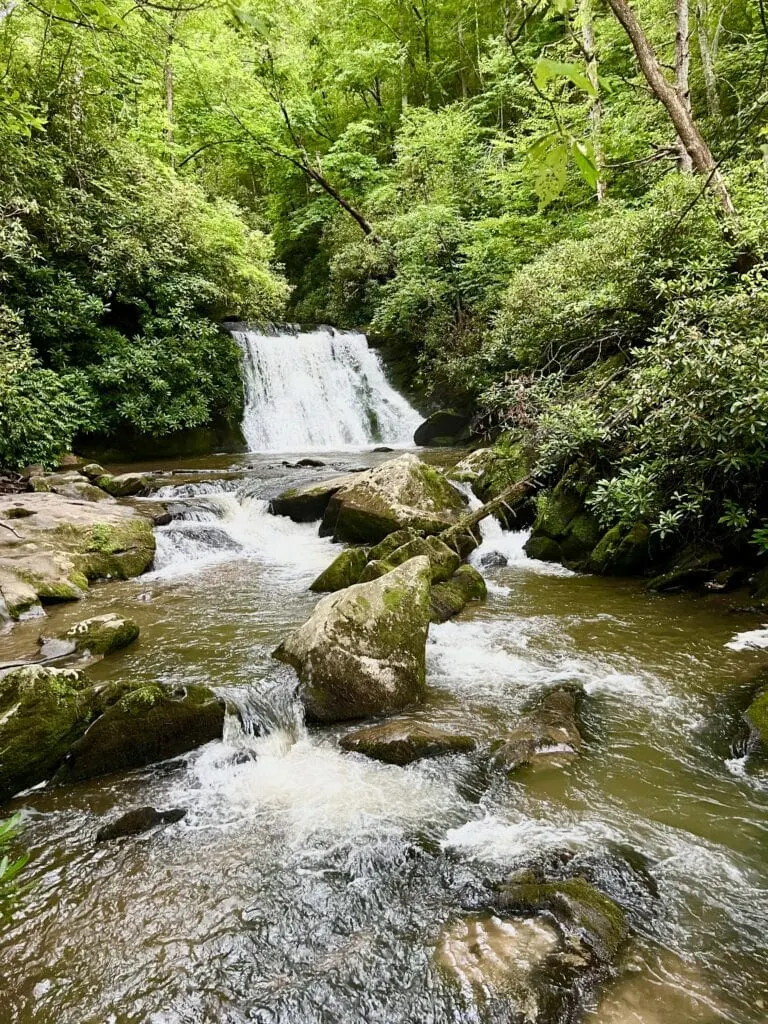 While the trail is short, it is not easy. About 20 feet into the trail the path starts inclining and doesn't stop. The uneven trail is full of rocks, stairs and tons of exposed tree roots.
Personally, I found the trail more difficult than I was expecting because of the tree roots which are not easy to walk on.
Many people like to swim at the base of Yellow Creek Falls, though you should practice extreme safety and the waters will be COLD!
Allow at least 30 minutes to hike round trip and enjoy the scenery.
Tail of the Dragon
Tail of the Dragon is the 11 mile stretch of US Highway 129 from Robbinsville, North Carolina to Maryville, Tennessee. There are 318 curves in the road, making it one of the most popular destinations for motorcycles and sports cars.
Fontana Dam
The tallest dam east of the Rockies, Fontana Dam is part of the Tennessee Valley Authority (TVA).
Fontana Dam was built in response to the historic need for electric power at the start of World War II. It was finished in just 36 months, supplying hydroelectric power to ALCOA, which was creating aluminum used to make planes, as well as Oak Ridge National Laboratory, a then-unknown U.S. Department of Energy nuclear research laboratory.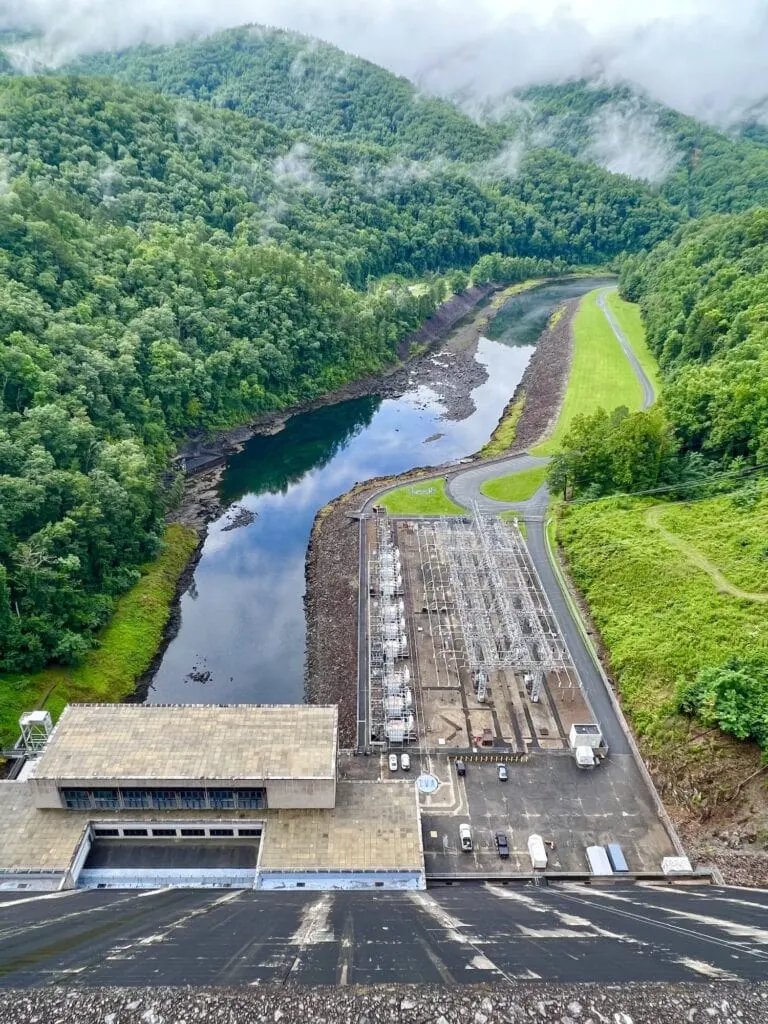 The 480-foot dam creates the Fontana Reservoir with 238 miles of shoreline.
The Fontana Dam Visitor Center explains the historic need for hydroelectric power in the 1940s and the engineering marvels that were developed to supply electricity. Explore the dam from above by walking across the dam, which is also a part of the Appalachian Trail.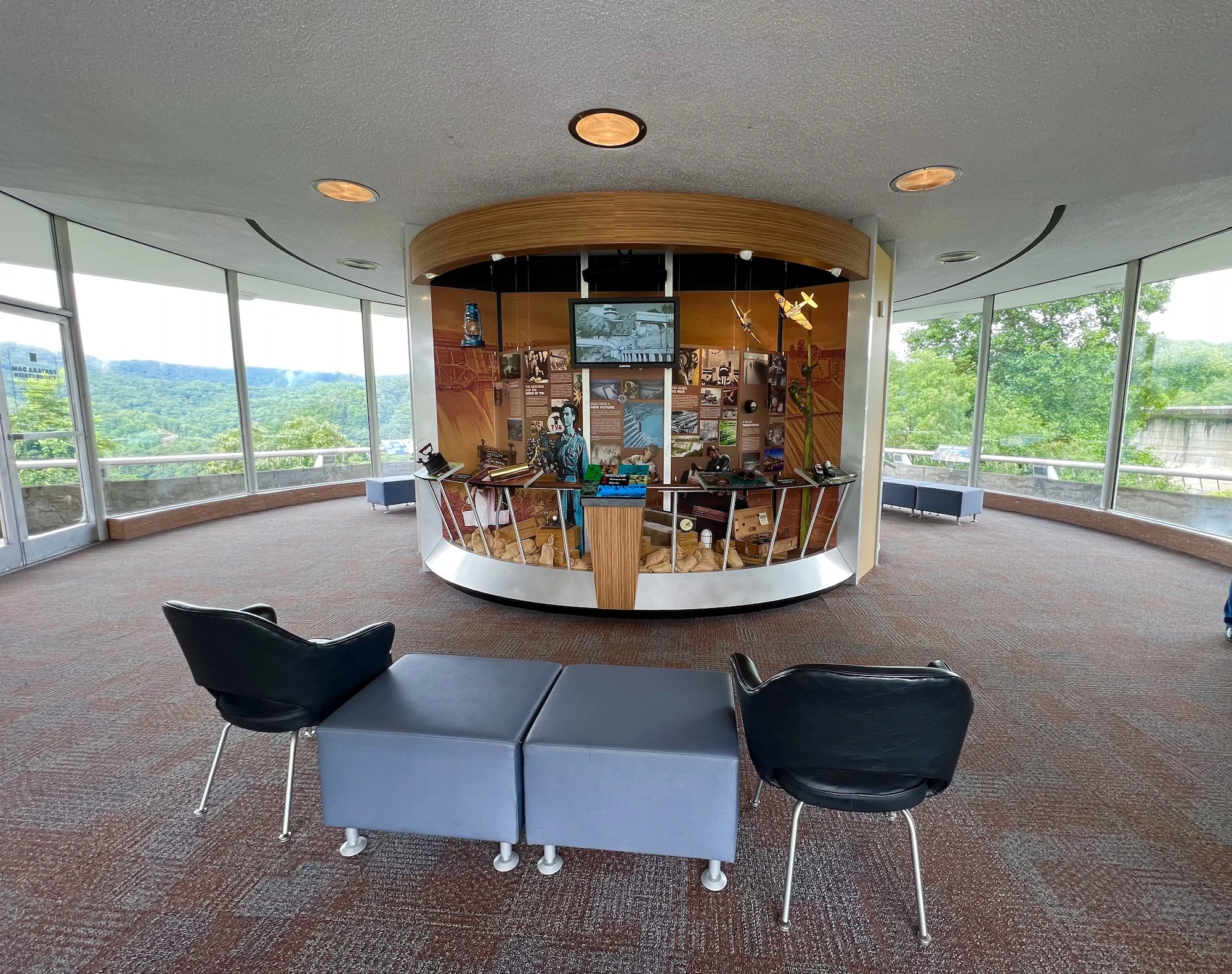 There is a small gift shop at the Fontana Dam, as well as a picnic area across the street overlooking the lake. Keep in mind that there is very little food options at the Dam (only candies in the gift shop) and cell phone service is nonexistent.
See our entire guide to the Fontana Dam for more detailed visitor information.
It is important to download maps of the area when you have Wifi or Cellular Data because you will not have cell service at the Fontana Dam.
Cherohala Skyway
Similar to the Blue Ridge Parkway, the Cherohala Skyway is a 50-mile road that winds between Robbinsville, NC and Tellico Plains, TN.
The name comes from the two National Forests that is crosses: Cherokee National Forest and Nantahala National Forest.
Stecoah Valley Cultural Arts Center
Housed in an old school building, the Stecoah Valley Cultural Arts Center features a regional artists gallery and the Stecoah Textile Studio which has classes all year long.
You will also find the Courtyard of the Cherokee, an outdoor arts and culture exhibit which represents the seven clans of the Eastern Band of Cherokee Indians.
Stecoah is a name that comes from the Cherokee language meaning "little place."
Junaluska Memorial
The burial site of Cherokee Warrior Junaluska is located in the city of Robbinsville. A memorial stone is placed in the middle of monuments representing the seven clans of the Cherokee. A small medicinal trail showcases how the Cherokees used plants for both food and medicine.
Stoney Hollow Farm
A family u-pick farm and farm store with organically raised vegetables, melons and flowers. Locally produced crafts as well as antiques are also available in the store.
If you plan on visiting Stoney Hollow Farm, be sure to check their operating hours! Currently they are only open on Fridays and Sundays, but that can change!
Restaurants in Robbinsville
Pineapple Whip
This food truck on the side of the road might be easily passed by if it wasn't for the dancing hula girl on top. Once you see her gyrating hips, you will be intrigued!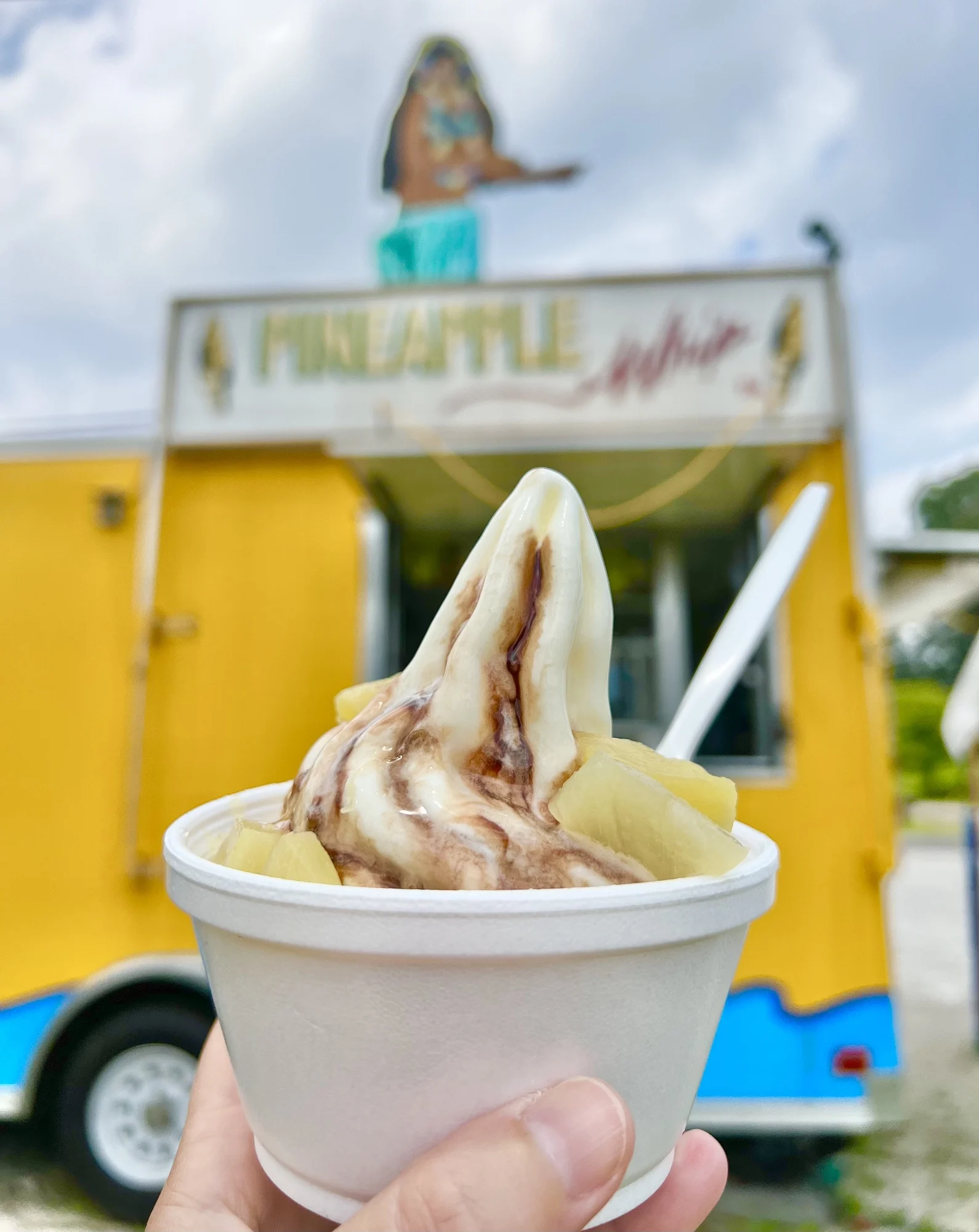 There are only two things on the menu: Pineapple Whip and a rotating fruit flavor that changes every week. Get the non-dairy whipped dessert in a cup, cone or float.
If you are familiar with Dole Whip at Universal Studios or Disney, you will have an idea of what this Pineapple Whip is like, but the Robbinsville version is WAY better than the theme park's versions.
Pineapple Whip is made with real pineapple juice, not a powdered mix. Plus, you can add on toppings like pineapple chunks, chocolate syrup or cookie crumbles.
Lynn's Place Restaurant
Located in Robbinsville's city center, this family-run restaurant has been serving the community for 20 years. The burgers, sandwiches and salads are very affordable and delicious.
It's a place where you can get Jello as a side dish and they still have a salad bar, rarities in this world!
T.Dubbs
Another food trailer in Robbinsville that you shouldn't miss is T. Dubbs, serving up barbecue, burgers and wings.
Located near the Graham County Visitors Center, it is easy to make this stop for a great meal and then helpful trip planning.
Tapoco Tavern
One of the best restaurants in the area is Tapoco Tavern at Tapoco Lodge. With riverfront tables, the view is just as great as the food!
Breakfast, lunch and dinner are served at Tapoco Lodge, as well as a bar that is open during busy times.
Trout can be found in many dishes on the menu, including as a pizza topping, in the tacos and fajitas, or trout nuggets.
We enjoyed the burgers here, as well as the fajitas. The desserts were rich and everything we ordered during two days of dining at Tapoco Tavern was great!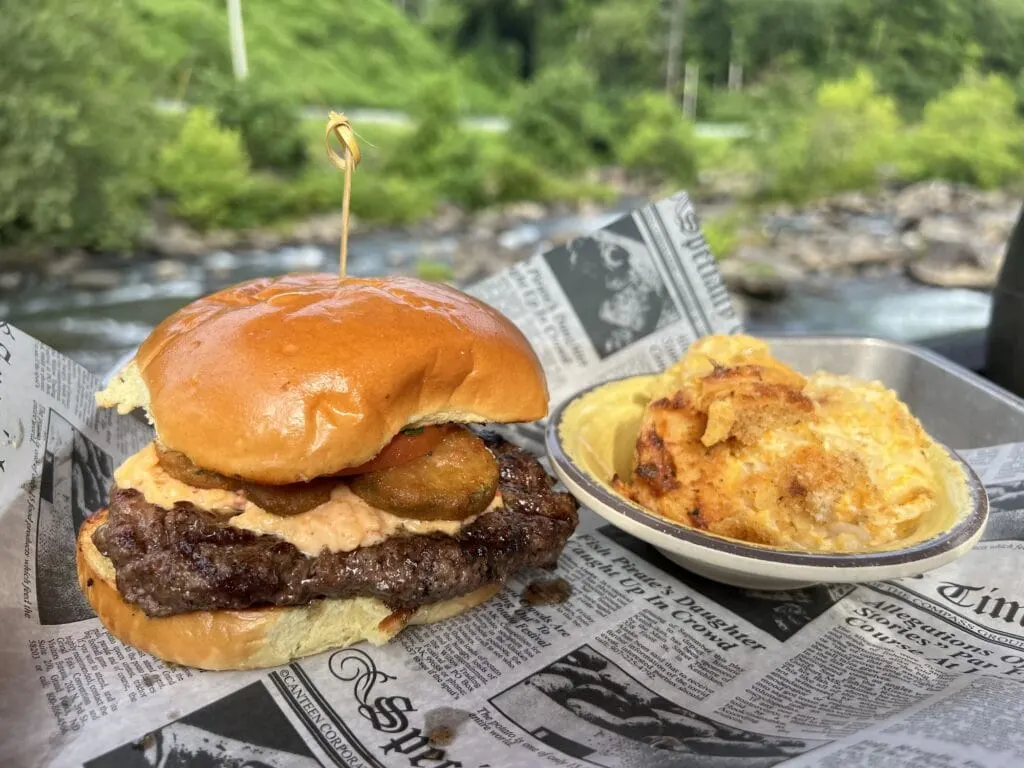 It is wise to make reservations for the weekend, during the fall, and on the many Dam Release dates each year when the river is flooded and kayakers can be seen paddling down the river.
Wildwood Grill
Located in Fontana Village near Fontana Dam, Wildwood Grill serves up quick foods such as sandwiches, burgers and wood-fired pizzas.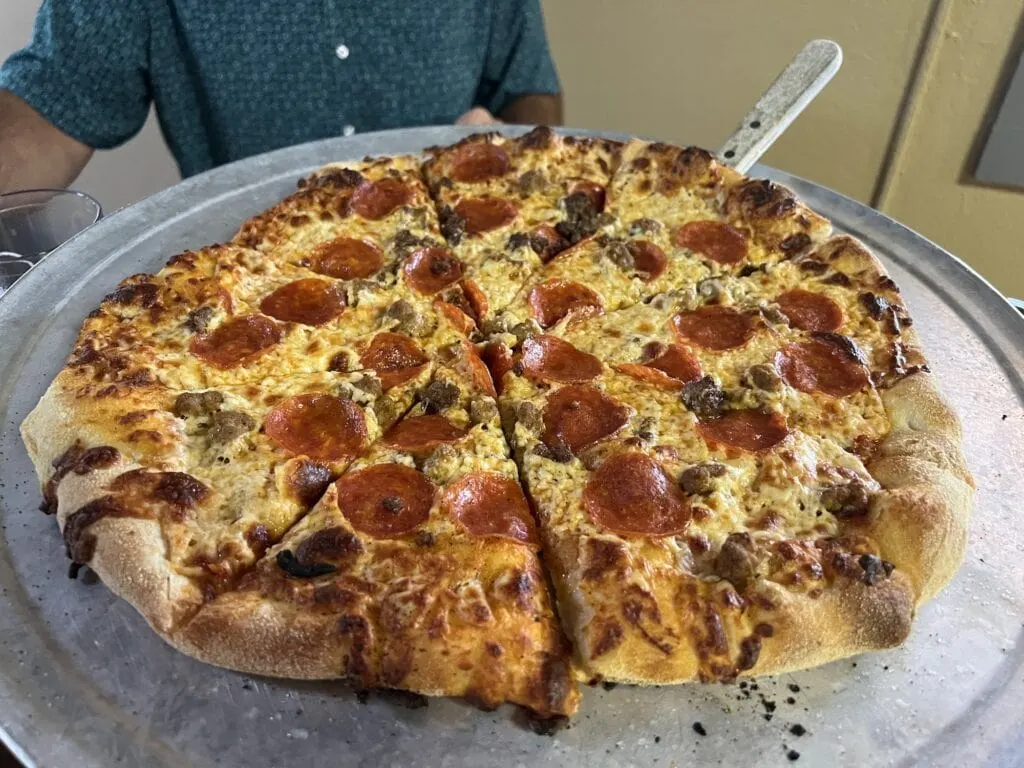 Hotels in Robbinsville
Tapoca Lodge
Tapoco Lodge is a mountain resort situated on 120 acres right on the river. This lodge reminds us of a National Park lodge and we loved our stay here.
The historic building was originally built in 1930 as a retreat for ALCOA executives who were part of the creation of the dams in the area supplying hydroelectric power.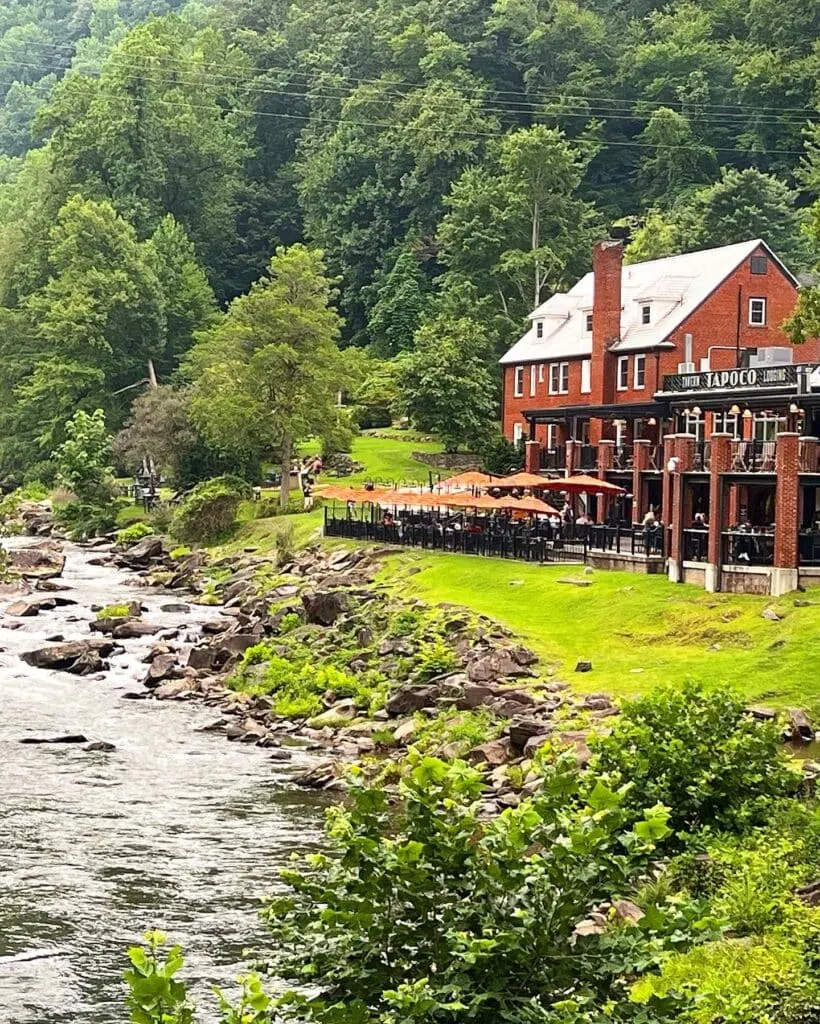 In addition to rooms in the main lodge, there are also cabins to rent.
A restaurant serves up breakfast, lunch and dinner and there are plenty of activities to enjoy at the resort, including a trail to a waterfall and plenty of fire pits for s'mores.
See our entire review of Tapoco Lodge. Or watch our property tour on our YouTube channel:
Quality Inn and Suites
Quality Inn and Suites is a budget-friendly hotel part of the Choice Hotels Brand. Located in the heart of the city and offers free breakfast with your stay.
History of Robbinsville and Fun Facts!
Robbinsville is located in Graham County in NC.
The movie The Fugitive (1993) was filmed in Robbinsville at the Cheoah Dam.
Nell (1994) is another movie filmed in North Carolina. Jodie Foster and Liam Neeson filmed portions of the movie in the area.
Robert Redford, Nick Nolte and Emma Thompson filmed portions of A Walk in the Woods (2015) at the Fontana Dam.
The Moonshiners TV series on Discovery Channel has been filmed in Robbinsville.
Ronnie Mislay, one of country music's most popular performers in the 1970s and 1980s, came from Robbinsville.
Wade Crane, a former World 8-Ball and 9-Ball champion was voted to have the best 9-ball break in history.
Stock car racer Rodney Orr wood the 1993 NASCAR Goody's Dash Series.
Chief Junaluska, leader of the Eastern Band of Cherokee Indians and
Between 1840-1843, a trading post was established on Rhea Hill, the area where Robbinsville Elementary School is now located.
The first post office was established in 1843 and listed as Cheoah Valley.
The post office name was changed to Fort Montgomery in 1849.
Fort Montgomery was established in May 1838 as a base of operations to remove Cherokees from their land in the Cheoah River Valley.
The Cherokees that escaped capture returned to the valley and reestablished the Buffalo Town community which was lead by Dickageeska. Descendants from the community have formed the Snowbird community in Graham County.
In 1893 the town of Robbinsville was incorporated, with N.M.E. Slaughter serving as the first mayor.
The Fort Montgomery Post Office name was changed to Robbinsville in 1874.
The name of the city is widely considered to be named after Senator James L. Robinson of Macon County.
However, some believe that Robbinsville is actually named after Mr. Robbins of Clay County who first taught at the school.
Many of the roads in the area were first animal paths and trails. The well-worn paths were paved over to become the roads.
On June 23, 1930, the grand opening of the new highway connecting Maryville, TN to Robbinsville, NC was celebrated. The remote areas were finally opened up, yet the road was just a crushed stone surface at the time.
A river ferry used to be a popular method of transportation in Graham County. The Higdon Ferry operated in the early 1900s for a fee of 5 cents per crossing. This was a common way to move lumber across the river.
The Cheoah River is famous for its class IV and V rapids.
The Appalachian Trail passes through Graham County and famously crosses the Fontana Dam.
Around 80% of Lake Santeetlah's 76-mile shoreline is National Forest land, protecting it and creating an outdoor-lovers paradise!
Fontana Lake has 240 miles of shoreline.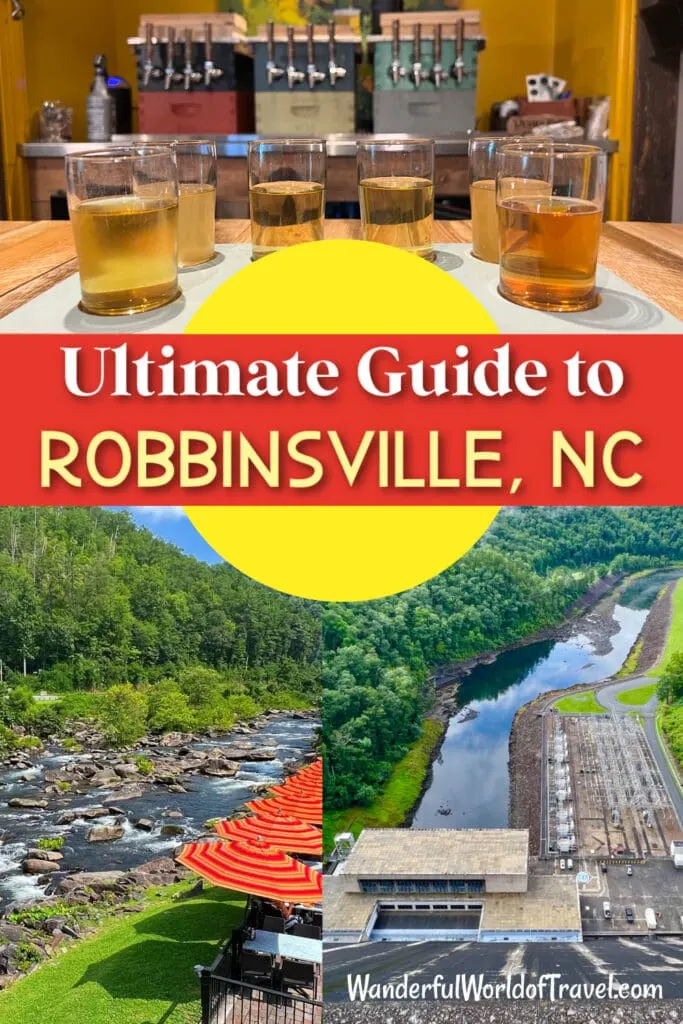 Robbinsville, NC Weather
Winter
Winter is temperate in Robbinsville. The low elevation means that the area doesn't get much snow. In fact, locals have told us that they are getting less snow than ever before. Temperatures can be in the upper 40s and 50s. Winter is a great time to visit because the cool weather is perfect for hiking, there are fewer tourists and leaves off of the trees mean long-range views that are hidden during the rest of the year.
Spring
Spring is when the landscape comes alive! Wildflowers can be found everywhere in the National Forests, scenic byways and along hiking trails.
Summer
Though you are in the lush mountain forests, summer can still be hot and humid here! Especially with thunderstorms. Expect upper 80s to low 90s on the hottest of days, but keep in mind the humidity of the dense forests can make this feel hot!
Fall
Cooler temperatures and changing leaves make Fall a great time to visit Robbinsville!