Do you love to watch a movie and see a location that you've visited – or will visit soon? We do, too. It all started when we moved to Lake Lure during the filming of a "little" movie known as Dirty Dancing. We saw the stars, saw the movie trucks and production crews and no one knew at that time what a blockbuster film it would be! Years later we would be there when Last of the Mohicans was filming, too.
Here's the big list of movies filmed in North Carolina. These films include movies filmed in the state, as well as movies that were made in NC but the storyline was set elsewhere.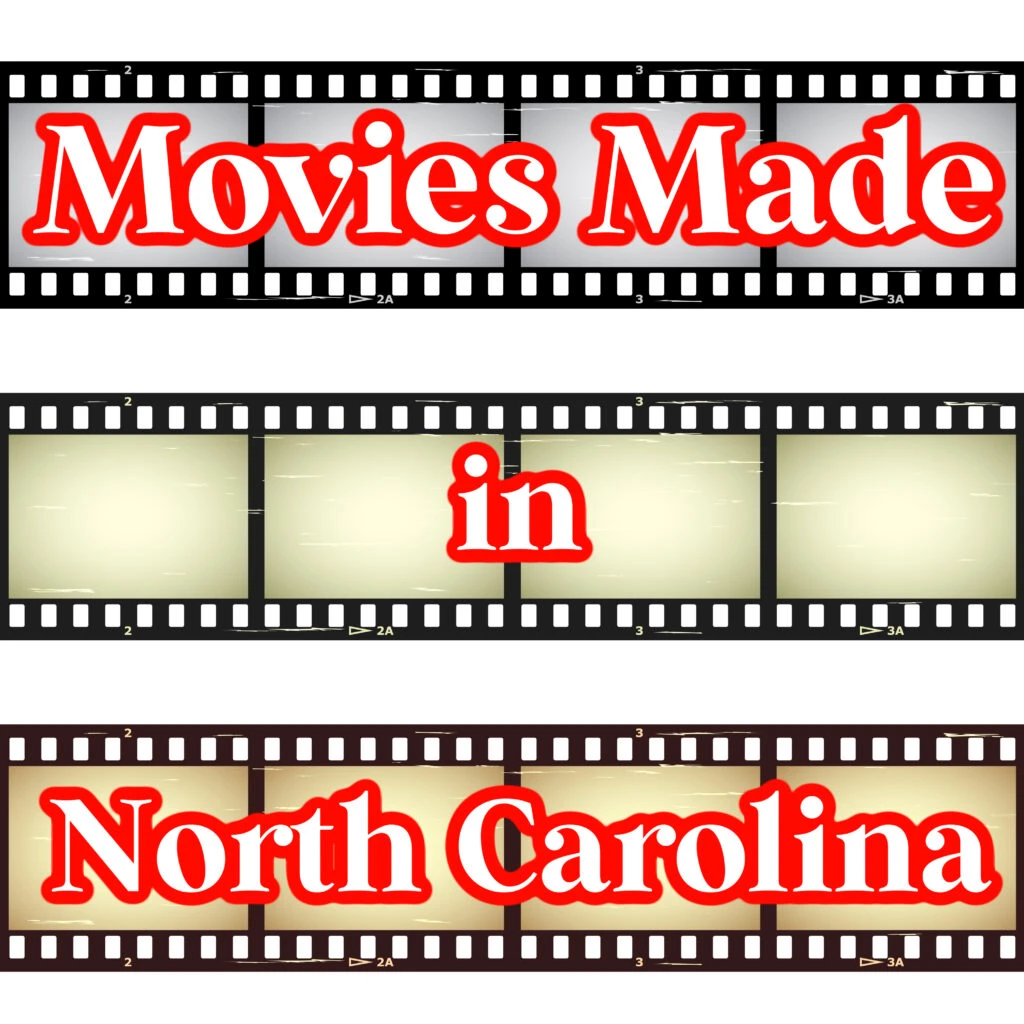 1. Dirty Dancing
Filmed in: Lake Lure.
Patrick Swayze and Jennifer Grey are the stars of this highly popular movie that started a dance craze! The scenery is amazing, and one trip to Lake Lure will have you wanting to start dancing yourself. For true fans of the movie, attend the Dirty Dancing Festival and do your own lake lift!
2. Last of the Mohicans
Filmed in: Chimney Rock State Park; waterfalls of DuPont State Forest; Asheville; Biltmore Estate; Lake James; Linville Falls.
Daniel Day Lewis is the star of this rugged movie rich was outdoor scenery. The film is based on the novel by the same name by James Fennimore Cooper.
3. The Hunger Games
Filmed in: DuPont State Forest; Asheville; Shelby; Black Mountain; Barnardsville; Cedar Mountain; Charlotte; Concord; and Hildebran.
4. The Fugitive
Filmed in: Dillsboro, Bryson City, and Sylva.
Harrison Ford is the star of this film centered around a train wreck. The area of that scene can still be scene on an excursion on the Great Smoky Mountains Railroad.
5. Talladega Nights
Filmed in: Charlotte Motor Speedway and Lake Norman.
Will Ferrell as a NASCAR driver is nothing short of hilarious! Take a tour of the Charlotte Motor Speedway to see where most of this movie was filmed.
6. Bull Durham
Filmed in: Durham, Asheville, Raleigh, Greensboro, Wilson and Burlington.
Kevin Costner plays a romantic role in this Minor League baseball movie. Yes, it was shot at an actual baseball field, Durham Athletic Park, after the Carolina League season was over. However, the movie increased attendance and interest so much in minor league baseball that the original Durham Athletic Park (DAP) had to close because it was so small. A new one was built at another location that can house more sports fans.
A replica of the "Hit the Bull, Win a Steak" sign is now above the left-field wall at the new Durham Bulls Athletic Park.
Related Post: How to Visit Duke University in Durham
7. Days of Thunder
Filmed in: Charlotte
It's pretty hard to forget the time that Tom Cruise and Nicole Kidman teamed up for Days of Thunder! The movie features a rivalry of racers both desiring the affections of a doctor, played by Nicole Kidman.
8. Nights in Rodanthe
Filmed in: Rodanthe
Nicholas Sparks, who lives in coastal New Bern, wrote the novel Nights in Rodanthe. The movie, based on the book, was filmed in the city with Richard Gere and Diane Lane.
Visitors can spend the night in the Inn at Rodanthe, which is the location for the film. Formerly called the Serendipity House, weekly rentals are now available in the six-bedroom oceanfront inn.
Check out all of the filming locations for Nights in Rodanthe in the Outerbanks.
9. Richie Rich
Filmed in: Biltmore Estate
America's largest private home became the personal home of the fictional cartoon character Richie Rich, played by Macaulay Culkin. Anyone familiar with the Biltmore Estate will instantly recognize the grounds and the rooms of the home.
10. 28 Days
Filmed in: Asheville, Black Mountain, and Wilmington.
Sandra Bullock stars in this 1999 movie set at a rehab center.
11. Forrest Gump
Filmed in: Asheville; Biltmore Estate; and Grandfather Mountain.
Many of the epic running scenes that this 1994 Academy Award-winning movie is known for were filmed at popular tourist destinations in western NC, including a curvy road at Grandfather Mountain that has a sign on it today stating it's a Forrest Gump film location.
See more of the Forest Gump filming locations in the South.
12. My Fellow Americans
Filmed in: Lake Lure, Asheville, Marshall, Waynesboro, and Dillsboro
This political comedy has plenty of scenery from western North Carolina. Jack Lemmon and James Garner can be seen at the Biltmore Estate and a parade filmed in downtown Asheville.
13. The Color Purple
Filmed in: Charlotte; Salisbury; Marshville; Ansonville; Anson and Union County
14. I Know What You Did Last Summer
Filmed in: Southport; Durham at Duke University; and Cape Fear River
15. Patch Adams
Filmed in: Asheville; the Biltmore Estate and Chapel Hill.
Many blockbuster movies have been filmed at the Biltmore Estate and the 1998 Patch Adams with Robin Williams is just one of them. Many of the scenes were filmed around the Biltmore House, as well as on the Blue Ridge Parkway. Additional footage was shot at the University of North Carolina at Chapel Hill campus.
16. The Divine Secrets of the Ya-Ya Sisterhood
Filmed in: Wilmington
17. Hannibal
Filmed in: Biltmore Estate
18. Kiss the Girls
Filmed in: Chapel Hill and Durham.
Morgan Freeman and Ashley Judd star in Kiss the Girls, the sequel to Along Came a Spider. The psychological thriller was mostly filmed in California, but had some scenes in North Carolina.
19. The Green Mile
Filmed in: Blowing Rock
20. Maximum Overdrive
Filmed in: Wilmington and Leland.
A Stephen King movie directed by Emilio Estevez with machines attacking humans. The location where Stephen King is at the ATM has since been demolished.
21. A Walk to Remember
Filmed in: Wilmington
Another Nicholas Sparks novel adaptation filmed in North Carolina.
22. Shallow Hal
Filmed in: Charlotte
23. Safe Haven
Filmed in: Southport, Wilmington and the Blue Ridge Parkway Linn Cove Viaduct.
24. Three Billboards Outside Ebbing, Missouri
Filmed in: Sylva, Cullowhee, Dillsboro, Maggie Valley, Waynesville and Black Mountain.
One of the most recent movies filmed in North Carolina, this Oscar-winner is about a mother looking for answers in a small town about the death of her teenage daughter.
25. Brainstorm
Filmed in: Raleigh, Chapel Hill and Durham.
One of Natalie Wood's last films, shot in 1981, in the Raleigh area.
26. Nell
Filmed in: Robbinsville, Charlotte, and Lake Fontana
The 1994 film had actress Jodie Foster as both the starring role and the director. Filmed at Fontana Lake about a woman living in the woods who has not been in touch with modern civilization.
27. The Private Eyes
Filmed in: Biltmore Estate
A 1980 comedy starring Tim Conway and Don Knotts. The entrance to the Biltmore House is featured prominently at the beginning of the movie, in addition to all the filming locations. If you have been to the Biltmore Estate, you will definitely recognize a lot of the home in the movie!
28. A Walk in the Woods
Filmed in: Fontanta Dam
The 2015 film starring Robert Redford's was adapted from Bill Bryson's popular novel about hiking the Appalachian Trail. While most the the movie was filmed in Georgia, Fontana Dam, the highest dam in the Eastern US, is a location in the film. And, yes, you can walk across it on the Appalachian Trail.
29. Conquest of Canaan
Filmed in: Asheville
This 1920s film was the first movie shot in Asheville. It was filmed in what is now Pack Square in downtown Asheville.
30. The Swan
Filmed in: Biltmore Estate
The first time the Biltmore Estate made its theatrical debut was in Grace Kelly's The Swan. Fittingly, the movie was about a princess, and the exterior shots of Biltmore represent her home, as seen in the movie trailer.
The 1952 movie was Kelly's next to last film.
31. Leatherheads
Filmed in: Winston-Salem, Statesville and Greensboro
A 2008 movie directed by George Clooney about the early years of professional American football. A cast of stars include Clooney as well as Renee Zellweger.
The North Carolina Transportation Museum was one of the filming locations.
32. Masterminds
Filmed in: Asheville, Swannanoa, Waynesville and Old Fort.
The 2016 movie about an armored car heist, starring Owen Wilson, was predominantly filmed in downtown Asheville.
33. The Clearing
Filmed in: Asheville
Robert Redford's film was predominantly shot at Camp Sequoyah Boys' Camp about thirty minutes from downtown Asheville.
34. Alien Abduction
Filmed in: Bryson City; Foscoe, Boone; and Asheville.
If you haven't heard of The Brown Mountain Lights in western NC, they are supposedly a paranormal occurrence in the mountains. Those lights inspired the screenplay for Alien Abduction.
35. Mr. Destiny
Filmed in: Winston-Salem and Biltmore Estate.
This 1990 comedy stars Michael Caine and Jim Belushi. The home that the character Larry (Belushi) finds himself living in is the Biltmore House. The baseball team is from a Winston-Salem high school, and the office building Larry works at is the former headquarters of the R.J. Reynolds Tobacco Company.
36. Winter People
Filmed in: Plumtree; Asheville and Avery County
Thought predominantly filmed in Avery County, the movie is based on a book by Asheville novelist John Ehle. It is a story of a widower who moves with his daughter to a town in North Carolina in the 1930s.
37. Being There
Filmed in: Biltmore Estate
This 1979 film was the final movie before Peter Sellers died. Sellers was a wealthy industrialist in the comedy, living in his home, portrayed by the Biltmore House.
38. Songcatcher
Filmed in: Barnardsville
Two Madison County musicians were part of the filming of this 1999 movie which stars Aidan Quinn and Janet McTeer. The story is a musicologist collects and researches Appalachian folk music.
39. All the Real Girls
Filmed in: Marshall and Asheville
This Sundance Film Festival award-winning movie had a $1 million budget.
The 2003 film was co-written by an Asheville native and stars Zooey Deschanel, who at that time was a relative unknown actress.
40. The Odd Life of Timothy Green
Filmed in: Biltmore Estate
While much of this 2012 film was shot in Georgia, there are scenes at the Biltmore Estate.
41. Heavyweights
Filmed in: Hendersonville and Asheville
This 1995 film starring Ben Stiller used several of the summer camps in the Hendersonville and Flat Rock areas for a filming location. Jump Off Rock, a popular spot to see mountain vistas, was also used.
42. Weekend at Bernies
Filmed in: Wrightsville Beach, Bald Head Island, and Fort Fisher
This fun and silly movie has some epic scenery, including an ultramodern beach house that sadly was only made for the movie and has been removed.
The beach house was specially built at Fort Fisher Recreation Area. Ferry scenes were filmed in Wrightsville Beach (we love this Wrightsville Beach resort if you are visiting!).
The Hamptons scenes weren't filmed in the Hamptons at all. They were filmed on Bald Head Island, which is about 30 miles south of Wilmington. The lighthouse where Parker is temporarily blinded is actually the Old Baldy Lighthouse and Smith Island Museum.
Make watching films at home special with our ultimate DIY Movie Night Charcuterie Board!
Do you know of any more movies filmed in North Carolina? Let us know in the comments!