Dole Whip has been a fan favorite at Walt Disney World for decades. There are multiple places across the WDW Resort where you can find the pineapple soft serve ice cream in a variety of flavors. What happens if you want to visit the other theme parks in Orlando, though?
Can you get Dole Whip at Universal Studios? The answer is yes!
Here are all of the places where you can get Dole Whip at Universal Studios in both Florida and California.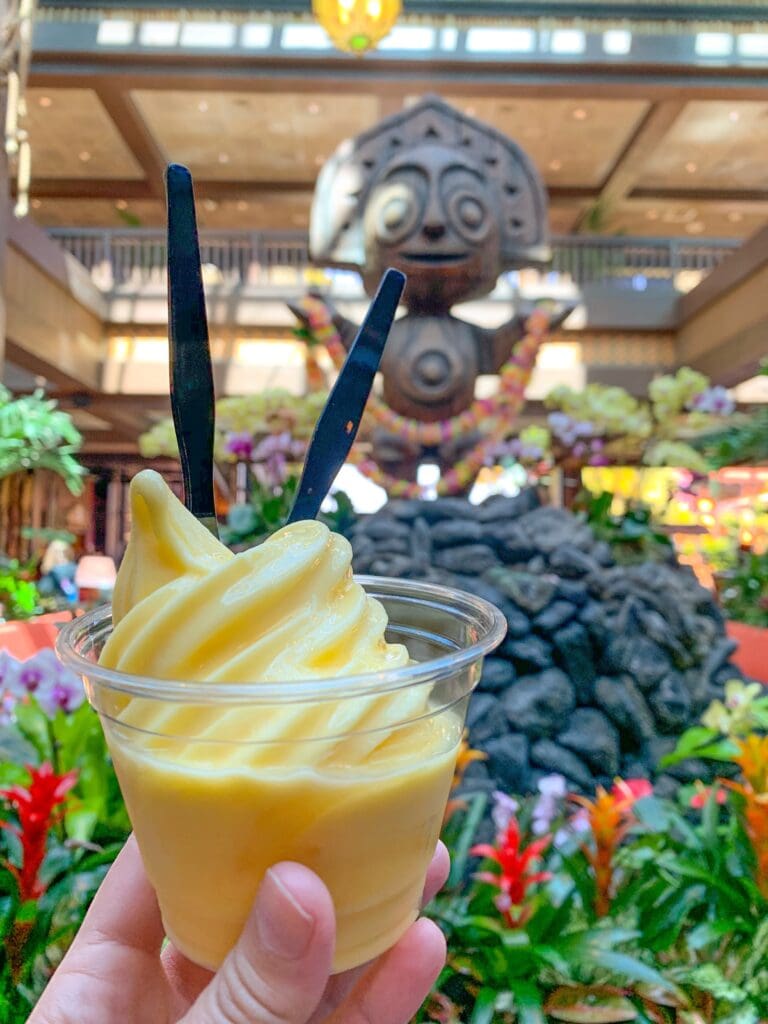 What Is Dole Whip
This dairy-free, fruit-based soft serve treat was created by Dole in 1983 specifically for the Magic Kingdom at Walt Disney World. The company was selling their fruit at the theme park and noticed that the soft serve vanilla ice cream topped by their pineapples was melting too fast in the Florida heat.
A Dole food scientist created a dry-mix version to withstand hot temperatures in Orlando.
The first Dole Whip was served at the Magic Kingdom theme park in 1984, followed by Disneyland in 1986.
While the traditional Dole Whip is a pineapple flavor, there are a variety of other lesser-known flavors, too, including strawberry, orange, lime and pomegranate.
The allergy-friendly dessert can also be made at home, too.
Did you know that you can buy packages of Dole Whip mix on Amazon? Then you just need a soft-serve ice cream machine to make it anytime you want!
Does Disney Own the Rights to Dole Whip?
Just like the common fairy tales that Disney has adapted to become famous films of their own, Disney has taken Dole Whip to a new level and somehow everyone believes that they invented it. But they did not.
Dole Whip has always been a soft serve ice cream mix created by the Dole Company. Disney does not have any exclusive rights to sell it.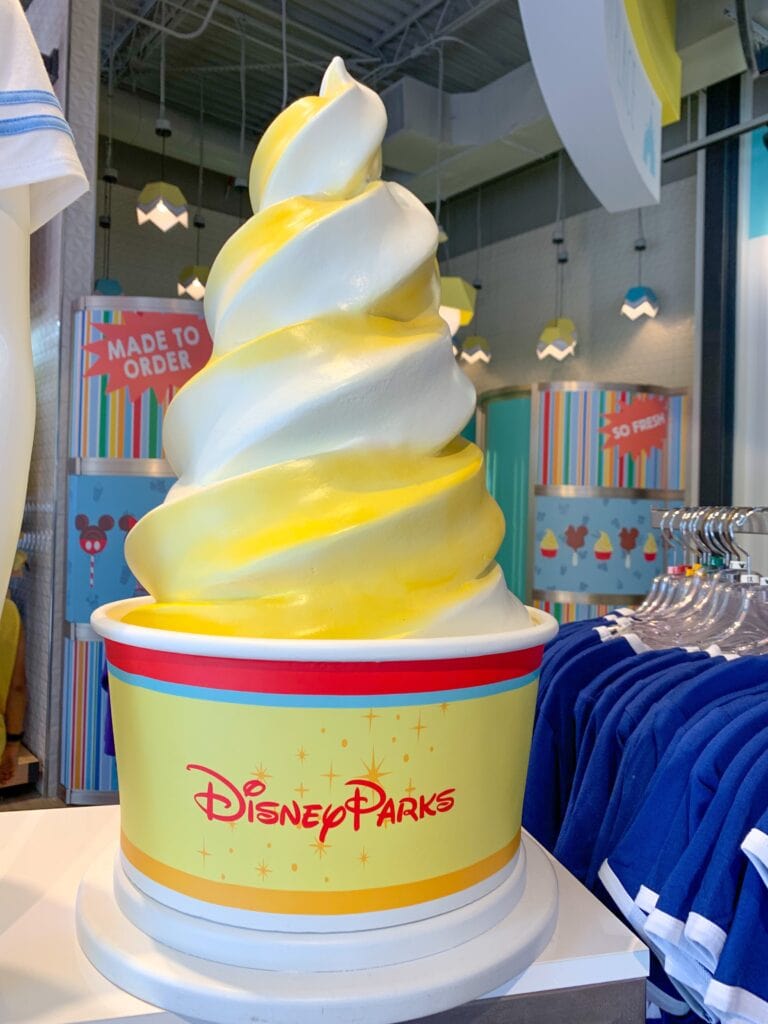 In fact, you will find a variety of places across America selling Dole Whip, including Universal Studios.
Where to Find Dole Whip at Universal Studios Orlando
Dole Whips are less expensive at Universal Studios than at Walt Disney World. It's just one way to save money on food at Universal compared to Disney. The following are the places where you can order one of these pineapple treats.
Schwab's Pharmacy
Located in Universal Studios theme park, Schwab's Pharmacy is an old-fashioned quick-service restaurant that serves up Dole Whip.
To find Schwab's Pharmacy, enter Universal Studios and go towards the Hollywood section. Take the road located immediately to your right if you want to go directly to the Pharmacy to cure your Dole Whip craving.
In January 2023, prices are:
Wimpy's
Located in Islands of Adventure theme park, Wimpy's is a quick-service restaurant with a Popeye theme. It serves us classic American fast food such as hamburgers, fries and chicken strips.
This eatery is located in Toon Lagoon which is to the back, left corner of the park. It's a great place to cool off in the middle of the day with a cold Dole Whip cup or cone, especially after riding one of the best water rides at Universal Orlando in this part of the park.
In January 2023, prices are:
Menchie's
At Universal CityWalk, you can find pineapple Dole soft serve at Menchie's.
If you really want a Dole Whip and don't want to go into the theme parks, you can take advantage of free parking at Universal CityWalk to get this treat.
Where to Find Dole Whip at Universal Studios Hollywood
While the theme parks in Orlando, Florida seem to be obsessed about Dole Whip, the parks in California don't seem to share the same frenzy.
Universal Studios Hollywood theme parks do not sell Dole Whip at this time.
However, you can find Dole Soft Serve at Menchie's at Universal CityWalk Hollywood.