It rarely snows in Florida, but that doesn't mean you can't enjoy a winter wonderland! Get the best of both worlds when you enjoy these destinations with snow in Florida and warm temperatures outside.
If you are lucky, you might actually be in the Sunshine State when there is a rare snowfall. It has happened in the past, and we will tell you where it snows in Florida.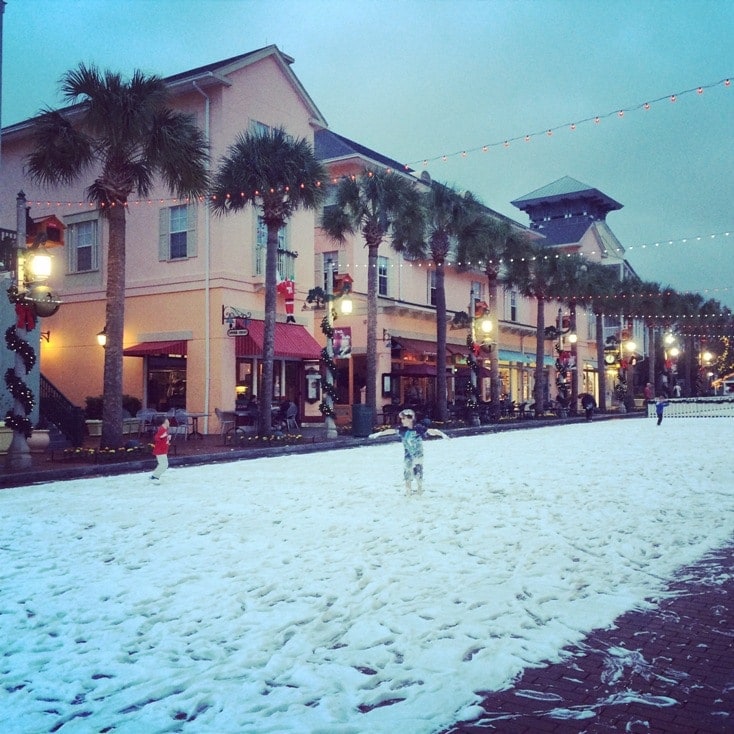 Where to See Real Snow in Florida
There are a few magical places in Florida that have real snow during the winter. If you want to experience the cold stuff, this is where to go!
Snowcat Alpine Ridge in Dade City
Florida's only Alpine snow park can be found in Dade City. Snowcat Ridge is a winter wonderland offering real snow and winter activities.
In the Arctic Igloo, you can play in the snow and make snow angels (but no snowball fights!).
Snowy Slopes is a 400-foot-long tubing hill that is 60-feet high. Get to the top using conveyor lifts and glide down in single, tandem or 10-person tubes. A general admission ticket includes a 2-hour session on Snowy Slopes.
ICE! at Gaylord Palms in Kissimmee
ICE! at Gaylord Palms is one of the most beloved Christmas traditions in all of Florida! The amazing ice sculptures are housed in a walk-through display that is kept at a chilly 9 degrees all holiday season.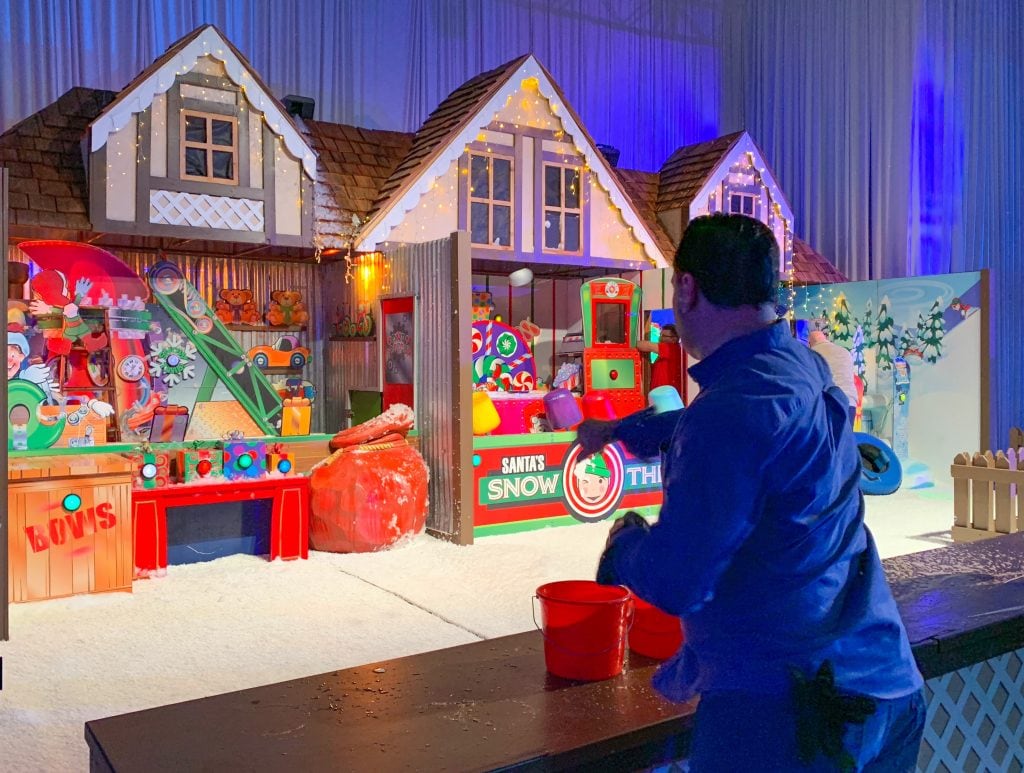 Outside of the ice display, you can find winter-themed activities such as snowball throws with real snow.
Snowfest in St. Petersburg
Snowfest is a one-day event in St. Petersburg with real snow! Enjoy toboggan rides down icy paths at North Straub Park.
Where to See Fake Snow in Florida
Those of us that have lived in Florida long enough know that the holiday season brings a lot of fake snow. While Floridians love to brag that they don't have to use snow shovels every winter and they spend Christmas in shorts, many people still long for the idyllic snow experience for the holidays.
That's where fake snow machines come in. Many festivals and special events will use fake snow machines to send flakes through the air as if it was snowing. Floridians call this "Snoap" because it is essentially soap bubbles made to look like snow.
Now Snowing in Celebration
Perhaps the biggest and the best fake snow experience in Florida is Now Snowing, a special event held in the Celebration Town Center from November through December.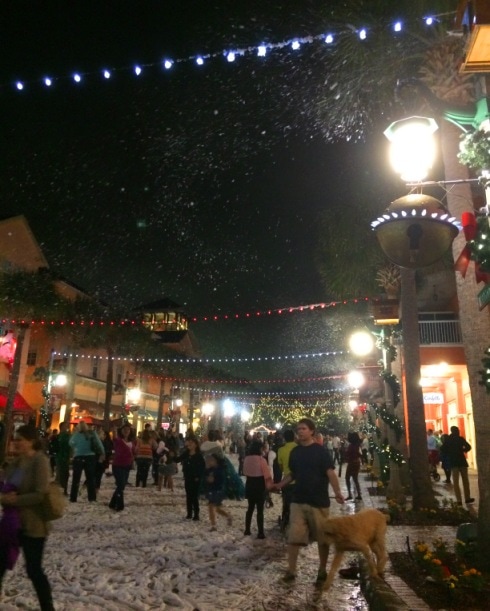 You will find a synthetic skating rink in the quaint streets of Celebration, along with horse drawn carriages, Charles Dickens-style carolers, musical performances and train rides.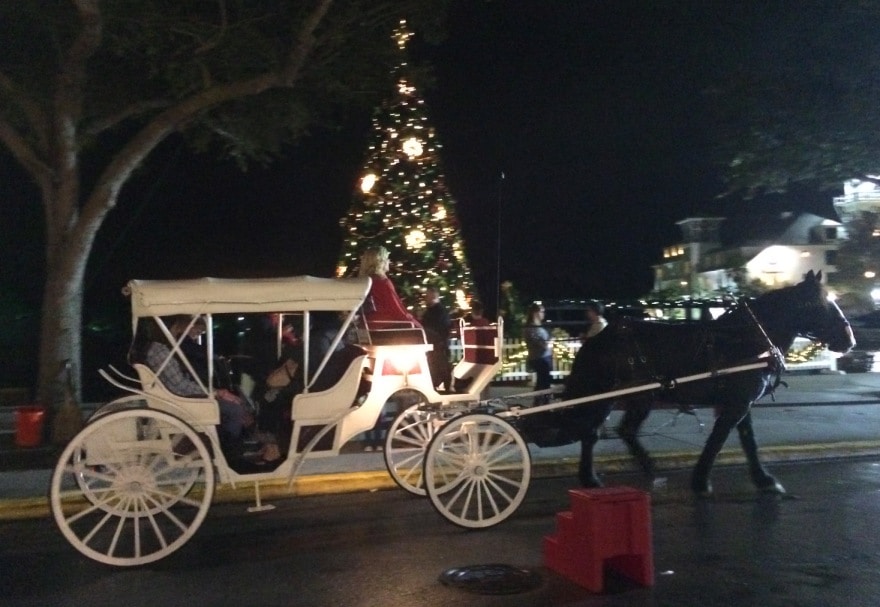 Celebration is the cute town that was famously built by Disney Imagineers.
Snow falls nightly at 6 p.m., 7 p.m., 8 p.m. and 9 p.m.
Walt Disney World in Orlando
It snows every night during the Christmas at Disney Springs event. Go to the Town Center at this shopping and dining complex to twirl around in falling snow.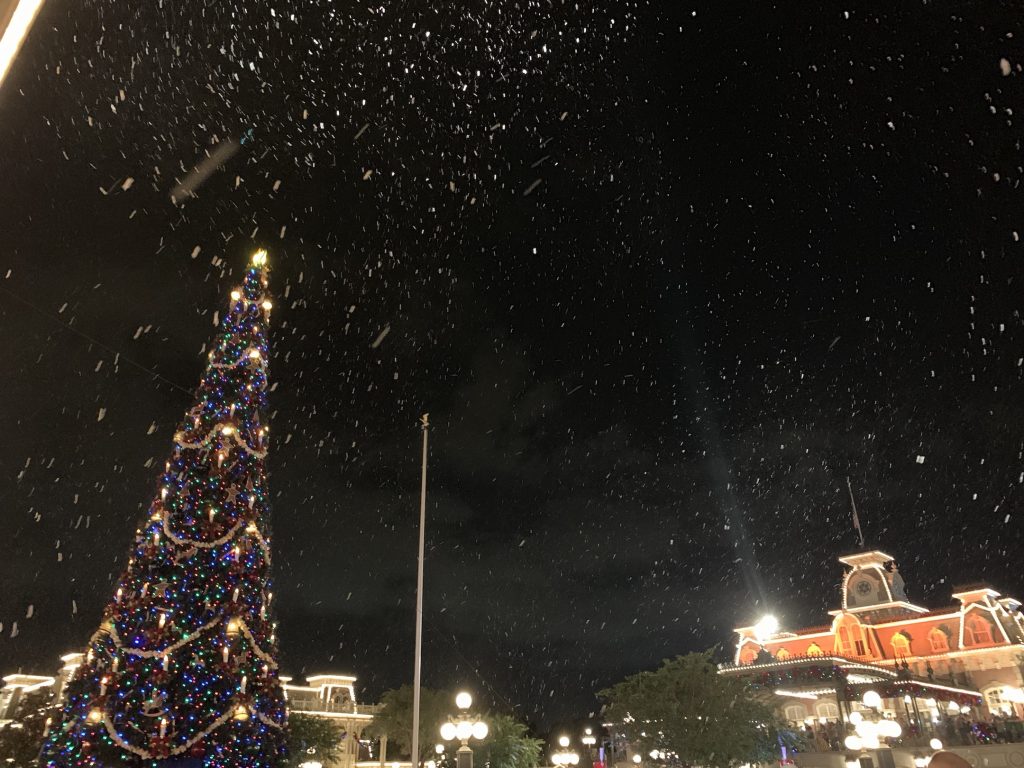 Snow falls at night during the Magic Kingdom's special ticketed event, Mickey's Very Merry Christmas Party. You will find the snowfall on Main Street, U.S.A. inside the theme park.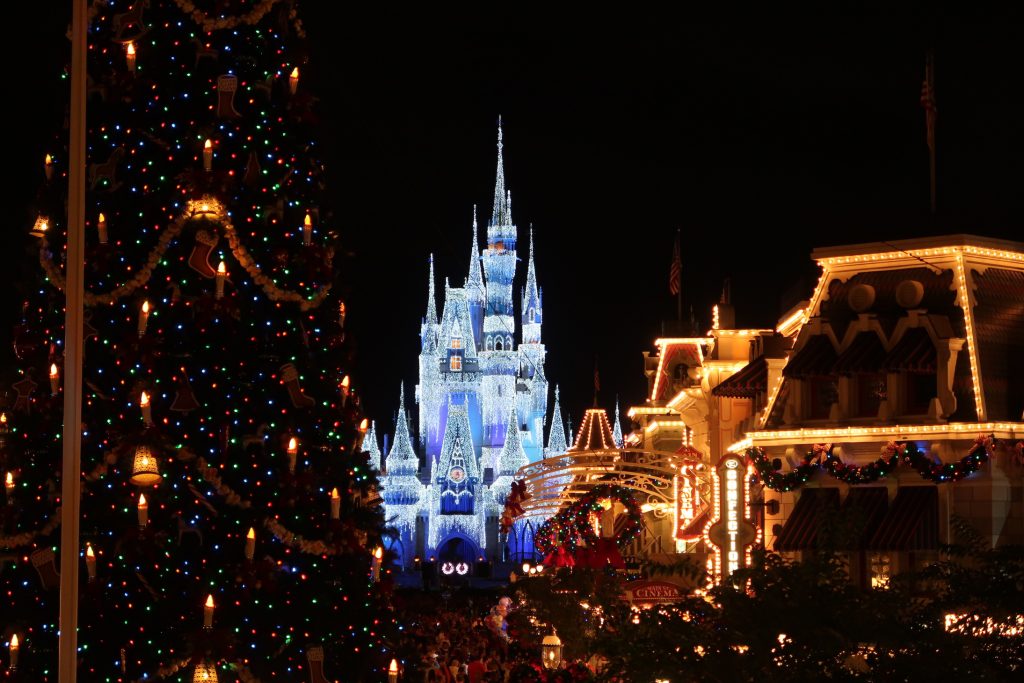 Harry P. Leu Gardens in Orlando
Harry P. Leu Gardens, located in downtown Orlando, is transformed into a magical winter wonderland during Dazzling Nights, a special event that takes place from November to early January.
The 50-acre botanical garden is covered with one million lights, holiday entertainment and a magical igloo filled with fake snow for the kids to make snow angels in.
Don't miss the laser light show, the forest filled with huge neon flowers or the 70-foot long candy cane path!
Tickets must be purchased in advance.
Oh, What Fun! Festival in Lake Nona
The Oh, What Fun! festival in Lake Nona is a delightful, family friendly Christmas celebration in the Lake Nona Town Center. Enjoy music performances, visits with Santa and Mrs. Claus, and snow falling.
Be sure to check out Boxi Park, located adjacent to the Lake Nona Town Center, for a unique dining experience at a shipping container food hall. See our YouTube video for more details.
Pensacola Winterfest in Pensacola
Pensacola, Florida has Pensacola Winterfest that is a unique combination of classic Christmas traditions and festivities with the Grinch, a Dr. Seuss character known for not loving Christmas.
Whichever side you choose, you can enjoy snow fall during the event.
Enchant in St. Petersburg
Presented by Hallmark, the channel that is KNOWN for its magical Christmas movies, Enchant is a stunning Christmas celebration that is held in a variety of cities across America each year.
This over-the-top holiday extravaganza has everything that you'd dream of in a Hallmark Christmas movie. Enjoy walking through magical light displays, ice skating, shopping in a Christmas market, and wandering the village under falling snow.
Tickets need to be purchased in advance.
Wekiva Island's Winter Wonderland in Longwood
Wekiva Island is a hidden gem any time of the year near Orlando. During the holidays, Winter Wonderland is a fun Christmas event where it snows on this island!
Walk underneath palm trees as snow flurries fall, while enjoying thousands of lights and visits with Santa Claus and Mrs. Claus. Sleigh rides and movies are other fun activities during the festival.
Winter Fest at Snow Mountain in Oviedo
With a name like Snow Mountain, you know there is going to be snow at this festival!
Oviedo is a short drive from Orlando and this holiday event has lots to offer families.
You will find activities such as:
Snow Mountain
Giant Santa Bounce House
The Snow Pit
Mt. Everest Slide
Alpine Slide
Holiday Train
Live Reindeer
Wristbands are required for the activities and tickets can be purchased in advance or at the event.
Snow in the Park in Mount Dora
The second Saturday in December brings Snow in the Park in Mount Dora, a cute community just outside of Orlando.
Children can enjoy free sledding, holiday activities, music and vendors in downtown Mount Dora's Donnelly Park. The event is free.
Does It Snow in Florida?
If you are wanting to experience real snow falling from the sky in Florida, it could be a long wait! But it does happen every now and then.
It rarely snows in Florida, as the state has a subtropical climate. However, on rare occasions, snowfall has been reported in the northern parts of the state, such as the panhandle. The last time it snowed in Florida was on January 3, 2021.
These occurrences are typically the result of a weather phenomenon known as a "cold air damming," which occurs when cold air becomes trapped in low-lying areas, such as valleys, and is unable to escape. This can cause temperatures to drop significantly, resulting in snowfall.
Another reason for snowfall in Florida is the presence of a "coastal storm." These storms form when a low-pressure system moves along the coast, bringing in cold air from the north. This can cause temperatures to drop, leading to snowfall.
The first recorded snowfall in Florida occurred in 1774, during the American Revolutionary War. Soldiers stationed in Florida reported that snow had fallen in the northern parts of the state. Since then, there have been several other instances of snowfall in Florida, with the most recent occurring in January 2021.
The first time that snow fell in South Florida was on January 19, 1977.
In 1989, snowfall caused power outages and damage to crops.
In 2018, snowfall caused school closures and traffic disruptions, including heavy snowfall in Tallahassee.
Conclusion
Does it snow in Florida? Yes, it does! Whether it is a rare actual snowfall, or fake snow falling during a holiday event or real snow being piled into tubing lanes for a winter festival, it does actually snow in Florida!