Mickey's Very Merry Christmas Party celebrates the magic of the holiday season in a way that only Disney can — with joyful and familiar characters, cheerful décor and enchanting surprises!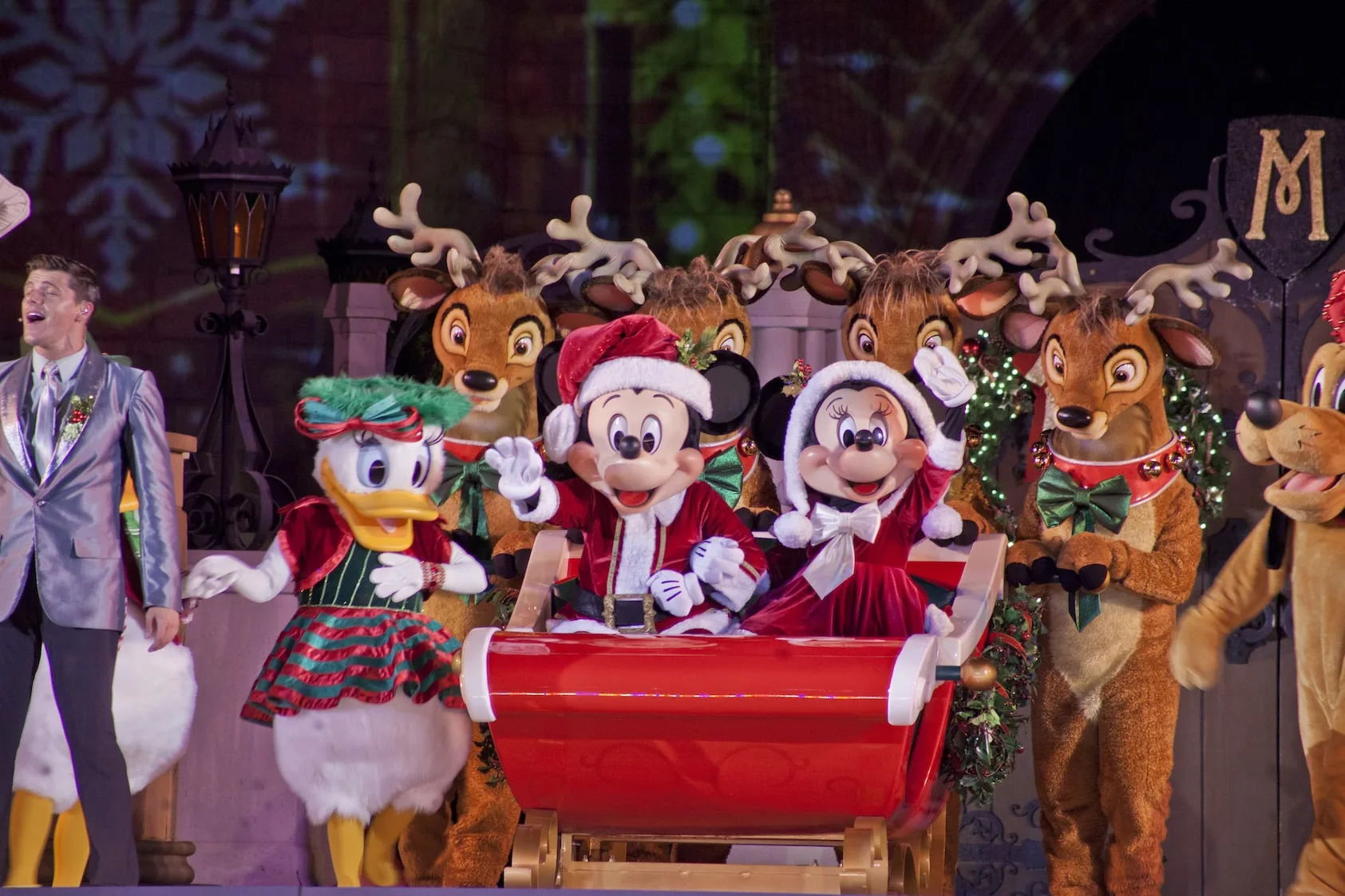 Held on select nights from early November through mid-December, this special event requires separate admission and allows Guests access the holiday celebration from 7 p.m. to 12 a.m. (You can technically get it as early as 4 p.m. with your Party ticket, or 2 p.m. if you are a DVC member.)
In my opinion, there's no better way to celebrate the Christmas season! But with prices around $100 per ticket, you may be wondering if this event is "worth it" and what's included. You can view the official event guide online, but I want to highlight 20 of my favorite reasons to attend Mickey's Very Merry Christmas Party:
1. Mickey's Once Upon a Christmastime Parade
Witnessing this quintessential holiday parade is nearly reason enough to attend Mickey's Very Merry Christmas Party!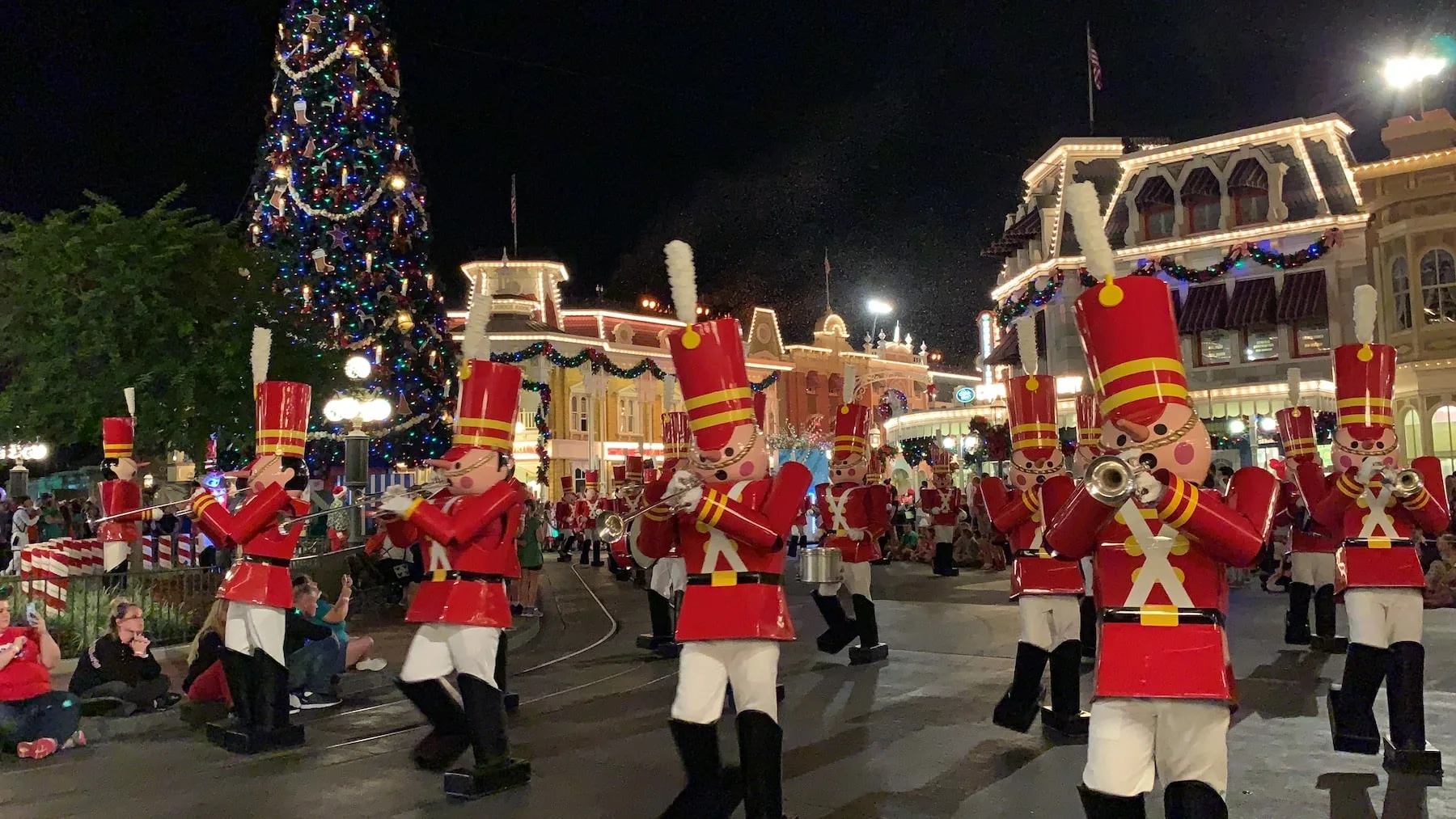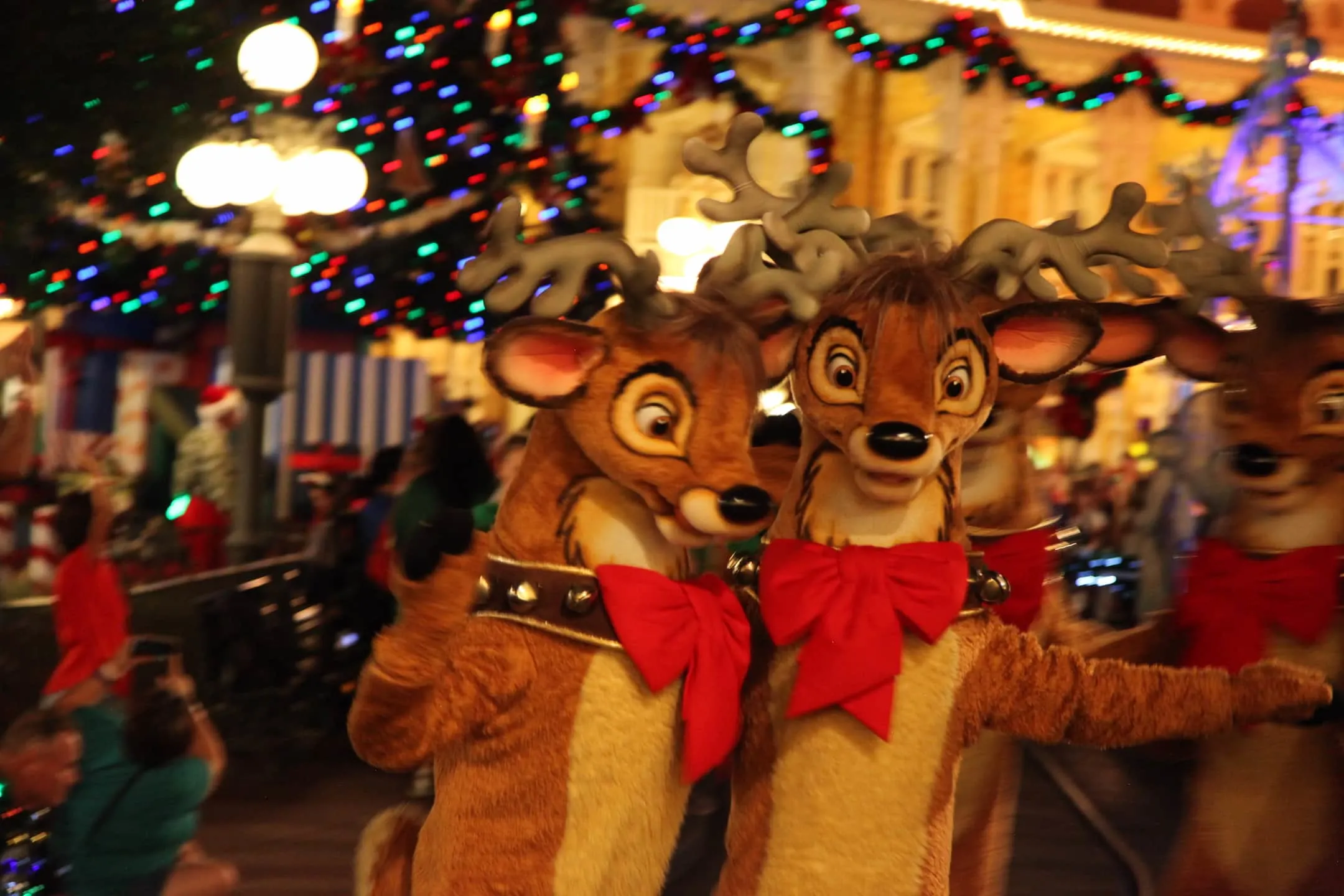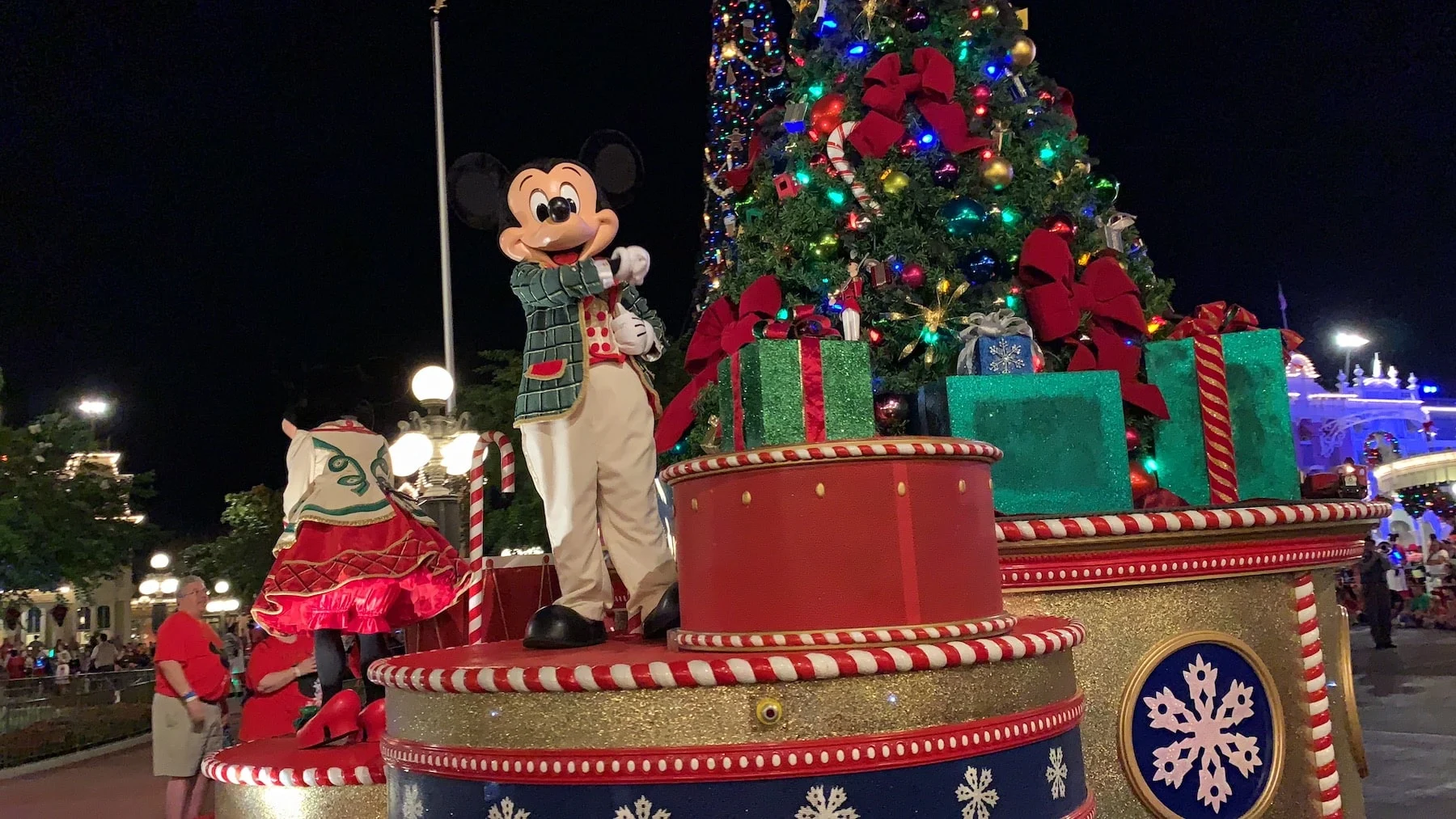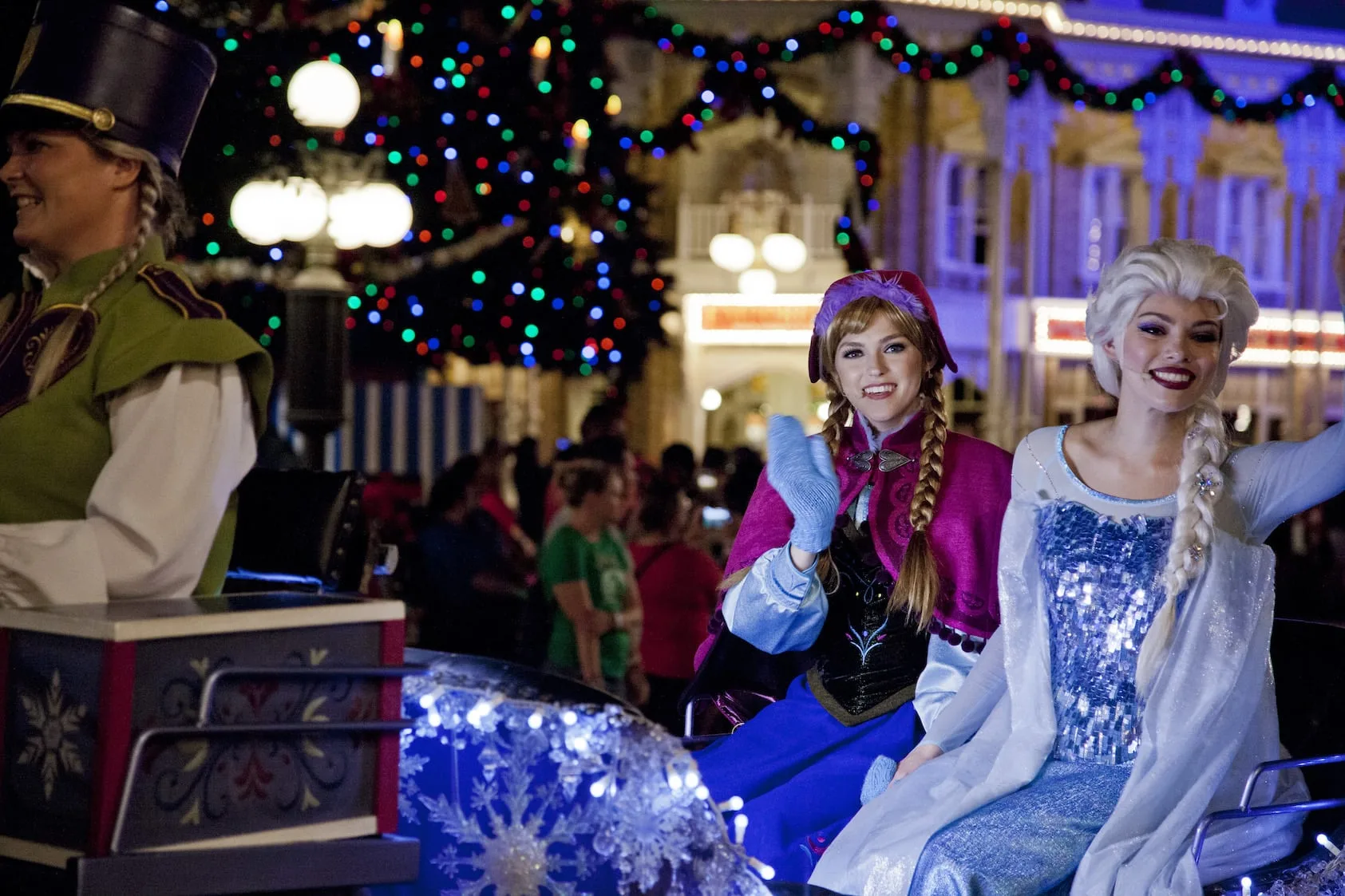 Brimming with holiday cheer, Mickey's Once Upon a Christmastime Parade brings favorite, loveable Disney characters as well as Christmas classics like gingerbread men, elves and toy soldiers to light up the night.
And, of course, Santa makes an appearance, too!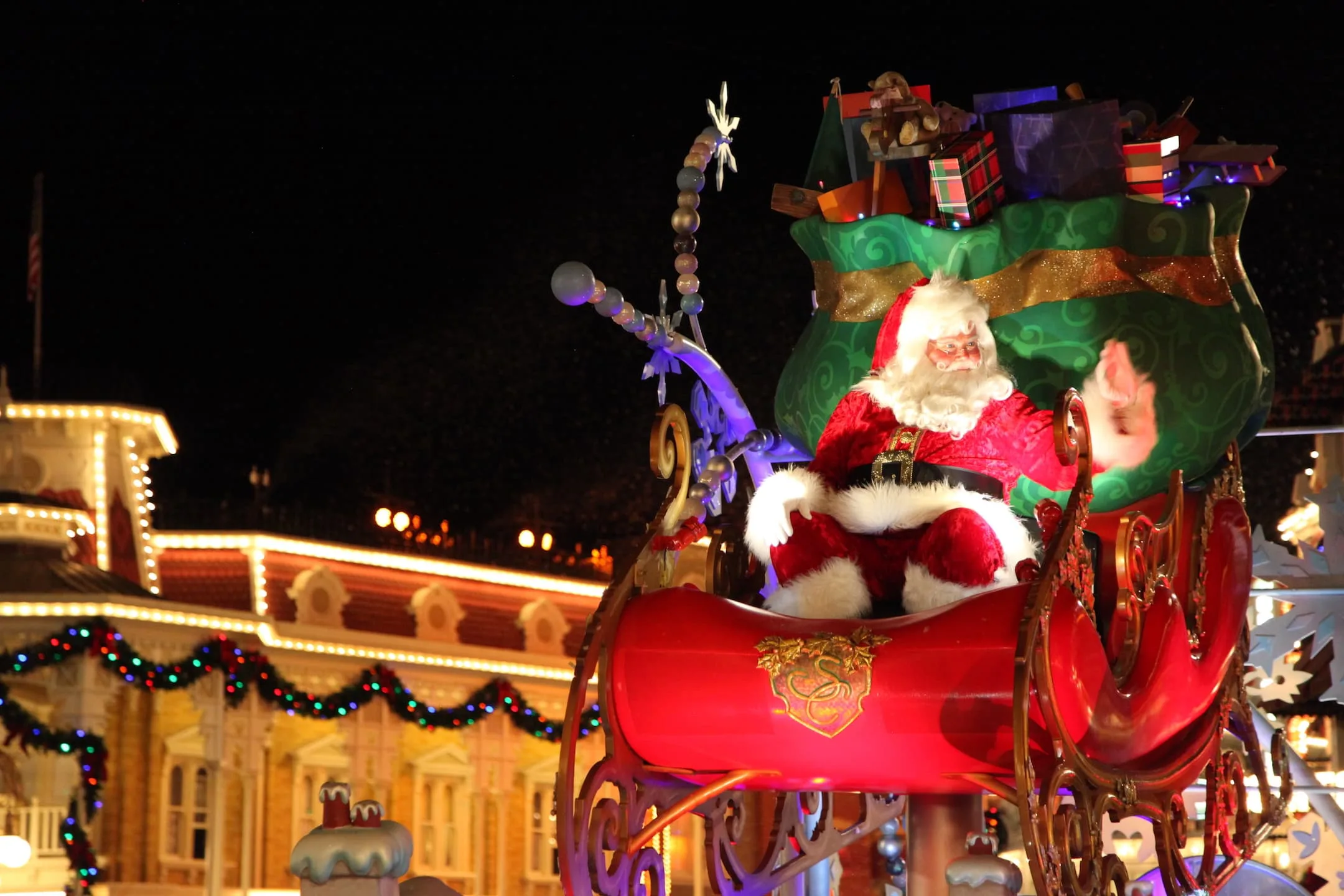 Pro Tip: There are two parades each night. The second parade is usually far less crowded, so you won't have to hold your viewing spot as far in advance. If you don't mind watching the parade from Frontierland, you'll find even less crowds there. Less waiting means more time to enjoy the numerous party offerings.
2. Holiday Wishes Fireworks at Magic Kingdom
Hosted by Jiminy Cricket, Holiday Wishes fireworks bring the spirit of the season to life with classic seasonal songs, pyrotechnics, and holiday themed projections. This show uses "perimeter" fireworks, which means the show is bigger and better than the normal nightly fireworks!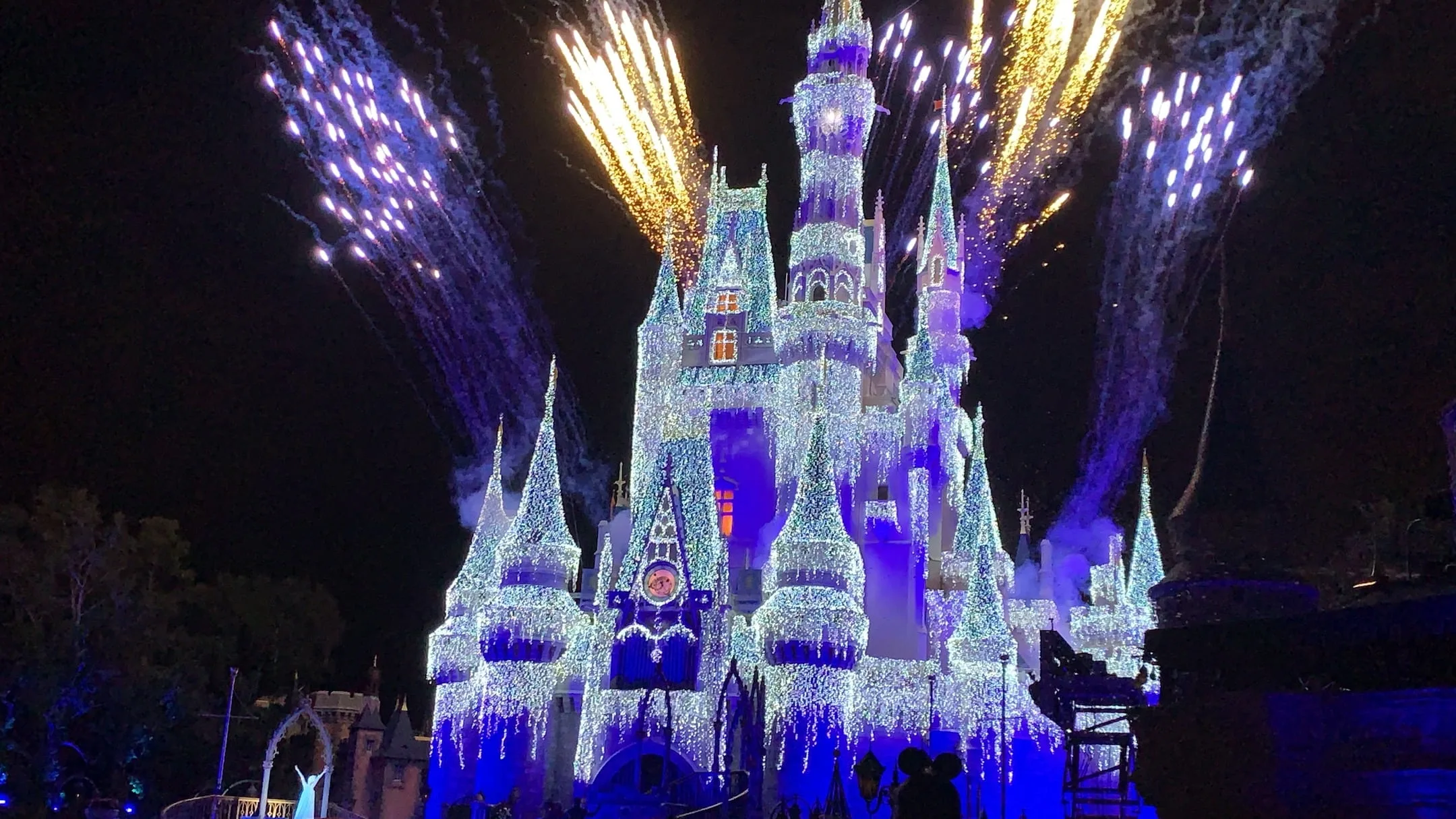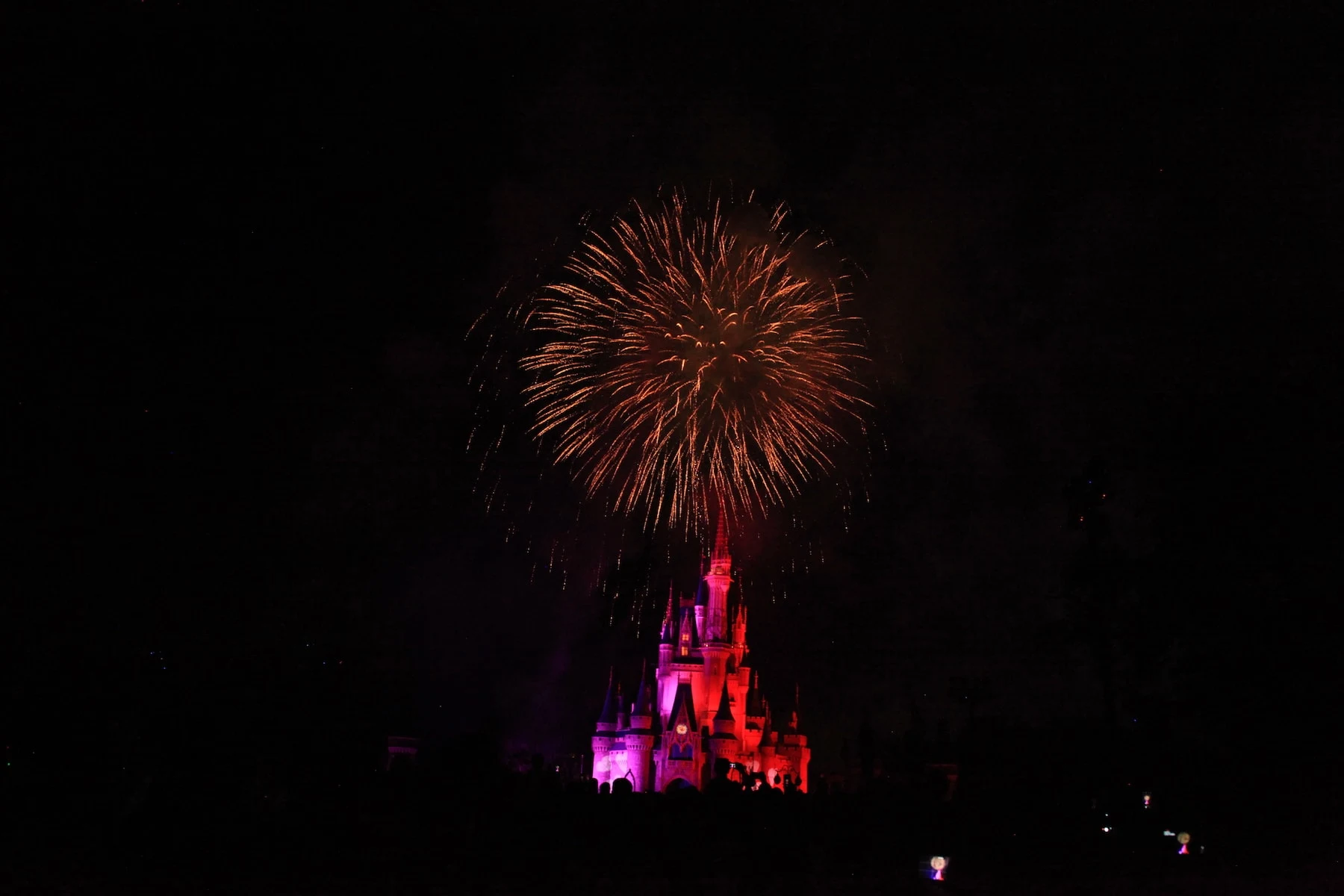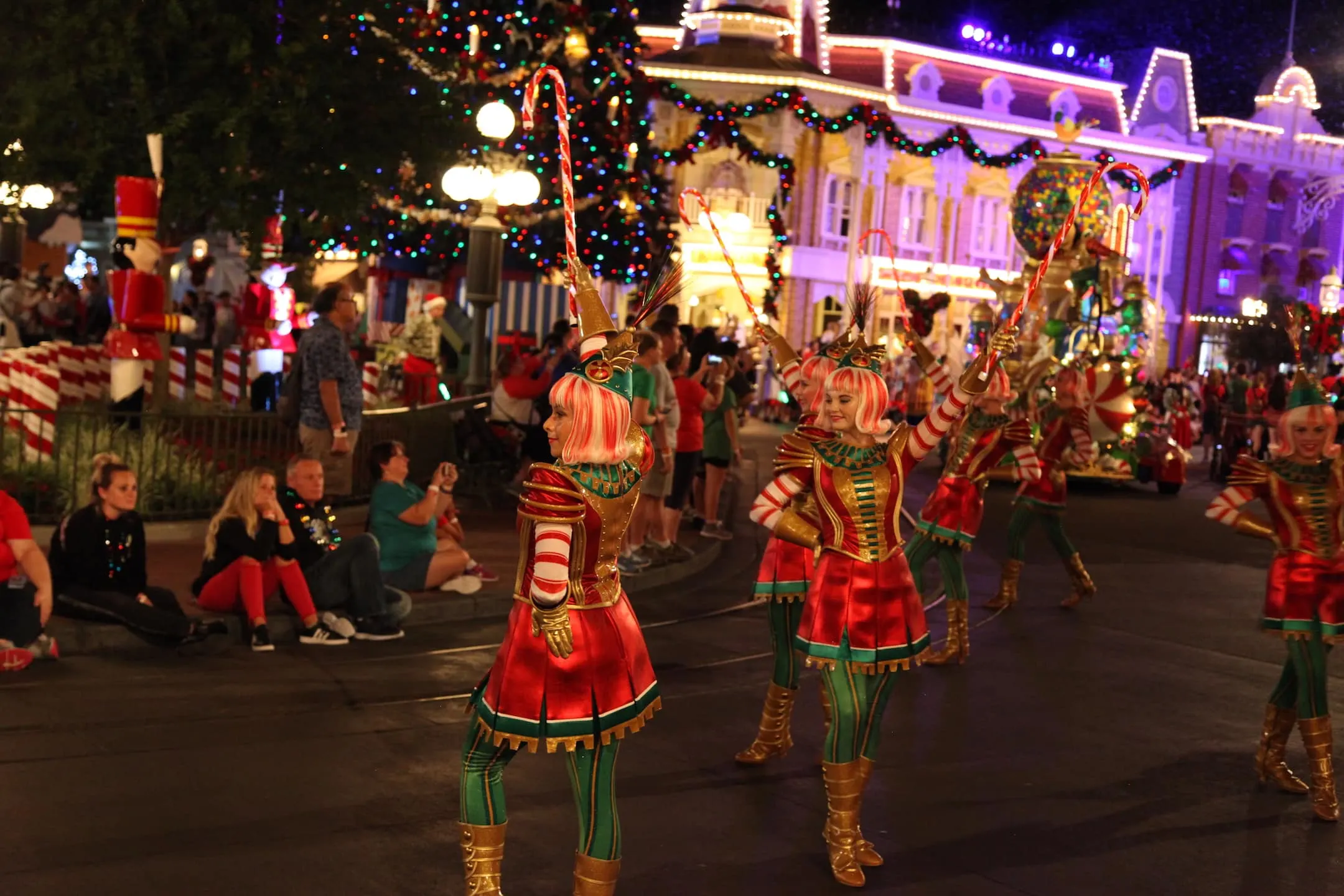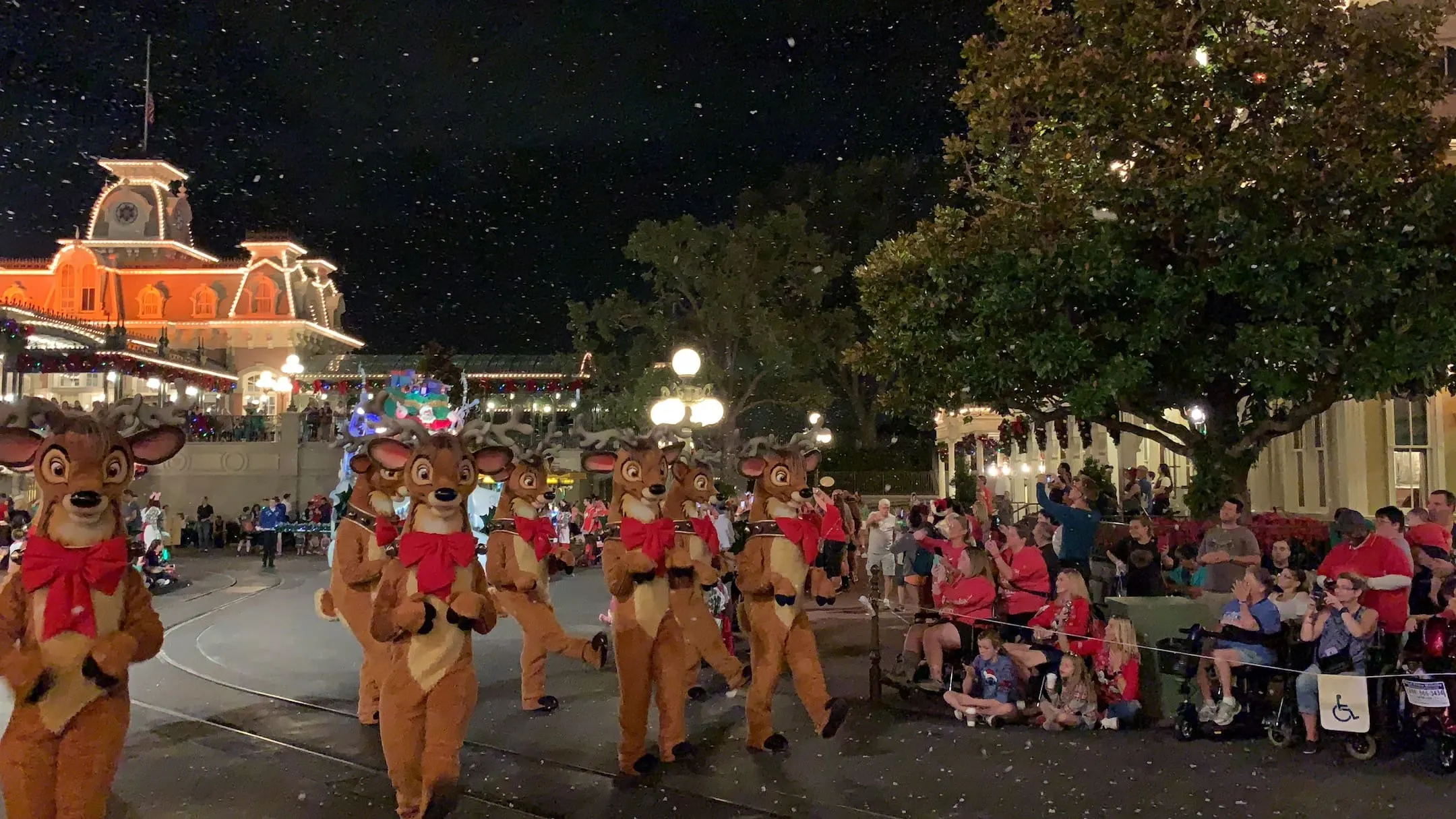 Sing along with traditional holiday tunes like "Jingle Bells," "I'll be Home for Christmas," "O Christmas Tree," and more.
3. Complimentary Traditional Holiday Cookies
Holiday treat locations are open throughout the park to offer you delicious, traditional Christmas cookies and seasonal beverages. This year, cookie options include:
Peppermint Crunch cookies
Snickerdoodles
Chocolate Chip cookies
Ginger Molasses cookies
large Mickey-shaped Sugar cookie with sprinkles!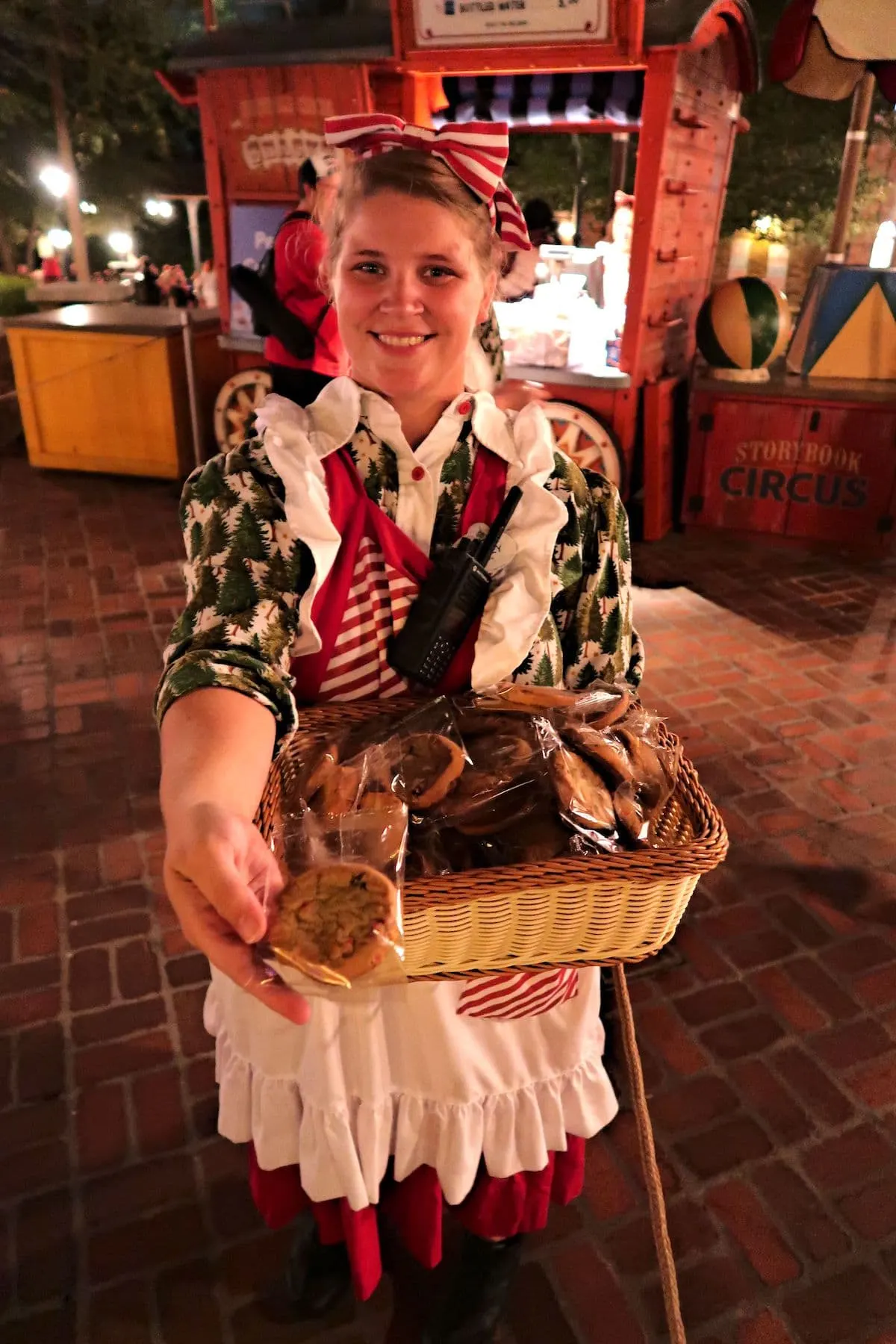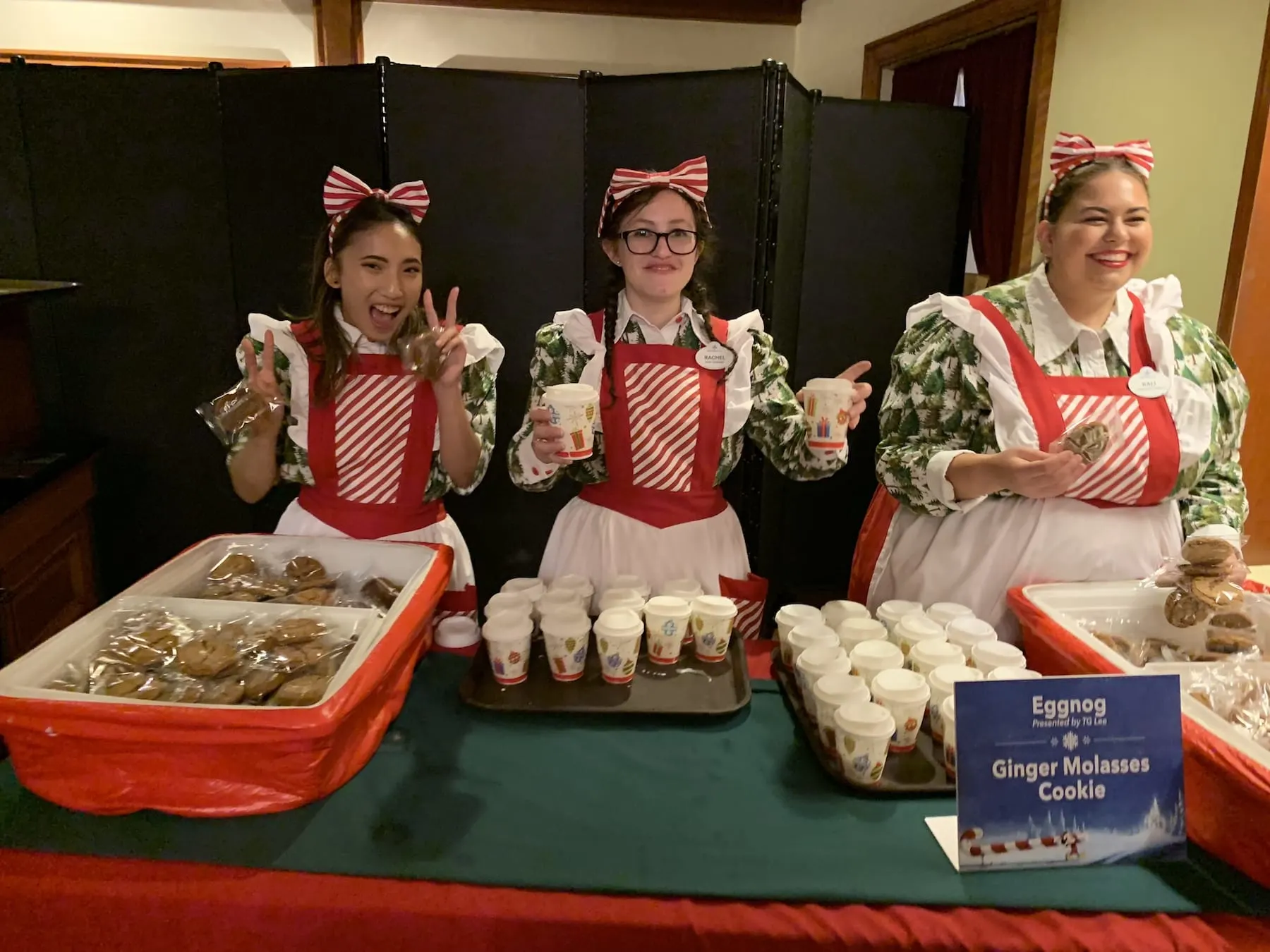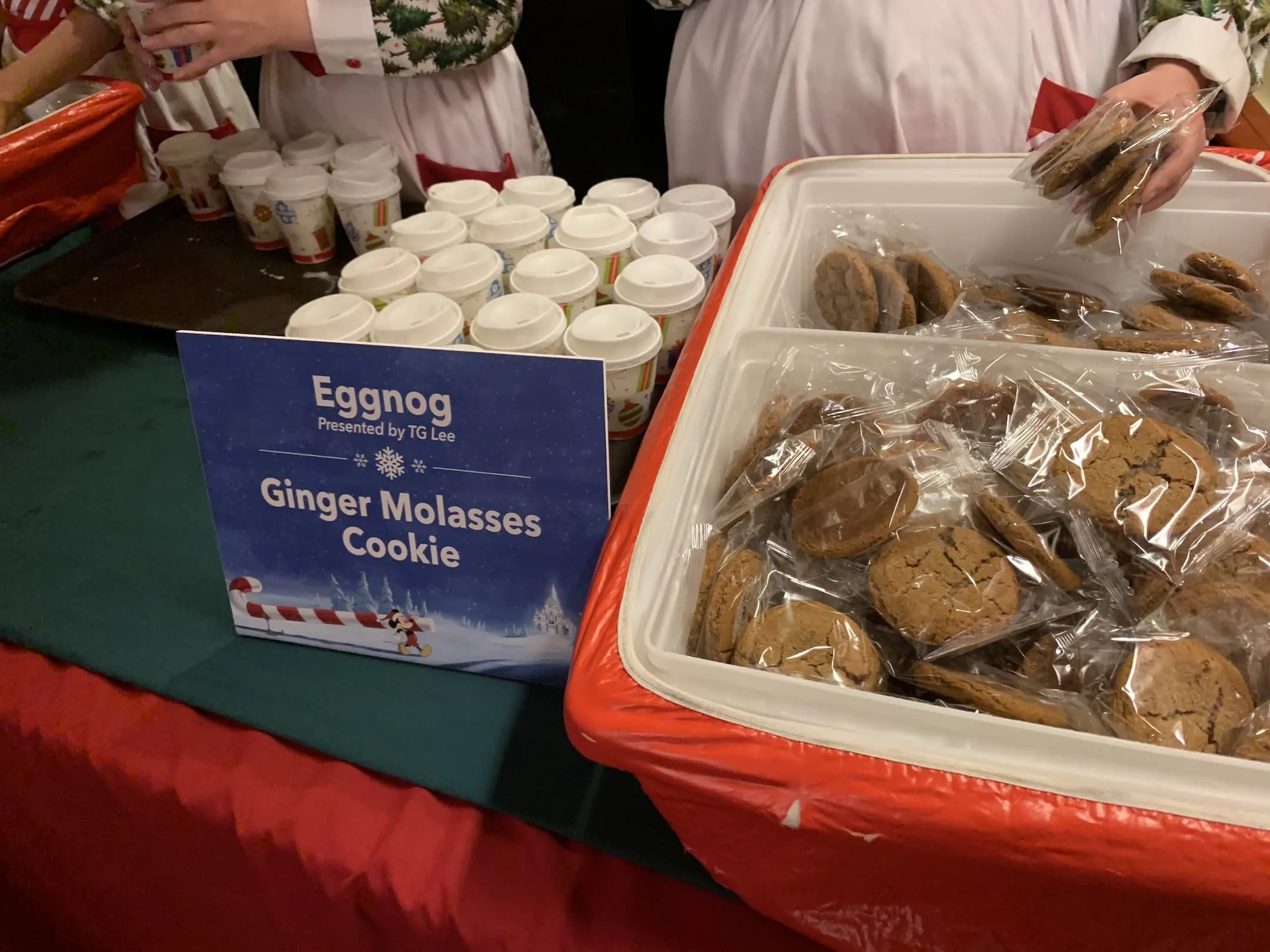 Another sweet treat, Dove chocolates, are also offered.
Eggnog, Chilled Apple Cider and Hot Chocolate are among the yuletide beverages.
There was no shortage of sweet treats scattered across the park. It's fun to make your way around to the different stations and collect your treats.
And, this year, cookies are individually wrapped to make it even easier to take a few for later!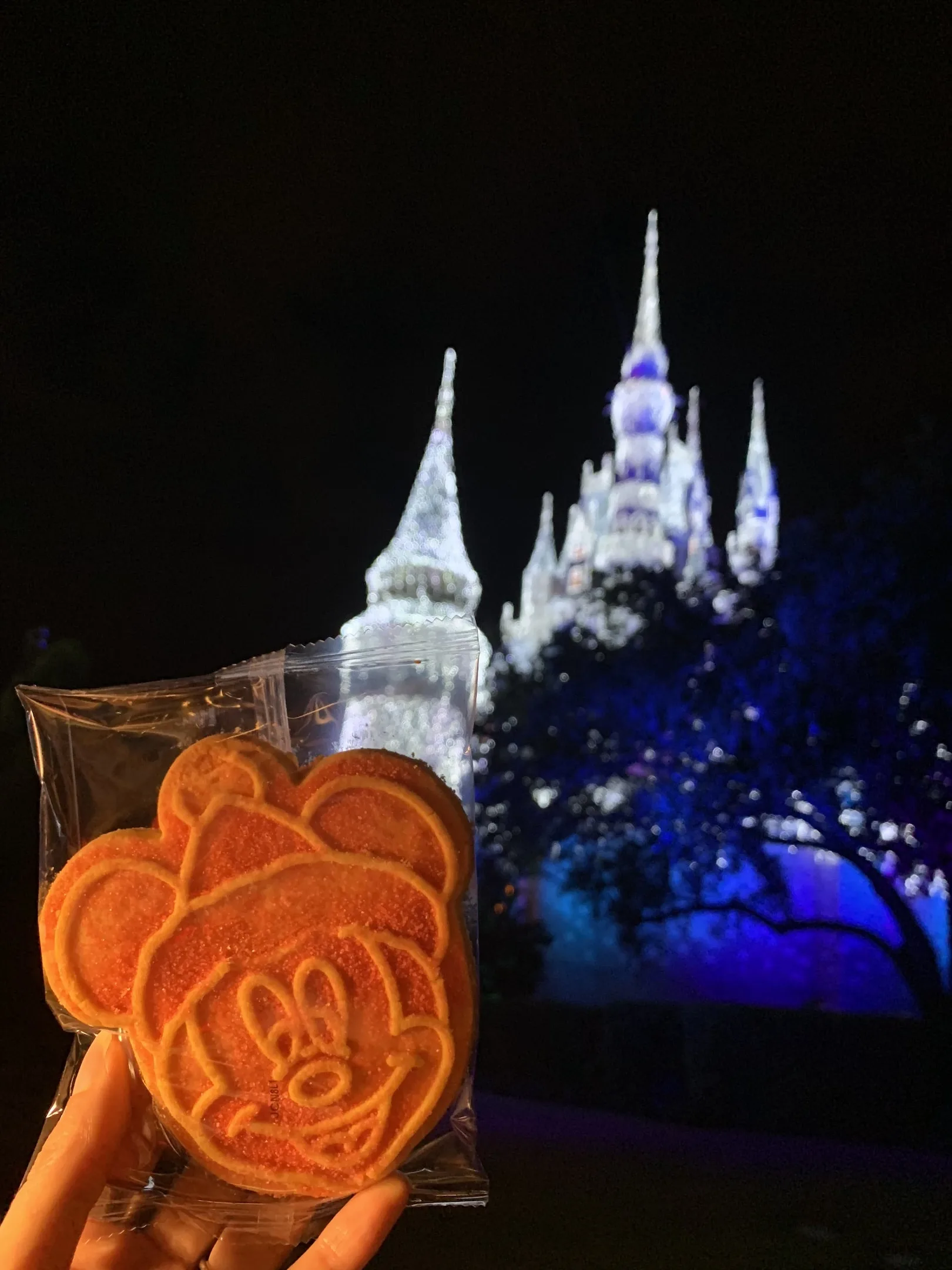 4. Other Festive Snacks and Drinks Included with Mickey's Very Merry Christmas Party
Aside from cookies and classic drinks, Guests can also get these complimentary snacks and drinks:
Warm, snowman-shaped hot pretzel in Adventureland
Sno-Cones in both Adventureland and Tomorrowland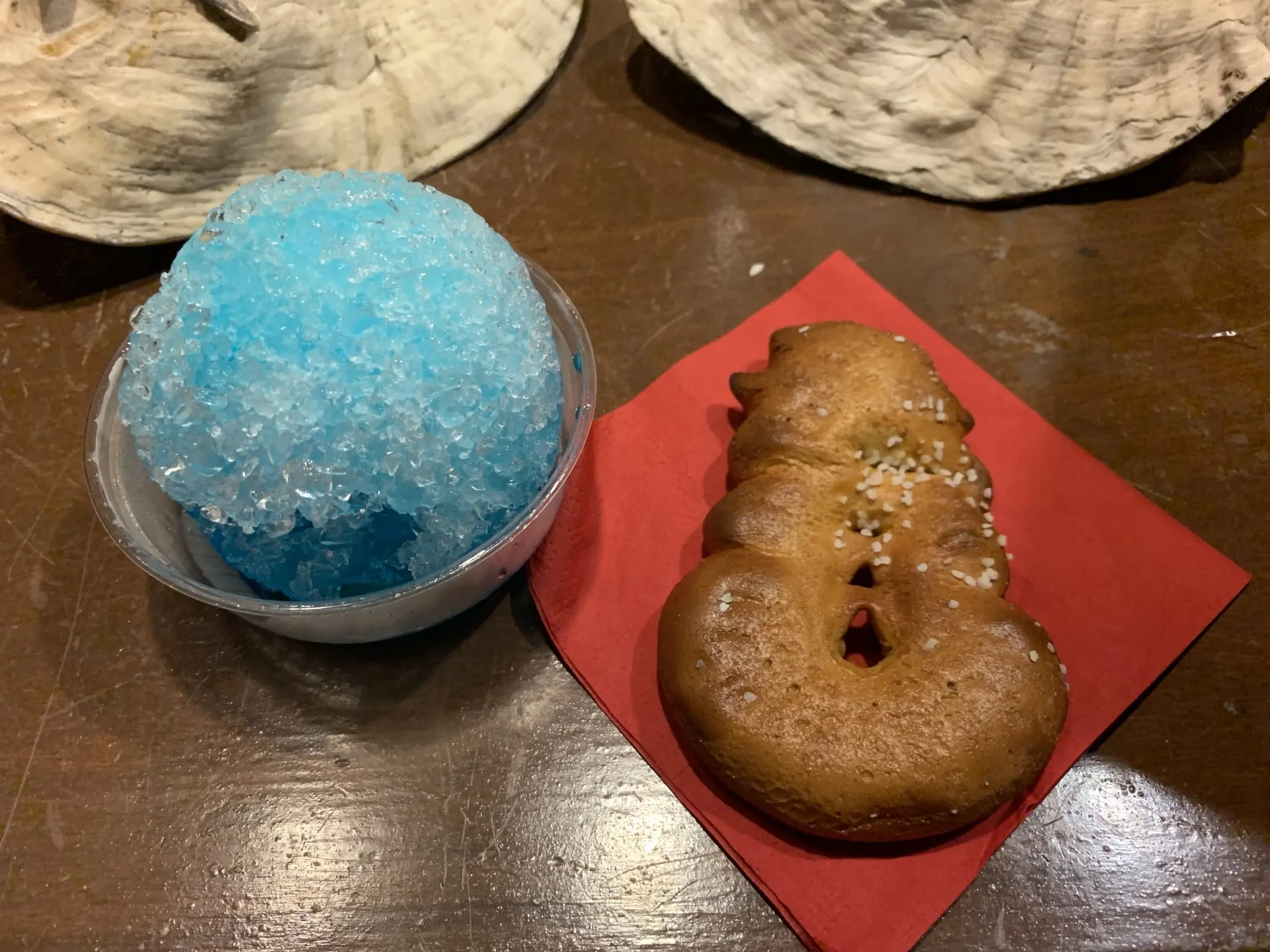 Vegan and Allergy Friendly Snacks
Pinocchio Village House has a variety of holiday favorites and a unique item for anyone following a vegan lifestyle – JUST brand vegan cookie dough!
Other allergy-friendly options from Enjoy Life are also available upon request, too.
5. Disney Characters in Holiday Outfits
Disney character greetings are plentiful throughout Magic Kingdom. You can't go wrong with hugs, autographs and playful exchanges with the beloved Disney characters who are all decked out for the celebration.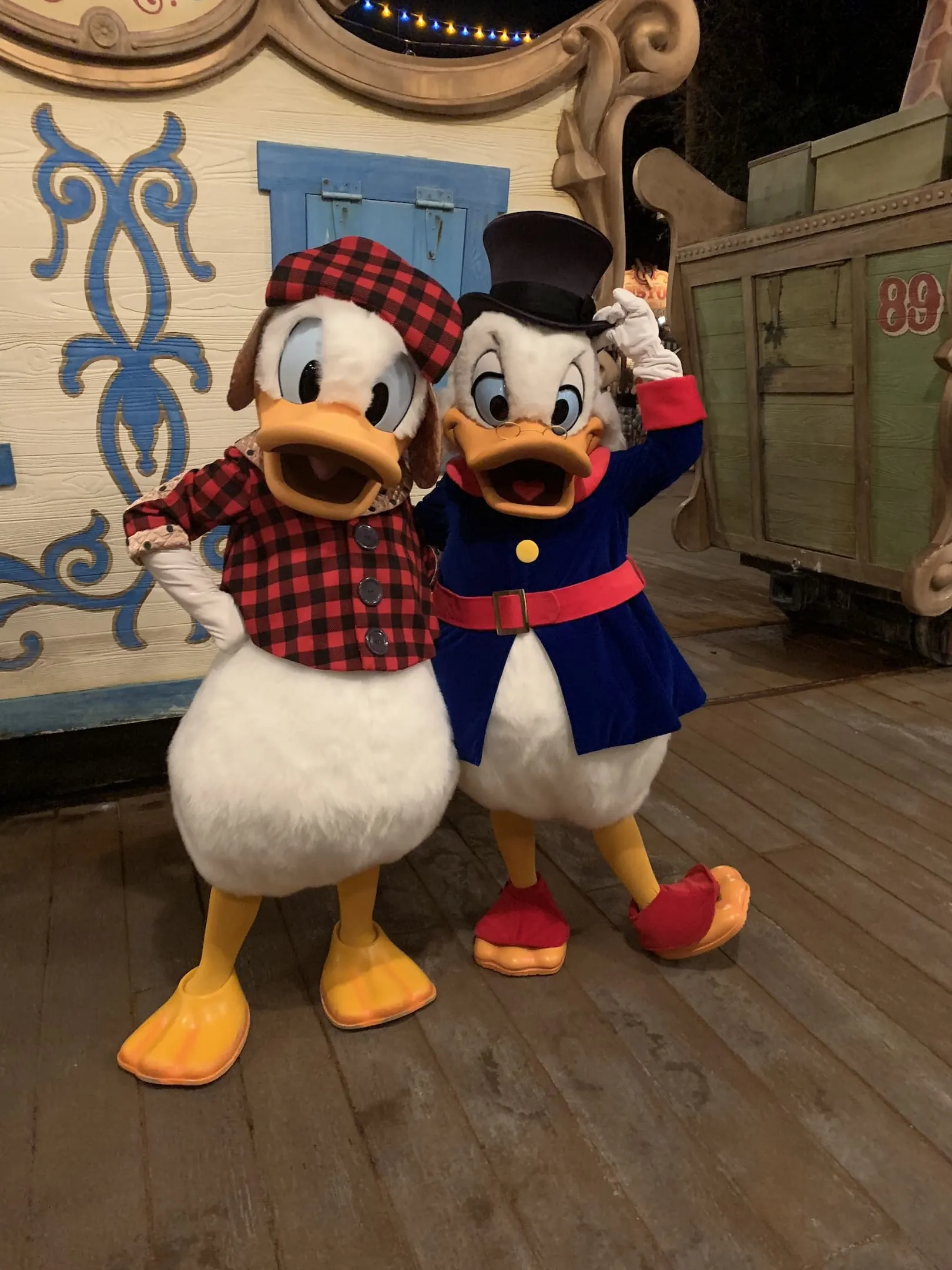 Plus, photos with Mickey, Minnie, Donald and Daisy in their holiday finery, or with Santa Goofy, make excellent holiday card photos!
And, as always, Disney's PhotoPass Cast Members are at the ready to capture the best moments.
6. Rare Disney Character Appearances
One of the things I love most about Mickey's Very Merry Christmas Party is the opportunity to meet with rarely seen characters.
For example, you can get a family photo with all seven Dwarfs! Jack Skellington dressed as Sandy Claws and Sally are a popular duo at the party and you won't want to miss the opportunity to meet several of the Princesses with their Princes!
7. PhotoPass and Magic Shots at Magic Kingdom
There are several festive photo ops around the park including decorated backgrounds, oversized ornaments and frames that add some extra fun to your family photos.
But what's really special are "Magic Shots" that are only available during Mickey's Very Merry Christmas Party! Props, characters and more will be digitally added to your photos to make come alive with Christmas cheer!
8. Instagram Worthy Foods Only for Mickey's Very Merry Christmas Party
There's a surprisingly long list of exclusive treats and foods that are only available at the Christmas Party, and boy are they photogenic and indulgent!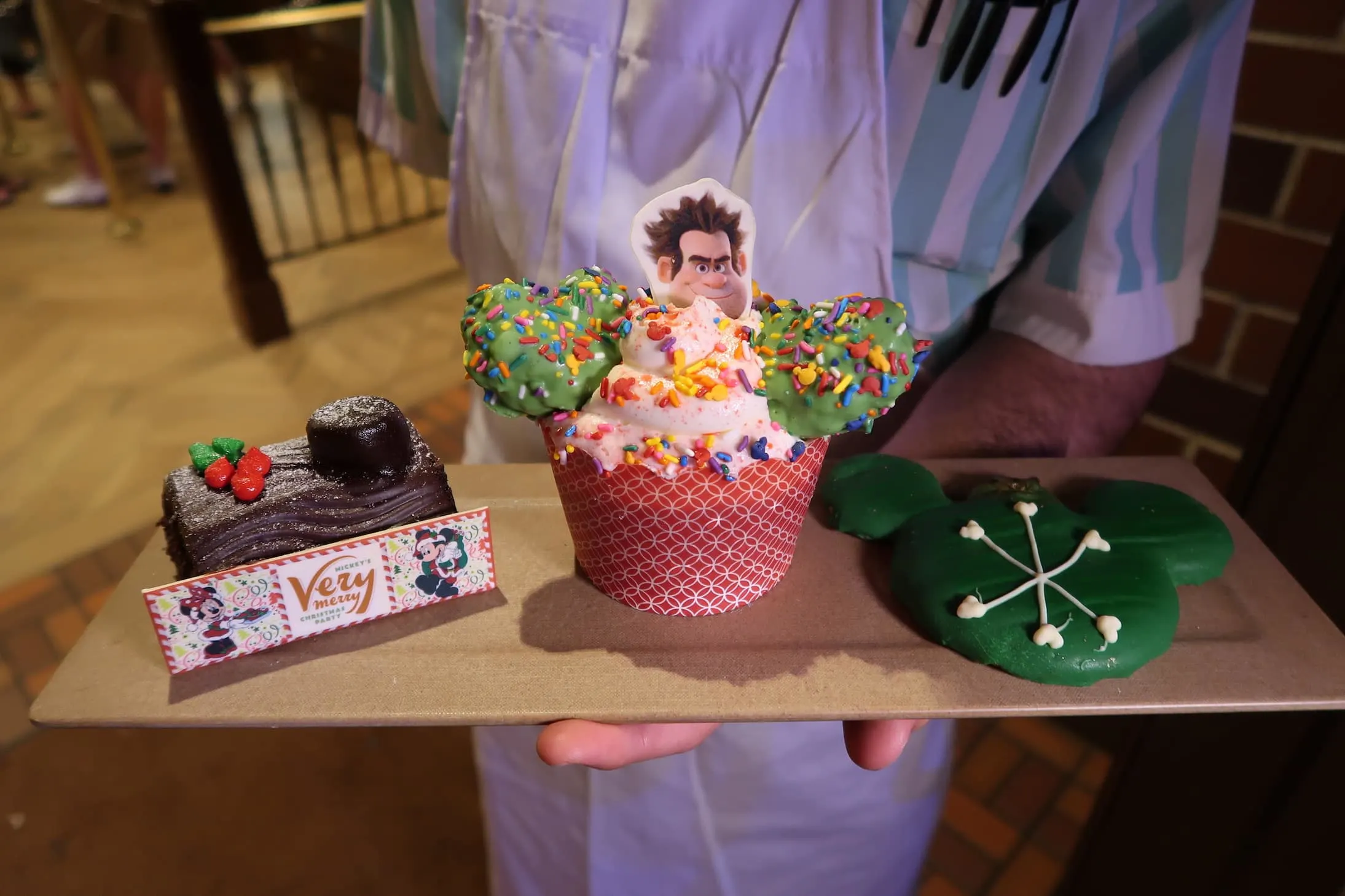 If you're headed to Mickey's Very Merry Christmas Party, here's the sweet snacks to be excited about trying:
Chocolate Yule Log (gluten free)
Mickey Ornament Gingerbread Cookie
Sandy Claws Dessert (made to look like his gift sack)
Red Velvet Zero Waffles (served with ice cream, whipped cream and holiday sprinkles)
Vanellope Éclair (with colorful fruity cereal filling)
Scrooge McDuck Eggnog Custard topped with a gold coin (gluten free)
Three Caballeros Spiced Chocolate Yule Log (topped with white chocolate featuring the three amigos; gluten free).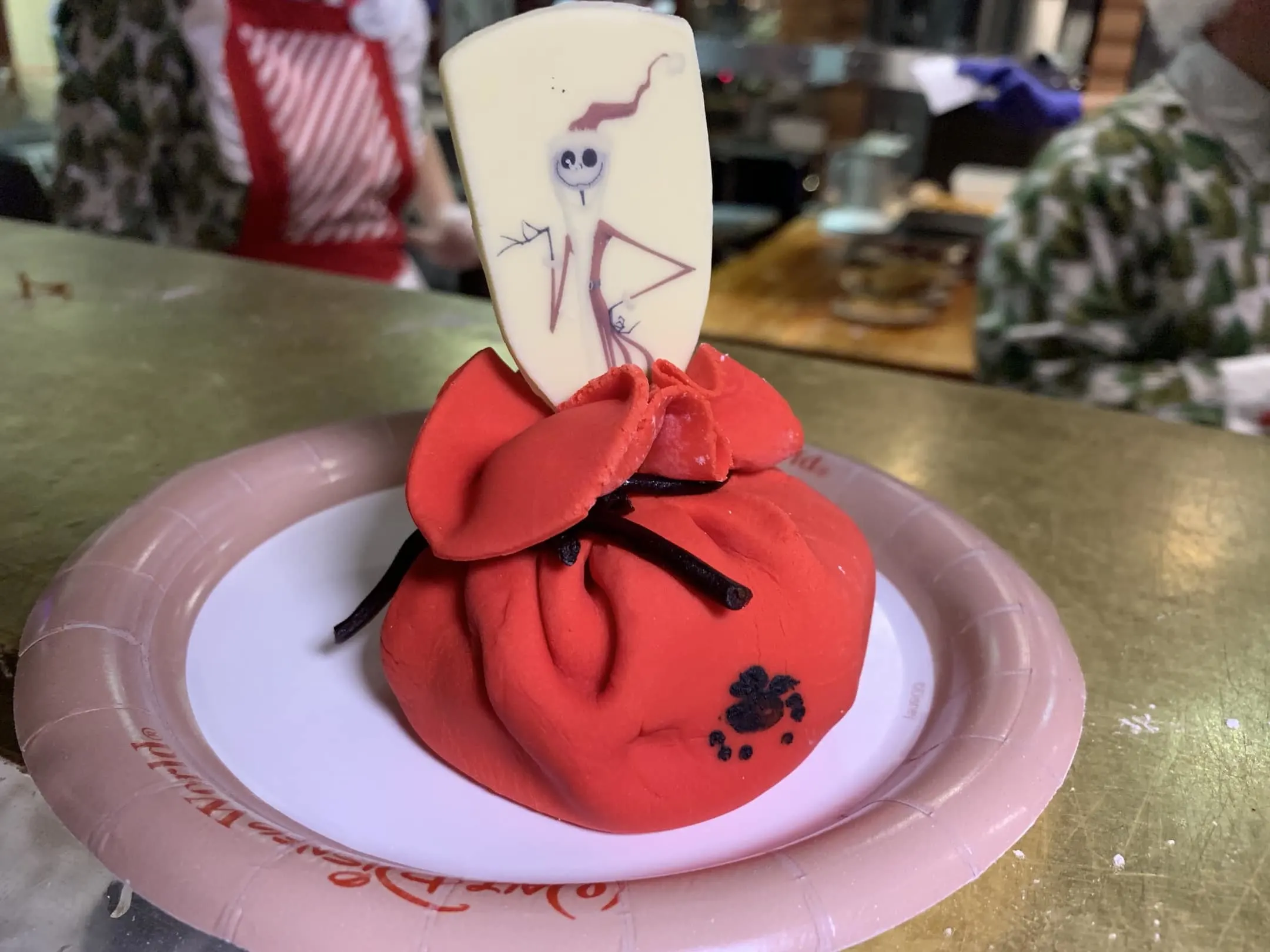 If savory is more your style, Disney has you covered with the following yummy foods:
Feliz Navidad Nachos – red and green tortilla chips topped with turkey chili and queso sauce;
Poutine Dog – a hot dog topped with fries, poutine gravy, cheese curds, and chives
Holiday Burger – a burger on Texas toast with roasted turkey, Muenster cheese, stuffing, and cranberry sauce
Pro Tip: Mobile ordering is available during the special event. Order your selections on the My Disney Experience app on your phone so you can spend more time enjoying the party!
9. Mickey's Very Merry Christmas Party Event Merchandise
You can commemorate the event and grow your Disney merchandise collection with shirts, pins and more created especially for Mickey's Very Merry Christmas Party! Whether your preference is an ornament for your tree, a shirt, an adorable mug or an exclusive MagicBand, there's something for everyone to take home.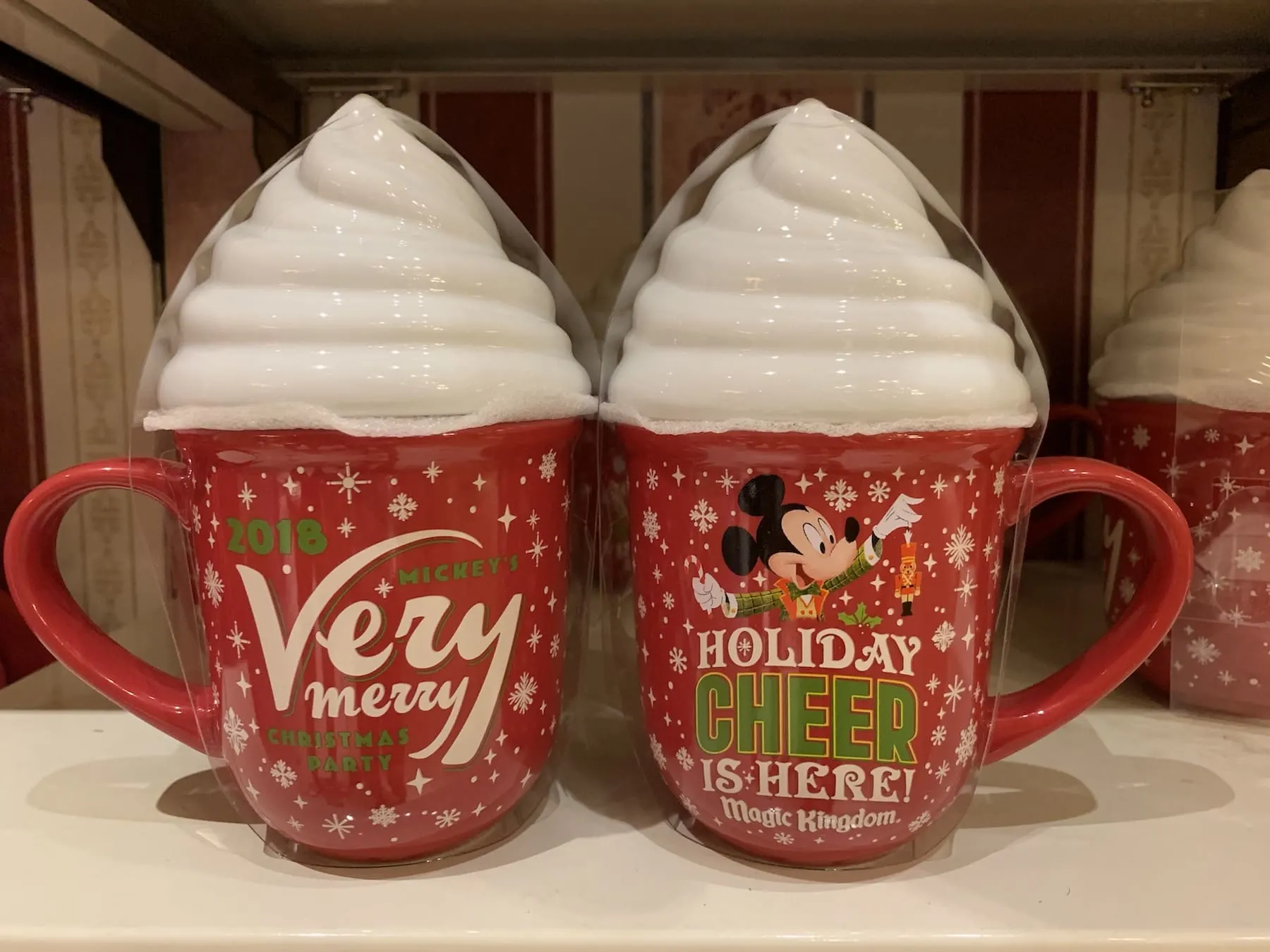 10. A Totally Tomorrowland Christmas
If you are ready for an out-of-this-world party, you'll want to head to Tomorrowland for "A Totally Tomorrowland Christmas" where Stitch, Mike Wazowski, Buzz Lightyear and a troupe of intergalactic dancers perform interstellar takes on popular Christmas tunes! Kids (and adults) love singing along with this high energy show!
11. Live Musical Performances
Love live music? Mickey's Very Merry Christmas Party has that, too!
New this year, The Edge Effect performs an a cappella holiday concert four times throughout the night. Fans of the genre may recognize several members of this group from popular television singing competitions! Don't miss it if you are a fan of a cappella!
For a little lighthearted and more intimate show, check out The Reindeer Wranglers in Frontierland. This trio plays bluegrass versions of Christmas tunes, which sometimes involve dancing Country Bears who join in on the fun! "Santa Went Down to the North Pole" a take on "The Devil Went Down to Georgia" is a crowd favorite.
12. Mickey's Most Merriest Celebration
Mickey's Most Merriest is the most character-filled stage show around!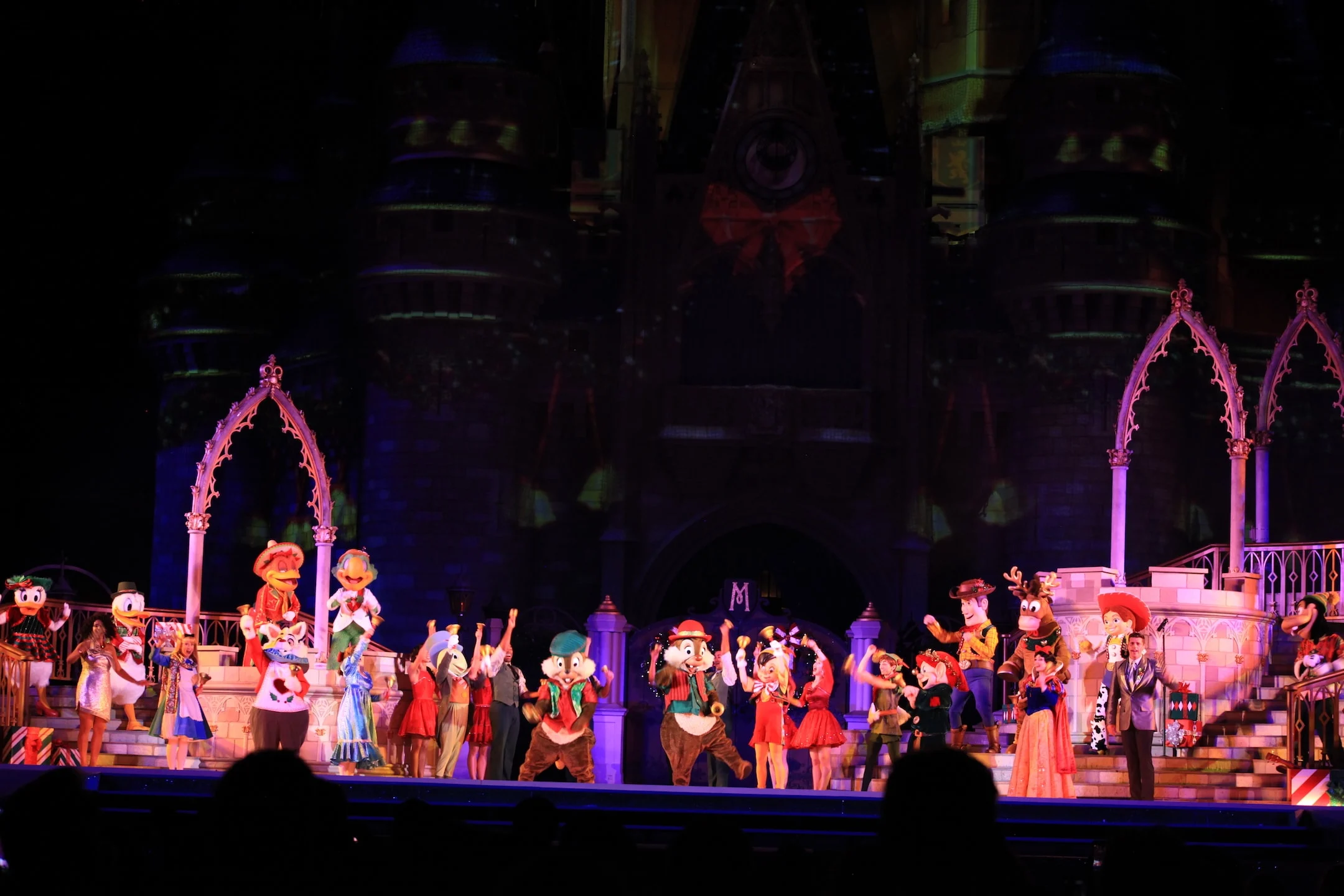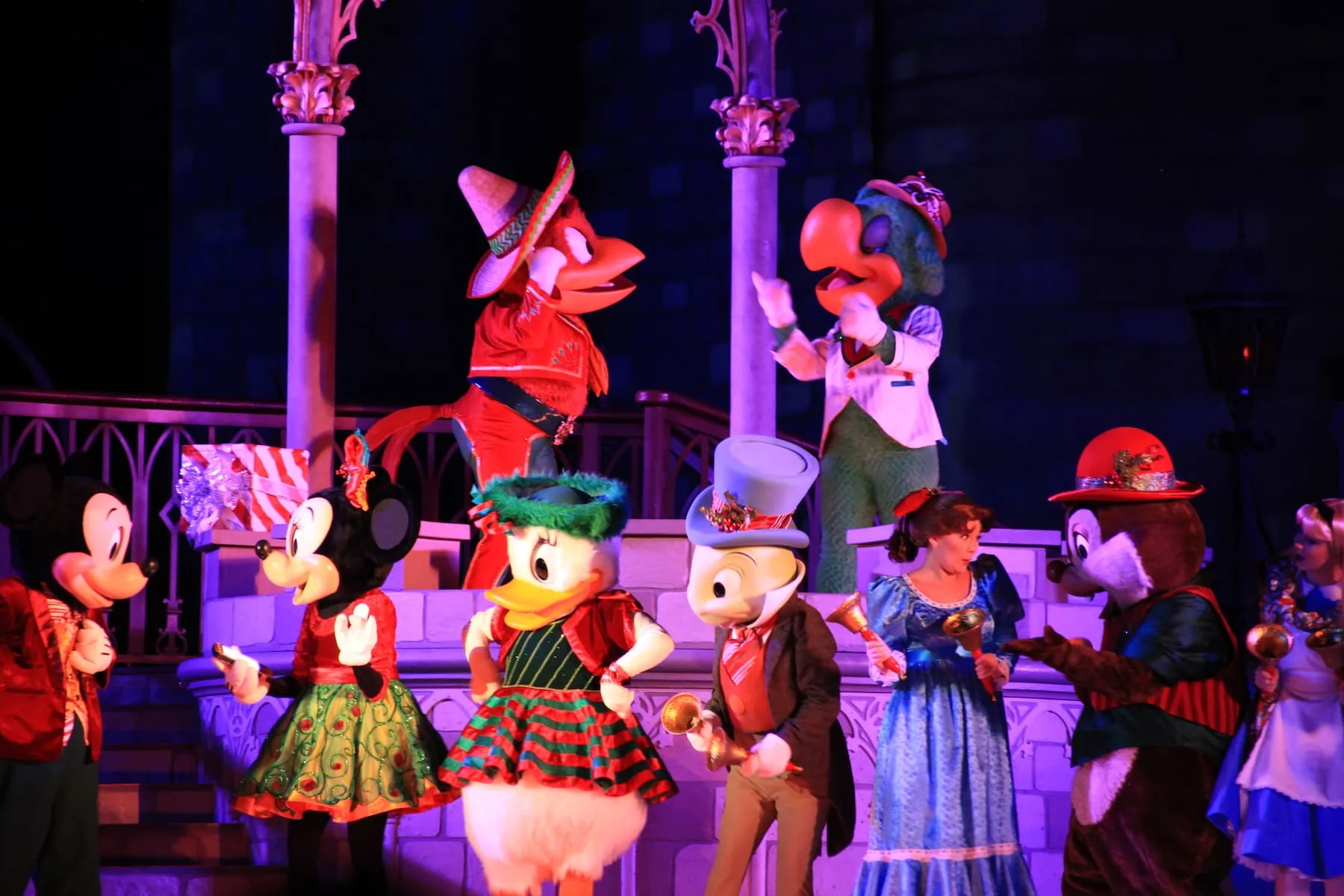 Mickey invites all his pals to a jubilant holiday soiree filled with music, dancing and laughter. A bevy of loveable characters sing holiday carols, old and new, at the base of Cinderella Castle while it's aglow with Christmas lights.
The heartwarming story is adorable, but, if for nothing else, see the show for Clarabelle's hilarious rendition of Mariah Carey's "All I Want for Christmas is You" – it's a showstopper!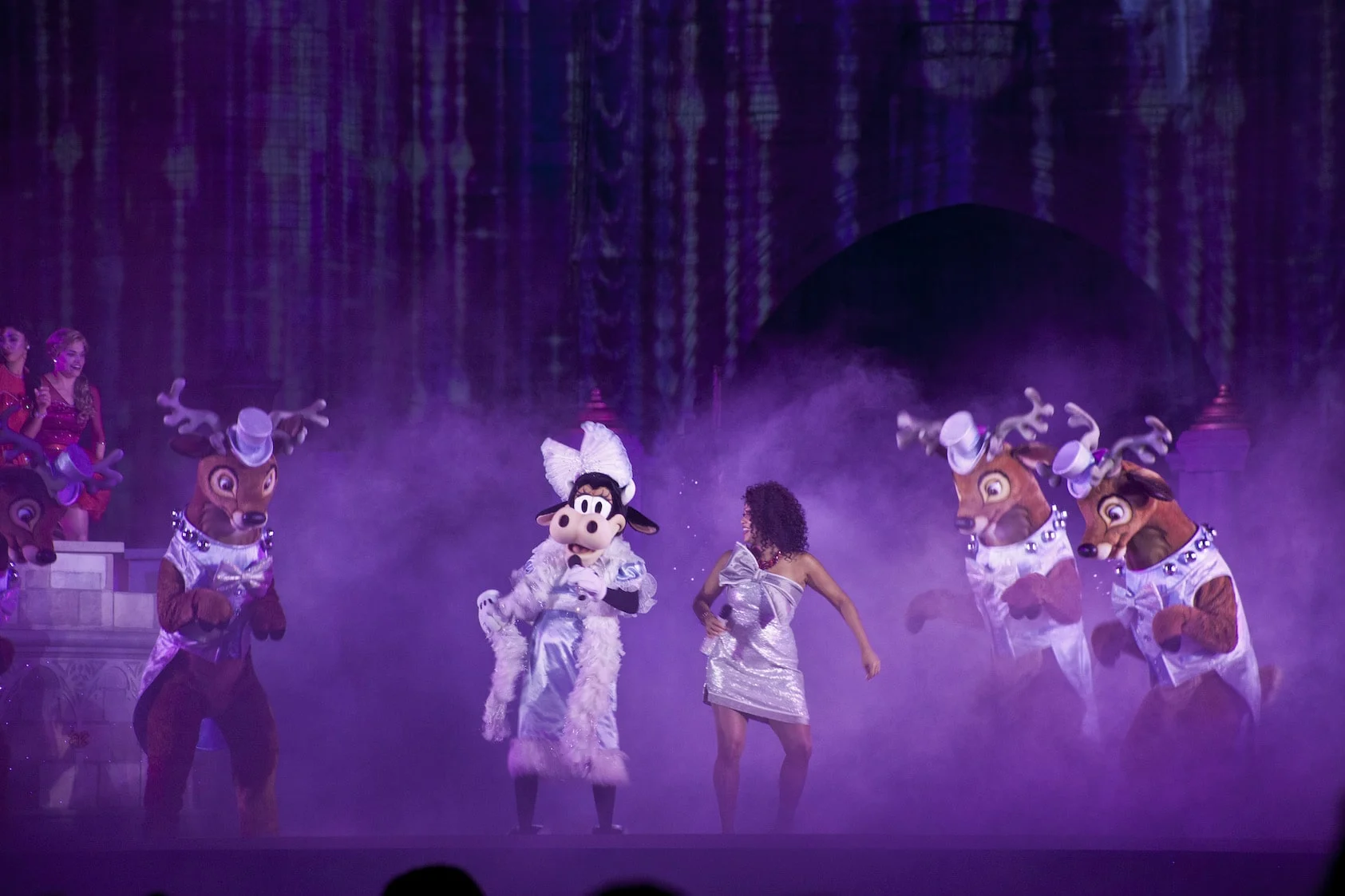 Pro Tip: The crowds are lightest during the last show of the night. For the best viewing and photos of all the characters, look for a spot very close to the castle stage.
13. Character Dance Parties
Get down and grab selfies with holiday friends like Santa's Reindeer and Polar Bears at the Club Tinsel Dance Party in Tomorrowland.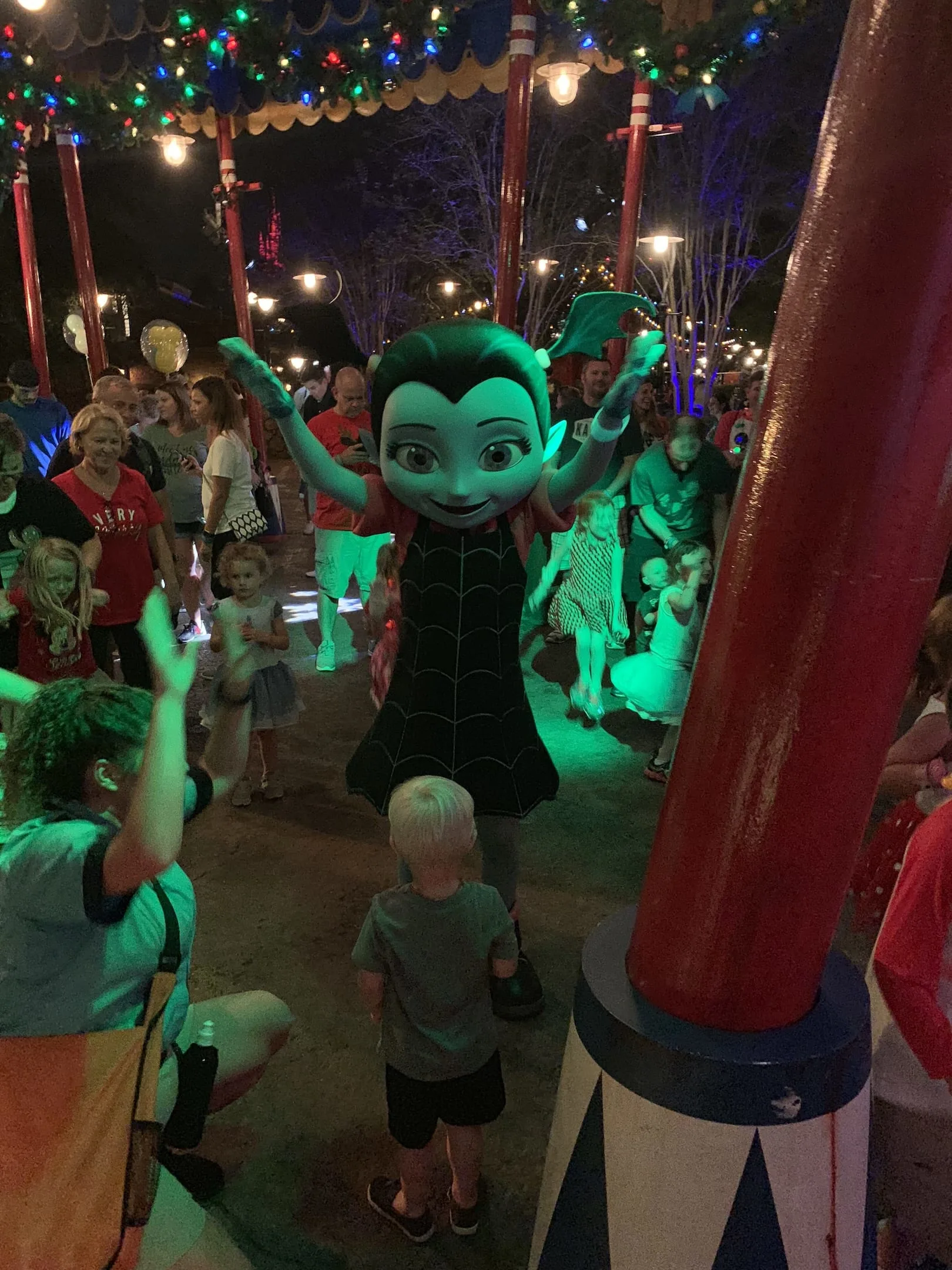 Or get your groove on with the Storybook Circus Disney Junior Jingle Jam with Vampirina and Timon!
14. Festive Christmas Atmosphere
Christmas music fills the air throughout the park, Cinderella castle glows with sparkling "ice" lights, and festive projections and decorations can be seen all around the park.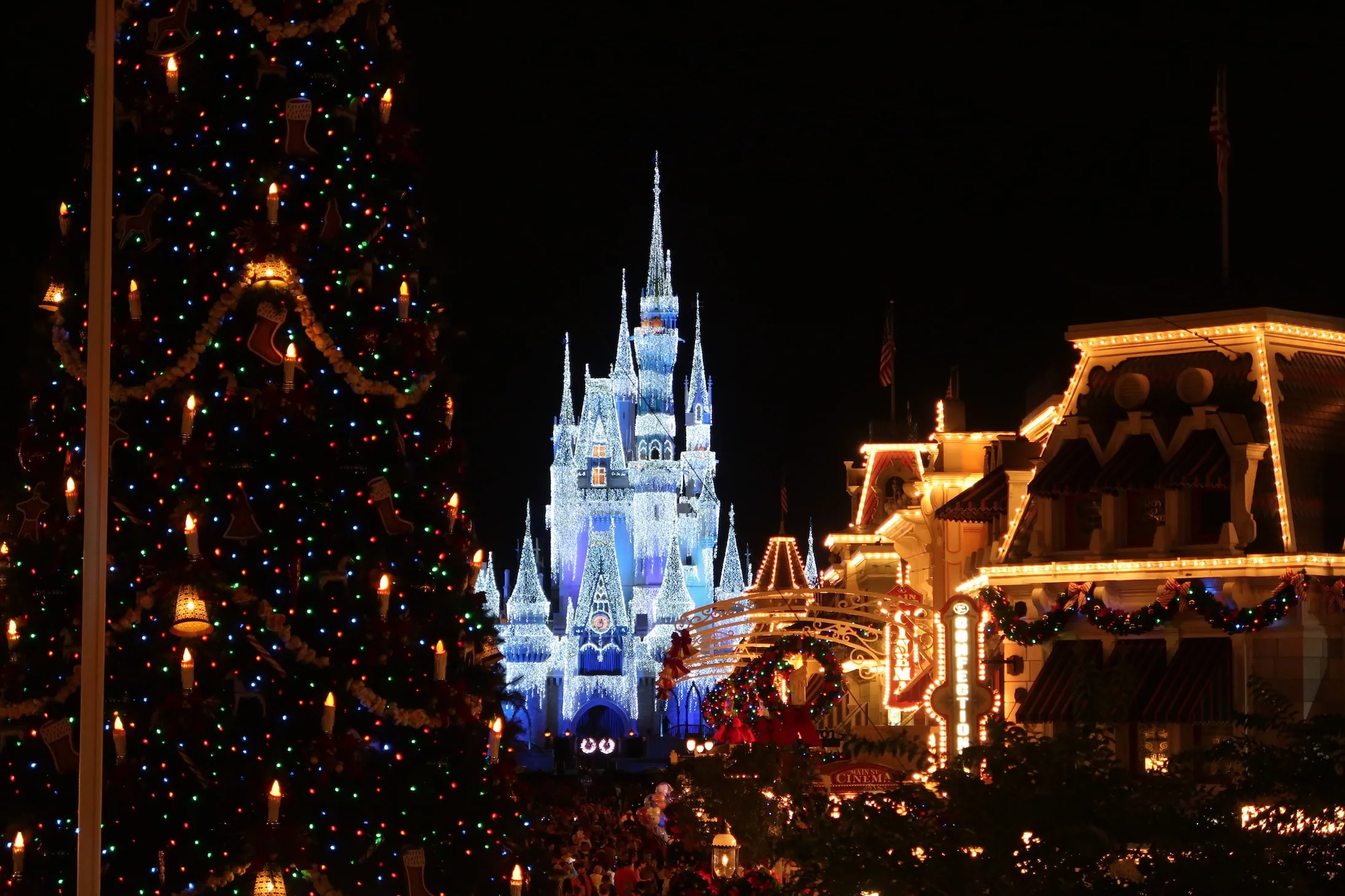 Everyone is in the holiday spirit at Mickey's Very Merry Christmas Party – and I mean everyone! During the event, Cast Members wear playful costumes and greet you with an abundance of holiday cheer as they dole out the complimentary treats!
Partygoers sing and dance along with the parades and shows. It's impossible not to get into the holiday spirit!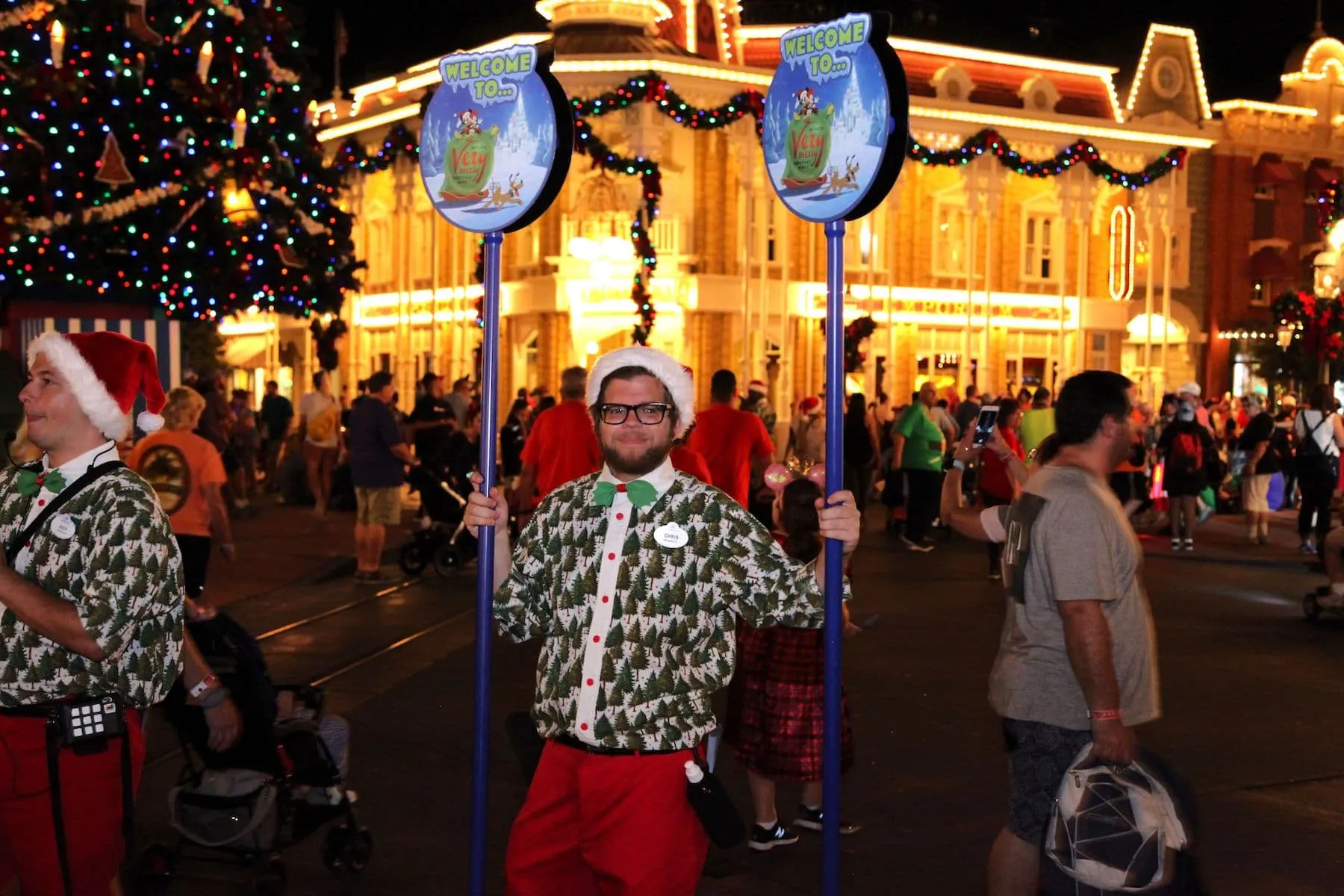 15. Gorgeous Christmas Decorations
Walt Disney World's Magic Kingdom is a photographer's paradise and a Christmas lover's dream at Christmastime.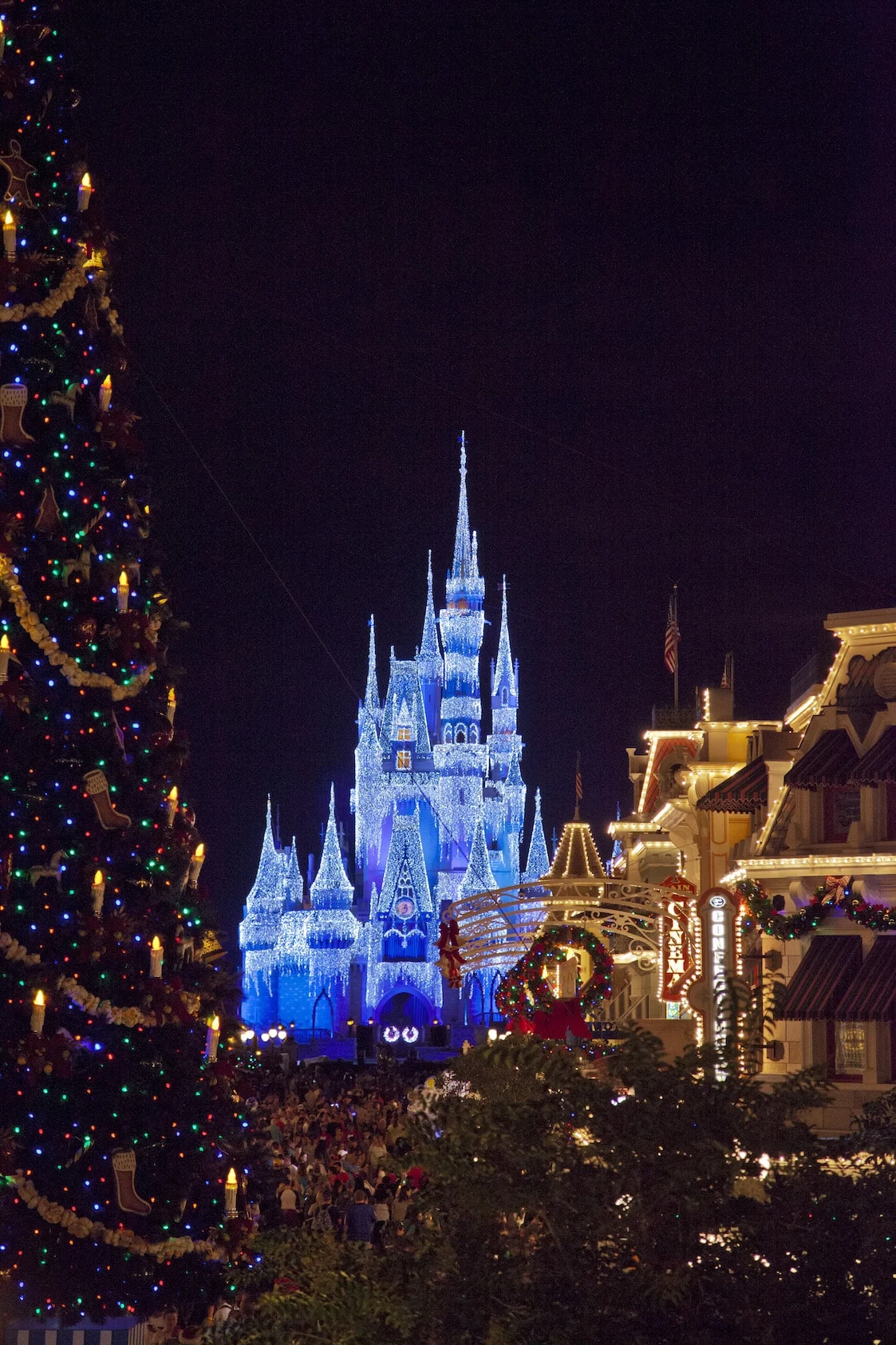 Elegant, traditional decorations line Main Street, U.S.A. between a 65-foot Christmas tree and a sparkling castle that's completely draped in lights.
16. Elsa Covers Cinderella Castle in Shimmering "Ice"
A Frozen Holiday Wish is a short stage show in which Anna, Elsa, Kristoff and the loveable snowman Olaf get swept up in the holiday spirit along with all the Magic Kingdom guests. Queen Elsa uses her incredible powers to transform Cinderella Castle into a sparkling, icy palace during an enchanting lighting ceremony.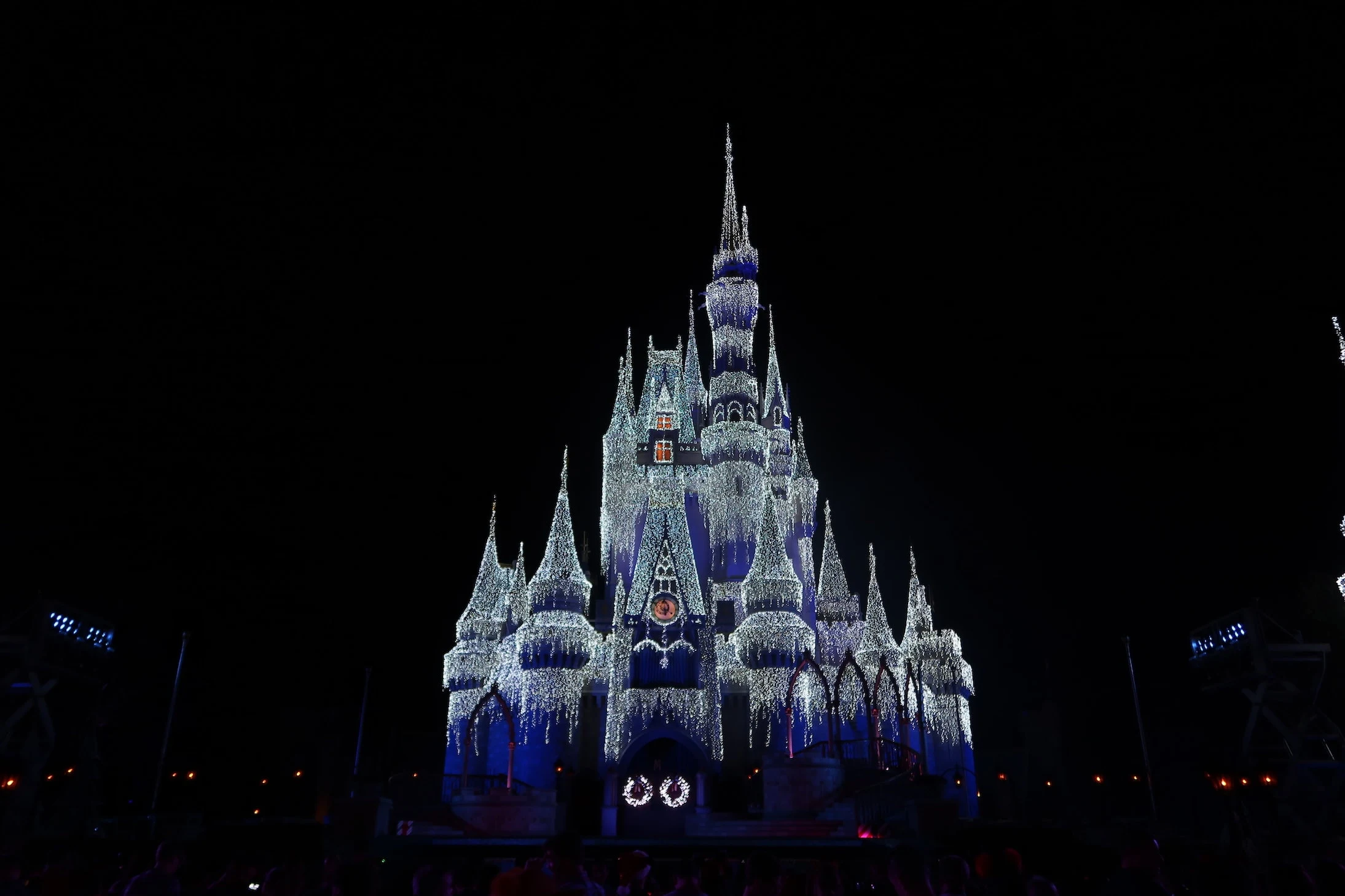 When the castle lights are lit for the first time, there's guaranteed to be an audible gasp from the crowd!
17. Snow!
We Floridians don't often experience snow. In fact, on some party nights, the temps are still in the 80s! Mickey's got it covered though.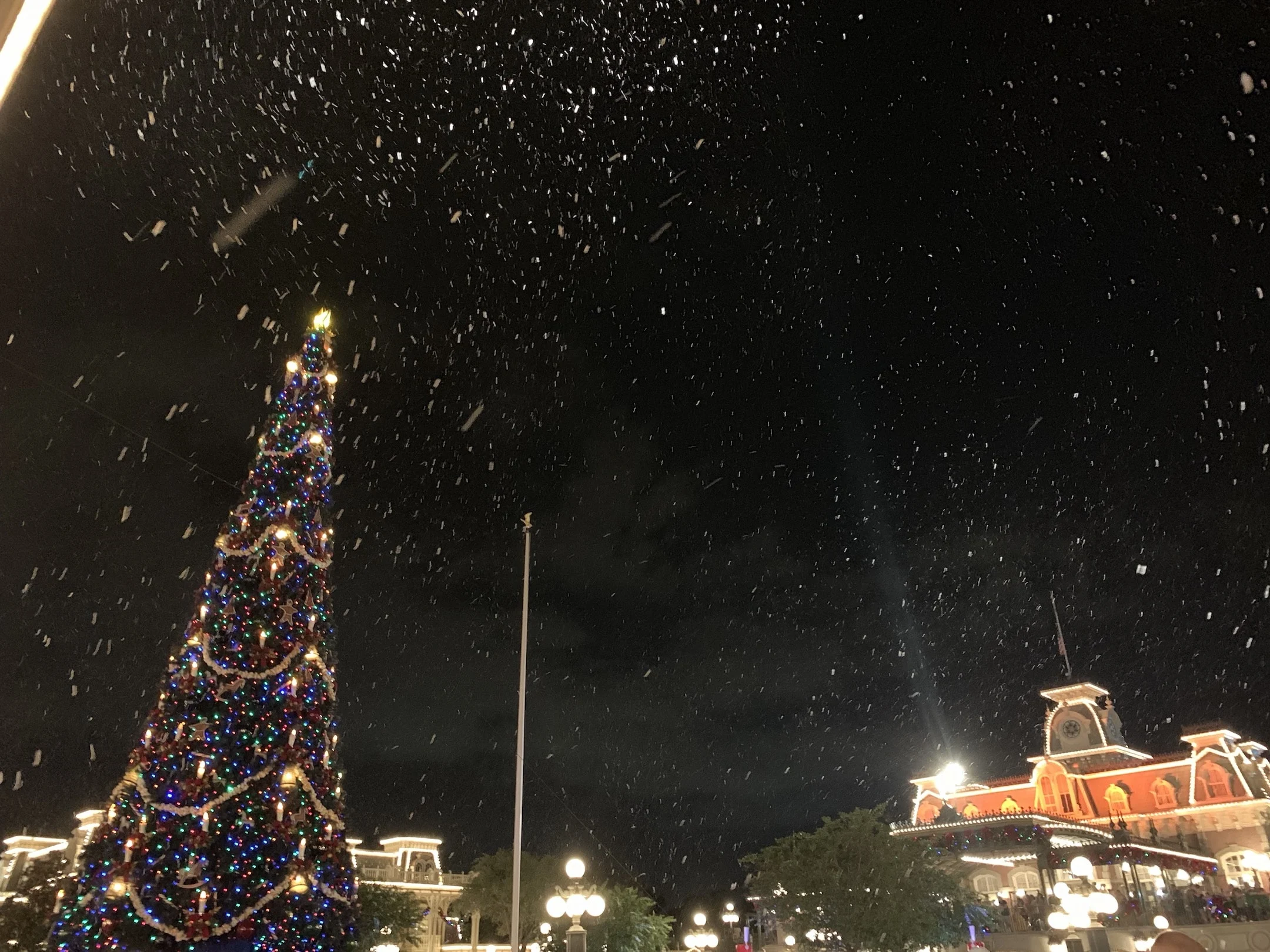 Through the magic of Disney, it snows on Main Street several times. You'll also enjoy snow near Cinderella Castle during A Frozen Holiday Wish.
Get some great photos in the "winter wonderland" without the chill!
18. Fewer Crowds
The number of guests permitted for each event is limited, so crowds will be much lighter than your typical day at Magic Kingdom.
And if you can stay late after the party is over, you'll have opportunities to take photos on Main Street U.S.A. with fewer guests around. The PhotoPass Cast Members are available for photos for about an hour afterward, sometimes even more.
19. Short Attraction Wait Times
With so much going on at the party, attraction wait times are generally very low! Take advantage and hop on some of your favorites with little to no wait.
Seven Dwarfs Mine Train, the Disney mountains, and more are all open during the party!
And don't forget to check out the Jingle Cruise – the Christmas version of the World-Famous Jungle Cruise!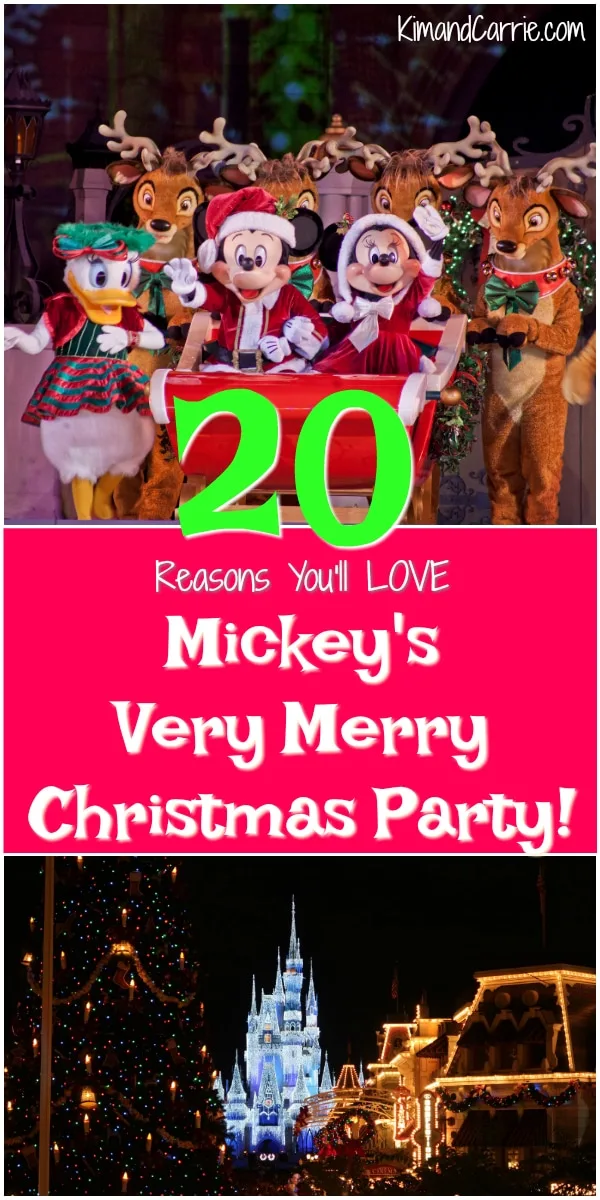 20. Exclusive Sorcerers of the Magic Kingdom Game Card
A very special Sorcerers of the Magic Kingdom spell card is distributed at Mickey's Very Merry Christmas Party.
Attending the party is the only way to get one, so if you are a collector, this is a must do!
This year's card is inspired by Walt Disney's Enchanted Tiki Room. Remember to pick one up at the Firehouse on Main Street, U.S.A.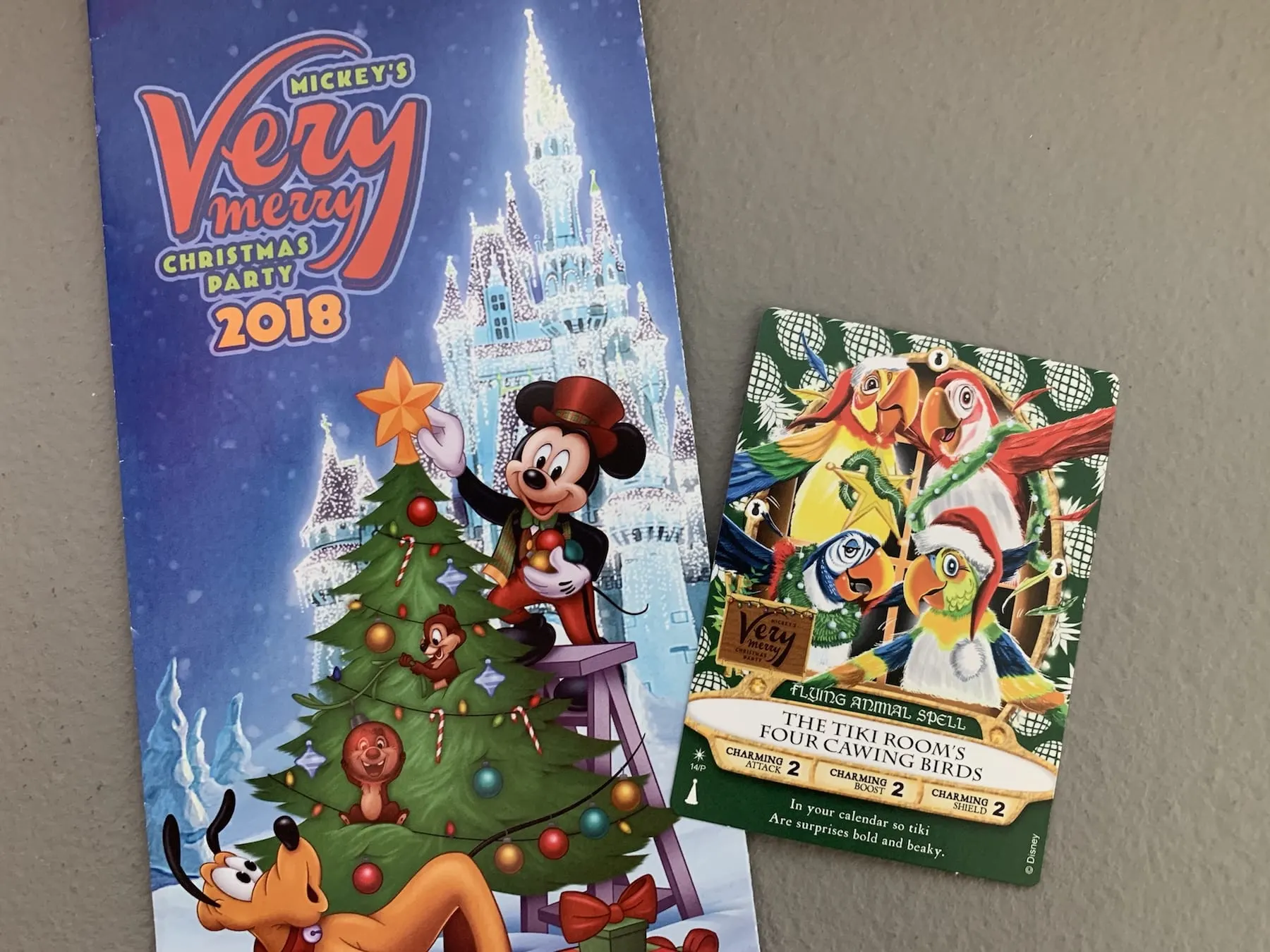 Start planning your visit soon as these events do sell out quickly.
2018 Mickey's Very Merry Christmas Party dates are:
November 8, 9, 12, 13, 15, 16, 25, 27, 29, 30
December 2, 4, 6, 7, 9, 11, 13, 14, 16, 18, 20, 21
More Disney Christmas Magic
Want even more Disney Christmas magic?
Grab an extra park map and make this adorable DIY Disney Theme Park Map Christmas ornament!
Check out this limited edition Yuletide Fantasy Tour and Holiday D-Lights by Adventures by Disney at Walt Disney World Resort.
Plus, we have even more great Disney Christmas articles for festive holiday joy: