Storybook Dining with Snow White at Artist Point Restaurant in Disney's Wilderness Lodge is the latest character dining experience to debut at Walt Disney World.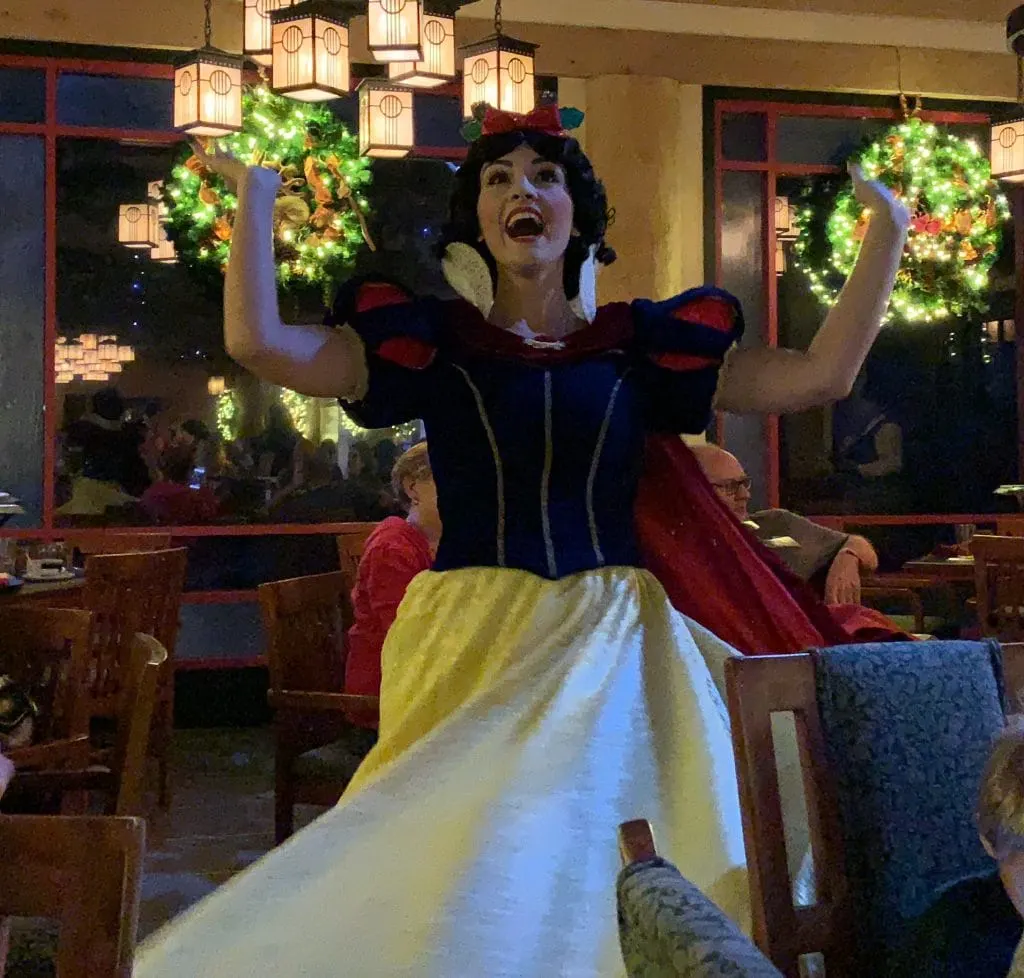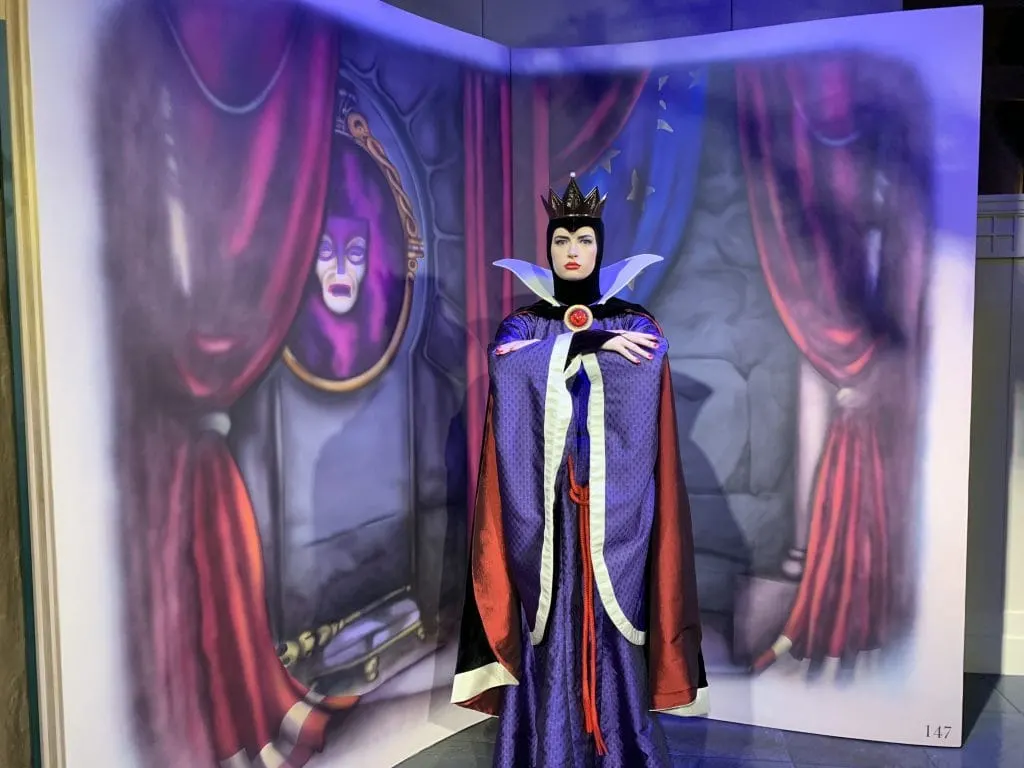 And it was worth the wait.
I have long been a fan of Artist Point restaurant at Disney's Wilderness Lodge Resort. In fact, I'm kind of upset it is gone. The food was superb, the atmosphere was simple and elegant, and it was one of the last places to get a meal at Disney World as an adult experience.
However, things are changing. And if the former Artist Point was going to be taken away, then I'm happy to see that Storybook Dining with Snow White was done so well.
Enchanted Forest at Artist Point
Walking into Artist Point, you will feel like you are walking into an enchanted forest. Trees have been added throughout the restaurant. And they dazzle and delight with color changing twinkling lights throughout the night.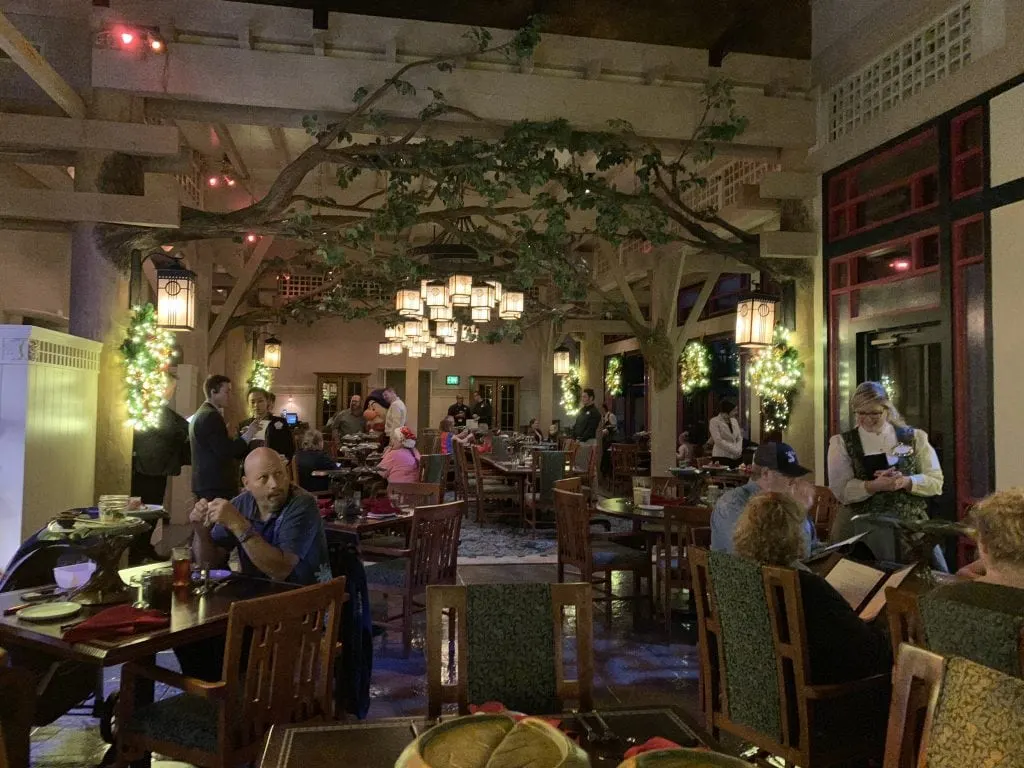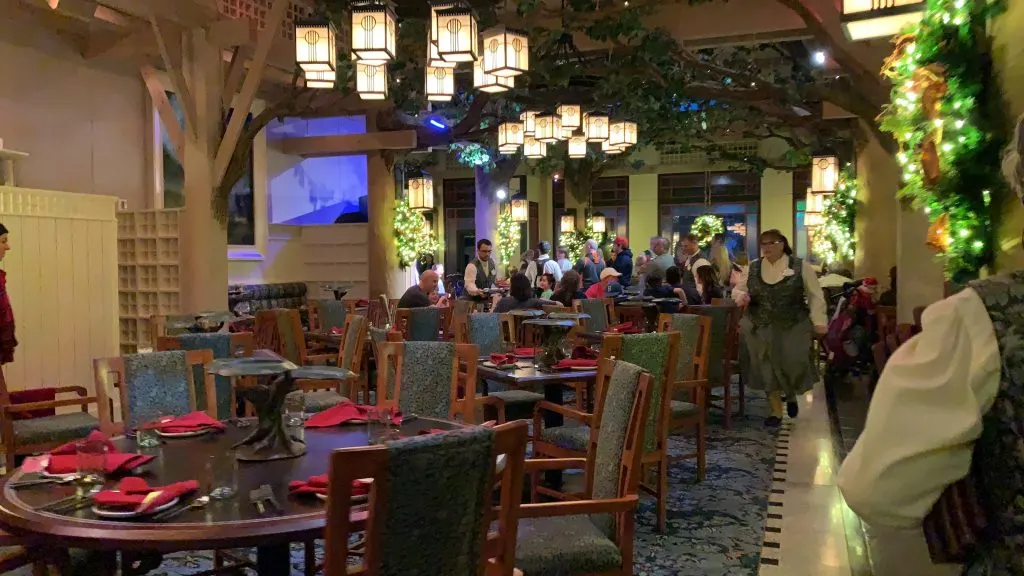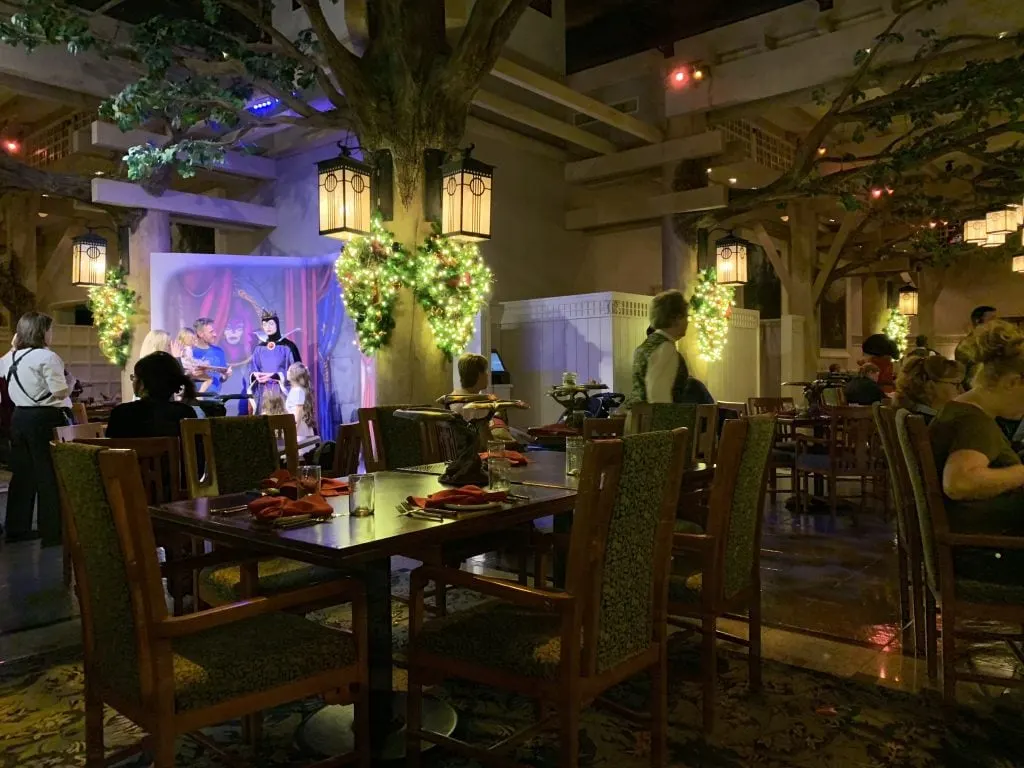 If you happen to get a window seat in Artist Point restaurant, then you'll be overlooking the rustic outdoor environment that Disney's Wilderness Lodge is known for. But, seriously, every table is great for Storybook Dining with Snow White at Artist Point. And it's because of the immersive atmosphere that is in the restaurant.
Snow White Theme Dining
From the moment you sit down, you'll be surrounded by classic touches from the movie Snow White. The candy apple red napkins have removable (and keepsake) napkin rings in the shape of a poisoned apple. (Check out these Snow White and the Seven Dwarves Murals Made from Apples for more classic movie magic!) On the back, you'll find the autographs of the classic characters from Snow White that are available during the Disney character dinner.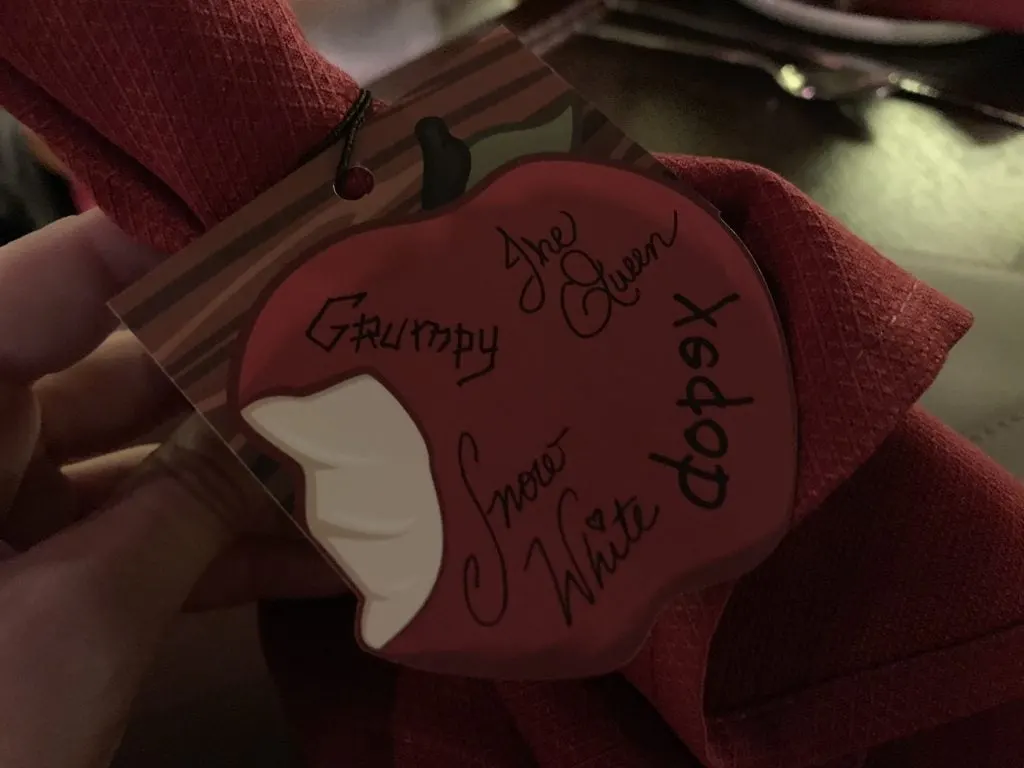 On the table, there is a three story leaf shaped lazy susan. This is where the shared appetizers and shared desserts will be placed. The leafs further add to the forest feel.
Even the menu is reminiscent of the classic Snow White movie. It looks like a storybook! The leather menu has a button clasp, and when you open it you'll be treated to an introduction story before seeing the list of foods and drinks available. Be sure to flip to the last page where in true storybook fashion it says, "The End" in fancy script.
Menu at Storybook Dining with Snow White at Artist Point
The menu at Storybook Dining is a modified prix fixe menu.
You will get three courses for one set price. The only choice you need to make on the entire menu is your entree. All other foods are already predetermined.
Storybook Dining Shared Appetizers
Winter Squash Bisque with a caramel lollipop and granola
Hunter's Pie with chicken, black truffle and stone fruit preserve
Wicked Shrimp Cocktail wit soy, miso, avocado, Thai chili and greens
The appetizers were actually very good. The Winter Squash Bisque was served in tiny mini cauldrons and the caramel lollipop was a cute touch.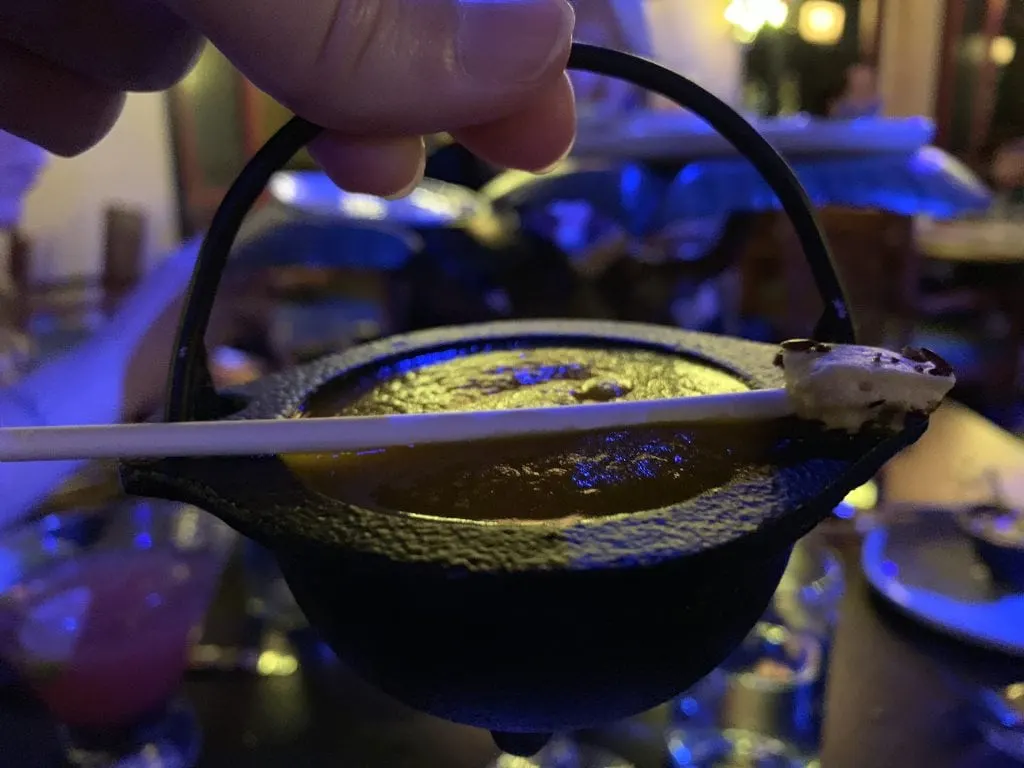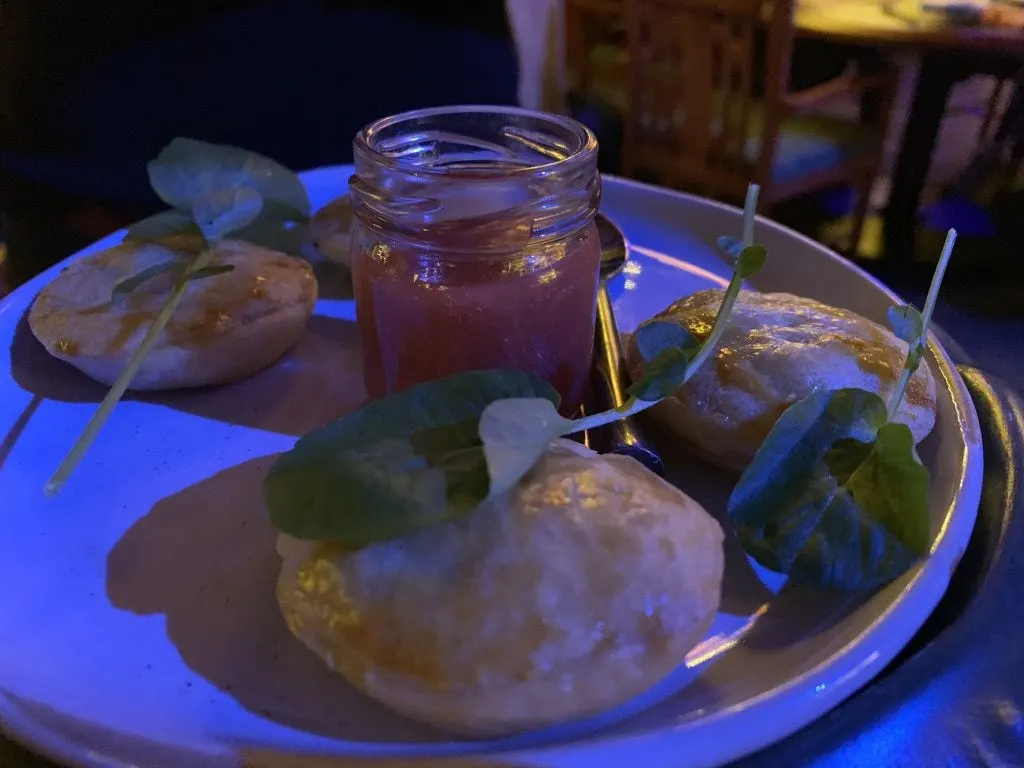 The Hunter's Pie was absolutely incredible as a savory bite. However, I didn't try the shrimp cocktail. It's surprising that a seafood appetizer with shellfish is on the menu and it didn't seem to quite fit in with the rustic feel of the rest of the meal.
Storybook Dining Entrees
"Cottage" Seafood Stew
Royal Prime Rib Roast
A Stroll Through Nature (gnocchi)
Brother's Grimm Roasted Chicken
Magic Mirror Slow-braised Veal Shank
Bashful's Butter-poached Snapper
We only tried two of the entrees at our table. Everyone raved about the Royal Prime Rib Roast. It was hearty, huge, and delicious. Bashful's Butter-poached Snapper was also very good.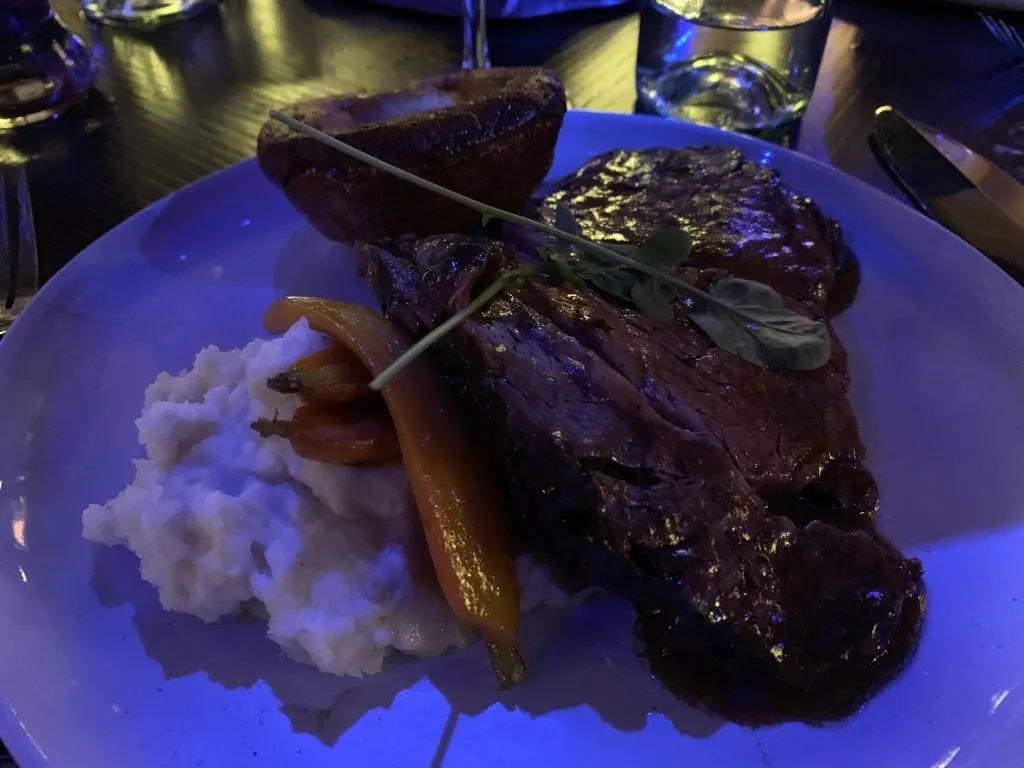 Storybook Dining Shared Desserts
Desserts are also shared, and come in individual sized portions. So don't worry about having to double dip a spoon to get your share of dessert.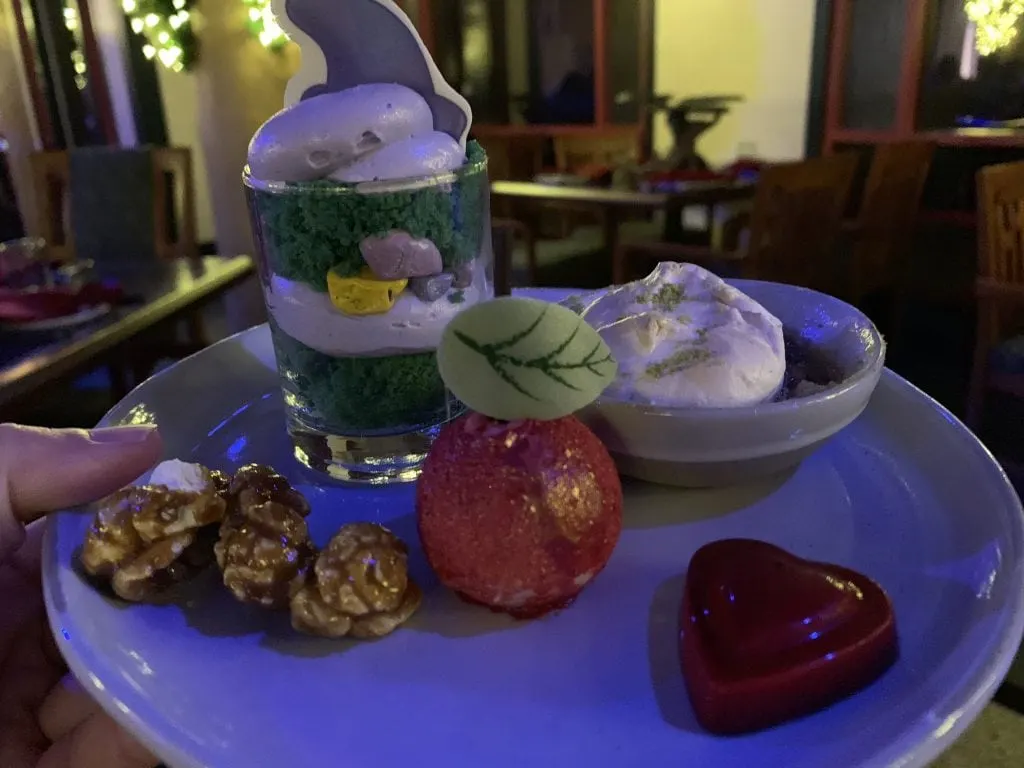 Desserts include:
Miner's Treasures – A Dopey-themed mini dessert tower with green sponge cake, chocolate colorful gems and buttercream icing
Fairy Tale Gooseberry Pie – with meringue, Gooseberry and matcha
"Poison" Apple with white chocolate-apple mousse and a sour center
The Hunter's Gift to the Queen – Crackled Maple Popcorn with a Ganache Heart
The desserts were cute. Maybe after such a heavy dinner and appetizers we just weren't hungry for dessert. But we honestly didn't eat too many of the desserts.
The "Poison" Apple was not a favorite among half of our table. It's sour punch with a spongy texture was just a little too weird. A small candied apple would have been more appropriate.
Fairy Tale Gooseberry Pie was a favorite among the table, surprisingly!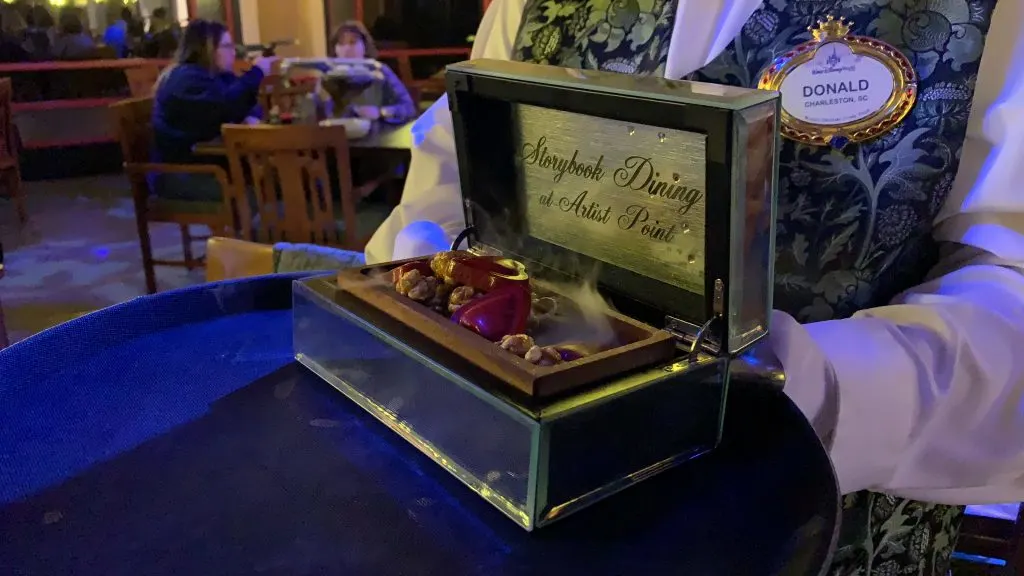 And The Hunter's Gift to the Queen is a spectacular presentation that won't be put on your sharing leaves in the table. Your server will come over and open the box which will have smoke billowing out, with nestled hearts on popcorn. The popcorn was actually one of our favorite parts of the dessert.
Artist Point Cocktails
We had four different cocktails at our table to try.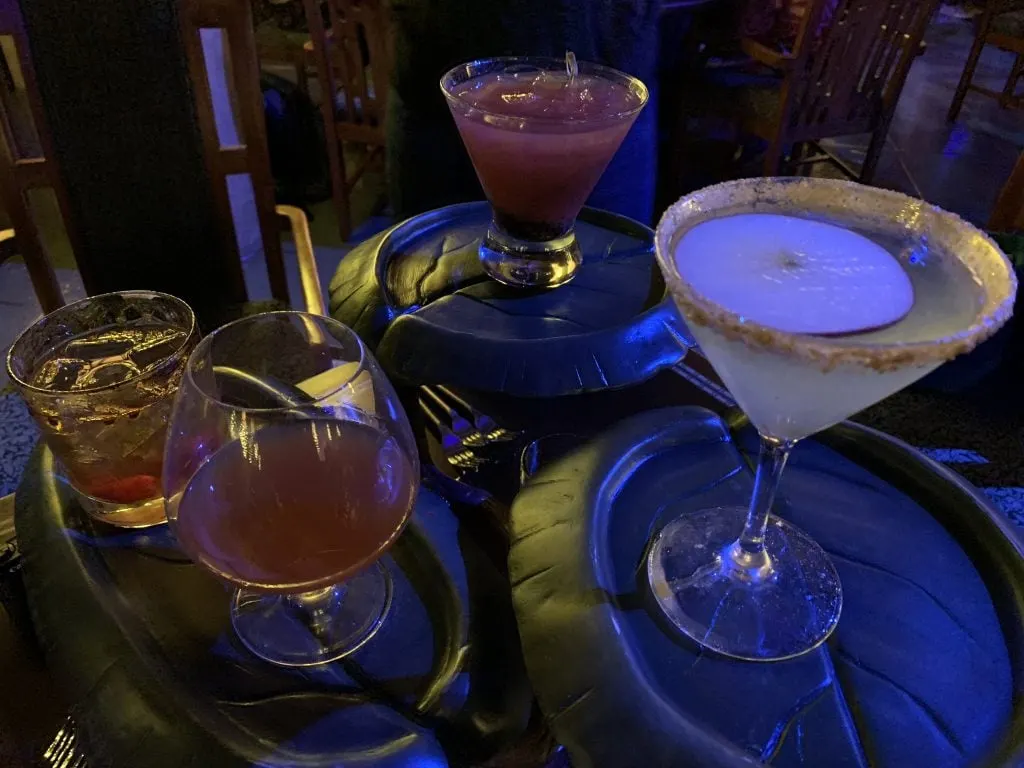 The Enchanted Apple was my favorite. Resembling a cosmopolitan, the Skyy Citrus Vodka, DeKuyper Pucker Sour Apple and White Cranberry Juice cocktail is served with a floating slice of apple.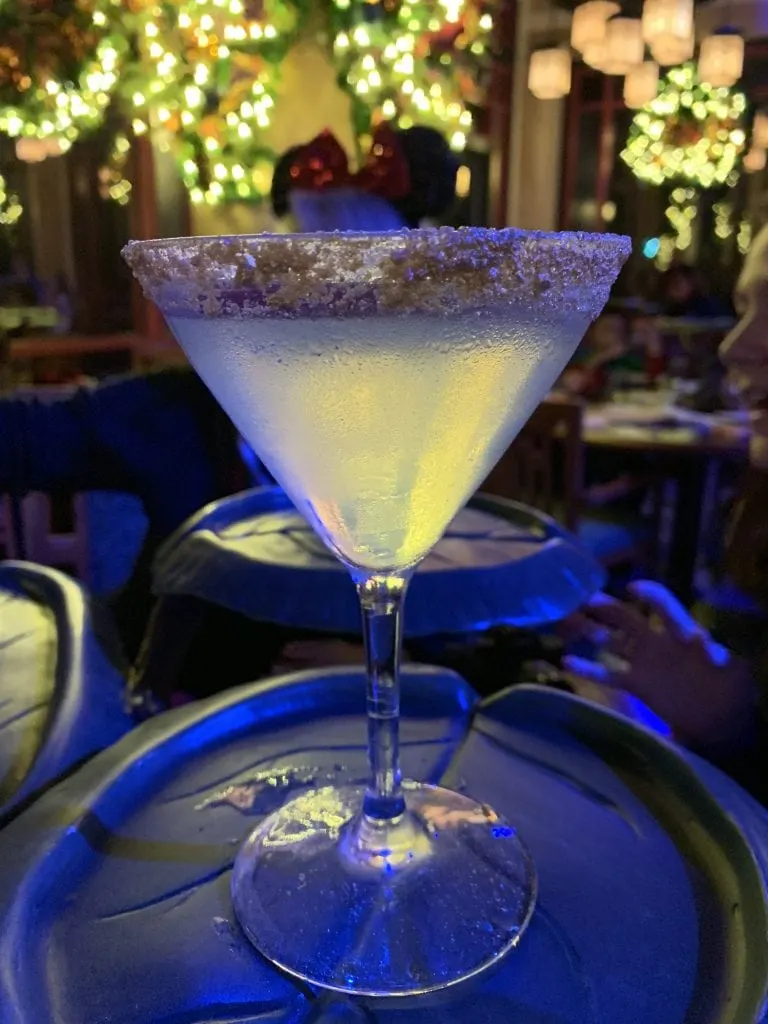 The Smoking Mirror is big on presentation. It will come with an upside down glass that the server will present to you. When they flip the glass right side up, there will be billowing smoke that makes a dramatic introduction to the cocktail of Johnnie Walker Black, Wildberry, Lime and Rosemary Smoke. It will smell quite smoky as you put your nose to the glass, but won't taste that smoky.
Evil to the Core was a huge and heavy drink with Patron Silver Tequila, Habanero, Blackberry and Orange Juice.
The least favorite of the four cocktails (there's only 2 others that we didn't try – Alchemy and The Antidote) was A Brew of Peaches. With peaches in the name and the ingredients, you'd think it had some sweetness. But the Buffalo Trace Bourbon tasted only like straight, strong bourbon without any of the promised peaches and raspberry flavors.
Characters at Storybook Dining at Artist Point at Disney's Wilderness Lodge
The characters that appear at Storybook Dining are the classic Disney characters from the beloved movie, Snow White and the Seven Dwarves.
Snow White, Dopey and Grumpy make the rounds in the dining room.
The Evil Queen sets up her domain in the middle of the dining room. You will need to wait in line to see The Evil Queen. She appears against the backdrop of an open storybook.
Review of Storybook Dining with Snow White at Artist Point in Disney's Wilderness Lodge
Overall, this new Disney character dining experience was fantastic. And well worth the money.
The food was amazing. Currently, it's still a quality that I would have expected from the old Artist Point. Which is saying a lot. So to get three courses of their fine food for $55 is a pretty good deal.
Compare the price to the type of food you'll currently get at a buffet character dining meal elsewhere and you'll see why Storybook Dining is such a good value.
The atmosphere is enchanting. With the forest of trees and twinkling lights, especially when it's dark outside and you can't see into the Wilderness Lodge pool area, you will feel like you are away from reality and in an enchanted forest.
The dark atmosphere with color changing lights does make it hard to get nice pictures with the Disney characters, though. And isn't that why you do character dining? PhotoPass only does The Queen pictures, so don't rely on them to get great photos with the other characters in the dark lighting.
There is plenty of character interaction at the tables. But maybe too much with specialty dances.
It seemed that every 10 minutes there was some sort of "special" music, either to introduce Snow White, The Evil Queen, do a silly dance, celebrate a special occasion, etc. The characters were constantly being torn away from a table in the middle of taking pictures to go do their special dance. They would come back, but it kind of ruins the moment.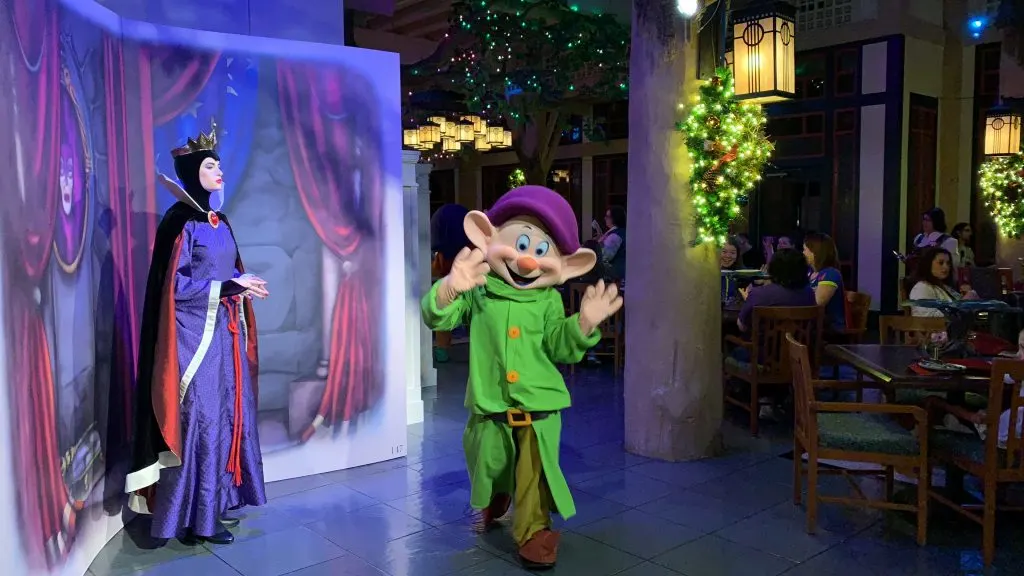 Also, with The Evil Queen set up in the middle of the restaurant, the line to see her is down the middle of the restaurant. And every time one of the special dances comes on, the entire line has to move off of the dance floor area, stand right up against a table of guests, and allow enough movement to have characters dance around. It's a weird set-up and one that I would imagine would have to be modified at some point in time.
Since we were dining on the second night of the restaurant being open, I'd imagine that many things were still in a trial phase. And I'd anticipate that all of the special songs will be streamlined. For instance, as soon as The Evil Queen came back out to meet guests, only one person in line saw her before another song came on. The entire line had to move to the side and wait until the song was done, while The Evil Queen sat there watching, before we could go back to get pictures.
Overall, the current set up with quality food, lots of character interactions with hard to find characters, and the storybook setting makes Storybook Dining with Snow White at Artist Point a great value for your time.