I have spent many horrible days at Walt Disney World feeling sick after getting off of a ride. Thankfully it didn't ruin my vacation because I am a local and can visit any day of the week.
If you have a limited amount of time in the theme parks, though, you don't want to waste one hour of the day feeling dizzy, nauseous or sick to your stomach after a rough ride. That is why I put together my list of the Worst Rides at Walt Disney World for Motion Sickness.
These are the rides and attractions that use 3D screens, simulator rides and spinning vehicles that can make you lose your lunch, so to speak. And we all know how expensive Disney food is, so you don't want to waste your meals, right?!
Each ride is listed along with the theme park it is located in.
In addition to knowing what the worst Disney rides are for motion sickness, be sure to see our helpful guide of 29 Ways to Prevent Motion Sickness.
Mission: SPACE (Epcot)
Perhaps the WORST ride at Disney for motion sickness is Mission: SPACE.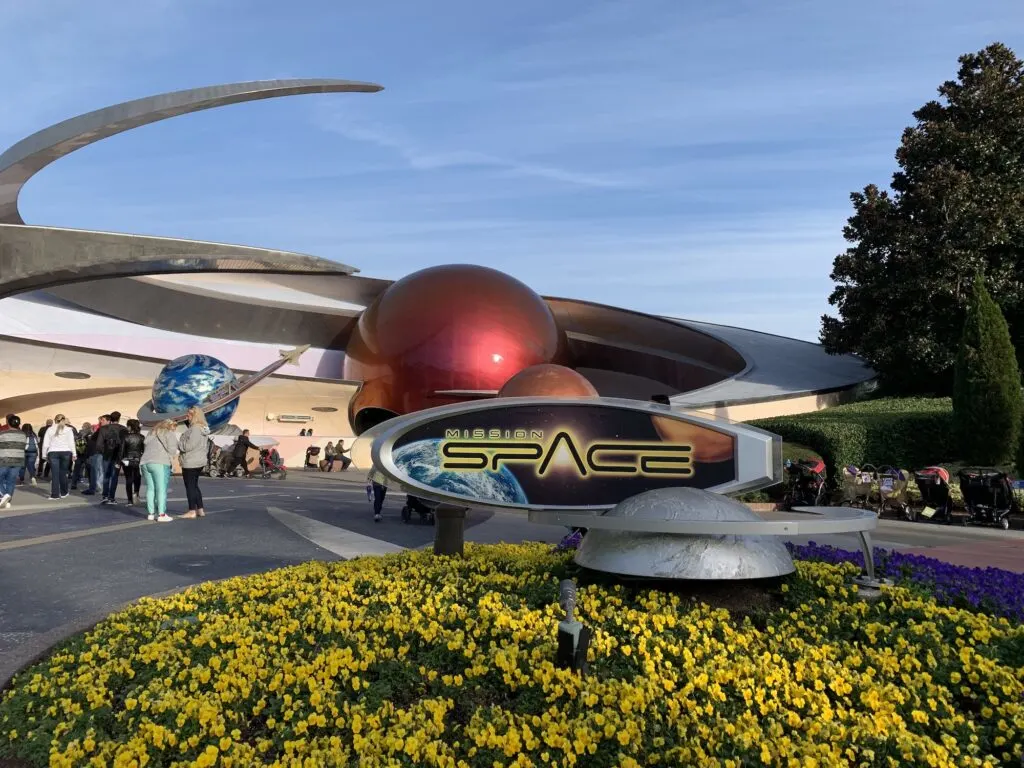 It is so bad that there are two different types of experiences at this one attraction, one for people prone to motion sickness and one for people who don't get car sick (or don't know they do until after riding the ride)!
Guests on Mission: SPACE will be astronaut recruits that are put on a shuttle simulator and prepare to launch into space.
This attraction actually had real space shuttle astronauts try it out when it first opened and they all commented on how realistic it was to actual astronaut training.
There are two different sides of this attraction:
The Green Side is somewhat less intense. You won't find spinning on this simulator, but there will still be motion simulators. There is no guarantee that you won't get motion sickness on the Green Side.
The Orange Side uses a centrifuge that tilts and spins. You will experience increased G-forces and speed.
My Personal Experience: I have only rode this attraction once. I rode the Orange Side. It is one of the worst motion sick experiences of my life. I prayed the ride would just end and it kept going on and on. At that time, motion sickness bags were in the simulator and I couldn't get to the bag. Afterwards, my head was pounding so bad for hours on end. I literally couldn't function for the rest of the day.
Star Tours – The Adventures Continue (Disney's Hollywood Studios)
Another really rough ride is Star Tours. This simulator ride is rough with lots of movement, fast action on the screen and uses 3D glasses.
There is so much that can make your stomach queasy on this attraction. As you travel on the Starspeeder 1000 through the Star Wars galaxy, you will experience sudden drops, sharp movements and simulated crashes as your tour goes awry.
When you jump to lightspeed on this attraction, you will be thrust forward and feel like you are going at warp speed. Definitely a disturbance in the Force!
One of the interesting things about this ride is that there are several different types of versions and you never know which one you will get. So even if you feel that one ride was not too bad, you might not have the same experience on a different version that you have another time.
My Personal Experience: I just can't ride this attraction. Even with my eyes closed it is too much. Every time I have rides Star Tours I am sick and miserable afterwards.
Mad Tea Party (Magic Kingdom)
This attraction is the stuff that motion sickness nightmares are made of!
The ride has you sitting inside a giant tea cup that spins around on the platform around the other tea cups. To make matters worse, your individual tea cup can also spin around in circles.
It's spinning within spinning. Which can definitely serve up a big dose of dizziness!
If you sit in a tea cup and don't move it to spin around, this attraction might not be as bad. But, of course, if you're with your kids who have promised that they won't spin and then they are cranking on the handles to spin as much as they can while you are whirling around, you could definitely be miserable.
My Personal Experience: I get sick just walking by this ride. There is no way I'm even going to try it! I'll do the photo opps at Disney Springs in a tea cup ride vehicle, instead!
Space Mountain (Magic Kingdom)
One of the most popular attractions at the Magic Kingdom is Space Mountain. Yet it is also on the list of one of the worst rides for causing motion sickness.
You will hop on board a rocket to shoot through space in the dark. You won't see the twists and turns coming, which can cause a lot of disorientation, along with the thrills.
The combination of high speed, movement in the dark and a bumpy ride can cause a headache for anyone.
My Personal Experience: The loud music doesn't affect me nearly as much as the unexpected drops and turns that you can't see coming. I have rode Space Mountain with the lights on several times as a cast member, and even when you can see the track it doesn't make much of a difference. The tight turns come up so fast you can't mentally prepare for them. This roller coaster ride is really rough and jerky. I used to ride it with my hands around my neck to try to stabilize my head from being thrown back and forth. (It didn't work.)
DINOSAUR (Animal Kingdom)
Would you get sick in a bouncy jeep riding through the jungles? If so, then you want to avoid DINOSAUR!
This clunky ride vehicle is like a multi-passenger huge jeep. You will bounce through the jungles of the Cretaceous period while being chased by animatronic dinosaurs.
The fast moving ride jerks around a lot, as well as sudden starts and stops.
The flashing lights in the dark, as well as roars and other loud sounds, is a sensory overload that can cause motion sickness.
My Personal Experience: Every time I have rode this attraction I walk off with motion sickness. The ride isn't that exceptional or great to justify getting sick.
Guardians of the Galaxy: Cosmic Rewind (Epcot)
There is a lot going on with the relatively new ride at Epcot. You can expect tight turns, a reverse launch, spinning and screens to watch. Any of these things could cause motion sickness on its own. Combine them together, though, and this might be one attraction you want to skip.
A big problem for those with sensitive stomaches or vertigo is the Omnicoaster experience, which means you are getting visual and sensory stimulation from 360 degrees all around you.
Soarin'
The Soarin' attraction is perhaps one of the most gentle rides with the least amount of movement that you will find at Disney World. So what's the problem, then?
Your ride vehicle will lift up into the air where your feet will be dangling from your seat. This is to simulate the feeling of flight.
Combine that with some epic aerial videos soaring over landmarks around the world and your mind might start playing tricks on you and feel motion sickness.
My Personal Experience: I love Soarin', but I do find that I have to close my eyes during a large portion of the film. It is just too realistic! The great news is that if you have to close your eyes, your vehicle won't be moving at all. Plus, there is a breeze blowing through the theater so that can help quelch any stomach uneasiness that might have started while you were flying over the world.
Astro Orbiter (Magic Kingdom)
This aerial attraction soars through the air going round and round just like the Dumbo the Flying Elephant ride.
The ride vehicles will move in a circular motion for several minutes. You can choose to stay in one position for most of the attraction (the ride will raise you up and down when it is starting and ending), or move the vehicle up and down as you are going around in circles.
While Dumbo and the Magic Carpets of Aladdin rides are on the ground, this one is high in the sky. You will need to take an elevator to get up to the boarding platform.
This ride seems to go faster than Dumbo or Aladdin, as well. This one is also similar to TriceraTop Spin at Disney's Animal Kingdom.
My Personal Experience: I don't have problems on Dumbo or the Magic Carpets of Aladdin. However, I did start feeling a little bit queasy on this one because it seemed to spin around faster than the others.
Avatar Flight of Passage (Disney's Animal Kingdom)
Not only does this ride use 3D motion simulation, you will also be strapped in to a ride vehicle that moves around, vibrates, drops and turns. Plus, you will be facing a large screen with aerial views of flying through the forest and soaring over the water.
If flying through the air on the back of banshee doesn't sound appealing to you, be sure to fly on past this attraction and don't waste time standing in line.
My Personal Experience: I didn't have as many problems with this ride. I did close my eyes for a portion of the film, but the movement of the motorcycle-like ride vehicle didn't make me sick.
Remy's Ratatouille Adventure
It seems that all of Epcot's latest attractions are motion-sickness inducing to me. LOL I guess the theme park is trying to be edgy, but I wish something would open that I didn't have to avoid.
Though based on a cute animated movie for kids, this attraction has a variety of things that adults who suffer from motion sickness might dread, such as wearing 3D glasses, spinning around, tight turns and needing to look at large screens.
The constant need to wear 3D glasses, plus the visual combinations of oversized sets and screens to normal-sized items can really mess with you and make your feel ill.
Test Track (Epcot)
This attraction simulates what it is like to test vehicles in all conditions, whether heat, cold, high speeds, sudden stops and uneven surfaces.
You can expect uneven movements and lots of rough and jerky motion.
Stand outside of the Test Track attraction building for a few minutes and you will see the ride cars speeding outside on the track. That way you can get an idea of what the roller coaster part of the attraction is like.
My Personal Experience: While Test Track exacerbates neck problems that I have, it does not really cause motion sickness for me. I avoid the ride because of the harsh movements that have me needing to go to the chiropractor.
Rock 'n' Rollercoaster Starring Aerosmith (Disney's Hollywood Studios)
A true roller coaster with a high-speed start and inversions on the track, this isn't something you should ride if roller coasters make you sick.
My Personal Experience: I'm fine on this ride when it comes to motion sickness. The problem is the rough movements and turns which causes me neck problems.
Twilight Zone Tower of Terror
Step into the Twilight Zone Tower of Terror and you will find yourself being launched and dropped in the elevator multiple times over and over again.
This attraction has a variety of possible scenarios, so you don't know how many times the elevator will drop each time you ride this attraction.
One good thing is that when the elevator drops, the doors open and you can see outside and get fresh air. If only for a brief moment.
My Personal Experience: I actually don't get motion sick on this ride at all. Surprisingly so. In fact, on days with low wait times, I actually rode this attraction multiple times in a row without feeling sick.
Alien Swirling Saucers (Disney's Hollywood Studios)
Similar to the Mad Tea Party spinning tea cups, this ride isn't quite as dramatic as the Magic Kingdom ride.
While you can't control the spin in these saucers, the spinning is actually more of a wide arc and wide slings, rather than tight spins.
Because this attraction is really geared towards smaller kids, it isn't quite as rough as Mad Tea Party.
My Personal Experience: I've only done this ride a few times, once with my nephew who gets very motion sick, too. While neither one of us really felt sick afterwards, I probably wouldn't say I felt 100% afterwards, either.
The Seas with Nemo and Friends
This pre-school friendly ride doesn't have many problems at all, until you get to the simulated tunnel where you are riding the waves. If you close your eyes through this part, you will be fine.
My Personal Experience: Yet another kid-friendly attraction that makes me feel more sick than some of the adults-only rides! Watching the waves flow one way as your ride vehicle moves in the opposite way can cause motion sickness. I always close my eyes in this one.
World Showcase Films
Perhaps some of the tamest attractions in all of Walt Disney World, the Circle 360 World Showcase films can really cause some motion sickness and vertigo!
Three country pavilions in Epcot's World Showcase have Circle Vision 360 films. That means that they were filmed to be on wide circular screens that surround your field of vision.
In the Canada and China pavilions, these screens are 360 degrees around the room and you stand up while watching.
In the France pavilion, you will sit down in a theater while watching Impressions de France on screens that make a half circle in front of you.
With the wide camera angle, you will be seeing all sorts of movements in your peripheral vision and in front of you. This can really mess with your mind and cause motion sickness in some guests.
The good news is that all you need to do to avoid problems on these attractions is close your eyes. The air-conditioned theater doesn't have any smells or movements or other special effects. So it's a good way to get a bit of rest while waiting for the movie to be over.
My Personal Experience: Call me a lightweight, but these films make me more motion sick than some of the attractions. There is something about the grainy film footage and constant movement, such as skiing down ski slopes and flying through the air in a balloon, that causes me to start feeling queasy. More than once I've had to close my eyes and just keep wishing for the movie to be over, but enjoying that sweet air conditioning away from the Florida heat in the meantime!
Expedition Everest (Disney's Animal Kingdom)
This high speed chase towards the Yeti is a tame roller coaster (meaning it doesn't go in loops like a lot f other roller coasters you might be familiar with). While the speed could make you sick, it is the long stretch of backwards movement with twists in the dark that could be problematic.
My Personal Experience: I never really had a problem riding this attraction. I might feel a bit woozy afterwards, but not motion sick.
Buzz Lightyear's Space Ranger Spin (Magic Kingdom)
Most of this kid-friendly ride isn't a problem. You can control the movements of the ride car.
However, the dark tunnel of stars flashing by is a major motion sickness inducer.
The good news is that you can close your eyes when going through this tunnel. Your ride vehicle won't make any drops or twists or turns during that time.
My Personal Experience: I am fine on this attraction as long as my seat mate doesn't spin the ride vehicle around like crazy. However, at the first glance of the star tunnel, I have to quickly close my eyes.
Millennium Falcon: Smuggler's Run (Disney's Hollywood Studios)
We are so excited about Star Wars land, but not with the rides that are in it! LOL
Millennium Falcon: Smuggler's Run is just one of the two attractions in Star Wars land. This ride is located inside the huge Millennium Falcon that is prominently featured in the land.
The ride itself is a lot like Star Tours, also at the Studios. You will be in a vehicle with several other people as your race through the galaxy, with simulated screens showing the chase through the "windows" on your ride vehicle.
Not only does the ride make you feel like you are moving at warp speed, but each person also has a task they must do during the mission. This is one of the worst parts.
If you are chose to be up front as a commander, and you start feeling sick and need to close your eyes, your entire vehicle will not do well on their journey, and you could crash or otherwise have a not-so-great run.
If the whole vehicle is your own party, that's one thing. But when you are with strangers who are yelling at you to do specific tasks, that is stressful.
My Personal Experience: I have ridden this ride in the back row of the vehicle, so my "duties" during the ride didn't really add up to much for our mission. I know I had to close my eyes for a majority of the ride. While the commander or pilot seats are the most coveted locations to sit, there is no way I would do it because my entire vehicle would not be happy!
Star Wars: Rise of the Resistance (Disney's Hollywood Studios)
While this very popular ride isn't a roller coaster and is not very fast, there is a lot of unusual and unexpected movements that might trigger motion sickness.
Expect backwards, forwards, and spinning movements. There is even a drop, too, although it is small and similar to the drop in Pirates of the Caribbean. Projection screens and motion simulators are all a part of the experience, as well, but it is not so much that you couldn't easily close your eyes to enjoy this can't-miss ride.
If you are really concerned about getting sick, you can always do the pre-show and enjoy that part of the experience and ask to leave via the exit before boarding and you will still get to see a lot of the fun.
Tron: Lightcycle Run (Magic Kingdom)
The newest attraction in all of Walt Disney World is Tron: Lightcycle Run. The highly anticipated and long-awaited attraction is stunning to look at and ride.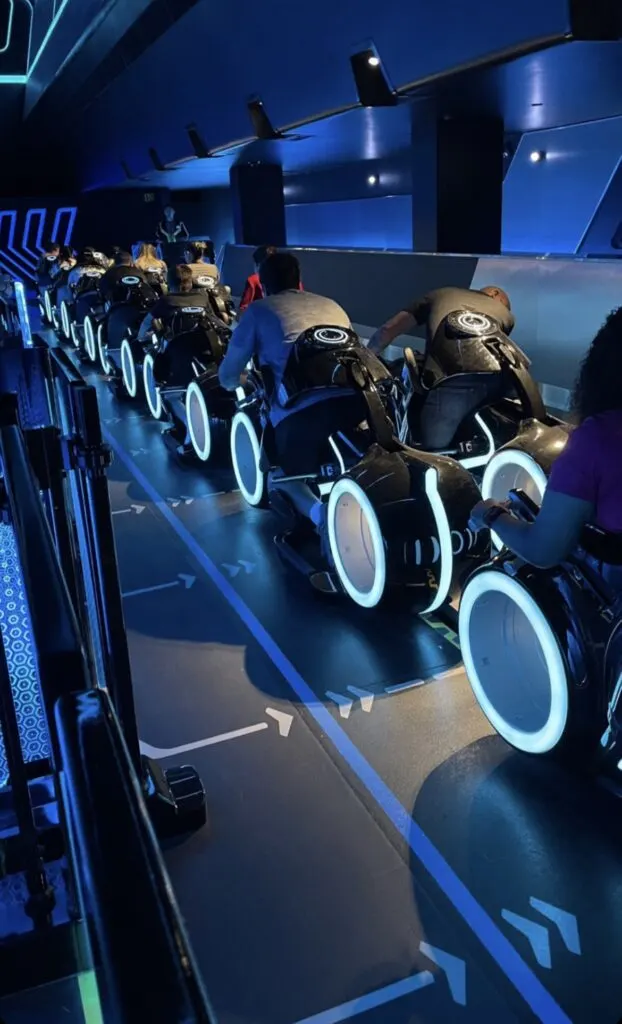 Motion sickness on this attraction isn't as much about the movements as it is about getting dizzy and disoriented from the lights and colors flying by.
However, this is one of the fastest attractions at Walt Disney World, so if speed is an issue for you, then you might want to skip this one.
Are you going to Universal Studios Orlando, too? See our list of Worst Rides at Universal Studios for Motion Sickness.