Walt Disney World is known as the family-friendly theme park for young kids. And Universal Studios is known for its thrilling roller coasters. But should Universal Studios Orlando also get some credit for being a great destination for toddlers?
Yes!
If you are wondering what there is to do at Universal Studios for Toddlers, this is the guide that you need! There is plenty of toddler-friendly rides, fun play areas and entertaining shows for young children and their parents to enjoy.
Here are all of the details of how to visit Universal Studios with a toddler, including Universal Studios Orlando, Islands of Adventure and Volcano Bay theme parks.
Best Rides for Toddlers at Universal Studios Orlando
Most of the attractions in the theme parks have minimum height requirements for Universal Studios rides.
With these height requirements, toddlers are not going to be able to enjoy many of the rides. But don't let that keep you from going to Universal Studios.
Universal's Child Swap option allows adults to ride and swap child-watching duties without having to wait in line again.
Keep in mind that there are no bathrooms in Universal Studios ride lines, so you will need to plan accordingly.
Here are the toddler-friendly rides in each of the theme parks that you can enjoy with younger (and shorter) kids:
Islands of Adventure
A majority of the best toddler-friendly rides at Islands of Adventure will be in Seuss Landing.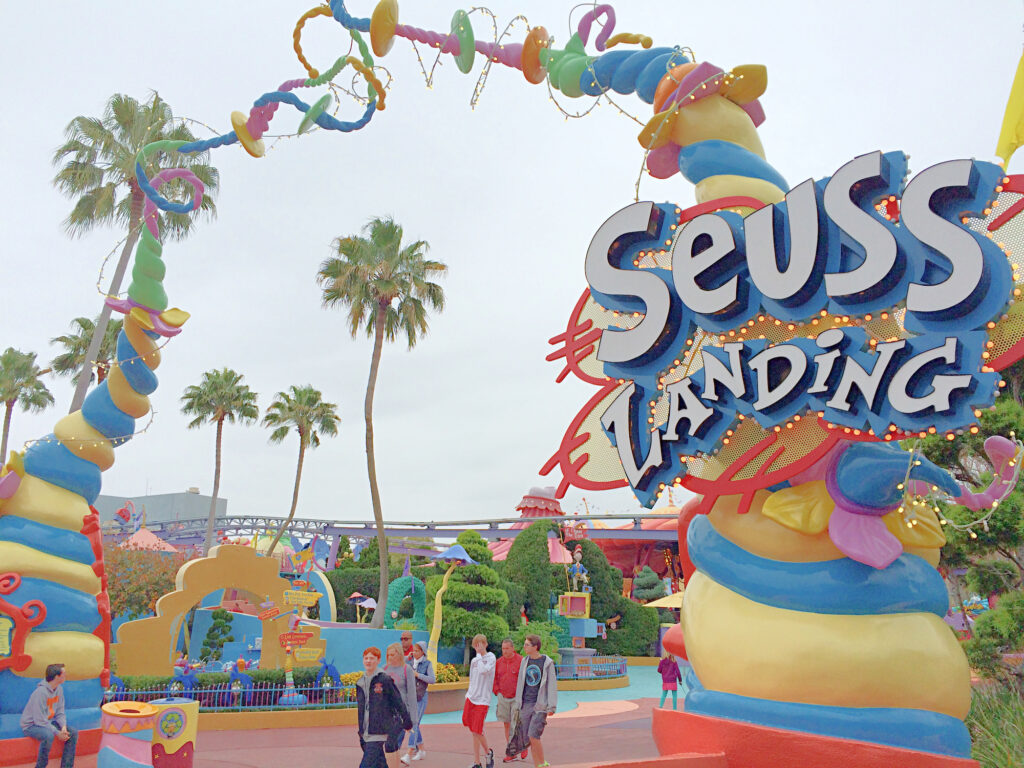 Caro-Seuss-El at Seuss Landing
Most kids love the classic simplicity of a carousel ride. (Other than my nephew, who hates carousels and has ever since he was 2 years old!)
Hop on the bright and colorful carousel ride and enjoy a leisurely spin that toddlers love.
One Fish, Two Fish, Red Fish, Blue Fish at Seuss Landing
Fly through the air on giant fish! Just like the Dumbo ride at Disney's Magic Kingdom, this toddler-friendly attraction has ride cars that can be maneuvered up and down with the controls.
Your toddler will feel so grown up when they make the fish go up and down. But watch out, because the fountains will squirt you in you don't move out of the way in time!
This ride does go up to 12 feet in the air, so if your toddler is scared of heights, this might not be a great fit!
The Cat in the Hat at Seuss Landing
If your child is 36″ or taller, then they can ride The Cat in the Hat ride.
This is similar to the Winnie the Pooh ride at Magic Kingdom, as it has a ride vehicle with two rows of seats, accommodating 4 passengers. You will take a swerving ride through the land of Dr. Seuss stories.
Sky Seuss Trolley Train Ride at Seuss Landing
Another ride for children 36″ and taller is The High in the Sky Seuss Trolley Train Ride!
You will be in a ride car that glides along an elevated track going through Seuss Landing. As you ride over the crowds below, you will enjoy one of two ride tracks. One track has the story of the Sneetches, while the other takes you through your favorite Dr. Seuss stories.
Again, if your kid has issues with heights, this one is not for you!
Pteranodon Flyers in Jurassic Park
Most adults can't ride this attraction without being accompanied by a kid, so this is a fun ride to do if you are able!
Yes, there is a height requirement. Children must be between 36″ and 56″ tall. A child meeting these heights has to accompany any guest over 56″ tall.
If you are able to get onboard, you will enjoy a gondola ride over the theme park.
Storm Force Accelatron at Marvel Superhero Island
If you can handle the Mad Tea Party tea cups ride at Disney's Magic Kingdom, then you will like this super hero-themed spinning ride.
You can control the spinning, but be warned, this one is on our list of worst rides at Universal Studios for motion sickness.
Flight of the Hippogriff
Another ride with a 36″ minimum height requirement, this is a gentle roller coaster in The Wizarding World of Harry Potter.
Think of this roller coaster as something similar to The Barnstormer at Magic Kingdom.
Universal Studios
E.T. Adventure Ride
Take a flight through the story of E.T. the Extraterrestrial on this classic ride. There is a 34″ height requirement.
At the end, E.T. will say your name, which is a fun thing for kids to hear. But, let's be honest, the technology only works some times so don't get your kids overly anticipating this fun treat before you know that it works!
Kang and Kodos Twirl and Hurl
There is no minimum height requirement on this ride which makes it great for younger kids at Universal Studios.
Located in the Simpson's land, you will fly on flying saucers that go up to 10 feet in the air at a speed of 13 mph.
This is a fun ride that kids will love.
Hogwarts Express
The only Harry Potter ride for very small children is the Hogwarts Express. This train can be accessed in either Universal Studios or Islands of Adventure.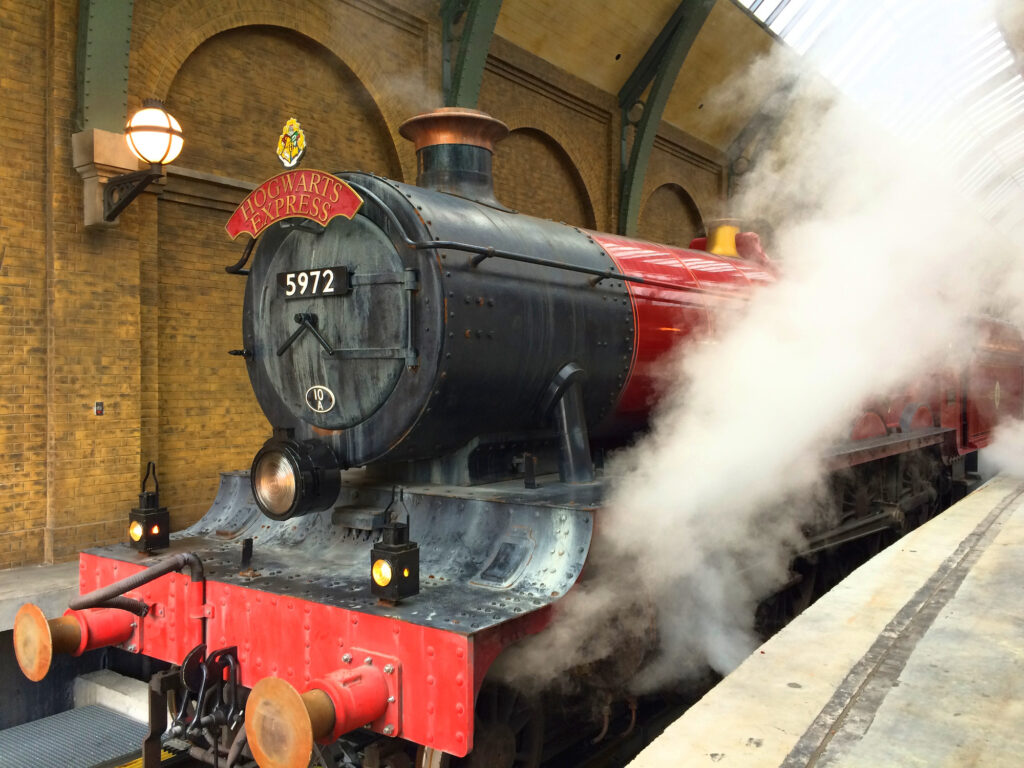 However, you must have a park to park ticket to ride this train as it one of the only ways to get between Islands of Adventure and Universal Studios.
This is an enclosed train experience with simulated views of famous Harry Potter landscapes out the window. There is no open windows and you won't feel much movement, either.
Islands of Adventure for Toddlers
In addition to all of the rides suitable for young children that we have already listed, there are a lot more experiences that your kids will love in this theme park.
Play Areas
If I Ran the Zoo is a fun playground in Seuss Landing. Oversized fantastical creatures from Dr. Seuss books can be found throughout the area, including slides and a cave to explore.
There is a water play area also in this playground, which toddlers will absolutely love! Just be sure to bring a change of clothes in your bag for Universal Studios, as well as plenty of waterproof sunscreen because you might be here for a while!
Shows
Colorful and imaginative shows are guaranteed to keep a child's attention at Islands of Adventure.
In Hogsmeade, there are two Harry Potter-themed shows that they will enjoy. Triwizard Spirit Rally and Frog Choir are fun to watch, so be sure to check the Universal app for times.
In Seuss Landing, Oh, the Stories You'll Hear is a fun musical performance by Dr. Seuss characters.
Character Meet and Greets
While there are character meet and greets at Islands of Adventure, they tend to be the super hero and comic book characters that young kids might not know.
Here are some of the characters to find at Islands of Adventure:
Dr. Seuss characters in Seuss Landing, including Thing One and Thing Two, Grinch, and Cat in the Hat
Spider Man
Captain America
Dr. Doom
Be sure to consult the Universal app or ask a Team Member about specific character appearances and times each day.
Universal Studios Florida for Toddlers
Truth be told, there is not a lot of stuff for toddlers to enjoy at Universal Studios Florida theme park compared to Islands of Adventure theme park next door.
As you can see in the previous list, there are even less rides for toddlers at Universal Studios than there are at Islands of Adventure.
Unfortunately, many of the play areas that were great for toddlers have been permanently closed due to renovations and expansions.
Fievel's Playland and Dreamworks Destination used to be great playgrounds, but they no longer exist as of 2023.
Character Meet and Greets
Meeting characters might be one of the best things that toddlers will enjoy at Universal Studios. The characters here are ones that are seen in cartoons and TV shows that are more kid-friendly.
Some of the character meet and greets at this theme park are:
SpongeBob SquarePants
Simpson's characters
Scooby Doo characters
Woody Woodpecker
Shrek, Fiona and Donkey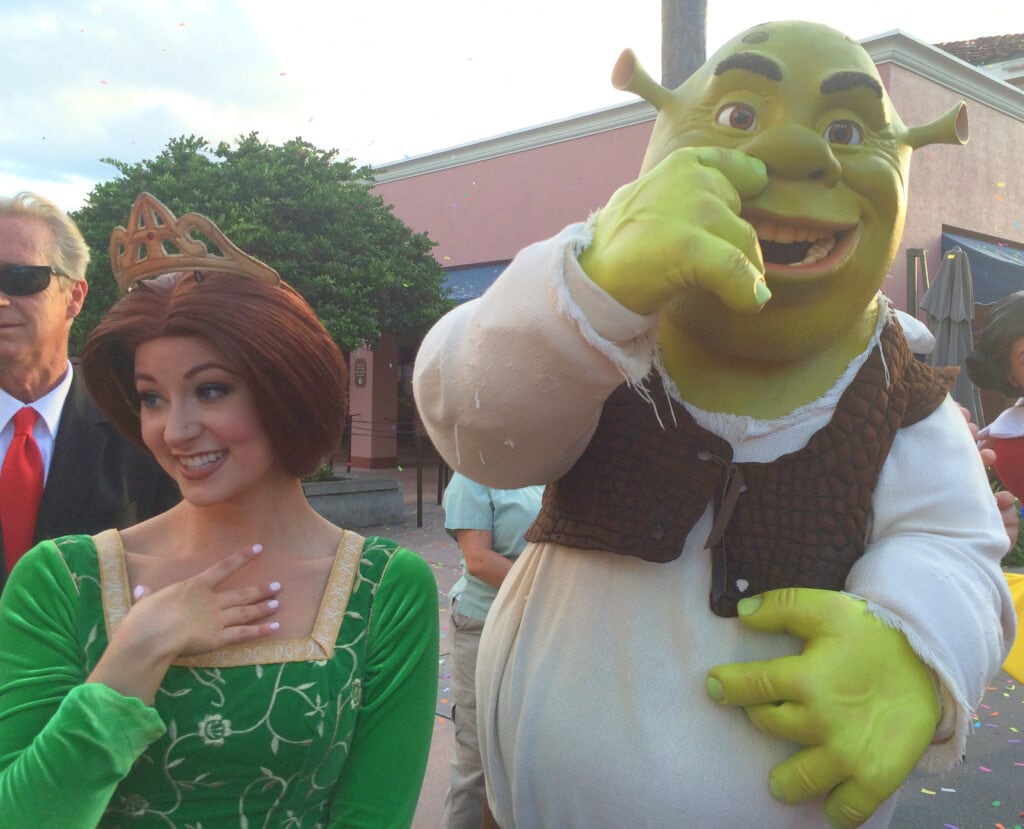 During special events, there are parades in Universal Florida that children enjoy watching, too.
Character interactions are changing constantly. Be sure to download the Universal app and check the daily schedule for character appearances and where they will be that day.
Strollers for Toddlers
Should you bring a stroller for your toddler?
Even if your young child rarely uses their stroller anymore, we highly suggest bringing one. Here's why:
Your youngster isn't used to all of the walking in a theme park and will likely tire out pretty quickly.
There could be lots of lines to wait in for character interactions, ordering food, etc. Sometimes it is easier for everyone if the child is seated and playing with a toy or game.
If your child still takes naps, there is no place to take a nap in the theme parks. Even if you plan on heading back to the hotel for nap time, your kid might have other plans and fall asleep before you get back. That's a LONG walk carrying a sleeping child in the Florida heat!
Yes, the Florida heat and humidity is no joke. And you need to be prepared for it. When the heat is too much for your child, they can cool off while sitting in the stroller if you bring one of these clip-on stroller fans.
We have found that even if your kid never sits in the stroller, it is an excellent place to carry your bags, souvenirs, food and all of the items you need when visiting theme parks with toddlers.
While you can bring your really nice stroller from home (especially if you use it while flying to Universal Studios or for other times in your vacation), you could also rent a stroller once you get to Universal Studios or buy a very inexpensive version.
Walmart has very inexpensive strollers that start around $17. They can even be delivered to your hotel if you are allowed to get packages and Walmart deliveries! (If you don't want to bring it back home after your vacation, then gift it to another family you see in the parks or at the hotel.)
Food for Toddlers at Universal Studios
Toddlers are picky eaters. And you definitely don't want to spend a lot of money on Universal Food and they won't eat it!
Thankfully, you can bring food into Universal Studios. We highly suggest that you pack a lot of snacks and mini-meals that your child loves so that you are not battling a hangry toddler.
Our list of snacks that don't need refrigeration has a lot of great ideas on what you can bring.
Whether you bring the food with you or you have it delivered via a grocery service in Orlando, it is wise to have some favorites on hand. Plus, it is a lot cheaper!
When ordering food at Universal restaurants, keep in mind that some portions can be quite big. You might want to order one meal and have your child eat a portion of it.
You will be able to find kid-friendly items such as chicken tenders and hamburgers and fries throughout the theme parks. Be sure to look for the child-size menu options at quick service and sit down restaurants, as well.
Volcano Bay for Toddlers
Volcano Bay is considered Universal Orlando's third theme park, however you would probably call it a water park (I would, too).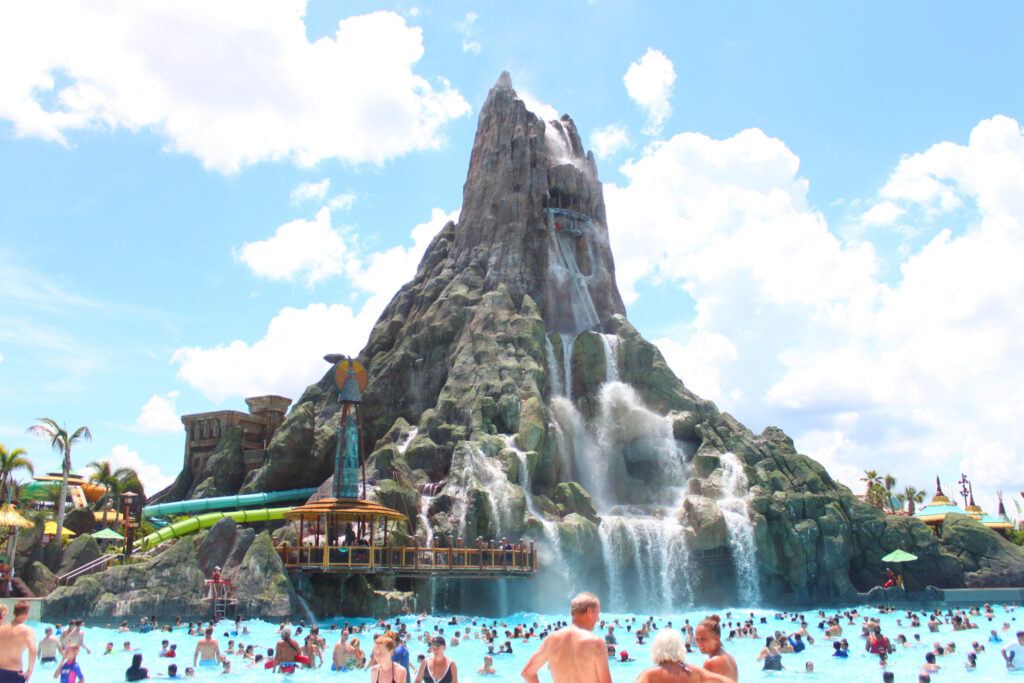 Toddler's will have a lot of fun at Volcano Bay. While the water rides are mostly for older kids and adults, there is still plenty of water play areas for younger kids.
There are two water play areas specifically for young kids and they are located right next to each other, so be sure to get a seat in this area. Tot Tiki Reef and Runamukka Reef have a splash pad, waterfalls and slides.
At Volcano Bay there are several pools, including:
Waturi Beach, which is a wave pool and the biggest pool
Puka Uli Lagoon
The Reef
Waturi Beach
Kopiko Wai Winding River
There are kid's life vests at each pool for your use or you can bring your own water protection gear.
In addition to splashing in the pools and play areas, they will love playing at the TapTu Play Spots, as well. Using your TapuTapu wrist band, you will be able to tap at the play spots for interactive water features, such as splashing people floating by in their inner tubes while you stand on the bridge above.
If it is in your budget, a Volcano Bay cabana or preferred seating will guarantee you a shaded place to rest and no worries about finding a seat. They are pricey and can add to the cost of your day, but they could be invaluable with young kids who need nap time.
Best Hotel for Toddlers at Universal Studios Orlando
We prefer hotels that are close by the theme parks so that you can come back in the heat of the day for a nap, to play in the pool, or to let a cranky toddler calm down. You can then re-enter Universal Studios later on in the day after you have rested for a little bit.
Universal Orlando's hotels are the best options for sure. They are located within walking distance (except for Endless Summer Surfside and Dockside which are further away) which makes it easy to get back to the hotel. There are also complimentary shuttle buses and water taxis that you can use when your little one is just too tired to walk.
The pools at these hotels are awesome, and since you can pool hop at Universal Studios hotels, you can try out a variety of pools to see which one suits you best.
We think that Cabana Bay Beach Resort is the absolute best for toddlers! With two different pools, a lazy river and a kids-only splash pad at the hotel, our toddler had so much fun and didn't want to leave!
Related Post: Best Orlando Hotels with a Lazy River
Which Universal Theme Park is Best for Toddlers?
Without a doubt, we pick Islands of Adventure as the best theme park for toddlers at Universal Orlando Resort. There are a lot more rides, shows and play areas at Islands of Adventure compared to Universal Studios Florida.
If you can only choose one of the two theme parks, then choose Islands of Adventure. However, if you have a park to park ticket, then there is enough in Universal Studios Florida to keep young children entertained for a few hours.