I went to Disney for my 4oth Birthday and it was one of the best places to go! Like many of you, I wasn't too excited about this particular birthday, but I did want to do something to make it a truly special day.
It turns out that going to Disney World on your birthday is pretty special for adults, too! It's not just for kids! I never imagined I would get to celebrate my big day in such a magical way and I absolutely loved it!!
I'm sharing all of my ideas (and where to buy cute Disney birthday clothes and accessories) so that you can have a day that makes you feel special, too!
When planning your birthday at Disney World, it's important to remember to take it easy and do the things that you want to do. Not everyone else in your family! If it's riding the rides that no one will do any other time of the year, or splurging on a dinner that you wouldn't normally enjoy, today is a day to enjoy!
Best Birthday Dinner Restaurants at Walt Disney World
These restaurants are known for adding a lot of magic to your birthday dinner. Some will embarrass the birthday boy or girl. Others are just plain magical. So choose according to what you want to experience.
Silly Fun
Whispering Canyon at Disney's Wilderness Lodge
Hoop-de-Doo Revue at Disney's Fort Wilderness
Chef Mickey's at Disney's Contemporary Resort
Prime Time Cafe at Disney's Hollywood Studios
'Ohana at the Polynesian Resort
All character dining meals
Elegant Celebration
Victoria and Alberts at Disney's Grand Floridian
Citricos at Grand Floridian
Narcoosee's at Grand Floridian (book a time so that you'll be there for the fireworks)
California Grill at Contemporary Resort (book a time so that you'll be there for the fireworks)
Disney 40th Birthday Shirts
I made sure that I ordered custom Disney birthday shirts before we left for Orlando! I wanted something special to wear, and I didn't want to wait to see if Disney World sold anything for birthdays (they didn't, so I'm glad I brought my own!).
Most t-shirts on Amazon are geared towards kids, or can't be personalized. You might like some of these birthday shirts, though, so it's worth a look.
I wanted something that said 40th Birthday and was geared towards adults, though. I can't tell you how happy I was to find so many of these Disney birthday shirts on Etsy! And they cost about 50-60% less than a normal t-shirt I'd buy at Disney World!
This vintage Minnie Mouse 40th Birthday t-shirt is one of my favorites.
And I love this bright and colorful shirt that has all the magical feels from the theme parks!
I chose this fun birthday t-shirt to actually wear, and I got so many compliments on it! It really is cute!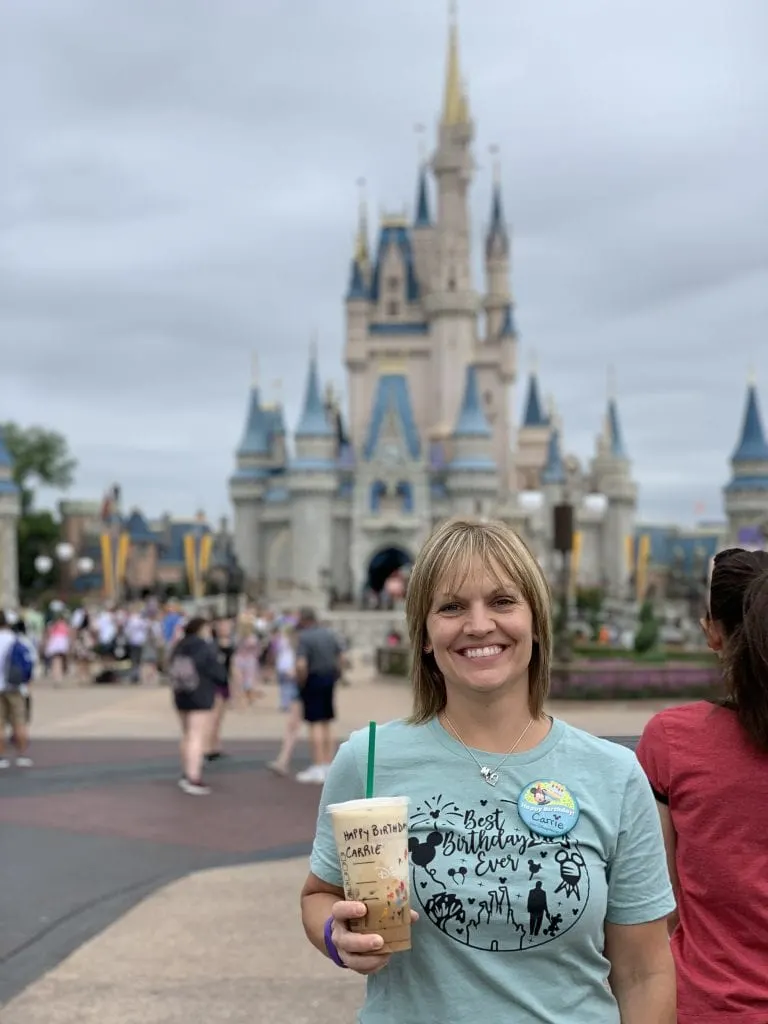 And here's some of the Birthday Squad shirts like I wore on our Fireworks Cruise (more info on that below!).
Getting a Birthday Cake at Walt Disney World
Yes, it is easy to get a birthday cake to blow out candles at Walt Disney World in Orlando. And you can even get a Mickey Mouse shaped cake, too!
Some restaurants might give you a free birthday dessert, such as a cupcake or a slice of cake. But don't expect enough to feed your table. And you never can really depend on a free dessert unless you confirm with the restaurant beforehand.
You don't need to reserve ahead if you don't have time or not sure of where you will be eating. At Disney-owned table service restaurants (here's the complete list of where this option is available), you can request a birthday cake to be added to your bill (nope, it's not free if you get an entire cake). Just let your host or hostess know. Of course, you can always talk to Disney Dining beforehand, or talk to the restaurant before showing up for your meal to get an idea of what type of cake they have on hand. And to make sure there are some available.
There are bakeries at Walt Disney World at which you can get a cake to celebrate, too. Amorette's Patisserie at Disney Springs is one of the best places for decadent desserts and cakes. Erin McKenna's Bakery, also at Disney Springs, is where you'll want to go to get a vegan or gluten-free cake. The Boardwalk Bakery is another option located at Disney's Boardwalk Resort.
Of course, if you'd like to leave property to get a cake, Publix has amazing birthday cakes! My sister brought me this one to my hotel room and it was delicious!!! She added this sweet birthday cake topper for my 40th Birthday.
Disney Birthday Pins
One of the best things about celebrating a birthday at Disney is wearing a pin so that all of the cast members know it is your special day. Wearing the pin will not only get you a lot of Happy Birthday wishes, but you might also get other perks, too, such as free dessert, confetti, a FastPass, attention from Disney Characters in a parade or show, and more fun surprises.
Get your free Disney birthday pin at your Disney World resort, or at Guest Relations at the four theme parks or Disney Springs. Sometimes there is a Disney Guest Relations Cast Member at a cart when you enter a theme park making the pins, so be sure to look around before you go to stand in line.
If you want something a little more magical, though, get a customized birthday pin before you leave for your trip. No one else will have one like yours!
How I Spent My 40th Birthday at Disney World
As soon as I flew into Orlando and my sister picked me up, we headed to Wine Bar George in Disney Springs where I enjoyed a flight of delicious wines paired with decadent chocolates!
Another delicious moment was my family dinner at T-Rex (using the Disney Dining plan!) I love the fun lights & decor and how the dinosaurs come to life. The food and drinks are amazing, including the dessert that came with a candle and a birthday song from our waiter. See how you could get a free birthday dinner at T-Rex.
Disney Springs hosts some of my favorite shopping opportunities including Goofy's Candy Company, Marketplace Co-Op, World of Disney, and Disney's Days of Christmas!
I bought a few things I knew I couldn't leave without including my new coffee mug! (There's always room for one more!)
When we got into our room at The Contemporary Resort with an amazing view of the bay, I headed to the front desk to get my Birthday Pin. A Cast member wrote my name on it, so all day long I'd be congratulated on my big day by name!
If you aren't staying in a resort hotel, you should be able to pick one up at the front of the parks.
On my birthday I wore my Disney birthday shirt (I received so many compliments on it!) and my birthday pin my husband and son joined me on the happy stroll toward the Magic Kingdom!
I was immediately wished a Happy Birthday by all Cast members as I walked by, and let me tell you – it made me feel super special being acknowledged by so many people! My first stop was Starbucks on Main Street where I received a 'Happy Birthday' note on my cup. Then off we went to Gaston's Tavern for a delicious warm cinnamon roll!
We hopped on a few rides, and I found a cart selling exactly what I was hoping for – a warm Disney blanket (it was a cool morning!), and we caught the morning parade where Clarabelle Cow acknowledged my birthday and Marc got a kiss from Minnie Mouse!
I made sure to head over to the Space Mountain gift shop in Tomorrowland where you can personalize your own commemorative bricks. I made one special for my 40th birthday and while it would have been ready shortly – they offered to deliver it straight to my resort for me!
I previously made reservations for a birthday lunch at The Plaza restaurant on Main Street. I had a Macaroni & Cheese dish that was unbelievably good. As stuffed as I was, I refused to deny my birthday dessert!
I ordered a perfect banana split and ate almost the whole thing myself because I just had to! HAPPY BIRTHDAY to me!! YUMMY!
I also couldn't pass up an opportunity to hold the enormous bouquet of balloons and with a cast members supervision they'll let you snag a picture!
I had a birthday Disney gift card burning my pocket, so off to the Emporium on Main Street to pick out a new Minnie Mouse purse that I LOVE!!!
I thoroughly enjoyed my morning in Magic Kingdom doing everything I wanted to do while my husband happily obliged. (Love him!) We decided that afternoon that with the cool breezes and threatening rain that we would head back to the Contemporary for some down time.
The boys headed to the arcade and for some quiet time away, my sister and I headed down to the Wave. They have a peaceful waiting area with fun couches and cool lighting.
The amazing sister that Kim is – she brought decorations for our little table making me feel special once again! Along with a chocolate birthday cake and some balloons, I felt totally loved!
Birthday Fireworks Cruise
To top off a perfect day, my sister reserved a Fireworks Cruise for that evening to cruise around the bay and see the fireworks with our family. I highly suggest doing this!
The boat was decorated with a Happy Birthday banner since my sister had said it was my birthday when she reserved it. We were thrilled with a tray of snacks, soft drinks, and water that were provided onboard our boat.
Helpful Tip: Get the photos as soon as you get to your boat! When you get back it will be way too dark to get any good photos!
There were personalized birthday buttons for my whole family, and our captain also supplied some blankets to keep us all cozy warm!
After a short tour and some interesting facts, we headed towards the Magic Kingdom to see the fireworks and we got to see the nightly Electric Water Pageant as a bonus!
When the show started the corresponding music for the fireworks display played through our boats' speakers so we could have the full experience! It was so cool.
When we returned to the dock, we were allowed to take all of the leftover goodies back with us! Yes there was a lot of candy left and yes I did eat it all! Happy Birthday to me! (You can bring your own alcohol on board even if it's in bottles)
What a wonderful way to spend my birthday!! Along with several more days in the parks, and an amazing stay at the Contemporary Resort, I have to say my 40th Birthday was unforgettable.
Disney World Birthday Must-Dos
No matter how old you are, or whether you are celebrating a kid's birthday or an adults, be sure to remember these important tips for a Disney birthday visit.
Get your free birthday pin and wear it! Don't just wear it on your birthday, but wear it through your trip!
Do something unique and indulge! Why not try the Himalayan Salt Therapy Room spa treatment or Disney's Highway in the Sky progressive dinner?
Tell Disney Dining agents that you'll be celebrating your birthday when making reservations.
Be sure to tell the front desk at your Disney resort that you'll be celebrating your birthday. You never know, you might be surprised with balloons or treats in your room!
Ask the front desk at your Disney hotel about the availability of a birthday call from Mickey Mouse or other characters. (At home, here's how you can get a free call from Mickey Mouse!)
Decorate your hotel room! If you're planning a birthday celebration for someone, you can request decorations in your Disney hotel room (for a fee). It's not cheap, though! We suggest ordering some of these cute Mickey Birthday Party decorations and bringing them with you. So much cheaper, and they won't take up much room in your luggage since they lay flat!
Get Birthday Mickey Mouse ears. There's usually at least one style to choose from. Even better, though, is to bring your own customized Birthday Mickey Mouse ears!