Chihuly at Biltmore has been one of the most anticipated events to come to Asheville, NC and the Biltmore Estate. When we heard the announcement, we started counting down the days until the glass exhibition debuted. Happily, we were blessed to visit and see behind-the-scenes of Chihuly at Biltmore when it was being installed. We were also there during a media preview the night before the official grand opening of the event.
This limited-time exhibition is no longer at Biltmore Estate. However, the much anticipated Downton Abby Exhibit at Biltmore is currently open until April 7, 2020.
There are already so many things to do at Biltmore Estate in Asheville that you can't fit them all in one day. Trust us. With the new Chihuly at Biltmore exhibition and Chihuly Nights at Biltmore (a separate ticket from daytime admission), you really do need to plan for at least a couple days to enjoy the Estate.
Who is Dale Chihuly?
If you're not familiar with the colorful world of art glass, you might not realize how famous Dale Chihuly is in the art world.
The American is known for revolutionizing the Studio Glass movement. If you've seen large, colorful glass sculptures in gardens and museums around the world, there's a chance it could have been Chihuly.
For more than 50 years, Chihuly has created stunning architectural glass installations around the world, in historic cities, museums and gardens. His work is included in more than 200 museum collections worldwide including the Metropolitan Museum of Art, the Smithsonian American Art Museum and the Corning Museum of Glass.
You can also buy Chihuly art. It's not just in museums! Biltmore Estate is selling Chihuly pieces during their Chihuly exhibition.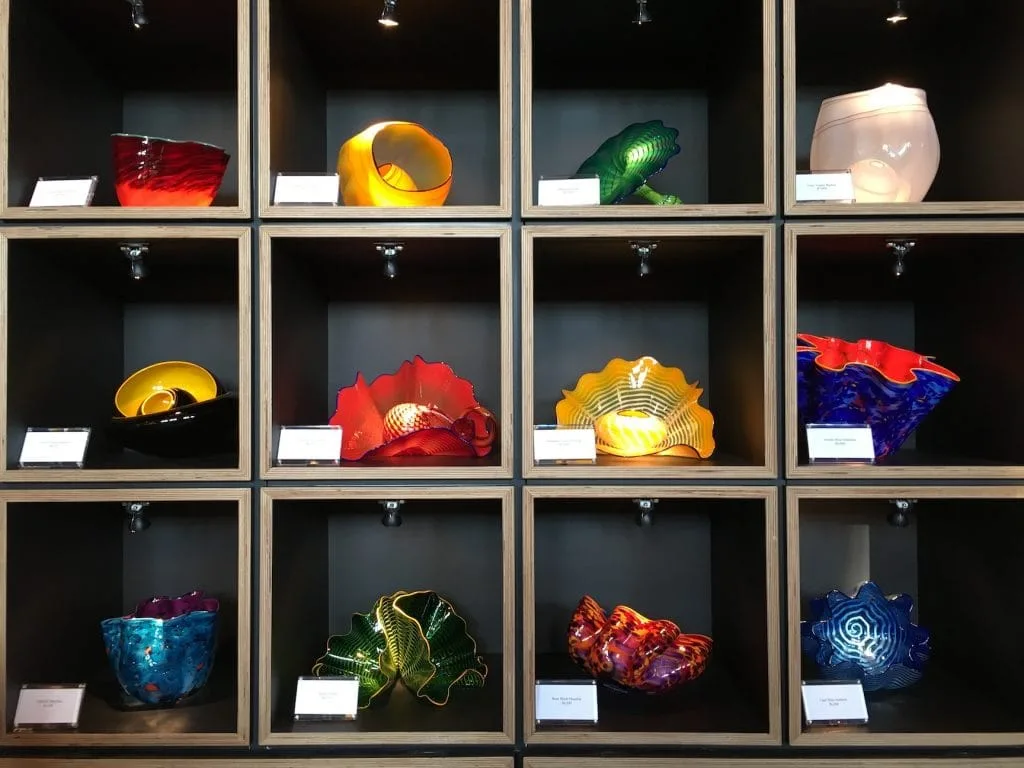 In Florida, we've been blessed to visit the Chihuly Collection at the Morean Arts Center in St. Petersburg and to see a piece of Chihuly glass at the Orlando Museum of Art.
Fun Fact: One of the most popular questions about Chihuly glass is 'How does it stand up to the weather outside?', according to Britt Cornett, Chihuly Studio Head of Exhibitions.
Chihuly at Biltmore
Biltmore Estate has never had an art exhibition in its famous historic gardens before. Which makes the Chihuly at Biltmore exhibition so special and so unique.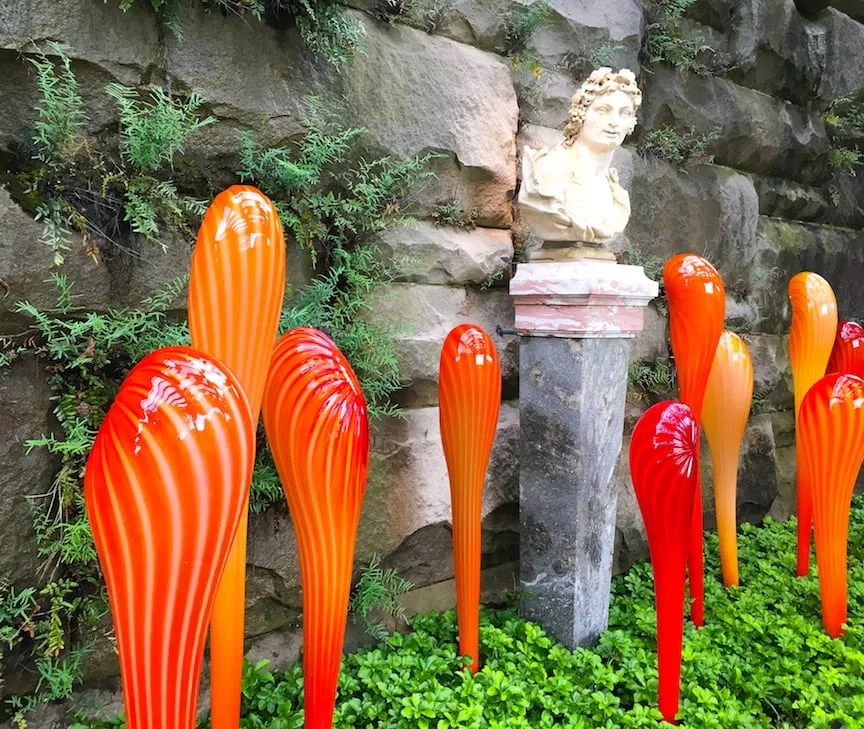 Chihuly at Biltmore is a dramatic contrast of centuries-old gardens and modern glass sculptures. The glass art will be in the gardens during spring, summer, and fall against the backdrop of ever-changing colors and plants designed by Frederick Law Olmsted, known as the father of American landscape architecture.
The Chihuly at Biltmore exhibition will also be featured inside Biltmore House, as well as Antler Hill. The exhibition is included in Biltmore admission.
This will be Chihuly's first major North Carolina garden exhibition.
Fun Fact: There were six 53-foot trailers that transported all of the Chihuly glass pieces to the Biltmore Estate.
What Chihuly Sculptures Can I See?
There are a variety of Chihuly art glass sculptures that will be on display at Biltmore Estate. Some of the glass sculptures have never been seen before and were created especially for Biltmore. These include:
Newly blown Chihuly works:
Electric Yellow and Deep Coral Tower Alabaster and Amber Spire Towers Niijima Floats
New Chihuly compositions:
Sky Blue and Cobalt Fiori
Laguna Torcello II
Fiori Boat
Pergola Garden Fiori
Burnished Turquoise and Erbium Fiori Amber, Citron, and Teal Chandeliers
The following is a detailed list of the pieces of artwork that you will be able to enjoy during an Estate visit:
Sole d'Oro (approximately 162 x 168 x 168″)
Front Lawn of Biltmore House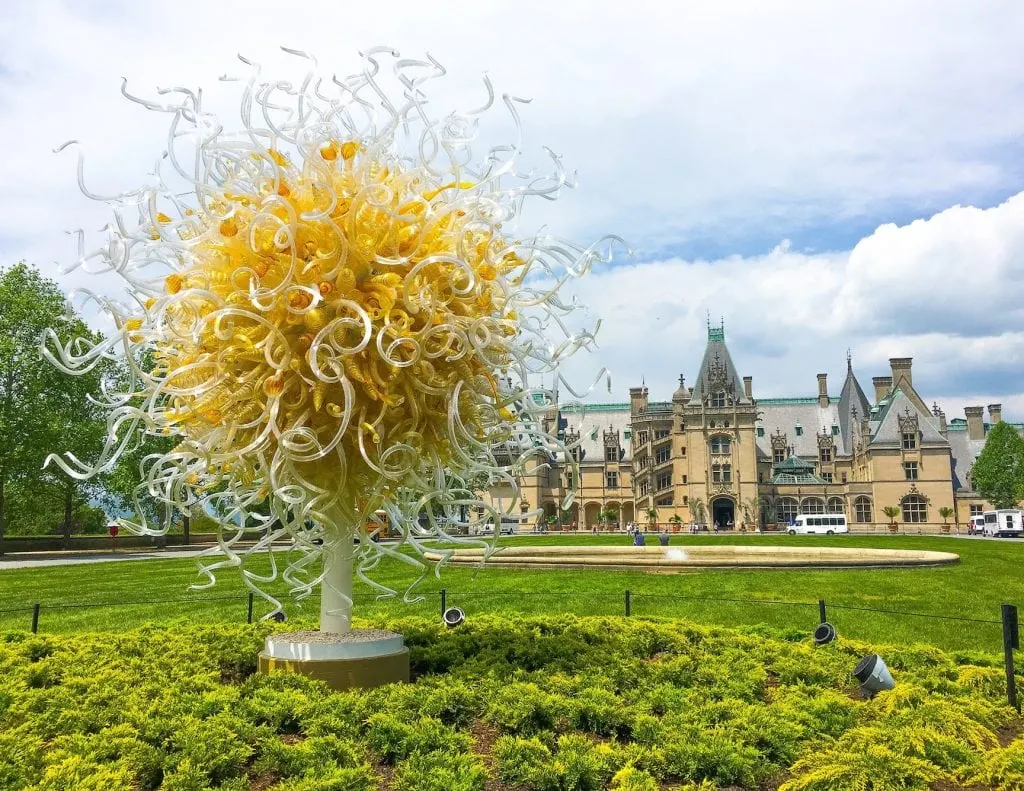 Sole d'Oro is Italian for "golden sun," and comprised of clear, amber, and gold horns, goosenecks, hornets andhornballs. Chihuly created his first Sun sculpture in 1998, and as with much of his work, has since returned to the concept with new colors, forms and scale. One might say that Chihuly's ambitious and boundary-pushing career is illustrated in this series.
Fun Fact: We learned that there are more than 1,200 glass pieces in this sculpture alone. The Sun will be the first Chihuly sculpture that you see when entering the grounds of the Biltmore Estate from the Main Entrance.
Laguna Torcello II
Winter Garden in Biltmore House
Named after a lagoon in Venice, Italy, Laguna Torcello, is part of Chihuly's Mille Fiori (a "thousand flowers" inItalian) series, which began in 2003. Laguna Torcello II focuses on the gold color palette from this iconic installation, and features an array of Chihuly forms, including reeds, fiori, eelgrass, floats, and Towers.
Fun Fact: The gold and white forms inside the very first room of Biltmore are meant to conjure up visions of sea life and reflects Chihuly's love of Venice.
Float Boat and Fiori Boat (sizes vary)
Italian Garden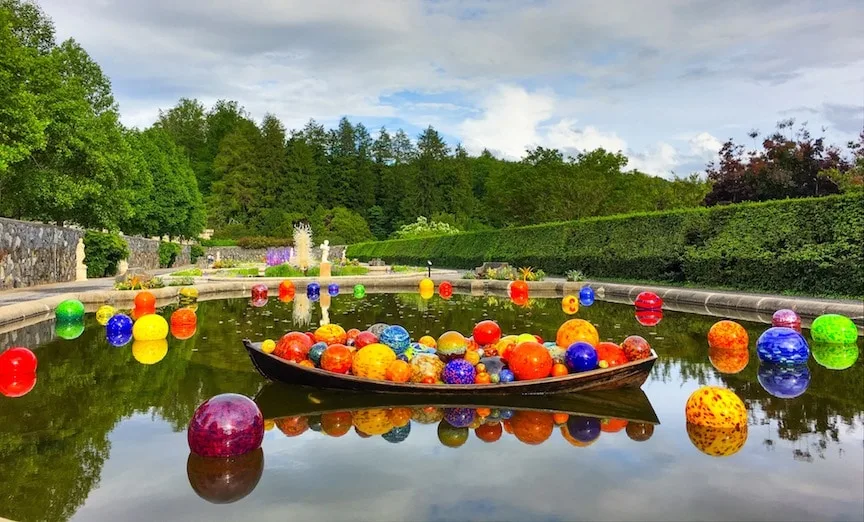 Chihuly first filled boats with glass in Nuutajärvi, Finland, during the "Chihuly Over Venice" project in 1995. Afterseveral days of glassblowing, Chihuly started tossing glass forms into the Nuutajoki river to see how they would look in the environment. As the glass floated downstream it was retrieved in wooden boats by local teenagers, inspiring Chihuly to begin massing forms into wooden boats, creating what would become the Boat series. TheFiori Boat, designed for this exhibition, features a vast array of Chihuly's whimsical, nature-inspired forms, including herons, seal pups, marlins, cattails, onions, and reeds.
Niijima Floats (sizes vary)
Italian Garden
Named for the island of Niijima in Tokyo Bay, and for the small Japanese fishing floats Chihuly would find on the shores of Puget Sound as a child, Niijima Floats are very likely the largest glass spheres ever blown (up to 40 inches in diameter and up to 80 pounds). The Floats are generally displayed in groups, either indoors or outdoors. NewFloats were blown for the Biltmore exhibition.
Palazzo Ducale Tower – Italian Garden
Paintbrush Tower – Walled Garden
Electric Yellow and Deep Coral Tower – Walled Garden
Alabaster and Amber Spire Towers – Antler Hill Village
The initial phase of extensive experimentation with the Chandeliers culminated in the Chihuly Over Venice project (1995-96) during which Chihuly varied both the shapes of the glass forms and the armatures themselves. Subsequent projects continued to challenge the artist to create large sculptures for spaces without ceilings or where the ceilings could not bear the weight of Chandeliers, giving life to the development of the Tower series.
The Palazzo Ducale Tower, Paintbrush Tower, Electric Yellow and Deep Coral Tower, and Alabaster and Amber Spire Towers are a classic demonstration of Chihuly's desire to mass color on a steel armature for dramatic effect. The Towers rise from the ground like huge stalagmites and have become iconic installations in Chihuly's exhibitions.
Sky Blue and Cobalt Fiori – East Terrace Biltmore House
Fiori Verdi, Turquoise and Erbium Fiori – Antler Hill Village
Pergola Garden Fiori – Pergola
Cattails and Copper Birch Reeds – Walled Garden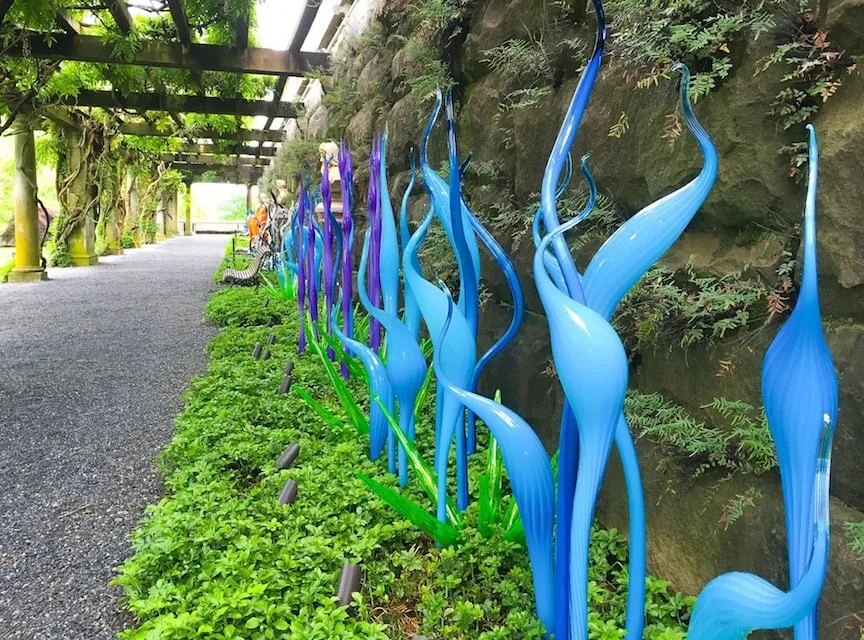 Chihuly's Fiori demonstrate the artist's penchant for organic, free flowing forms. In this series, which first appeared as Mille Fiori (Italian for "a thousand flowers") in 2003, the artist has revisited and refined many of the forms andtechniques that he used earlier in his career.
Neodymium Reeds and Fiori Verdi – Italian Garden
Red Reeds – Shrub Garden
(sizes vary from 6-10')
Chihuly made his first Reeds in 1995 at the Hackman factory in Nuutajärvi, a small glassblowing town in Finland. The Hackman facility had high ceilings and large annealing ovens, allowing Chihuly to make these elongated forms.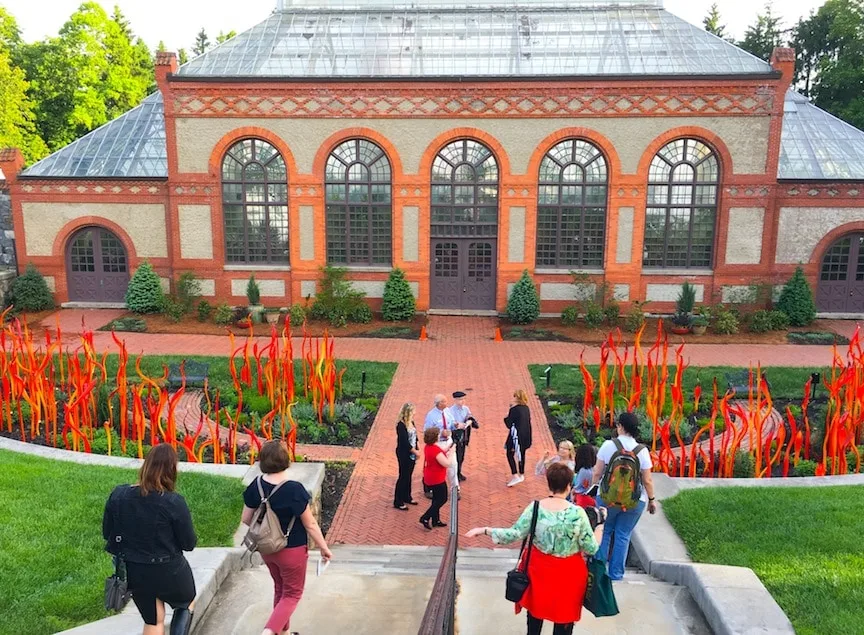 To create the long, tubular shape of a Reed, one glassblower must be elevated in a mechanical lift while blowing through the pipe to encourage the form to stretch, while another pulls the glass toward the ground. Neodymium Reeds with Fiori Verdi incorporates reeds that were made at the Hackman factory in Nuutajärvi.
Fun Fact: The Red Reeds are installed into the ground to a depth of 12-18 inches.
Burnished Amber, Citron, and Teal Chandeliers (A: 80 x 65 x 64″) (B: 79 x 65 x 58″) (C: 73 x 62 x 59″)
Conservatory
Chihuly's first concept form for his Chandeliers premiered at the 1992 Seattle Art Museum exhibition Dale Chihuly: Installations 1964-1992. The series, which reflects the artist's longtime interest in architecture, was further explored and perfected during preparation for Chihuly Over Venice, an ambitious two-year project.
Chandeliers can be made from as many as 1,000 individual pieces of glass. The elements that comprise Chandeliers can be bulbous, long and twisted, short and spiraled, and even frog-footed. Carefully arranged and attached to a specially-designed steel armature, the many forms combine to create an intricate suspended composition. (See our photos of the chandeliers being put together and how the individual glass pieces look.)
While called Chandeliers, these glowing sculptures are not internally lit. Rather, the glass elements – which Dale and his team have named after things found in nature, such as split leaf, feather, hornet, stinger, and gooseneck –are externally illuminated.
Designing Biltmore's Gardens for Chihuly at Biltmore
During a media preview, it was our pleasure to talk with Parker Andes, Biltmore Director of Horticulture. I'm an avid gardener with a love of Biltmore's gardens for over a decade, so I could spend an entire day talking with Parker.
The garden design at Biltmore for 2018 was completely designed around the Chihuly sculptures. Garden plantings were developed in collaboration between Chihuly and Biltmore's landscape teams. They spent over a year deciding what flowers, shrubs and other plantings would be used in every garden and how they would complement the glass.
It wasn't as easy as you might think.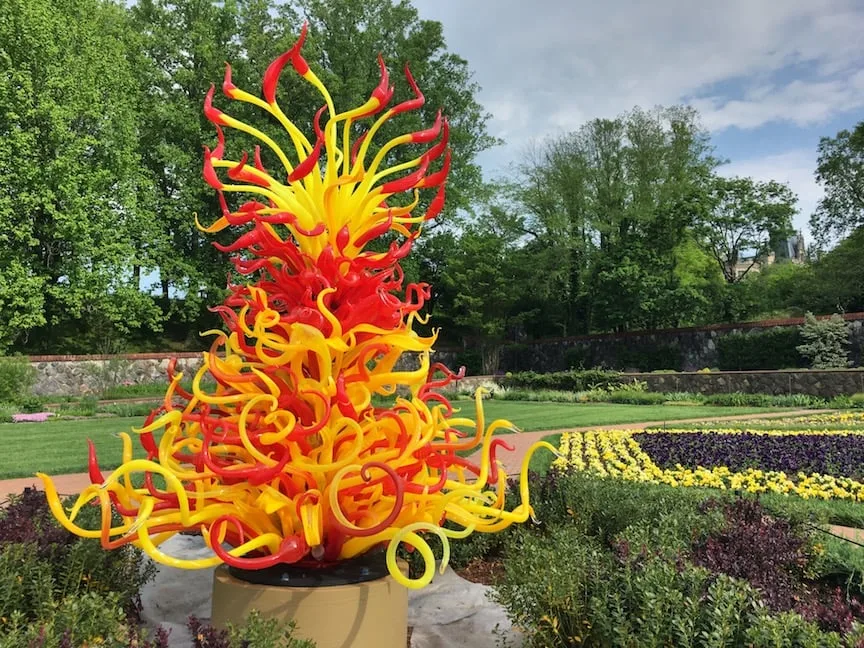 The horticulture team had to take into account a range of three growing seasons in the gardens. From the early spring plantings to summer heat to the changing colors of Fall.
Along with three seasons of plantings also comes the challenge of how tall those plantings will get. Every plant was carefully considered due to how tall they would grow during the year and whether the height would complement or detract from the Chihuly glass artwork.
For instance, the butterfly garden plantings around the Cattails and Copper Birch Reeds are expected to grow quite tall during the summer. While the plants generally grow tall every season, they will be looked at carefully this year to see if they should be trimmed to prevent overgrowth in front of the Chihuly glass.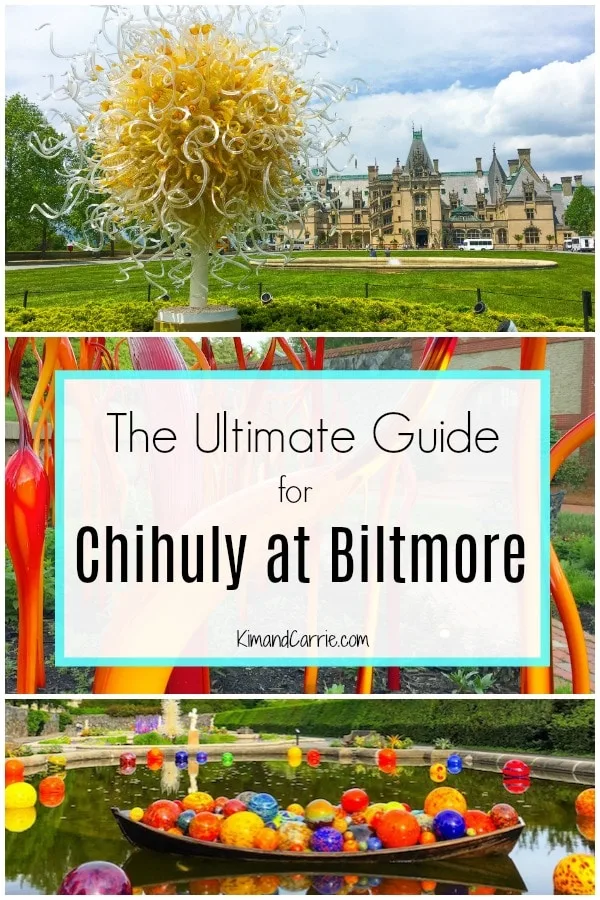 In the Walled Garden, the two towers – Paintbrush Tower and Electric Yellow and Deep Coral Tower – presented a surprising challenge.
What do you plant around brilliantly colored glass sculptures that will not detract from the colors and form, but enhances it?
Parker said that the original though to plant a mass of marigolds was changed because the colors would compete. Instead, low growing purple pansies were planted to enhance the color contrast, rather than match the colors. Also, the shrubs around the base were specially planted last fall to stay at a size that wouldn't grow too high around the sculpture.
Chihuly Nights at Biltmore
During reservation-only Chihuly Nights at Biltmore, the artworks are dramatically illuminated to showcase their colors and shapes.
We can't say how much we absolutely LOVED watching a sunset at Biltmore House. It's a rare experience. Seeing the brilliant orange sun drop behind the Blue Ridge Mountains was spectacular! And we love how it was a spectator event! Everyone was along the rock wall, sitting on the stairs or in the gazebo. A bar was set up for cocktails. And then there was a cheer when the sun dipped below the mountains.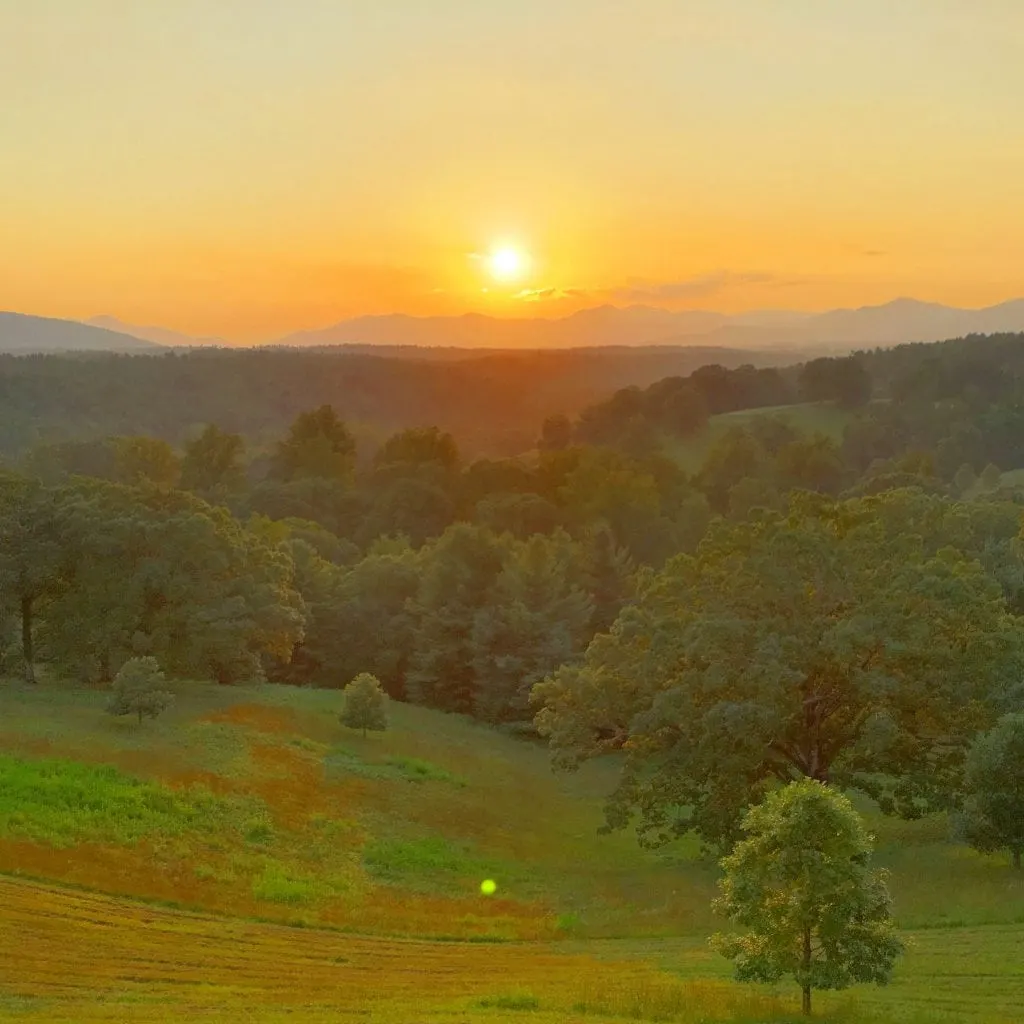 Chihuly Nights at Biltmore will be offered on select evenings throughout the exhibition's run. Guests may extend the evening at one of Biltmore's lodging properties – The Inn on Biltmore Estate or Village Hotel on Biltmore Estate. Both properties will offer special Chihuly-inspired stay packages.
We thought the most beautiful time of Chihuly Nights at Biltmore was at sunset and dusk. Of course, it's beautiful all night long with the dramatic colors illuminated in the pitch dark.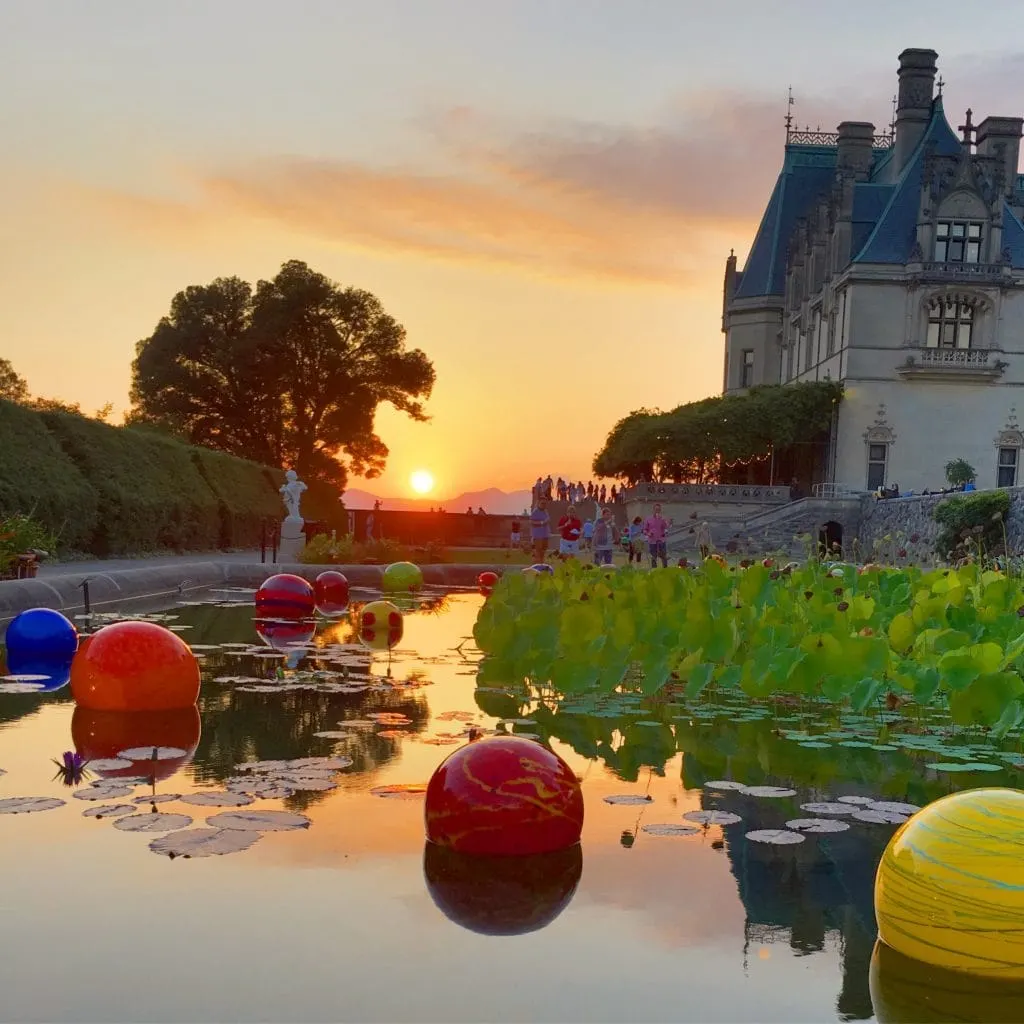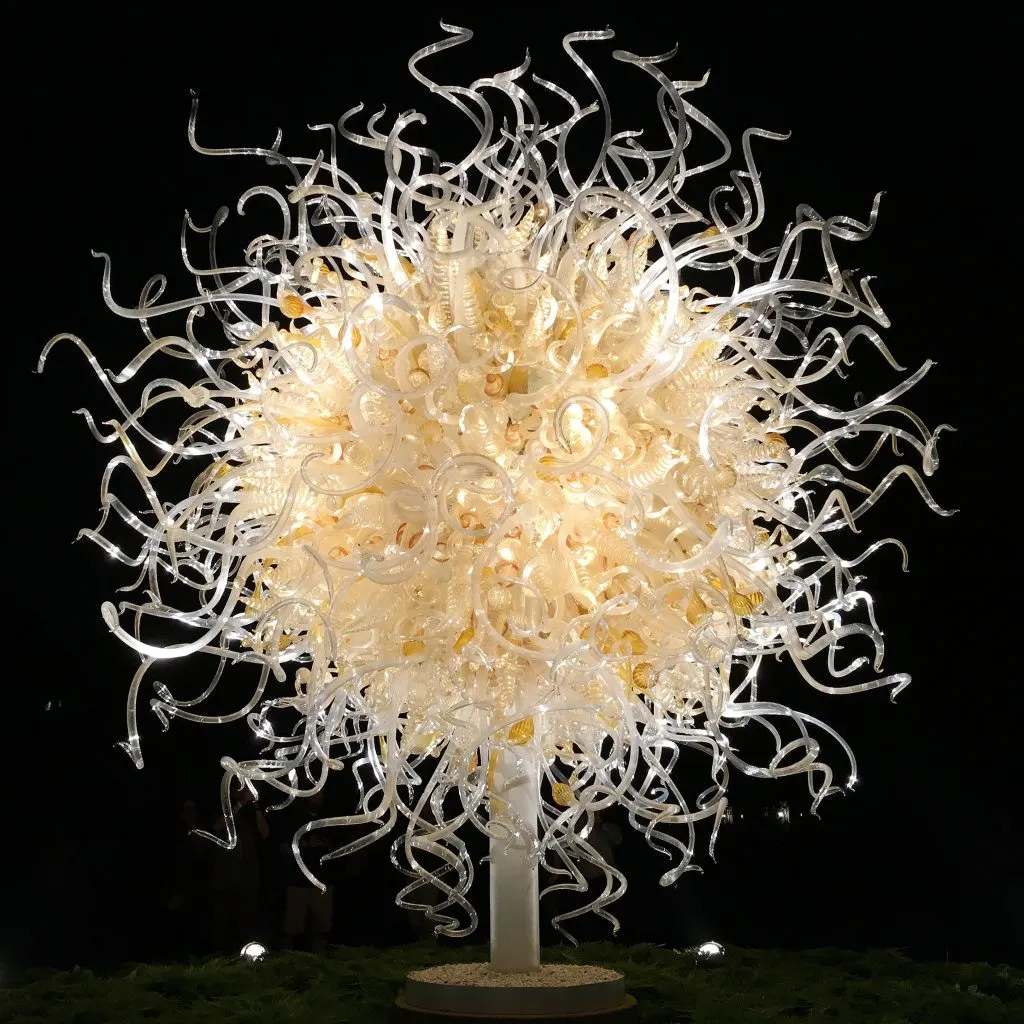 However, it's hard to take photography in the dark. So if you're someone that wants to take pictures and share with friends and family, make sure you wander the grounds and gardens at sunset and dusk.
Enjoy dinner or a tour of the house when it's completely dark outside later in the evening.
It is important to remember that Chihuly Nights at Biltmore requires a separate ticket.
The two Chihuly art installations at Antler Hill will be illuminated, but do not require a separate ticket, as they are located in the shopping and dining complex.
Chihuly at Biltmore Travel Tips
Biltmore has been one crowded destination over the last few years. As more and more people discover the hidden wonders of the Biltmore Estate and Asheville in general, the more crowds there are.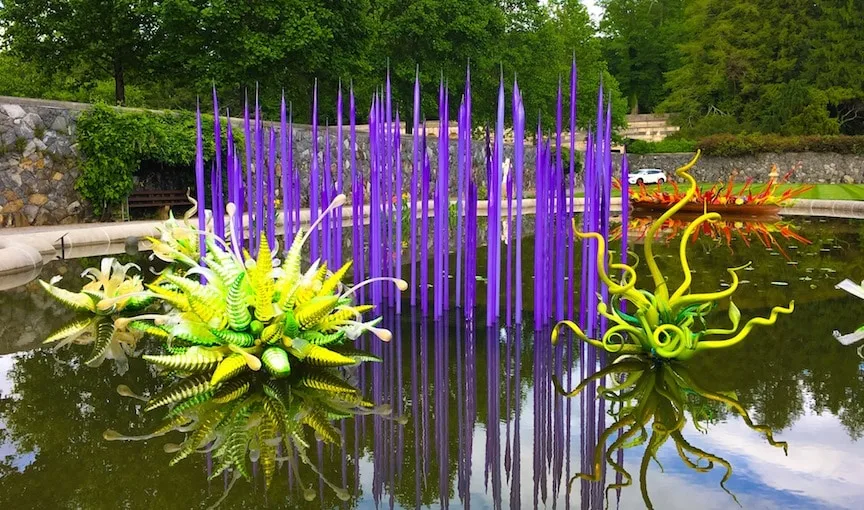 With Chihuly at Biltmore, expect lots of crowds this year, too. Here are some helpful tips to get the most from your stay:
Spend more than a day at Biltmore. It's not just about the house and gardens. There's the winery, shopping, dining, outdoor sports, walking trails, and more. You can't see everything in one day.
The Biltmore Annual Pass is definitely worth it! Less than the cost of two days of admission, you can get discounts on food (yes, even the ice cream!), shopping and more.
Biltmore has two hotels on property. Plus there are hotels outside of the main entrance (Keep in mind you cannot walk from any of these hotels outside of Biltmore onto the grounds. It's too far to walk.)
Want excellent photographs of Chihuly glass without a lot of people in your picture? Get to the gardens first thing in the morning or late afternoon.
Visit Biltmore's gardens first thing, then do the house. Most visitors start with the house and then go onto the gardens. You'll avoid the crowds if you arrive early in the day and start in the gardens and then walk through the house.
The garden shop underneath the Conservatory features beautiful glass works of art (no, not Chihuly!) for sale. Be sure to pop inside and see the glass sculptures that you can add to your home.
Want to buy a real piece of Chihuly? Contact the Biltmore Carriage House gift shop located in the courtyard beside the house.
Biltmore House does have a sit down restaurant and quick food service in the courtyard beside the house. A small drink cart can be found in the gardens behind the Conservatory. Antler Hill offers plenty of restaurants and dining.
The Stable Cafe is open for dinner during Chihuly Nights! Call the restaurant for reservations.
Make sure you're at the Biltmore House for sunset if you have a Chihuly at Night ticket! It's really the most gorgeous time to enjoy the sunset and the soft light on the sculptures. So make dinner plans (or other plans) well before sunset or during dark.
Antler Hill is a decent drive from Biltmore House. You can't just walk between the two properties. You'll need to drive or take a shuttle. Allow yourself plenty of time (at least 20 minutes with no slow traffic).
With so much to see at Biltmore, and so much of it being outside, you might run low on battery for your phone or camera. Be sure to bring back up batteries or portable chargers. We always bring this excellent portable charger which has 2 USB ports and is weather resistant.
Here's the Chihuly at Biltmore map if you'd like to plan ahead:
How Long Does Chihuly at Biltmore Last?
Chihuly at Biltmore opens May 17, 2018 and will run through Oct. 7, 2018.