What's the best water bottle to take to Disney? In Florida's heat and humidity year round, bringing the right water bottle to Walt Disney World is a must. You can't walk around the parks with nothing to drink. So you're either going to buy beverages or bring your own.
If you don't want to throw money down the drain -and into a landfill – then bringing these best water bottles for Disney World is super smart!
Heat exhaustion is a VERY real threat when at Walt Disney World, especially in the heat of Spring, Summer and even Fall (it was still close to 90 degrees in December last year!) It doesn't take long to overheat with the combo of walking, being surrounded by pavement and hard surfaces reflecting heat, the temperature itself, and the soaring humidity.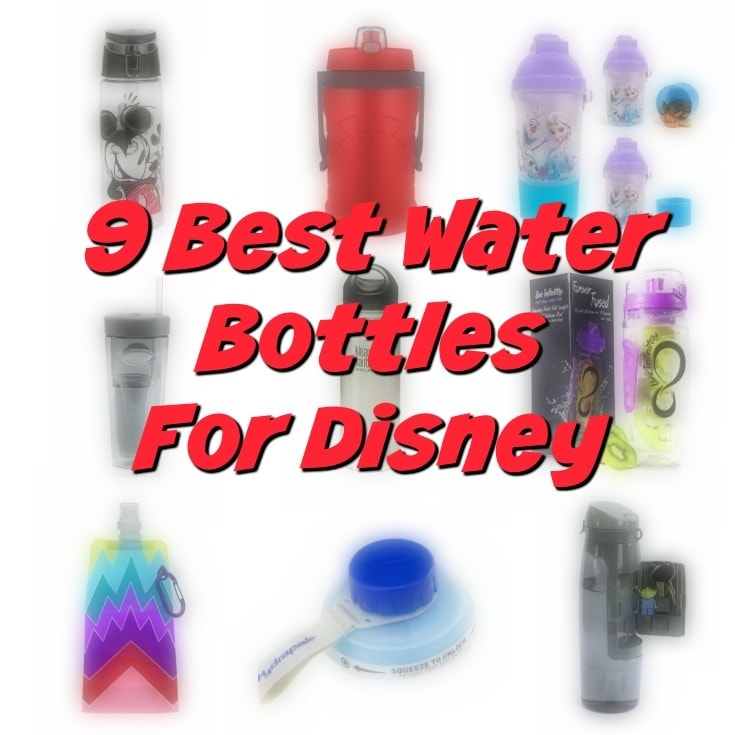 How Much is a Bottle of Water at Disney World?
A bottle of water at Walt Disney World costs about $2.50 per bottle for around 16 oz of water.
For a family of 4, that's more than $10 each time you're feeling thirsty.
If you only buy five bottles of water each person a day (you'll need that much or more in the heat), that's more than $50 a day!
Multiply that number by how many days you'll be on vacation. Can you imagine all of the money that you'll save by buying a reusable water bottle now?
Those plastic bottles of cold water that you buy at Disney also sweat like crazy. They might be ice cold when you get them, but they warm up way too fast in Florida heat!
Buying plastic bottles of water means that they sweat condensation all over, making it hard to hold onto.
And they are especially messy to put in your bag or pocket.
Can You Refill Water Bottles at Disney World?
Yes! You can get ice cold water for FREE! Yes, free. You can go up to any quick service counter and ask for a free cup of water, whether you're ordering food or not. It's always been a Disney policy.
While cups of water are nice, you've got to have a place to store the water if you don't drink it all immediately. Which is why you need a water bottle with you.
You can enter attractions and queue lines with bottles, but not open cups of liquids.
So save LOTS of money, save time and be better to the planet, too, by buying these reusable water bottles for your Disney vacation – and you can still use them when you come back from Disney!
Best Water Bottles for Theme Parks
Stainless Steel with no Sweating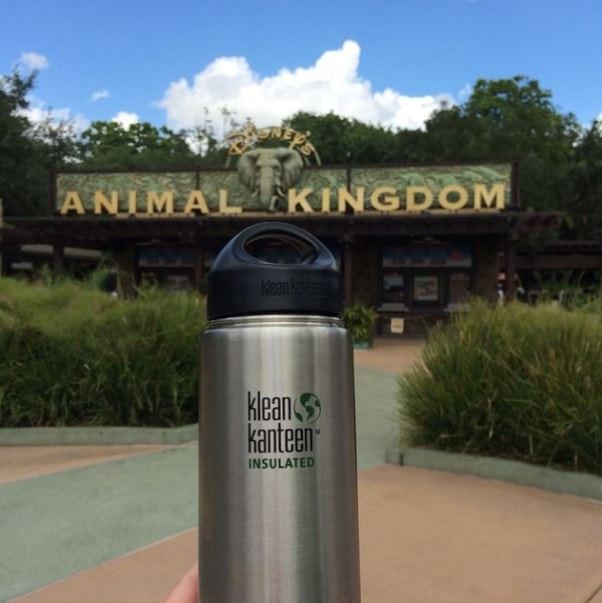 We cannot say enough great things about Klean Kanteen products. We've put them through the test in scorching summer heat at Disney theme parks, and they always work amazing! Add ice to these insulated stainless steel bottles with a wide mouth (important for when you're washing) and it will stay cold for hours and hours with no sweating.
Carrie bought one specifically for storing hot water for when her newborn son visited Disney World and she needed hot water to mix with formula. The water was actually kept so hot all day long, she had to cool it off hours later to use it for the formula.
This is a multi-purpose bottle, easily transitioning from hot (think coffee or tea in the morning) to cold (ice water for the afternoons) in one day, or appropriate for drinks all year round. I recently packed hot cocoa while hiking in the Grand Tetons in May.
But they can be pricey (along with Hydro Flasks).
Want to get all of the same great benefits at a lower cost? Then check out MIRA Brands insulated Stainless Steel Water Bottle!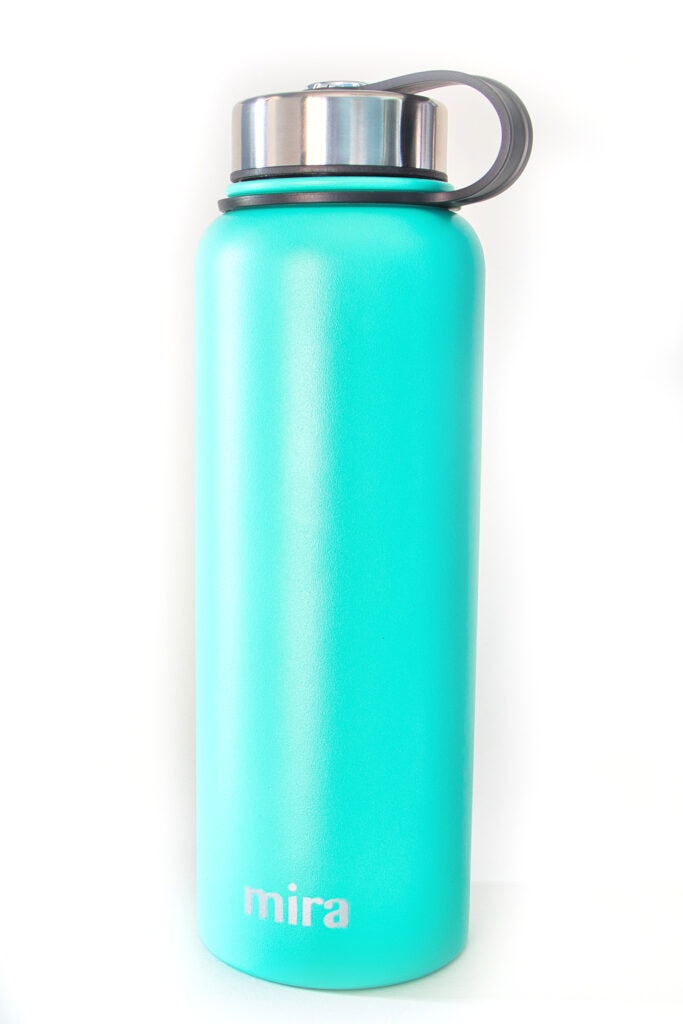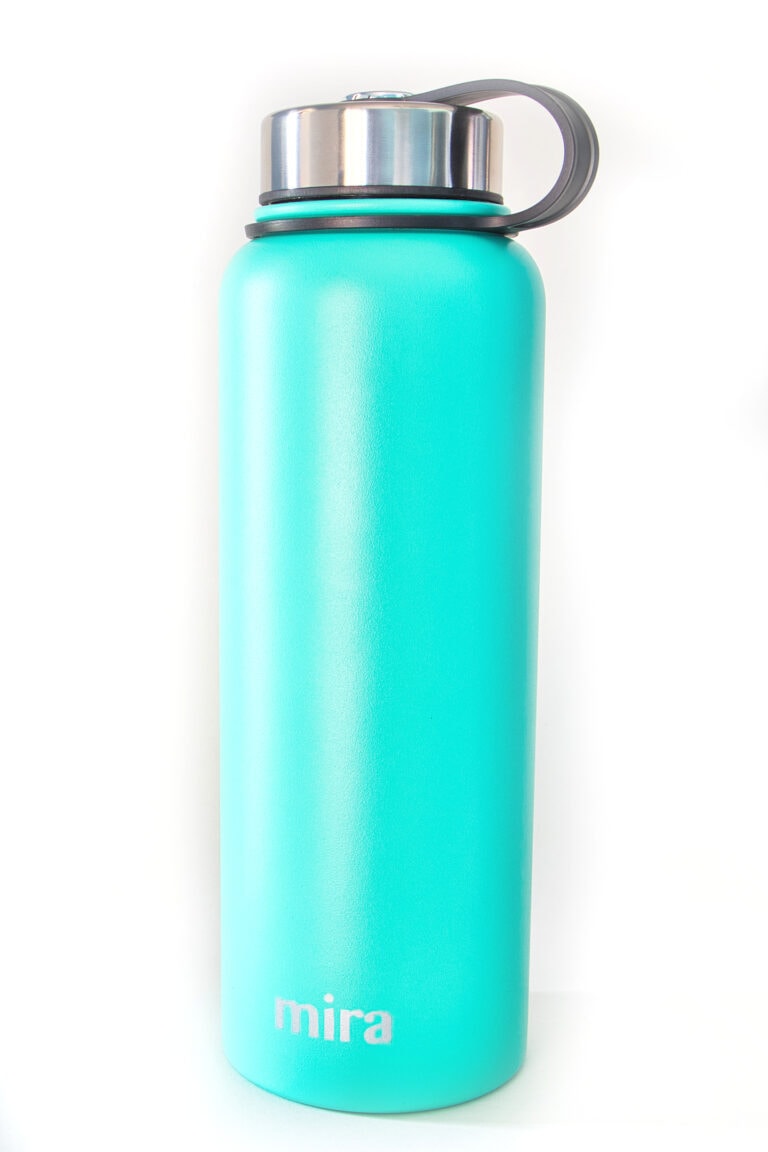 We got a 40 oz. insulated stainless steel water bottle and it kept water ice cold all day long, even though the bottle was in the heat. This is a great idea when you're going to be in the theme parks all day long, and you want to start with your own ice and water to last a good portion of the day.
Of course, there are smaller bottles, too. Especially smaller ones for kids.
Disney Water Bottles
Want something Disney themed for your Walt Disney World vacation? We get it. Why not pick a different Disney character water bottle for each member of the family? These Zak! Designs Tritan water bottles are break-resistant and BPA-free, yet show of your individual Disney side for under $10! That's less than the cost of three bottles of water.
Best Filtered Water Bottle For Disney World
The only water bottle tumbler with filters that reduce lead (along with lots of other nasty stuff), we love these ZeroWater water bottles. Check out our surprising video when we put the pitcher system to the test. It really works!
See how well it works in this video we did:
Filtering water lets you refill from any tap or water fountain without worry, creating cleaner water for drinking and possibly disguising any weird tastes, too.
Collapsible Water Bottles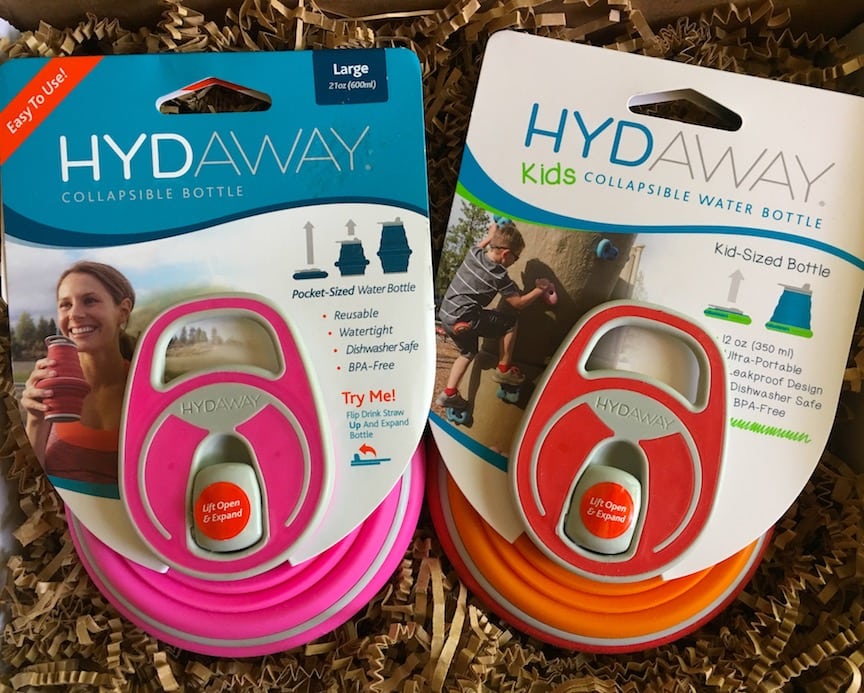 We got a couple Hydaway collapsible water bottles to try out and instantly loved them!
My nephew Marc thought the bottles were absolutely amazing and played with them for hours, opening them up and then collapsing them back down. And they really are kid-friendly. He had the water bottle full and was tipping it upside down and throwing it all over the place. It didn't leak (other than pouring water from the spout when completely turned upside down, which is what you'd want.)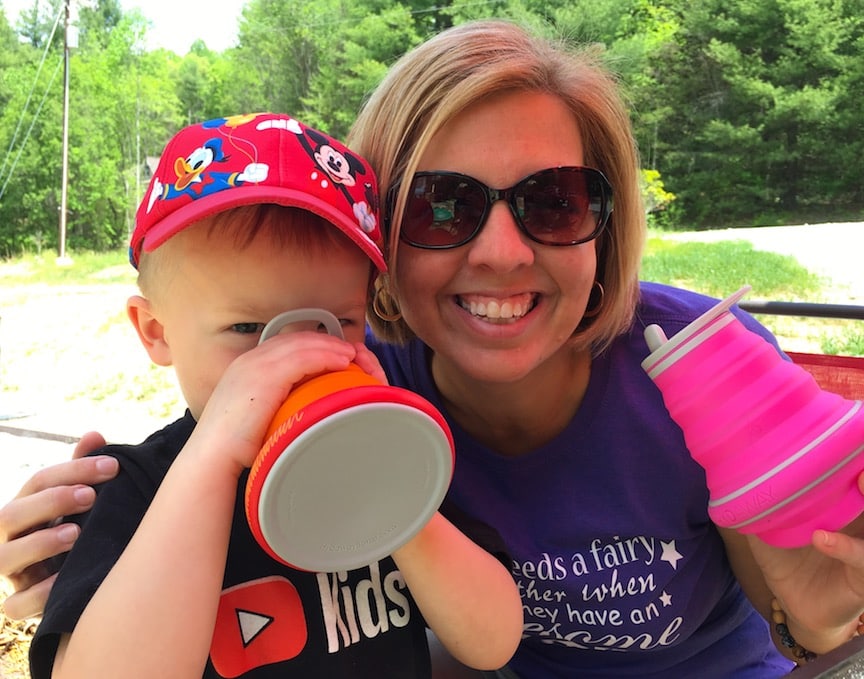 With a wide enough bottle mouth to clean inside (yes, you can put them in the dishwasher), these silicone water bottles are BPA free and fold down to just one inch.
They'd even fit in a pocket or purse when folded. And the handle can be latched to a belt holder or other hook on a stroller, backpack, etc.
A child's size version of the Hydaway collapsible water bottles is no longer available.
We also love the Vapur Anti-Bottles water bottles that flatten as you enjoy the water throughout the day. They fold up flat when not in use (perfect for when it comes time to pack up your luggage) and with a handy hook you can strap them to a belt loop, purse, or backpack. They are much trickier to clean, though, just an FYI.
Add Flavor To Your Water
Add flavor to your water effortlessly with these infusing water bottles. Add fruit (from your breakfast buffet at the hotel!), herbs such as mint, tea bags or whatever flavors you want to flavor your water all day. The longer it steeps, the bolder the flavor gets.
Big Bottles for the Whole Family
Want water for the whole family, without having to keep track of individual bottles? Fill up this 64 oz. Under Armour Insulated water bottle and you've got enough chilled water to last for a while. Perfect when you want to fill up once at the beginning of the day, and not worry about water bottles for a while.
Secret Storage in Water Bottles
Water bottle with a compartment for keys, credit cards and cash?!? BRILLIANT! The Kangaroo Gym Water Bottle has a secret compartment to store your essentials.
Kids will feel stealthy – while also not asking you to get out the bags of snacks – when you give them one of these Frozen water bottles with a snack compartment attached. Fill it up with water and food such as goldfish or pretzels, and they've got their snack situation under control when they want.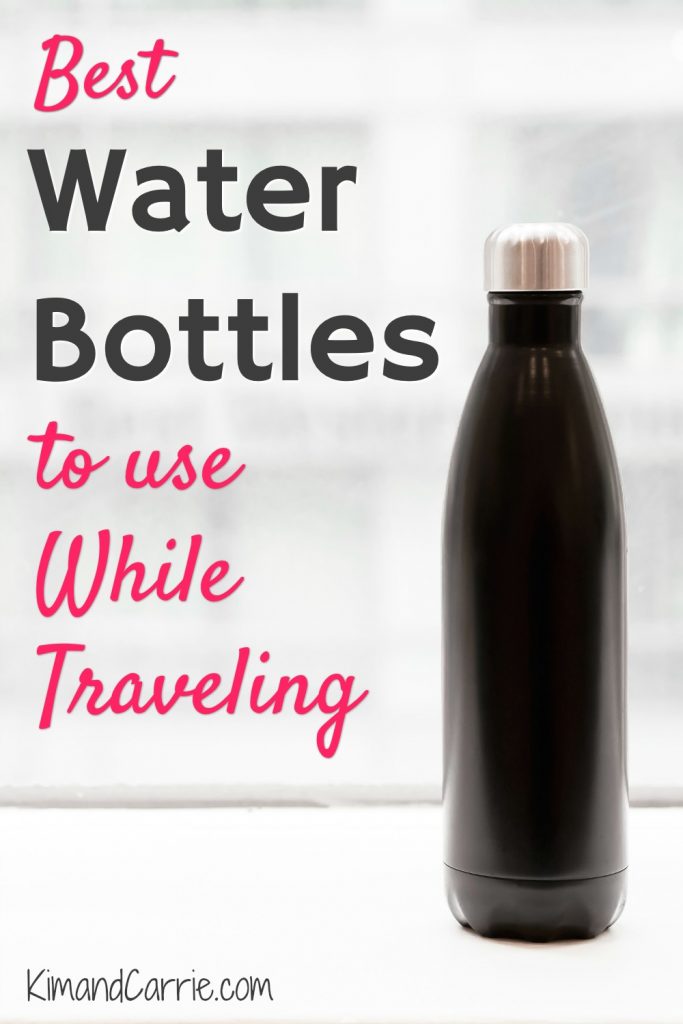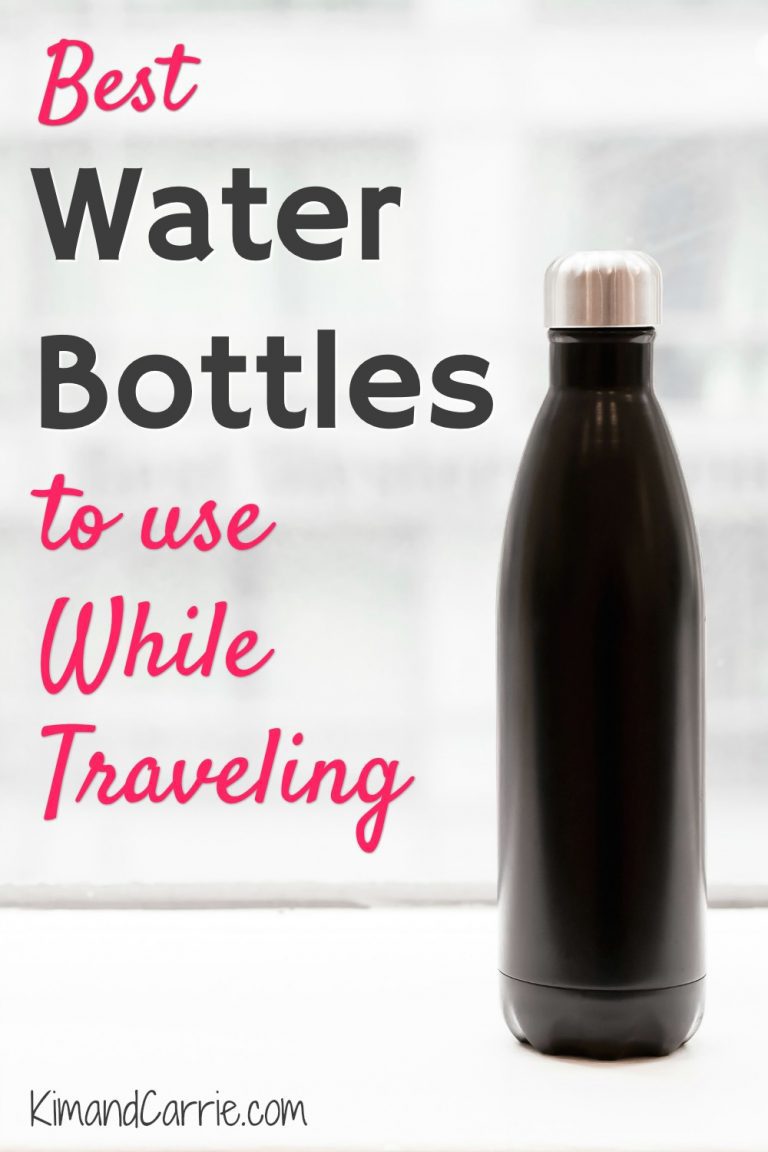 More Disney Tips
Create a zero waste kit for Disney with these sustainable and eco-friendly essentials for the theme parks.