What's the best water bottle to take to Disney? In Florida's heat and humidity all year round, bringing the right water bottle to Walt Disney World is a must. You can't walk around the parks with nothing to drink. So you're either going to buy beverages or bring your own.
If you don't want to throw money down the drain -and into a landfill – then bringing these best water bottles for Disney World is super smart!
Heat exhaustion is a VERY real threat when at Walt Disney World, especially in the heat of Spring, Summer and even Fall (it was still close to 90 degrees in December last year!) It doesn't take long to overheat with the combo of walking, being surrounded by pavement and hard surfaces reflecting heat, the temperature itself, and the soaring humidity.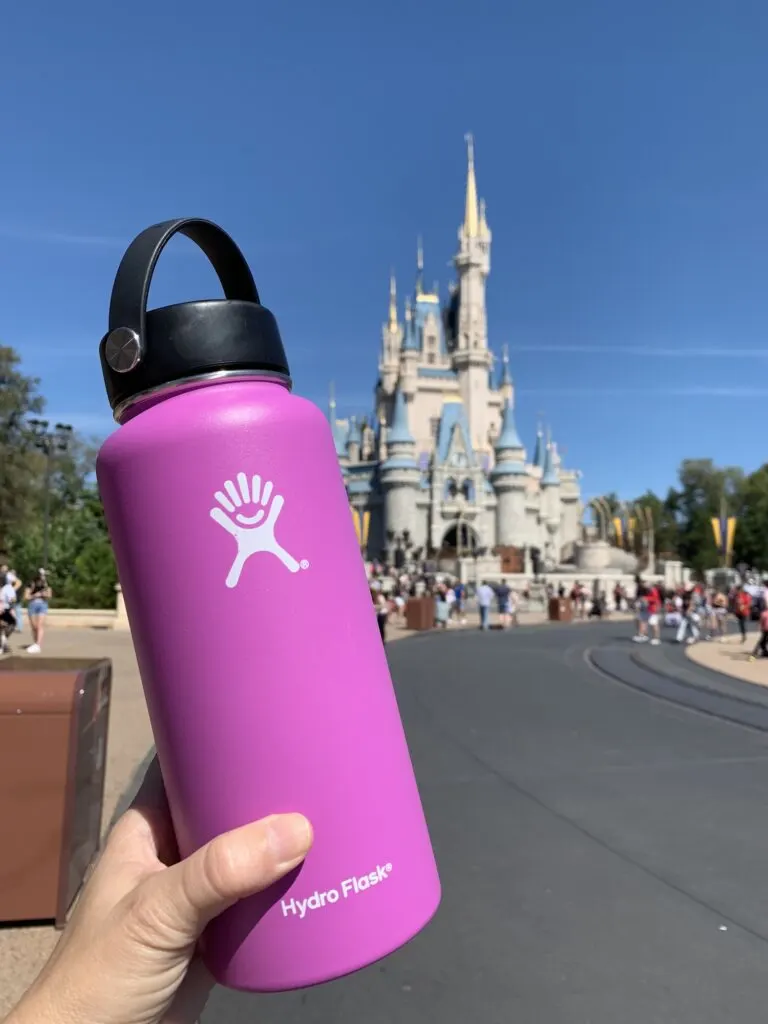 How Much is a Bottle of Water at Disney World?
A bottle of water at Walt Disney World costs about $3.50 per bottle for around 16 oz of water.
For a family of 4, that's almost $15 each time you're feeling thirsty.
If you only buy five bottles of water each person a day (you'll need that much or more in the heat), that's about $70 a day!
Multiply that number by how many days you'll be on vacation. Can you imagine all of the money that you'll save by buying a reusable water bottle now?
Those plastic bottles of cold water that you buy at Disney also sweat like crazy. They might be ice cold when you get them, but they warm up way too fast in Florida heat!
The sweat when they warm up makes a mess. The bottles are difficult to hold onto, and they are especially messy to put in your bag or pocket.
Can you Bring a Reusable Water Bottle into Disney World and Disneyland?
Yes, you are allowed to bring a reusable water bottle into Disney theme parks.
You can take either plastic or metal water bottles into Disney World and Disneyland. You cannot bring glass bottles into Disney theme parks.
Here is the official Disney World policy regarding bringing food and drink into the parks.
Can You Refill Water Bottles at Disney World?
Yes! You can get ice cold water for FREE! Yes, free. You can go up to any quick service counter and ask for a free cup of water, whether you're ordering food or not. It's always been a Disney policy.
While cups of water are nice, you've got to have a place to store the water if you don't drink it all immediately. Which is why you need a water bottle with you.
You can enter attractions and queue lines with bottles, but not open cups of liquids.
So save LOTS of money, save time and be better to the planet, too, by buying these reusable water bottles for your Disney vacation – and you can still use them when you come back from Disney!
Best Water Bottles for Theme Parks
Stainless Steel Insulated Water Bottles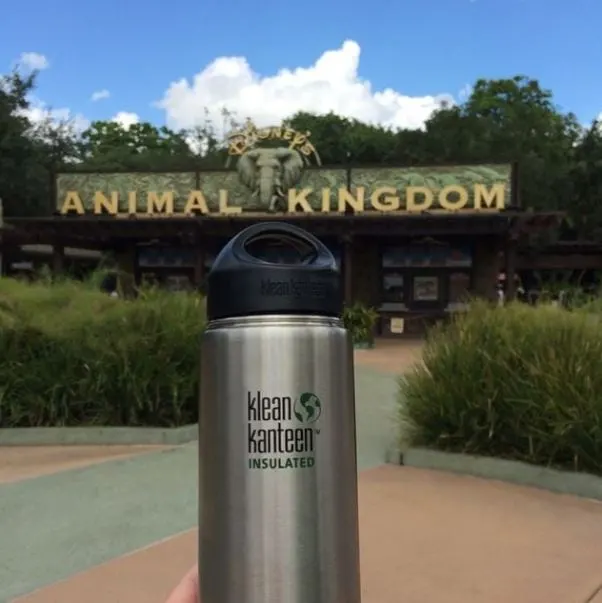 We cannot say enough great things about Klean Kanteen water bottles. We've put them through the test in scorching summer heat at Disney theme parks, and they always work amazing! Add ice to these insulated stainless steel bottles with a wide mouth (important for when you're washing) and it will stay cold for hours and hours with no sweating.
Carrie bought one specifically for storing hot water for when her newborn son visited Disney World and she needed hot water to mix with formula. The water was actually kept so hot all day long, she had to cool it off hours later to use it for the formula.
Klean Kanteen is similar to Hydro Flask, which we also own and works great, too!
This is a multi-purpose bottle, easily transitioning from hot (think coffee or tea in the morning) to cold (ice water for the afternoons) in one day, or appropriate for drinks all year round. I recently packed hot cocoa while hiking in the Grand Tetons in May.
Want a less expensive stainless steel water bottle with all of the same great benefits? Then check out MIRA Brands insulated Stainless Steel Water Bottle!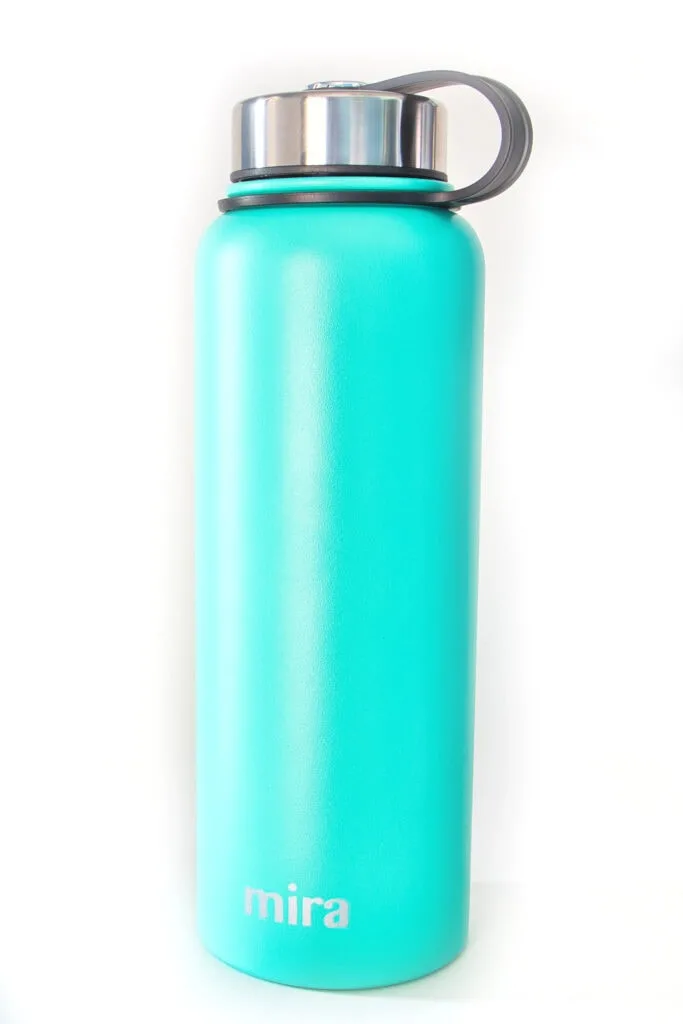 We got a 40 oz. insulated stainless steel water bottle and it kept water ice cold all day long, even though the bottle was in the heat. This is a great idea when you're going to be in the theme parks all day long, and you want to start with your own ice and water to last a good portion of the day.
Of course, there are smaller bottles, too. Especially smaller ones for kids.
Disney Water Bottles
Want something Disney themed for your Walt Disney World vacation? We get it. Why not pick a different Disney character water bottle for each member of the family?
There are so many Disney-themed water bottles to choose from! The Disney Store has an impressive amount of water bottles in all shapes and sizes with so many different characters to choose from! The last time we looked online, there were over 300 styles!
Amazon is another treasure trove of Disney water bottles. We are absolutely in love with these stylish, classic Simple Modern insulated water bottles with straw lid. They come in a variety of styles and sizes, with characters from Frozen, Bambi, Toy Story, and more. The largest size bottle will pay for itself if you don't have to buy 7 bottles of water at Disney World.
Best Filtered Water Bottle For Disney World
The water at Disney World can taste bad. It's true. If you are relying on Disney's free water refill stations, you might not be happy with the taste of the water.
Bring a water bottle with a filter to remove the nasty taste of the municipal water, along with any other potentially icky chemicals, chlorine and sediment. You will have clean, fresh tasting water without paying for expensive bottled brands.
The bonus of using a filtered water bottle is that you don't have to wait in line at restaurants to get water refills. You can use the water in any water fountain or bathroom faucet and not worry about the safety of the water, saving time and hassle.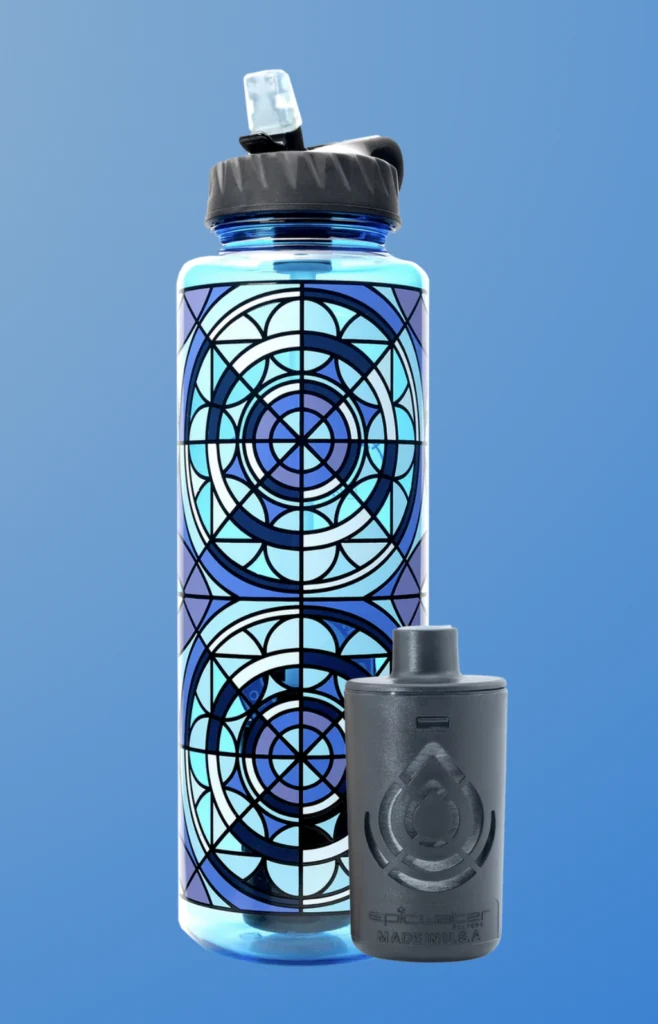 These Epic Bottles have filters built into the cap of the Nalgene bottles. The Made-in-the-USA filters will remove more than 70 contaminants and will filter 75 gallons of water. I love the limited edition artist series that elevates your water bottle to a work of art.
Got a Hydro Flask? You can buy a Hydro Flask water filter attachment for the water bottle you already own.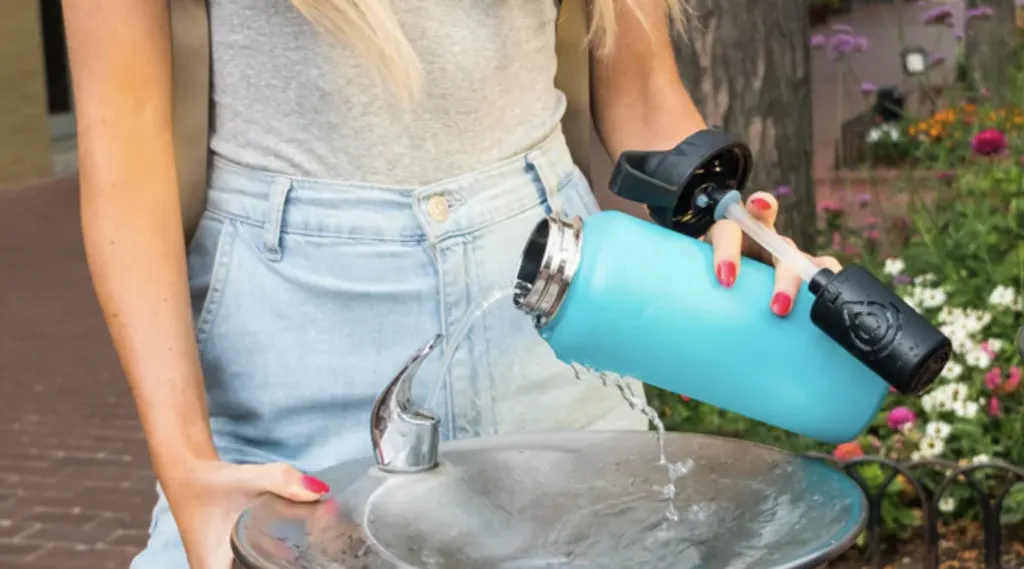 Collapsible Water Bottles
Collapsible water bottles are smart to bring because they fold down and take up very little space when they are not full of liquid. This is wonderful for packing them in your suitcase, or putting them in your backpack during the day.
We got a couple Hydaway collapsible water bottles to try out and instantly loved them!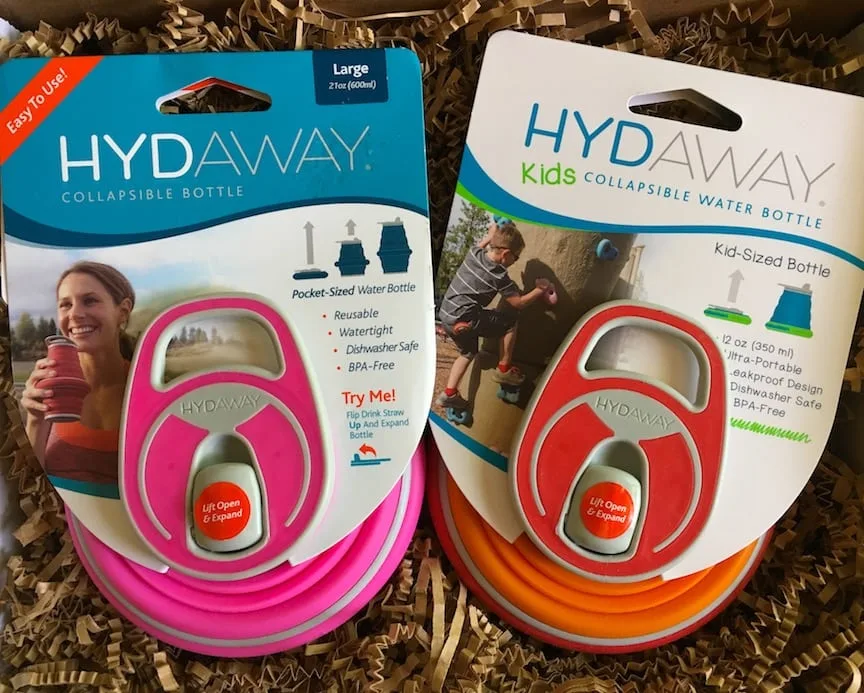 My nephew Marc thought the bottles were absolutely amazing and played with them for hours, opening them up and then collapsing them back down.
They really are kid-friendly. He had the water bottle completely full and was tipping it upside down and throwing it all over the place. It didn't leak (other than pouring water from the spout when completely turned upside down, which is what you'd want.)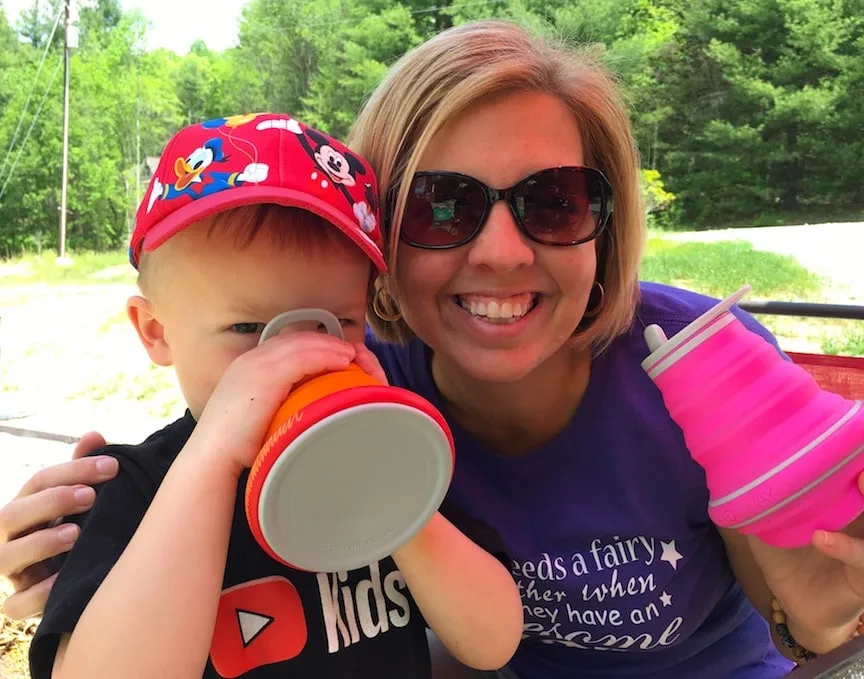 With a wide enough bottle mouth to clean inside (yes, you can put them in the dishwasher), these silicone water bottles are BPA free and fold down to just one inch.
The handle can be latched to a belt holder or other hook on a stroller, backpack, etc.
A child's size version of the Hydaway collapsible water bottles is no longer available.
Flat Pack Water Bottles
Similar to collapsible water bottles, flat pack water bottles actually take up even less space. They fold completely flat, except for the spout. They flatten out as you enjoy the water, resulting in less space taken up in your backpack or purse.
These are great for packing in your luggage.
The handy hook lets you strap them to a belt loop, purse, or backpack.
Vapur Anti-Bottles are among the industry leaders in flat pack bottles.
We have tried flat water bottles and are impressed with the space-saving design. However, they can be a little more challenging to thoroughly clean and dry.
Looking for Disney water bottle stickers? We love these stickers designed for water bottles (and laptops)!
Flavor Infuser Water Bottle
Add flavor to your water effortlessly with these infusing water bottles. Not only do these types of bottles give you a drink with a taste, they also hide the bad-tasting water that Disney World is known for!
Add fruit (from your breakfast buffet at the hotel!), herbs such as mint, tea bags or whatever flavors you want to flavor your water all day. The longer it steeps, the bolder the flavor gets.
Family-Size Water Bottles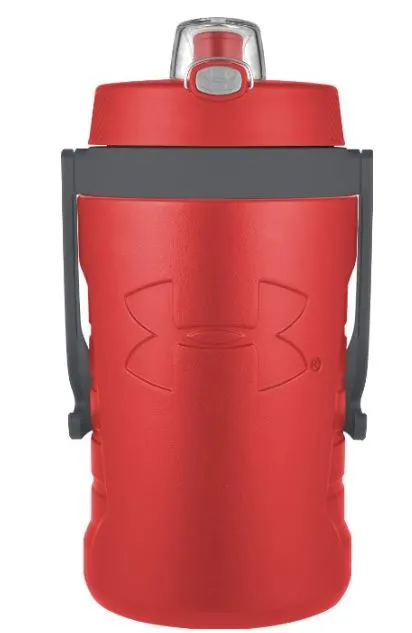 Want water for the whole family, without having to keep track of individual bottles? Fill up this 64 oz. Under Armour Insulated water bottle and you've got enough chilled water to last for a while. Perfect when you want to fill up once at the beginning of the day, and not worry about water bottles for a while.
Another great option is this Gallon Water Bottle that comes with two different types of lids, one to pour and one with a straw.
If you absolutely want cold drinks for the entire family without having to use Disney water refill stations, bring the 128-oz. Hydro Flask. This insulated jug has a one gallon capacity and will keep your liquids cold for up to 24 hours. Yes, it's an investment, but it will probably pay for itself in a couple days by not buying bottles of water.
Water Bottle with Storage Compartment
There's a lot of things that you need to bring into the theme parks for the day. Why not keep them all together in one place with a reusable water bottle with a storage compartment? That way, you only have to keep track of one item during the day.
This insulated water bottle has a removable compartment on the bottom for keys, credit cards, cash and lip balm. Store your essentials in the screw-top compartment that won't come undone until you want it to be removed.
Or you might want this water bottle with a snack compartment, perfect for storing some chips or trail mix to enjoy while waiting in lines.
Kids will feel stealthy – while also not pestering you to get out the bags of snacks – when you give them one of these kid-friendly water bottles with a snack compartment attached. Fill it up with water and food such as goldfish or pretzels, and they've got their snack situation under control when they want.
Related Posts:
Water Bottle with Mister
Stay cool and hydrated with this water bottle with a misting attachment! It's the perfect way to stay cool all day!
No need to buy one of those over-priced misting machines, which you have to carry along with a water bottle for drinking. Just combine the two gadgets and save space and hassle!
O2COOL is a brand that we have a lot of products from, and they do work well! This bottle not only has a mister, it also has a snack compartment, too. It might be, quite literally, the perfect theme park water bottle for standing in lines in the heat!
If you don't need a snack compartment and want a bigger water bottle, check out their Mist 'N Sip Insulated water bottles.
There are so many different types of water bottles that you can bring into Disney World. Whatever type of reusable bottle you use, you will definitely save a lot of money by refilling your own bottle at a refill station, rather than buying plastic bottles.
This post was updated in June 2022.