Mosquitoes are not only annoying, but they can spread disease and cause uncomfortable bites. One step to take is to wear clothes that prevent mosquitoes from biting you. Here's the best clothing to prevent mosquito bites.
Can Clothing Prevent Mosquito Bites?
The easy answer is, yes! But you need the right type of clothing. And you don't have to wear mosquito netting!
Long sleeved pants and shirts certainly can help protect you from biting insects. However, I've had plenty of mosquitoes bite right through my jeans.
Sometimes, you need a little extra protection. That can come in the form of clothing that has a bug-repelling ingredient built into the clothes.
Insect blocking clothing exists for women, men and children. Clothing to repel bugs ranges from socks to shirts to pants to jackets.
Not only will these clothes protect you from mosquitoes, but also:
Chiggers
Flies
Ticks
Ants
Midges
All of those bugs that carry diseases you don't want or are just a nuisance when you're trying to enjoy time outdoors.
These are some great options if you are worried about mosquitoes at Disney World, too. No need to spray insect repellant while you are trying to enjoy your day at the theme parks. Just wear some smart clothing to protect yourself.
Did you know that mosquitoes are the deadliest animal in the world. That's right. They kill 725,000 people a year. And Zika is just one of the medical problems that mosquitoes can spread.
Clothes aren't the only ways to prevent mosquito bites. Here's more tips on how to prevent mosquito bites from National Park staff in the Everglades.
Can Mosquitoes Bite Through Clothes?
Yes, mosquitoes can definitely bite through clothes. That is why you want to wear clothing designed to repel mosquitoes.
Lightweight clothing, such as leggings, t-shirts, polyester, linen and thin socks do not offer much protection against the needle-like parts of the insect's mouth.
Thicker fabrics offer more protection from mosquito bites. However, I have gotten many mosquito bites through jeans. I am one of those people that attract mosquitoes, so maybe they try harder to bite me.
One example is when I was on the beach at night watching a rocket launch at NASA's Kennedy Space Center. It was 3 a.m. and I was wearing jeans, so I didn't bother wearing bug repellant. It wasn't dusk or dawn, when the insects are the most active. When I got back to the hotel, my legs were covered in welts from bug bites.
Best Women's Clothing to Prevent Mosquito Bites
ExOfficio's BugsAway line of clothing is among our top choices for clothing that repels mosquitoes and other bugs. Here are some more of our favorite clothing pieces.
These clothes have a built-in Permethrin protection into the material and fibers. Don't worry about losing the effectiveness of the bug-repelling spray in the fibers of the clothing. It will last for about 70 washes.
Jacket
The Bugsaway Damselfly Jacket from ExOfficio is the perfect combination of covering your skin completely with a nylon jacket to prevent bites, along with a layer of Permethrin-infused fabric to keep bugs away. Plus, the jacket comes with a hoodie to protect your head from insects, too.
Long-Sleeve Shirt
The long-sleeved BugsAway Brisa Long-Sleeve shirt is stylish enough to wear while hiking or for dinner on the beach.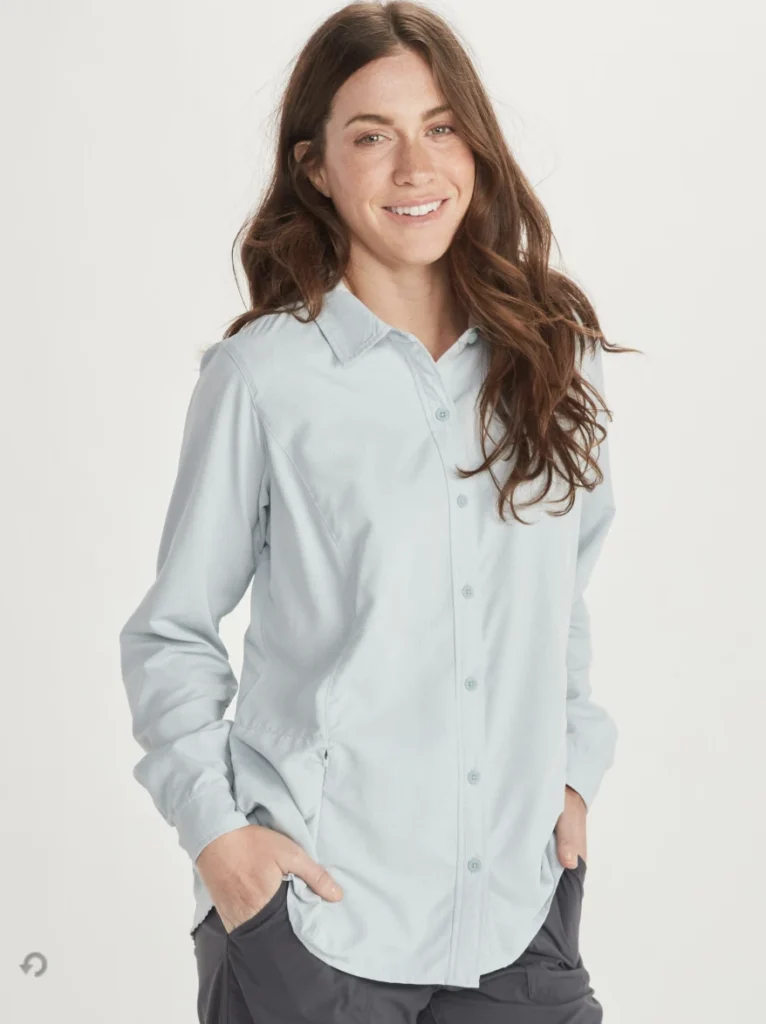 Perfect for dressing up or down, this shirt not only protects against insects, it also offers an Ultraviolet Protection Factor (UPF) 50.
Made for travelers, there is a hidden zippered pocket for safely storing valuables, such as your passport.
Hoodie
A hoodie is always a great idea when traveling or outdoors. It can be worn when temperatures drop, or wrapped around your waist if you get a little warm. The BugsAway Lumen Hoodie has longer sleeves with thumb holes, similar to yoga apparel, to keep your wrists protected, too.
A zippered pocket lets you store keys, credit cards or cash while wearing the hoodie. The mesh design is breathable and lightweight. And the drawstring cord lets you pull the hood over your head and tie it tightly to protect from insects.
Leggings
Want the comfort of leggings without the bug bites? I hear ya. These BugsAway leggings are a smart choice for hiking, or just chilling on the porch or by a campfire.
With UPF 50 protection they are great for protecting you from the sun's rays. I appreciate the deep pockets that can easily carry a cell-phone while hiking.
Scarves
Stay fashionable while at outdoor parties, watching a ball game or an evening hike with this scarf that repels mosquitos and other biting bugs.
These lightweight scarves are truly versatile with all types of clothing. And they come in a variety of colors. The scarves could easily double as a mini-blanket, head wrap, shoulder wrap, etc.
Men's Clothing That Prevents Mosquitoes
Mosquito-Bite Prevention T-Shirts
Everyone needs a simple t-shirt. And this classic style comes with mosquito bite prevention! Buy several in a variety of colors to add to your year-round wardrobe.
Short-Sleeve Shirt
This stylish short-sleeve shirt from ExOfficio is breezy enough to wear walking through the jungles or sitting at the hotel bar in the evening.
It comes with a hidden passport pocket for storing valuables while traveling.
Pants
These Men's BugsAway Sandfly Pants can be worn long, or rolled up for more comfort and breathability.
Socks
Don't forget that many insects are drawn to biting your ankles and feet. It's super important to protect your feet while hiking, walking or sitting outside. These Insect Shield socks are great for wearing with any shoes to prevent mosquito bites or tick bites on your ankles.
They do come in two different styles.
When to Wear Bug Repellant Clothing
It is always wise to wear insect repellant as your primary defense against mosquito bites. But sometimes it is not enough, or you might forget to put it on.
Choosing clothing that can prevent mosquito bites and other bug bites is wise to add to the wardrobe that you will be wearing outdoors.
Being outdoors can mean a lot of different things, including:
Beaches
Lakes
Camping
RVing
Sailing
Kayaking
Fishing
Boating
Tailgating
Picnics
Theme Parks (such as Walt Disney World)
So don't think that if you're not an adventure sports kind of person that you can't benefit from these clothes that prevent mosquito bites!