Mosquitoes are not only annoying, but they can spread disease and cause uncomfortable bites. One step to take is to wear clothes that prevent mosquitoes from biting you. Here's the best clothing to prevent mosquito bites.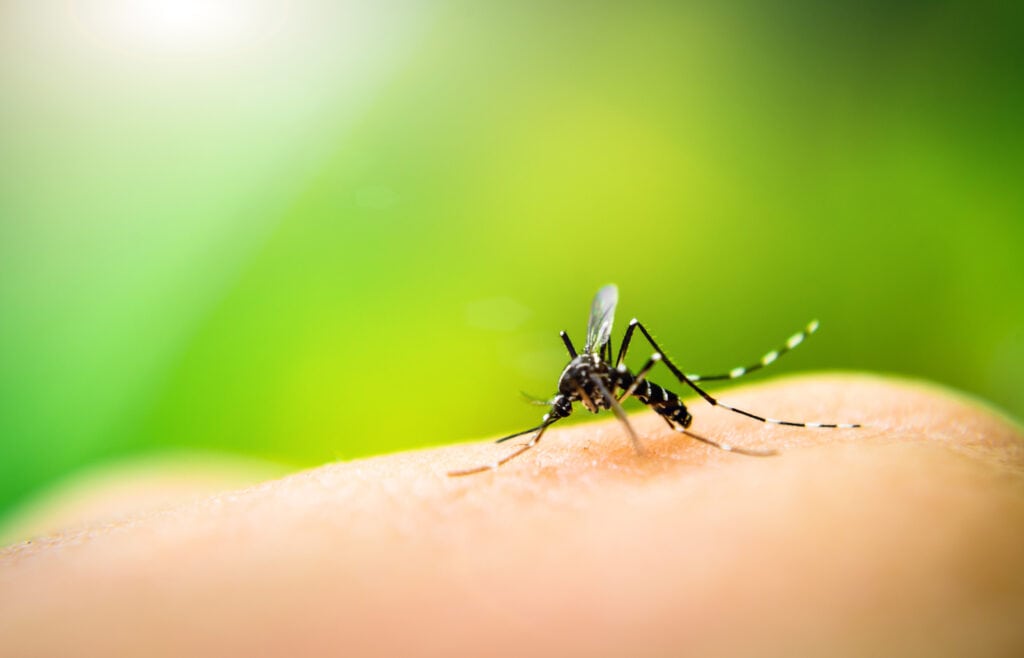 Can Clothing Prevent Mosquito Bites?
The easy answer is, yes! But you need the right type of clothing. And you don't have to wear mosquito netting!
Long sleeved pants and shirts certainly can help protect you from biting insects. However, I've had plenty of mosquitoes bite right through my jeans.
Sometimes, you need a little extra protection. That can come in the form of clothing that has a bug-repelling ingredient built into the clothes.
Insect blocking clothing exists for women, men and children. Clothing to repel bugs ranges from socks to shirts to pants to jackets.
Not only will these clothes protect you from mosquitoes, but also chiggers, flies, ticks, ants, and midges. All of those bugs that carry diseases you don't want or are just a nuisance when you're trying to enjoy time outdoors.
These are some great options if you are worried about mosquitoes at Disney World, too. No need to spray insect repellant while you are trying to enjoy your day at the theme parks. Just wear some smart clothing to protect yourself.
Did you know that mosquitoes are the deadliest animal in the world. That's right. They kill 725,000 people a year. And Zika is just one of the medical problems that mosquitoes can spread.
Clothes aren't the only ways to prevent mosquito bites. Here's more tips on how to prevent mosquito bites from National Park staff in the Everglades.
What is Zika? Is Zika Still a Thing?
A few years ago, there was a lot of fear about catching the Zika virus via mosquito bites. You can catch the Zika virus if you are bitten by a mosquito that transmits the disease.
In 2018 and 2019, there haven't been as many reported cases. Does that mean that zika doesn't exist anymore? No. It just means that the epidemic is not a threat.
For up to date information on the zika virus and a map of where it is more of a problem, visit the Centers for Disease Control (CDC) Zika page.
At its worst, Zika can cause a pregnant woman to have a child born with microcephaly (unusually small head) or other neurological problems or birth defects.
For those not pregnant, you might never know that you have the Zika virus. It is estimated that 80% of those that are carrying the disease have no symptoms. For those who do display symptoms, they include:
Fever
Rash
Joint pain
Red eyes
Muscle pain
Headache
When to Wear Bug Repellant Clothing
It's always wise to wear insect repellant. But sometimes it's not enough. Or not always easy to remember to bring.
Choosing clothing that can prevent mosquito bites and other bug bites is wise if you know you'll be outdoors.
Keep in mind, the outdoors can mean a lot of different things. Including:
Beaches
Lakes
Camping
RVing
Sailing
Kayaking
Fishing
Boating
Tailgating
Picnics
Theme Parks (such as Walt Disney World)
So don't think that if you're not an adventure sports kind of person that you can't benefit from these clothes that prevent mosquito bites!
These clothes have a built-in protection into the material and fibers. Don't worry about losing the effectiveness of the bug-repelling spray in the fibers of the clothing. It will last for about 70 washes.
Best Women's Clothing to Prevent Mosquito Bites
ExOfficio is among the top brands that make clothing that repels mosquitoes and other bugs. Solstice Apparel is another good one.
Here are some more of our favorite clothing pieces.
How cute is this? Stay fashionable while at outdoor parties, watching a ball game or an evening hike with this scarf that repels mosquitos and other biting bugs. These lightweight scarves are truly versatile with all types of clothing. And they come in a variety of colors. The scarves could easily double as a mini-blanket, head wrap, shoulder wrap, etc.
The Bugsaway Damselfly Jacket from ExOfficio says it all.
The long-sleeved Bugsaway Breez'R shirt is stylish enough to wear to work or dinner, in addition to traveling or hiking.
Perfect for dressing up or down, this button up long-sleeve shirt comes in a variety of colors.
Ideal for when temps drop (just a little!), the Bugsaway Lumen Hoodie has longer sleeves with thumb holes, similar to yoga apparel, to keep your wrists protected, too.
Not just tops, you've got to have some pants to keep mosquitos from biting your legs, right? These leggings are brilliant for hiking or just chilling on the porch or by a campfire.

Kid's Clothing That Repels Mosquitoes
For children, One Step Ahead makes a wide range of clothing to keep mosquitoes from biting your kids. They also have a lot of sun protection clothing for children.
Using Insect Shield technology, this neutral long sleeve shirt is perfect for kids who just want to play and run around in comfy clothing.
Or consider this hot pink tunic for girls that prevents mosquito bites.
Bug Smarties Baby Girl Pants with Insect Shield will keep mosquitoes from biting your toddler while they're playing outside.
This long sleeve jacket for kids age 2-8 is perfect for early nights around the campfire or chasing fireflies.
Men's Clothing That Prevents Mosquitoes
Everyone needs a simple t-shirt. And this classic style comes with mosquito bite prevention! Buy several in a variety of colors to add to your year-round wardrobe.
Keep mosquitoes from biting your ankles with these Insect Shield socks.
This Columbia Sportswear Jacket for men features Insect Blocker technology.
Add a little fashion flair with this men's Bugsaway Talisman Plaid Long Sleeve Shirt, available in a variety of colors.