If you want to have the convenience of cooking in your hotel room, then you will definitely want to check out these hotels with kitchens.
Not only can cooking at your hotel save you lots of money compared to eating out, it can also save time from not needing to wait in line to order food and then waiting for it to be prepared. If you have food allergies, being able to cook your own meals can sometimes be easier when traveling.
Today, health conscious travelers might not want to be in a restaurant surrounded by other people. Or you might want to prepare healthier foods that are better for you and lower in calories. That's why it's great to stay at these hotels with kitchens in the rooms.
I personally prefer finding a hotel with a kitchenette or full kitchen because I like to earn points with hotel loyalty programs. Hotels are usually located closer to attractions and city centers compared to Airbnbs with kitchens.
Also, there are a lot of extra charges and fees with vacation rental homes that you won't find with hotels that offer kitchenettes in the room.
Kitchens vs. Kitchenettes
When looking at hotel descriptions, it is important to know whether you want a kitchenette or a full kitchen. Your needs will depend on the type of cooking you want to do.
Kitchenettes
Hotel rooms with kitchenettes will have some of the basic things you need to prepare food. This will probably include a small refrigerator, a microwave, room to store food and supplies, and possibly a stove top.
Some kitchenettes could come stocked with basic supplies such as pots and pans, plates, cups, utensils, etc.
While many hotels have wet bars with a mini-fridge and a microwave, such as Hilton's Embassy Suites (see the video of our kitchen in our St. Augustine Embassy Suites room) and Universal's Cabana Bay Resort, we don't consider this a true kitchenette.
Kitchens
For hotels with full kitchens, you can expect a large refrigerator, a stovetop range, an oven, dedicated sink and probably a dishwasher.
Best Hotels with Kitchens
The following hotel chains have kitchens. Most of these are geared towards long-term stays, however you can book just a night or two for shorter vacations.
TownePlace Suites
Residence Inn
Element
Hyatt House
Extended Stay America
Hawthorn Suites by Wyndham
Homewood Suites
Candlewood Suites
Staybridge Suites
TownePlace Suites
We fell in love with the convenience of having a kitchenette in our hotel room after living at Disney World for three weeks in the TownePlace Suites at Flamingo Crossing.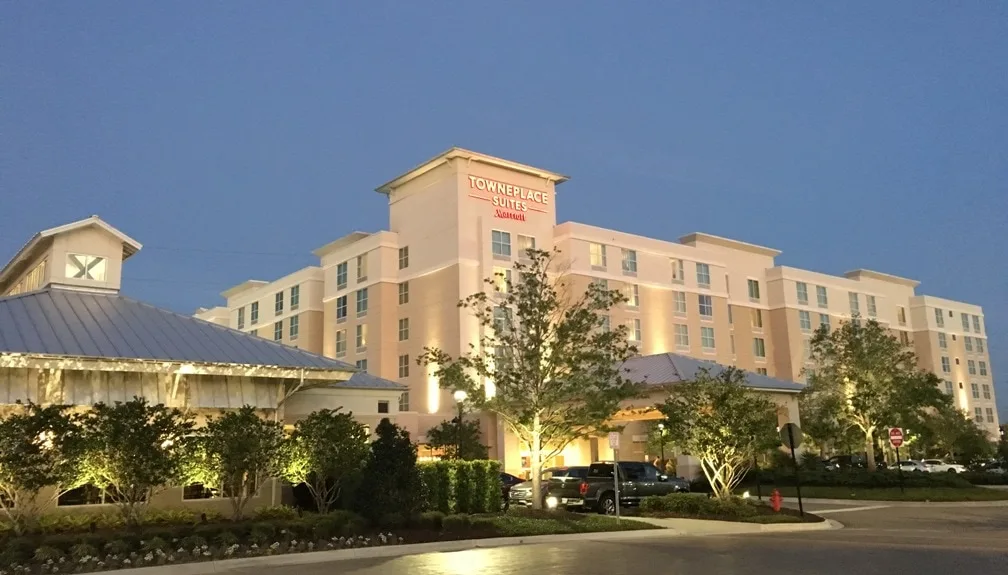 TownePlace Suites are Marriott properties. They include a full kitchen with a normal-size refrigerator, microwave, dishwasher, and stove top.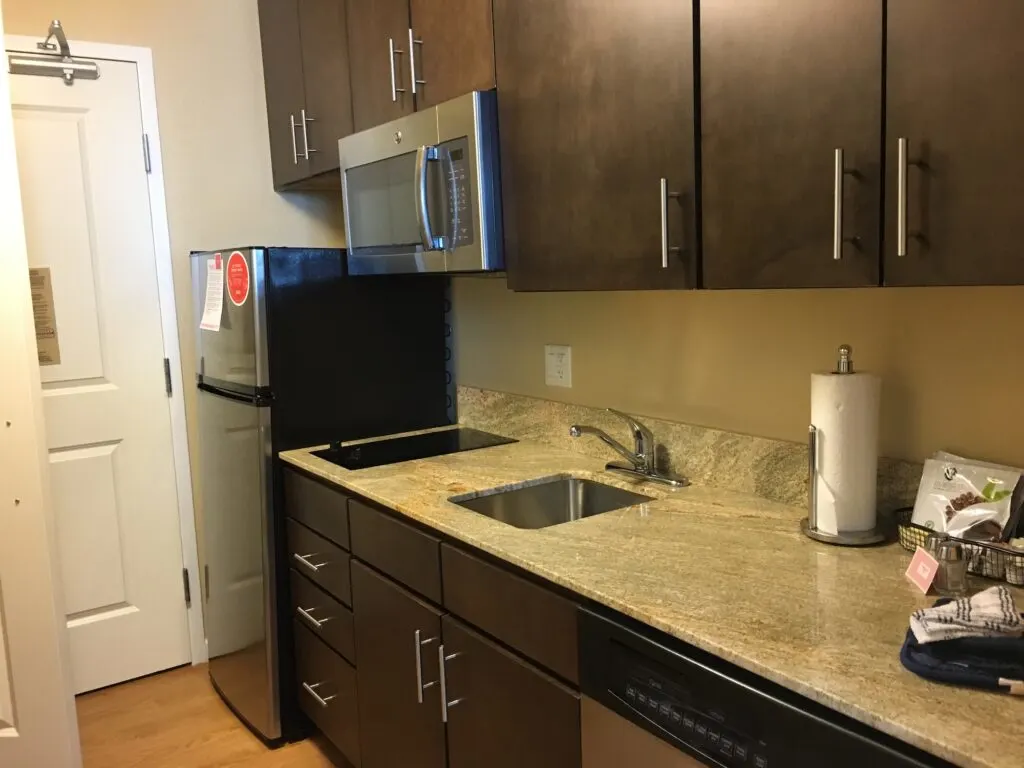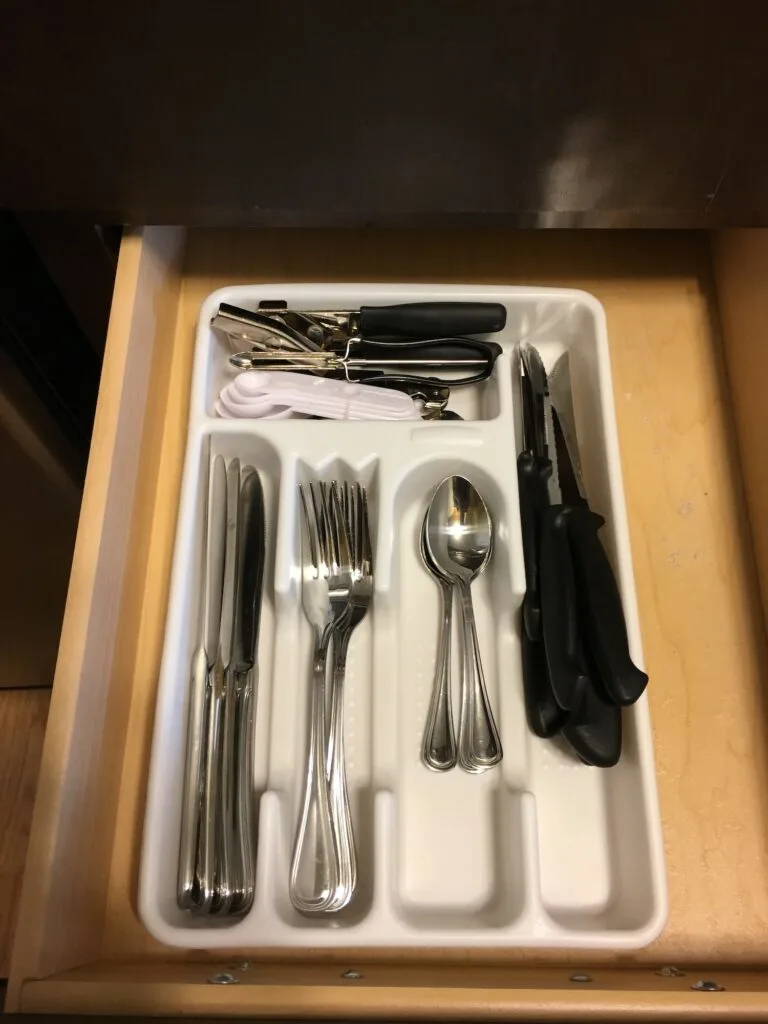 Not only do they have full kitchens, but they also give you use of their grill! Their Ultimate Weber Grilling Experience gives guests access to the properties BBQ grills, along with grilling tools, Weber seasonings, and more!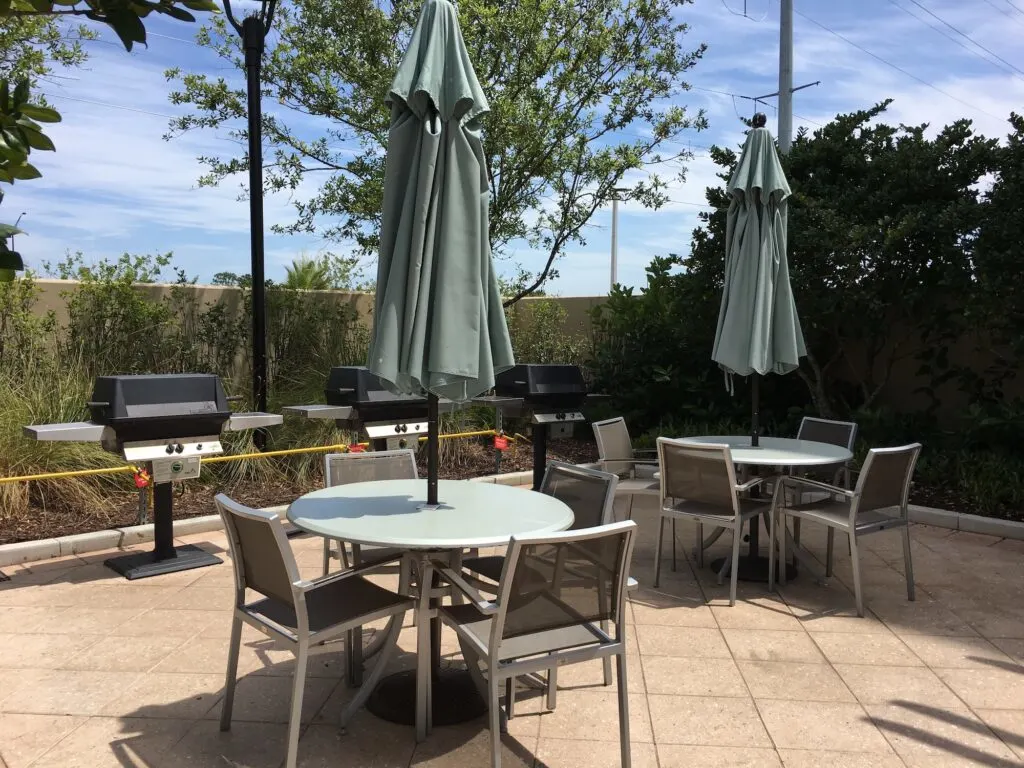 You can also borrow fancy kitchen items from the front desk, such as:
Blenders
Slow cookers
Rice cookers
Cookbooks
Kitchen gadgets.
The list of things you can borrow during your stay is extensive and not just kitchen items.
If you find that you don't want to cook, there is a free hot breakfast served in the mornings.
See our TownePlace Suites kitchen in our video below:
Residence Inn
Another Marriott property, these locations are more like mini apartments, rather than oversized hotel rooms. Residence Inn offers Studio Suites (average of 457 square-feet), along with One-Bedroom (average of 564 square-feet) and Two-Bedroom Suites (average of 739 square-feet).
The full kitchens have:
Full-size refrigerator
Stove top
Microwave
Dishwasher
Sink
Tons of counter space and cabinet storage
Some rooms have stoves and dining room tables, too.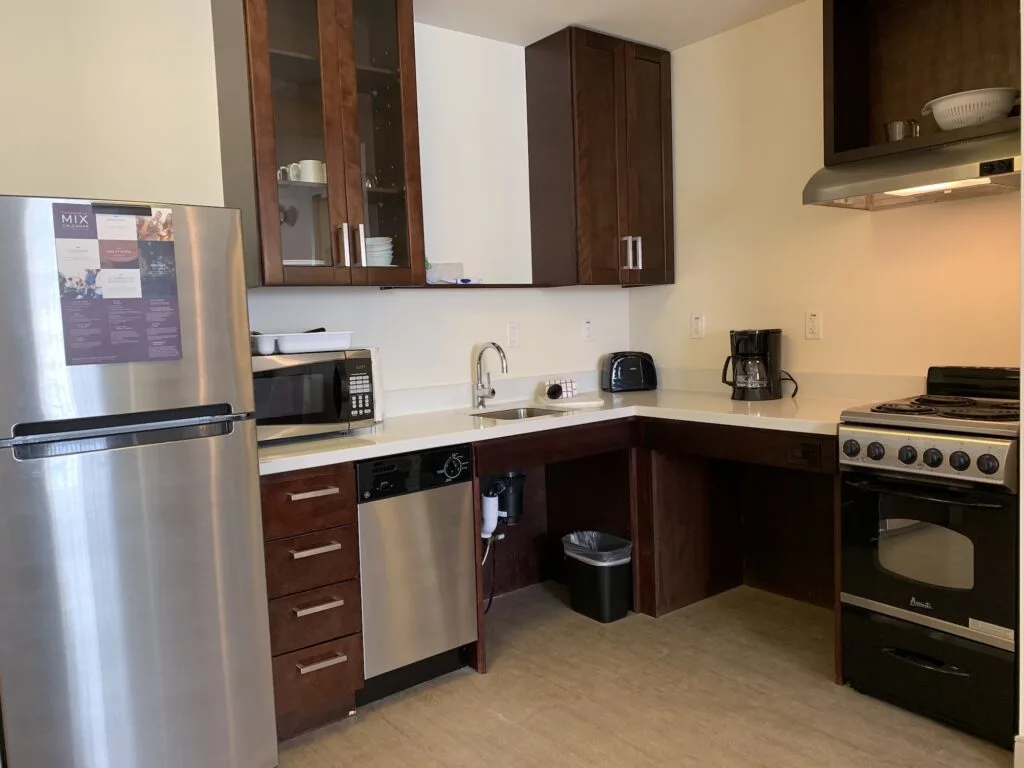 Element
These dog-friendly Westin hotels are for short or long stays. The fully equipped kitchens come with:
Dishwasher
Large refrigerator
Stove top
Sink
Microwave
Toaster
Plenty of storage cabinets
A complimentary breakfast is served at Element hotels if you choose not to cook breakfast.
Bikes are available to borrow free of charge.
Hyatt House
These apartment-like rooms come in Studio size, or one or two-bedroom suites. There are separate areas for working, sleeping and cooking.
Hyatt House has a refrigerator in every room, along with cooking facilities. Their loaner program has a variety of items, including kitchen items such as blenders, to borrow during your stay.
If you don't cook breakfast, there is a complimentary hot breakfast available, with most locations having an Omelette bar.
Extended Stay America
Extended Stay America has always been known for having great kitchen facilities available to guests for long term stays.
The fully equipped kitchens include:
Full-Size Refrigerator
Stovetop
Microwave
Sink
Storage cabinets
You can also borrow the following items:
Pots and Pans
Coffee Maker
Plates, Cups and Bowls
Silverware and Utensils
Dish Cloths
Colander
Cutting Board
Toaster
This is one of the easiest hotels with kitchens to find, with more than 650 locations across America. There are Extended Stay Suites and Extended Stay Premier Suites with elevated amenities, such as free breakfast
Hawthorn Suites by Wyndham
These extended-stay hotels have one or two-bedroom suites and most come with fully equipped kitchens.
A free hot breakfast is available so that you don't have to cook every meal! Plus, there is a bike loan program as a nice amenity.
Homewood Suites
Homewood Suites are extended stay hotels by Hilton. They are pet friendly in many locations.
Fully equipped kitchens come in the spacious rooms, and include:
Full-size refrigerator
Dishwasher
Stovetop
Microwave
Sink
Lots of Cabinet Storage
A free hot breakfast is available for guests.
Candlewood Suites
Enjoy a fully-equipped kitchen at Candlewood Suites, along with access to their Gazebo Grill available to all guests.
In each suite you will find:
Full-size Refrigerator
Stovetop
Microwave
Dishwasher
Pots and Pans
Utensils
Plates
Glasses
The hotel's borrow program lets you borrow large items such as blenders or crockpots.
The pet-friendly hotels have FREE guest laundry, so you don't have to pay to wash your clothes!
Staybridge Suites
Staybridge Suites have studio, one bedroom and two bedroom suites.
Their fully equipped kitchens come with:
Full-size refrigerator with ice maker
Microwave oven
Stovetop
Toaster
Coffeemaker
Dishwasher
Sink
A free hot breakfast is available for guests.
We have found that a lot of hotels that can accommodate large parties often have kitchens in the rooms. For instance, many of these Universal Hotels that can accommodate a family of 8 have kitchens in their rooms, too.