Is Carowinds cashless? As many theme parks stop accepting paper money, you may be wondering does Carowinds take cash?
In this guide, we will tell you all of the options you have for paying for food, drinks and souvenirs at Carowinds theme park.
Is Carowinds Cashless?
Carowinds is a cashless theme park. It does not accept cash as payment for any product or service inside the theme park.
Parking fees also must be paid with a credit card or debit card.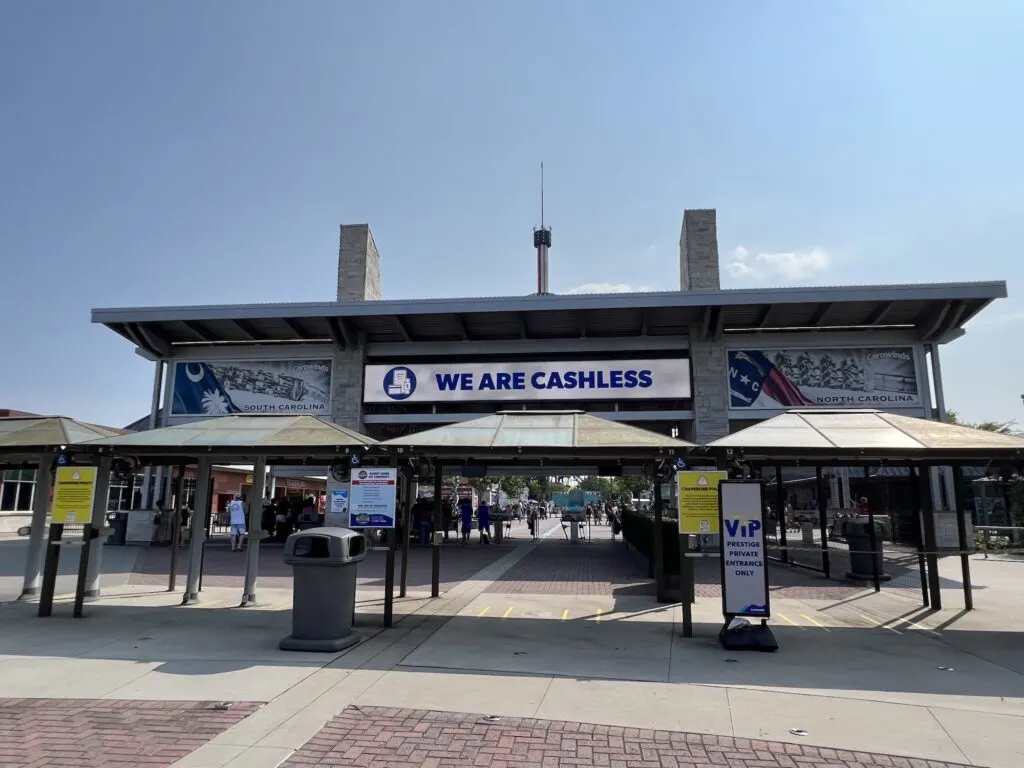 What Forms of Payment Does Carowinds Take?
You can pay for merchandise, food and experiences with the following payment options:
Credit Card (VISA, Mastercard, Discover, and American Express)
Debit Card
Apple Pay
Google Pay
Carowinds Gift Card
Can I Pay for Parking with Cash?
Even though the parking toll booths are located outside of the theme park, you cannot pay for parking with cash.
Parking fees can be paid in the following ways:
Credit Card
Debit Card
Pre-Paid Parking (pay on the Carowinds website)
Apple Pay and Google Pay are NOT accepted at the parking toll booths.
Related Post: Carowinds Chaperone Policy
What If I Don't Have a Credit Card?
If you don't have a credit card or debit card, don't worry. You can still enjoy Carowinds.
There are Cash-to-Card kiosks located throughout the theme park to convert paper currency into a prepaid debit card.
Insert the cash into the kiosk to exchange it for a prepaid debit card. The debit cards can be used in Carowinds and Carolina Harbor.
You can exchange a minimum of $1 up to a maximum of $500.
If you do not use the entire amount, the prepaid debit cards can be used outside of the theme park. They can be used anywhere VISA is accepted.
Cash-to-Card Kiosk Locations
There are 4 cash to card kiosk locations in Carowinds and 1 in the campground:
North Gate
South Gate
Harmony Hall
Starbucks
RFD Arcade in Blue Ridge Junction
Camp Wilderness
Is There a Fee to Use Cash to Card Kiosks?
No, there is no fee to convert cash to a debit card using Carowinds' Cash-to-Card kiosks.
If there is still money leftover on the prepaid debit card after 92 days, then a $3.95 fee will be charged each month.
Related Post: Complete Guide to Carowinds' Grand Carnivale Festival
Does Carowinds Take Apple Pay?
Yes, Carowinds accepts Apple Pay for payments.
Does Carowinds Take Google Pay?
Yes, Carowinds accepts Apple Pay for payments.
Be sure to see all 43 Carowinds Tips and Tricks to make sure you are prepared for your theme park visit!