Habitel Hotels is a Colombia hotel chain with three properties in the country's capital of Bogota. The modern, stylish hotels are budget-friendly and offer a variety of amenities and free airport transfers.
Two Habitel Hotels are located near the Bogota airport:
Habitel Prime
Habitel Select
We stayed at the Habitel Prime for one night before catching a flight at the El Dorado Airport.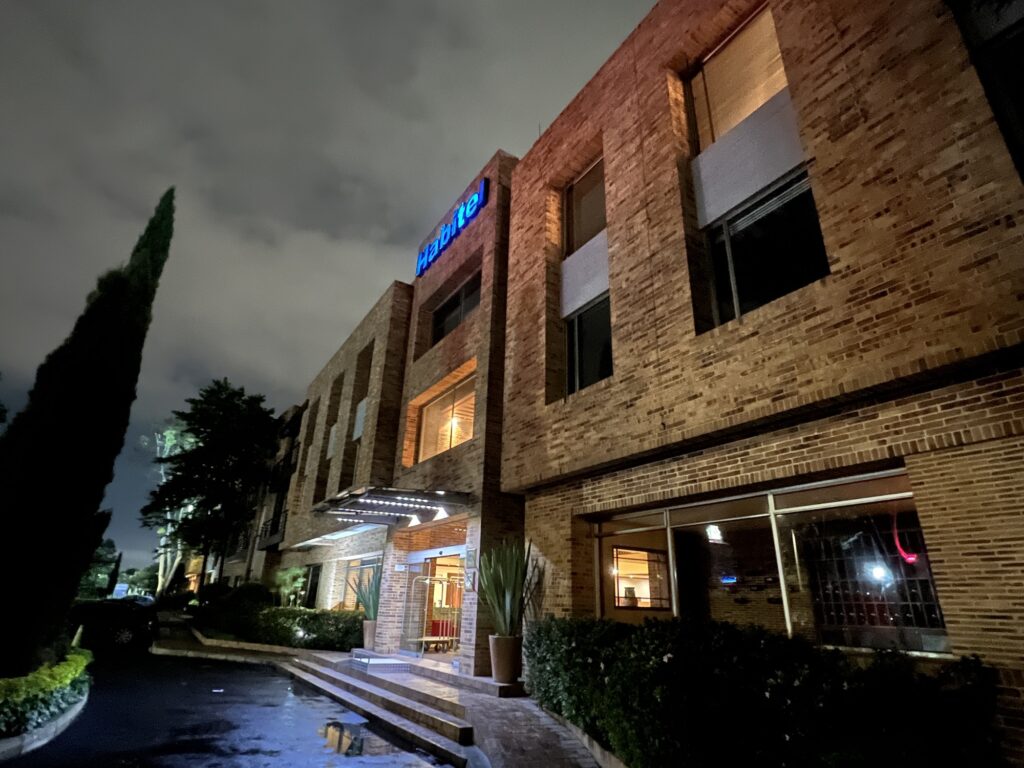 Habitel Prime Bogota, Colombia Review
We had a 2:30 a.m. flight out of Bogota and wanted a hotel to stay at and get some sleep before going to the airport for an overnight flight. We moved from our previous hotel in Bogota to a much closer hotel by the airport.
Habitel Prime and Habitel Select both offer free airport transfers 24 hours a day, which is what we wanted to save on a taxi.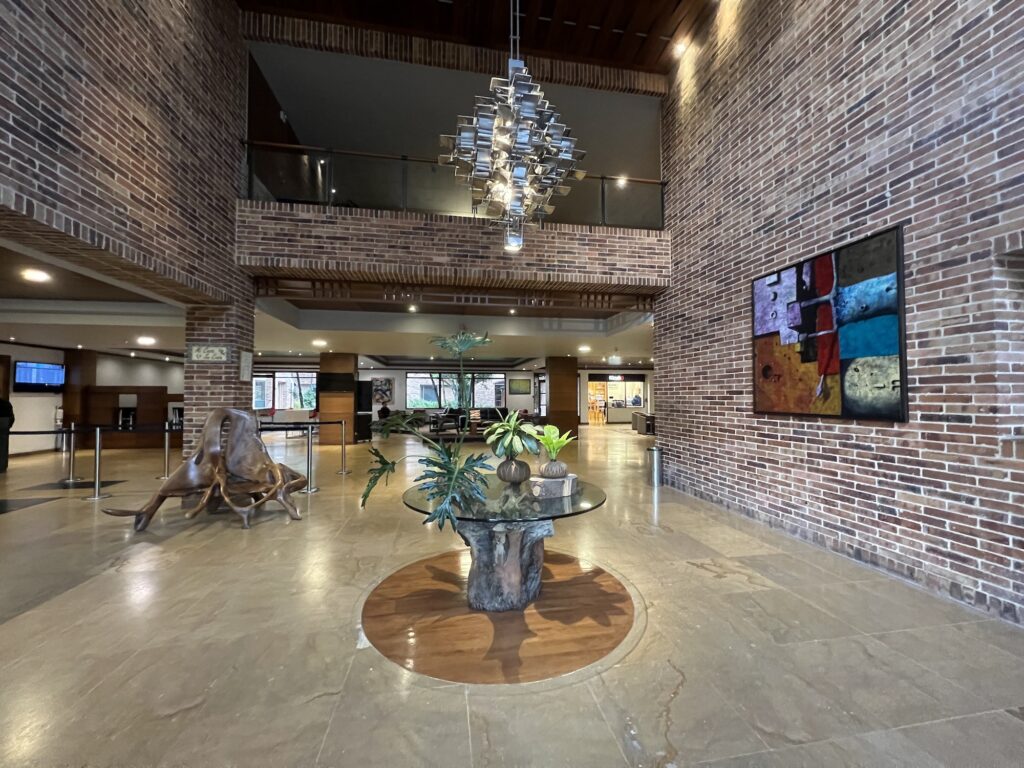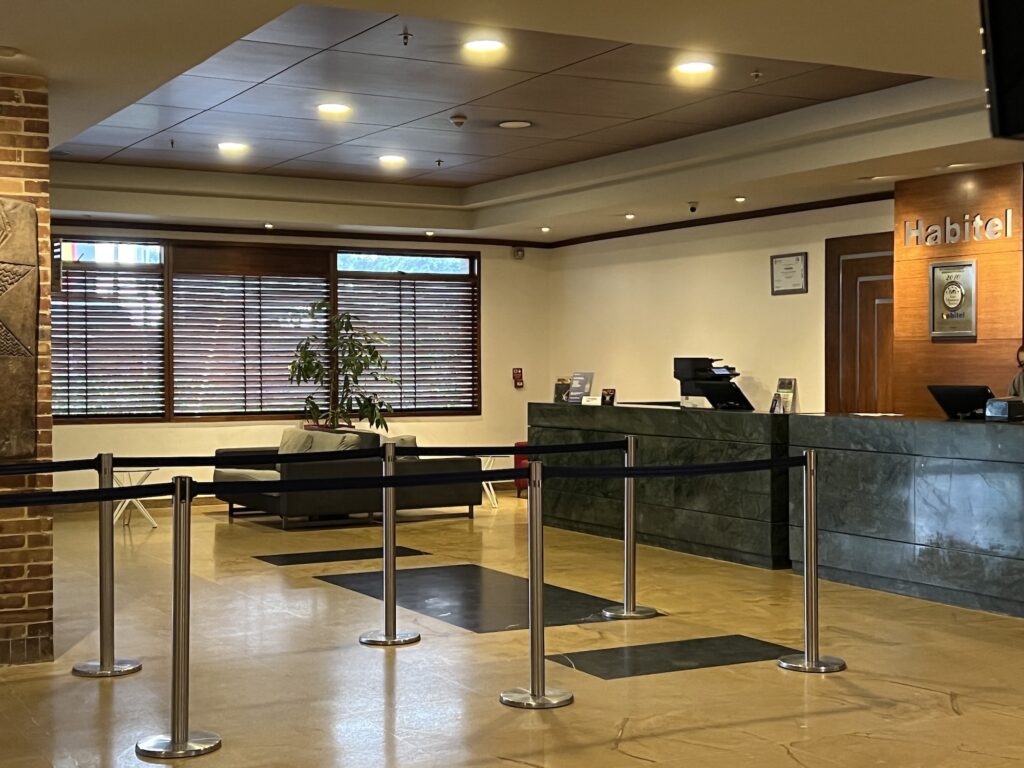 We chose the Habitel Prime versus the Habitel Select because we had heard of a colleague having a great experience at the Prime location, and we were intrigued with the gardens and spa shown on the hotel website. The cost difference was about $20 between the two different properties.
Be sure to see our must-know list of 10 Best Things to Do in Bogota!
Room Tour
We stayed in Room 214 in the main hotel building. We were very pleasantly surprised with the quality of the room and the service.
When checking in, two different bellmen helped us with our luggage. They wanted to help us to our room. However, we didn't have many Colombian pesos since it was the end of our vacation. When I said "No tenemos dinero," which means we have no cash in Spanish, they smiled and said no problem and continued to assist us. Which was nice.
The amenity "maletero" is listed on their website, which means use of a luggage trolley or porter, so maybe this is a free service.
We chose an Executive Twin Bed room. We were actually surprised at how large the room was, and how clean and spacious it was.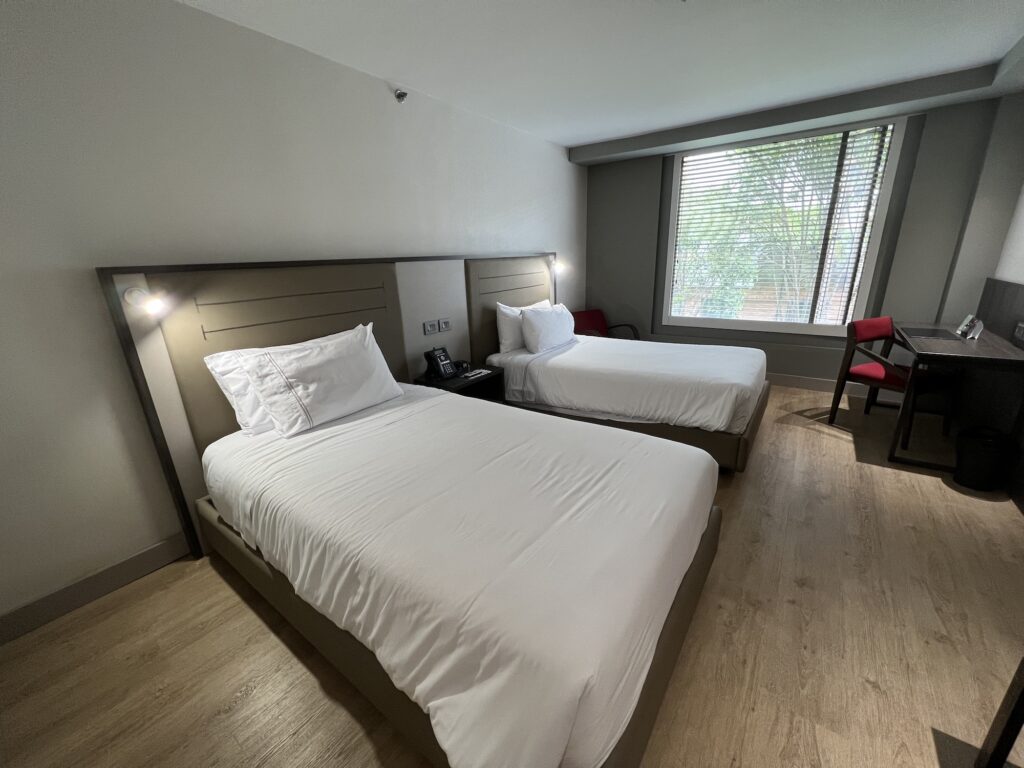 The twin beds seemed to be bigger than American twin beds. They were less wide than a full-size bed, but definitely a little bigger than a normal twin bed.
There was plenty of space to put luggage and personal belongings. In fact, it was the best storage space in a hotel room that we have ever seen!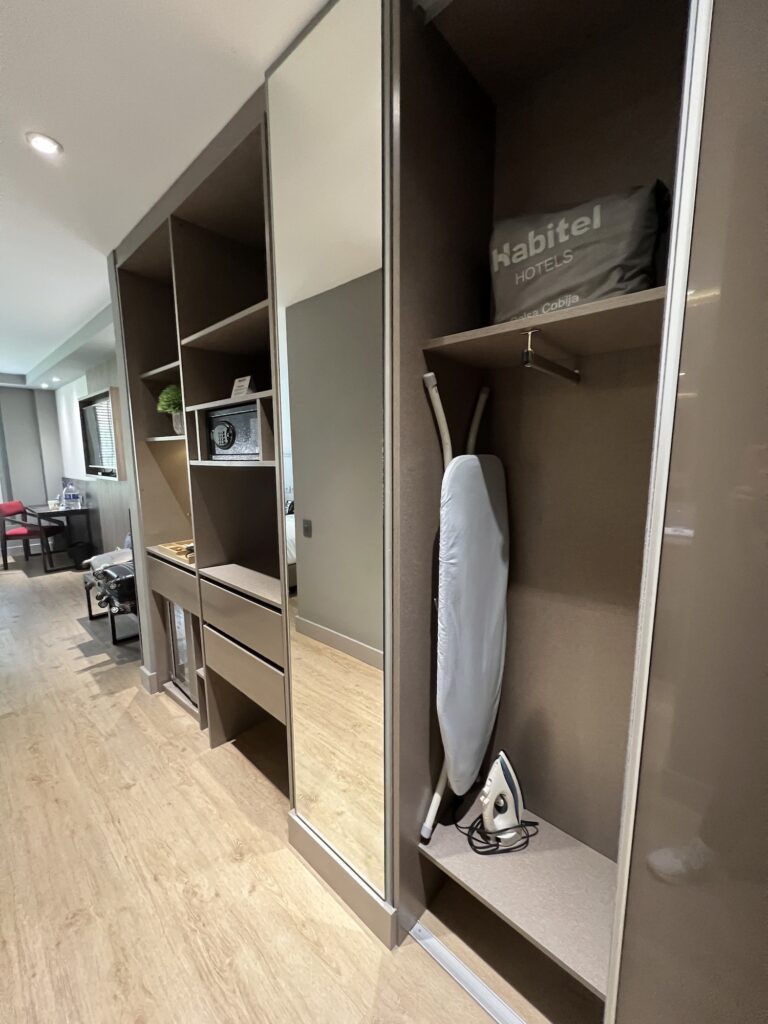 A large spacious window overlooked the garden courtyard below. The window could be partly opened, which was great for letting in some air flow.
We could not find any room temperature controls. The room was hot when we arrived, and we couldn't find any option to control the temperature or increase the air conditioning. I didn't not ask about this, because I forgot when checking out late at night.
I think there was heating and cooling, it just couldn't be controlled individually within the room.
The bathroom was large and spacious, with separate mini rooms for the toilet and the shower. My only complaint is that the toiletries were very minimal. You got one wall dispenser of soap by the sink and one shower gel option in the shower. There was not separate shampoos and conditioner and bath gel.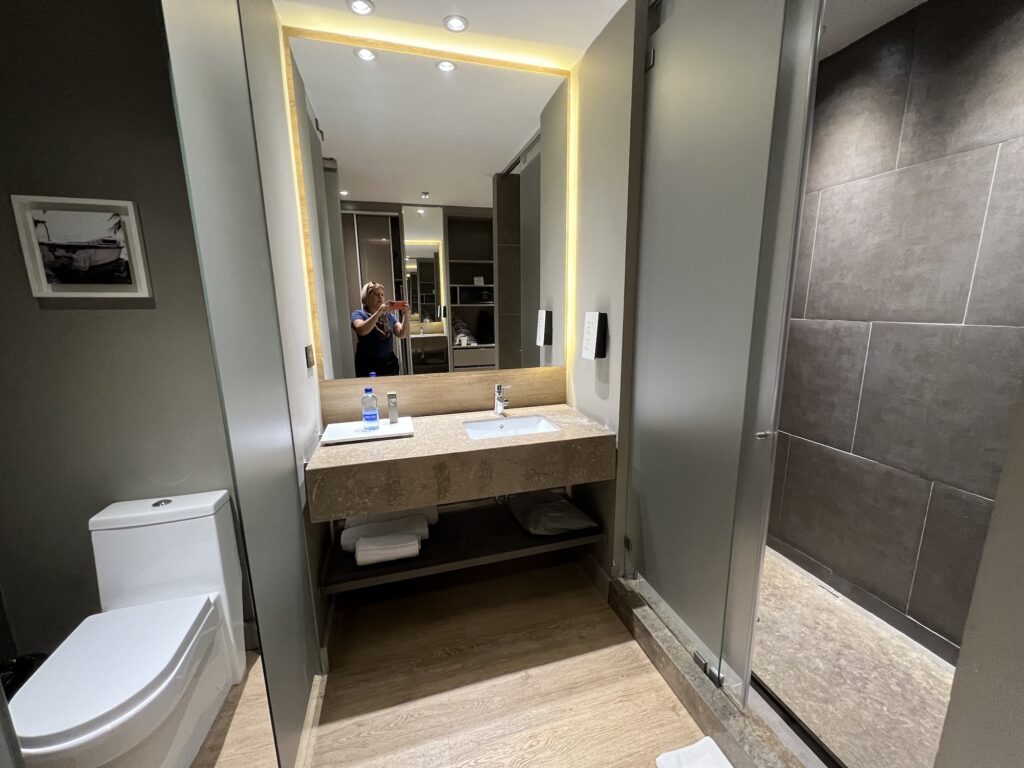 The shower was unusual in that it had a raised platform to stand on when showering, and the water would fall off to drain.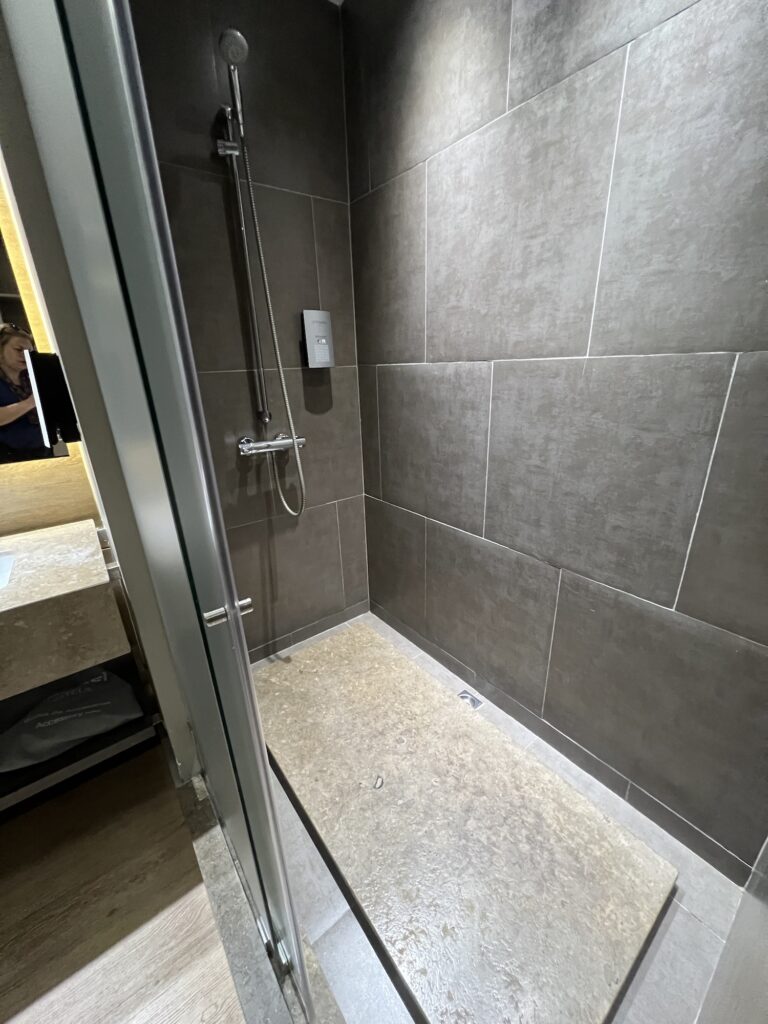 The television had more cable channels than we are used to! It was the closest selection to American television channels that we found in our time in Bogota.
You can also check out a video room tour on our Youtube video:
Property Tour
The Habitel Prime is a large hotel space. Because there are meetings, conventions and weddings also held here, there are quite a few event areas and dining locations.
We walked around a bit before it started raining to explore the garden atmosphere. We especially loved the two greenhouses in the courtyard.
One green house was a restaurant and looked amazing inside. There is a small wooden bridge that you walk over and there is a water feature underneath filled with koi fish.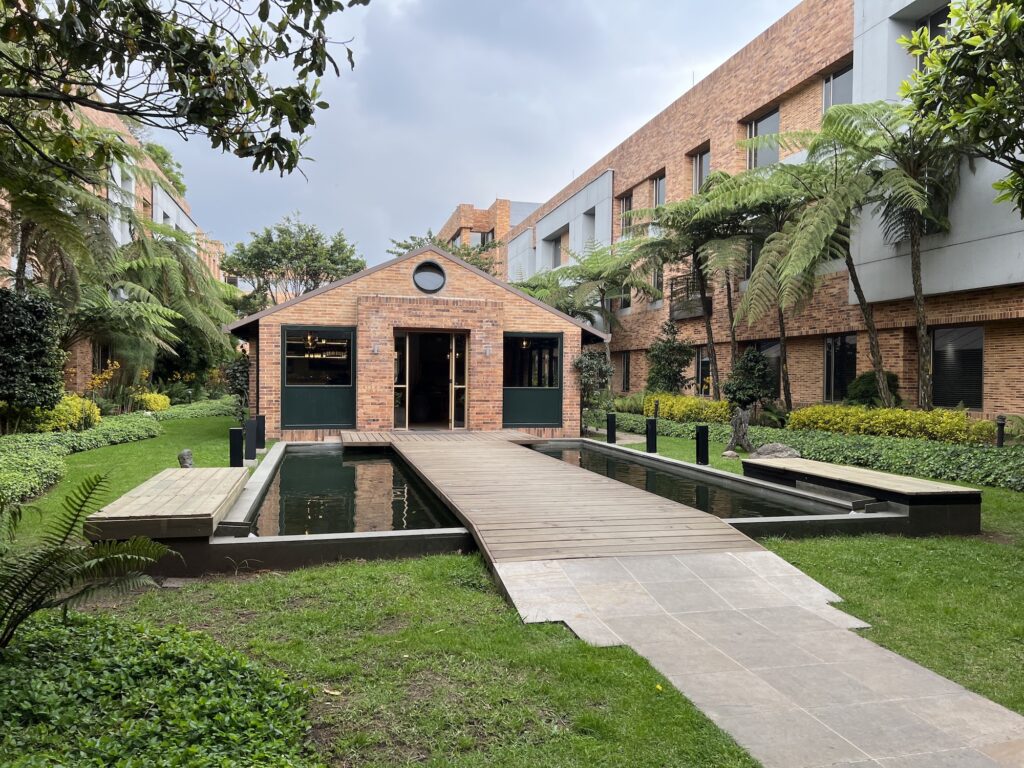 However, the restaurant was closed during our time there. I would have liked to eat inside!
The other greenhouse seems to be for convention space. It was also lovely, with living plant walls on either side.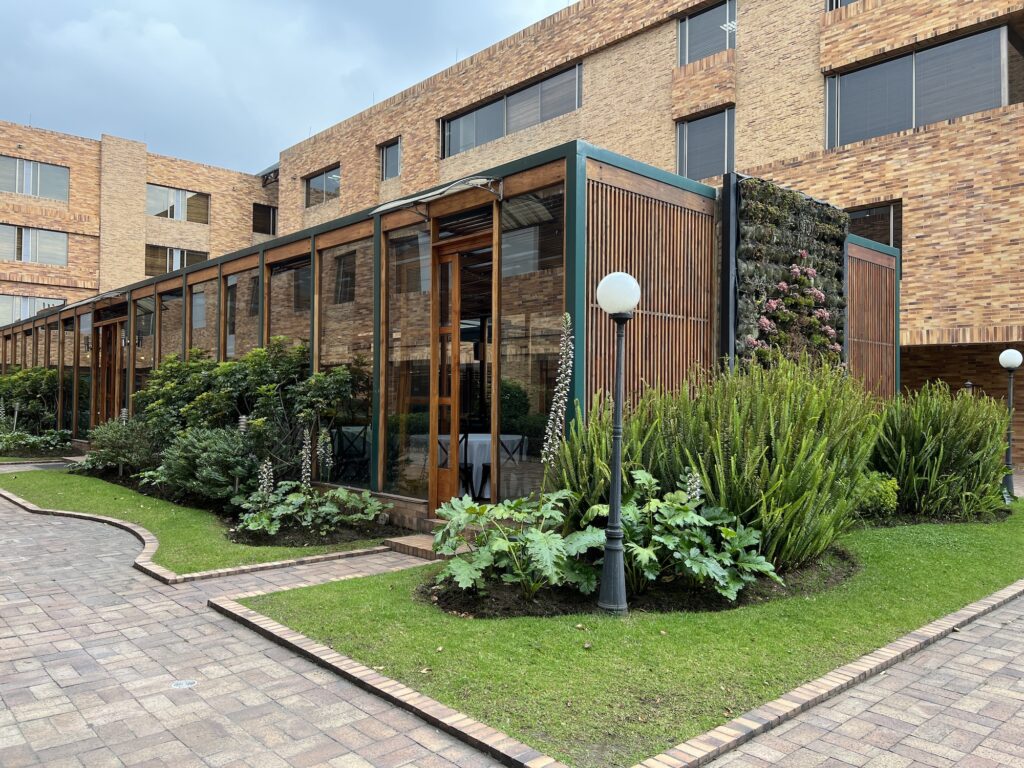 Habitel is unique because they have a spa on-site. I walked through the spa area to the fitness center, which was adequately full of exercise machines. There is also a room with a whirlpool tub and lounge chairs, along with some shower and steam rooms.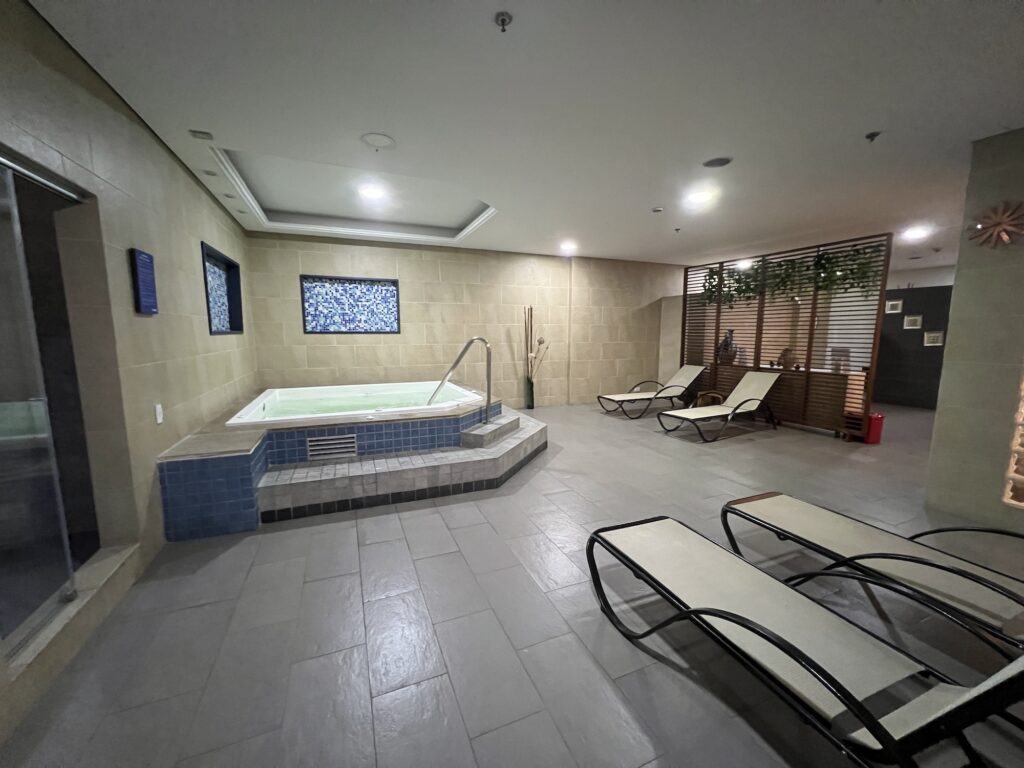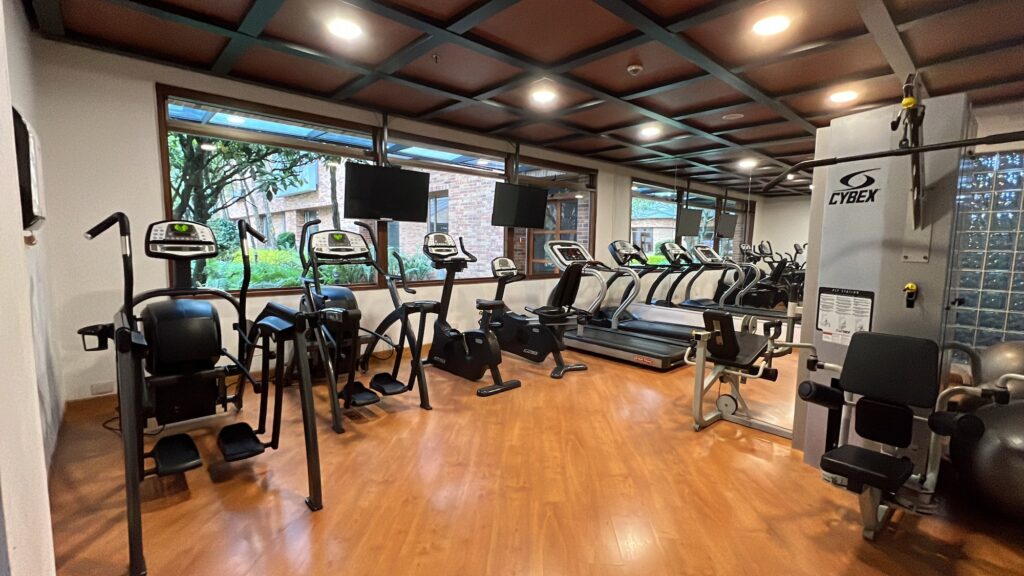 The lobby has a large area to lounge, or to work on raised work tables. There is also two public computers to use, along with a printer.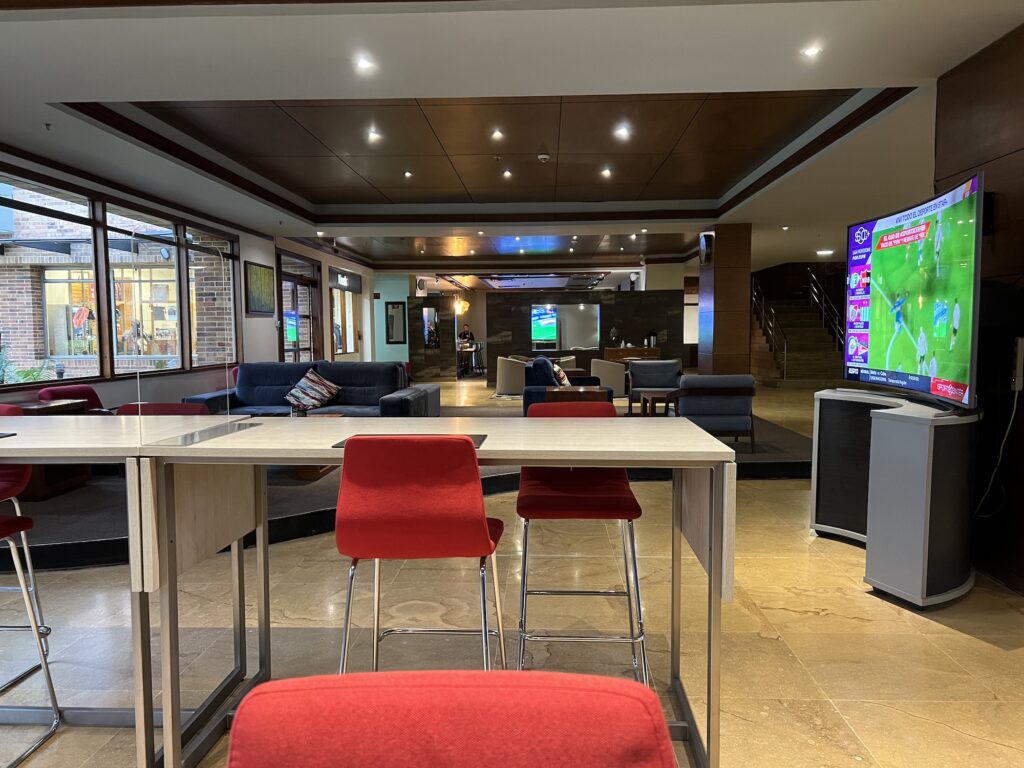 A small gift shop is located in the lobby, with Colombian souvenirs, clothing and food.
A small bar is just off of the lobby, where you can enjoy food and drink. This is technically a part of the Manduka restaurant (see below).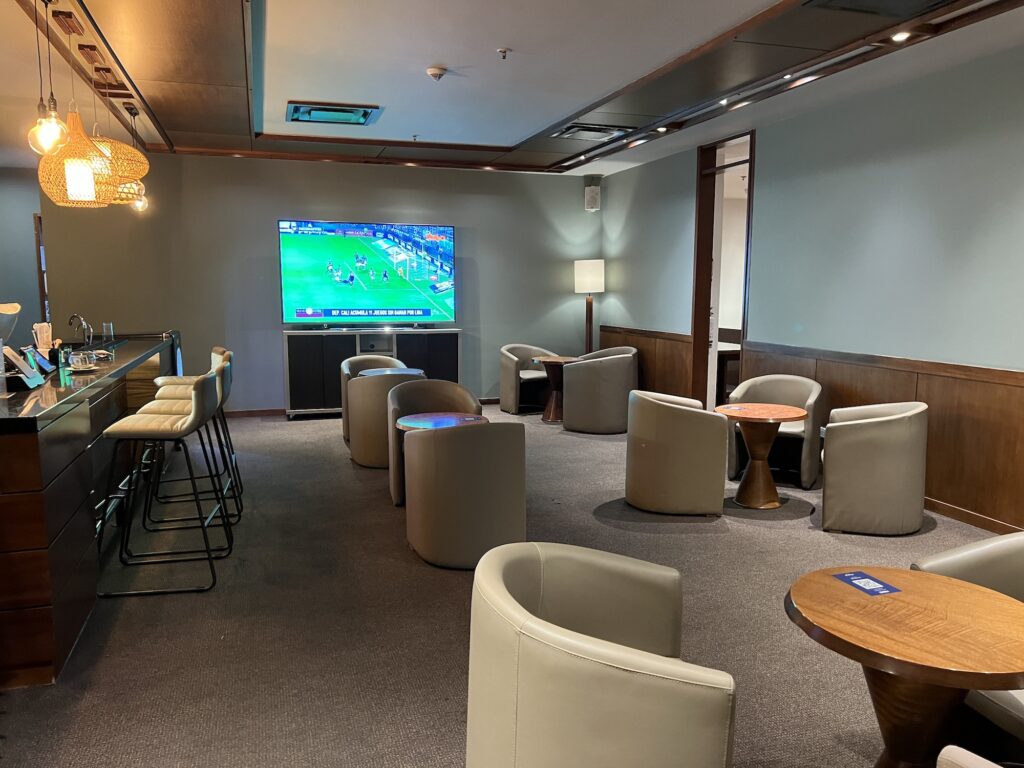 Dining Options
We enjoyed dinner at Manduka restaurant. The casual restaurant has one of the biggest restaurant menus we have seen anywhere!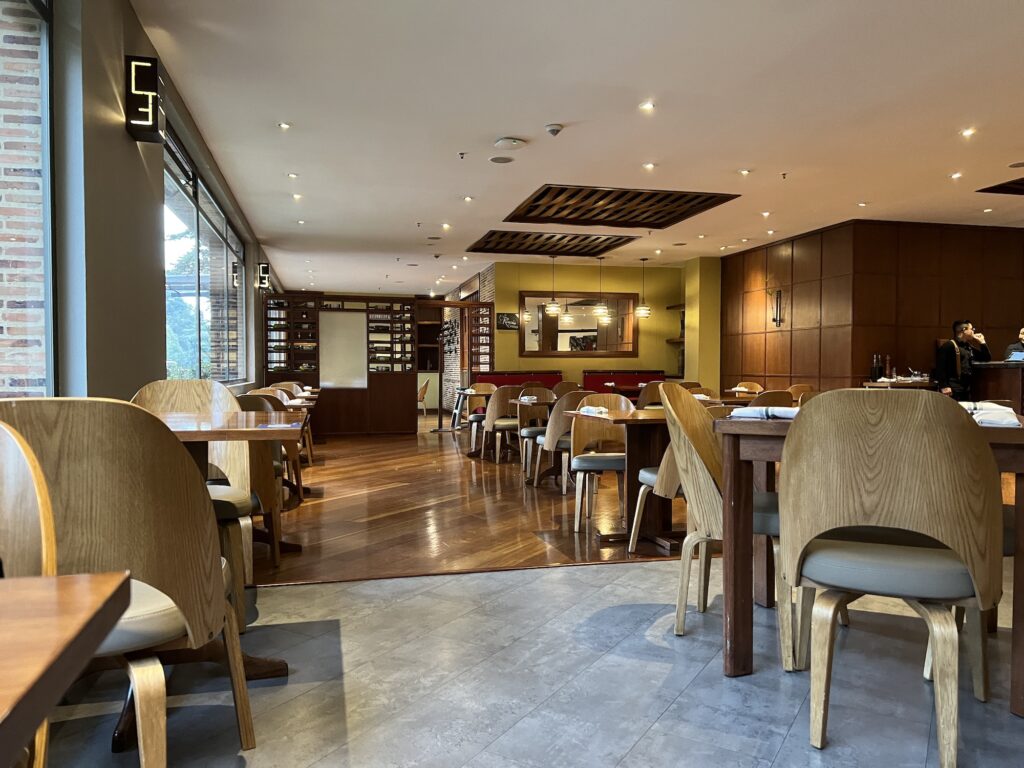 After a week of eating traditional Colombian foods, we opted for some basic American cuisine:
Spaghetti Bolognese ($35,600 pesos = $8.28 USD)
Baby Beef ($54,600 pesos = $12.70 USD)
Pina Colada ($28,500 pesos = $6.63 USD)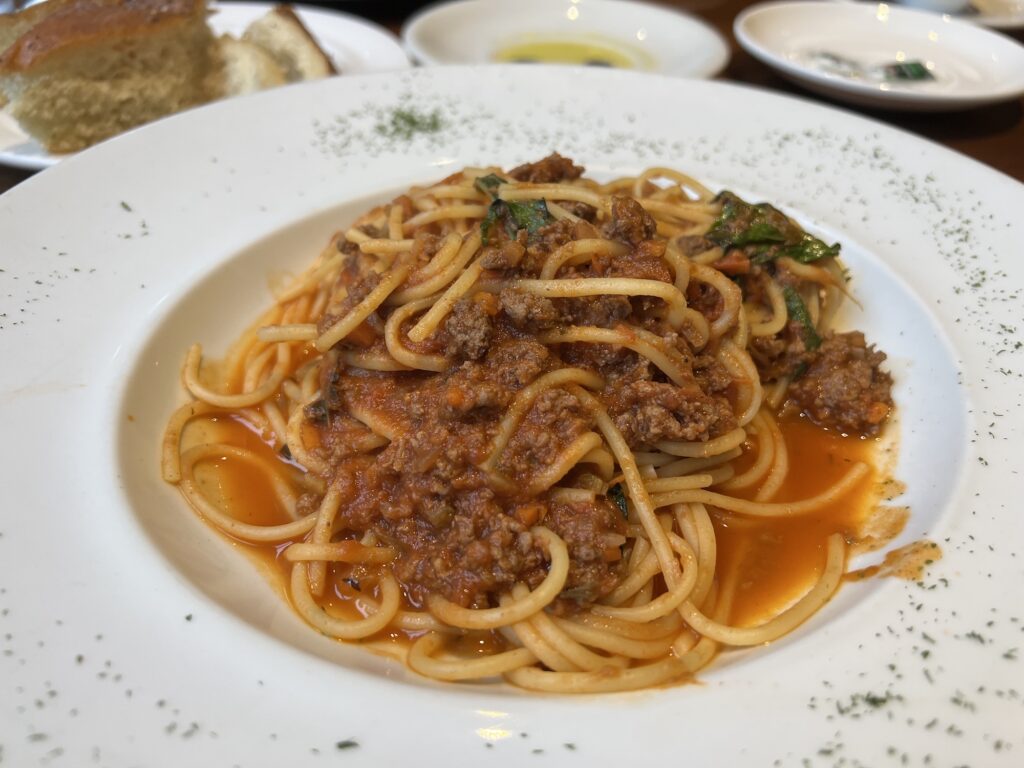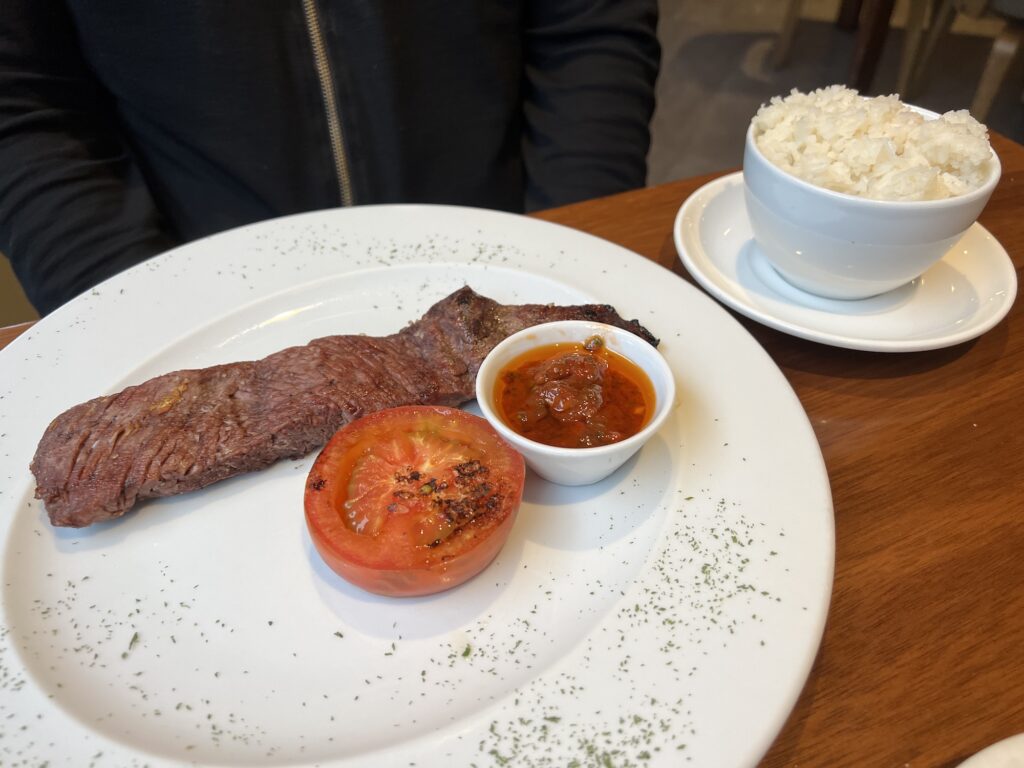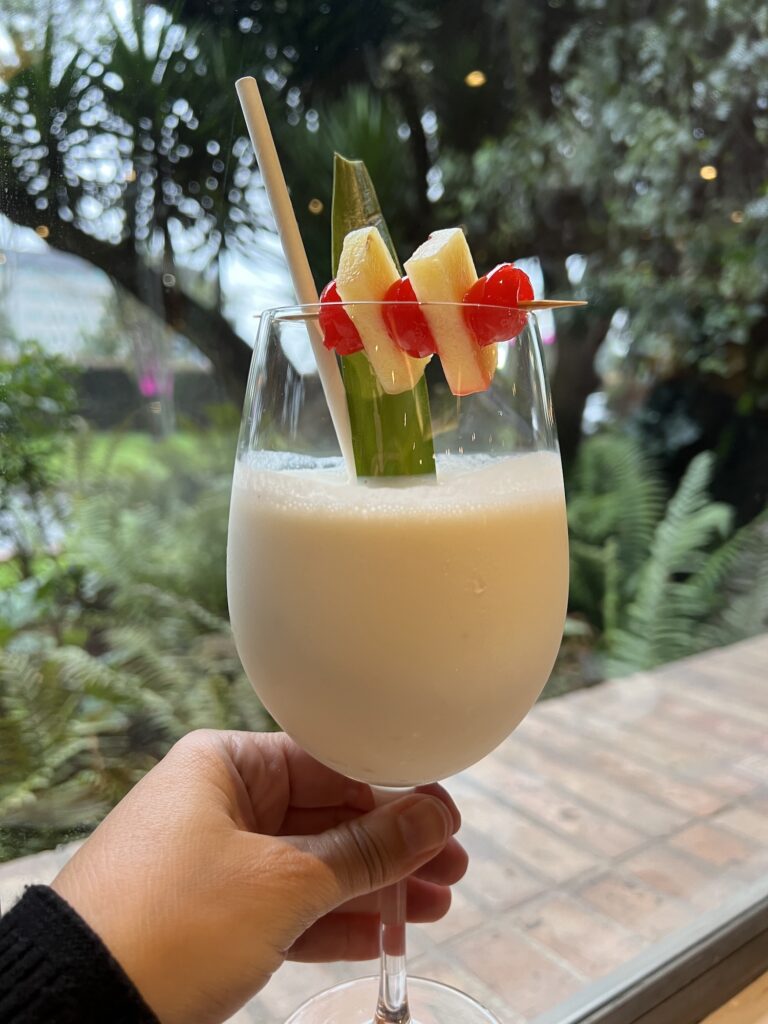 The food was excellent and we ate every bite!
There is a complimentary breakfast buffet with your hotel room. However, since we didn't stay for the morning, I don't know how that is.
Airport Transfer
We chose the Habitel because of the easy airport transfer that is free. We were not disappointed
The airport shuttle comes on the hour and half hour, 24 hours a day. When we checked out of our room, we were given a voucher for the shuttle.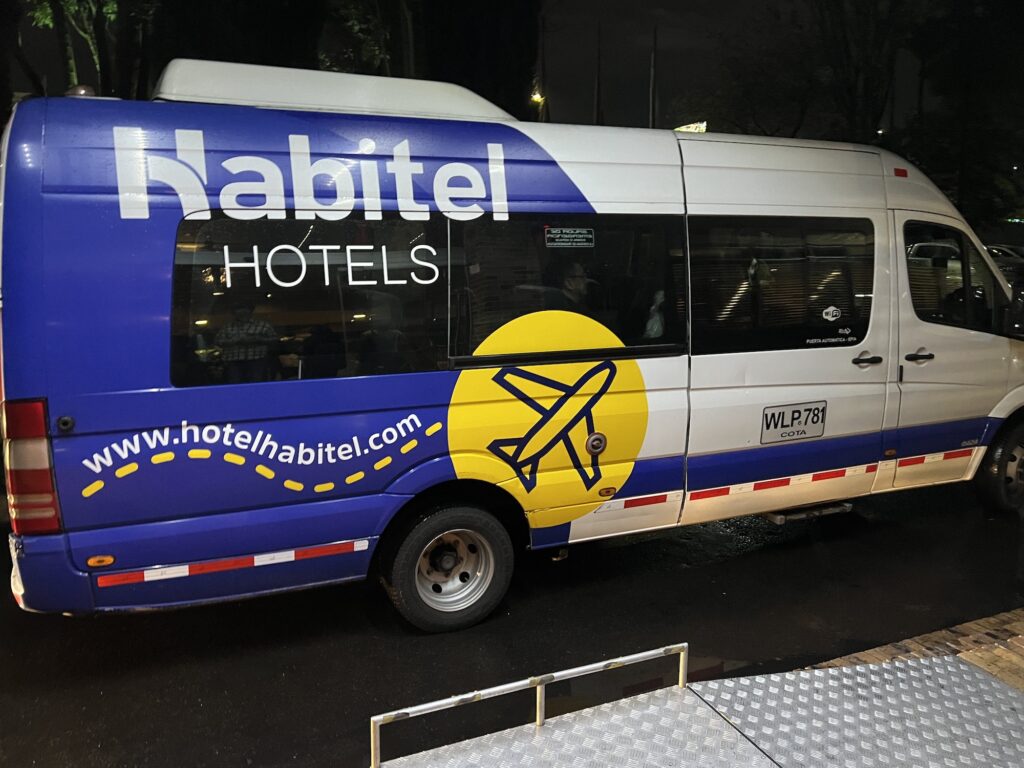 The ride was less than 15 minutes. Which, considering Colombian traffic and the fact that we basically had to loop all the way around to get on the road back to the airport (we were really close to El Dorado Airport, but had to get on the correct road which meant driving out of the way to get on the right path), that was pretty good.
We were dropped off at international departures. We got the 11:30 p.m. shuttle for our 2:35 a.m. flight and had plenty of time.
Price of One Night's Stay
We booked one night at the Habitel Prime with less than 24 hours notice. Our reservation was booked directly through the hotel.
A one night stay in September 2022 was $352,500 pesos. Which was $81.65 in total, after the pesos to American dollars conversion.
If we had joined their Habitel Rewards club, we could have saved 11% on the hotel room and 10% on the food in Manduka restaurant. So the room rate would have been less than we paid.
Honest Review: Would We Stay Here Again?
I would definitely stay at the Habitel Prime hotel by the Bogota airport again.
We could have made our stay cheaper by:
Joining their rewards program
Choosing Habitel Select versus Habitel Prime
In comparison, a room at the Courtyard by Marriott Bogota Airport was $114 USD a night for two twin beds, compared to Habitel Prime's two twin bed room at $79.21 USD. Habitel Select was $58.29 USD for a double twin room. Hampton Inn Bogota Airport was $82 USD.
If I was to stay near the Bogota airport again, I probably would stay at the Hampton Inn and earn Hilton Honors points. However, if you are not concerned about hotel loyalty points, the Habitel Hotels are definitely great choices.
The hotel's early check-in time of 1 p.m. is great for travelers, as is their later check out time of 12 noon. When you sign up for their rewards program, you can get either an earlier check in or later check out based on availability, too.
Overall, we are very pleased by our decision to stay at Habitel Prime and get half a day's rest before boarding our overnight flight.