The Hilton Bogota Corferias is a four-star hotel located in the city's business district, known as Corferias. The property is located adjacent to the Agora Bogota Convention Center and the Corferias International Exhibition Center and fairgrounds.
Even if you aren't in Bogota on business, the Hilton is a welcoming place to stay when you want excellent service, luxury accommodations and the ability to use or earn Hilton Honors points.
I enjoyed almost a week-long stay at the Hilton while in Bogota for a Society of American Travel Writers Conference. The hotel was perfect for our needs, however it probably wouldn't be the best choice for travelers with limited time who are more interested in seeing the city rather than staying in the lap of luxury.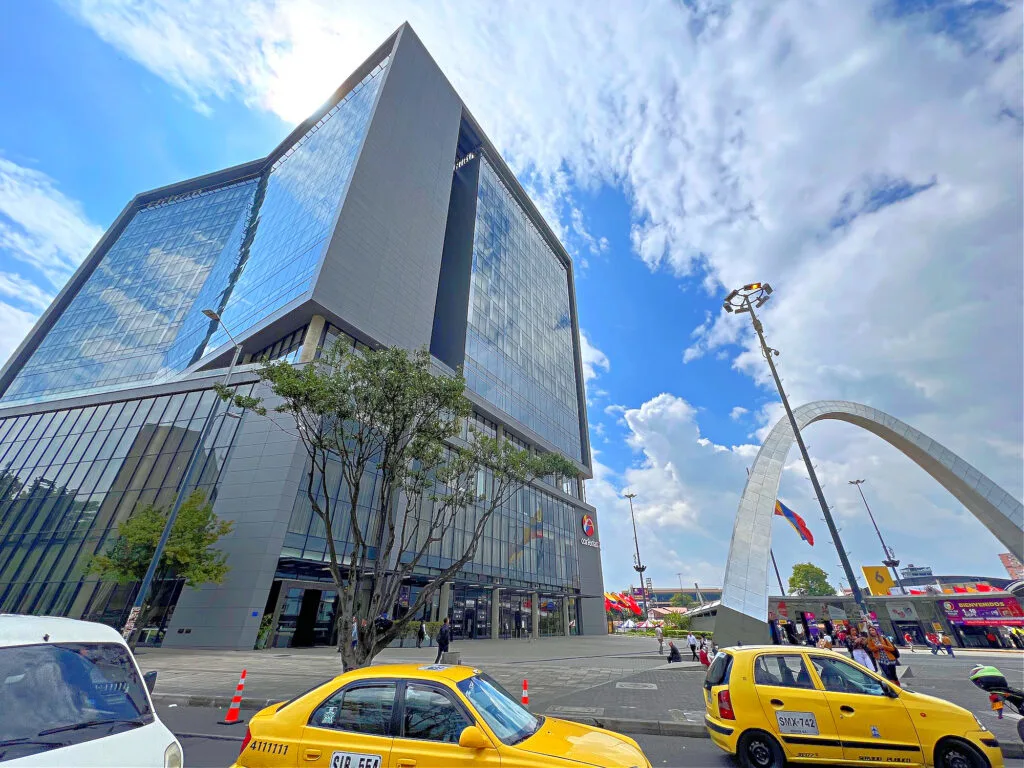 I paid for my hotel room, however the cost was discounted through our conference rates.
Room Tour
We stayed in Room 1525 for six nights during our visit to Bogota.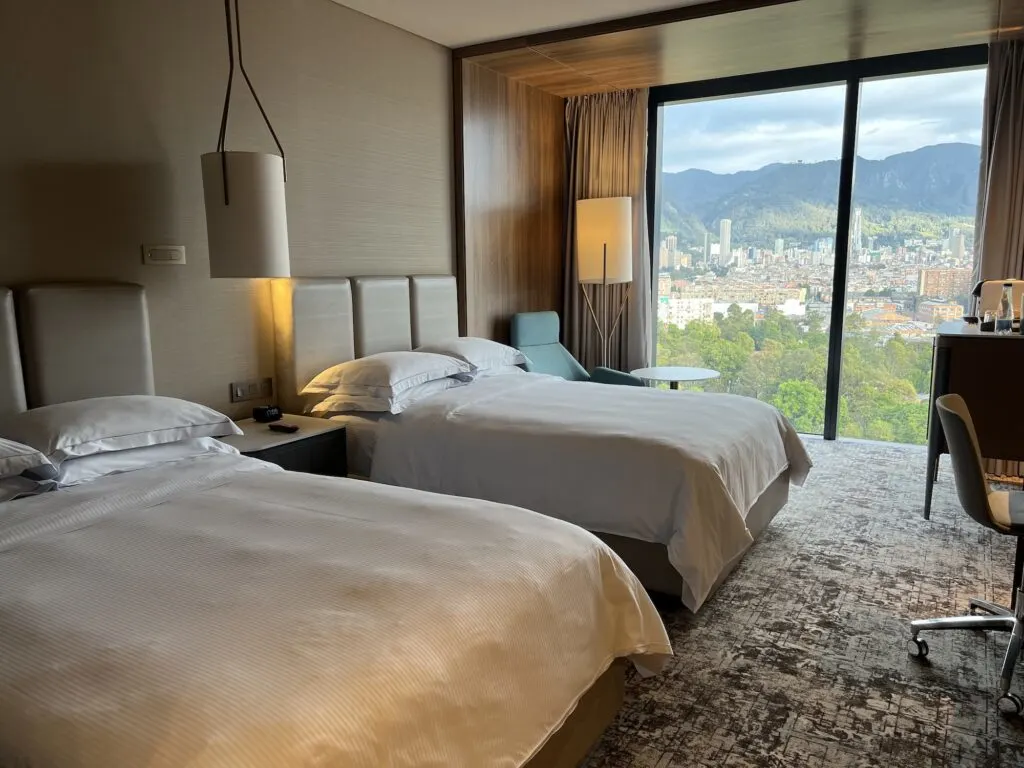 We were upgraded to this room thanks to status as a Hilton Honors Diamond Preferred member. I visited a similar category room of someone who didn't have Hilton status and the hotel room was exactly the same. The only difference was the view was better on the 15th floor, compared to the 7th floor room that I visited.
The view is pretty stunning and definitely worthy of the upgrade!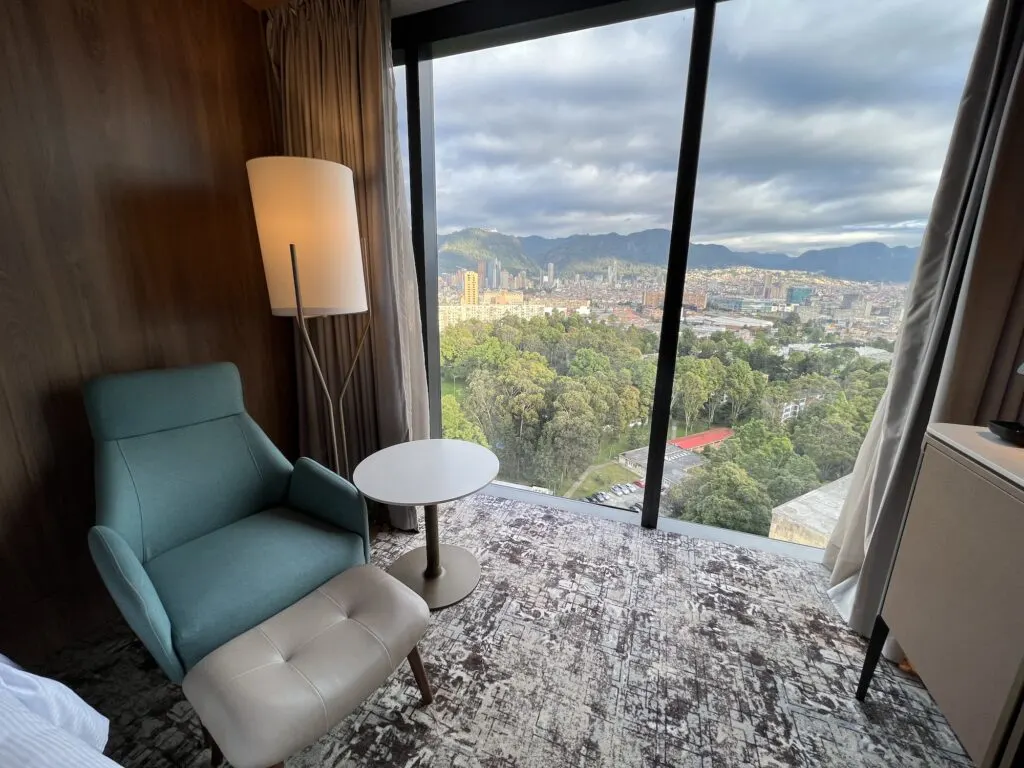 The hotel room was modern, clean and minimalistic. The design was stunning and it is evident that all aspects of the Hilton Bogota Corferias were designed with the business traveler in mind.
We loved the huge floor-to-ceiling windows in the room that offered stunning views of the city. We had a view overlooking the historic area, known as La Candelaria, as well as the mountain top vistas, such as Monserrate.
With huge windows, there can often be a problem with sunlight peeking through the curtains, waking you up too early in the morning. That definitely wasn't a problem at the Hilton. The thick, black-out curtains that overlapped to prevent any light intrusion had us sleeping comfortably all night long.
The beds were comfortable. However, I would argue that the queen size beds that we had in our room were definitely not standard queen size. It would have been quite uncomfortable to have two adults in one queen bed. They looked much more narrow than American queen-sized beds, but I could be mistaken.
Unfortunately, as with most hotels these days, the pillows were absolutely uncomfortable. With no loft or thickness, it was like laying down on a postage stamp to go to bed at night. To be fair, I didn't request new pillows and was not aware of the hotel's "pillow library" until after my stay.
We appreciated the mini refrigerator in the room. We went to the grocery store located across the street and bought supplies to keep inside the fridge.
The Bathroom
Though I was 90% thrilled with the Hilton, the one very BIG thing that I absolutely did not like was the bathrooms. Other members of my conference who stayed at the hotel at the same time all agreed.
Rather than a design for functionality, the bathroom design seems to be purely for style and presentation. Because there are so many ways that these bathrooms simply aren't functional for guests – especially female guests.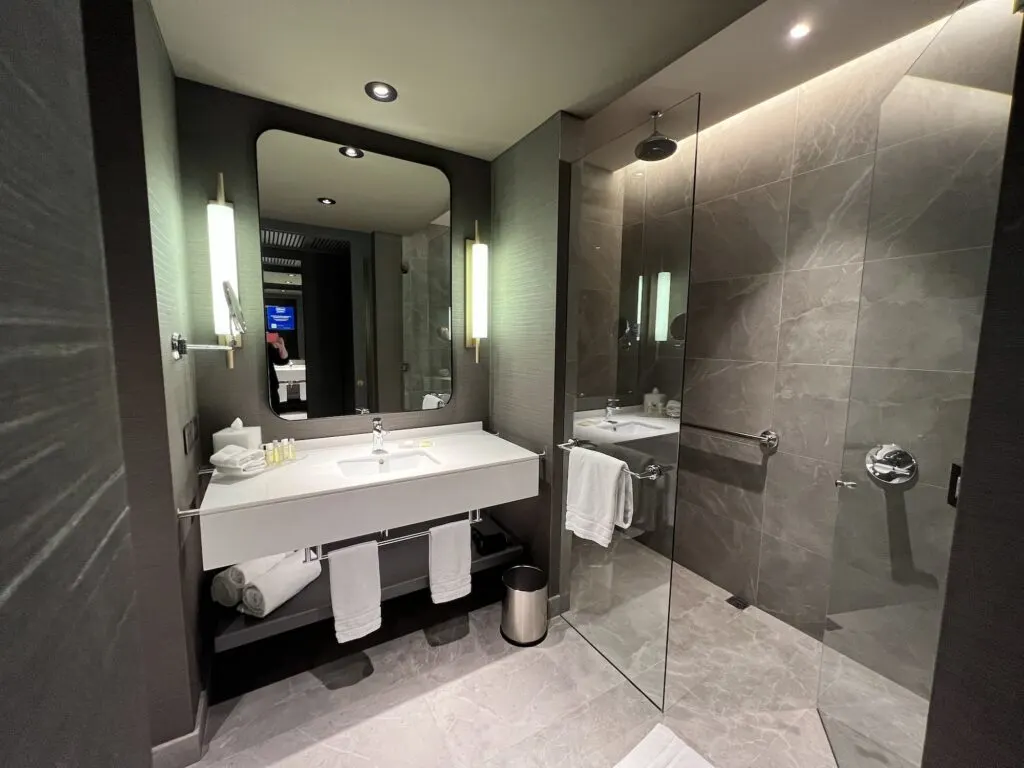 The lighting was absolutely atrocious. While there were no less than 6 different lights in the bathroom, none of them offered any decent illumination for seeing yourself in the mirror. The yellow hue was horrendous, and no one wants to see themselves illuminated was a yellow tint first thing in the morning.
It was pretty much impossible to use the bathroom to apply makeup or get ready in the morning. Even my husband agreed that the lighting made it impossible to see how you looked while getting ready.
The shower was not well designed. First, there is no way for a woman to safely shave her legs inside the shower, with no ledge, shelf or even raised edge to balance on. In fact, it would be impossible to shave using the sink, either, because the toilet was about 4 feet away and that wouldn't work with dripping water from the sink to the toilet.
The shower door wouldn't open all of the way. Considering it was a solid glass door, if you had a guest who tried to force the door open, that could be a major problem.
Also, when opening the shower door, there could be no rug in front of the door. So as you open the wet shower door after showering, you can't step on a bath mat because it is pushed out of the way as you open the door. Instead, you need to step on bare tile, which isn't safe with wet feet.
And then there is the plastic toilet seat. The base of the toilet was porcelain, however the toilet seat was plastic. The plastic would stick to your skin every time you sat on it. Then it would loudly peel off your skin as you sat up and crash to the porcelain base, making a racket (especially at night). At this price point, why would you have a plastic toilet seat? And why would you combine it with a porcelain base?
Property Tour
The Hilton Bogota Corferias is a large and beautiful property with 16 floors. Guests will find all that they need on floors 1-4.
The first floor is on street level. Here you will find Bon Market and Bar, a bakery, bar and casual restaurant known for pizzas and Italian foods. The area is open all day long for breakfast, lunch and dinner.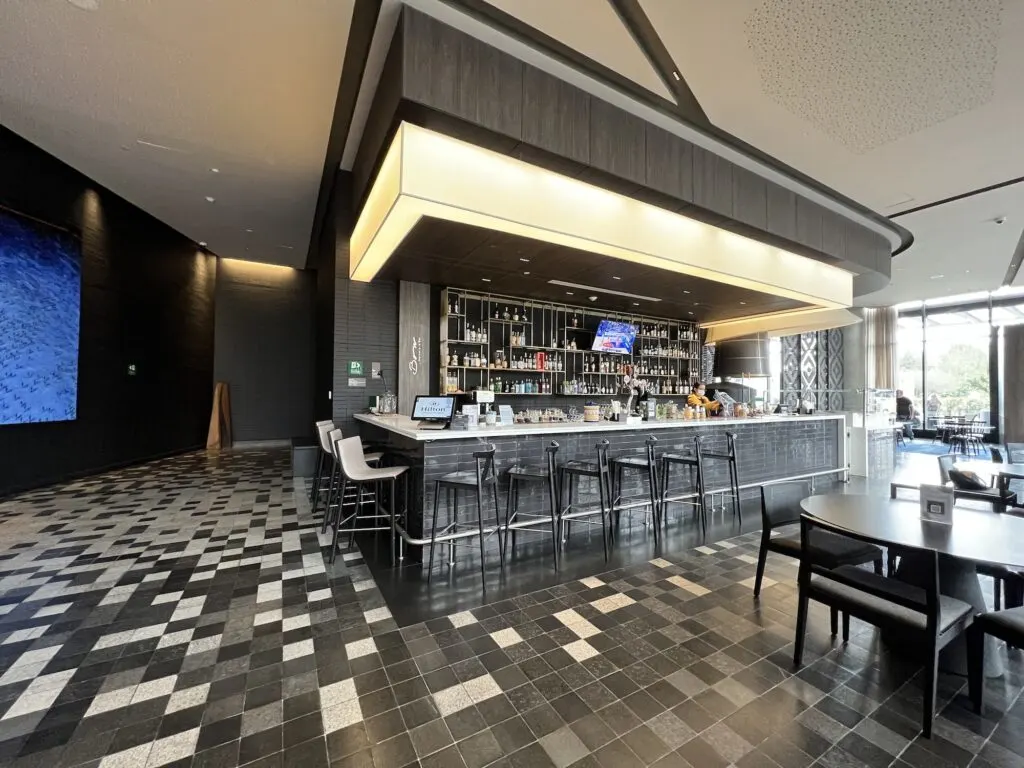 The market area opens onto the large public area underneath a huge metal arch, which is part of the exhibition center. The arch is very reminiscent of the St. Louis Arch.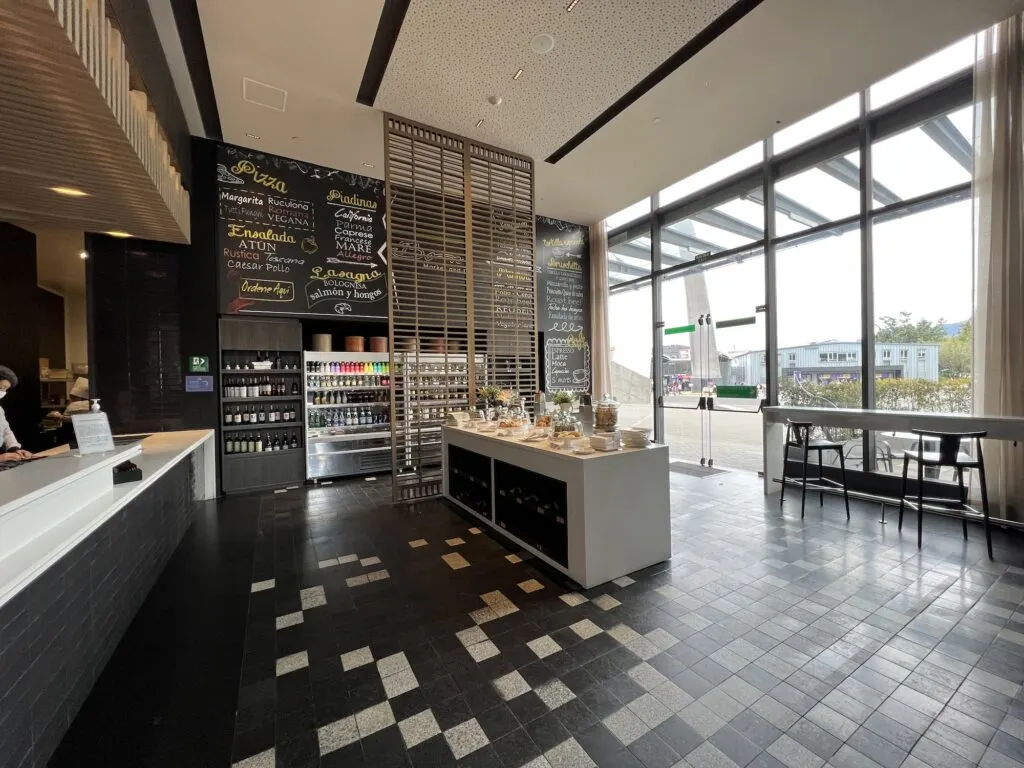 You will find the Concierge, as well as taxi service on the first floor, as well.
The second floor is conference and business meeting space. I spent a few days here and the facilities are quite nice, with plenty of smaller break-out areas to work on your own.
On the third floor you will find the indoor pool and fitness center. I wish I had more time to have enjoyed the pool. It was stunning!
I have no photos of the pool because it was full of families and kids when I visited, but the color-changing light effects at night was spectacular!
In the fitness center, the sauna and Turkish baths are a great amenity, in addition to the expansive workout room.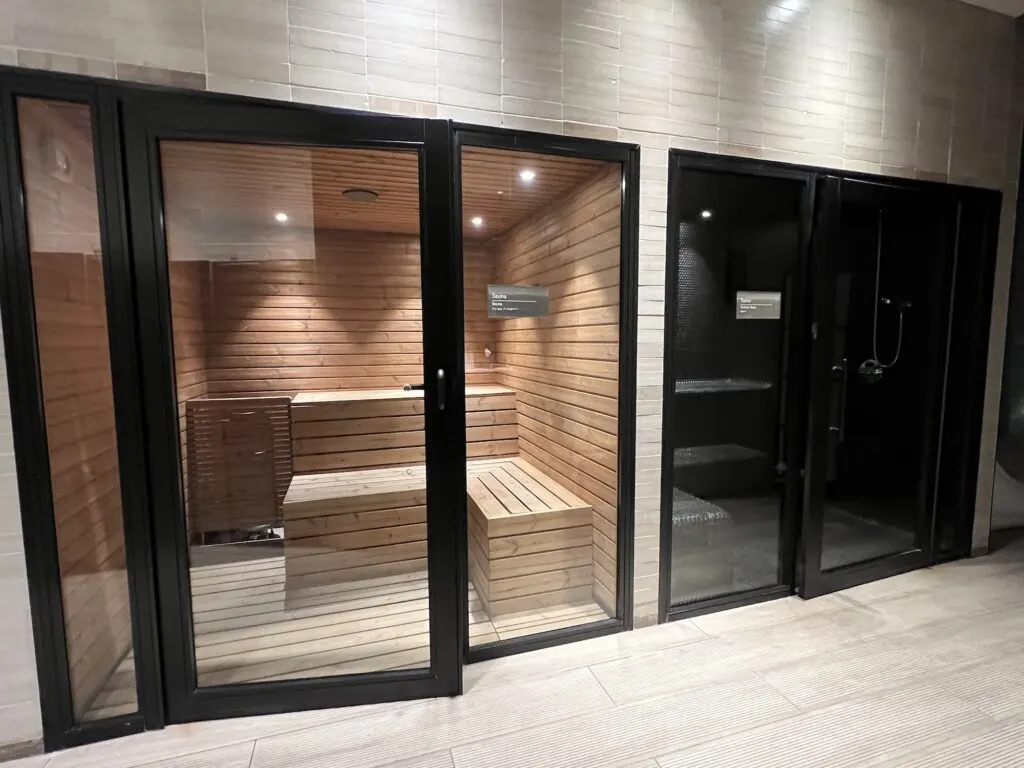 On the fourth floor, you will find the lobby, Executive lounge and OKA Grill House restaurant, as well as a lobby bar and business center.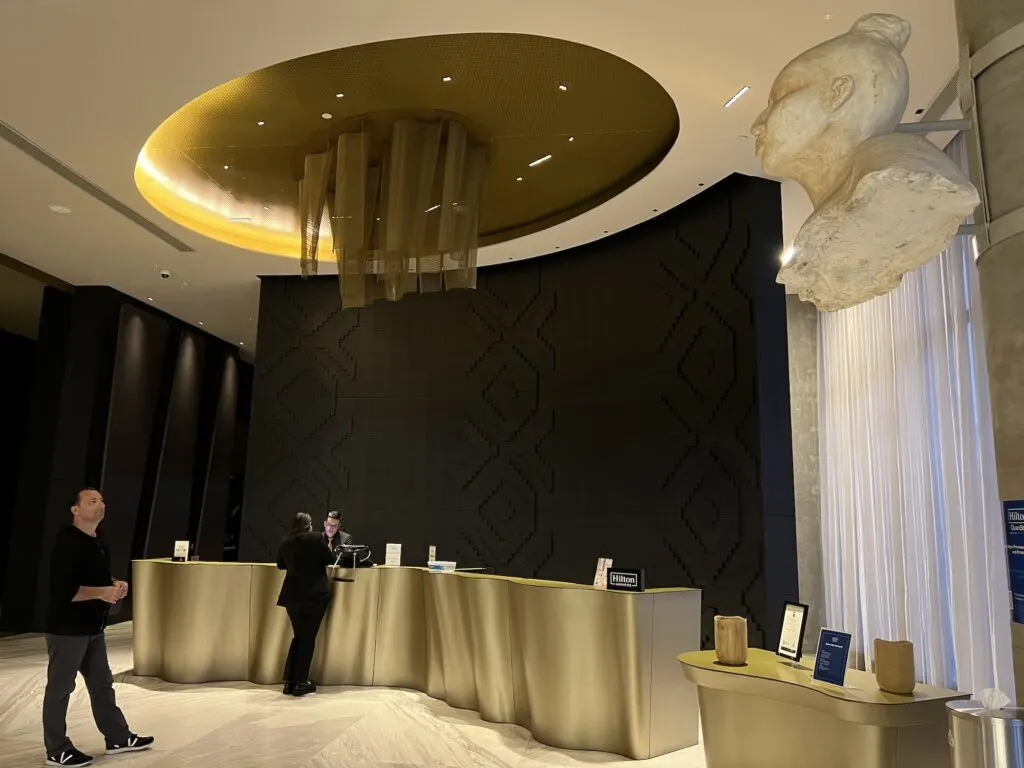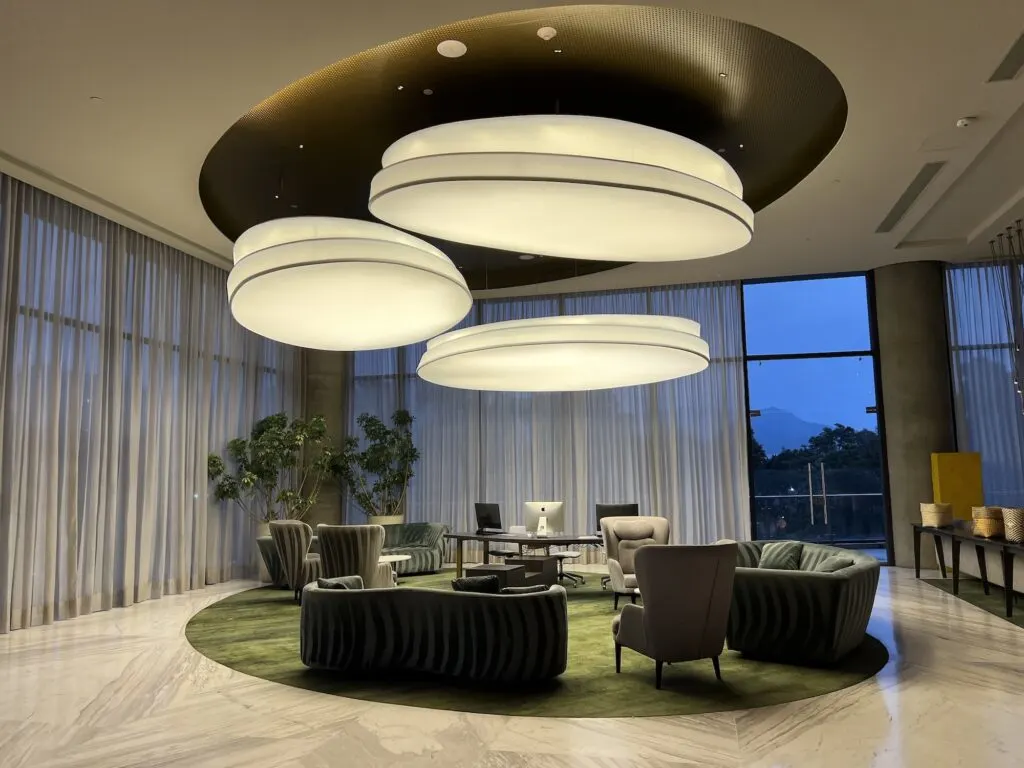 If you need to use computers, they are located in the lobby, rather than a separate room.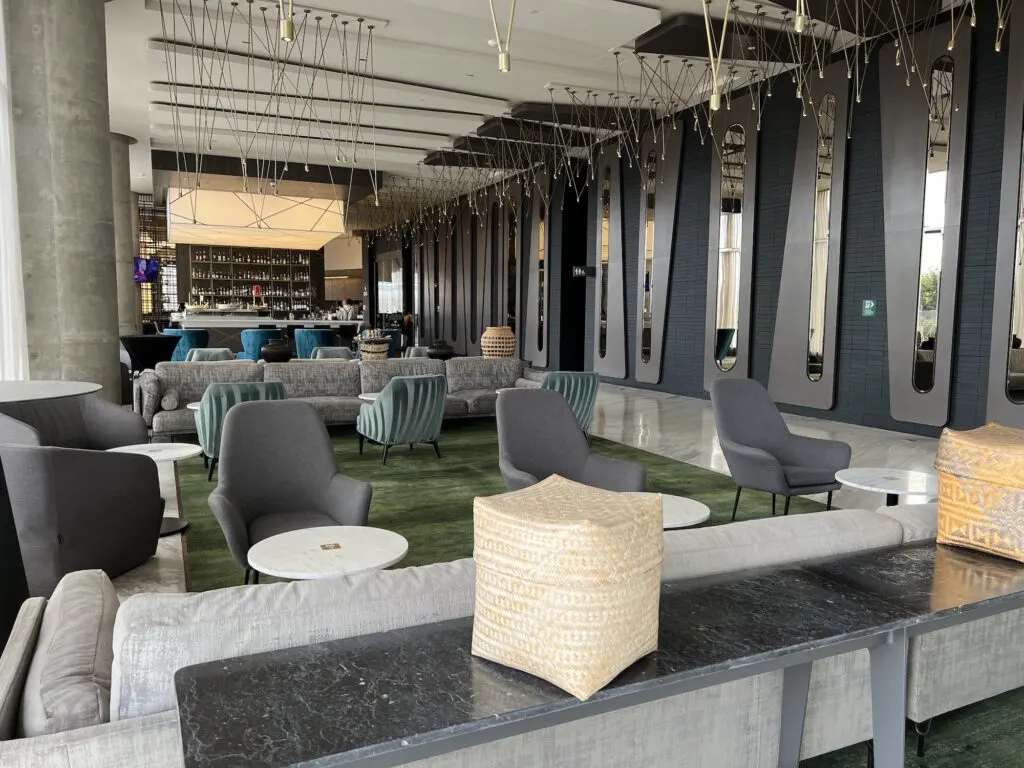 OKA Grill House is where an impressive breakfast buffet is served in the mornings, as well as lunch and dinner options during the rest of the day.
Executive Lounge
This was our first experience with a Hilton Executive Lounge, so I don't know how to compare it with other Hilton properties.
As a Diamond Preferred member, I get access to the Hilton Executive Lounge when available. Lounges can include drinks, food and other amenities.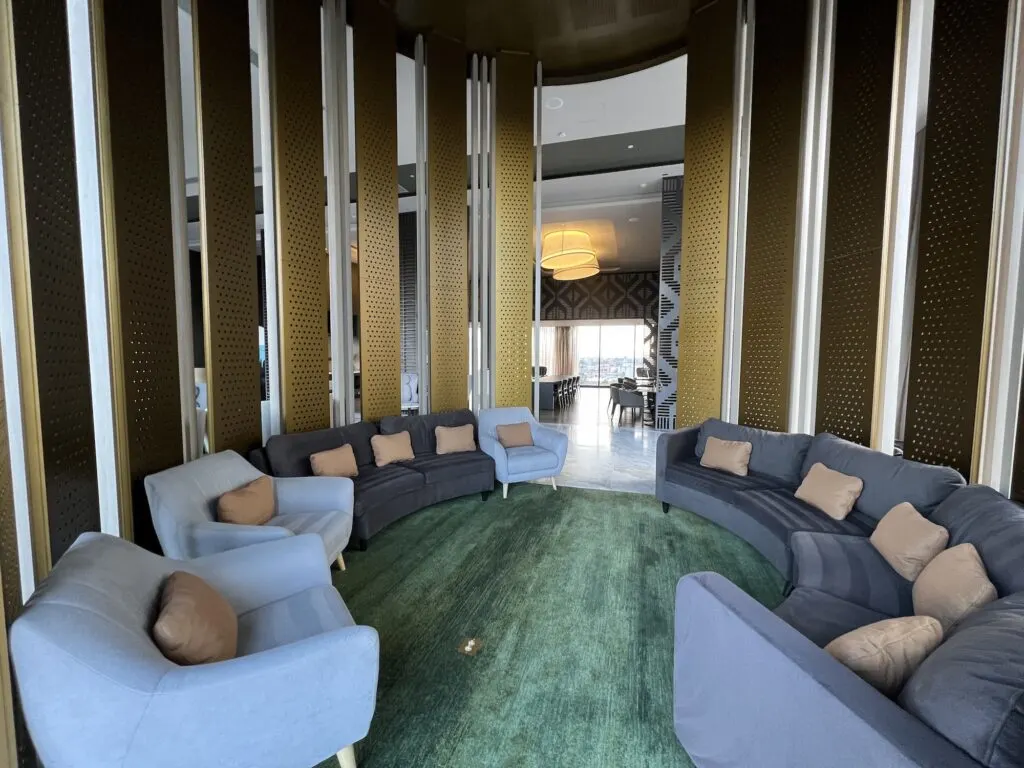 The Hilton Bogota Corferias Executive Lounge is located behind the check-in desk in the main lobby.
The lounge was only open from noon to after 8 p.m. Heavy appetizers were served from 6-8 p.m., and I imagine that the lounge generally closed down soon after that.
During the day, there was a very limited supply of plantains, chips and crunchy snacks available. A refrigerator had bottles of coke and ginger ale, as well as sparkling water. There was a coffee machine available, as well.
The evening "meal" was very good. We had a selection of pizzas, sandwiches, desserts, and finger foods such as crab cakes and empanadas. Beer, wine and gin and tonic cocktails were offered during the two hours at night.
The staff was excellent! The location was stunning and there was plenty of room to enjoy a quick bite, work or talk with friends.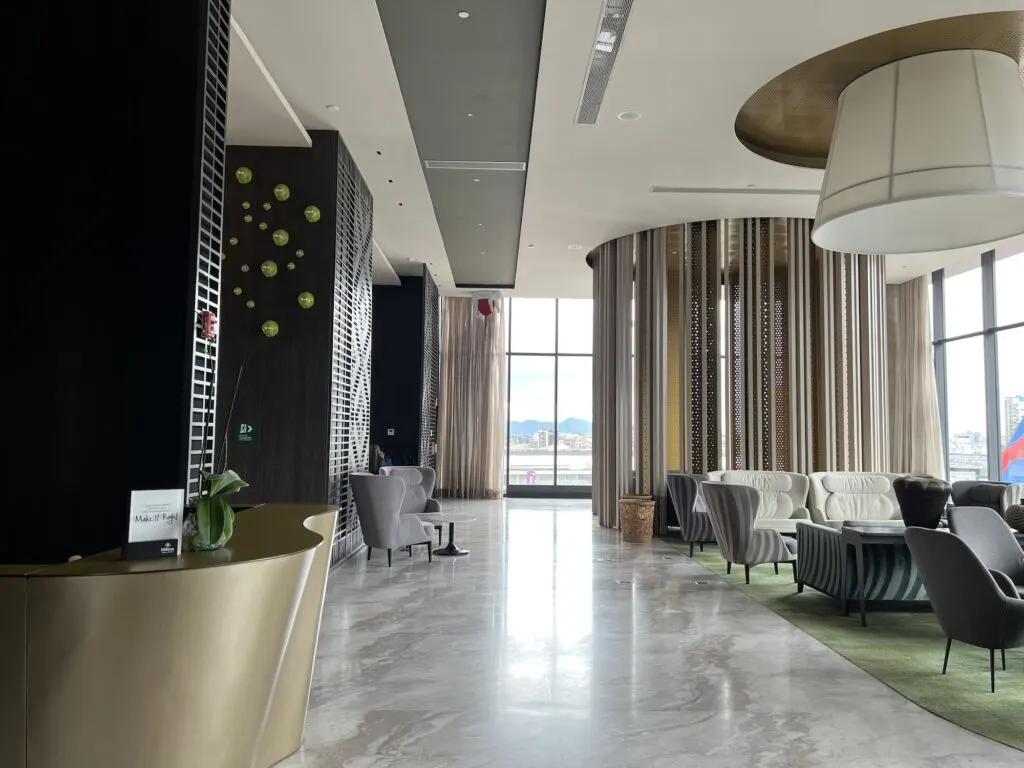 My only complaint would be that the lounge should be open all day long, even if it was just to get bottles of water and drinks. While you do get free complimentary breakfast in the dining room as a Diamond member (and the breakfast is amazing!), it would be nice to have the option to grab something quick instead of sitting down to a breakfast buffet.
WiFi
We relied solely on the Hilton's free wifi and were very pleased. Signal strength was definitely strong enough to do emails and post on social media. I did not try streaming movies, as there were plenty of channels on cable, so I do not know about that signal strength.
Dining Options
The OKA Grill House restaurant is the location for the bountiful breakfast buffet served every morning at the Hilton Bogota.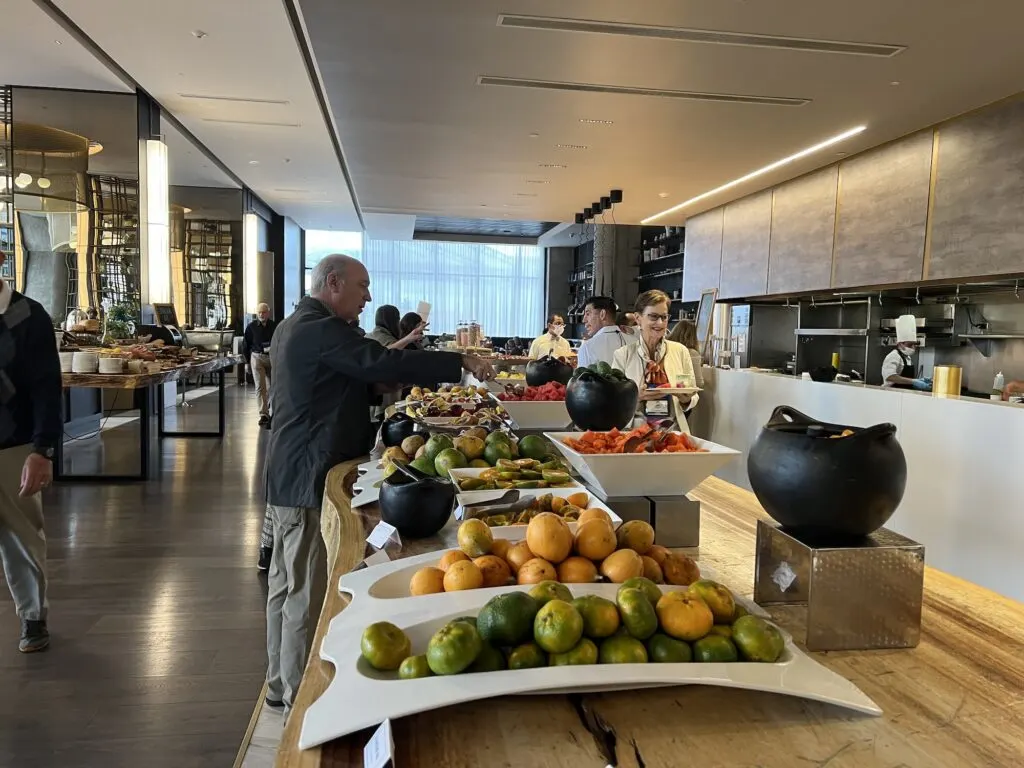 The continental breakfast buffet is lavish, with tables full of exotic fruits, freshly baked pastries, hot entrees and an omelette station. We were really surprised with the empanadas, goulash, and Colombia rice dishes served for breakfast. They were a hearty and traditional food option that was much appreciated.
Check out our big list of traditional Colombian foods that you don't want to miss when you visit Bogota!
While we did not dine in OKA Grill House for lunch or dinner, we did order room service one night and it was absolutely delicious!
At Bon Market Cafe, we enjoyed the Spaghetti Bolognese dish, which was superb. The cocktails were great, too.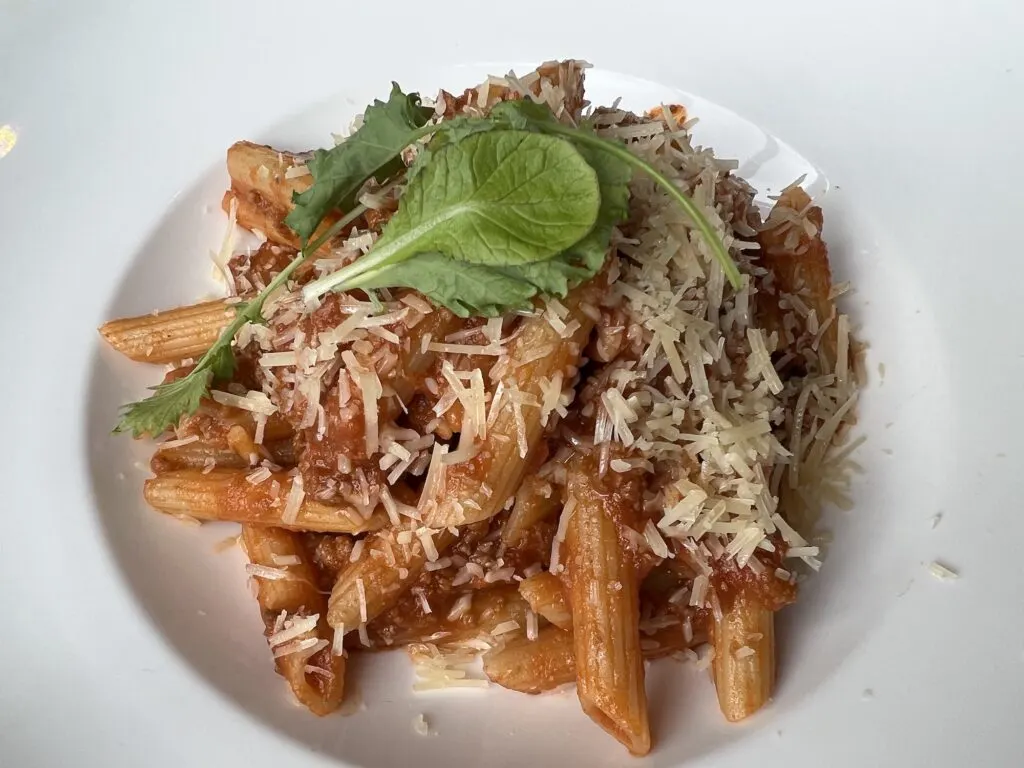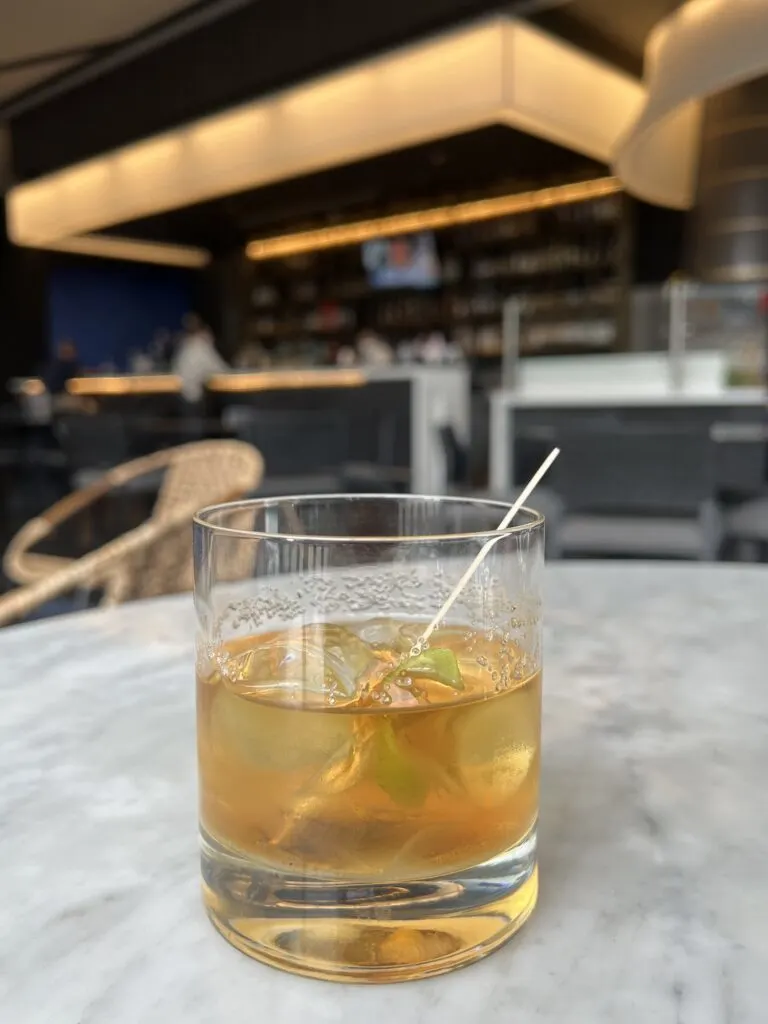 The food and drinks at every location in the Hilton Bogota Corferias were amazing and top notch.
Location
The Hilton Bogota Corferias is conveniently located in the business district. However, if you are not doing business in the city, you might find the location to be inconvenient.
The hotel seems relatively close to what you might want to see as a visitor:
4 km to Gold Museum
5 km to Botero Museum
7 km to El Dorado Airport
7 km to Monserrate
5 km to La Candelaria district
Here's our list of the 10 Best Things to Do in Bogota!
However, Bogota traffic and congestion is unlike any traffic I've seen elsewhere! I have heard Bogota was nicknamed the City of Cars and I would have to agree!
Driving in traffic anywhere in Bogota takes a huge amount of patience. It is stop and go traffic all day long, and at rush hour it is intolerable.
From the Hilton, it would take about 30 minutes to get to the Gold Museum if it wasn't a busy time of day. At rush hour, it took an hour to get from the La Candelaria district to the hotel.
Even if you don't mind the driving time, we found that many taxi drivers and Uber drivers were hesitant or refused to take us from the popular tourist district to the business district.
Taxis
Like it or not, Bogota is still overcoming a stigma of being an unsafe city. And while the city is relatively safe, it is highly recommended that tourists only get taxis from their hotel or have restaurants call a taxi for them.
We were pleasantly surprised to find that the Hilton had a taxi fleet that was parked at the hotel. All we had to do was ask the Concierge for a taxi, and they would go outside and speak to the drivers that were based in their hotel parking garage.
Since we had limited Colombian pesos, we were relying on paying taxis with credit cards. However, not all taxis take credit cards. So we were very ecstatic to find out that we could charge a taxi to our room when we got it through the Hilton.
And if we didn't want to charge to our room, the taxi service had credit card machines so that we could pay without cash.
When traveling to the La Candelaria neighborhood, we found it easiest to request a drop off at the Gold Museum (Museo del Oro) or the Botero Museum. The cost of one-way taxi fare was $6-9 USD (around 25,000-30,000 Colombian pesos), depending on the time of day.
There is no airport shuttle, so you will need to pay for a taxi to the airport.
We chose to stay closer to the airport to avoid traffic delays, and save money, before our flight back home. We were happy with this Bogota airport hotel that we chose.
Conclusion: Would We Stay at Hilton Bogota Corferias Again?
We loved our time at the Hilton Bogota Corferias and it definitely deserves a great review. The staff were friendly and helpful, the rooms were plush and quiet, and the city view was amazing to wake up to every day.
Plus, the opportunity to stay at a Hilton hotel this nice at such a low price point (around $100 USD) was awesome! Especially with the option of using the Executive Lounge (which are rare nowadays).
As a tourist, though, the location does offer some challenges that you wouldn't have if you stayed in the La Candelaria district. Dealing with Bogota traffic is not something to take lightly, and it can waste a lot of time in your day. If you only have one or two nights in Bogota, I would suggest choosing a more centrally located hotel.