If you are traveling as a large party or family of 8 and want to guarantee staying together, these are the best Universal Hotels for 8 people.
There are a few options for large families of 8 at Universal Orlando Resort hotels. These suites will guarantee that all members of your party will be in the same cluster of rooms for a memorable experience.
Our list only includes Universal Orlando Resort Hotels that are on Universal Studios property. The perks of staying at official Universal Orlando hotels are pretty good. They save you a lot of time, and sometimes a lot of money, too.
Yes, you can book adjoining rooms to have accommodations to sleep eight. However, adjoining rooms are necessarily always guaranteed. There is the chance that you will arrive and have rooms that are not together.
Also, family suites have more amenities that most hotel rooms, including additional relaxation areas, such as a living room, dining room, kitchen, etc. That extra space can be great when you have lots of people in one living and sleeping area.
When booking a suite, don't assume that all suites will be able to sleep more people. Many suites only sleep up to 3 guests, even though the room is huge. None of those suites are listed on our list, but be careful when booking.
If you cannot find a reservation for a party of 8 online, be sure to call the reservation desk to make sure that you have seen all of the options available. Often, with large parties, the online reservation system will not show you all of the possibilities that there are.
Related Post: How to Pool Hop at Universal Orlando Hotels
Cabana Bay Beach Resort
There are 2-bedroom family suites available at Universal's Cabana Bay Beach Resort. This resort is one of our favorites at Universal Studios, even though it is much less expensive than the fancy resorts!
These suites also have volcano views from Volcano Bay, which is pretty cool to look at!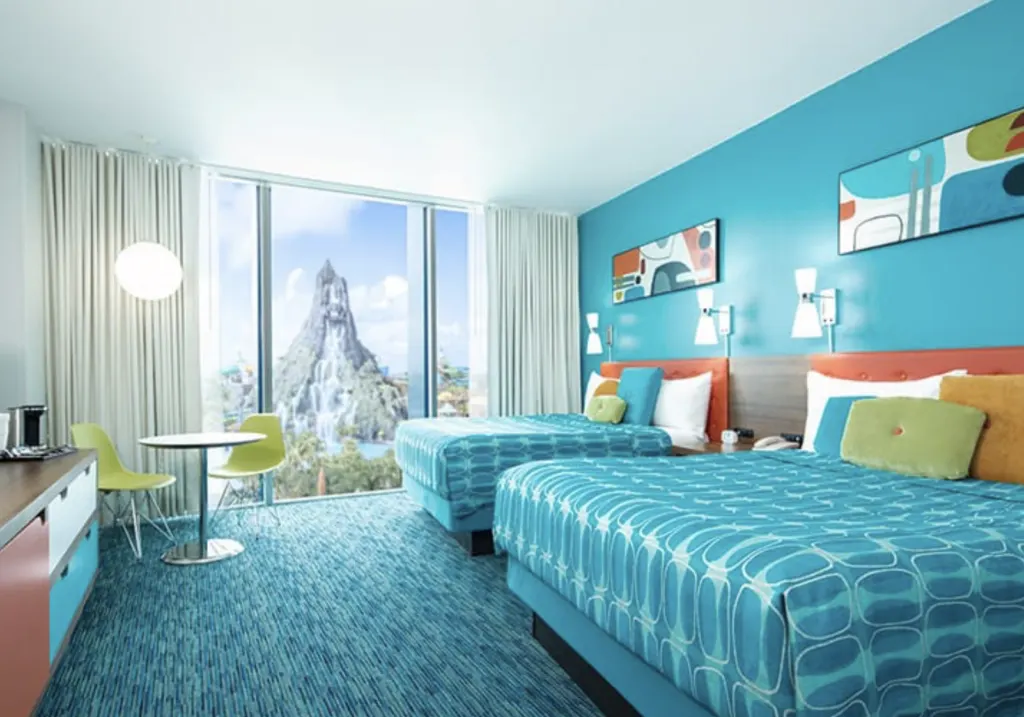 The 772-square foot suite includes:
One bedroom with 2 full beds
One bedroom with a queen bed
Pull-out couch in living area
Living room
2 full bathrooms
3 Flat-screen TVs
Kitchenette with mini refrigerator, microwave and small sink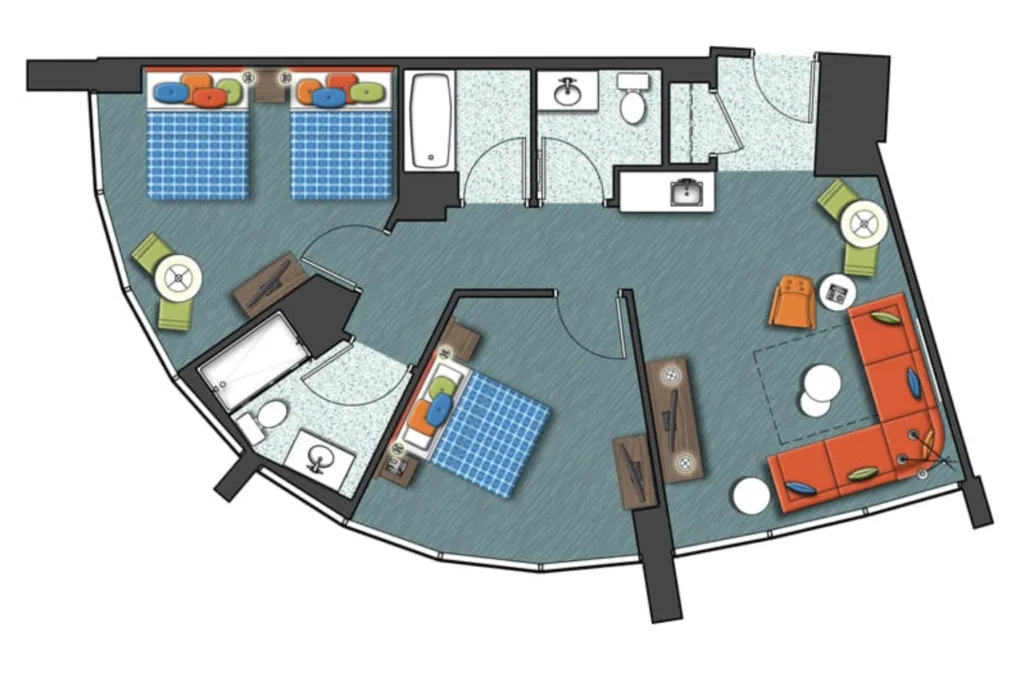 This room often shows up as an option for a maximum of 6 people when searching online, though. So be sure to call to ask about availability.
Cabana Bay is the only hotel on this list with shuttles to Universal Studios. All others are within walking distance or have a boat taxi.
See our guide on Cabana Bay Beach Resort vs. Aventura Hotel.
Loews Royal Pacific Resort
The two-bedroom Hospitality Suites at Loews Royal Pacific sleep up to 8 guests. The 670-square foot suites include:
One bedroom with king size bed
One bedroom with two queen size beds
Pull-out sofa
Rollaway bed is necessary to sleep 8
3 bathrooms
Living space
Kitchen
Dining area
Modern tropical design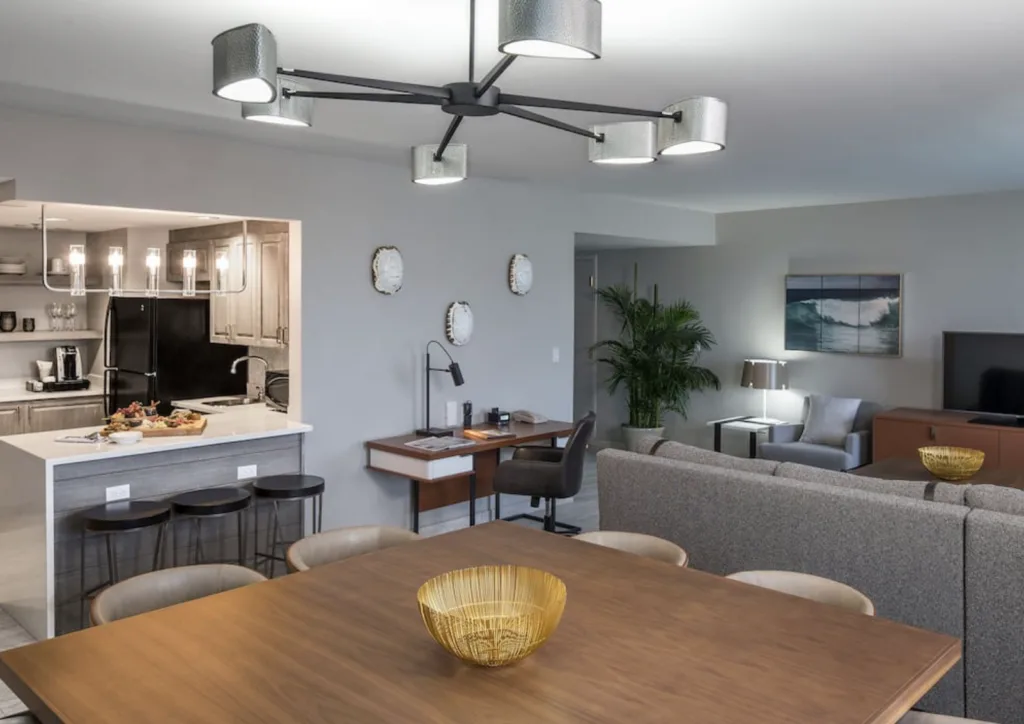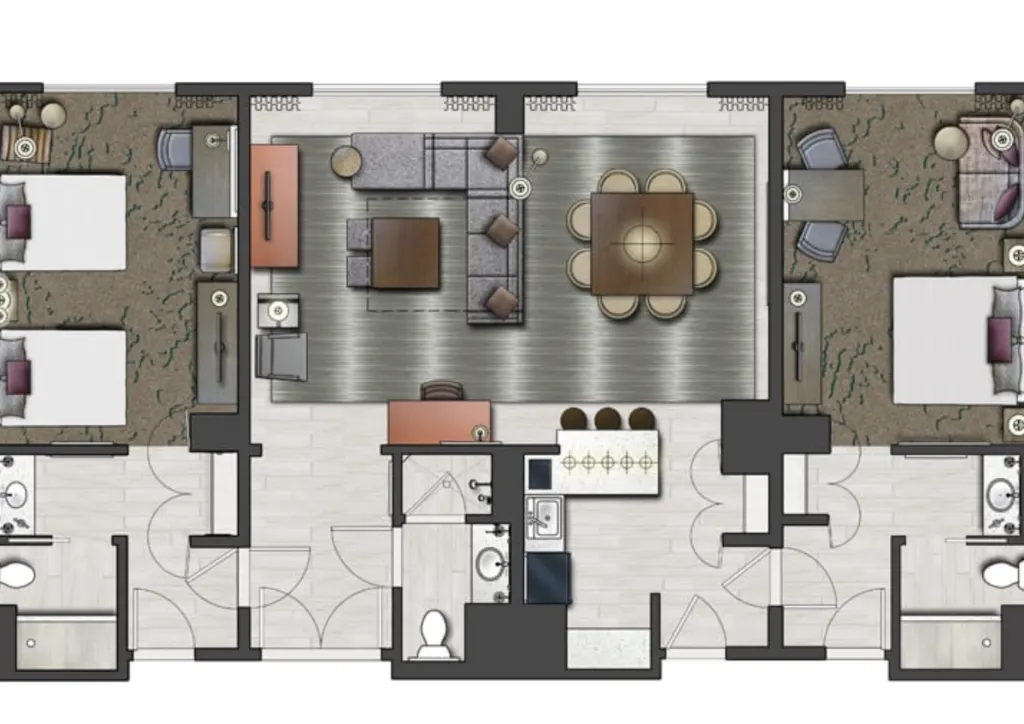 Loews Sapphire Falls Resort
Loews Sapphire Falls Resort has options for families of 8 when you book a suite and an adjoining room. If you look for suites on the website, the actual suites offered will only sleep up to 5 people. However, they give you the option of adding an adjoining room to sleep up to 8 people.
This is different than booking two adjoining rooms because the suites have extra living space or unique theming that you might not get by simply booking two adjoining rooms.
Kids Suites
The 529-square foot kid's suites sleep up to 5 guests, with a king size bed in one bedroom, two twin beds in a separate bedroom for the kids, and a rollaway bed. You will need to add on an adjacent room with two queen beds to sleep a family of 8.
By adding the second room, you will then have two full size bathrooms in your family suite.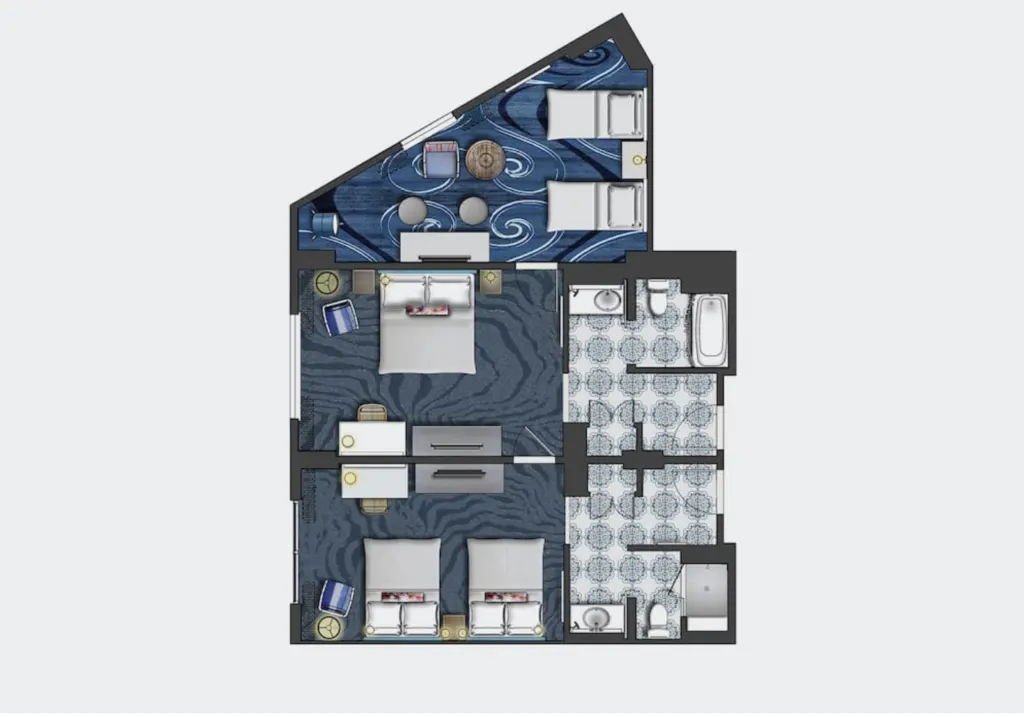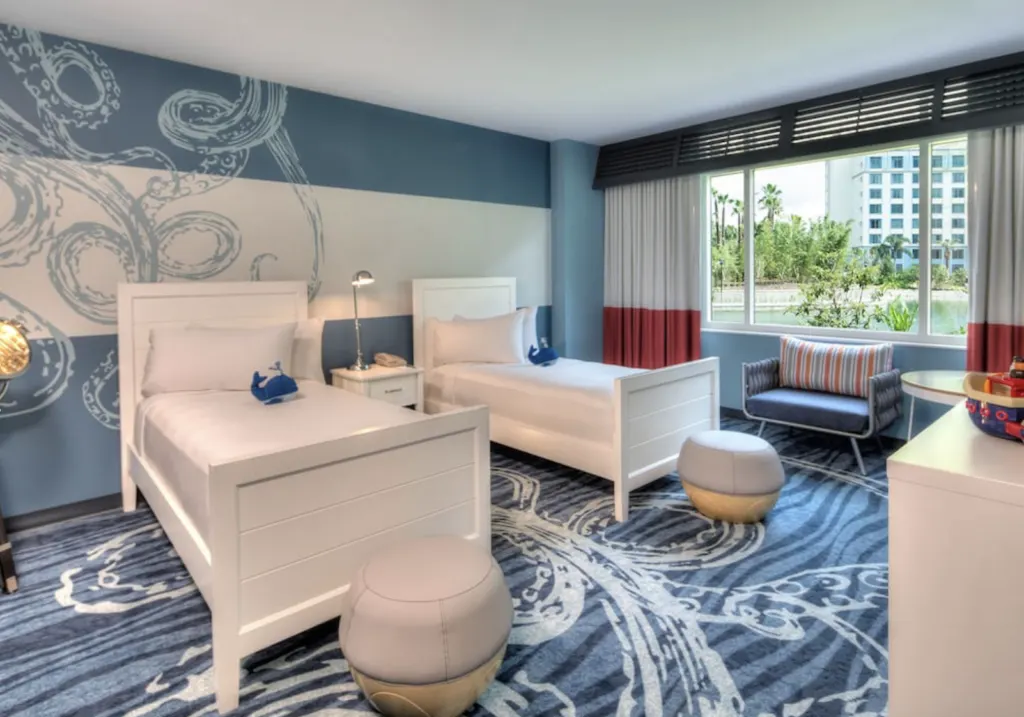 Hospitality Suites
The Hospitality Suites have a more modern and upscale tropical decor. Some Hospitality Suites have balconies.
Booking a 1,353 square-foot Hospitality Suite will get you a one bedroom suite with a King size bed. A rollaway bed is an option for this suite to sleep up to 3. The suite has a full bathroom, half bathroom, living area, dining area, and kitchenette.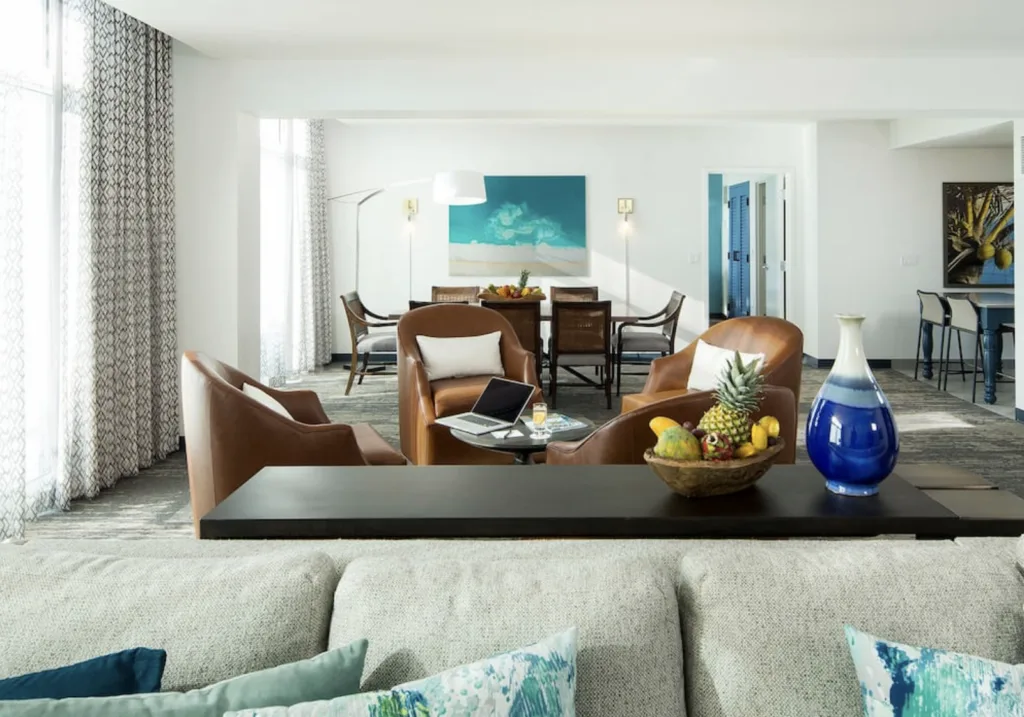 Adding an adjoining room will get you an additional two queen size beds and another full bathroom. You will need to use another rollaway bed to have enough beds to sleep 8.
Related Posts:
Loews Portofino Bay Resort
Loews Portofino Bay, a Premier Resort, has a few options for large families of 8 at Universal Orlando Resort. Sleeping up to 8 in these rooms usually requires rollaway beds.
This hotel definitely has a luxury Italian ambiance, compared to the more playful themes and decor of other Universal Orlando hotels.
The 1,350 square-foot Portofino 2 Bedroom Suite includes:
One bedroom with 2 queen beds
One bedroom with 1 king bed
Full size pull-out sofa
Rollaway beds
3 bathrooms
Living room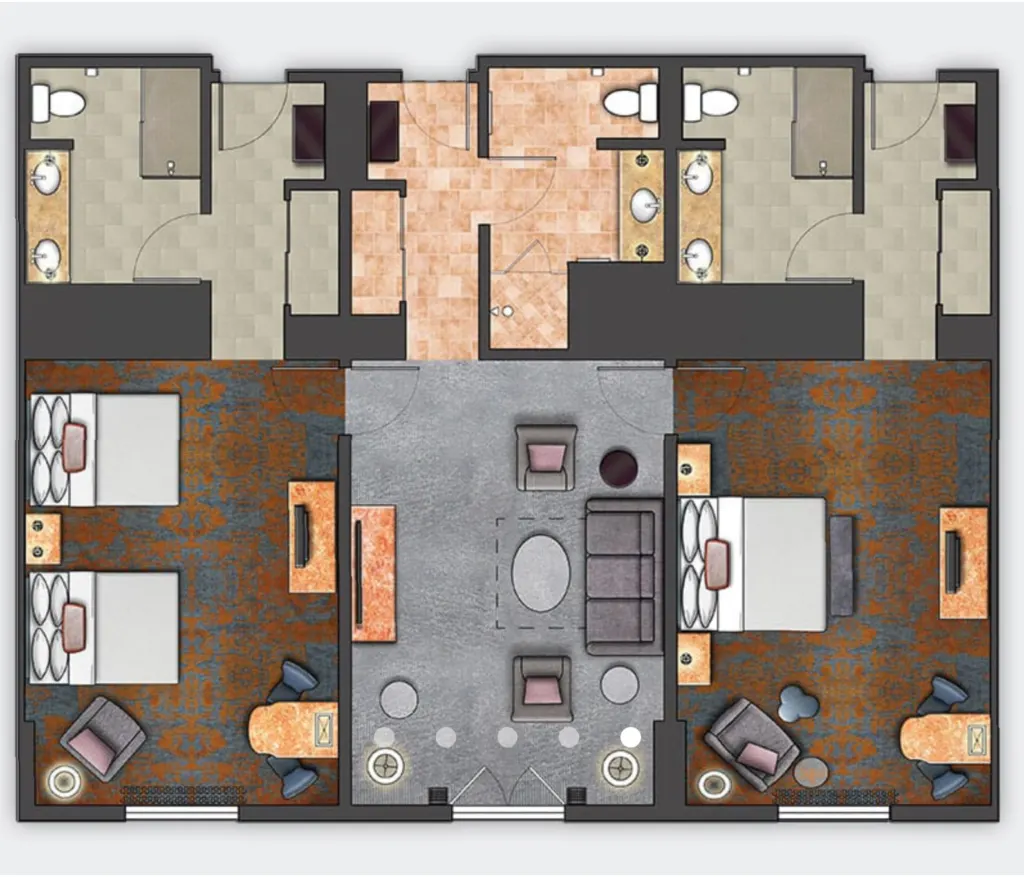 The 1,600-square foot Villa 2 Bedroom Suite, which can sleep up to 10, includes:
One bedroom with 2 queen beds
One bedroom with 1 king bed
Full size pull-out sofa
Rollaway bed
3 bathrooms
Kitchenette
Dining area
Living area
Access to Portofino Club Lounge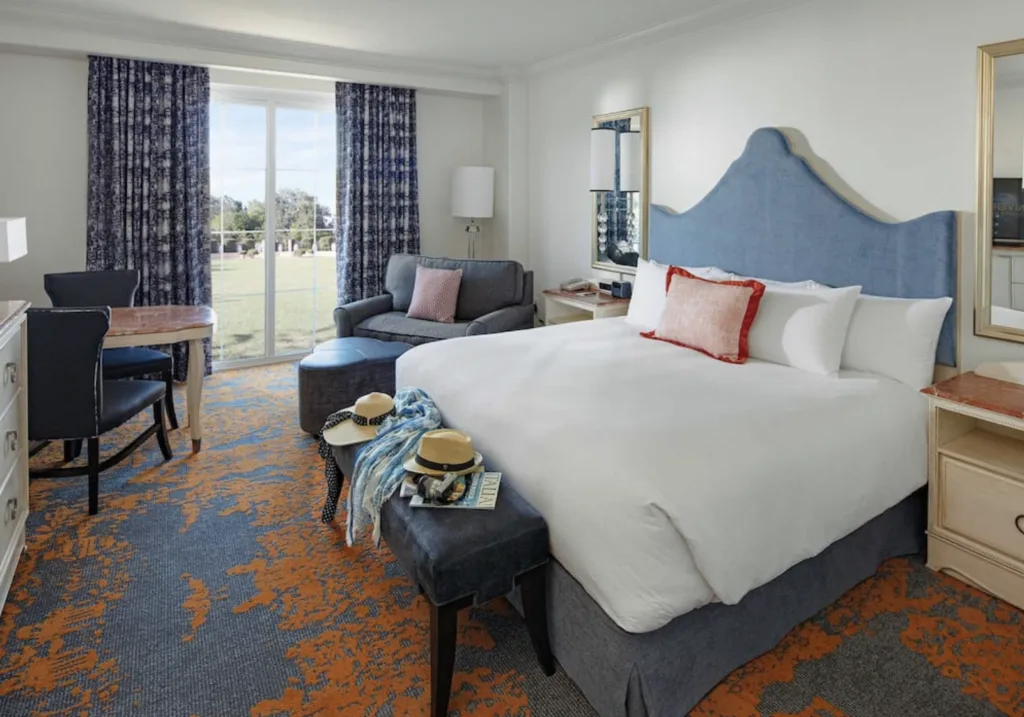 The 1,820-square foot Hospitality 2 Bedroom Suite includes:
One bedroom with 2 queen beds
One bedroom with 1 king bed
Full size Murphy bed in sitting room
Rollaway beds
3 bathrooms
Sitting room
Dining room
Big Kitchen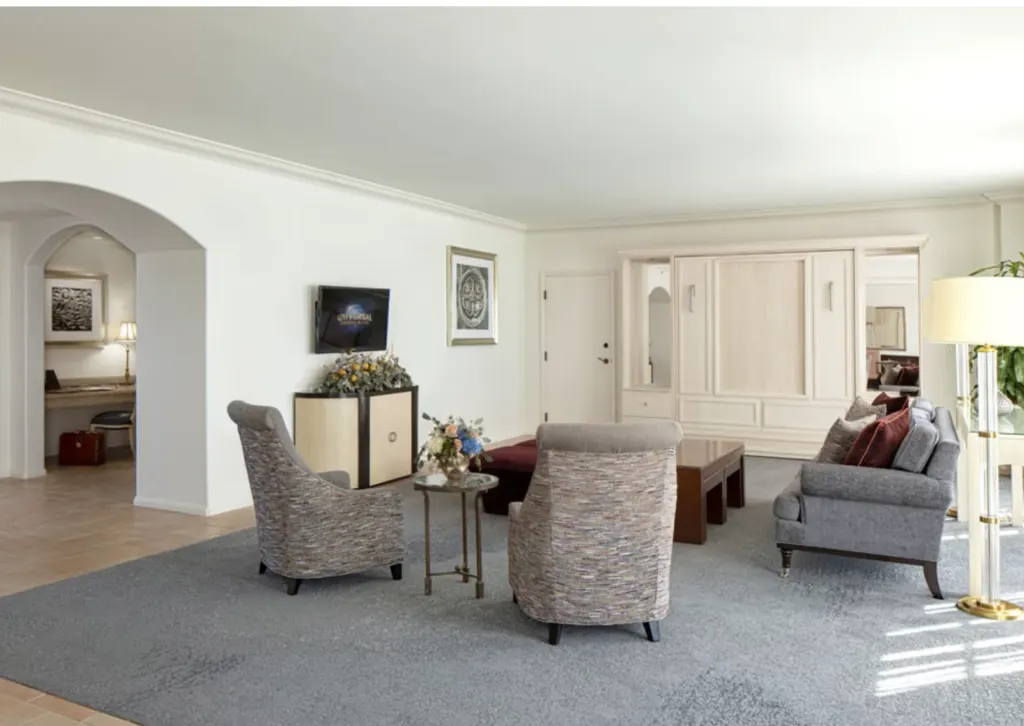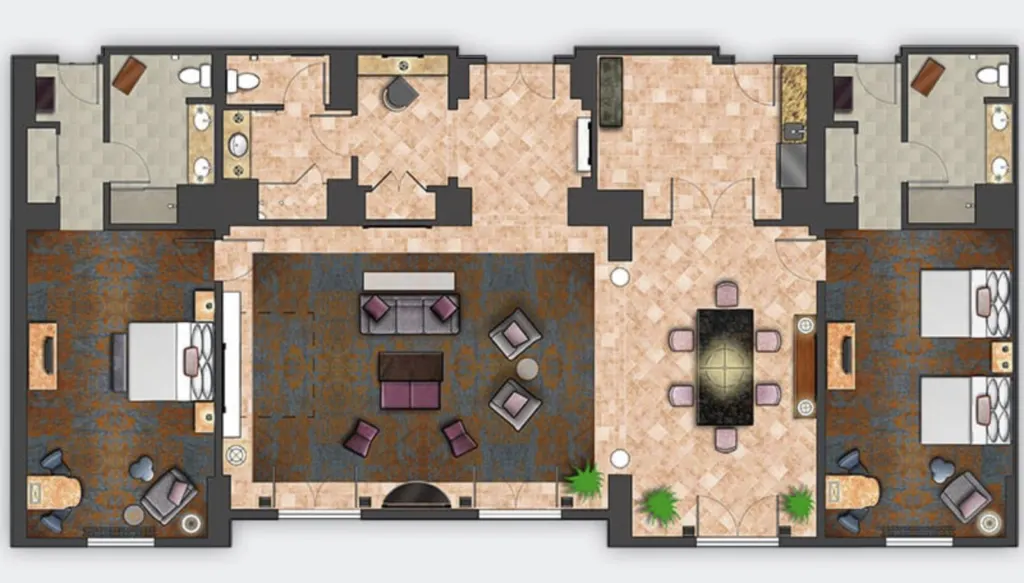 Hard Rock Hotel
The 2-Bedroom Hospitality Suites at Hard Rock Hotel is vibrant, fun and definitely different than any other suites at Universal Orlando! If sitting around the table and talking with everyone is important for you, you will love this huge circular dining room table!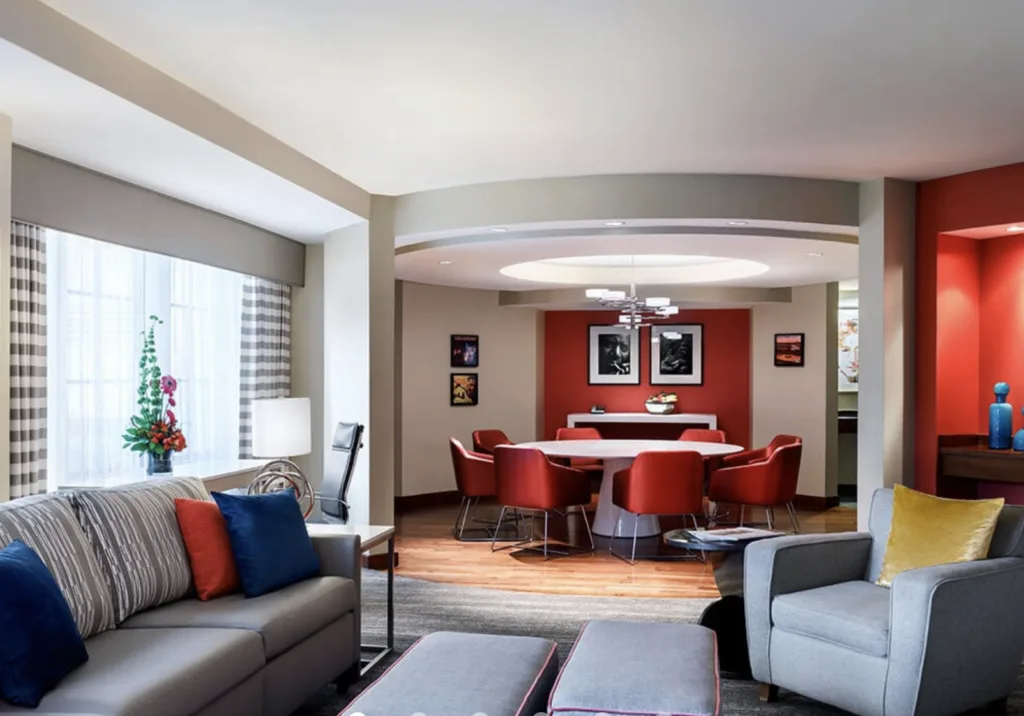 We love the Hard Rock Hotel and really enjoyed our stay on the Concierge Level. This is a fun hotel if you love bright colors, music, and a playful vibe.
The 2-Bedroom Hospitality Suite will sleep up to 9 people. It includes:
One bedroom with king size bed
One bedroom with two queen beds
Pull-out sofa bed
Rollaway bed (to sleep 9)
Living area
Kitchenette with bar stool seating
Large dining area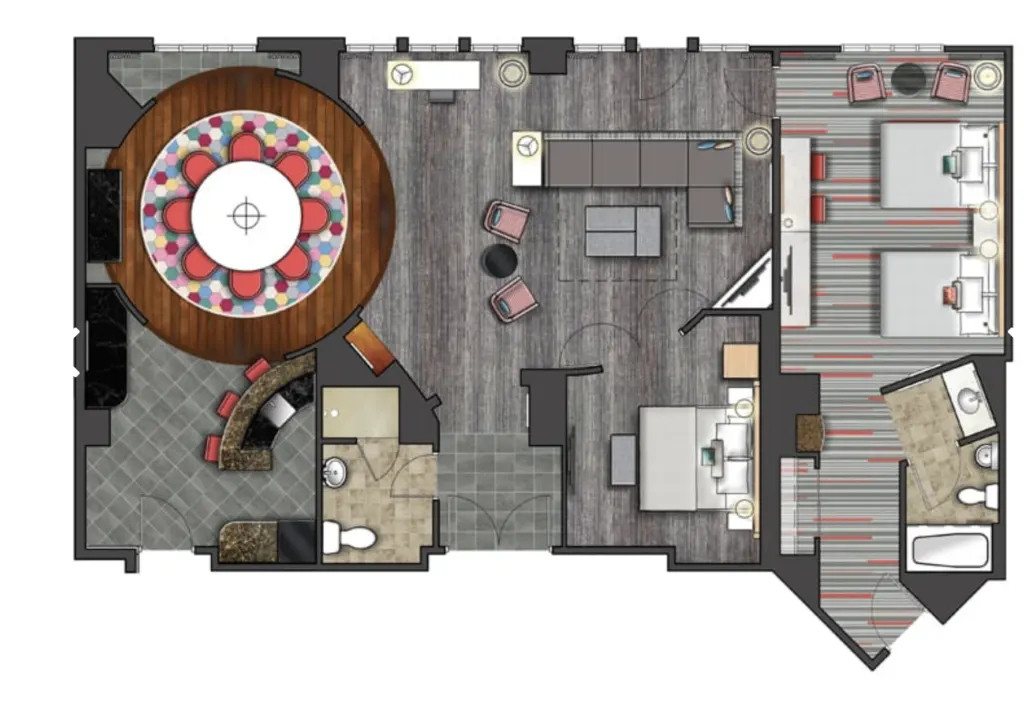 These Universal Orlando hotels that can accommodate up to 8 people allow you to have fun with your friends and family. If you're new to visiting these theme parks, be sure to check out our Ultimate Guide to Universal Orlando Resort and our Ultimate Guide to the Wizarding World of Harry Potter.
If you have never been to Universal Studios, then be sure to check out our guide of the 37 best Universal Tips and Tricks for your visit!