Mardi Gras at Disney World in Orlando, Florida is a fun celebration that's definitely family friendly! One of the best ways to celebrate Mardi Gras in Disney World is to go to the free Port Orleans Mardi Gras Parade!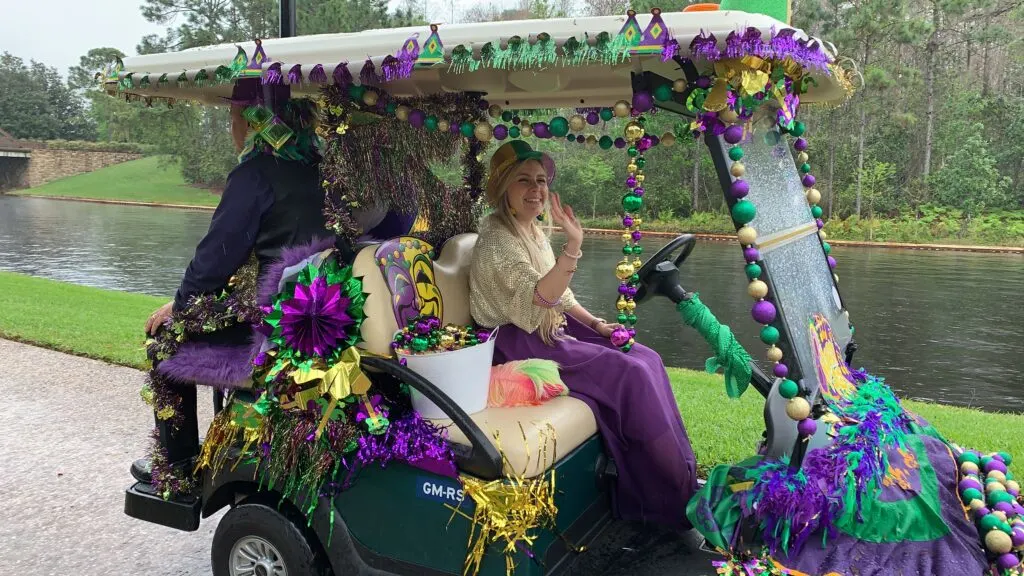 Disney Mardi Gras
To be honest, there's not a whole lot of Mardi Gras celebrations that go on across Disney World. In a vacation destination that's full of fun, parades, fireworks and parties every day, there's not much reason to go crazy with a one day celebration for Mardi Gras.
However, there is ONE place that you MUST go to celebrate Mardi Gras in Disney World. It is the Port Orleans Resort.
Why?
Because Disney's Port Orleans Resort celebrates the life and culture of Louisiana area. Which, of course, includes everything Mardi Gras!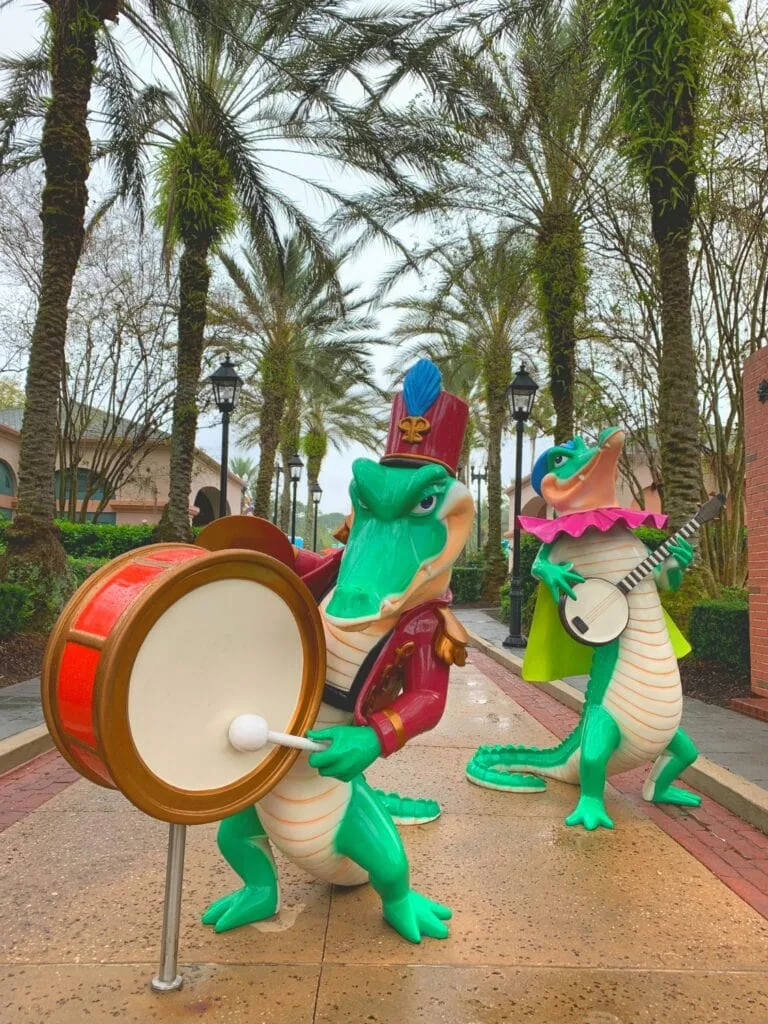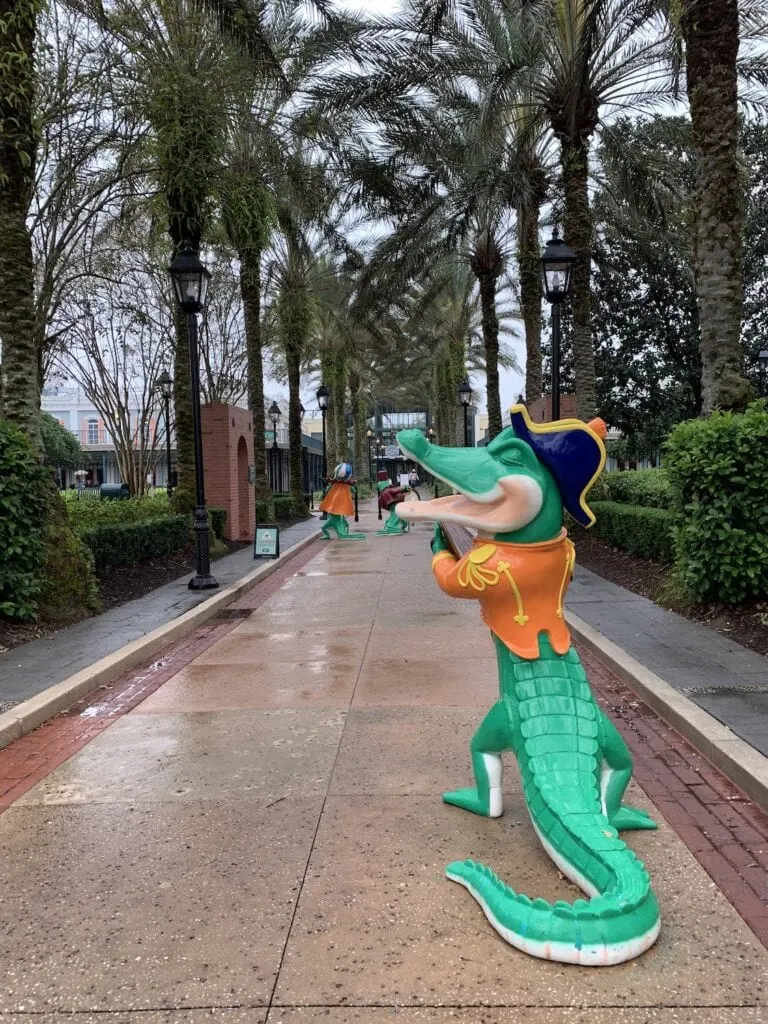 Port Orleans Resort is actually two resorts in one. There are two separate sides of the resort, each with a unique theme. They include:
Port Orleans French Quarter This is the side with a classic New Orleans Mardi Gras feel. Every day there are purple and gold coins in the fountain in the lobby. The pool has a Mardi Gras theme. The gift shop sells Mardi Gras merchandise. See our shopping video of what you can buy in the French Quarter gift shop. This resort side definitely feels more like classic and historic New Orleans.
Port Orleans Riverside This side of the hotel feels like plantation country in Louisiana. Different styles of architecture, more open and gracious. Not as much theming, but definitely very relaxing and nature-oriented.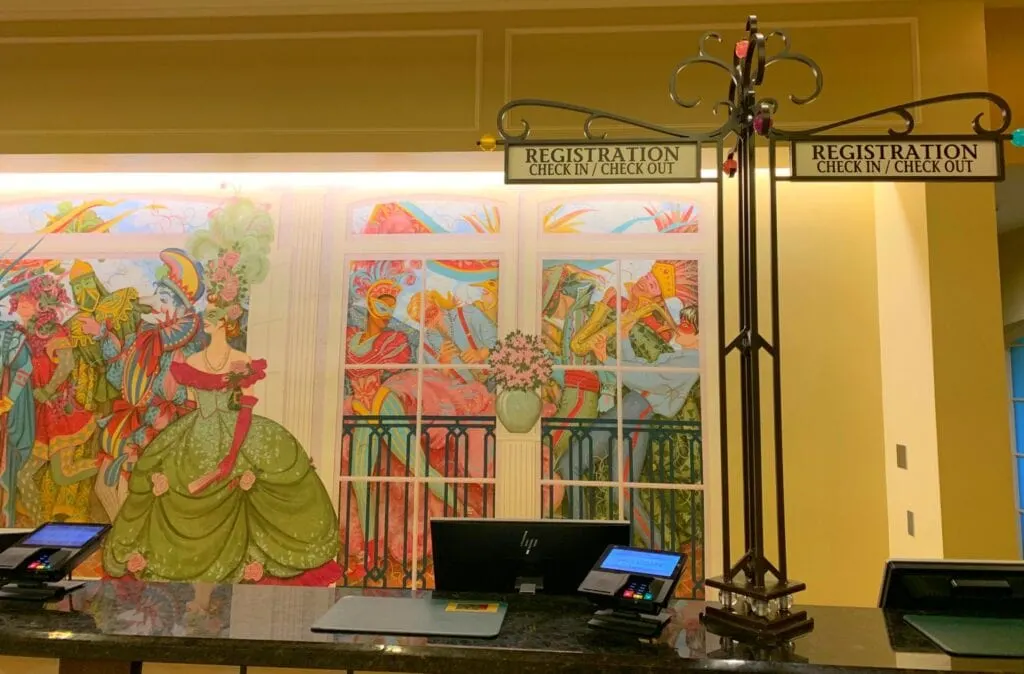 What is the Port Orleans Mardi Gras Parade?
So how can a Disney resort have a parade? Is it just like the parades in the Disney theme parks?
Nope.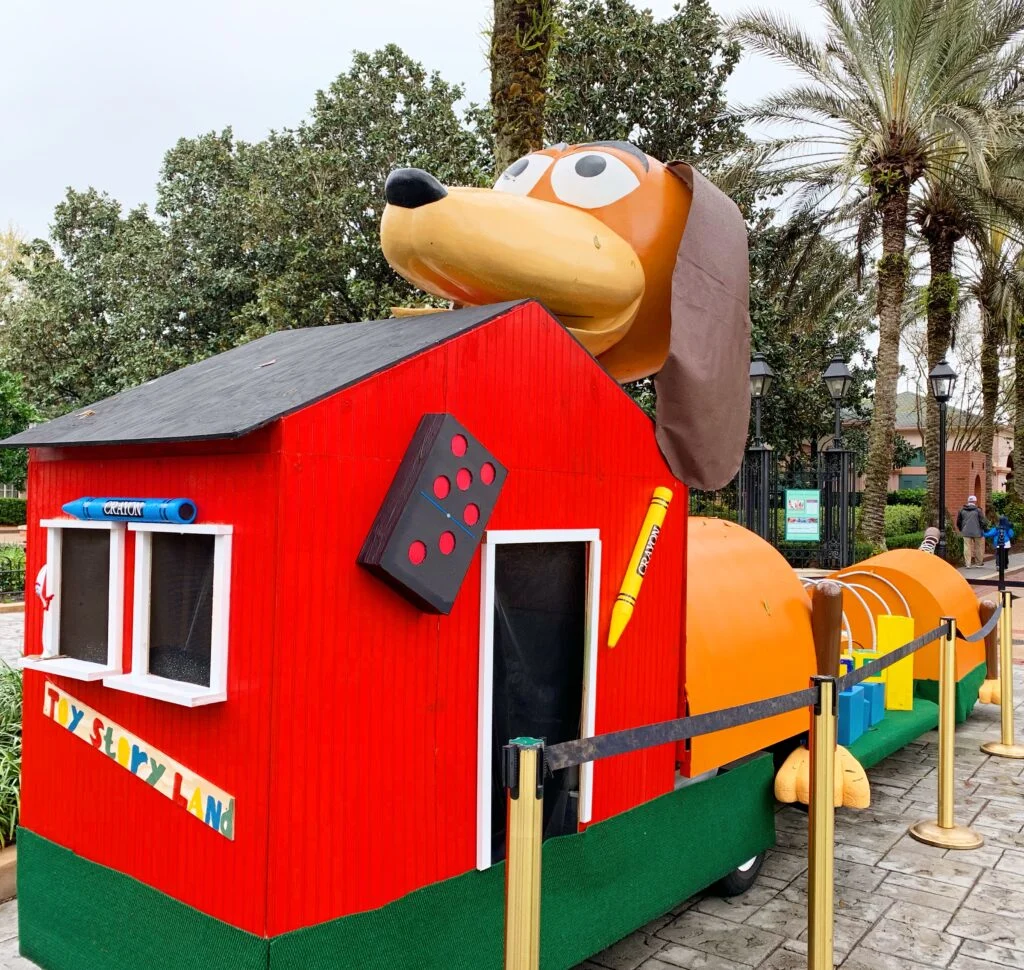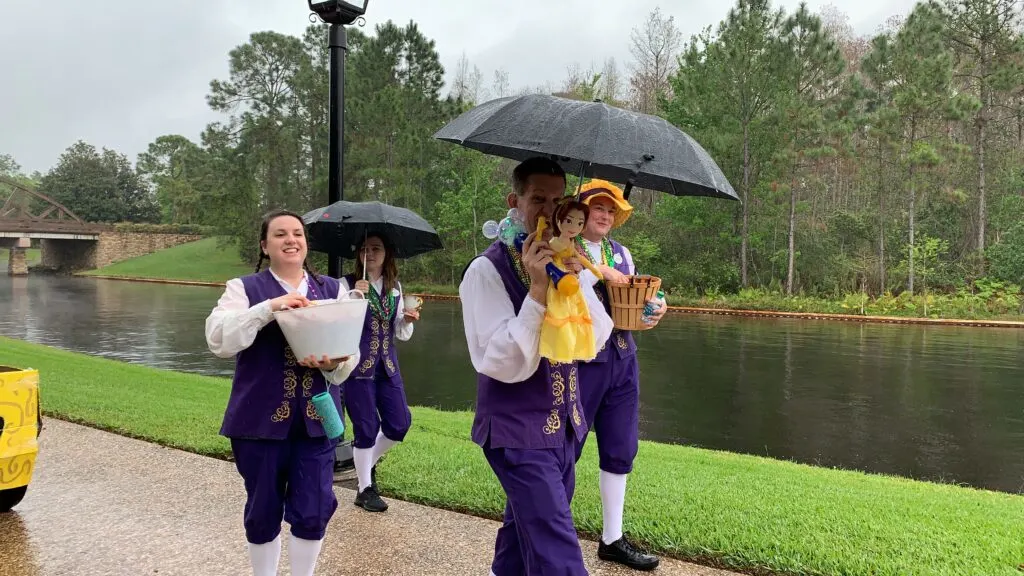 It's actually very different, but equally charming.
Port Orleans cast members are the ones that create the parade floats. It's not anything that the Walt Disney World staff does "officially."
The parade floats are actually golf carts. Or a golf cart and anything pulled by a golf cart.
Different cast member divisions decorate their own parade float with a Disney theme. For instance, the Engineering department might choose a Toy Story theme. Or Costuming might choose a Frozen theme.
It's up to them. Which makes it fun. Last year's theme was "Magical Lands."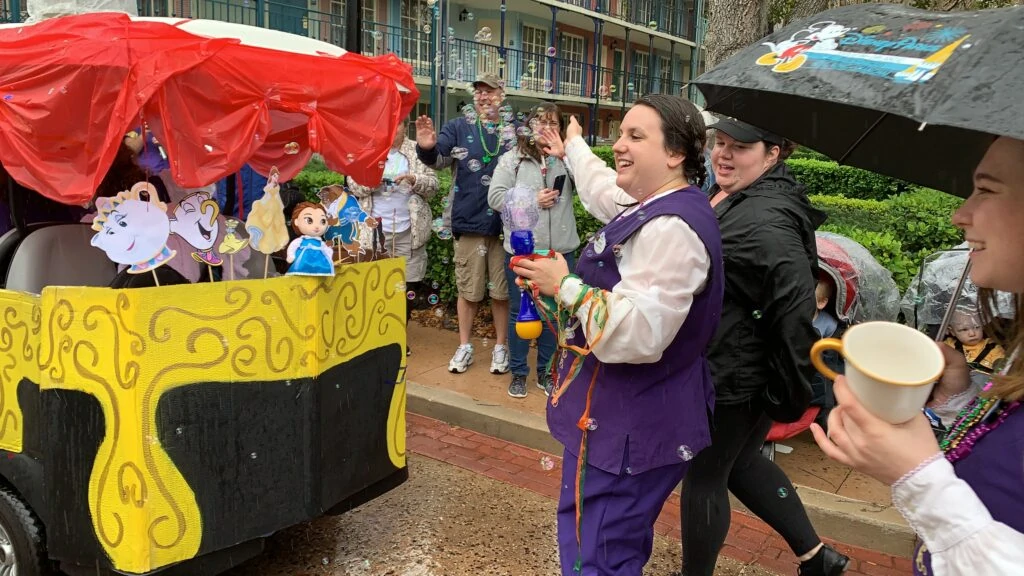 Plus, the cast members decorate using their imagination and materials available to them. It's not like they are going in the Disney Imagineering vaults and getting tons of animatronics or fancy props.
The golf carts are decorated similar to what you and I would do – only with a big touch of Disney magic!
Here's some of the highlights from the Disney Mardi Gras parade in 2019:
Mardi Gras Disney World Parade Tips
If you want to enjoy Disney Mardi Gras, then get to Port Orleans resort.
This used to be a somewhat unknown celebration. There wasn't too many crowds. And it felt more classic-Disney without a lot of stress or too many people.
However, as Walt Disney World continues to become too crowded and more and more people are looking for unique things to do away from the theme parks, the Port Orleans Mardi Gras Parade is definitely becoming more popular.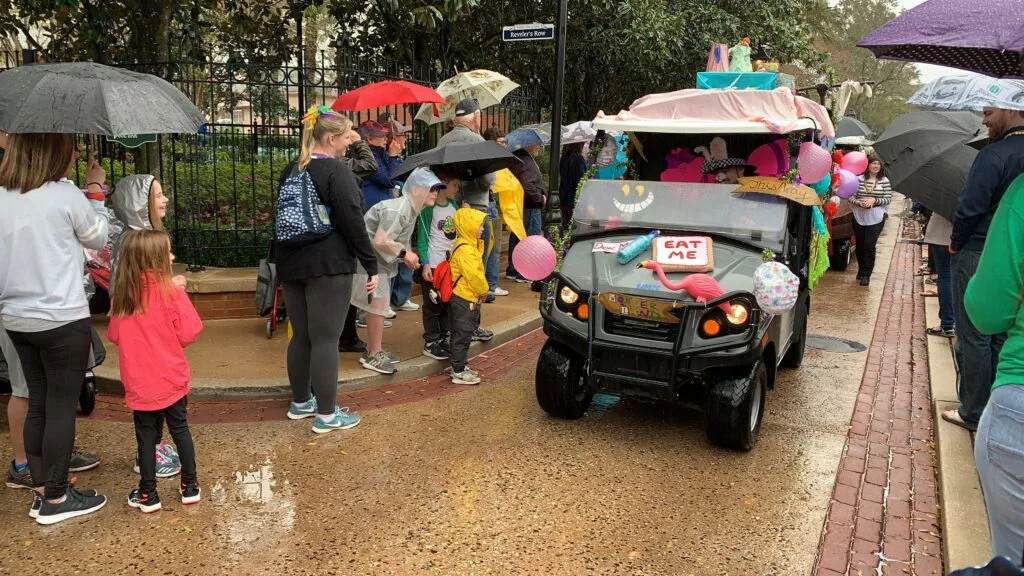 Here are some Mardi Gras Disney World tips for enjoying the parade and the celebration all day long at Disney's Port Orleans Resort:
Last year, it was a 10 a.m parade step-down at Port Orleans Riverside Resort by Building 80. That means that the parade started at the Riverside location at 10 a.m. It will be a while before it gets to the French Quarter side.
You can park at the Disney resort if you are not staying there.
The pargo parade will slowly go down the sidewalk of Port Orleans Riverside and make its way across the bridge to Port Orleans French Quarter. This bridge is a vehicular bridge, which means that traffic will be stopped as the golf carts are going across it.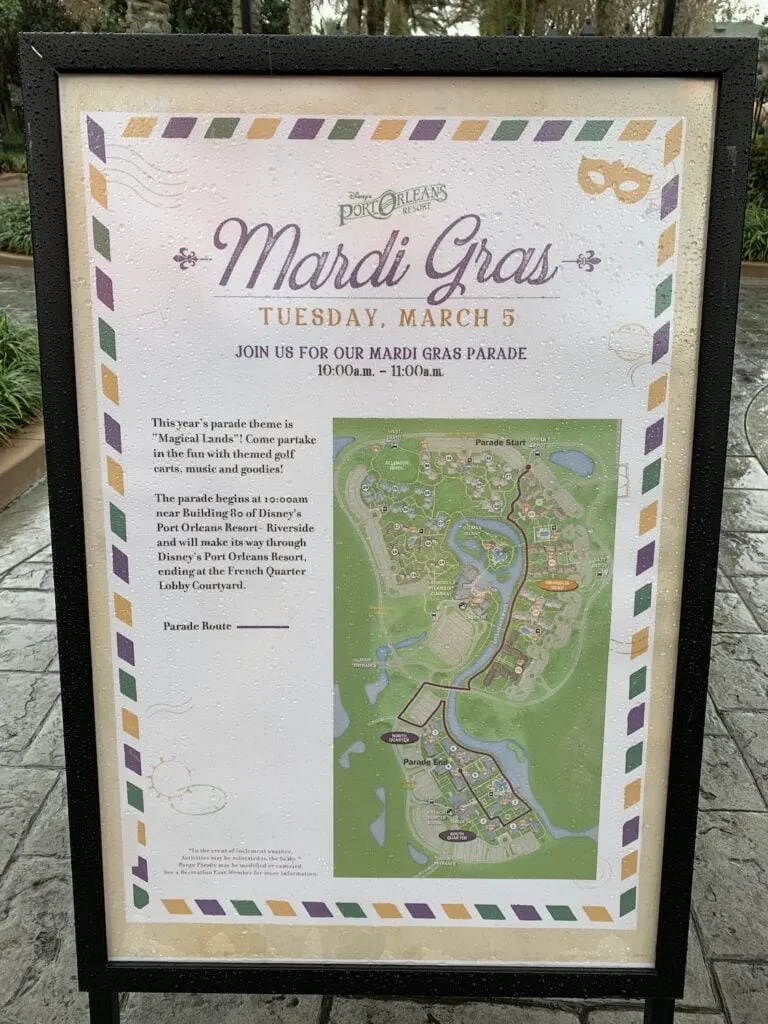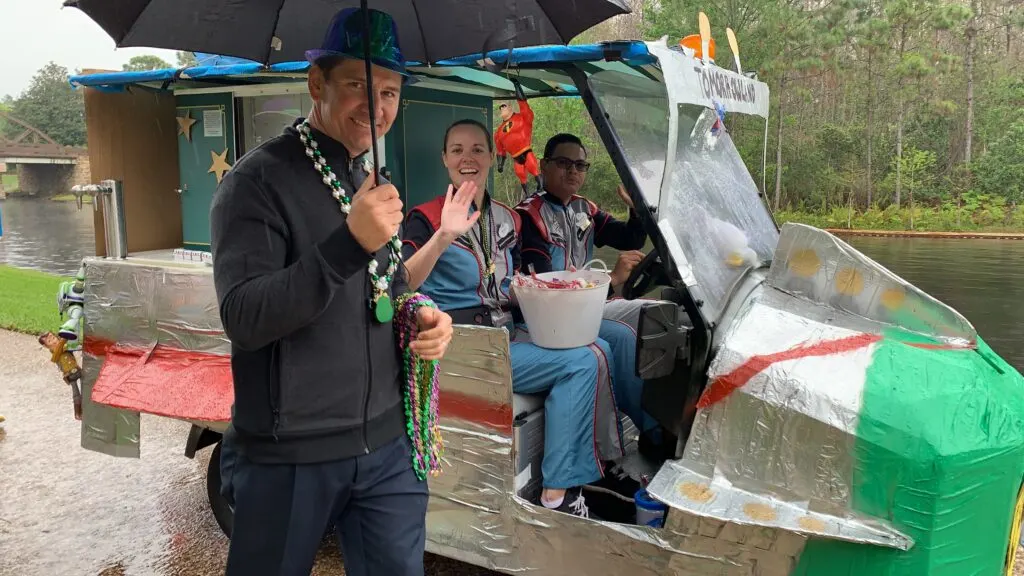 At Port Orleans French Quarter, the golf cart parade will regroup in the big parking lot near the bridge. This is to allow any slow parade floats to catch up. So you'll hear a lot of music while they are in the parking lot, but the Mardi Gras parade won't actually start again until every golf cart has caught up.
Crowds are bigger in the Port Orleans French Quarter section. Especially at Parade step-down, which means where the Mardi Gras parade ends. This will be somewhat past the lobby area. (If you come out of the lobby and walk towards the pool, you'll see the road in front of you. The parade will pass this way heading to the left. This will be the most crowded part of the parade. The parade floats will continue down that road for just a tiny bit before the parade stops.
The Mardi Gras parade will end roughly around 11 a.m. in Port Orleans French Quarter.
The golf carts, also known as pargoes, are usually parked in the courtyard outside of the Port Orleans French Quarter lobby after the parade for photos.
Candy, beads and other trinkets are thrown from the parade floats during Mardi Gras in Disney World. Bring a bag to hold open so that cast members can put candy and beads inside.
One of my most FAVORITE tips happened quite by accident last year! During last year's Mardi Gras Disney World parade, it was cold and raining. By the time the parade passed by me, the rain had let up and I was having a hard time balancing the umbrella and my camera and catching candy and beads.
So I threw my umbrella to the ground quickly so that I could get a photo. It was upside down on the grass. Well, the cast members thought it was something to throw candy and beads into! So all of a sudden my umbrella started filling up with candy and beads that I wouldn't have gotten otherwise.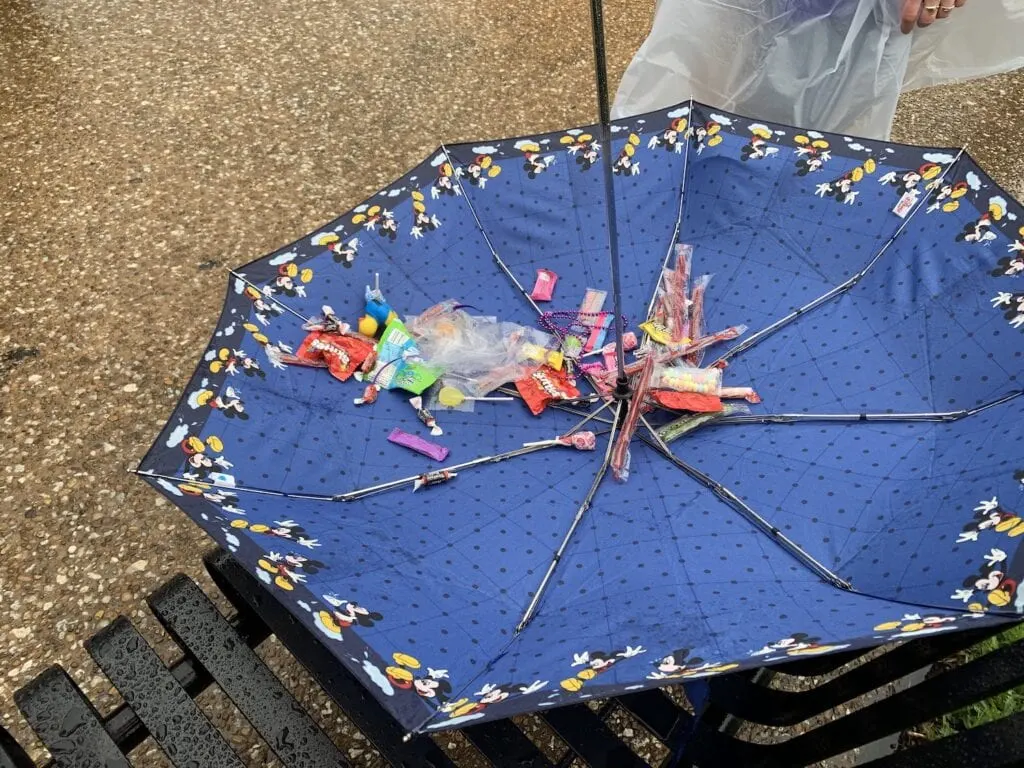 My biggest tip is to get an umbrella and turn it upside down to get as many goodies as possible!
Be sure to get a Disney umbrella. (There's a variety of Disney character umbrellas that you can choose from.) That way you can use it for the Disney Mardi Gras parade, have it on hand for rain, use it to protect yourself from the sun, and still enjoy it when you get home!
ALSO, it is possible to catch the Disney Mardi Gras Port Orleans parade in several locations. You could start in Riverside and walk along the pathway faster than the golf carts. You'd get to French Quarter before the parade starts again.
I watched near the vehicular bridge in Port Orleans French Quarter. I was able to see the entire parade go by, then walked to the courtyard area by the pool and saw the parade go by again.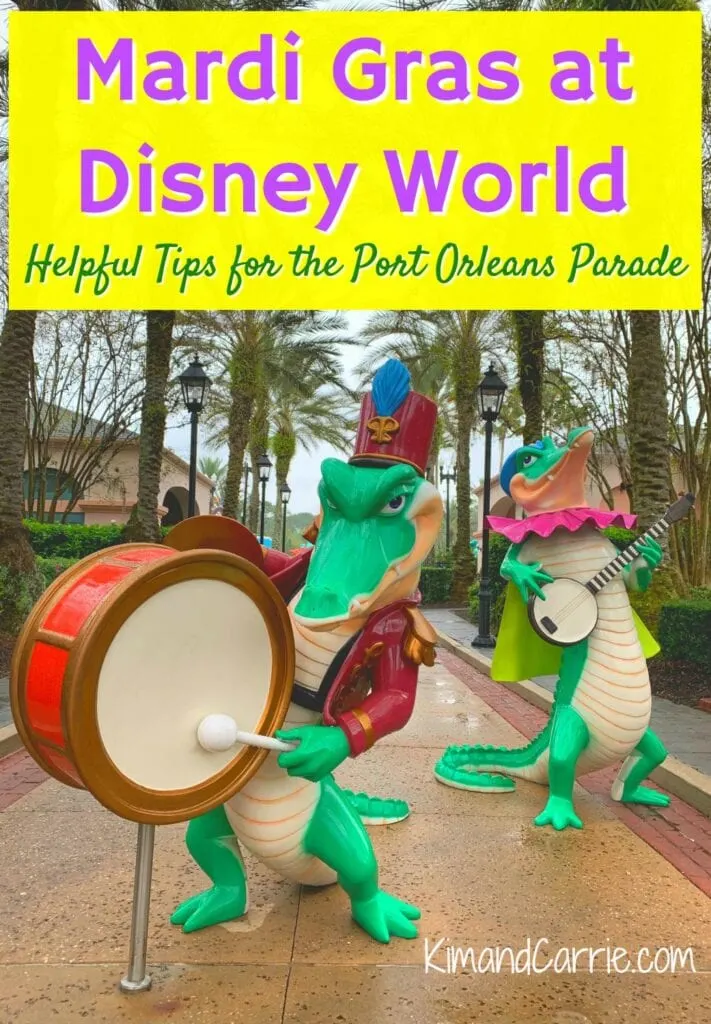 If you want to dress up for the festivities, check out this easy Mardi Gras beads necklace.
More Mardi Gras Disney World Events
The Port Orleans parade isn't the only way that Mardi Gras is celebrated at Disney World.
All day long (and all year long, really) you can buy traditional New Orleans foods in the quick service cafe. Sassagoula Works sells favorites, such as: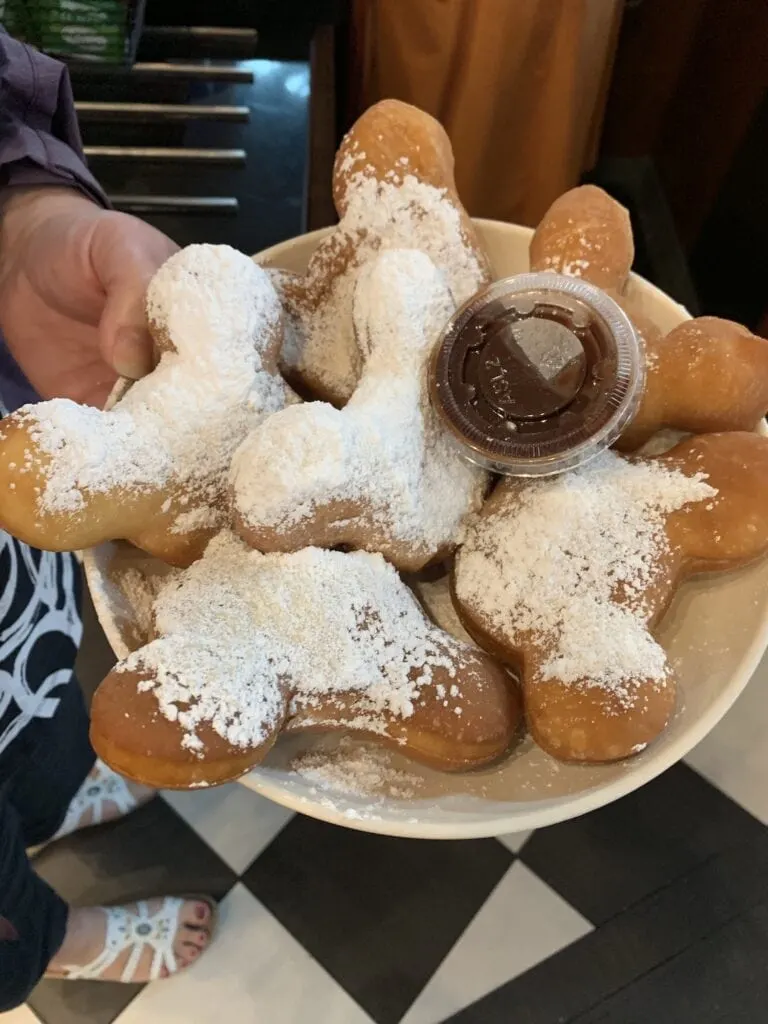 Beignets
Mini King Cakes
Mufalleta sandwiches
P.S. Looking for vegan beignets? My dear friend Amanda over at VeganDisneyFood.com did a taste test of the vegan beignets at Port Orleans. See her vegan beignet video.
Princess Tiana will likely be doing meet and greets at Port Orleans French Quarter.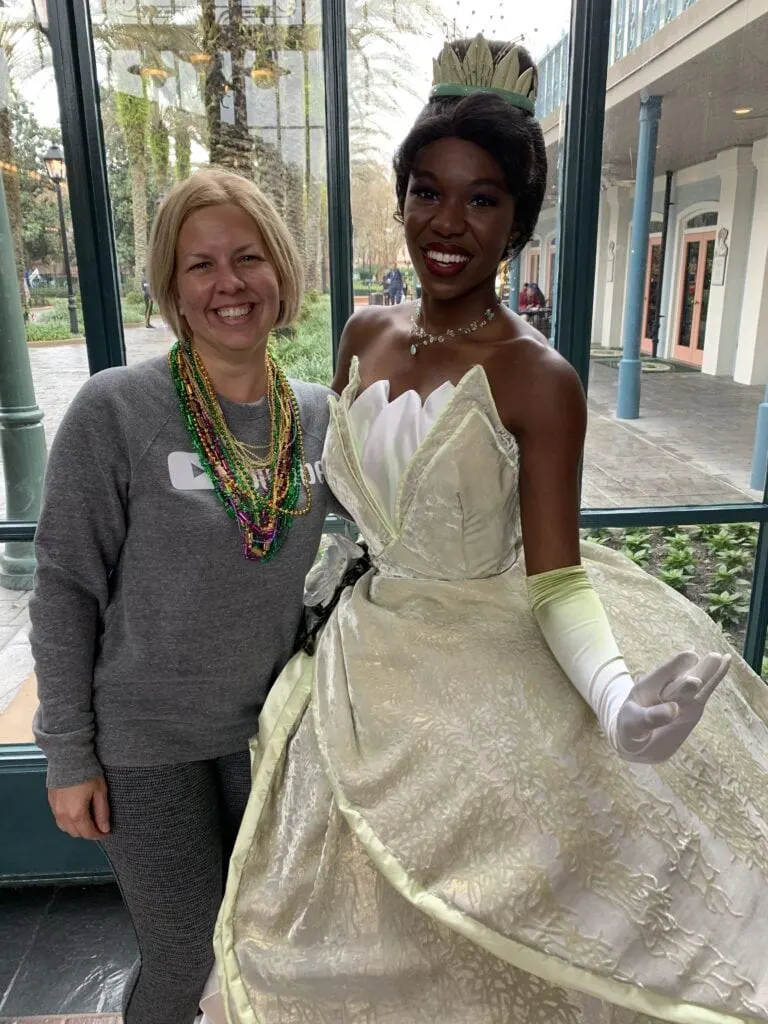 Don't forget to go shopping in the gift shops for limited time merchandise for Disney Mardi Gras.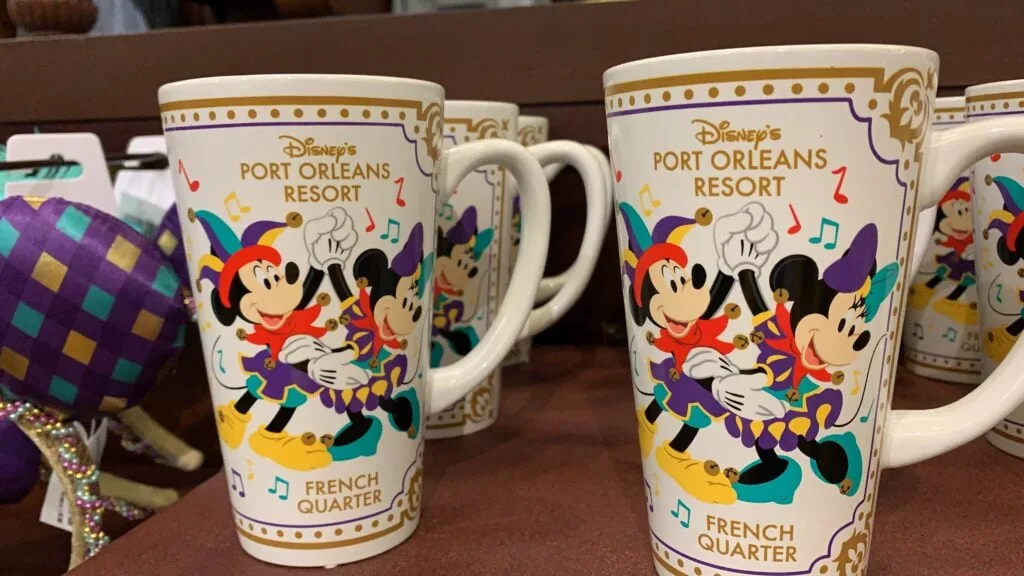 There will be Mardi Gras events in evening at Port Orleans Resort. Be sure to ask at the front desk for a times guide. Many of these activities are available whether or not you are staying at the Disney resort.
Last year, there was also a French Quarter's Magic Mardi Gras celebration. Located in the French Quarter Lobby Courtyard, there was:
DJ
Dancing
Character meet and greets
Complimentary face painting
King Cake eating contest
Decorate your Own Mask craft ($)
Themed Name Works Keepsake Art ($)
Balocoloc Venetian Masks available for purchase
Giveaways
Mardi Gras night also had a showing of "The Princess and the Frog" between buildings 5 and 6 at French Quarter.
Mardi Gras Disney Ears
There's not TOO MANY Mardi Gras Disney Ears available at Walt Disney World for purchase. You'll find one or two styles. But you'll be smart if you buy some before your Disney Mardi Gras trip!
Here's our favorites:
Beignet-scented Mardi Gras Disney ears are pretty much the epitome of celebrating at Walt Disney World! These Mickey Mouse ears are so cute! You WON'T find anything like these in the Disney theme parks, I guarantee you!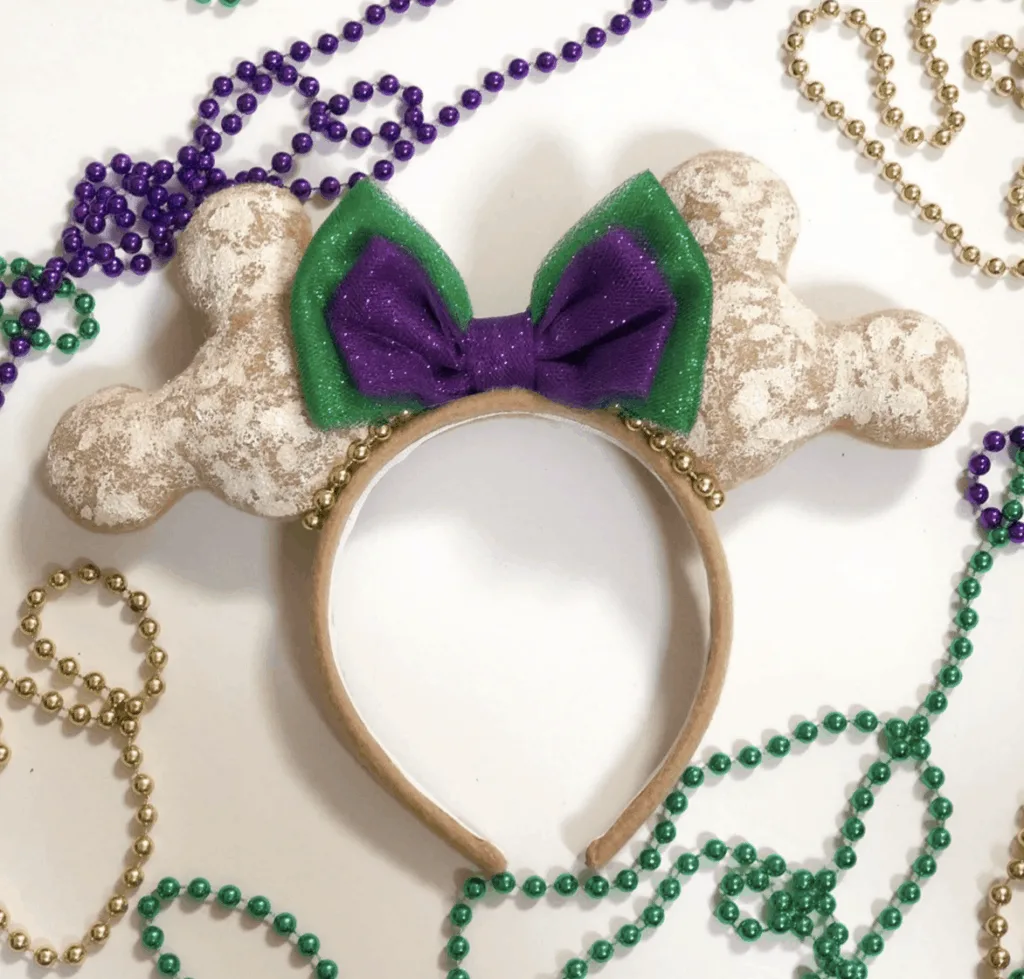 Not only are these Mardi Gras Disney Ears by Minnie Castle full of fancy sequins, but they are made with a more comfortable headband. Because Mickey Ears headbands aren't always comfortable. PLUS, you can customize the ear size so you can buy these Mardi Gras Disney ears for both adults AND for young kids!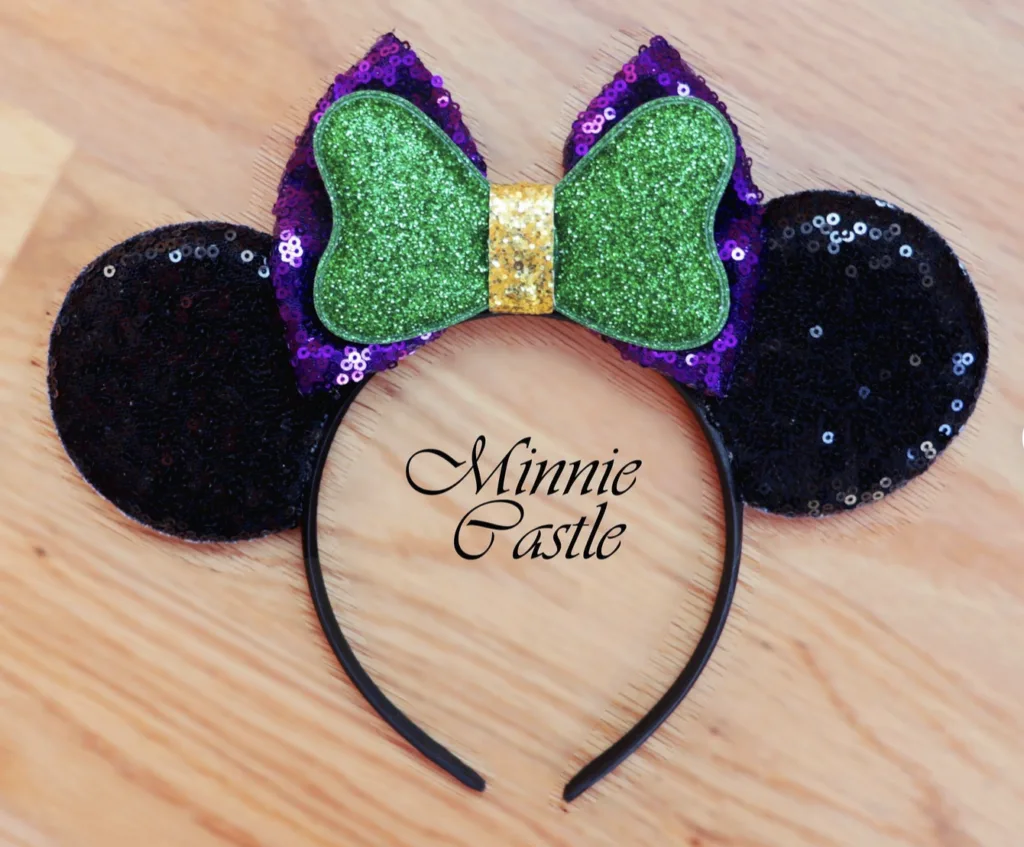 Lots of feathers can be found on these Mardi Gras Mouse Ears by Three Girls and a Mouse and we love them!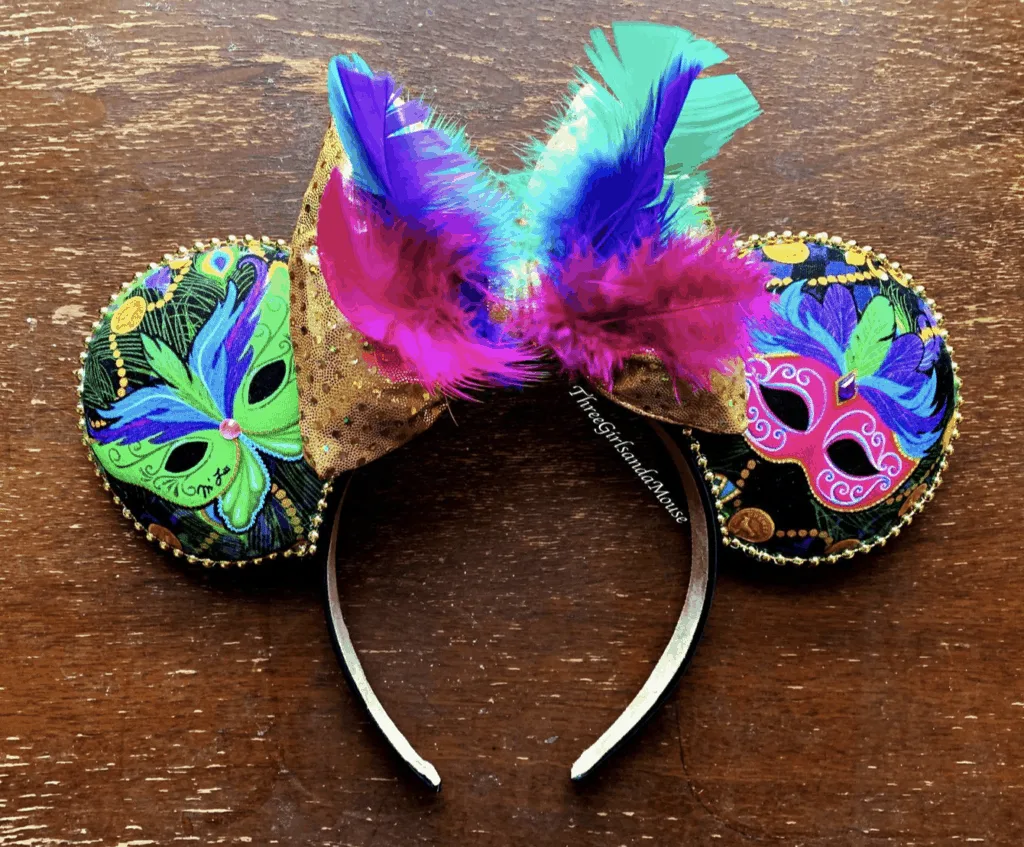 Mardi Gras Disney Shirts
We saw very few Mardi Gras Disney shirts available at Walt Disney World Resort. There's Port Orleans shirts, of course. But not really anything that specifically says Mardi Gras on it. Don't plan on buying one during your vacation to wear on Mardi Gras, because they might not be available.
Here's some great ones to order before you leave!
We LOVE these bright, colorful and totally unique Mardi Gras Disney shirts by MamaPower. How cute is Minnie Mouse, right?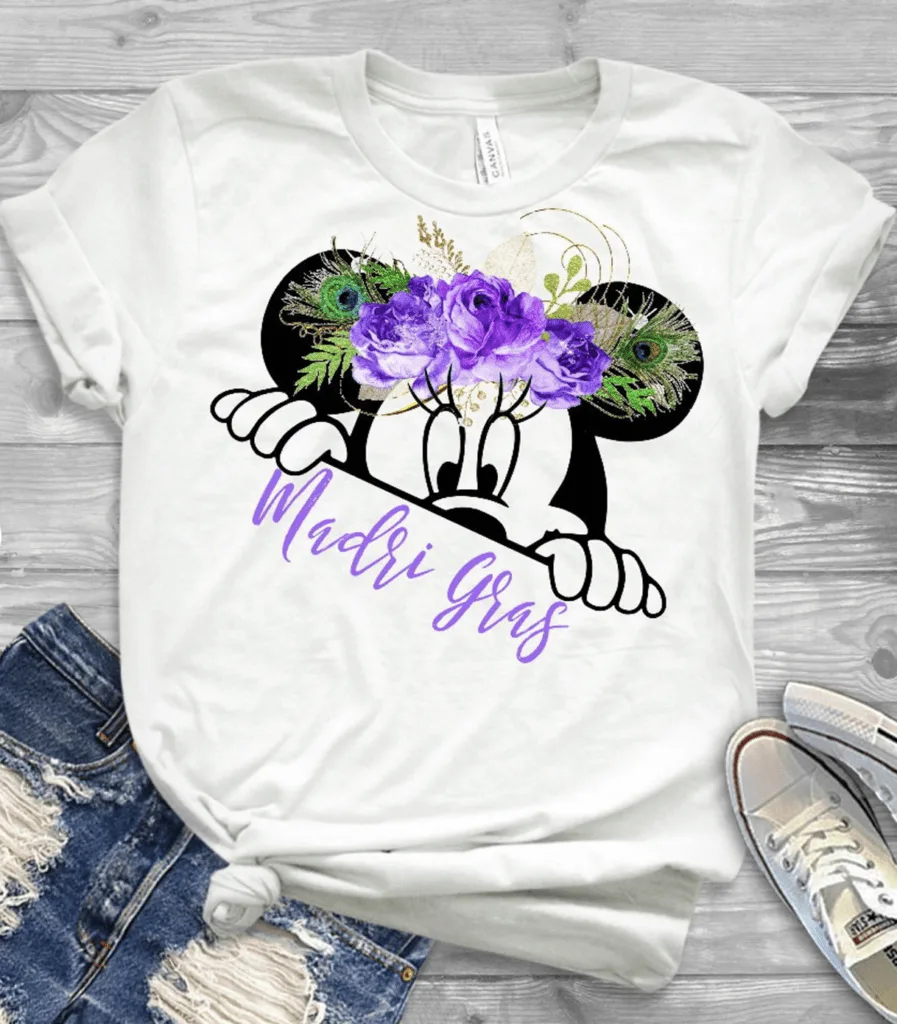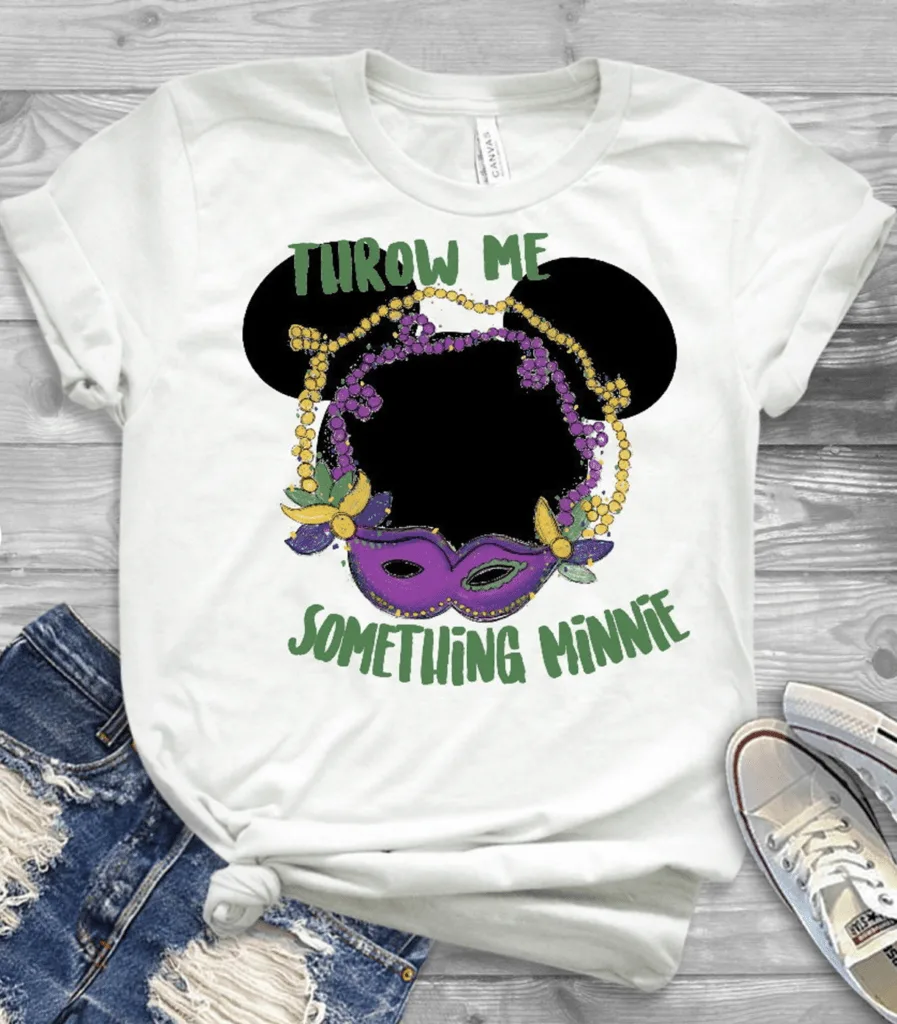 These beautiful Mickey Mouse Mardi Gras shirts by Rachel Leigh Design Co are perfect for celebrating, too. We love the glitter and the classic Mardi Gras colors. There are other color combinations in yellow, purple and green.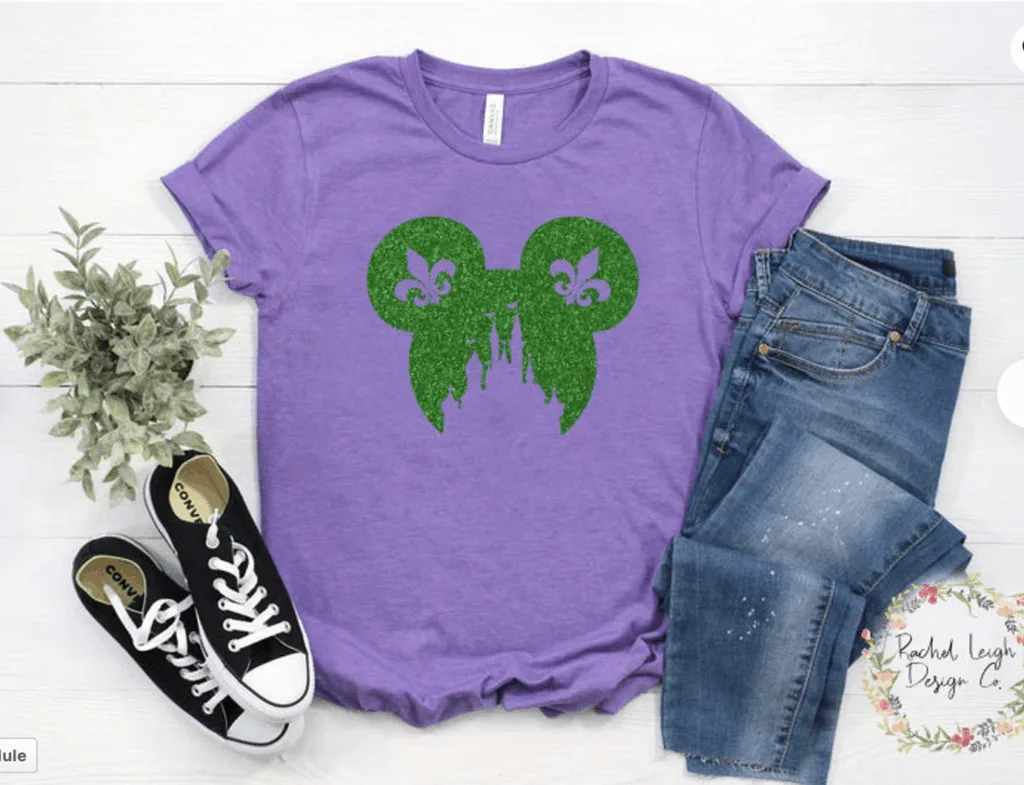 Everyone will love your "Happy Mickey Gras" t-shirt when they see it on Mardi Gras day. Guaranteed! Get ready for everybody to ask you where you got it!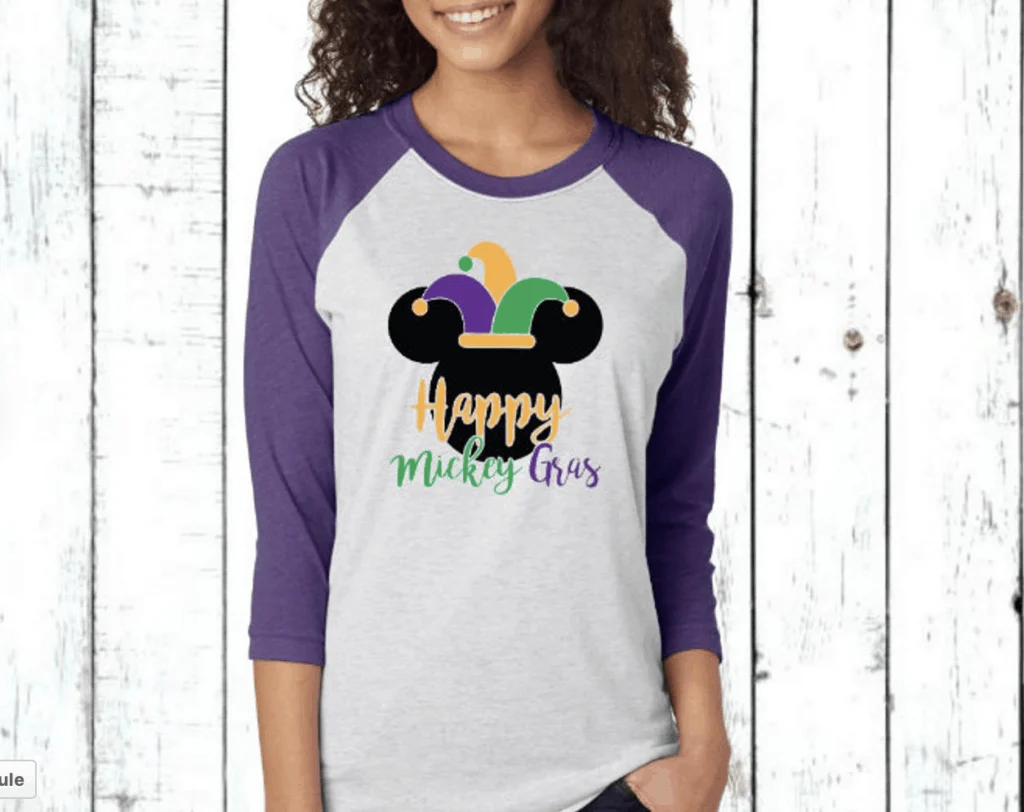 If you have a Cricut machine, or are able to use an SVG file to make your own Mardi Gras Disney shirts, this cute digital Disney SVG file from Market822 is perfect for celebrating at Disney!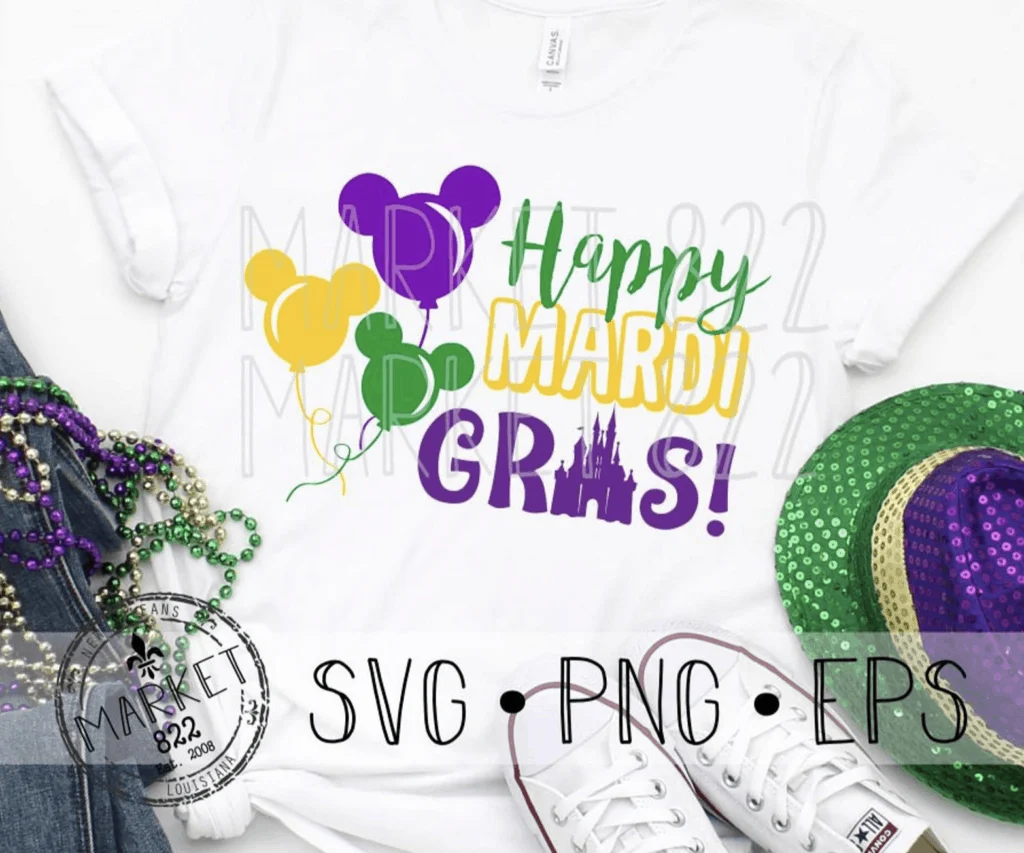 Family Friendly Mardi Gras
Another great location for family friendly Mardi Gras is Lake Charles, Louisiana. If you're not at Disney World but are looking for something kid-friendly, this is a GREAT place to go! We had so much fun!