Lake Charles Mardi Gras has to be the best family friendly Mardi Gras events in Louisiana!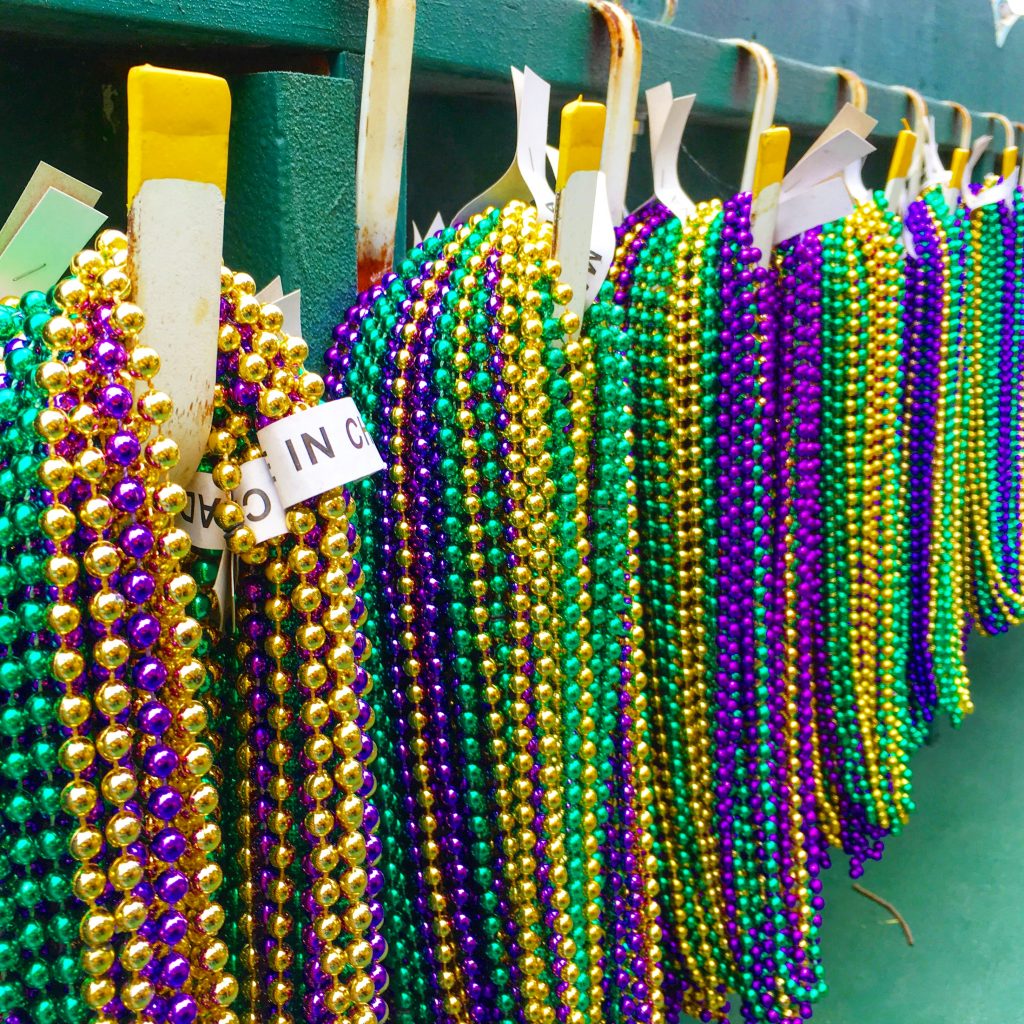 I had never been to a Mardi Gras celebration before. Quite honestly, it was because I was scared off after seeing what happens at New Orleans' Mardi Gras events.
When Lake Charles, Louisiana's CVB invited me to attend several days enjoying their family friendly Mardi Gras events, though, I definitely wanted to see what all the fuss was about with Mardi Gras.
And I have to say, I TOTALLY understand it now!
Lake Charles Mardi Gras is such a unique celebration of the worldwide festival that I would definitely tell you to go at least once in your life (if not more)! It truly is bucket list worthy. Here's what you want to do for Lake Charles Mardi Gras:
Lake Charles Mardi Gras Chicken Run
I have never experienced anything like the Iowa Chicken Run in my life before, and I likely never will again.
And it was AMAZING!
How do you describe the Iowa Chicken Run for Lake Charles Mardi Gras? Well, it's a hay ride going to a variety of different homes along a long route. At each home, you'll dance to zydeco music and generally beg to receive ingredients for making gumbo.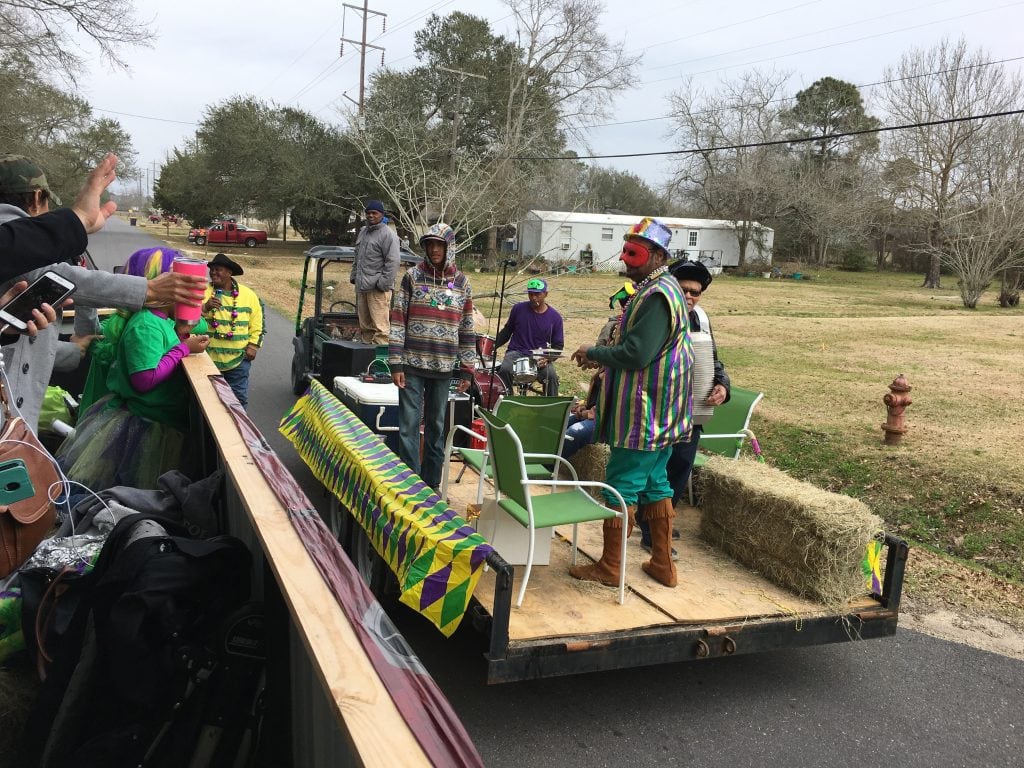 Oh, and did I mention that you'll also be chasing live chickens?
Yep, that's what the Iowa Chicken Run is all about.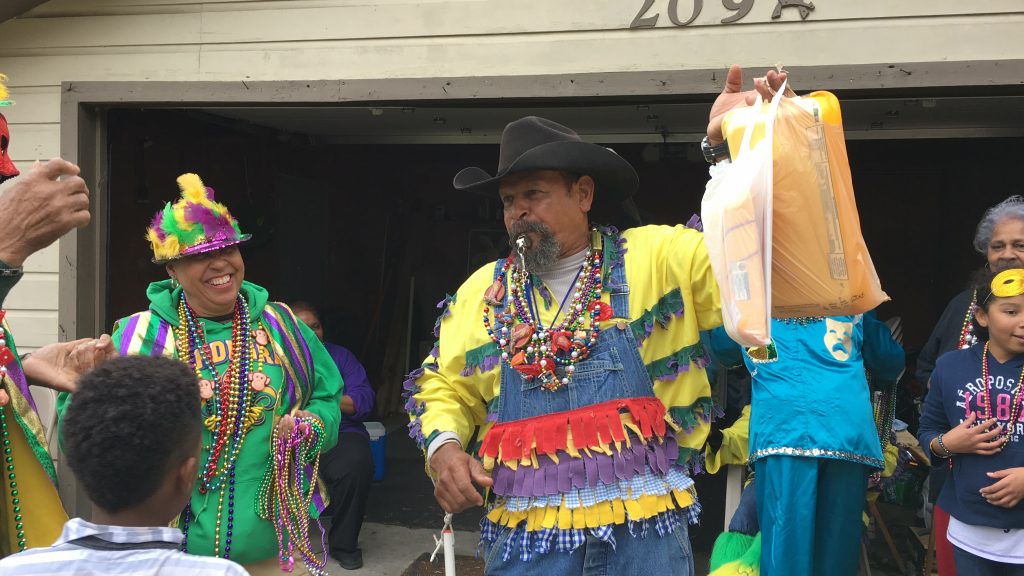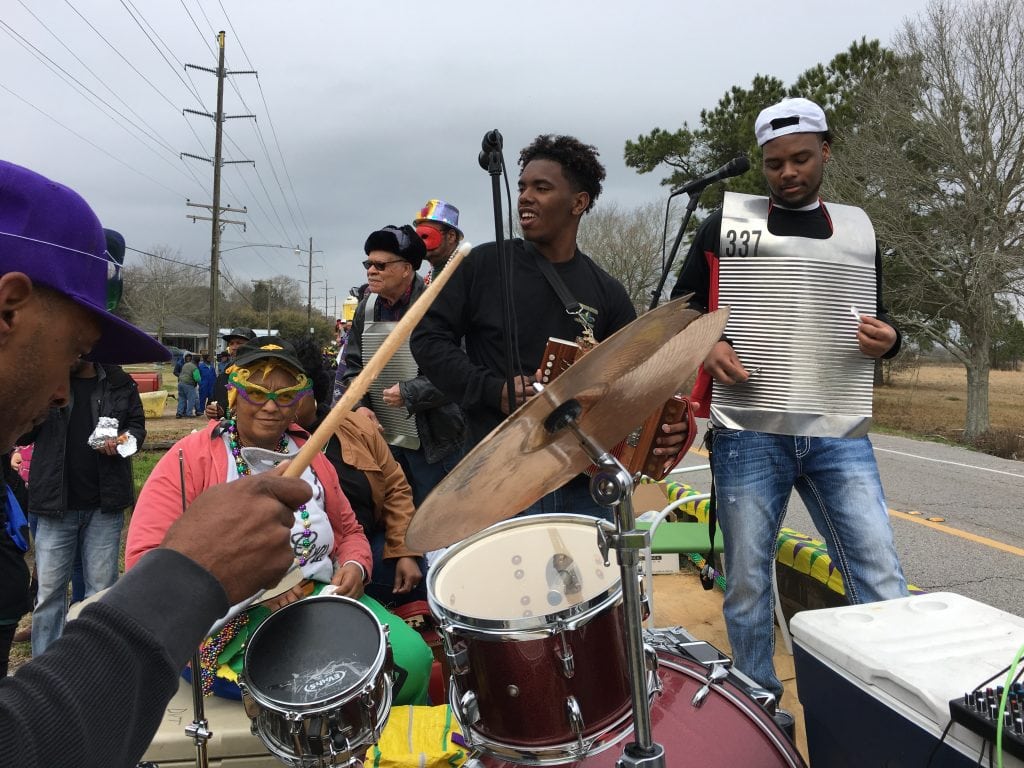 Ironically, this authentic Cajun Mardi Gras celebration is very family friendly. I was on a hay ride with a family from Europe who wanted to bring their young kids to a family friendly Mardi Gras event in the United States. They found Lake Charles and decided to do the Iowa Chicken Run. And they said they were having the best time!
Let's face it, a whole lot of people have no idea what the Iowa Chicken Run is. But if you pay a few dollars to hop on a hay ride and join the organized chaos for part of the day, I promise you'll walk away with amazing memories and some crazy photos.
To best understand the Iowa Chicken Run, you've got to see video! Watch my recap of Lake Charles Mardi Gras Family Friendly events:
Oh, and for the adults, find the float with Miss Doris on it. She soaks gummy worms in tequila and happily passes them around to adults on the hayride. These things are strong!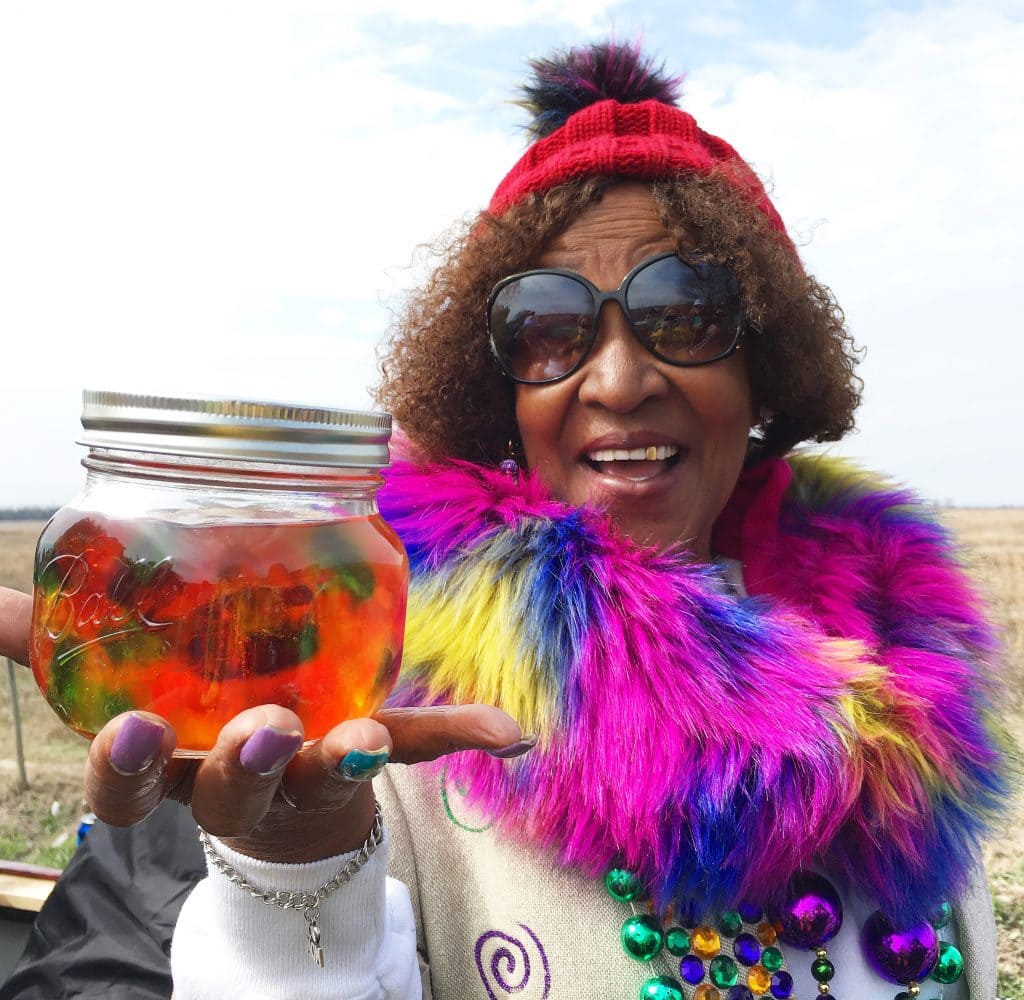 Lake Charles Mardi Gras Children's Day Parade
A Mardi Gras parade that's family friendly, during the day, and geared towards children is exactly why Lake Charles Mardi Gras is so family friendly!
I was honored to be able to ride in the Mardi Gras Children's Day Parade as a guest of the Lake Charles CVB. Even though it was absolutely freezing on that day, we had so much fun!
What was the best was seeing kids lined along the street anxiously waiting for you to throw them something. The look of anticipation in their eyes, and the young kids who were too shy to even try to catch the beads, was something that you won't soon forget from riding on a Mardi Gras float.
Watch my video below to see what it's like to ride on a Mardi Gras parade float:
If you're going to the Lake Charles Mardi Gras Children's Day Parade, here are some helpful tips:
Ask for something! The kids that say "throw me something" or had their bags (or upturned umbrellas) open and ready to catch trinkets and beads were the ones that we tried to throw things to.
Bring a big bag to cart home all of your swag! There's a lot of stuff thrown from the Mardi Gras parade floats.
Dress up in costume or Mardi Gras colors to really be seen!
Beware of flying beads! It's hard to throw beads from a Mardi Gras parade float as it is moving. And often, the beads would hit someone on the head. So always be aware at what's flying from the Mardi Gras parade floats!
Lake Charles Mardi Gras Ball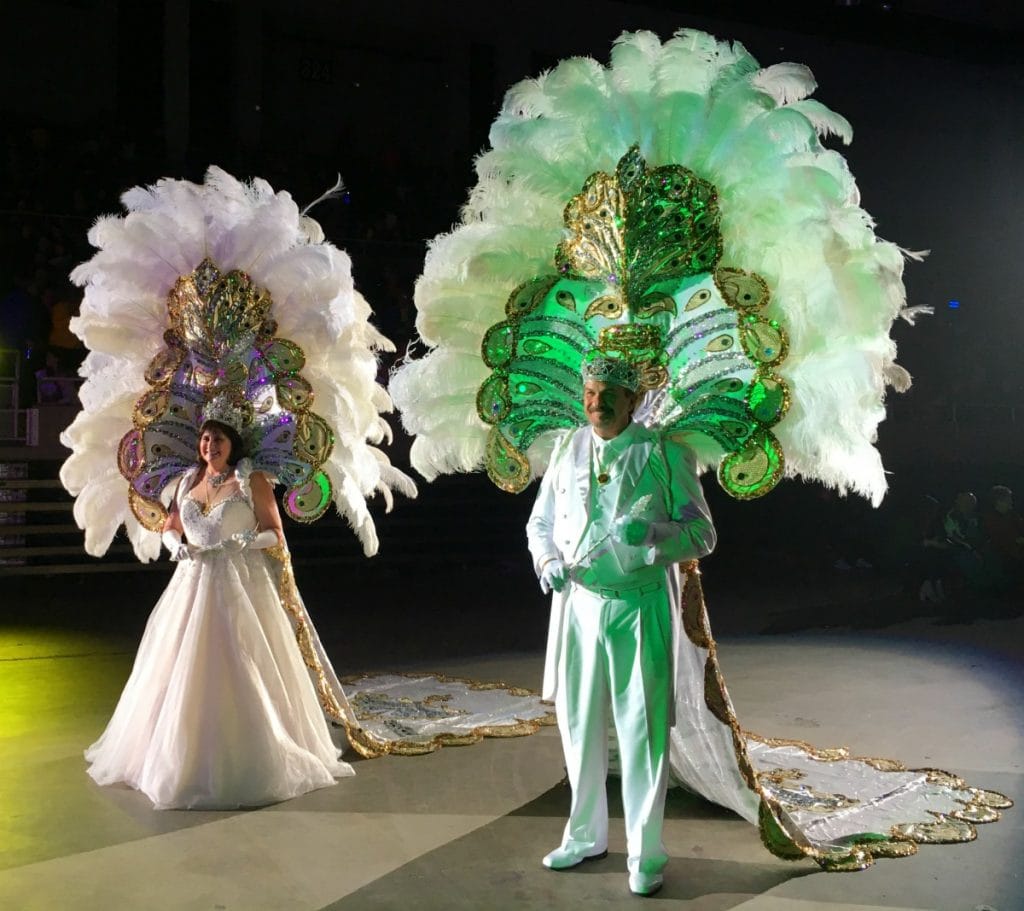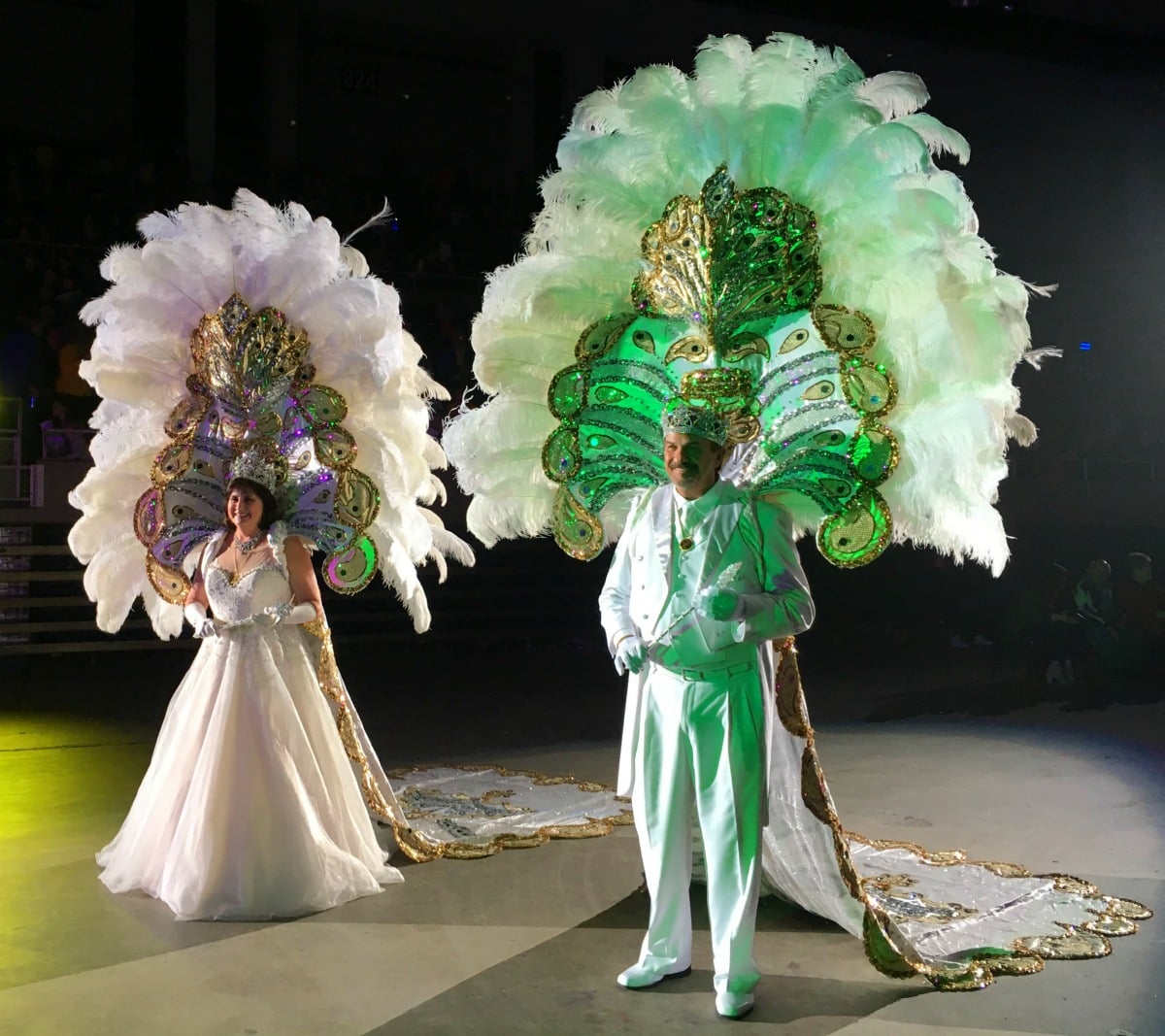 The chance to witness the Royal Gala at Lake Charles Civic Center will be something that I always treasure from Mardi Gras!
It is absolutely unbelievable to see the full costumes of the royal courts from more than 60 krewes! The pageantry and spectacle is something you'll see nowhere else!
Really, nowhere else in Louisiana can the public see all of the Mardi Gras krewes in full costume in one place! The music, the cheering, the lights, the announcer and the Mardi Gras royalty overseeing the entire event make it so much fun!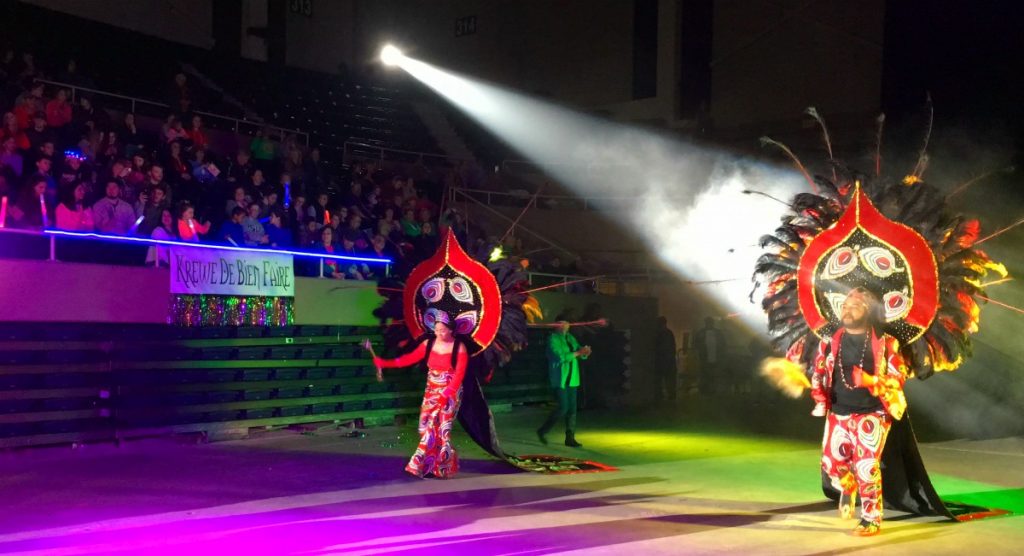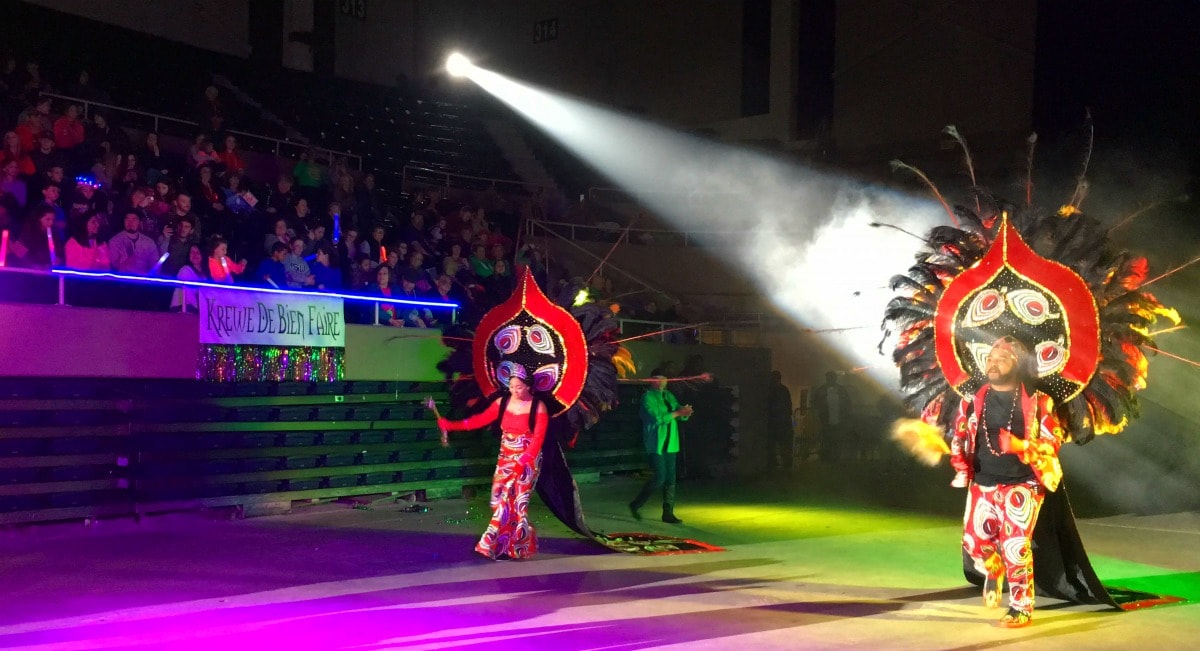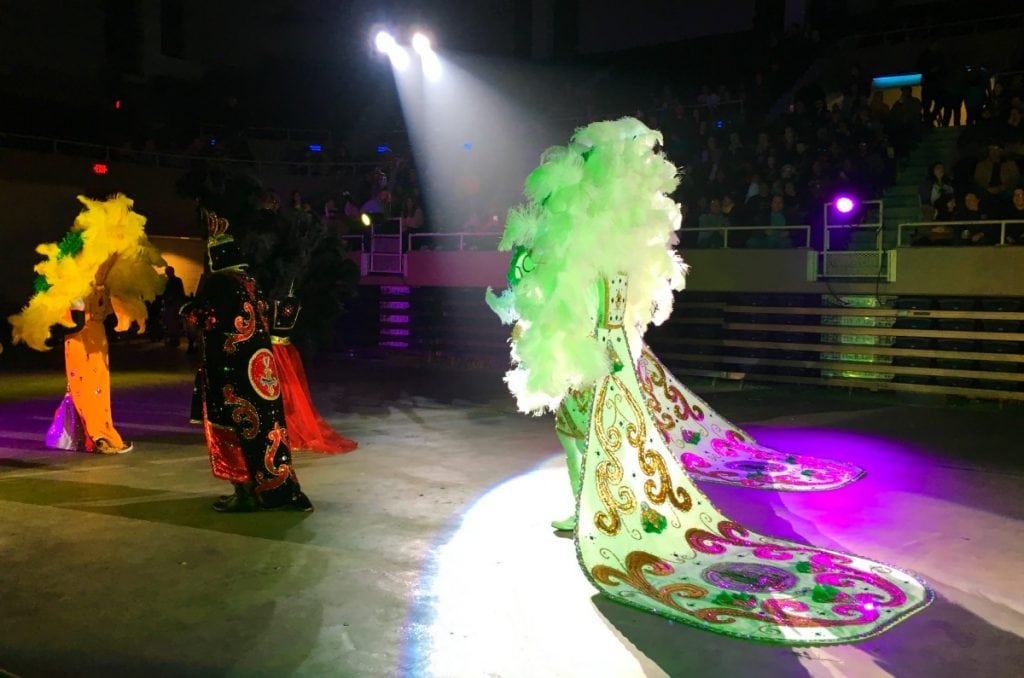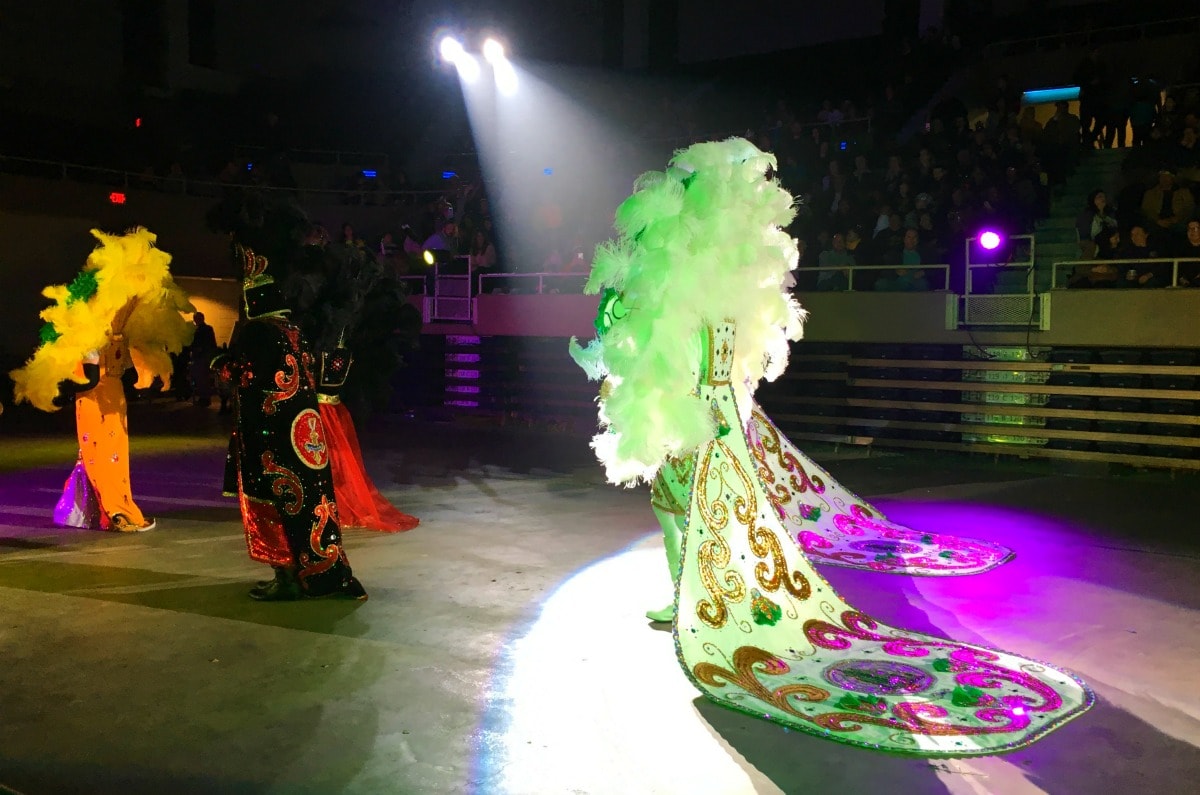 And with tickets starting at $6, this is an unbelievable deal on fun entertainment!
Bring your camera with a good zoom lens for this one! You'll want to take pictures of everything! And, many krewes will pose for pictures afterwards which is fun!
Lake Charles Mardi Gras Museum
For an upclose look at the over-the-top costumes, head over to the Mardi Gras Museum of Imperial Calcasieu.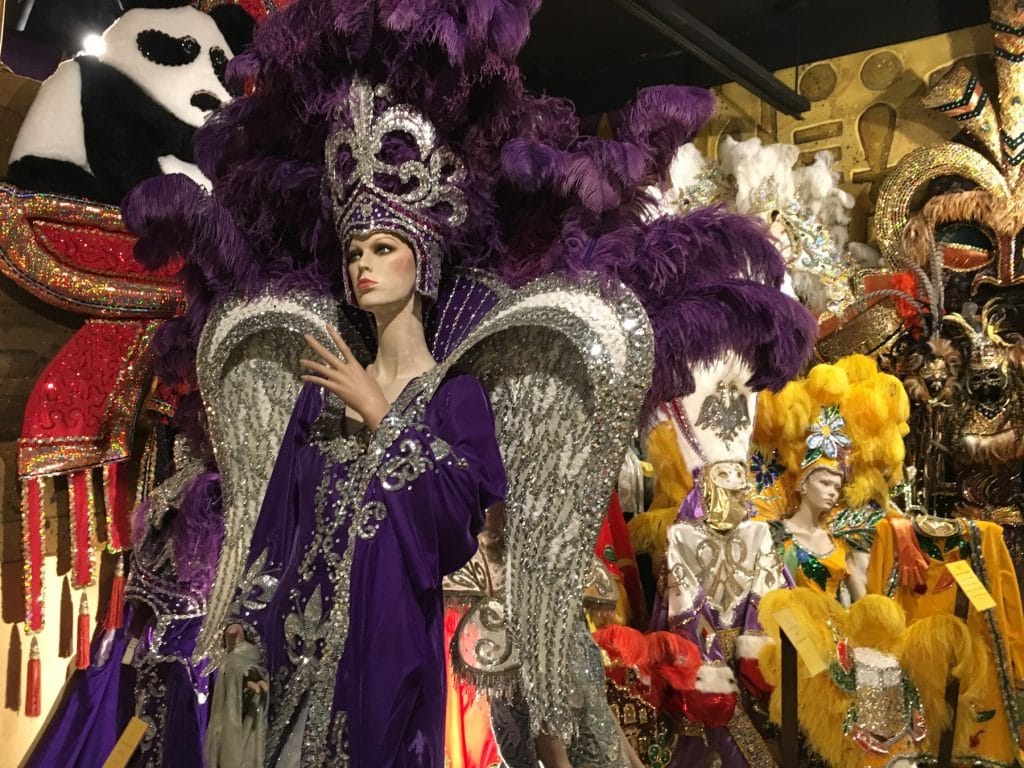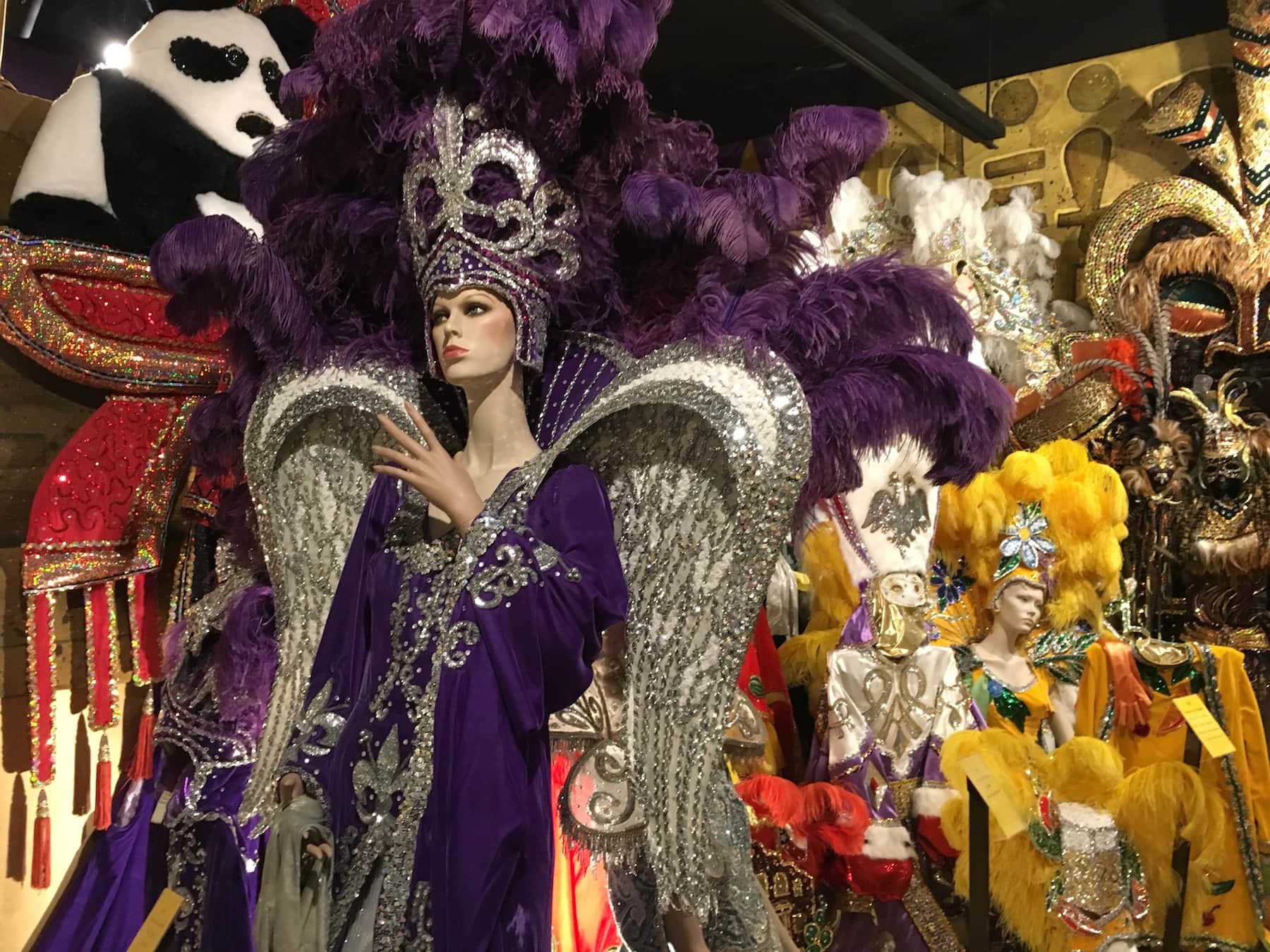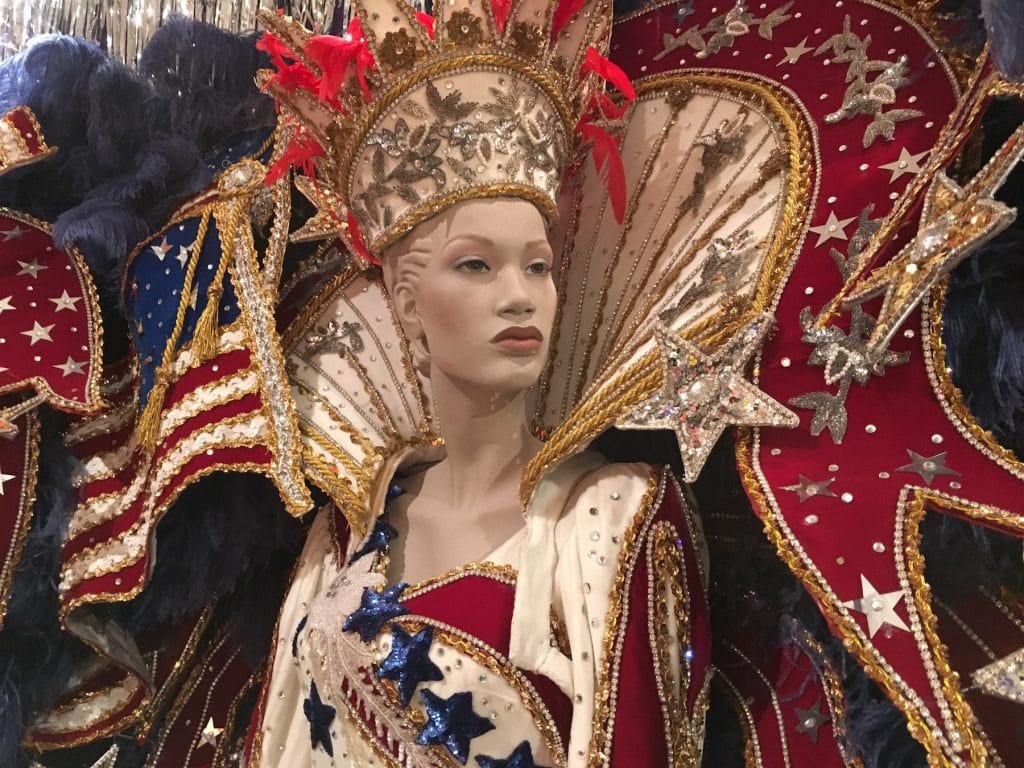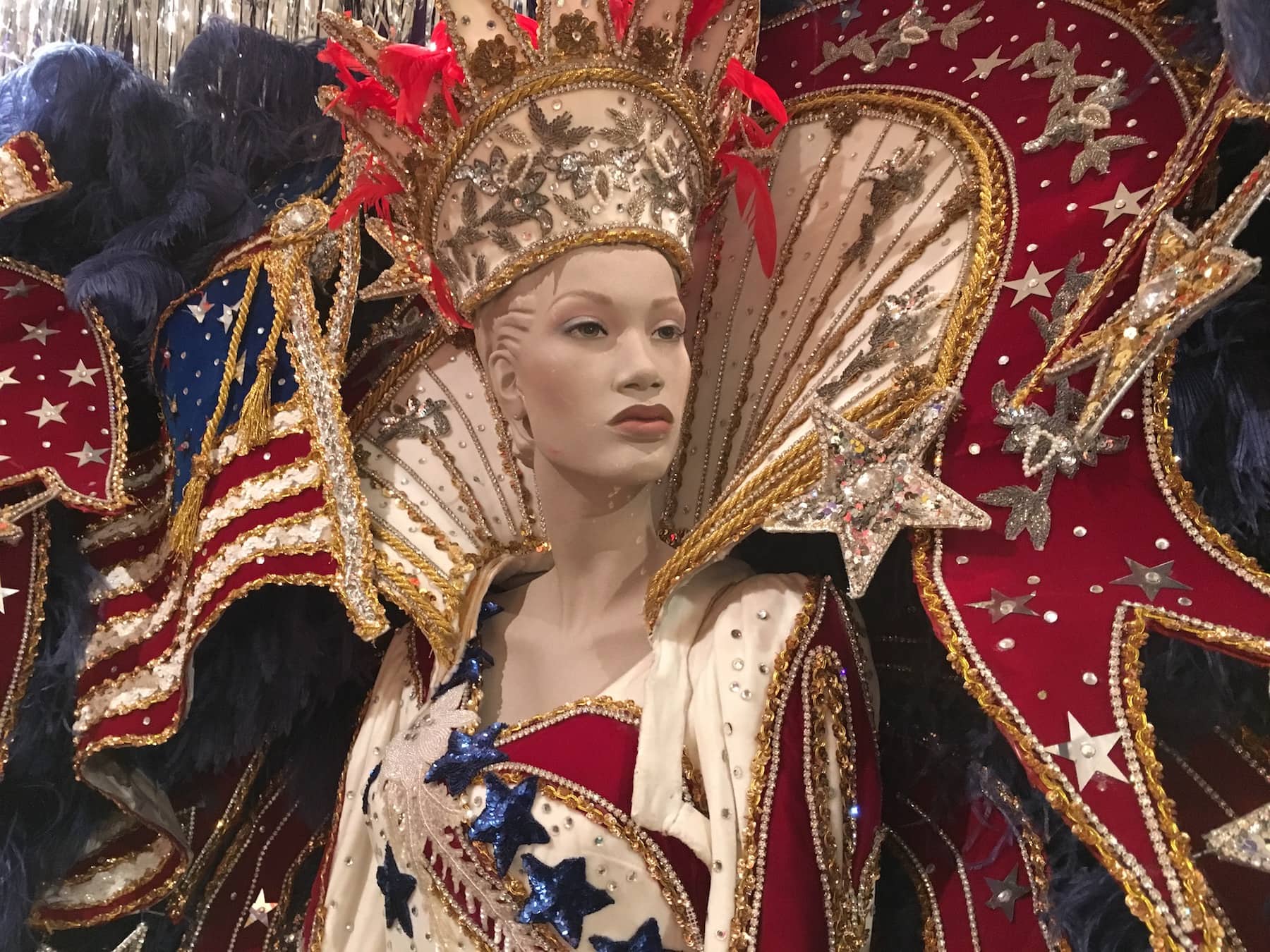 This is the largest costume display in the world. And you'll be able to walk through rooms upon rooms packed with glittery costumes that are too crazy to be believed!
Along with the history of the Mardi Gras festival, you'll also get a chance to try on some Mardi Gras costumes, masks and accessories.
Be sure to allow enough time for this special museum. Chances are you'll wander among the costumes for quite a while.
Lake Charles Mardi Gras Parade
Perhaps the biggest event of the entire Lake Charles Mardi Gras is the final parade.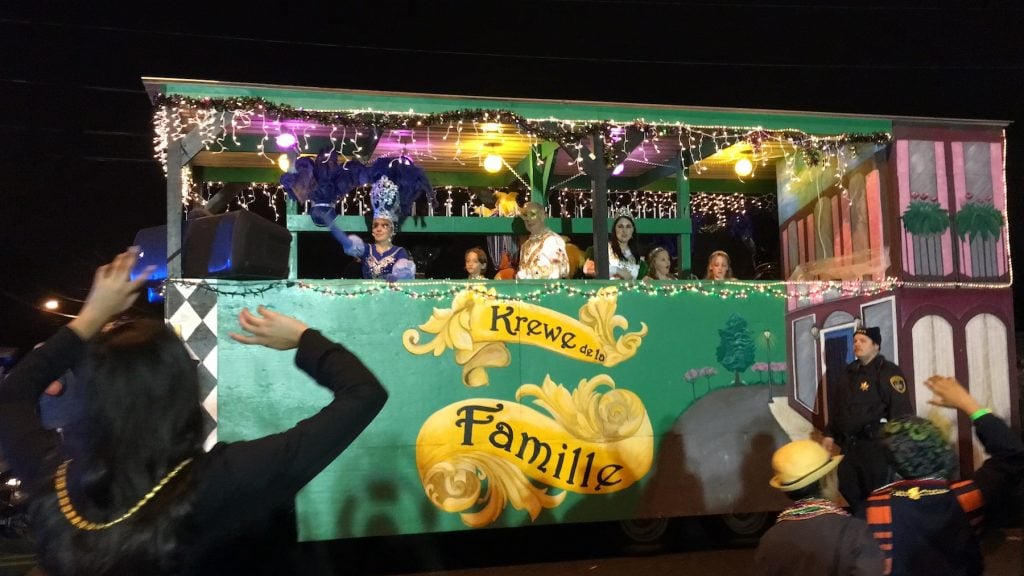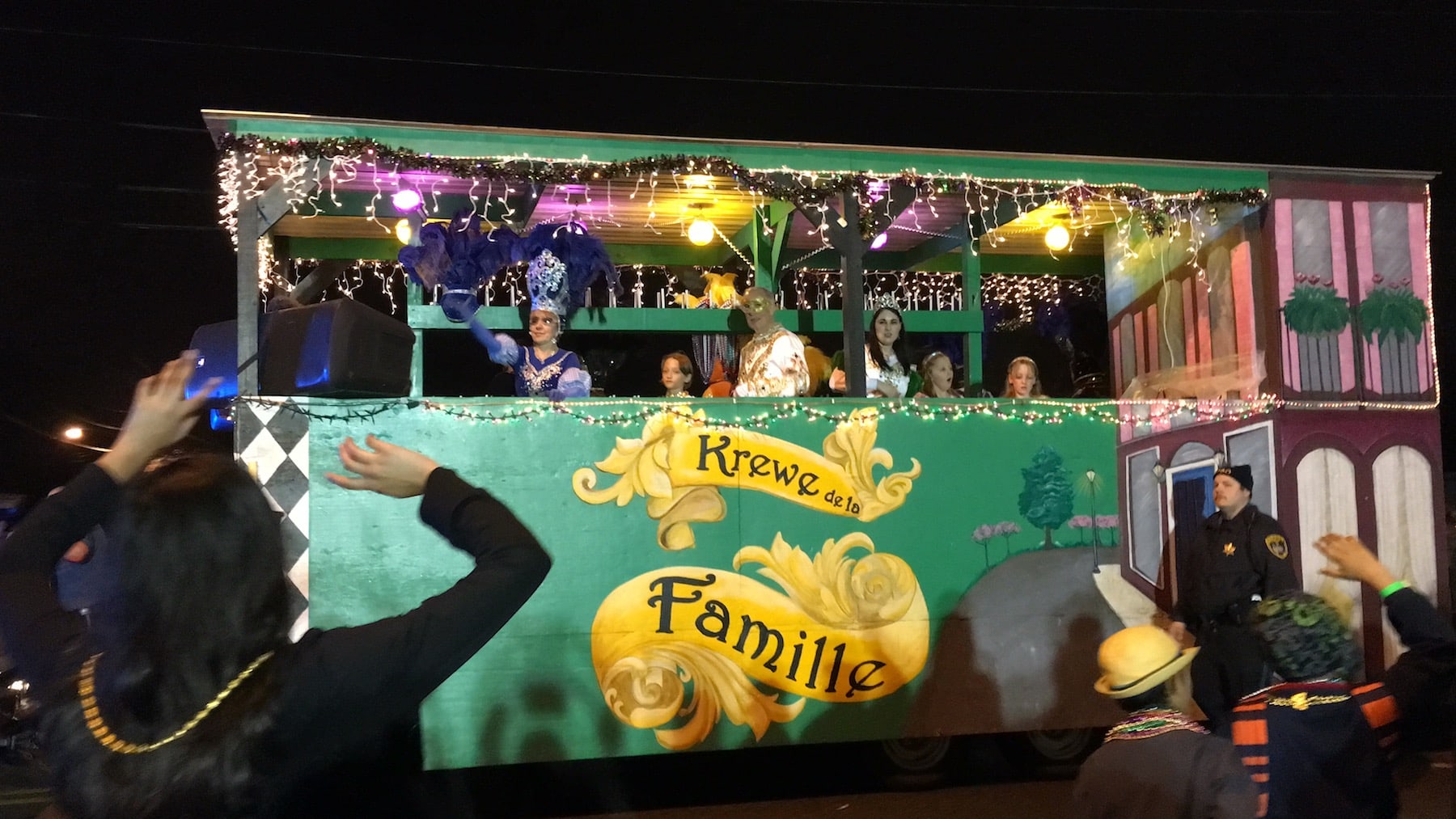 Held at night, this fun spectacle has none of the debauchery that Mardi Gras is known for in New Orleans. Instead, you'll find plenty of families lined up along the streets catching beads and having a great time.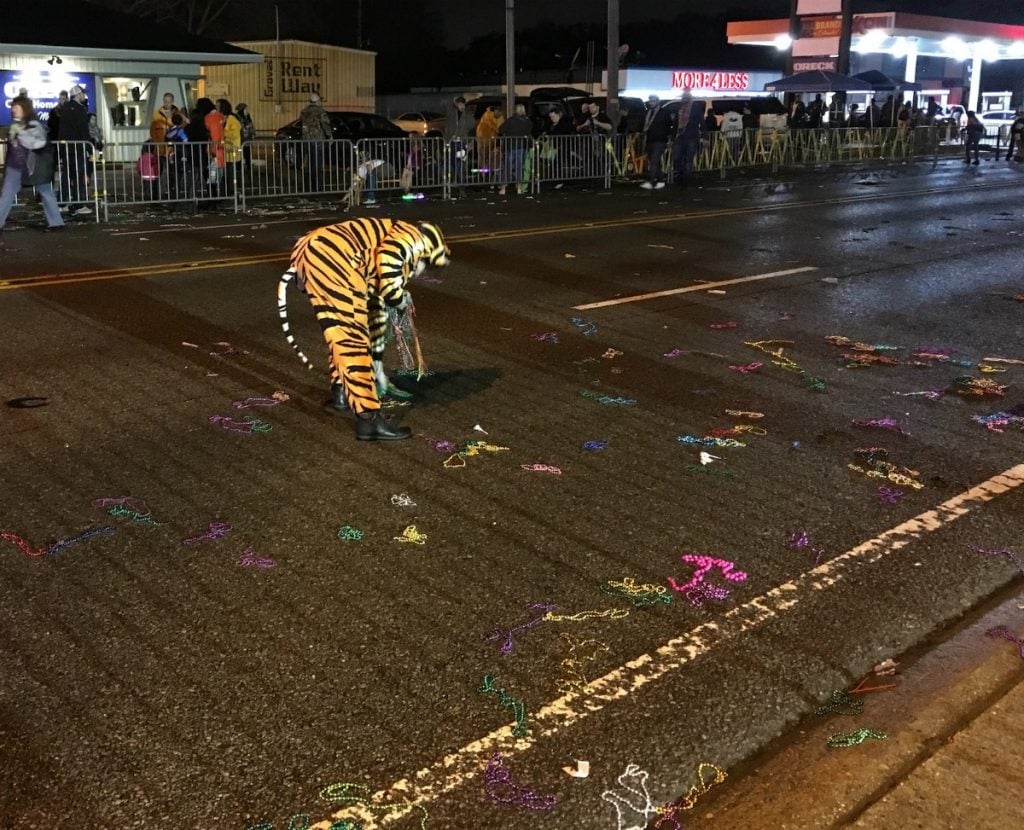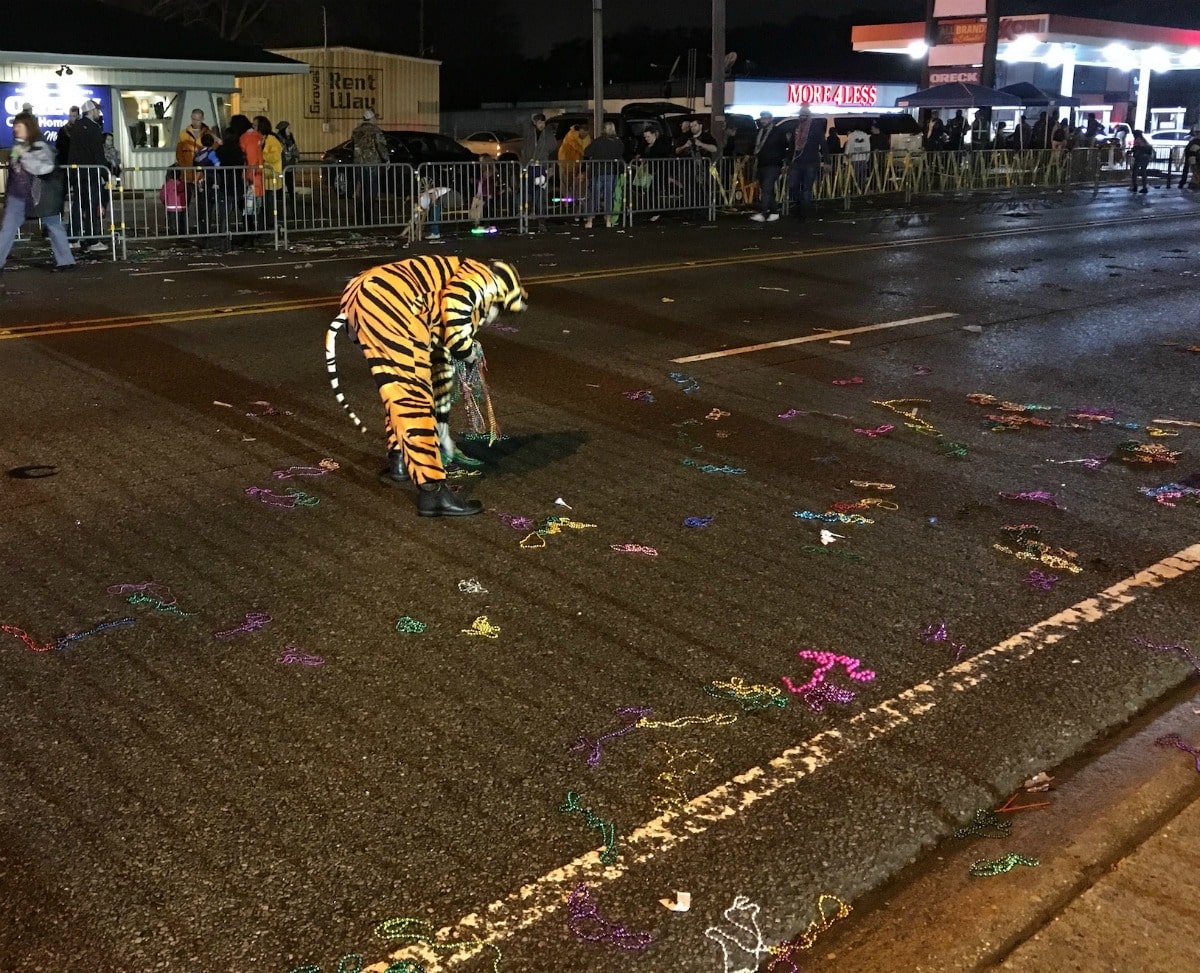 Pro Tip: Bring a bag to scoop up the TONS of Mardi Gras beads on the ground after the parade goes by! There are more beads than you can imagine!!!
Where to Stay for Mardi Gras Lake Charles La
For Mardi Gras Lake Charles 2018, I stayed in the Golden Nugget.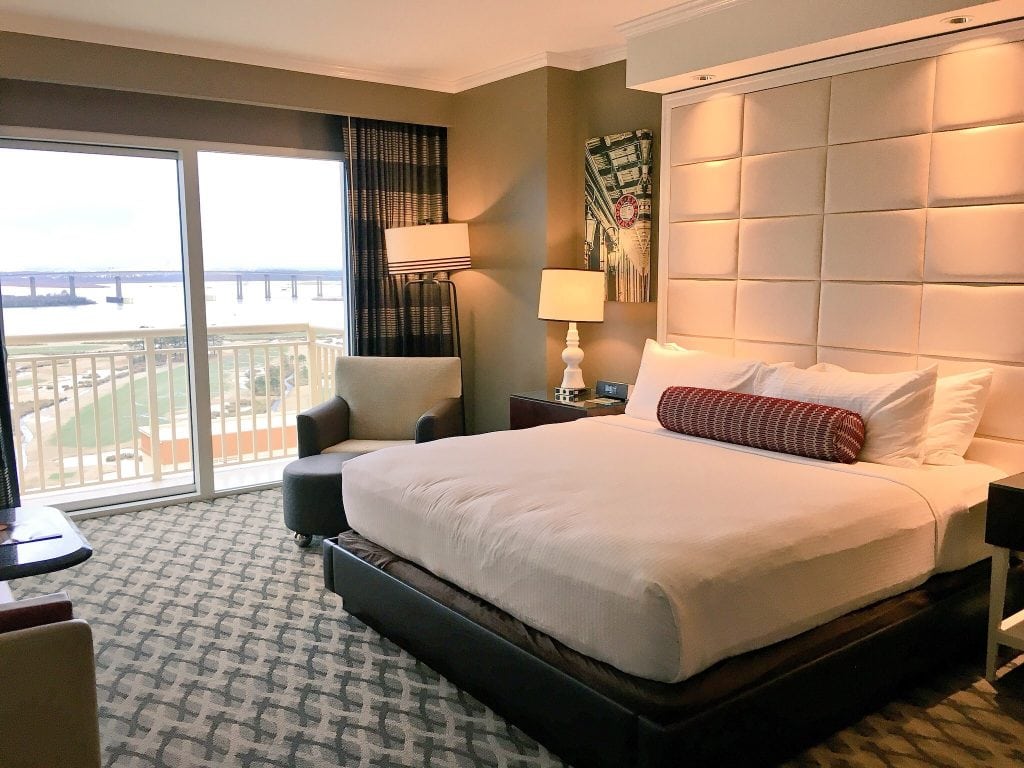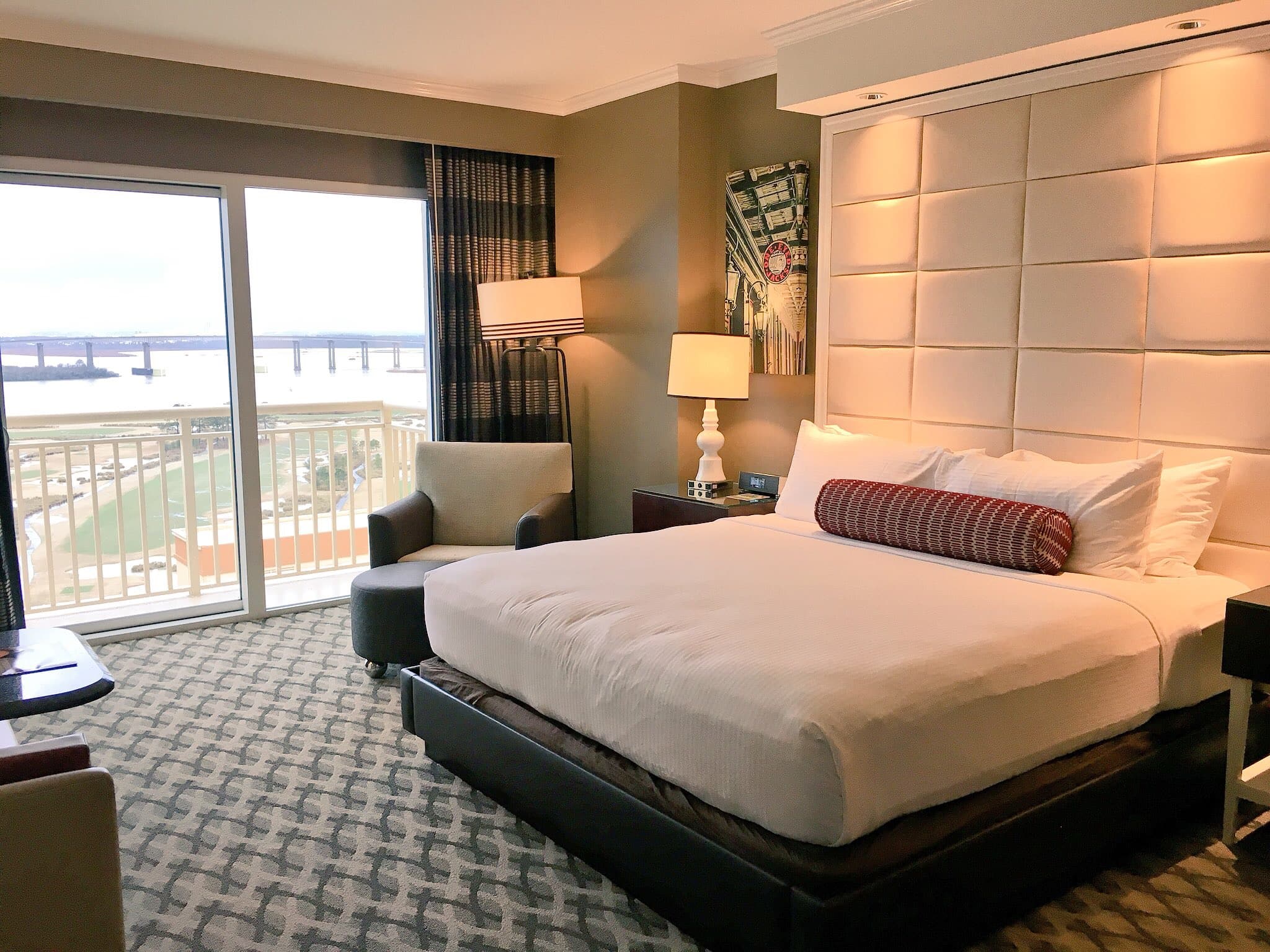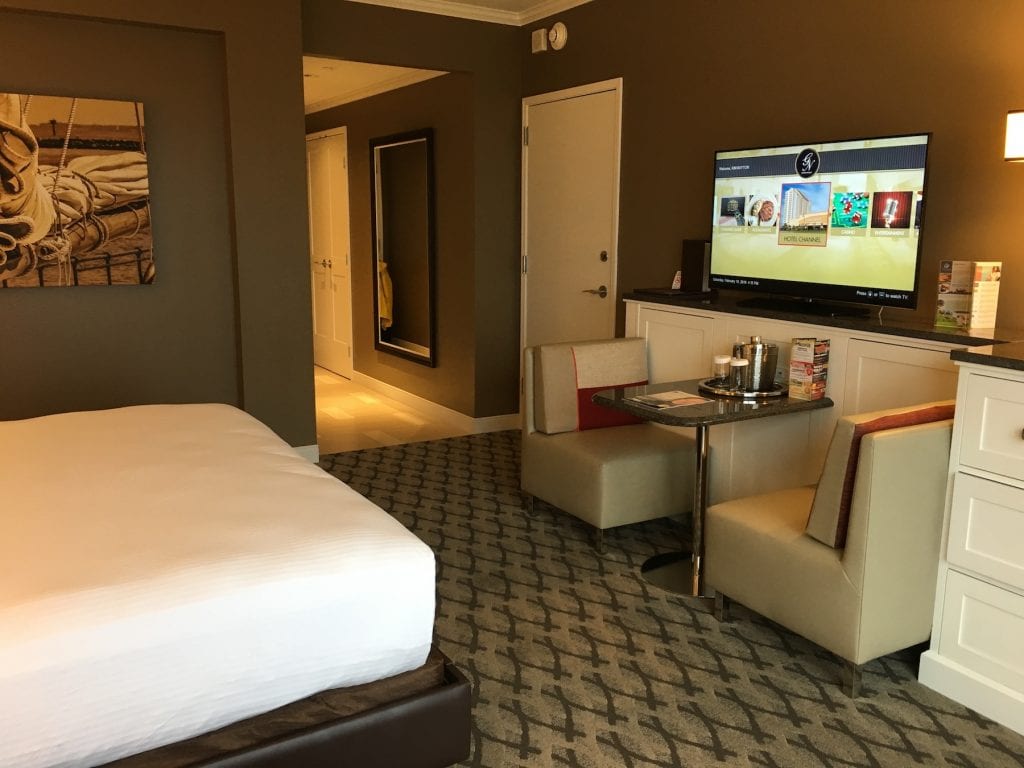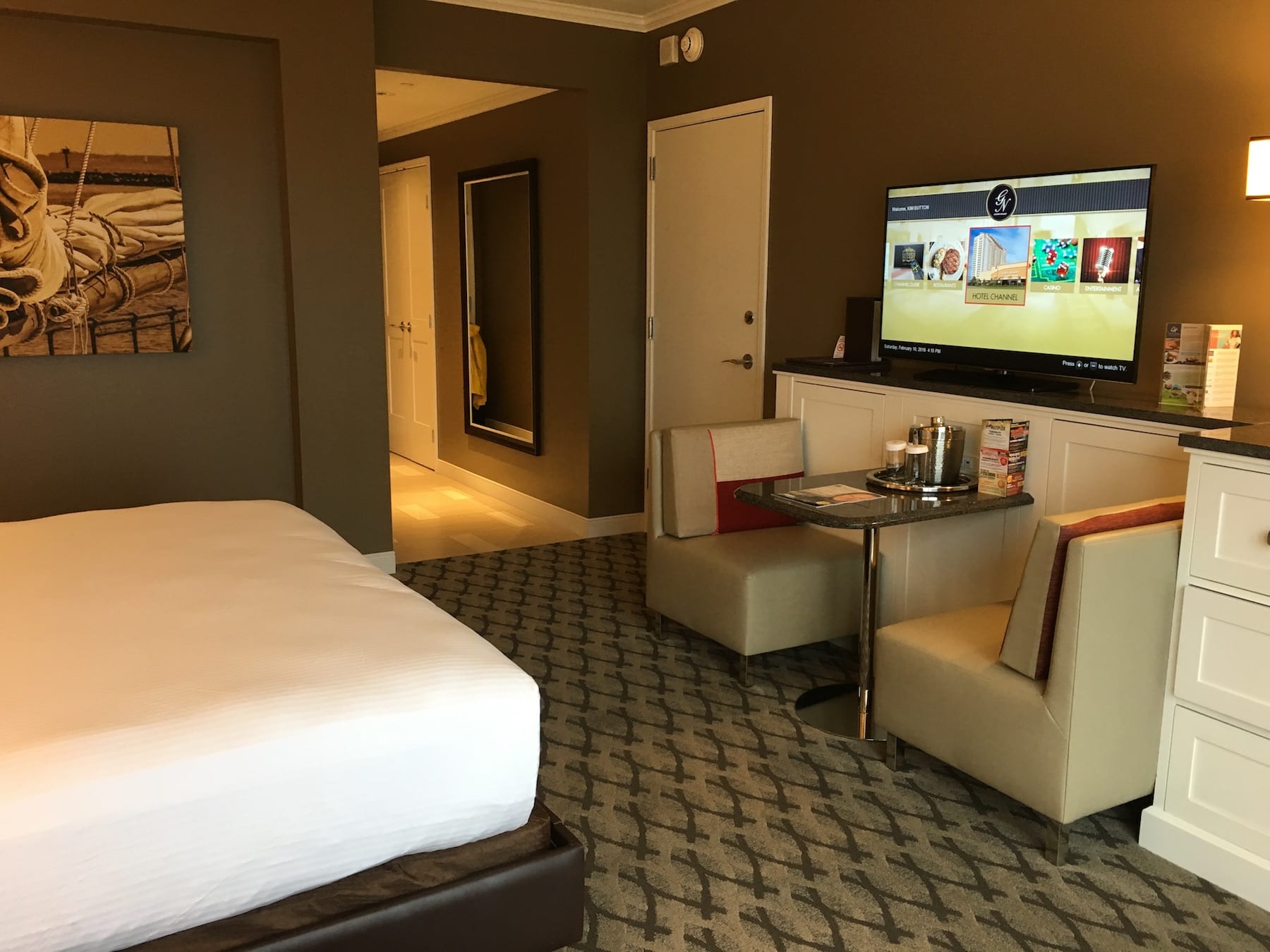 The Las Vegas-style gaming casino has 1,100 rooms, multiple Landry's restaurants, retail shops, a marina and more.
While I enjoyed my time at Golden Nugget, quite honestly I would choose L'Auberge as a casino hotel to stay at next time. The two hotels are side by side. After walking to L'Auberge, I definitely felt it was much nicer than Golden Nugget. Plus, we had some housekeeping issues in our group at the Golden Nugget, including theft from the room and my room was left in shambles after cleaning (with drawers open, which never should have happened) but nothing was stolen.
Where to Eat in Lake Charles
Seafood Palace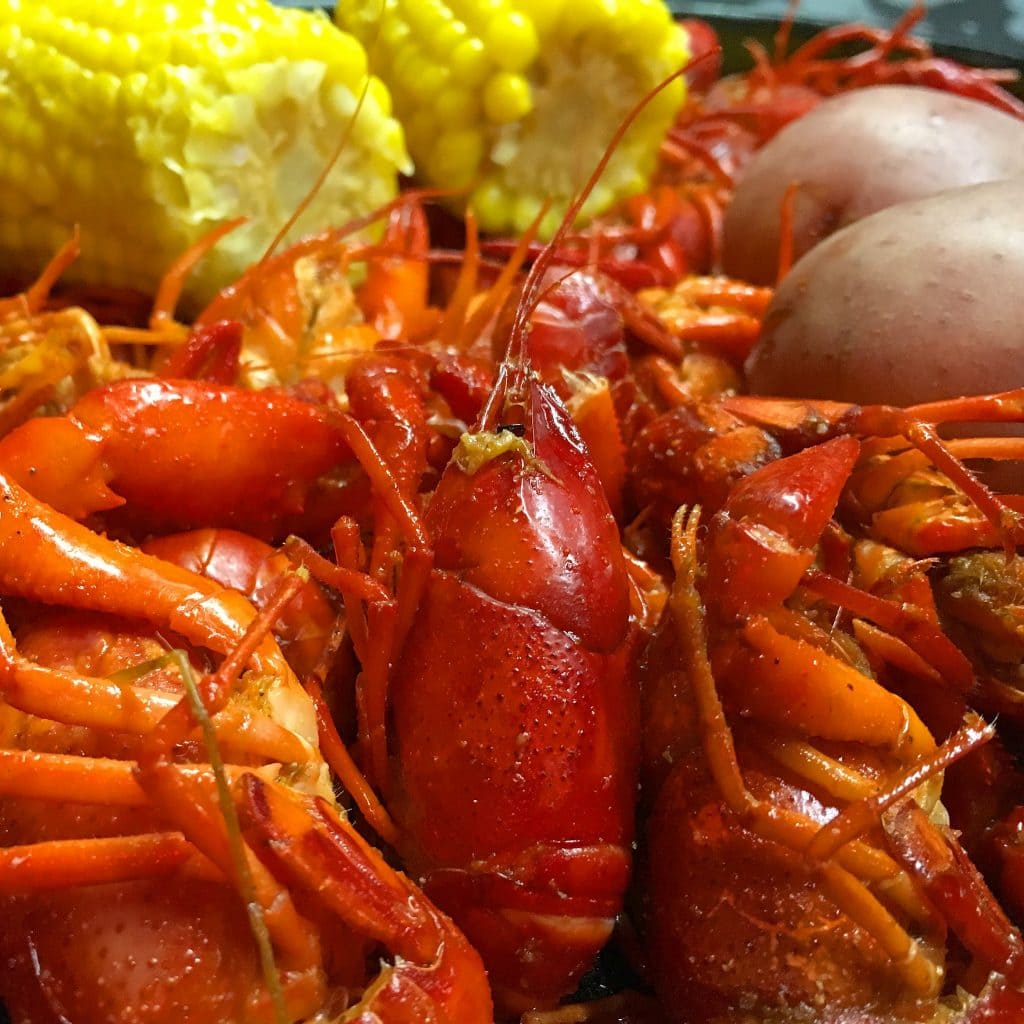 This cajun restaurant offers heaping mounds of blue crabs, boudin balls, friend shrimp, gumbo, and seafood-filled pistolettes.
Charleston Bistro
Make plans to enjoy cocktails and desserts at this indulgent eatery in the lobby of the historic Charleston Hotel.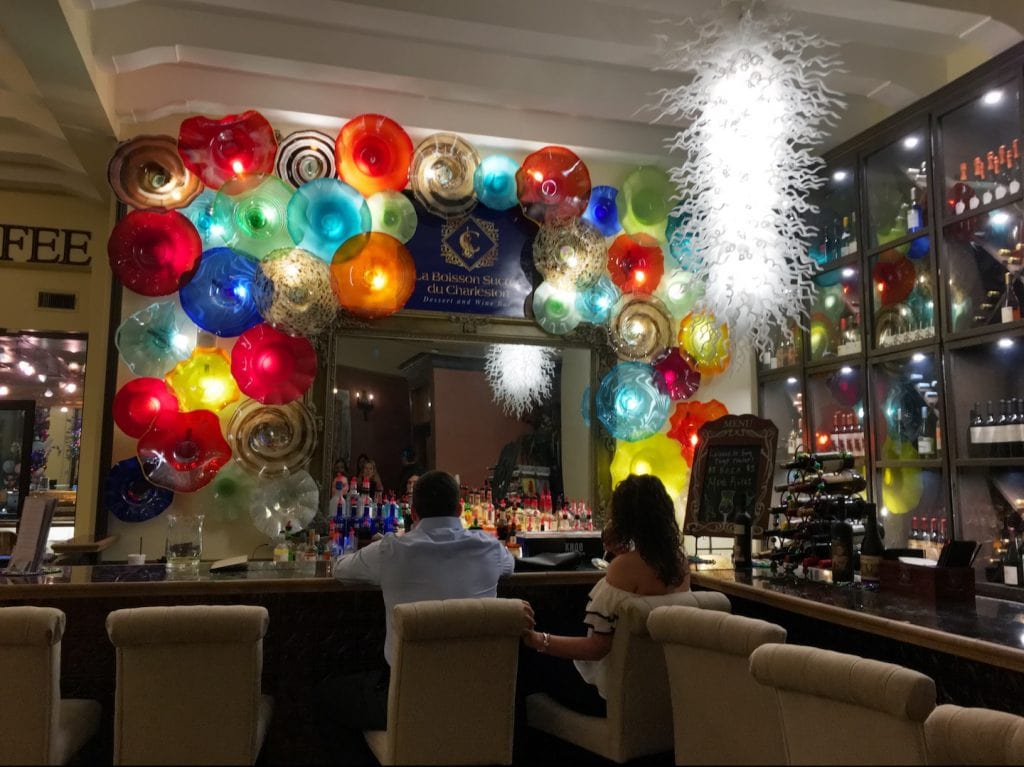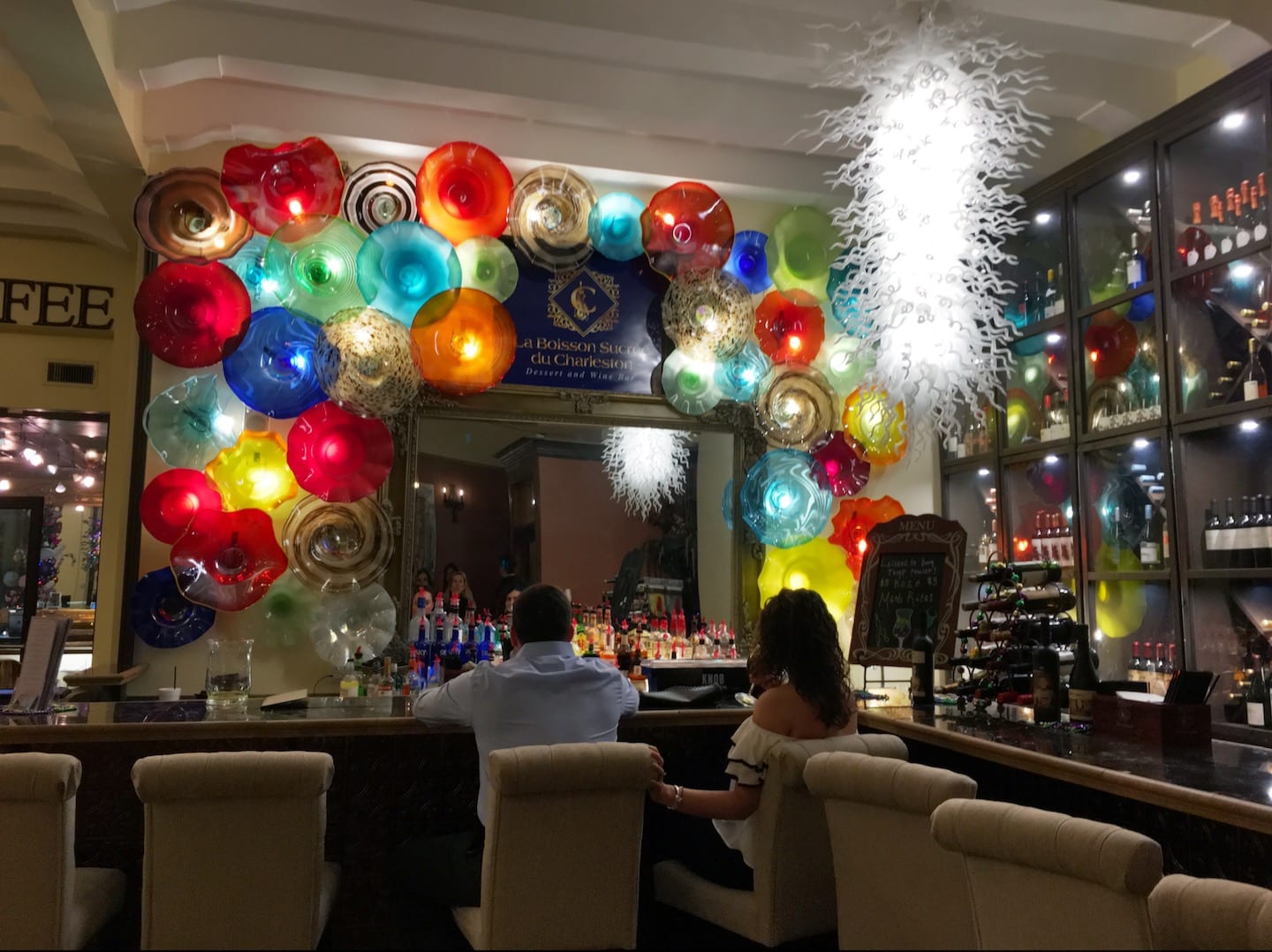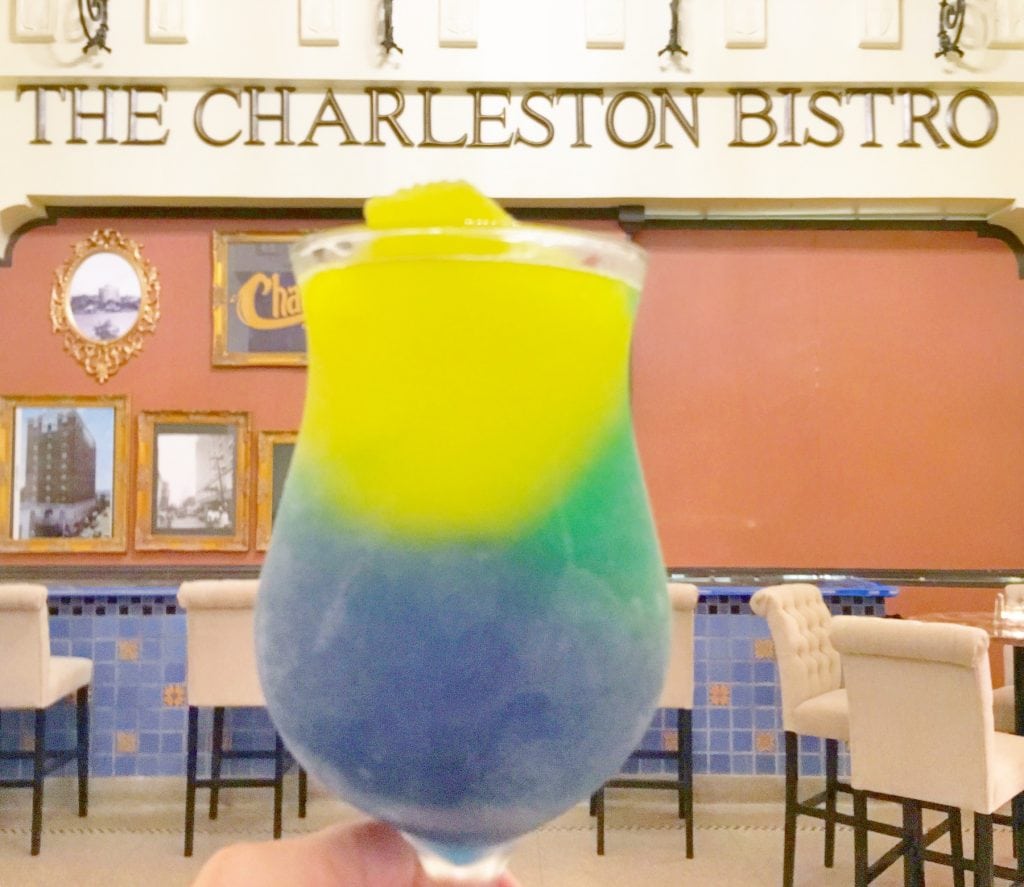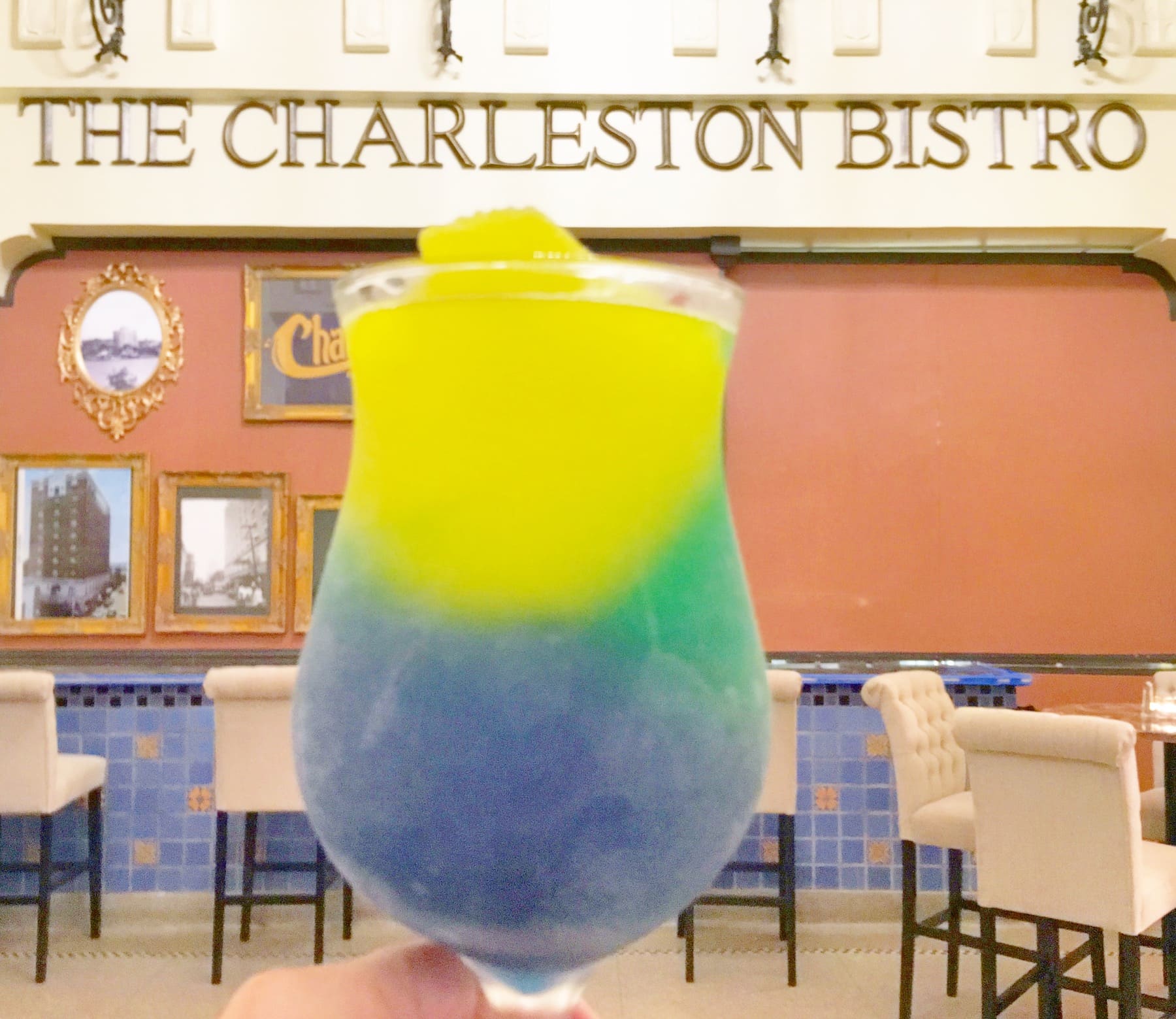 You'll be impressed with the colorful artwork, the speakeasy feel, and a rich menu of dessert cocktails. Of course, Charleston Bistro offers food, too!
During Mardi Gras, we couldn't pass up the chance for this Mardi Gras colored cocktail that was worth the trip alone!
Blue Dog Cafe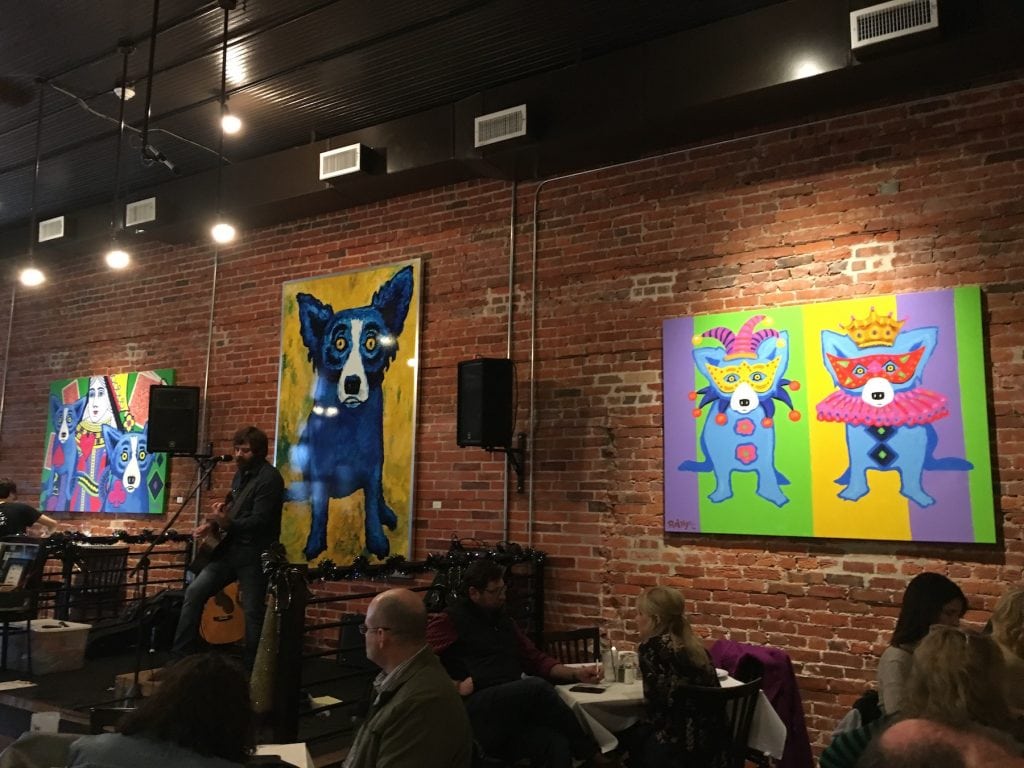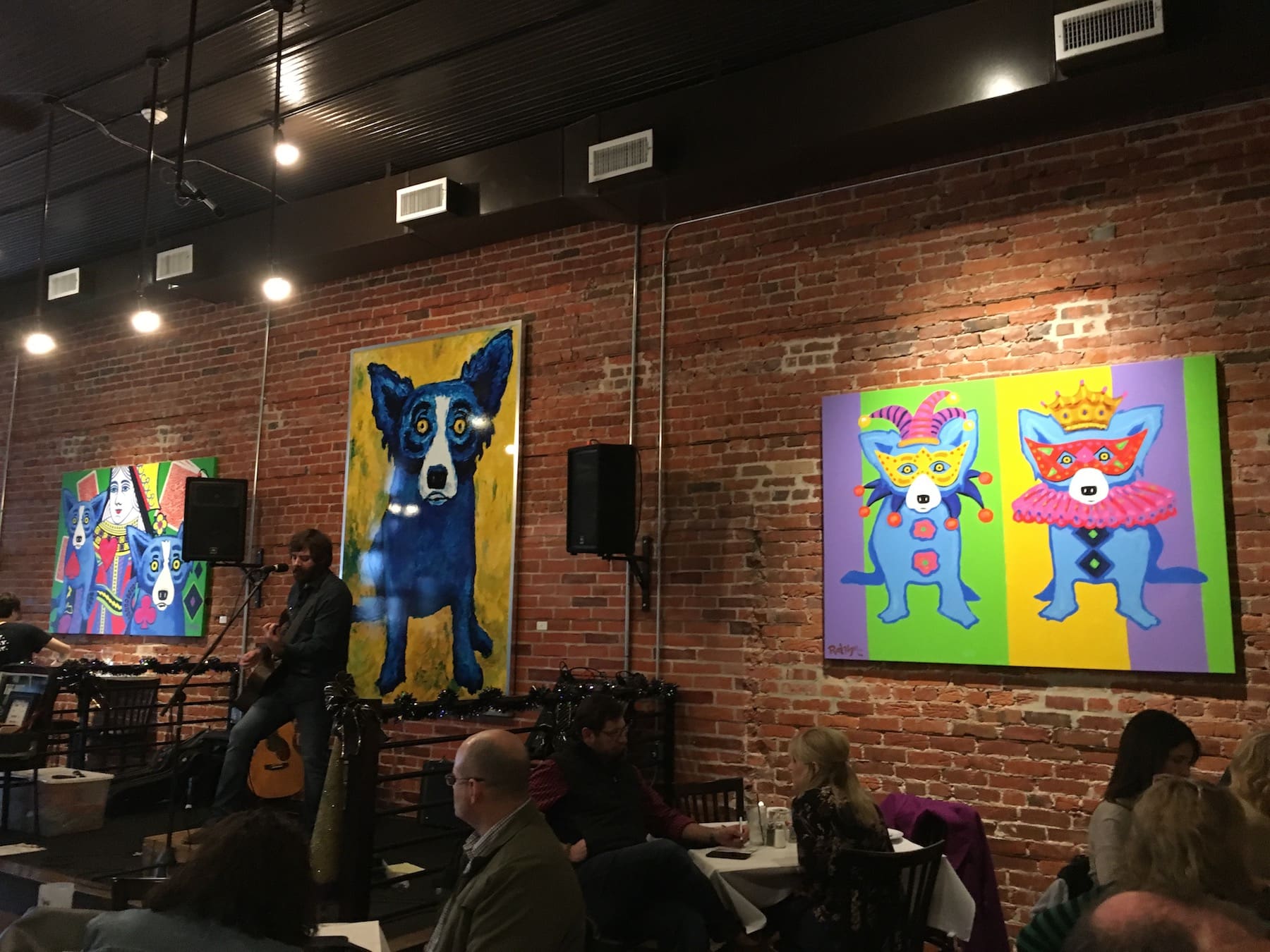 Cajun cuisine is plentiful and delicious at Blue Dog Cafe in Lake Charles. The spacious restaurant is decorated with many private paintings from the iconic Blue Dog artist George Rodrigue, a Louisiana native. Be sure to enjoy brunch at Blue Dog Cafe, with a chance to indulge in a variety of different and unusual cajun specialties.
Darrell's
Darrell's is the first place I ate after my flight into Lake Charles, La. and it was AMAZING! Known for its po'boys, you are going to NEED to get a ton of napkins to eat these messy sandwiches. No joke! And it's totally worth it!!!
LeBleu's Landing and Sausage Link
This stop on the Southwest Louisiana Boudin Trail is both educational and tasty!
If you're lucky, you'll be there at Sausage Link when the boudin – a cajun rice sausage – is being made.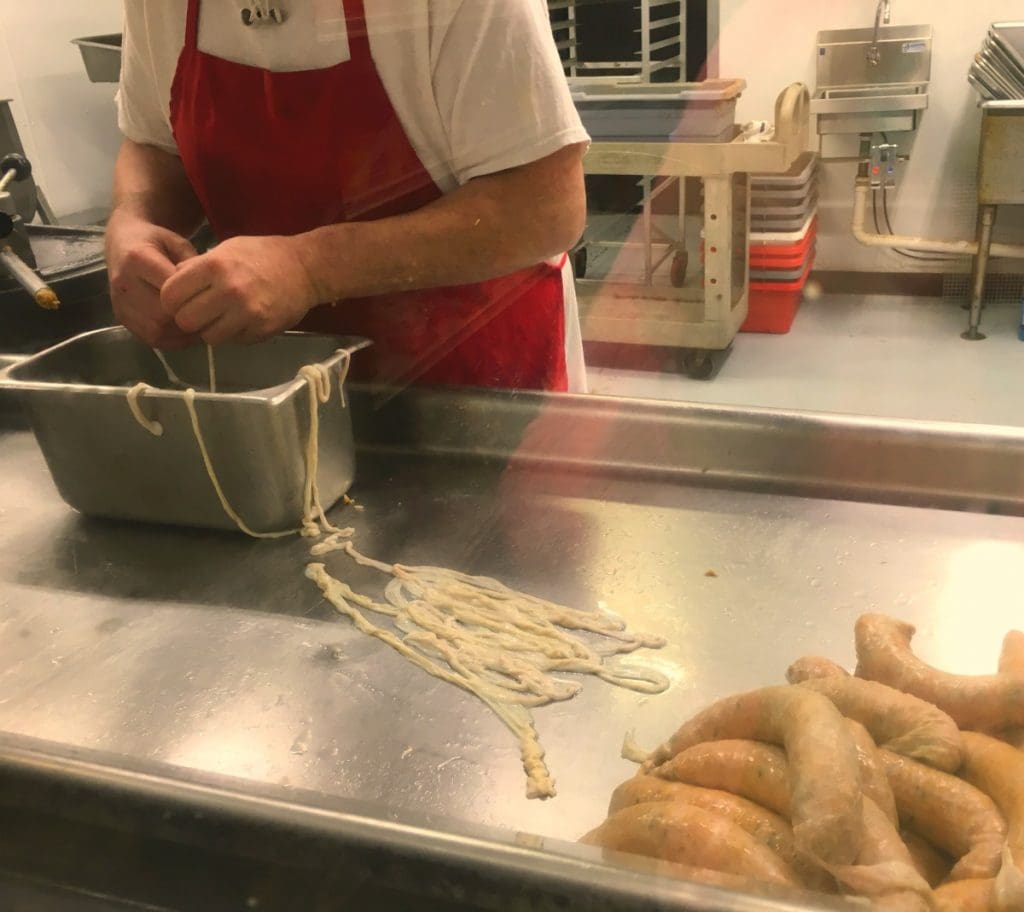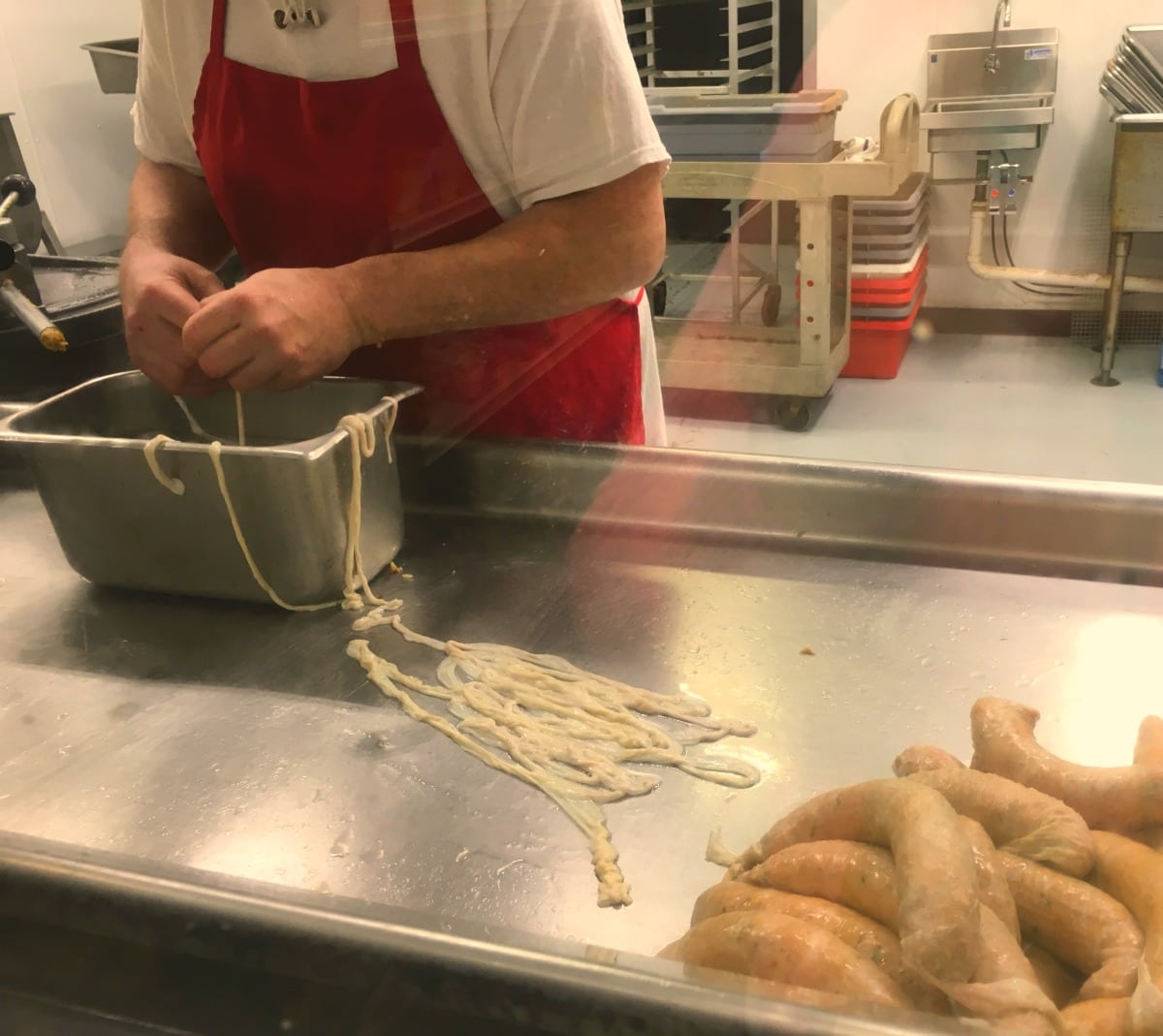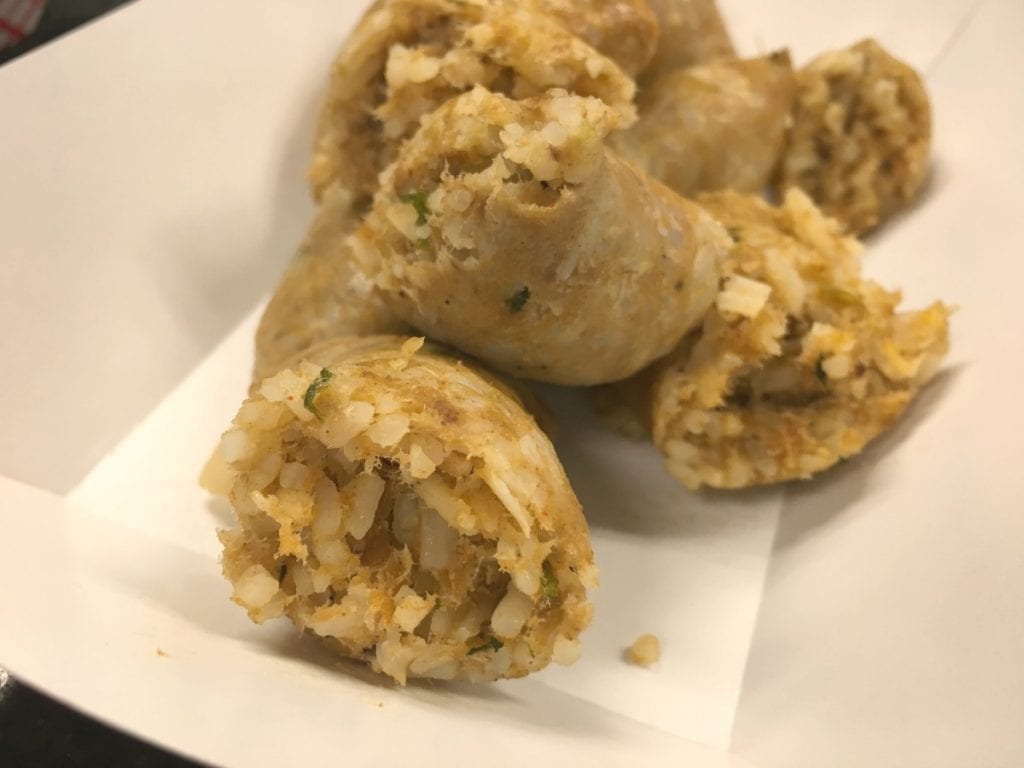 And be sure to indulge in the taste tests of boudin and cracklins in the gift shop.
This is the place where you can stock up on cajun favorites and gifts for back home, too. Don't leave the Cajun restaurant and gift shop without some unusual spices or meats to enjoy back home.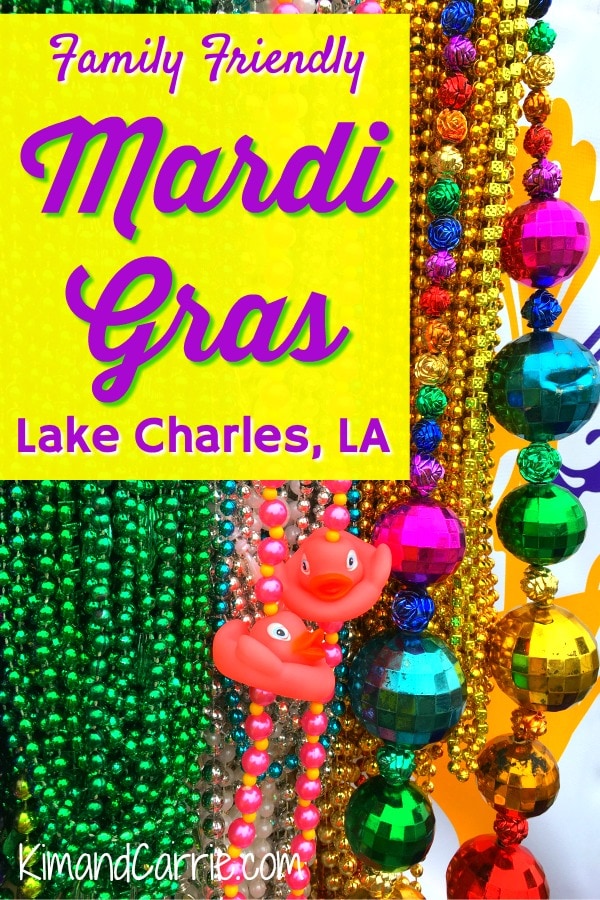 Pops and Rockets Pop Lab
Fun. Kitschy. Retro. Nostalgic. Yummy.
There's no other way to describe Pops and Rockets Pop Lab in Lake Charles, Louisiana!
You'll love this tiny alcove packed with classic arcade games and nostalgic toys from the 1980s. The decor is heavy on music-inspired decor, too, with an entire wall covered in old-fashioned mix tapes. Indulge in delicious handmade gourmet pops and ice cream which are named after 1980s songs and bands.
Pops and Rockets is family friendly for sure, but the perfect atmosphere for a date night, too!
Crying Eagle Brewing Co.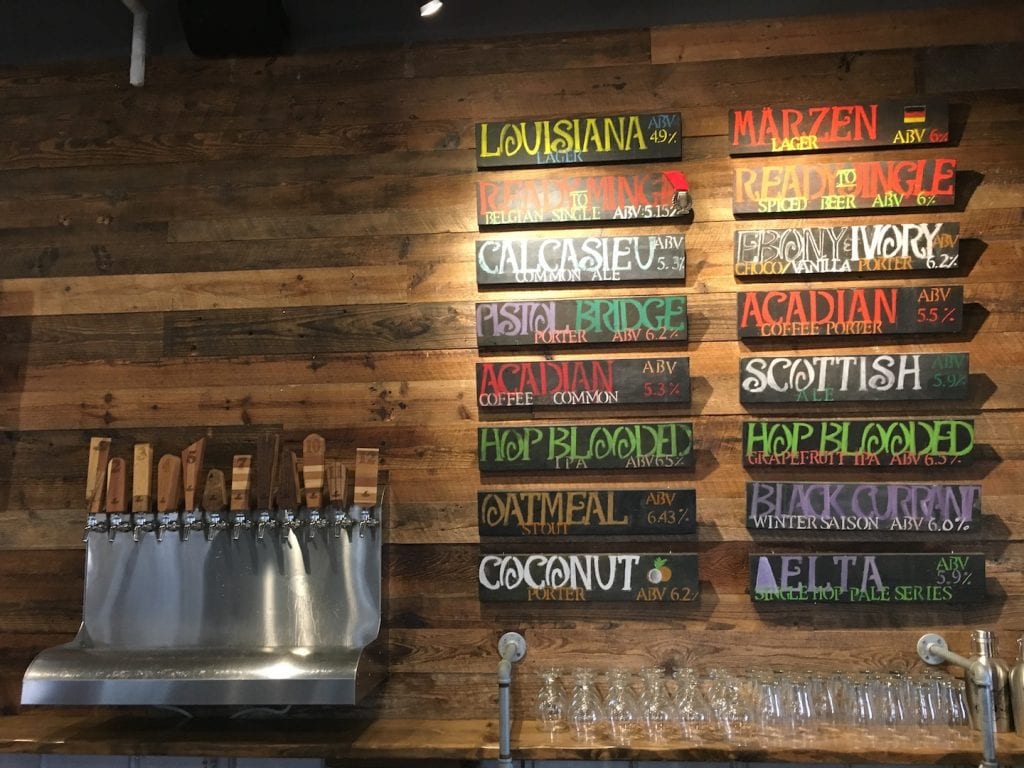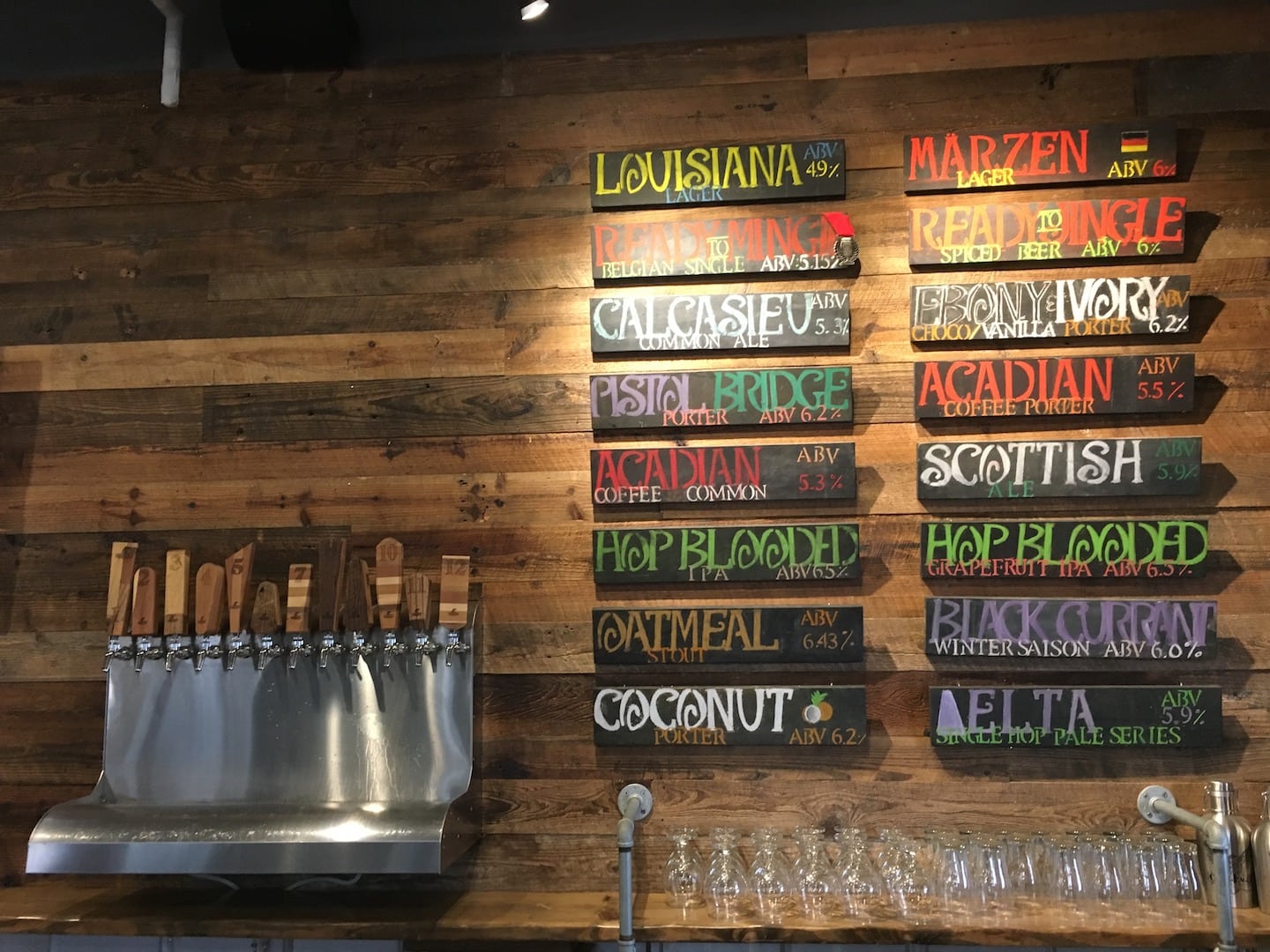 Crying Eagle craft brewery, taproom and beer garden has a rotating line of beers that are perfect for a relaxed afternoon or evening.
…
If you're looking for even more fun and family friendly Mardi Gras locations, check out Mardi Gras in Disney World.
Traveling with children? Here are some of our favorite kid-friendly travel destinations: