The waterfalls in DuPont State Forest near Brevard, NC are among the best to enjoy in Western North Carolina for an easy day hike.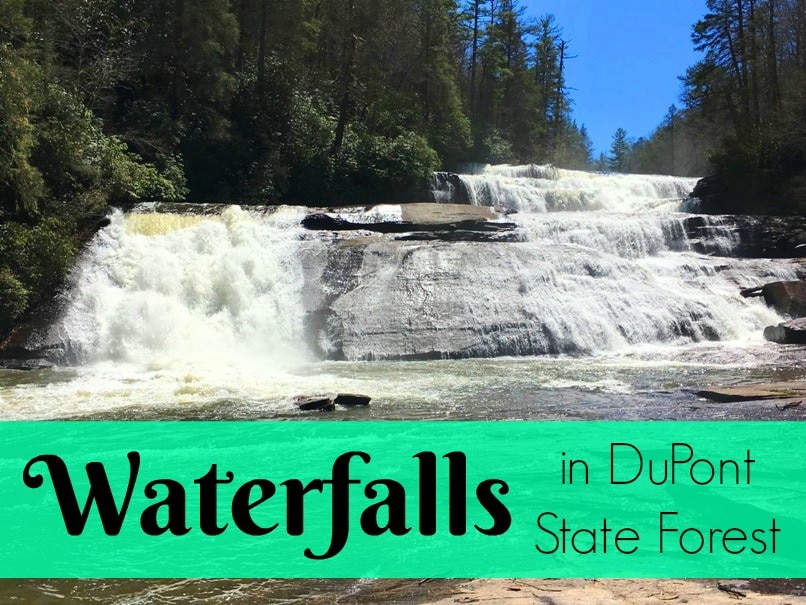 DuPont State Recreational Forest is a 10,000 acre gem for many reasons. The land has been given to the state for outdoor pursuits (notably hiking, mountain biking and horseback riding on 86 miles of trails) for locals and visitors alike. And admission is free, which makes this beautiful NC park area absolutely one of the best places to visit while near Asheville and Hendersonville or while in the Brevard area.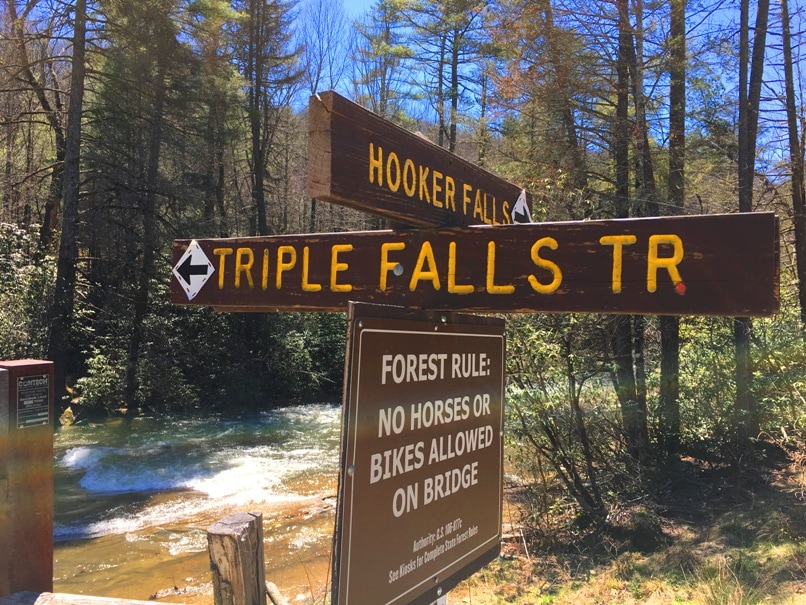 We're particular to waterfall hikes (especially since Transylvania County has SOOO many of them!). So if you're looking for waterfalls that are relatively easy to hike to, check out these waterfall hikes in DuPont State Forest.
Be prepared! While these hikes aren't too strenuous, it's always a wise idea to come prepared. Check out these 4 day hike essentials that we ALWAYS carry with us on the trail.
Waterfalls in DuPont State Forest
Triple Falls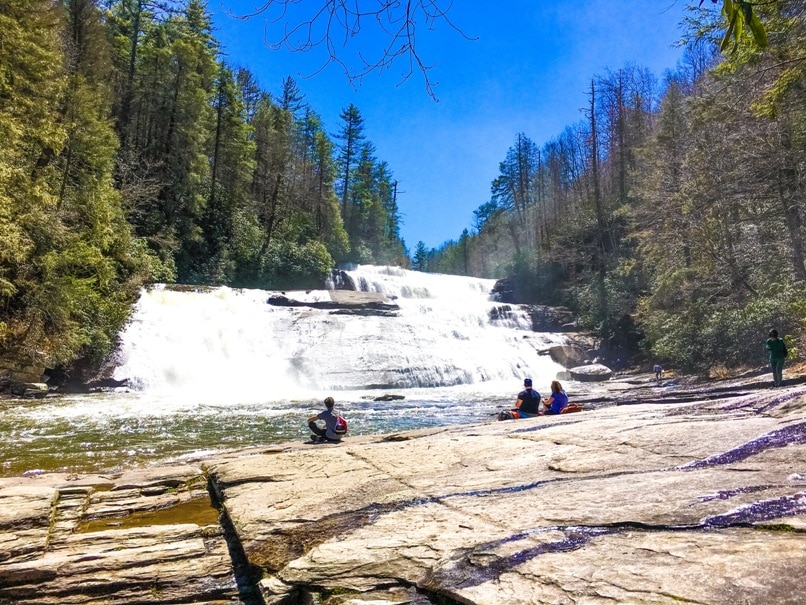 It's a one mile roundtrip hike to Triple Falls from the parking area. This waterfall hike is a bit more strenuous compared to Hooker Falls and Wintergreen Falls. There is some elevation, yet the varied ages and abilities of hikers on the trail show that it is possible for many people of all physical abilities to visit this stunning waterfall.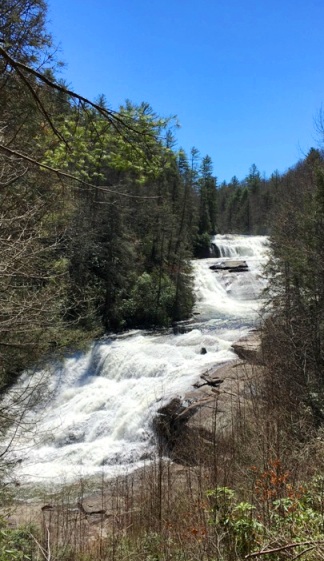 The three tier waterfall allows many access points to view and photograph the 120-foot Triple Falls in DuPont State Forest.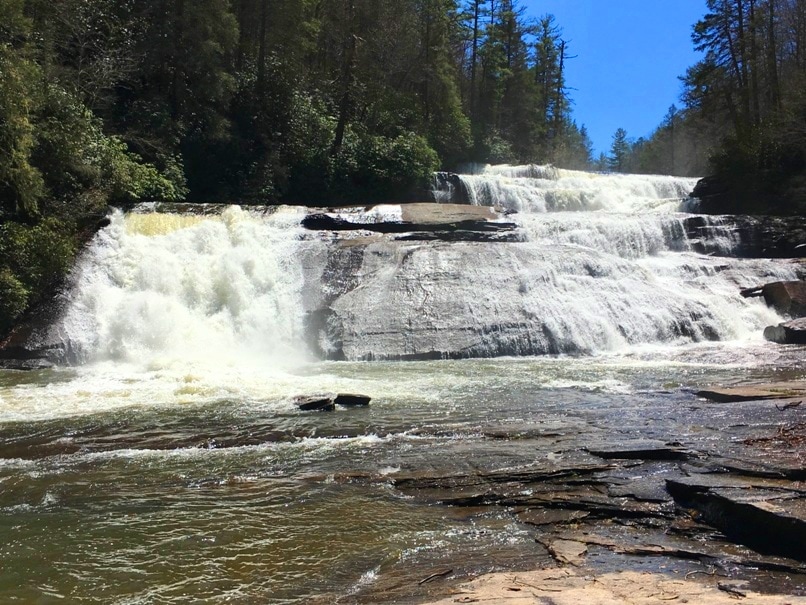 There are many steps leading to some of the observation sites, so be aware that climbing steps will be necessary to get to some portions of the waterfall.
High Falls
Check back soon. We're planning a visit!
Hooker Falls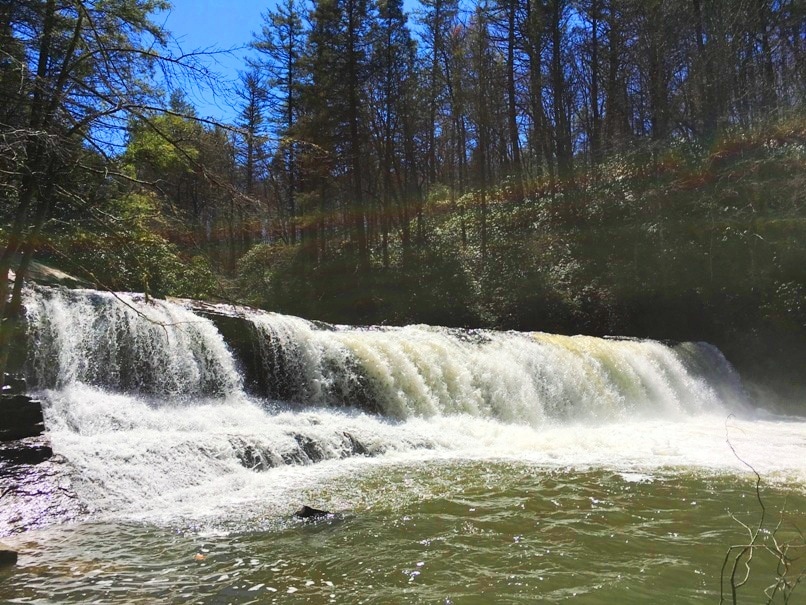 One of the easier hikes to do, Hooker Falls does not disappoint! The 1/2 mile roundtrip hike is a gentle hike from the parking area.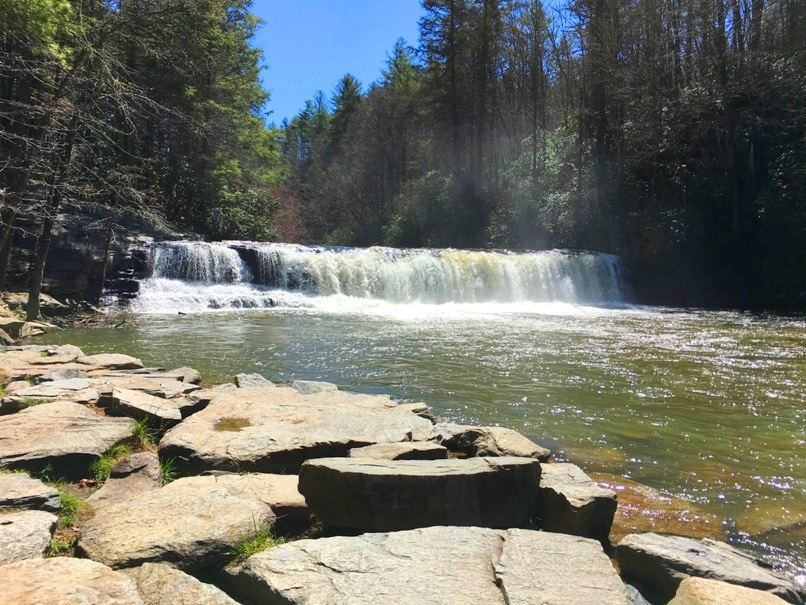 The waterfall might not be the tallest or mightiest, but the gentle falling of water into large pools makes this a tranquil spot to have a picnic. Wading in the cool water is a popular activity.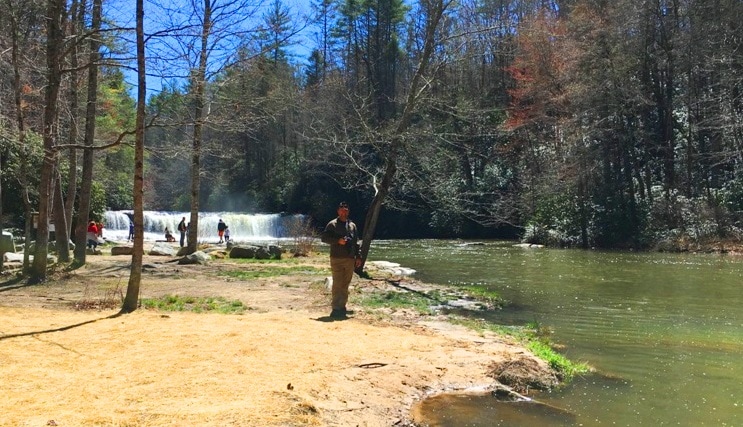 Hooker Falls is also in the same area as Triple Falls, so you can do two waterfall hikes in one day.
Wintergreen Falls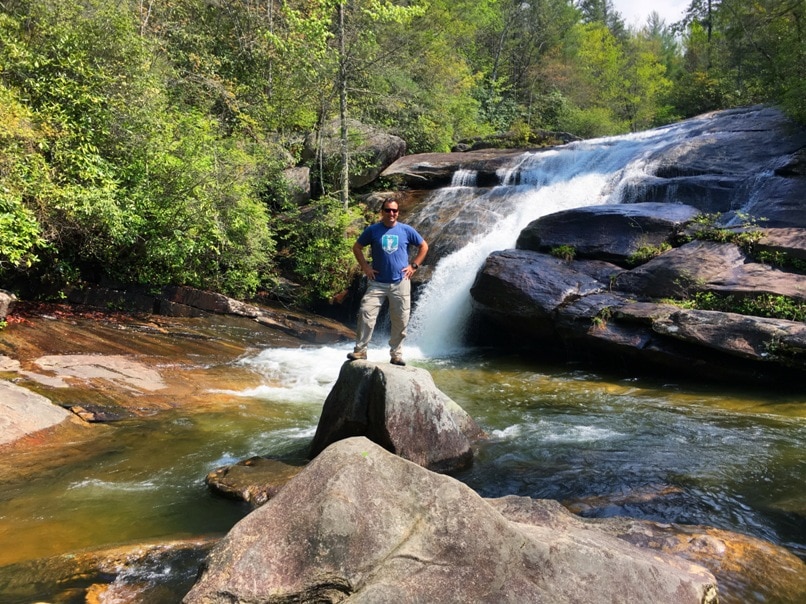 This waterfall doesn't get as much attention as Triple Falls, Hooker Falls, or High Falls, but it's probably my favorite. This 1.7 mile hike to Wintergreen Falls is super flat and easy. You'll probably seen horseback riders along the way.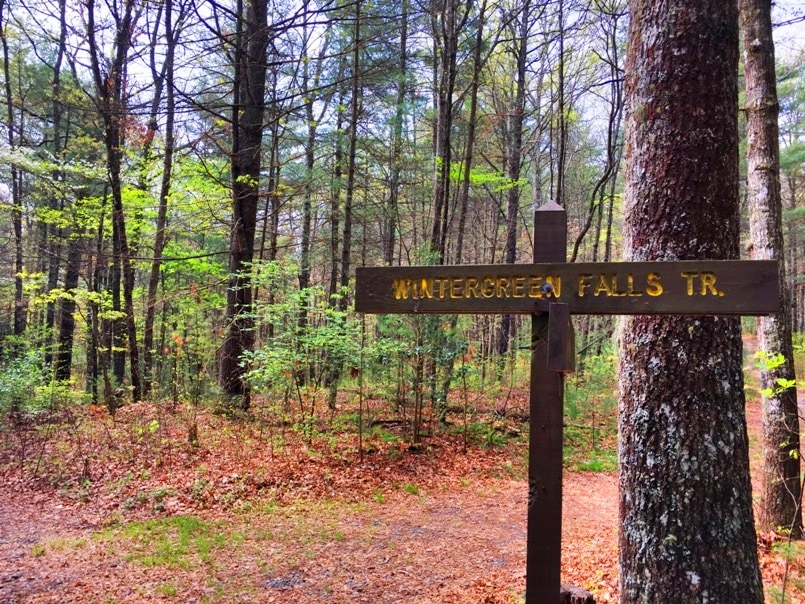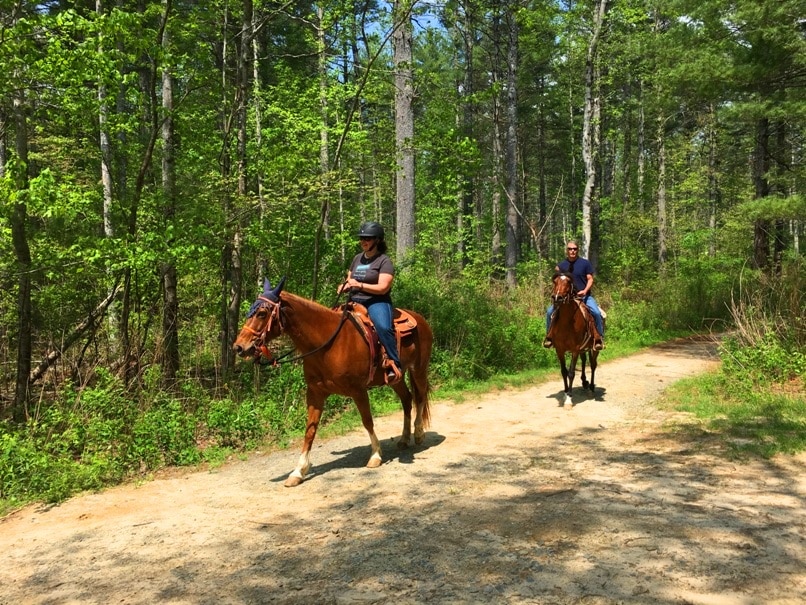 The only place where the elevation really changes and the landscape gets a little bit rough to navigate is right at the actual waterfall. To get close, you'll need to climb over a few rocks. But, oh, is it worth it!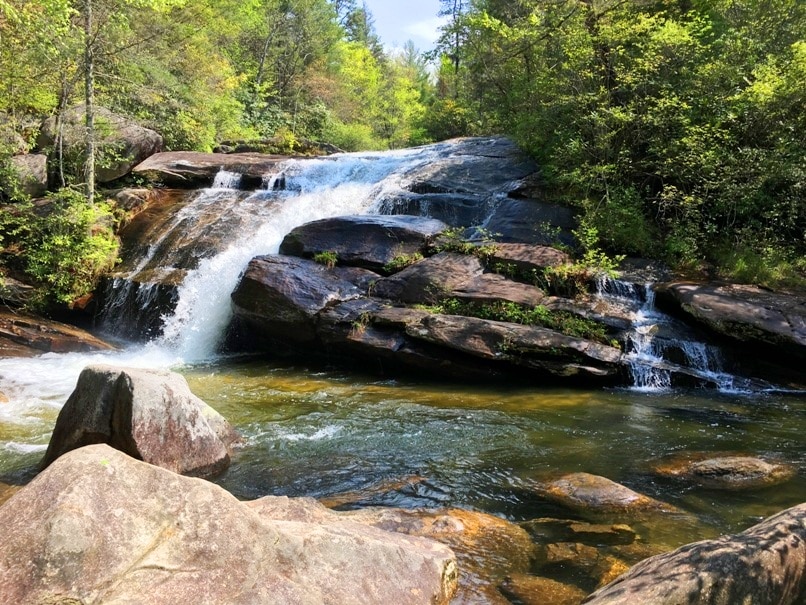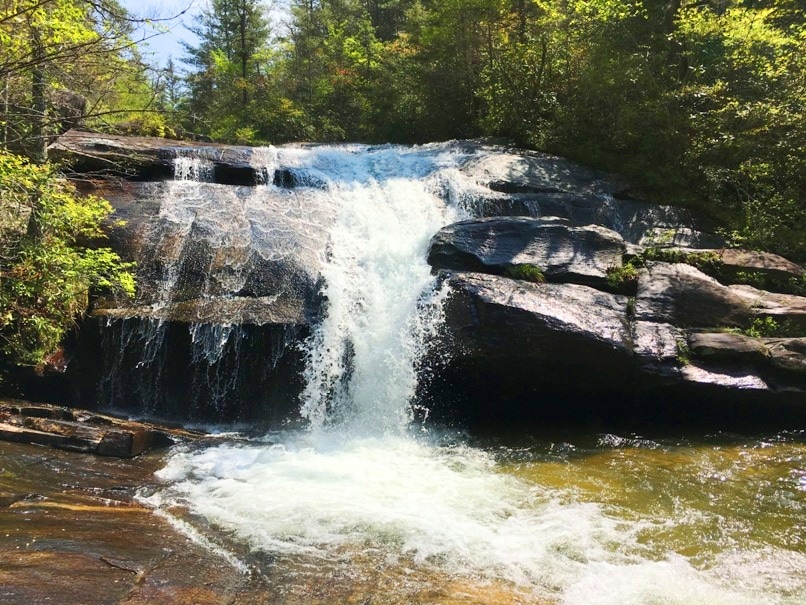 It's easy to get to the rock right beside Wintergreen Falls and sit close to the crashing water. It' a short waterfall, but the accessibility is what makes it nice. The ice-cold water is refreshing after a hike. During a spring-time hike, we saw only a handful of people during the entire round-trip hike.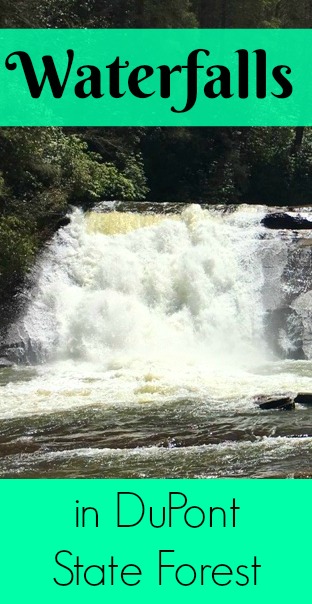 Bridal Veil Falls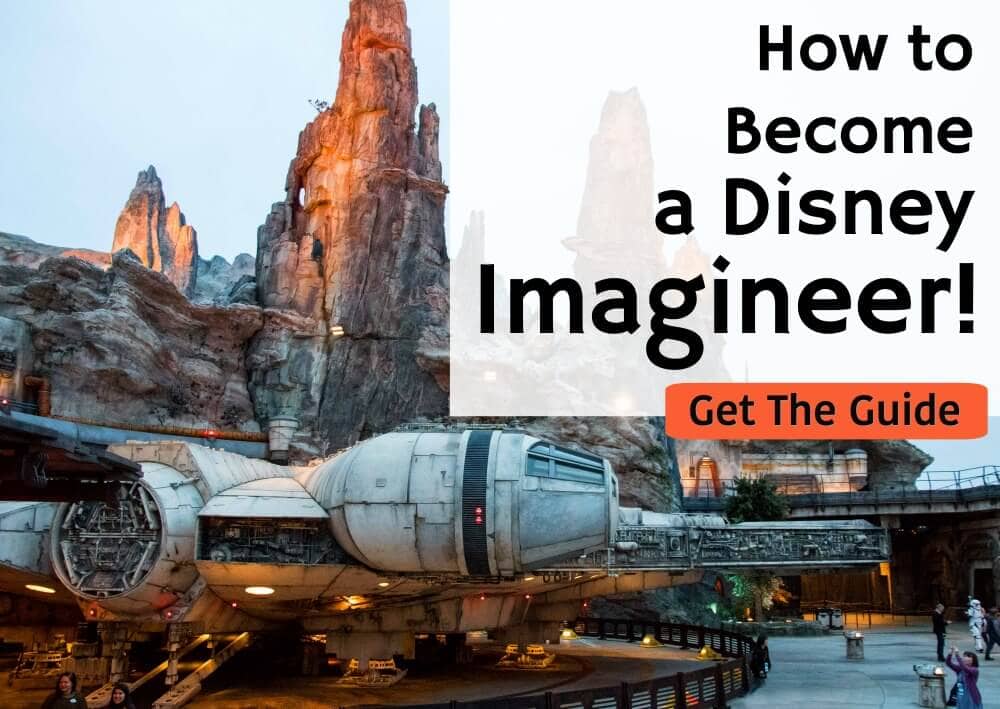 Check back soon. We're planning a visit!
Grassy Creek Falls
Check back soon. We're planning a visit!