Orange trees are perhaps one of the most iconic images of the Sunshine State. The citrus fruit is so well known in Florida that it is showcased on the state's license plates.
If you want to wander through orange groves and pick your own citrus fruit, these are the best destinations for picking oranges in Orlando and the surrounding areas.
Vast acres of orange trees used to be common in Central Florida. However, development for homes and businesses have eradicated a majority of citrus groves. In fact, citrus production dropped dramatically from 2021-2022.
Florida's citrus crop was devastated by Hurricane Ian in 2022 and is expected to be a third smaller in 2023.
The state's crop is expected to be the smallest since the 1940s.
Be sure to call ahead or visit the social media pages of each citrus grove to confirm they have supply.
When to Pick Oranges in Florida
Unlike other types of crops, oranges are harvested during the winter time. Citrus season starts in December and runs through May. However, the best picking is from December to February.
While December, January and February usually have temperate weather, later months tend to get pretty hot. It can be miserable walking around the fields while sweating.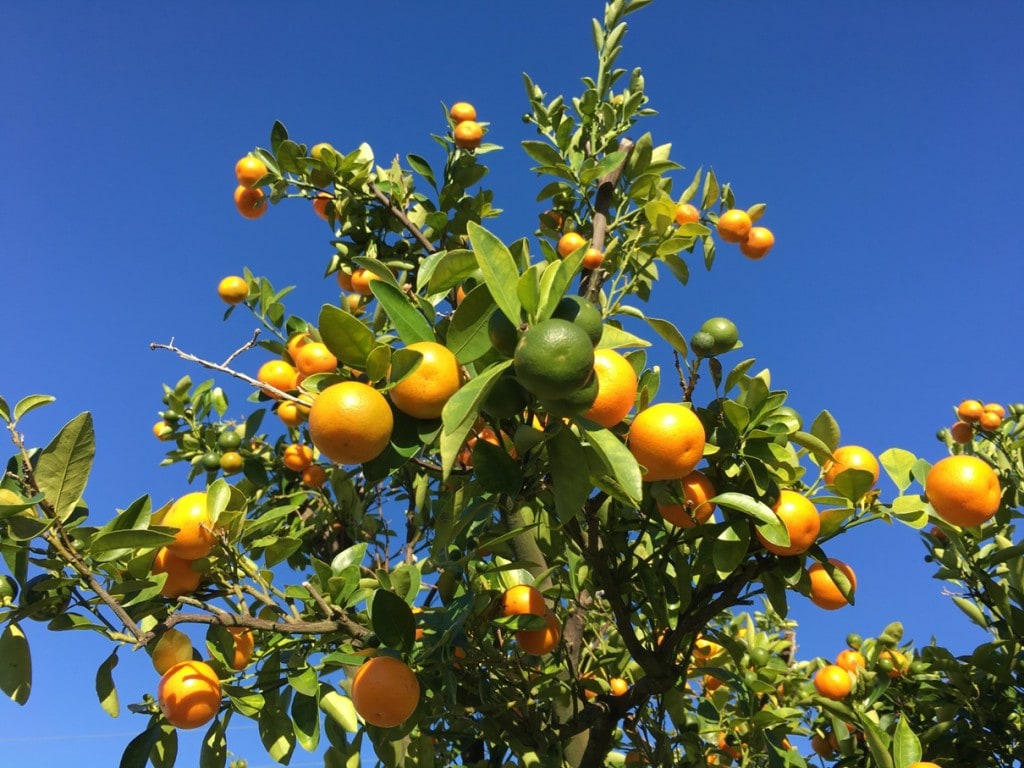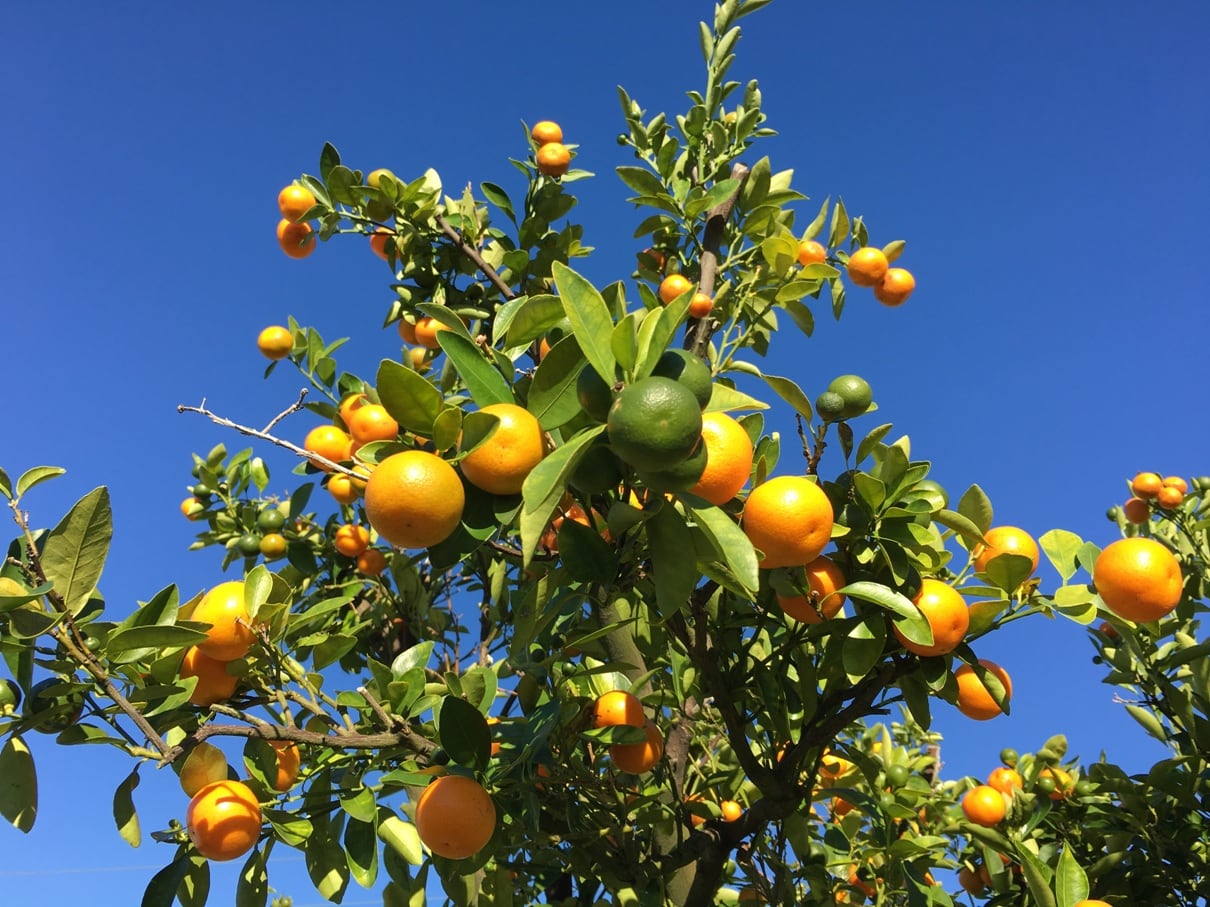 Also, with the popularity of U-Pick farms lately, inventory has been know to be depleted almost as soon as the farms open. Going as soon in the season as possible can help guarantee you will have fruit to pick.
In December 2022, many of the smaller groves were already out of fruit by Christmas.
Visiting orange groves is one of the best old-fashioned ways to enjoy authentic Florida the way it used to be.
Many people flock to Florida in the winter to enjoy the warmth and sunshine. Whether you are visiting the Orlando area for a week or are a true snowbird and staying for months, be sure to get outside and enjoy the beautiful weather by wandering around these farmer's citrus groves.
Best Places for Orange Picking in Orlando
These are the farms and groves for U-pick oranges around Orlando. While there are more citrus farm stands in the area that sell fruits that have already been picked, those farms are not included in our U-Pick list.
Showcase of Citrus
Approximately 37 minutes from Downtown Orlando
My favorite place for picking oranges is the Showcase of Citrus in Clermont. This destination also happens to be one of the closest to Orlando.
This sprawling 2,500 acre estate and citrus grove has acres of trees to pick oranges, tangerines, grapefruit and other citrus fruits. There are over 50 varieties to choose from. In fact, the groves are so big you will need to refer to a map and choose which type of fruit you want to know where to go.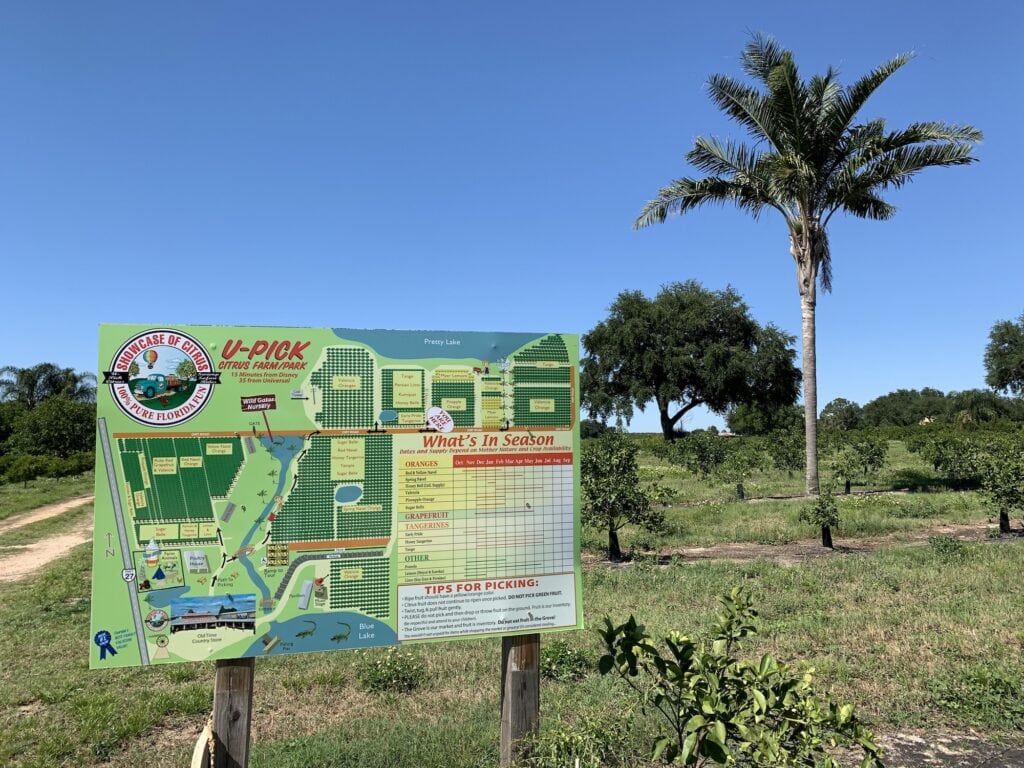 We love the variety of things to do beyond picking oranges, so you can spend several hours at Showcase of Citrus for a fun family outing. There is a pond with a fishing pier, farm animals, gem mining and Monster truck tours.
The famous monster truck tour is in a huge modified truck that will take you on an hour-long tour of the citrus fields and cattle ranch. You will see animals such as alligators, water buffalo and zebra, too.
Active military and veterans ride free on the monster truck tours with military ID.
The Country Store gift shop is huge and offers a big selection of Florida-grown produce and gifts.
You will even find a wine, beer and mimosa bar at the Country Store! The specialty of the house is Florida citrus, tropical and berry wines.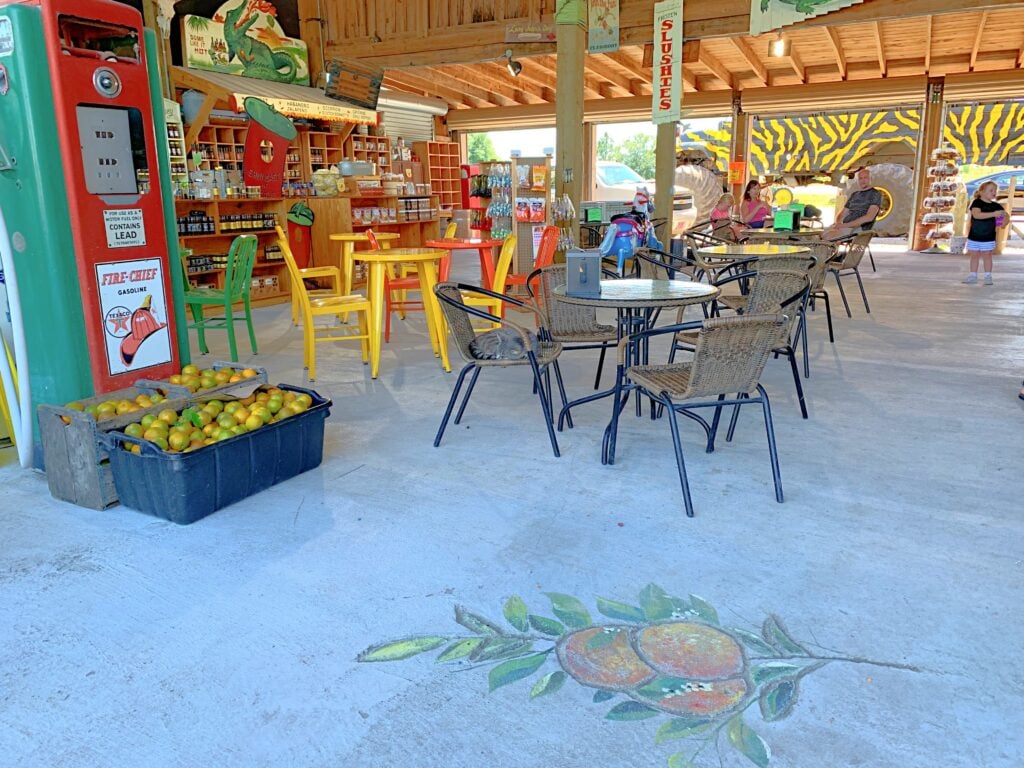 We literally can't leave Showcase of Citrus without one of their Orange Juice and Vanilla Creamsicles! These amazing frozen drinks taste just like Disney's Citrus Swirls (we actually think they taste better)!
Showcase of Citrus is open seven days a week, every day of the year. Pet friendly.
Contact Information
5010 US Highway 27
Clermont, FL 34714
(352) 394-4377
Fun Fact: The Florida Welcome Center at the state line on I-95 gives visitors free samples of orange juice and grapefruit juice!
---
Bekemeyer Family Farm
Approximately 20 minutes from Downtown Orlando
This unique hydroponic farm offers strawberries, as well as peaches and citrus fruits, including:
Sugar Bell
Oranges
Pomelos
Tangos
Lemons
Lime
While not certified organic, they are conscious of eco-friendly growing methods and using as little chemicals as possible.
In 2022, the farm is only open for picking on Saturdays.
The fourth generation family farm is open from December to early May, with citrus fruits becoming available in December.
Contact Information
1055 E. Story Road
Winter Garden, FL 34787
Fun Fact: The Florida Citrus Commission partnered with Walt Disney in 1970 to create the Orange Bird mascot for promoting the citrus industry.

Orange Bird became a popular character at Disney World and is popular again today.
---
Dooley Groves
Approximately 2 hours from Downtown Orlando
Dooley Groves is Florida's largest U-pick Honeybell grove with over 6,500 trees to pick from!
The groves are open every day of the week from December 26, 2022 until February, March or April (depending on when fruits have all been picked).
Visit the groves between 10 a.m. and 4 p.m. There is no need to make a reservation.
No pets are allowed in the groves.
You cannot bring large purses or backpacks in the groves (to prevent stealing oranges).
The 2023 prices for U-Pick Honeybells are $2.89 per pound.
Contact Information
1651 Stephens Road
Ruskin, FL 33570
(813) 645-3256
---
Lake Mills U-Pick
Approximately 30 minutes from Downtown Orlando
A small u-pick farm with citrus fruits such as:
navel oranges
Honeybees
Pomelos
tangerines
tangelos
grapefruit
persimmons
kumquats
You do need to make an appointment to go out and pick.
Prices in 2022 are:
Tangelos: $10 per 1/4 bushel bag
Navels: $9 per 1/4 bushel bag
Tangerines: $10 per 1/4 bushel bag
Honeybells: $10 per 1/4 bushel bag
Grapefruits: $9 per 1/4 bushel bag
Pomelos: $1.50 per pound
Persimmons: $4 per pound
This location opens in October with crops such as persimmons, and closes in April.
Contact Information
1701 Lake Mills Road
Chuluota, FL 32766
Facebook Page
If you enjoy U-Pick farms, see our guide to North Carolina's U-Pick Apple Orchards and a driving tour of apple blossoms in the Spring.
---
Graham's Farm
Approximately 1 hour from Downtown Orlando
This small farm has a variety of fruits and veggies to pick, including strawberries in December, along with brussel sprouts, cabbage, broccoli, kale and collards.
In December Santa Claus actually came for a Santa in the Strawberry Patch event.
Citrus fruits include:
2022 Prices:
U-pick oranges: $10 per pound
Contact Information
14803 Lake Yale Road
Umatilla, FL 32784
Facebook Page
---
To learn more about Florida's citrus industry, consider visiting Florida's Natural Visitor Center in Lake Wales.
You have probably seen Florida's Natural orange juice in grocery stores. This is the location where the oranges are pressed and processed to become orange juice that is shipped across America.
See our tour of Florida's Natural Visitor Center in our YouTube video below:
What To Bring When Picking Oranges
Walking through orange groves to pick citrus fruits isn't really strenuous, but you should dress properly and bring a few items with you for an enjoyable visit.
Sunscreen: Even though citrus-picking season is in winter, it is still hot in Florida! Use sunscreen if the weather isn't cold.
Water: If it is hot, you can start to dehydrate under the Florida sun with no shade. Bring a water bottle with you.
Closed Toe Shoes: Yes, you probably want to wear flip flops in the sunshine. However, these are working farms with sandy soil. Protect your feet from the beneficial insects, and sandy toes, with closed toe shoes.
Long Pants: You could be walking about fields with weeds and tall grass.
Hand Wipes: Picking the sweet citrus fruits can lead to sticky orange juice getting on your hands. Bring some hand wipes or wet towels to wipe off the fruit juice.
To celebrate your outing and have fun photos, why not wear a cute orange picking shirt showing the varieties of oranges?