Apple picking in Hendersonville, NC is one of the most anticipated events in the area from late summer to late fall. Henderson County grows around 80% of North Carolina's apples, and is among the top 10 apple-growing counties in the U.S.A.!
With thousands of acres of apple trees growing in the Blue Ridge Mountains, there are lots of apple orchards growing the fruit. However, not all orchards are open to the public. Our Ultimate Guide to Apple Orchards in Hendersonville, NC tells you where you can pick your own apples or enjoy shopping at farm fresh markets.
These are the 7 U-Pick apple orchards in Henderson County that you will want to visit for fun memories and awesome photos!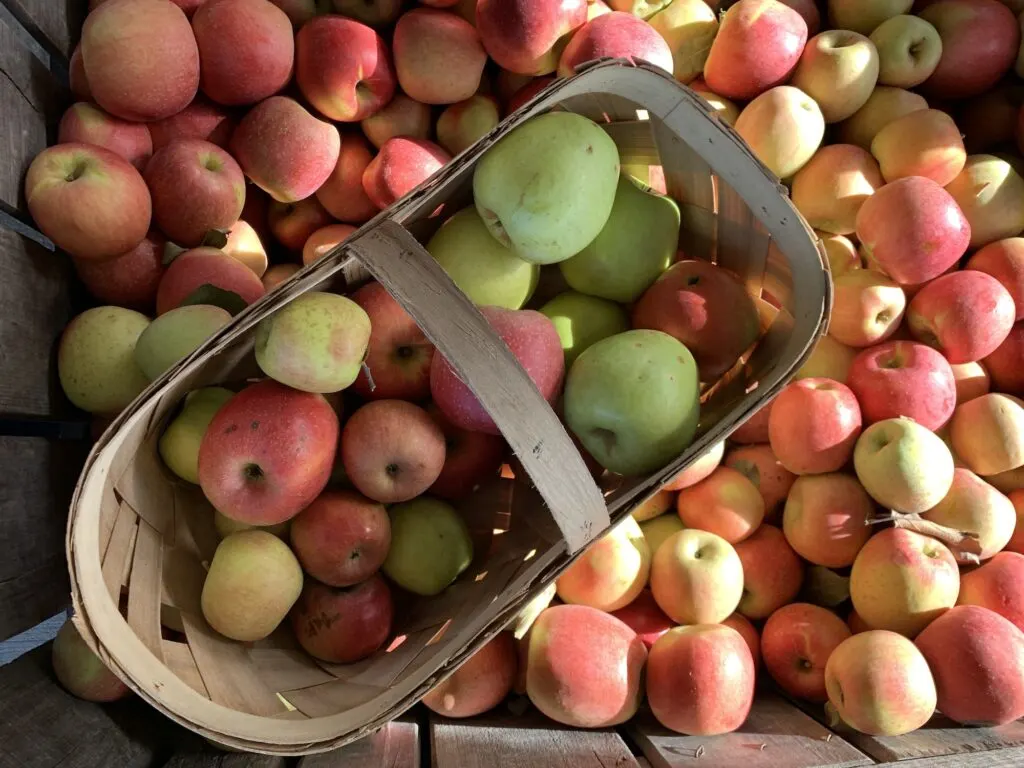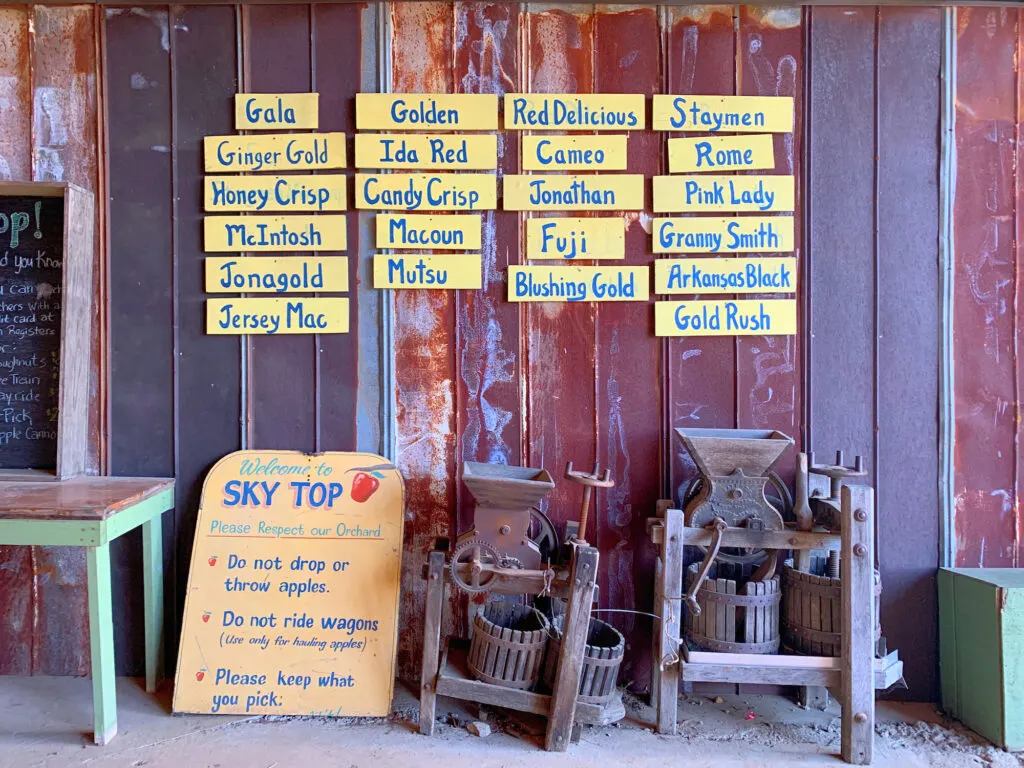 Apple Orchards Currently Open (Updated July 21, 2023)
Apple orchards open at staggered times throughout the season. We update our list of openings as soon as the farms announce their opening dates. (All apple orchards were open to guests by August 22 in 2022 to give you an idea of when to schedule a visit.)
When is Apple Picking Season in Henderson County?
Each variety of apple grown in Henderson County ripens at a different time. The apple orchards grow a variety of apples so that there is always something ready to be picked during late summer and Fall.
A limited variety of apples are ready to be picked in mid to late July. Apples continue to ripen and be harvested until late October.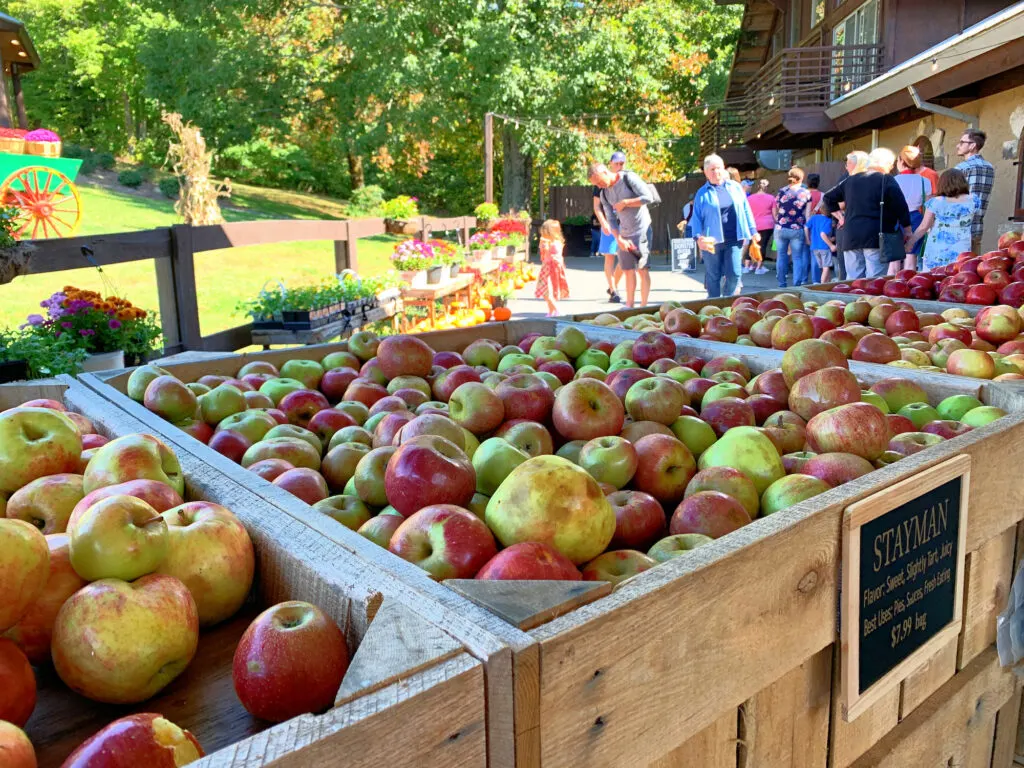 Peak apple picking season depends on the apple variety that you want. However, most people enjoy apple picking in late September to mid October when the weather is cooler and the leaves on the trees start to change colors.
Related Post: Apple season is also a great start for hard cider season! Here are all of the hard cideries in Hendersonville. Some of these apple orchards are on the list.
The Most Important Tips for Enjoying a Visit to the Orchards
As western North Carolina locals, we have been picking apples in Hendersonville for more than 30 years! So we want to share some of our advice with you on how to best enjoy your time.
Going to apple farms is a family tradition for both locals and visitors. Everyone loves to get the photos in the orchards, enjoy an apple cider doughnut or apple slushie, and buy a bushel of apples to take home.
Fall is one of the busiest times in Hendersonville and Henderson County, so these travel tips will help you be prepared.
Weekends are very crowded. While many of the kid's activities are only available on weekends at the orchards, it's best to visit in the middle of the week if possible.
If you must visit on a weekend, get there as early as possible. Peak visitation times seem to be between 10 a.m. – 3 p.m. when you will find the most crowds.
Many apple orchards need to hire parking assistants to handle the number of vehicles in the small parking lots. If you can car pool with other members of your party, it is wise to do so.
Apple harvests are dependent on the weather. If there is a late Spring frost or early Fall frost, that will affect the availability of fruit. Stormy weather conditions, too much rain, or heavy crowds can all impact whether or not the orchards are open. Social media is the number one way that these small family farms communicate to visitors about availability of apple varieties, whether U-Pick options are still available, and operating hours. Be sure to visit the social media page of each orchard before visiting.
Towards the end of the season (early November to December), orchard hours fluctuate a lot based on availability, demand and weather. Smaller orchards typically don't decide when they will close for the season until later in the year.
All U-Pick apple orchards will have plenty of pre-picked bags and bushels of apples available to purchase in their farm stands. If you don't want to go out in the fields, don't worry!
While most apple orchards are pet-friendly, your pets cannot go everywhere. Any apple orchard with a farm stand that is preparing foods cannot have pets in the food production areas, unless they are service animals.
Apple-picking season is still HOT. Dress accordingly with a hat, sunscreen and cool clothes if you are visiting in August or September.
Many people take family photos among the apple trees or at the orchards every year. It is a rite of passage for many generations, documenting how much everyone has grown over the year. And many orchards have photo backdrops for the kids. Visit early in the morning or late afternoon for the best light and least amount of crowds to take professional-looking photos.
Apple orchards are experiencing record-high crowds lately and the u-pick trees are often empty soon after a specific apple variety is released. If you want to make sure you get the experience of picking apples off of the tree, be sure to get to the orchards as soon as you can in the season.
If you are allergic to bees, take special precautions. Bees spread pollen which allows apples to grow, and the orchards are full of the pollinators.
Wagons and strollers for small children might not be allowed in all orchards (such as at Jeter Mountain Farm). Be sure to ask before your visit if this is something that could change your plans.
Apple-picking poles are available at many orchards. These poles help you reach the apples on the top of the trees. Ask to use one if you are interested.
Related Post: Hendersonville's apple orchards are beautiful to see in Spring, too. Here's how to see the apple blossom blooms and a driving map.
Grandad's Apples
*Opens on August 11, 2023 for the season. Will be open every day of the week through the end of October.
Located on Hwy. 64 between Lake Lure and Hendersonville, Grandad's Apples might be one of the most popular apple orchards in Henderson County.
The fourth-generation family farm has been in operation since 1994. There are 30 acres of apples and peach trees at the agri-tourism location you visit, but the family farms 100 acres in total in other plots of land throughout Henderson County.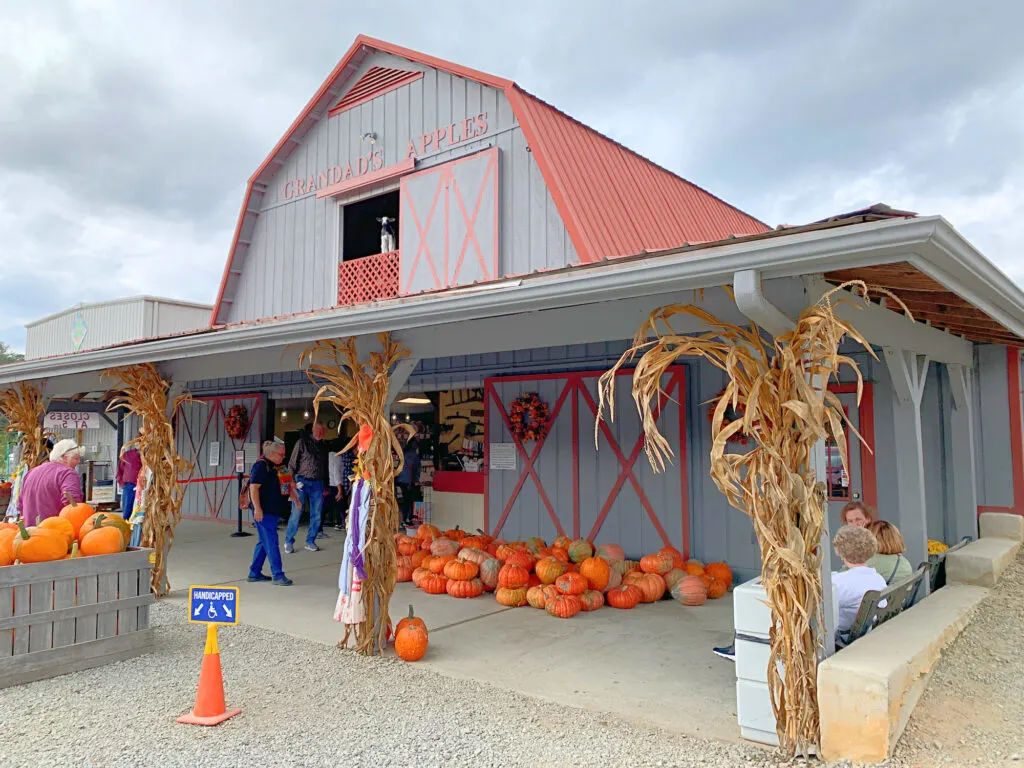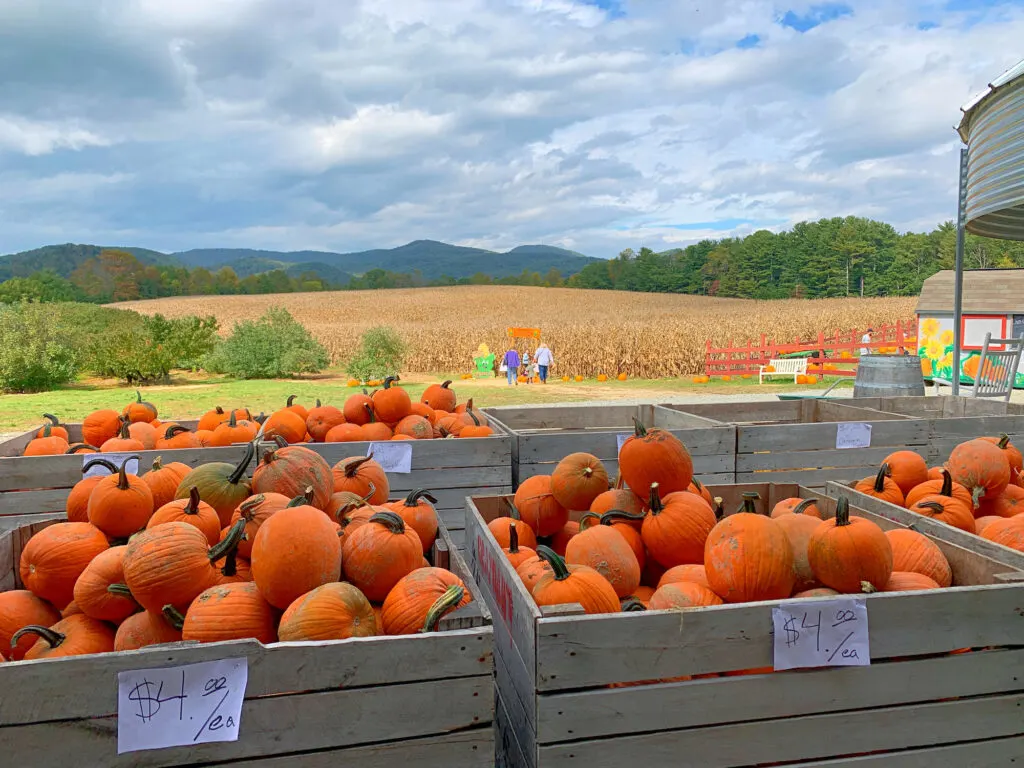 We love Grandad's because of the relaxed atmosphere, good food and amazing views. In fact, sitting in their rocking chairs overlooking the apple orchard and mountains in the distance is one of our favorite things about Fall!
There are more than 30 different varieties of apples to choose from, either bagged or U-pick. You can easily wander from the barn to the orchard to pick apples.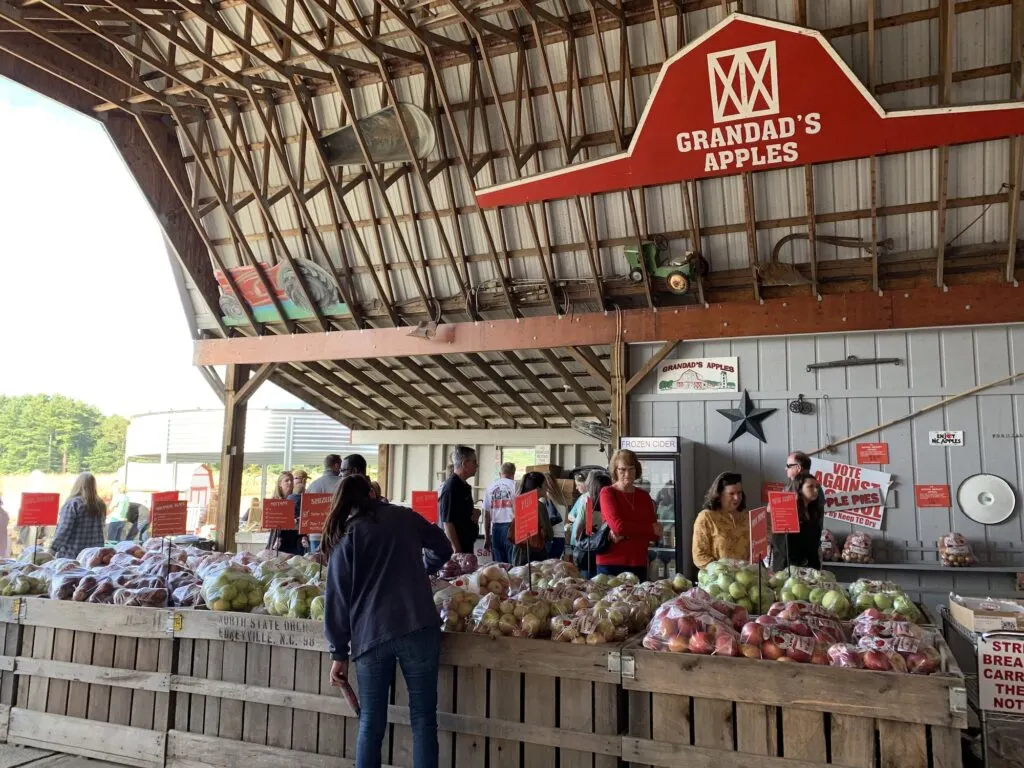 In late September, pumpkins that they have grown are brought to the farm and spread out in the field to choose from. The pumpkin patch at Grandad's is a much-loved tradition and you will see plenty of families taking photos among the pumpkins.
There are several activities for kids and adults to enjoy, but keep in mind some are only open for limited times.
The Corn Maze is fun to wander through. You'll need 30-60 minutes to fully enjoy this maze as it is quite large! Admission is $5.
The Cow Train is fun for little ones. (Beginning Labor Day Weekend 2022; $5 per rider)
The Apple Cannon is one of the highlights for kids. Shoot apples across the lake with an air-powered cannon. (Beginning Labor Day Weekend 2022; $5 per person)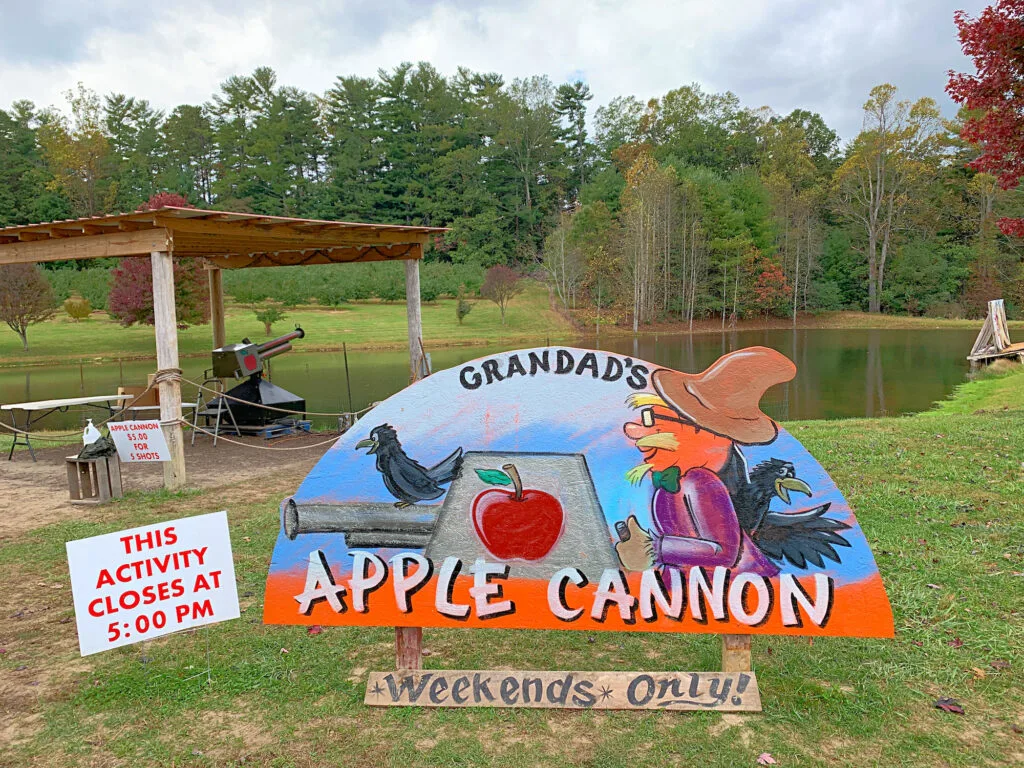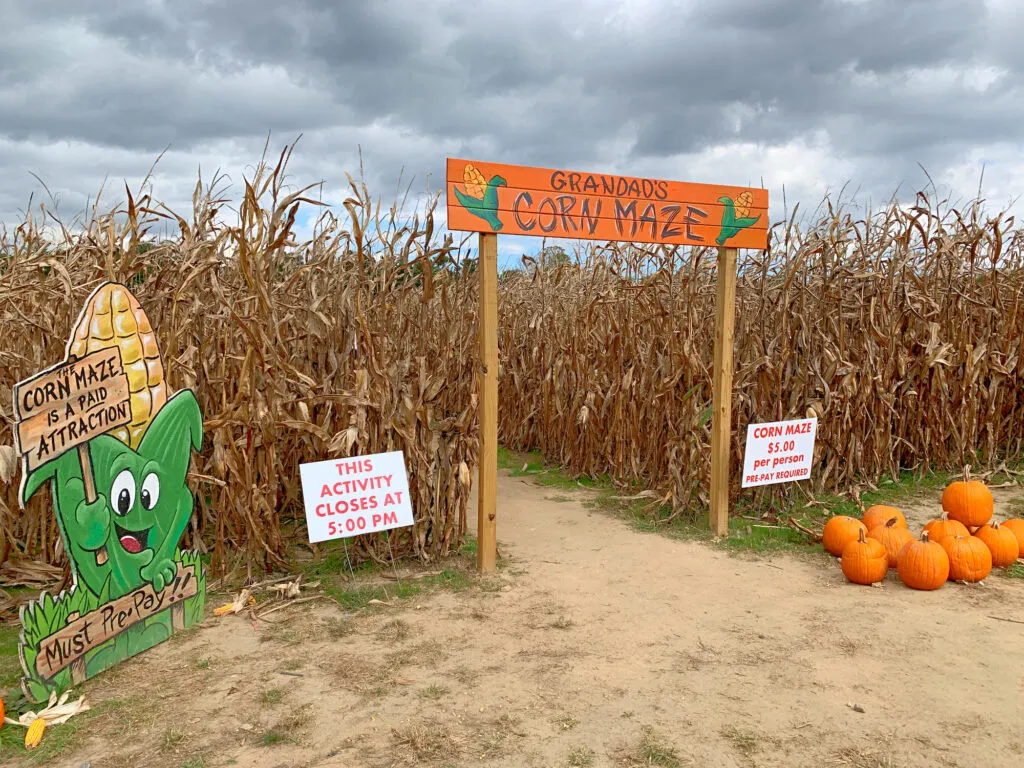 Granddad's is one of the few apple orchards that have hard apple cider (alcoholic).
Inside the barn you will find a bakery and farmer's market. Lines can get long for the bakery, so if you see a short line don't wait!
Helpful Visitor Information
Hours: 8 a.m. to 6 p.m., seven days a week. Activities and Bakery close at 5 p.m.
Address: 2951 Chimney Rock Rd. (U.S. Hwy 64), Hendersonville, NC 28792
Phone: (828) 685-1685
Pet Friendly: Yes
Restrooms: Yes
RV Parking: Yes. Grandad's often has tour buses at their location, so they could accommodate large vehicles. But there is no dedicated RV parking.
Sky Top Orchard
*Sky Top Orchard opened July 21, 2023 for a soft opening Friday-Sunday. Ginger Golds are available.
Located in Zirconia, NC, just past Flat Rock, this 80-acre apple orchard gets its name from the amazing views. Family owned and operated since 1967, the apple farm just keeps getting better every year with new things to do each season.
Other kid-friendly activities include:
Tractor ride
Bee train
Apple cannon
Gem mining
See the barnyard animals (Not a petting zoo, but if the animals come up to the fence you could pet them. Be sure to bring quarters if you want to buy duck feed.)
Playground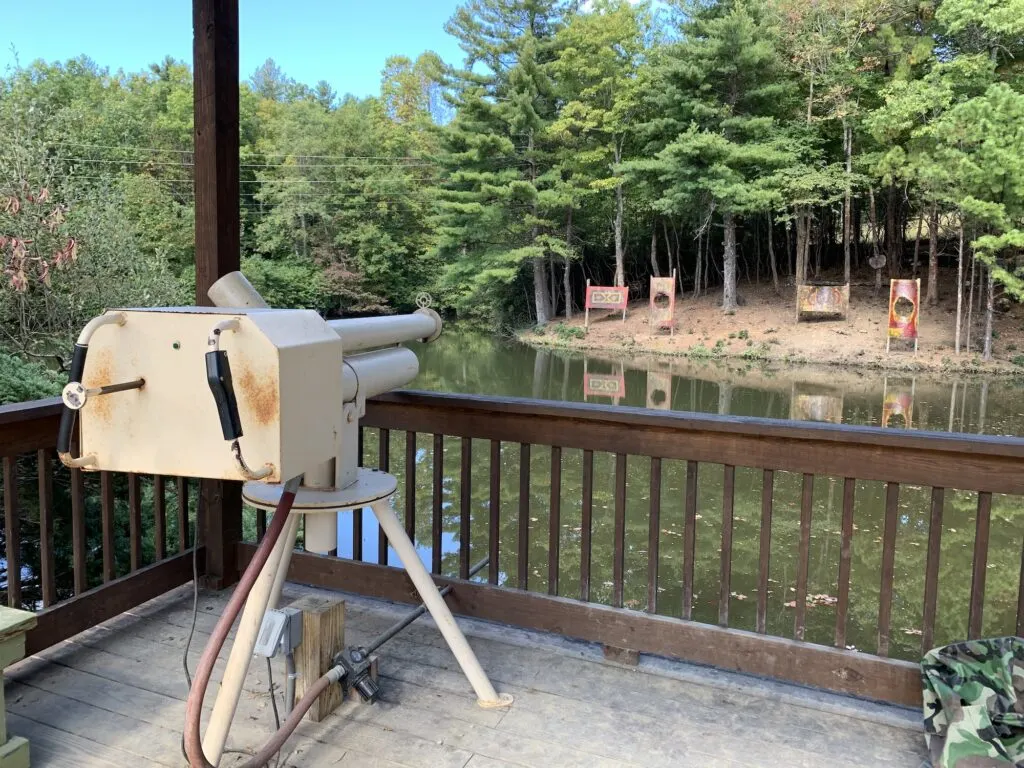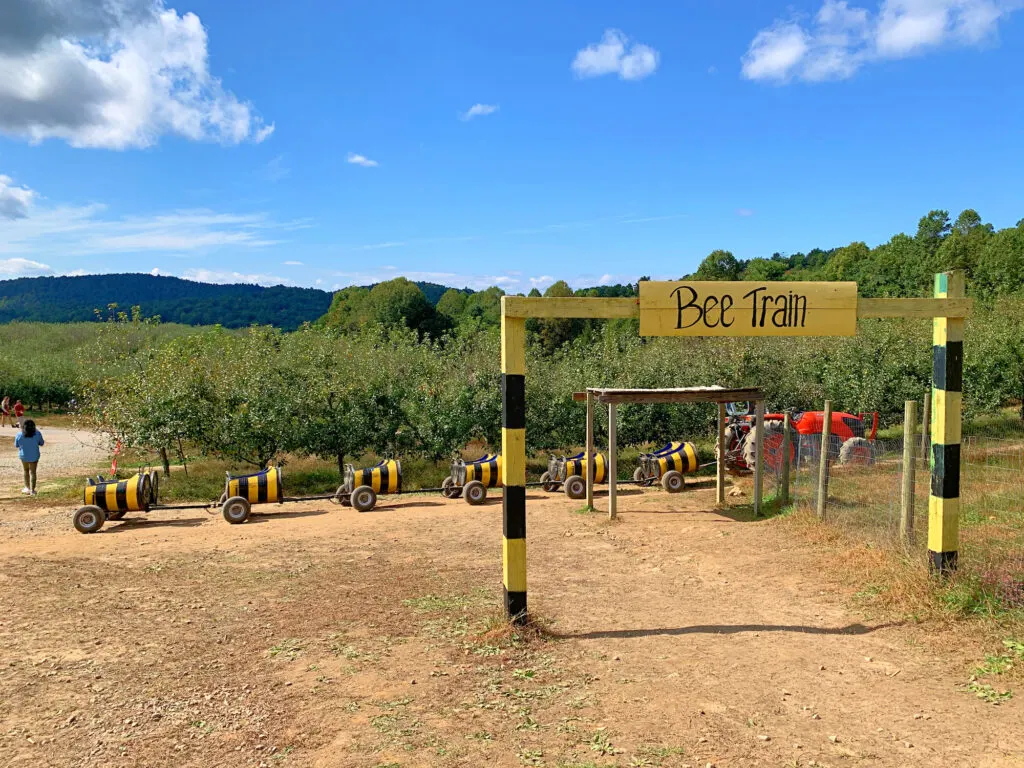 The bamboo forest at Sky Top Orchard is unusual. It's fun for both kids and adults to wander through. Plus, it is a really cool photo opportunity!
The walk down towards the u-pick apple orchards, apple cannon, bamboo forest, and barnyard animals is a bit steep. Just an FYI in case you have mobility issues.
There are 22 varieties of apples available at the farm. The market and bakery area here is among the biggest of all of the apple orchards in Henderson County.
A large covered picnic area is great for picnicking or hanging out for the day. Many days during apple-picking season can still be quite warm, so you will welcome the shade here.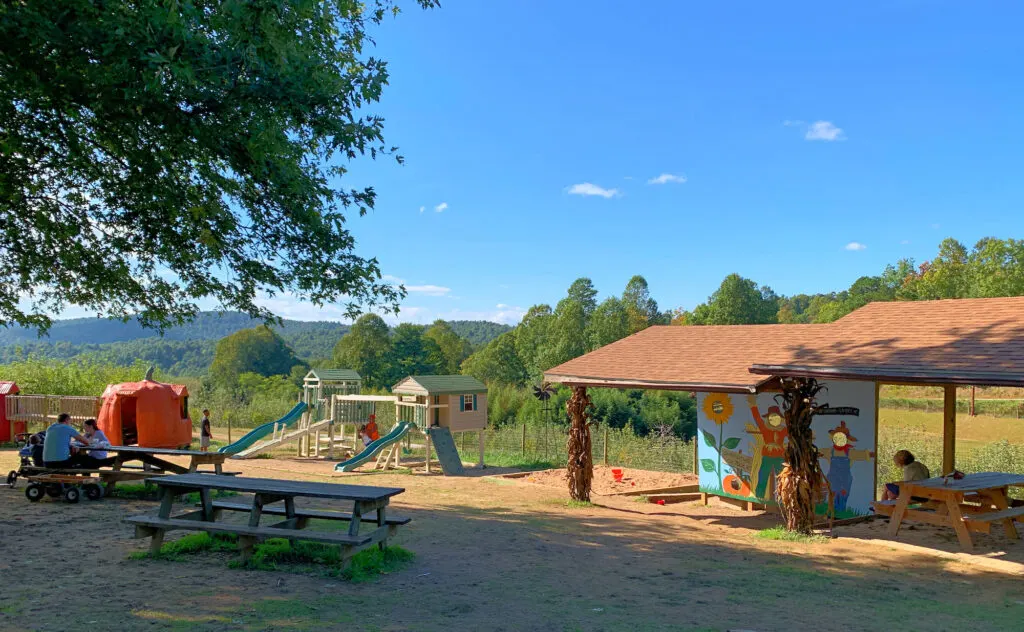 Sky Top Orchard is also one of the Hendersonville apple orchards that makes their own hard cider.
Helpful Visitor Information
Hours: 9 a.m. – 5 p.m. (until Labor Day weekend); 9 a.m. to 6 p.m. (Labor Day weekend until Daylight Savings Time), seven days a week (except Thanksgiving Day)
Address: 1193 Pinnacle Mountain Road, Zirconia, NC 28731
Phone: (828) 692-7930
Pet Friendly: Yes, pets on a leash (no pets in the apple house market area)
Restrooms: Yes
RV Parking: Not really. A Class C could maybe be okay, but the road is pretty narrow and windy, and parking can be tight in the small parking lots.
Jeter Mountain Farm
*Jeter Mountain opened July 15, 2023 for weekends and will remain open until end of October but be sure to check their social media for operating hours which vary.
Jeter Mountain Farm is located between Hendersonville and Brevard, via Kanuga Road. The location is a little further out than other apple orchards, however there is plenty to do when you get there!
Every time I go to Jeter Mountain Farm I think of it as the Dollywood or Disney World of apple orchards. LOL! This 411-acre farm has been very well planned out, with brand new buildings and an eye towards controlling the crowds during busy times.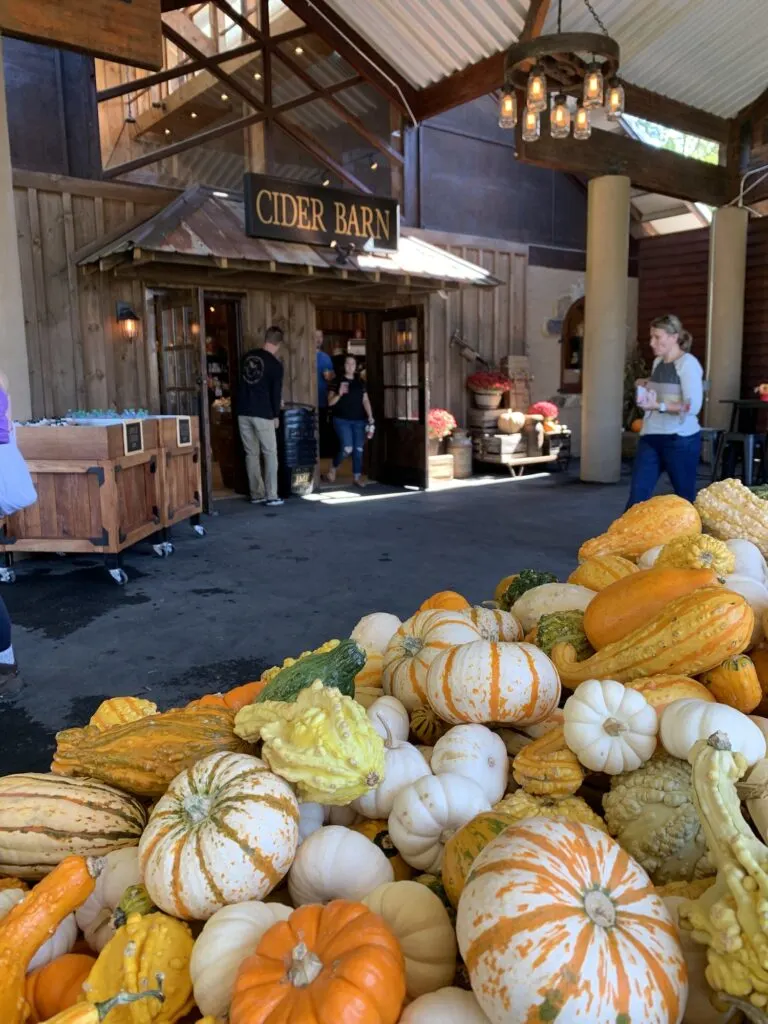 *This is one of the few apple orchards that is NOT open every day of the week. Be sure to look at their opening hours before planning a visit.
When you arrive at the farm, you will first walk towards the covered pavilion area where you will find a covered market, a coffee house, a hard cider tap room, the line to buy apple cider doughnuts at the bakery window, and the covered picnic area. Often there is live music here on the weekends.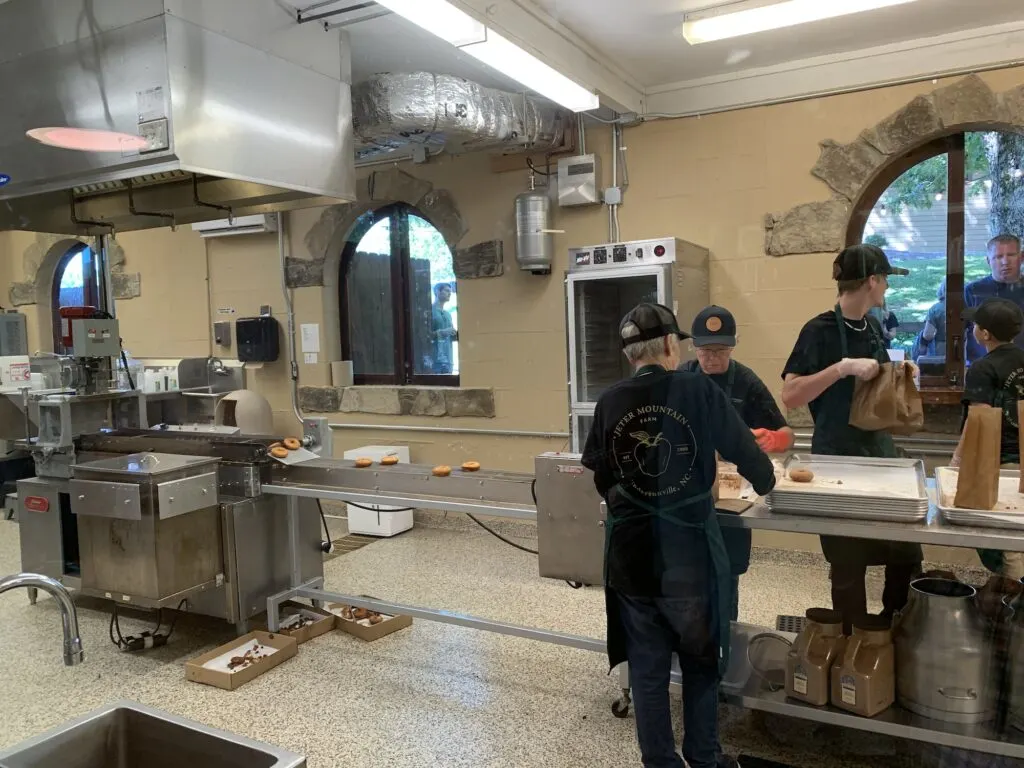 You will also pay for your u-pick apple picking experience here. Jeter Mountain Farm is different in that you hop on a wagon-ride to be driven to the u-pick apple orchards. There are over 25 varieties of apples.
There are other u-pick experiences, here, too including peaches, blueberries, raspberries, elderberries, grapes and flowers. (It's one of the best u-pick flower fields near Asheville.)
The 1813 Smokehouse food truck is open when the orchard is, starting at 11 a.m. We have eaten at the food truck and weren't really happy with our meal or dining experience, however that is our own personal experience.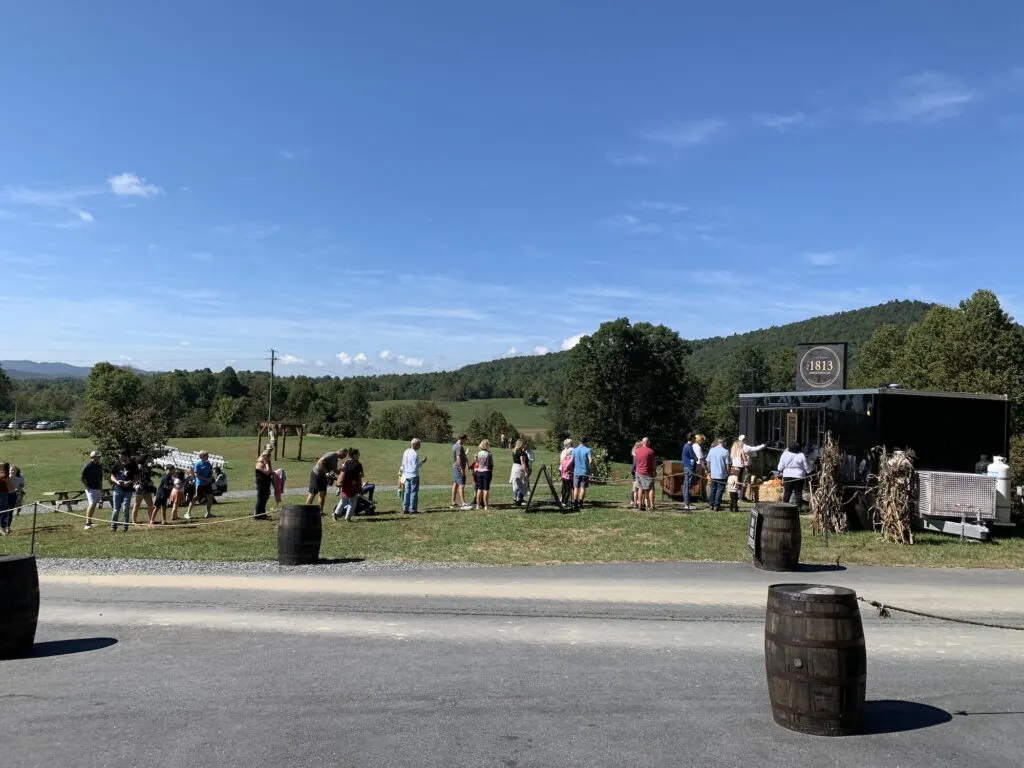 For kids, there is a 6,000-square foot covered play area. There is even countertop seating overlooking the play area so adults can enjoy a drink while supervising their kids.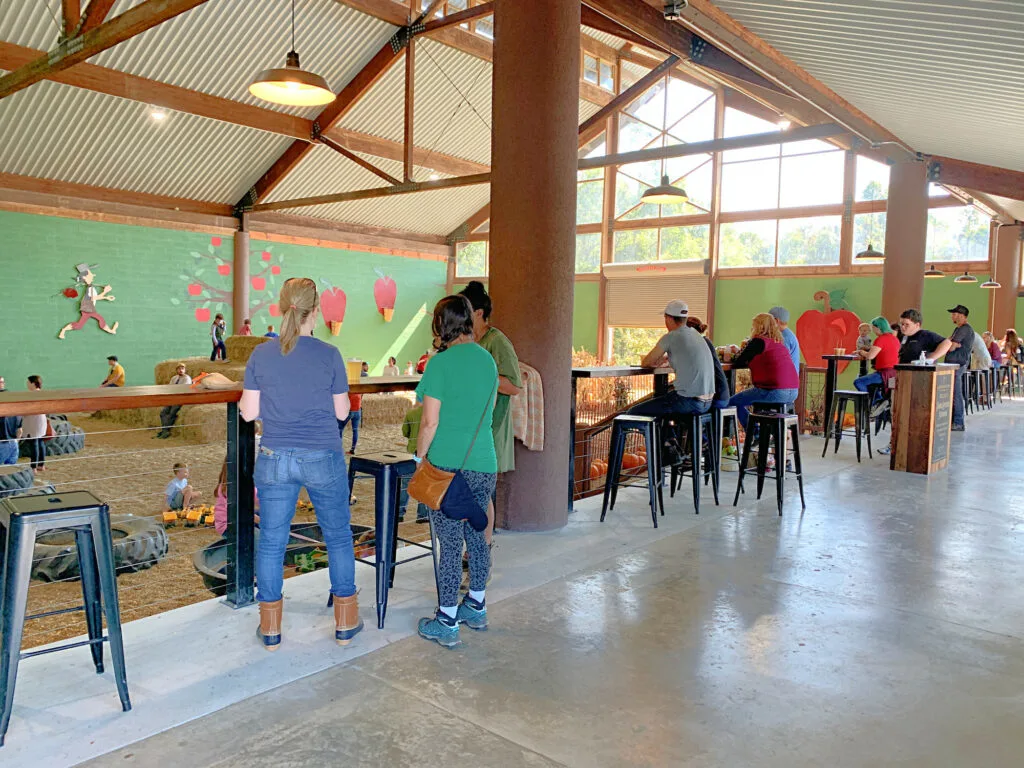 If you've ever dreamed of a mountain-top wedding in the Fall (or any time of the year), Jeter Mountain Farm has wedding and special event venues.
Some helpful tips to know:
Strollers and wagons are not allowed on the wagon ride or orchards
Dogs are not allowed in the orchards or the market, hard cider tap room or coffeehouse
You will need to take a wagon ride to the majority of the apple orchards
Helpful Visitor Information
Hours: 10 a.m. – 5 p.m.; Only open on weekends in mid-July to August; Starting in September also open Thursdays and Fridays from 10 a.m. – 3 p.m.
Address: 1126 Jeter Mountain Road, Hendersonville, NC 28739
Phone: (828) 513-0404
Pet Friendly: Yes, but with many exceptions; you won't be able to do much with your pets
Restrooms: Yes
RV Parking: Yes (there is a separate parking area that can handle overflow and larger vehicles)
Justus Orchards
*Opened July 8, 2023 for blackberry picking. July 22 marks the beginning of apples with Ginger Golds available (not U-pick) and will remain open until early November.
This fourth generation apple farming family has been growing the fruit for over 100 years!
Not only does Justus Orchards have u-pick apples, but they have u-pick blackberries and pumpkins, too.
Their farm stand is packed with local produce. We love the mountain-grown cabbage here!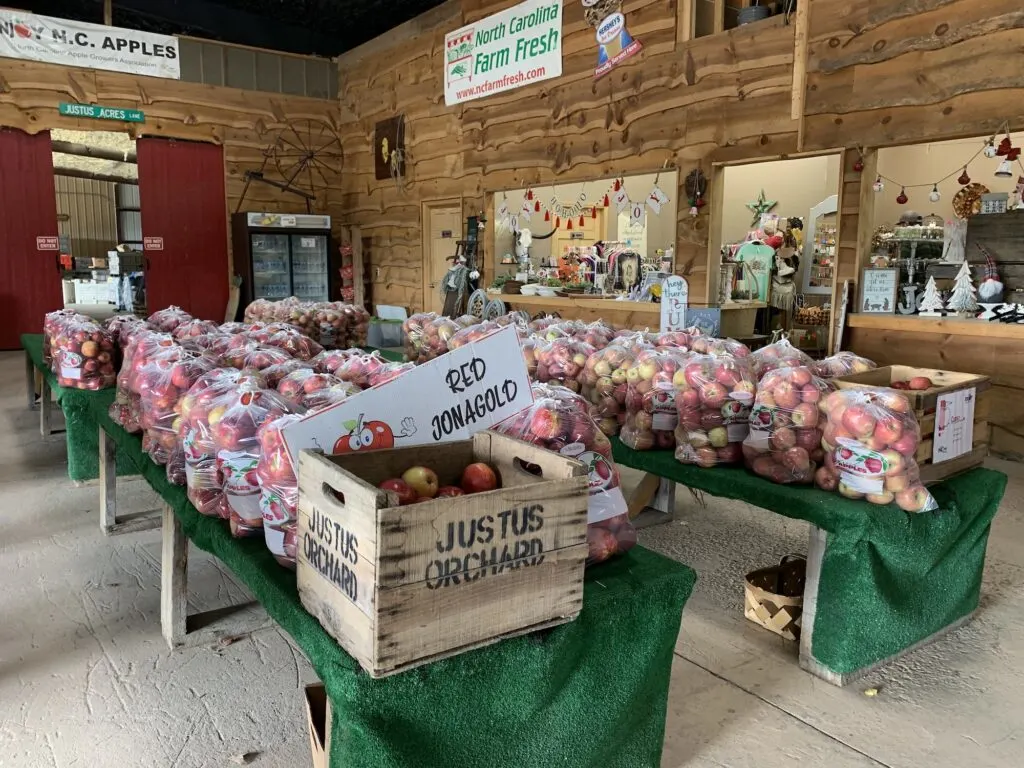 Justus Orchards has such a great play area for kids to enjoy when at the apple orchard. The jumping pillow and playground are right in front of the apple fields.
Kids can also ride the cow train, shoot the apple cannon or feed the farm animals.
Be sure to visit the bakery which has all of your apple favorites, including fried apple pies!
While this orchard isn't right off of Chimney Rock Road/U.S. Hwy. 64 like many of the others, it is a short drive from the main road and worth the visit!
The orchard has an online apple education kit for homeschooling or to help kids learn more about the farm they will visit.
We love that Justus Orchards is open on the weekends from Memorial Day through the summer, until the apples are in season and ready to pick. It is rare for an apple orchard to be open before July!
Helpful Visitor Information
Hours: Monday-Friday, 8:30 a.m. – 5 p.m.; Saturday-Sunday, 8:30 a.m. – 6 p.m.
Address: 187 Garden Road, Hendersonville, NC 28792
Phone: (828) 974-1232
Pet Friendly: Yes
Restrooms: Yes
RV Parking: Yes
Stepp's Hillcrest Orchard
*Stepp's Hillcrest Orchard is expected to open in August 2023 but a date has not yet been set.
This 70-acre farm and apple orchard has been tempting visitors for over 50 years.
Not only will you find 26 varieties of apples, but you can also pick pumpkins and grapes, or cut sunflowers and zinnias.
While at Stepp's Hillcrest Orchard, have fun in their 5-acre corn maze, one of the most difficult in Henderson County! See the farm equipment used to grow apples, and enjoy a tractor-pulled wagon ride on the weekends.
The apple cannon is available on weekends only, as well.
A covered picnic area is the perfect place to enjoy your apple cider donut. Be sure to save time to browse the farm market with t-shirts and gifts.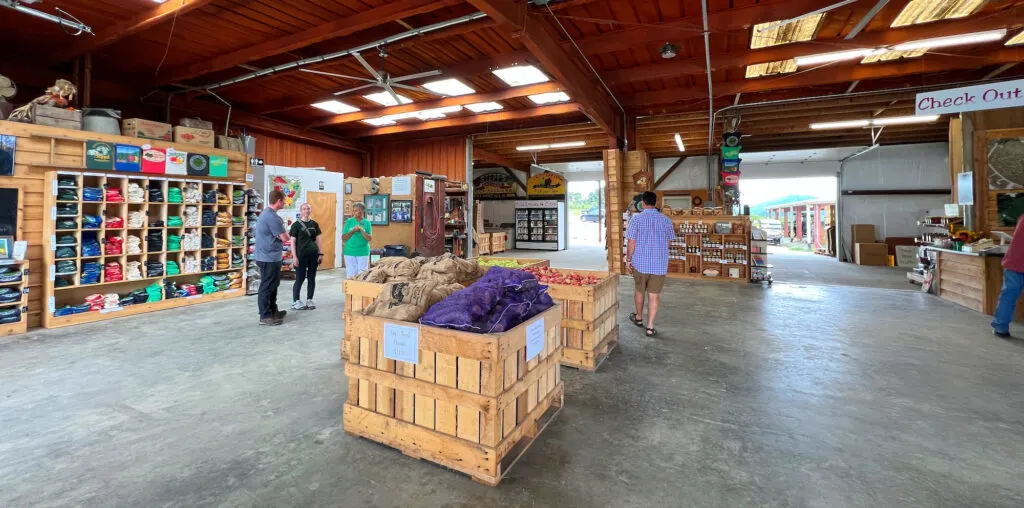 Helpful Visitor Information
Hours: Open 7 days a week; Friday-Saturday, 9 a.m. – 6 p.m., Sunday 10 a.m. – 6 p.m.; Monday-Thursday 9 a.m. – 5:30 p.m.
Address: 170 Stepp Orchard Drive, Hendersonville, NC 28792
Phone: (828) 685-9083
Pet Friendly: Dogs are welcome on a leash in the orchard; not allowed in the apple house
Restrooms: Yes
RV Parking: Yes
Coston Farm
*Coston Farm has not yet announced their 2023 hours. It opened August 19, 2022 for selling apples last year.
Coston Farm is located right beside the huge orange silo painted like a pumpkin on U.S. Hwy. 64. You absolutely can't miss this location!
The fourth generation farm and apple orchards have around 20 varieties of apples to choose from, both U-pick and pre-bagged.
This is one of the easiest u-pick apple orchards to access. For anyone with physical challenges or traveling with young kids that can't walk far or up inclines, this might be the best of you.
There is also lots of pumpkins and gourds for the fall! In fact, you can go next door to the huge pumpkin-growing field and get a pumpkin straight from the vine.
There is a bakery and gift shop that is full of lots of crafts and foods to bring back as souvenirs.
This is one of the few apple farms that have apple gift boxes available. These are gift boxes where the apples are cushioned individually and can be sent to friends and family out of town to enjoy the taste of Hendersonville.
Coston Farm also has an Apple Education Kit online which is great for homeschooling or road schooling. You can teach kids about farming and how apples grow before they get to the farm.
We love that Coston Farm has a sign up that proudly states that they grow apples for Gerber babies. Way back in the 1990s we remember the Gerber apple juice processing plant that was in the area. Local farmers would bring their apples to the processing plant where they were crushed and processed to make apple juice. We remember taking a tour of this plant and it was fascinating! It closed in 1998.
Helpful Visitor Information
Hours: 8:30 a.m. – 5:30 p.m., Monday through Saturday
Address: 3748 Chimney Rock Road, Hendersonville, NC 28792
Phone: (828) 685-8352
Pet Friendly: Yes
Restrooms: No
RV Parking: Yes
Twisted Apple
On December 26, 2022 a fire was at Twisted Apple farm and packing house. Anthony Owens, the owner, states that he will rebuild.
*Opened August 20, 2022 for the season.
Twisted Apple is a small apple orchard located on U.S. Hwy. 64 that is the closest to Lake Lure. It is located right before you get into the curvy roads of Bat Cave as you head towards Chimney Rock and Lake Lure.
If you want organic apples, then Twisted Farm is definitely the place you want to go!
The bakery serves up a lot of apple favorites, such as pies and breads. They also have gluten-free doughnuts, which is a bit of a rarity at the apple orchards.
In the gift shop, you can find their Orchard Secrets lotion and soap made with apple peel powder.
The orchard has had promotions where you can bring cans of pet food for a 5% discount on bakery items. The Henderson County Humane Society is located across the street from Twisted Apple.
There is no website for this orchard, just a Facebook page. They are very active on Facebook with updates about store hours (which change depending on the season), what is in stock, and promotions.
Helpful Visitor Information
Hours: 9:30 a.m. – 4:30 p.m.
Address: 4039 Chimney Rock Road, Hendersonville, NC 28792
Phone: (828) 712-1919
Pet Friendly: Yes
Restrooms: No
RV Parking: Not really
Mountain Fresh
*Mountain Fresh Orchards has not yet announced their opening date, but anticipates it to be in mid-August 2023. Last year it opened August 19, 2022 and remained open until mid-November
Mountain Fresh Orchards is located next to Granddad's Apples on Hwy. 64. While you cannot walk between the two orchard locations, it is very easy to to to both while you are in the area.
(Both Mountain Fresh Orchards and Granddad's Apples are located near the road you can take to easily get to St. Paul Mountain Vineyards and Appalachian Ridge Cider. Consider doing all of these beloved Hendersonville attractions in one day.)
This roadside stand doesn't offer u-pick apples, but we've included it in this list because it's a fan favorite during apple season!
Step inside the farm stand and be delighted with 17 different varieties of apples, mountain cabbage, locally grown tomatoes and NC sweet potatoes. Pumpkins and gourds are also available in season.
The bakery offers a huge selection of foods, including:
Apple caramel cake
Apple bread
Hot fried apple pies
Apple cider donuts
Apple dumplings with cinnamon sauce
Fresh ciders (not just apple, lots of other fruits, too)
Apple butters
and much more…
Train rides are available on the weekends.
Helpful Visitor Information
Hours: 8 a.m. – 6 p.m., seven days a week
Address: 2887 Chimney Rock Rd. (U.S. Hwy 64); Hendersonville, NC 28792
Phone: (828) 685-7606
Pet Friendly: Yes
Restrooms: Yes
RV Parking: Yes
NC Apple Festival
The North Carolina Apple Festival is held in Hendersonville every Labor Day weekend in September. The festival starts on September 2, 2022 at 10 a.m. and goes through September 5, ending at 5 p.m.
This fun, family-friendly festival celebrates everything about apples and the community that grows them.
You will find Main Street blocked off from traffic and vendor booths lining the sidewalks. Vendors include the apple orchards (many of whom don't have an agri-tourism facility so this might be the only time you can buy direct from them), as well as food stalls, craft vendors, games and activities for the kids, and much more!
Among the highlights is the much-anticipated Kiwanis apple breakfast, a fundraising event. Pay one price and gets lots of apple goodies and pancakes for breakfast before going to the festival.
The King Apple Parade is always the final event of the festival and is held on Monday afternoon.
Parking is at a premium for the festival so expect to walk a few blocks or pay for parking in church parking lots or bank parking lots where non-profit organizations are allowed to charge for parking as part of their fundraising efforts.
Related Post: Hendersonville's Cider, Wine and Dine Weekend is another chance to celebrate the apple harvest of Henderson County.
Map
What to Bring to the Apple Orchards
Here are some good ideas of what you might like to bring for your visit to the orchards:
Water
Sun protection
Sunscreen
Cute apple season t-shirts, like these adorable Apple Picking Crew shirts
Family picture outfits
Cooler (for bringing home edible souvenirs)
Cash (not necessary for all orchards, but for small purchases such as doughnuts might be required)
Hat
Apple Orchards Serving Hard Cider
Jeter Mountain Farm
Sky Top Orchard
Granddad's Apples
Apple Farms with Children's Activities
Granddad's Apples
Justus Orchards
Sky Top Orchard
Jeter Mountain Farm
Stepp's Hillcrest Orchard
Mountain Fresh Orchards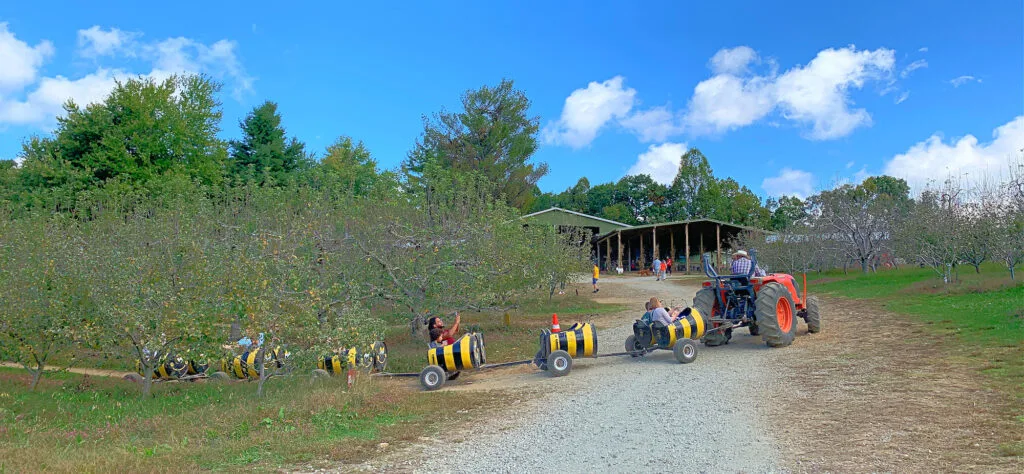 After a visit to the orchard, check out some of these awesome things to do in Hendersonville:
There are so many different types of apple orchards in Hendersonville, NC. There is definitely one that is perfect for you to visit this summer or fall.