Whether you need to use an Uber to get to Universal Studios theme parks or you want to avoid parking garage fees by having a friend drop you off, you are probably wondering where the pick-up and drop-off locations at Universal Studios Orlando are.
In this guide, we will explain where to go when using a ride share company or need to have family or friends drop you off or pick you up at Universal Studios Orlando.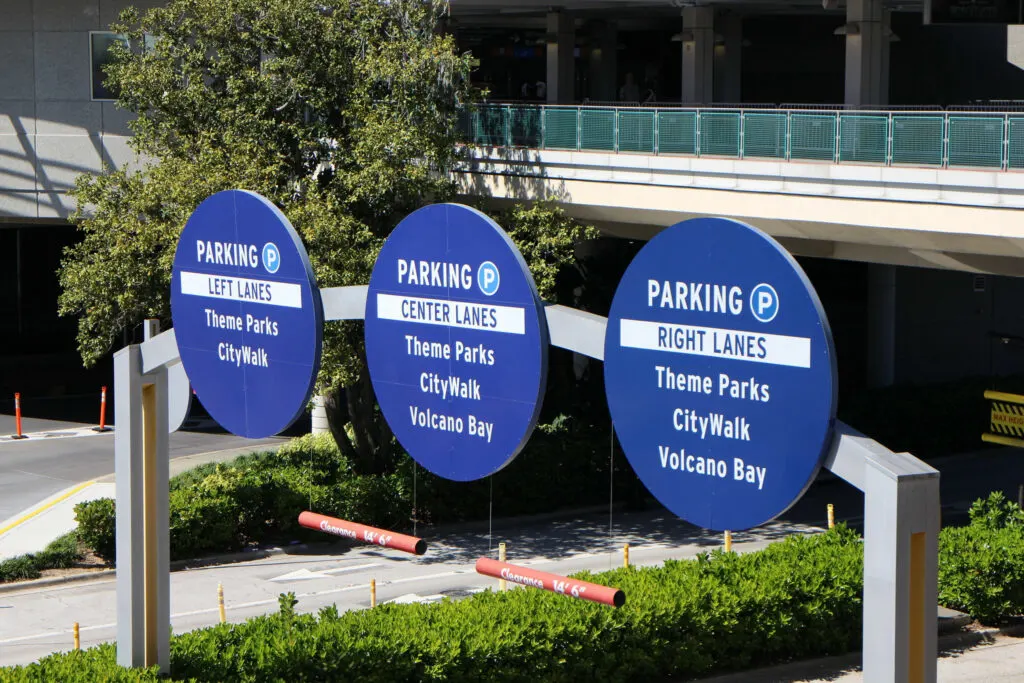 Ride-Share Pick-Up and Drop-Off Locations at Universal Studios Orlando
The ride share location for both Uber and Lyft is located on the fifth floor of the parking garage at Universal Studios Orlando. This will be in the Jurassic Park section.
This is the rooftop level and is uncovered.
Uber and Lyft drivers will not need to pay the parking fee for the garage when using this pick-up and drop-off location.
After being dropped off, you will walk to the main transportation hub where you will join the crowds and need to go through security.
Related Post: How to Get Free Parking at Universal Studios Orlando
Can I Drop Off Friends or Family at Universal Theme Parks?
Yes, you can drop off friends, family or guests at the Universal Studios parking garage so that they do not have to pay parking fees.
Follow the directions to the parking garage.
Instead of turning right to go to the parking garage at the toll plaza, take the fork in the road to go left. There will be words on the pavement directing you to which lanes to use.
A sign above should also point you to the Guest Drop Off/Pick Up location.
Drive up the ramp to go to the top of the parking deck. This is where you can drop off or pick up people.
There is a maximum height of 8′ 2″ for vehicles in this area.
Related Post: Free Parking at Universal CityWalk
Taxi Pick-Up and Drop-Off Location
Taxis share the same area on the roof top level of the parking garage.
You will be dropped off by a taxi at the same location as ride shares. However, taxis have their own location known as Yellow Zone.
If you are using a taxi to leave Universal Studios, this is the same place where you will come to hail a cab.
Bus Drop-Off and Pick-Up Locations
Buses have a designated spot next to the transportation hub.
This is where you will be dropped off if you are taking official Universal Studios buses, or area shuttle buses from hotels and tour companies.
Related Post: Ultimate Guide to Disney Springs Parking Garages