The parking fee at Universal Orlando Resort is a hefty $27 cost per day. Which means you might be looking for ways to get free parking at Universal Studios Orlando.
Getting free parking at Universal isn't easy, but it can be done. We are sharing all of the ways to skip the parking fee and have more money to spend on food and souvenirs!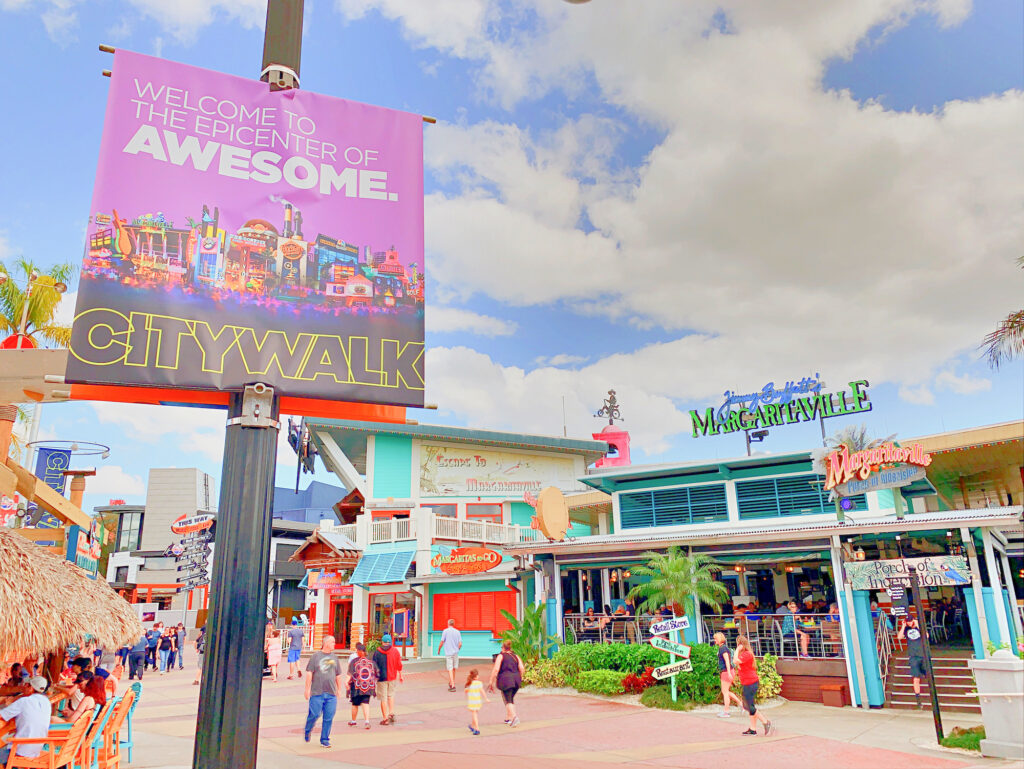 Is There a Parking Fee at Universal Studios Orlando?
Yes, there is a parking fee for visiting the Universal Orlando Resort theme parks, Volcano Bay or CityWalk.
There are parking fees at Universal Orlando Resort hotels, as well.
Unless you are dropped off at Universal Studios, either by a shuttle, ride share company or friend, you will need to pay a parking fee to park your car, motorcycle, RV or electric vehicle in most instances, unless you use our tips.
There is just one parking garage that serves both theme parks, including Universal Studios and Islands of Adventure, as well as Volcano Bay and Universal CityWalk.
The parking fee starts at $27 for regular self-parking.
How to Get Free Parking at Universal Orlando
Arrive After 6 PM
If you are going to the theme parks or Universal CityWalk, arrive after 6 p.m. to get free self-parking most nights.
During Halloween Horror Nights events at Universal Studios in September and October, you will not be able to park for free after 6 p.m. During these special event nights, you can park for free after midnight.
The theme parks are often open until 9 p.m. or later, so you can enjoy a few hours at the parks without any parking fee. This tip is best used if you have an annual pass. Otherwise, you will be wasting hours of an expensive theme park ticket just to save $27, which isn't worth it.
Universal CityWalk can stay open until 2 a.m., so there is plenty of time to enjoy dinner and go shopping by using this tip.
If you arrive just a few minutes before 6 p.m., don't go to the parking attendant booth because you will still have to pay!
Just move over the to side and wait until it is 6 p.m. This strategy should only be used if you are a few minutes early. Do not arrive 30 minutes beforehand and park on the side of the entrance lanes.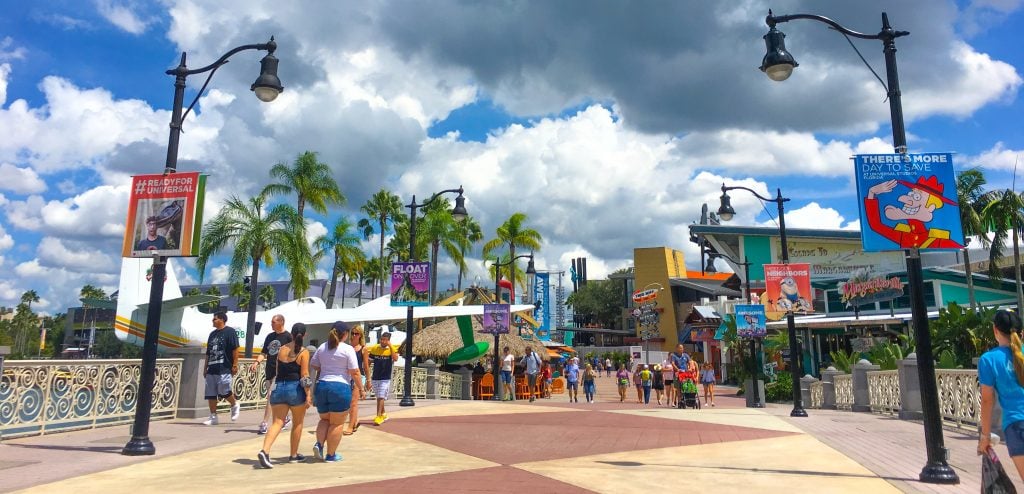 See a Movie at Cinemark
If you want to see a movie at CityWalk, you can get free parking in the garage which serves the theme parks, too. Here are the details:
You will need to pay the regular parking fee before parking.
Only regular parking is part of this program. (Valet, RV/Bus and Prime Parking are excluded)
Purchase two or more Universal Cinemark matinee tickets for movie showings from 11 a.m. to 6 p.m. Or redeem pre-purchased matinee movie tickets. Both tickets must be purchased on the same receipt.
Show both your parking receipt and movie tickets at the Universal Cinemark box office.
Then, you will be reimbursed the parking fee after presenting the receipt.
You can only get free parking on the date of purchase and redemption of parking fee and movie tickets.
Reimbursement not valid during separate, specifically ticketed events like Halloween Horror Nights.
This method of parking for free can score you some extra hours in the theme parks. However, since you need to see a matinee movie, you are not going to get into a theme park until early afternoon. If you have paid for a single day park ticket, that is wasting a lot of hours that you could have spent in the parks.
Use an Annual Pass
If you have a Universal Annual Pass (UOAP), you can get free parking at any time of the day for any reason, whether you are going to the theme parks or just going to CityWalk Orlando to shop or eat.
Only one person in the vehicle needs the annual pass. So if you are traveling with a local friend that has a pass, they can use theirs if they are in your vehicle.
Not every type of Universal Orlando Annual Pass gets free parking in the garage, though. Be sure you choose one of these annual passes for free parking benefits:
Premiere Annual Pass
Preferred Annual Pass
You cannot get free parking with the Power Annual Pass or a Seasonal Annual Pass.
Helpful Tip: Even if you are only visiting for a week, the benefits of an annual pass can make the cost worth it. Consider the cost of theme park tickets, parking fees, and discounts on food and merchandise to see if an annual pass makes sense for you. Keep in mind that only one person needs the annual pass to get the free parking, discounts, etc.
Our favorite way to buy tickets is through Get Away Today. They are an authorized ticket seller and you can get savings on park tickets, hotels and more.

We have found savings on every type of ticket using Get Away Today compared to buying through Universal.
Keep Your Parking Ticket
If you have paid for parking during the day and have to leave the parking garage for any reason, be sure to keep your parking ticket receipt.
When you re-enter Universal Studios, you can show the receipt at the toll plaza for free re-entry into the garage that day.
Free Parking Near Universal Studios Orlando
If you don't mind walking, you might think that you can park near Universal Studios Orlando and walk to the resort to save money.
This trick is almost impossible.
The businesses and homes around Universal Orlando Resort have secured their parking lots and roads so that tourists cannot come and park their vehicles all day long just to save money.
The majority of housing developments around Universal Studios (yes, there are lots of homes right outside the gates) have private gates.
The roads near the theme parks do not have free parking, either.
Hotels in the area can have gates preventing you from entering the the parking lot. If there are not gates, then you will be required to show a parking pass in your vehicle. If you don't have one, you will be towed.
Businesses without gated parking lots are not stupid, either. They are wise to the tricks that tourists play to try to score free parking. You will find that most parking lots have signs warning that you will be towed, as well as security cameras monitoring their parking lot.
---
There are ways to save money during your vacation by parking for free at Universal Studios Orlando. Here are some more budget-friendly tips to stretch your vacation dollars: