Looking for a fun stop along I-95? If you want an easy stop along I-95, with plenty of things to do, then Pooler, Georgia near Savannah is an interesting destination. It is also a great place to stay overnight.
Pooler, GA is a two-exit destination that has more than enough to keep the whole family entertained. Driving from Orlando to Asheville, NC, Pooler is roughly half way between both destinations.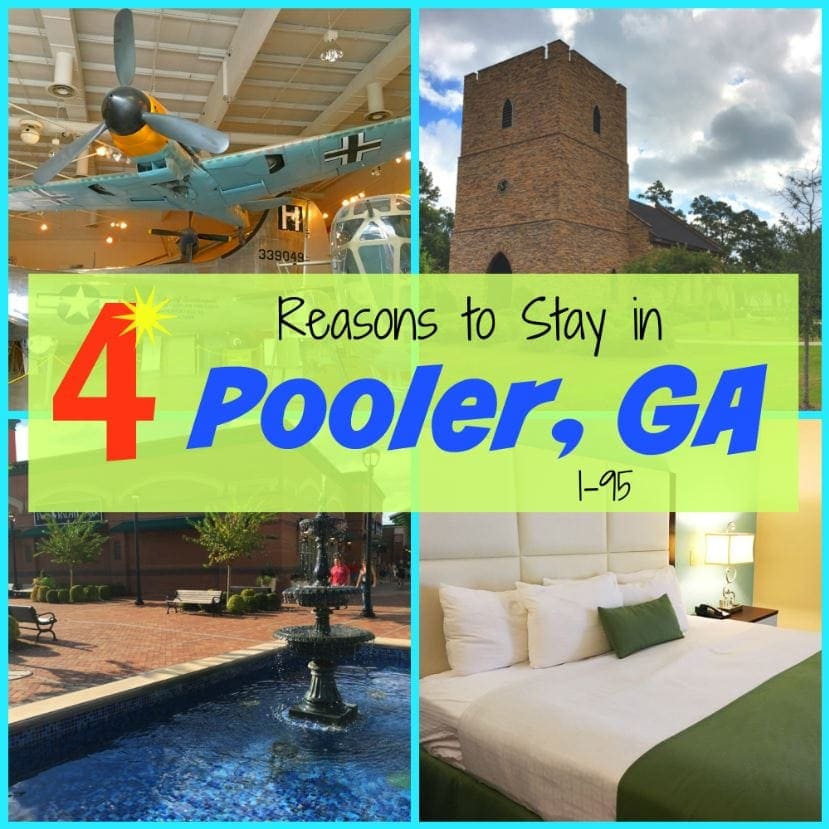 Located about an hour and a half from the Florida-Georgia state line, Pooler has four great reasons to make it a fantastic overnight destination on I-95:
Tanger Outlets
Mighty Eighth Air Force Museum
Inexpensive Hotels
Lots of Dining Options
It is an easy on-off exit. There are actually two exits, depending on which attractions you want to see. Trying to find your hotel or destination won't be hard.
National Museum of the Mighty Eighth Air Force
Perhaps you've seen the large aircraft (a B-47 Stratojet) on the side of I-95 while driving? They belong to the National Museum of the Mighty Eighth Air Force, a convenient stop right off of exit 102.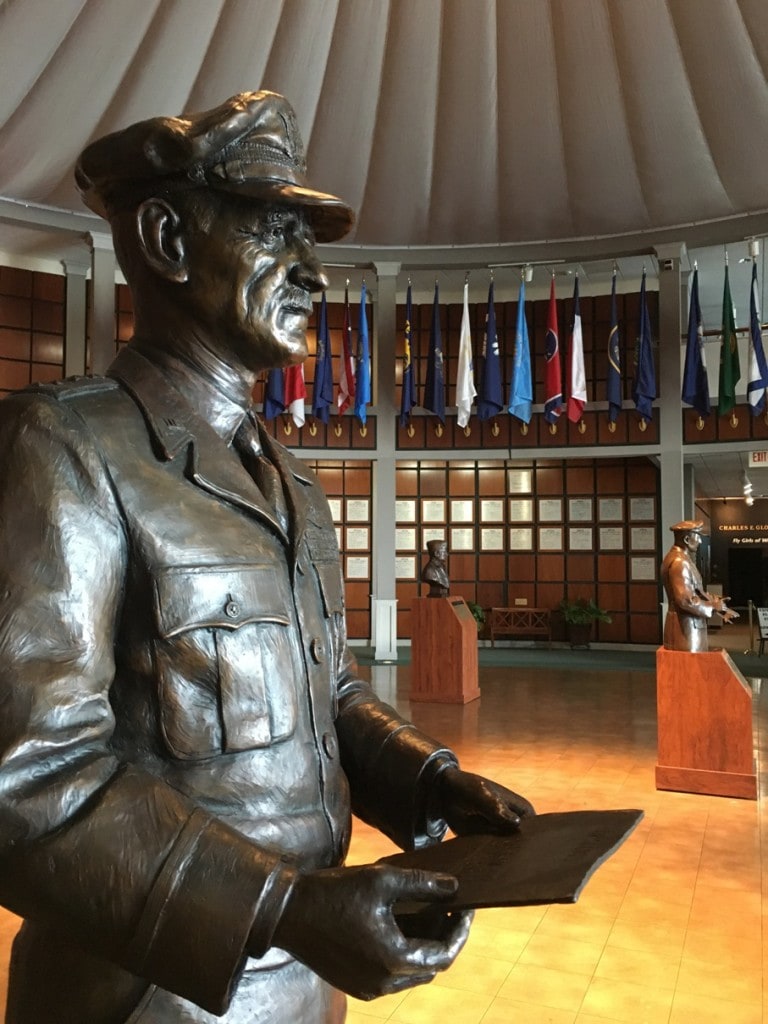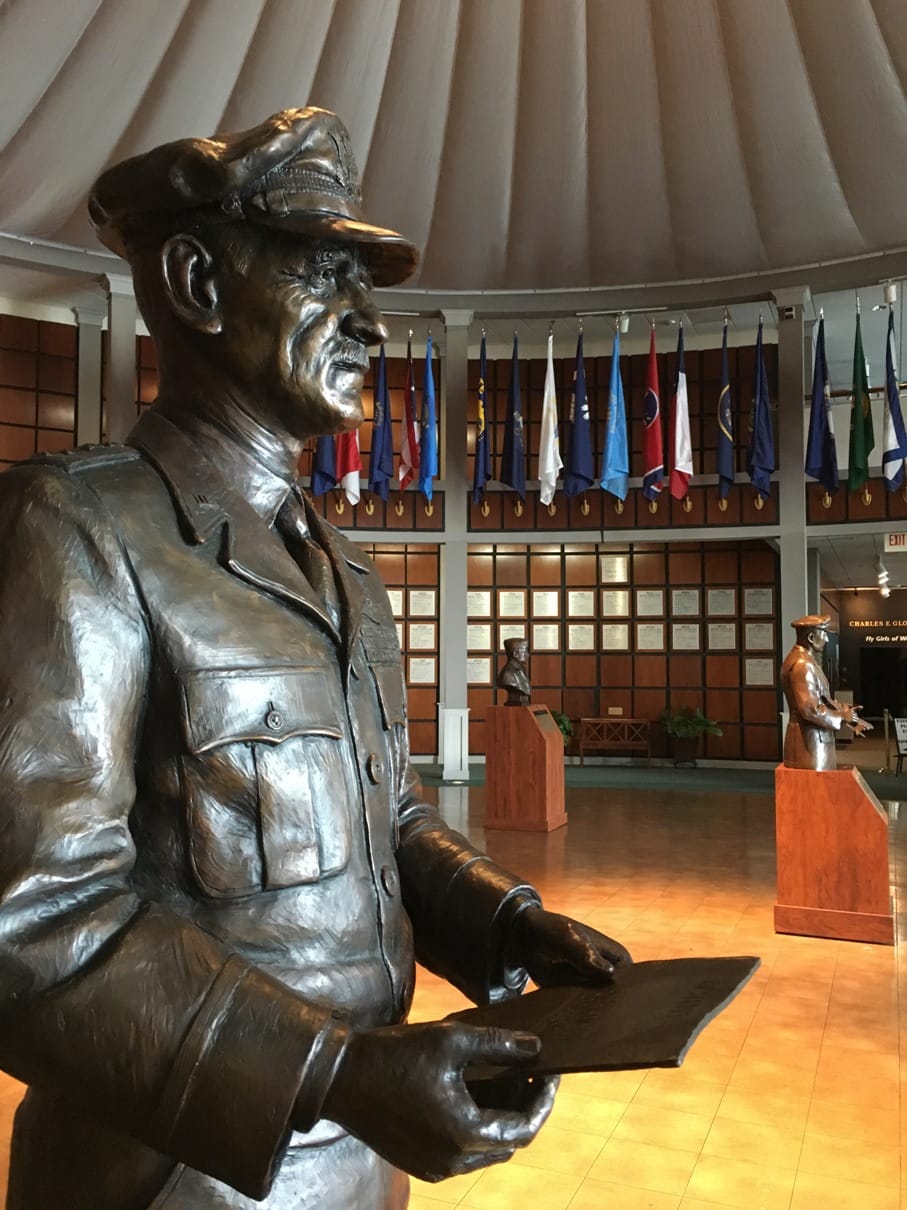 The National Mighty Eighth Museum is a sprawling complex that was way more impressive than I had hoped for or imagined. After having had the chance to see it, I now can't imagine driving by and not taking the opportunity to stop.
Dedicated to the bravery of the Mighty Eighth Air Force, this museum seems to transcend the battles of one contingent fighting in World War II and opens a new generation's eyes to the hefty challenge it took from all armed forces to fight for freedom against Hitler's army.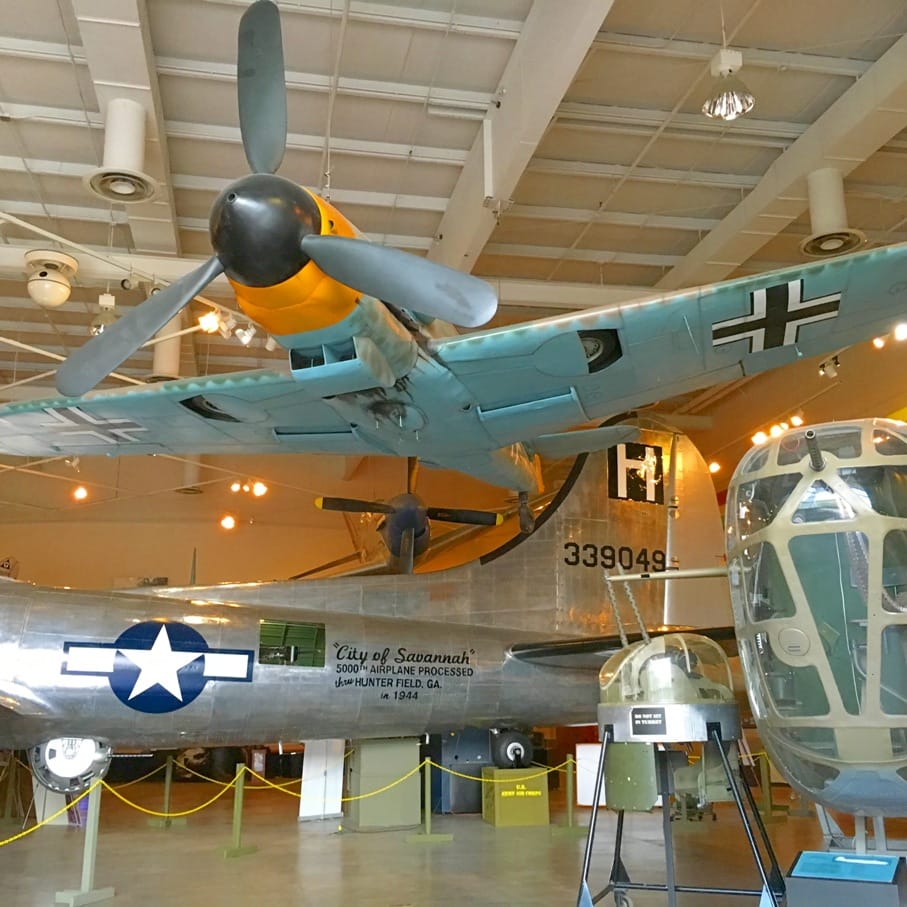 Inside, you will find large aircraft on the ground and suspended from the ceiling. They are all massive testaments to the flying machines that fought for freedom.
Walk around these pieces of history to get a full appreciation of the scope and scale of the war.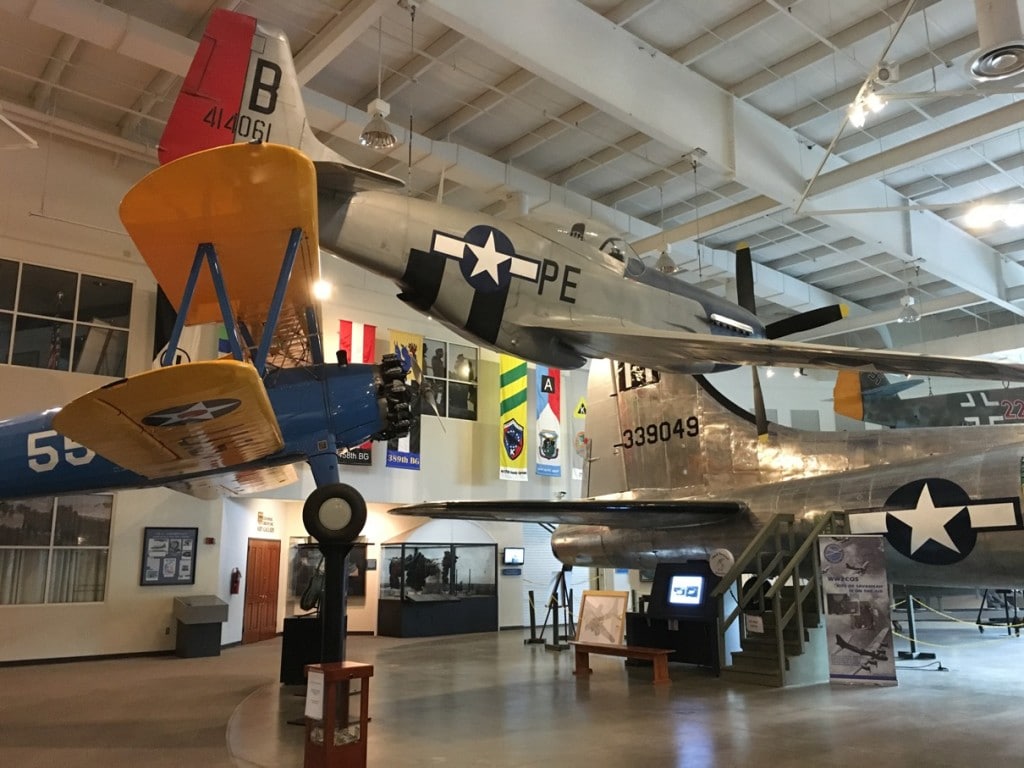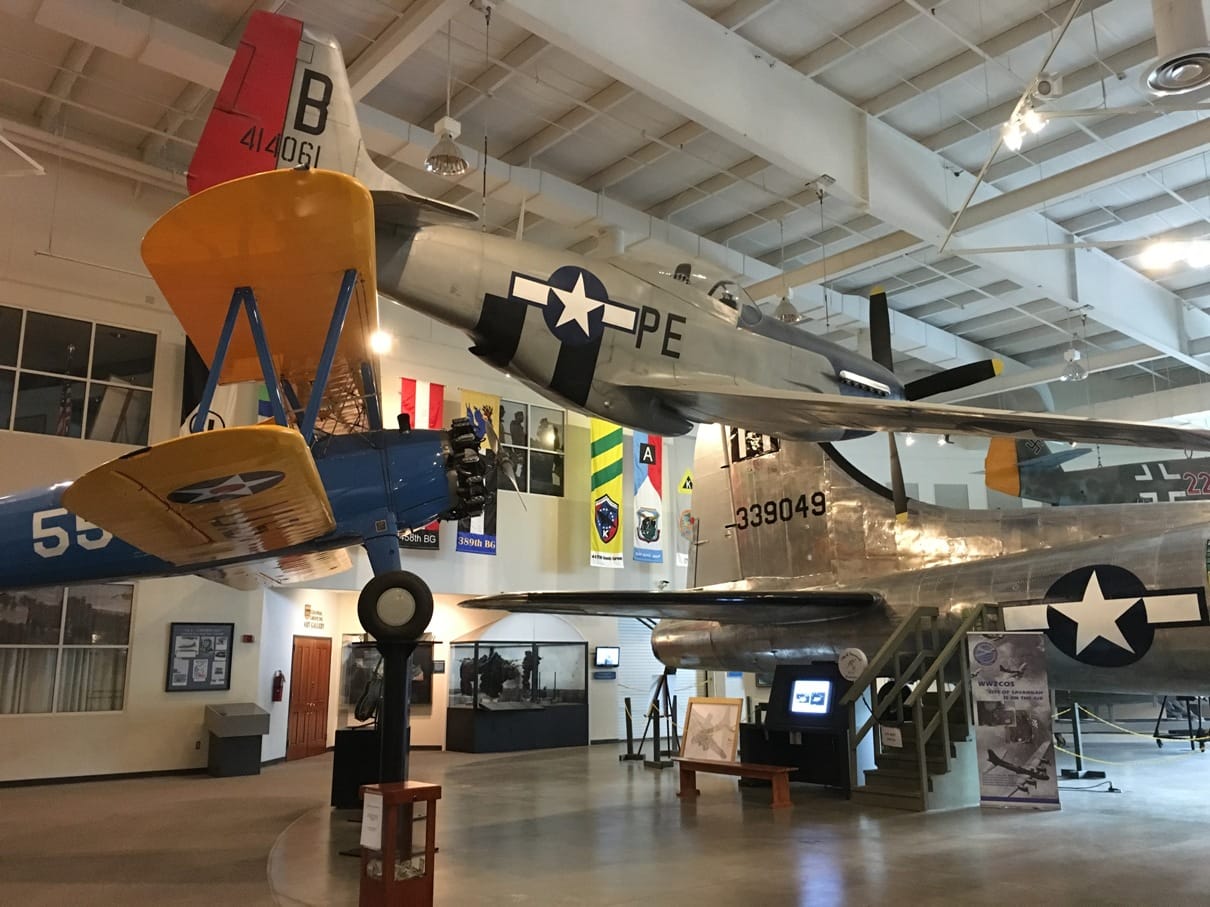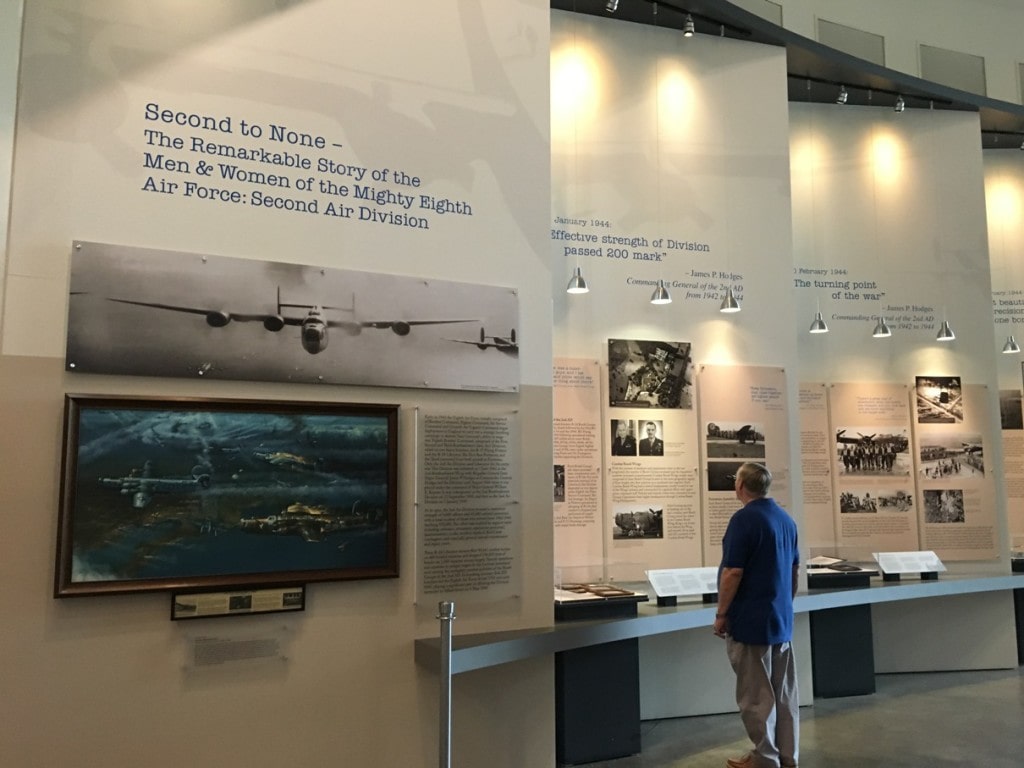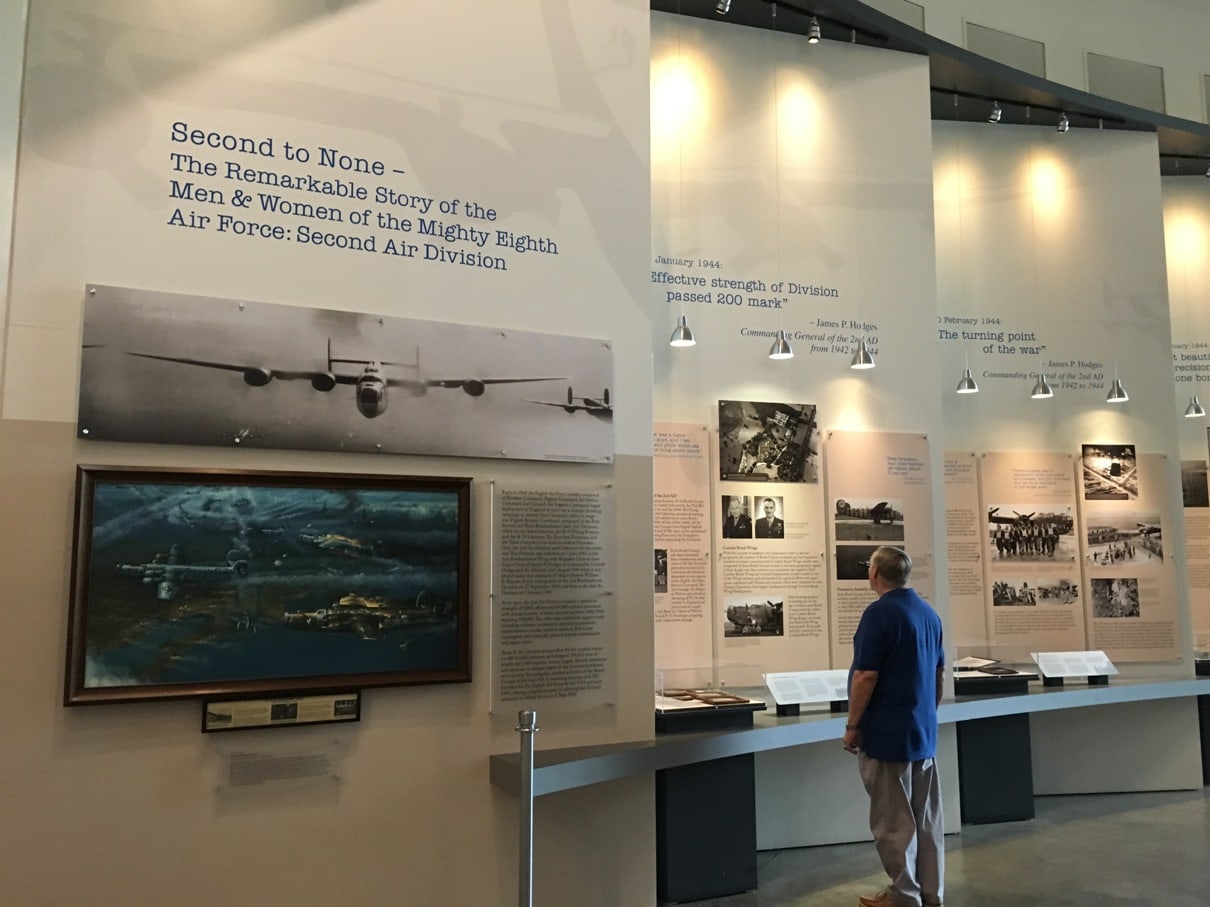 Definitely take time for The Mission Experience. Staffed by volunteers, the three-part immersion has you getting ready for a pre-flight briefing in a Nissen Hut, a domed building that would have been the office for the Air Force pilots during WWII.
Then it is on to the Flight Line, where you will see videos of what it was like for the ground crews to get the Air Force planes ready each and every day.
Finally, take to the air with real archival footage of an 8th Air Force bombing mission, and see what it was like in the sky during a battle.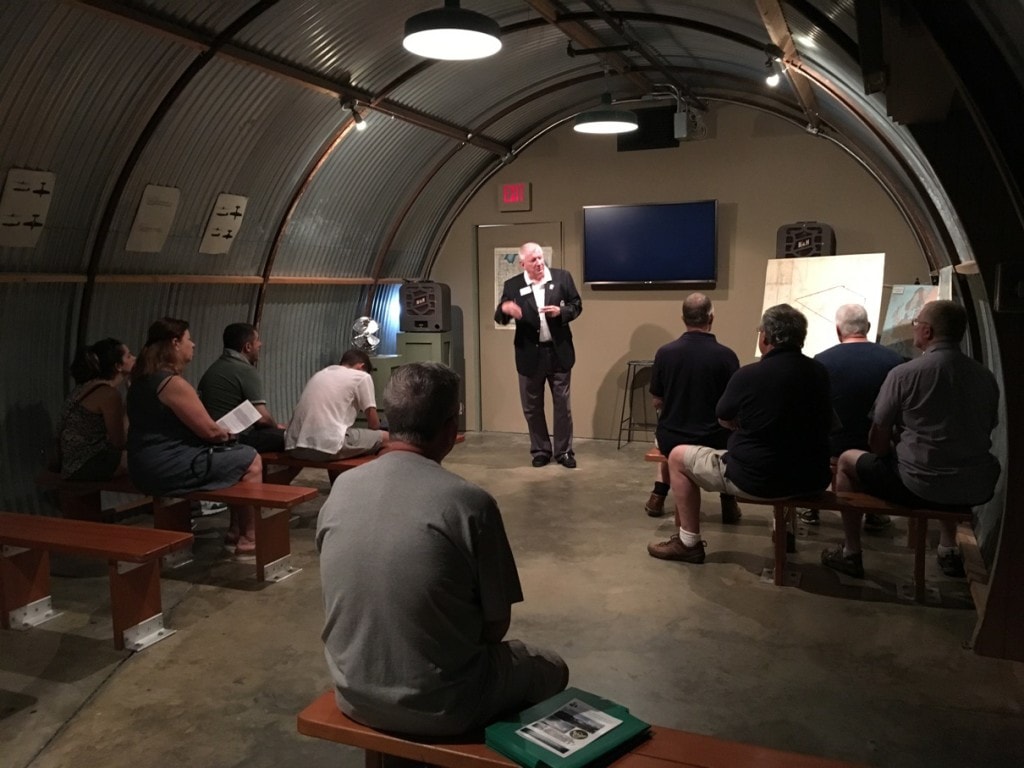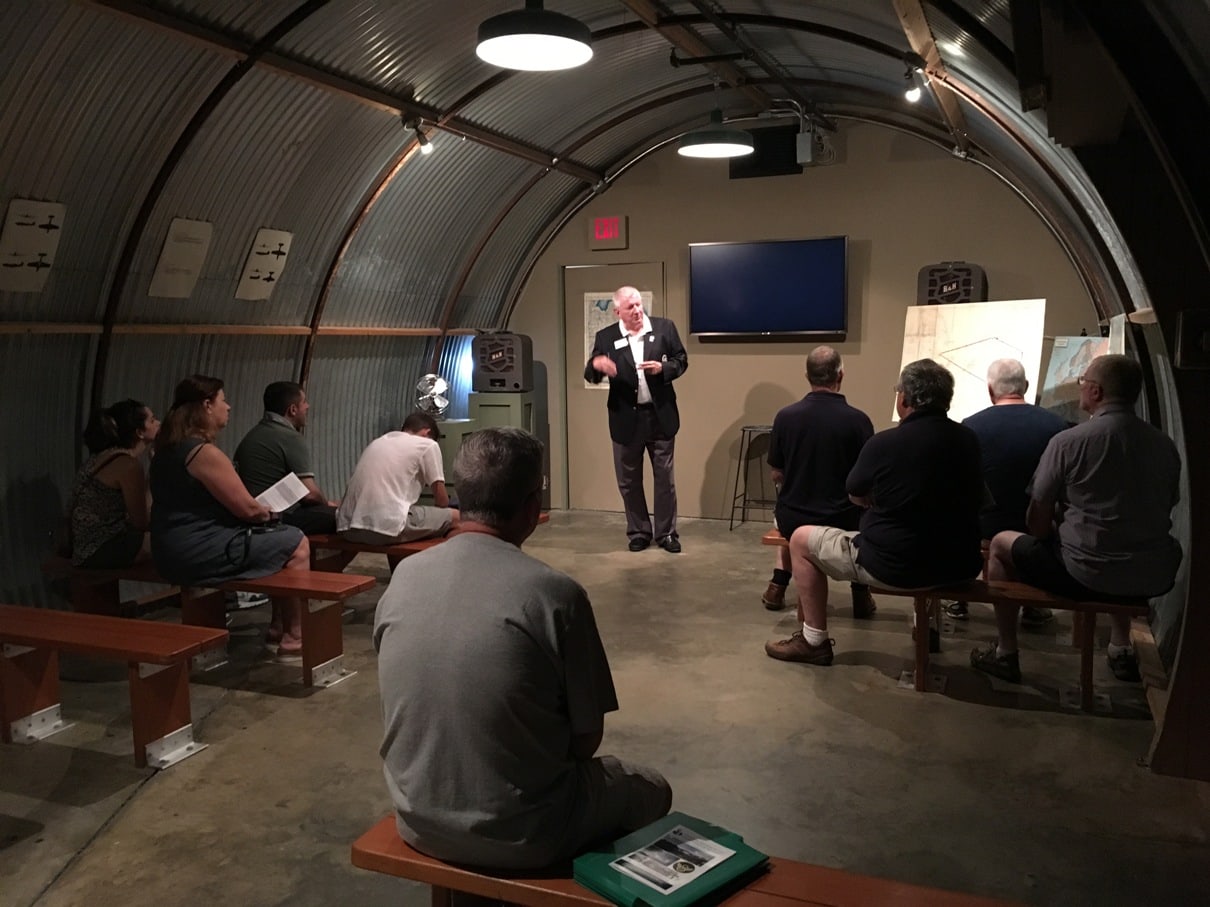 The Chapel of the Fallen Eagles is a surprise – and unlike anything that you've ever seen.
The stone chapel was designed to resemble an English chapel. Inside is a collection of stained glass windows that pay tribute to the pilots and members of the Air Force who were seeking divine protection while fighting against evil.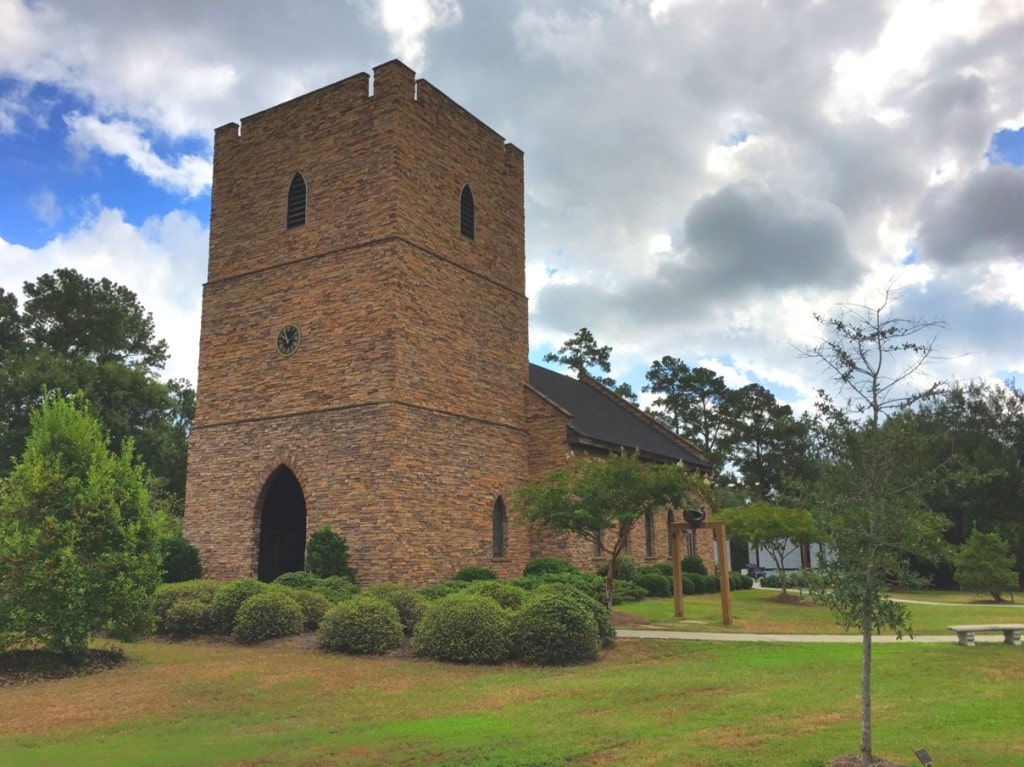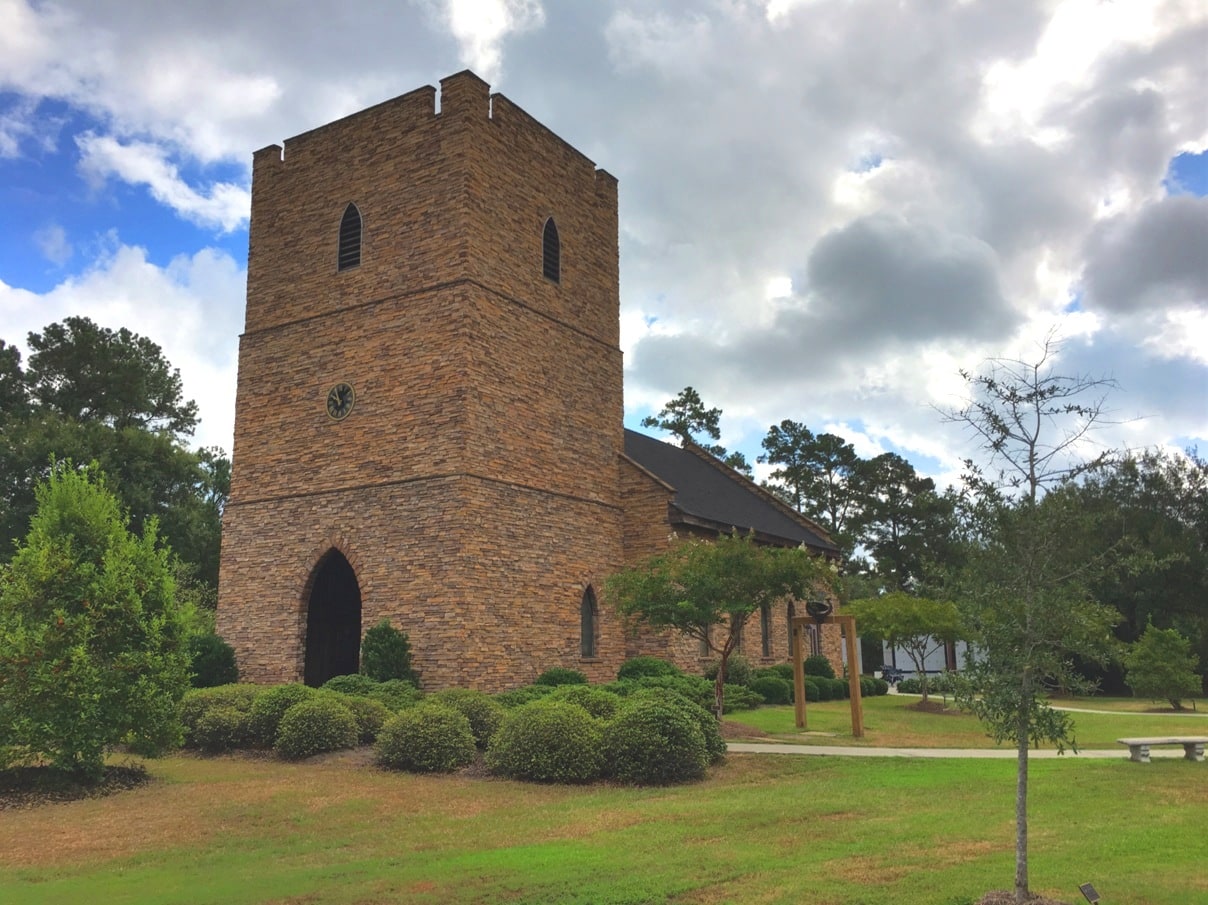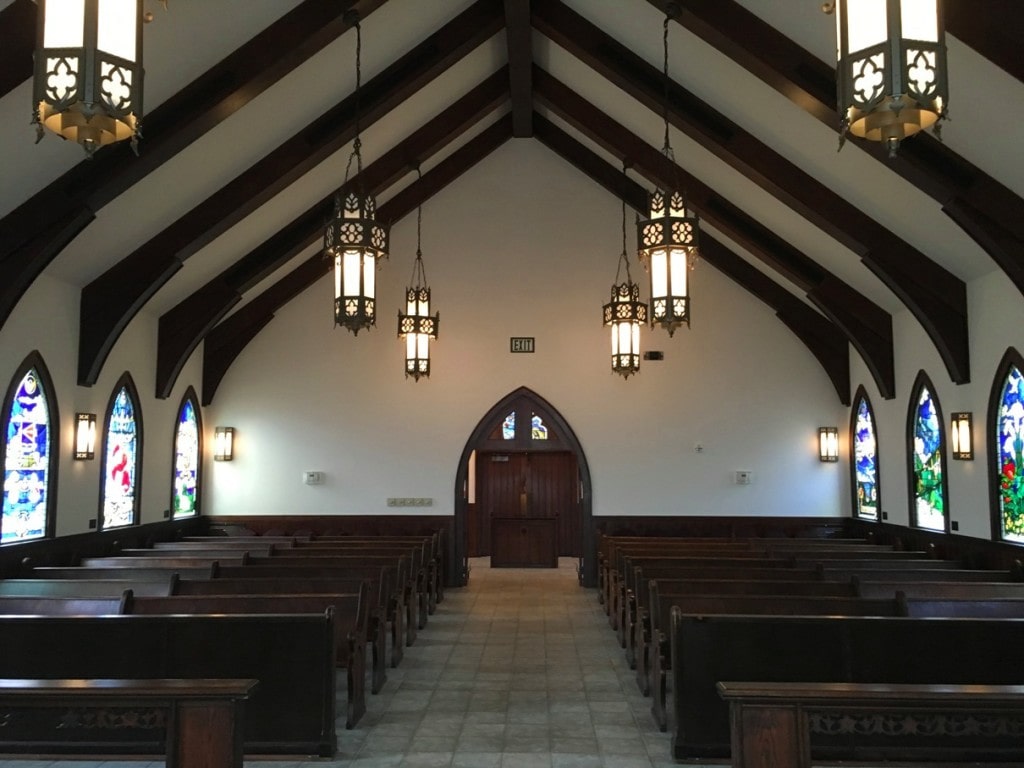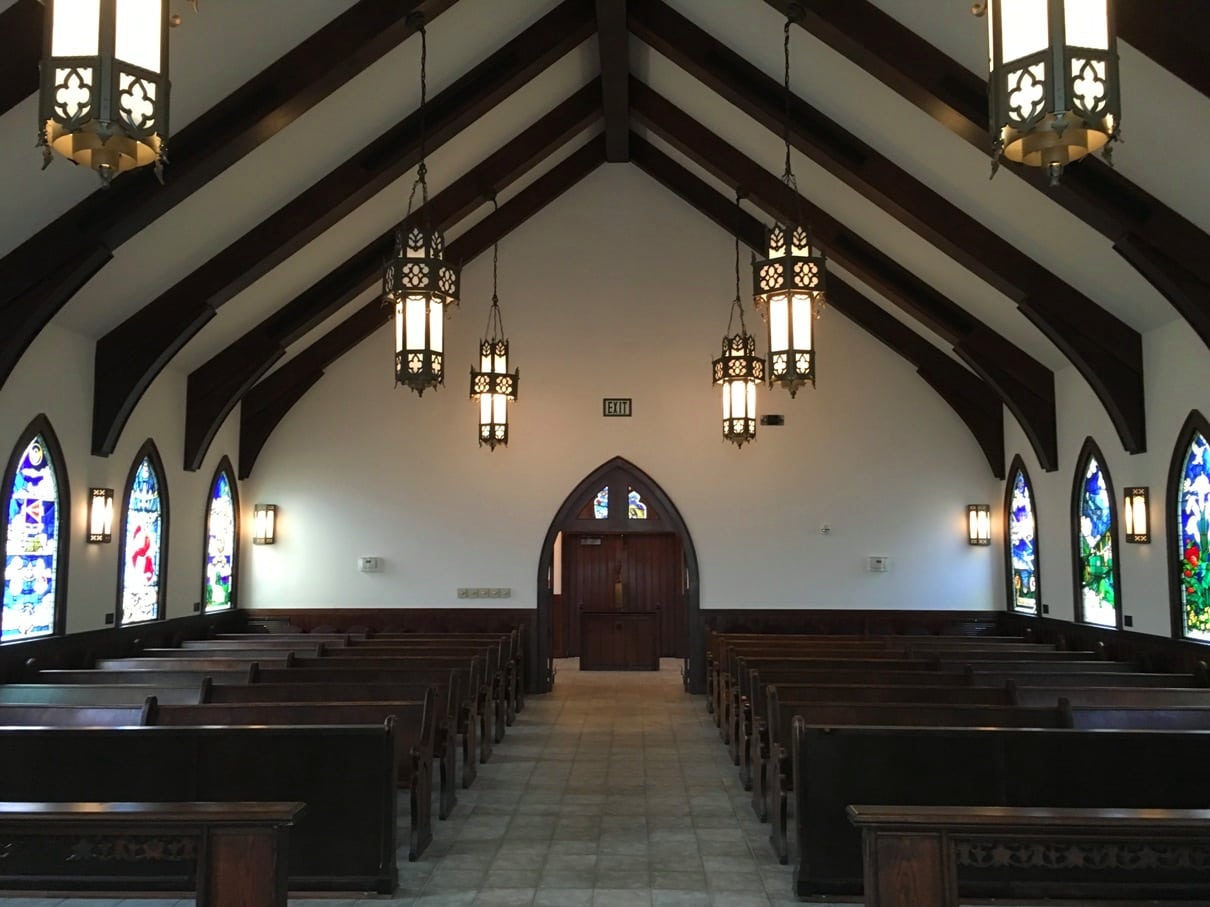 Hymns are played continuously, and benches allow for quiet reflection and prayer in the chapel.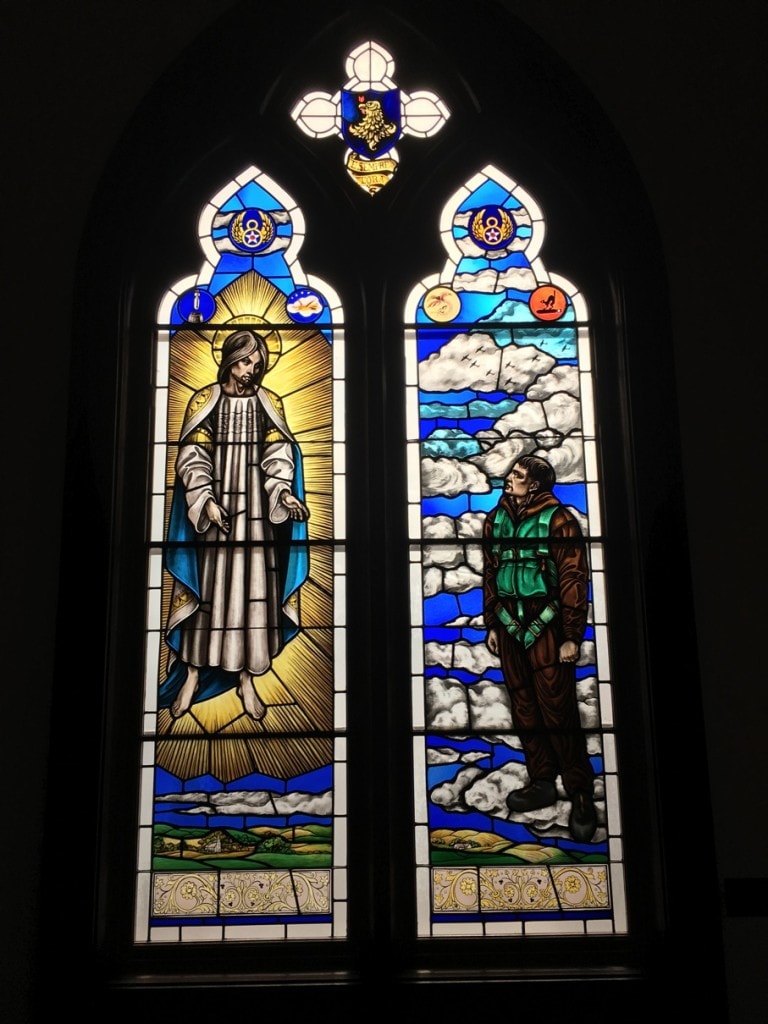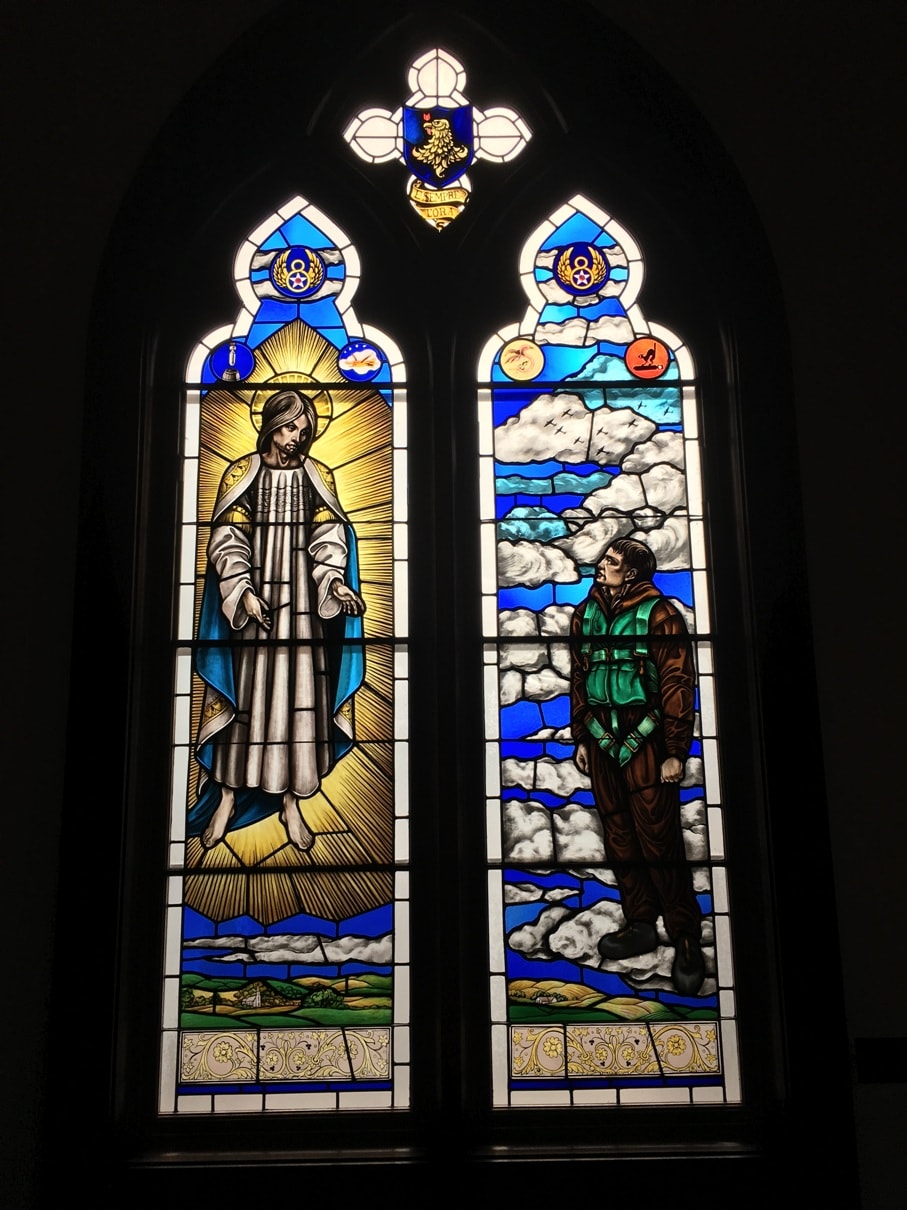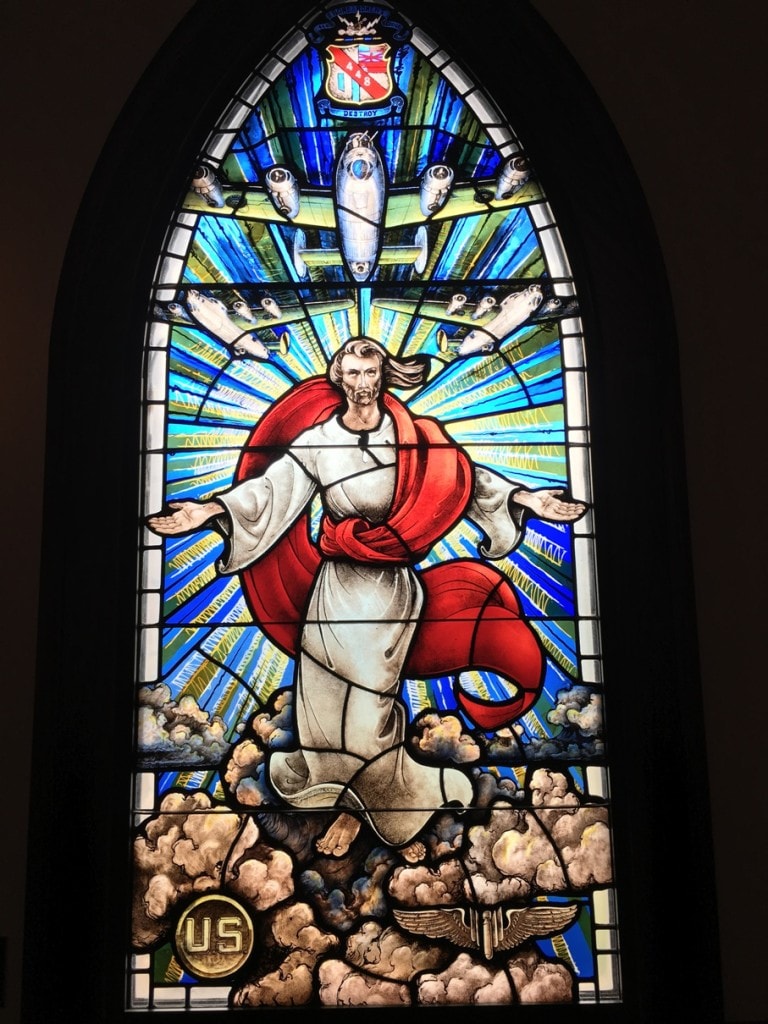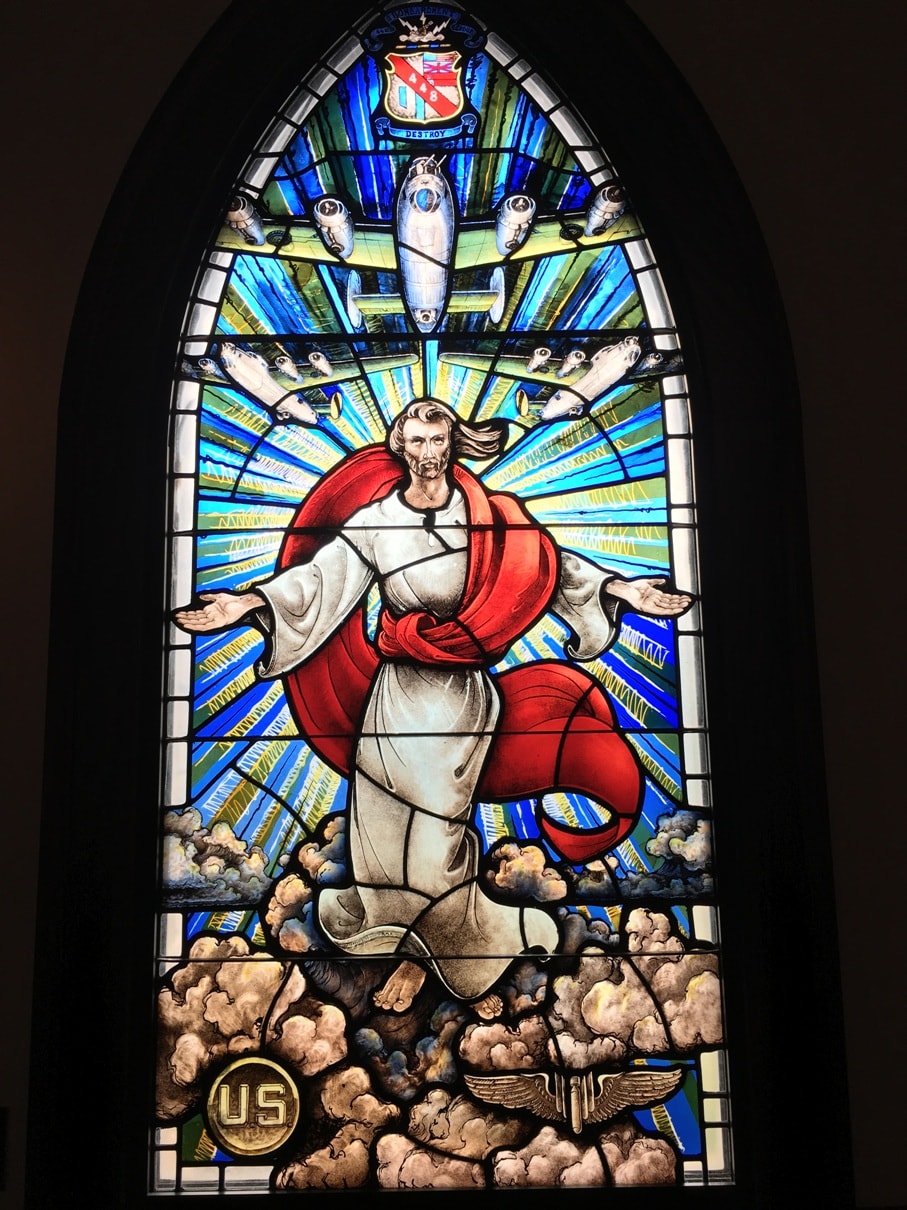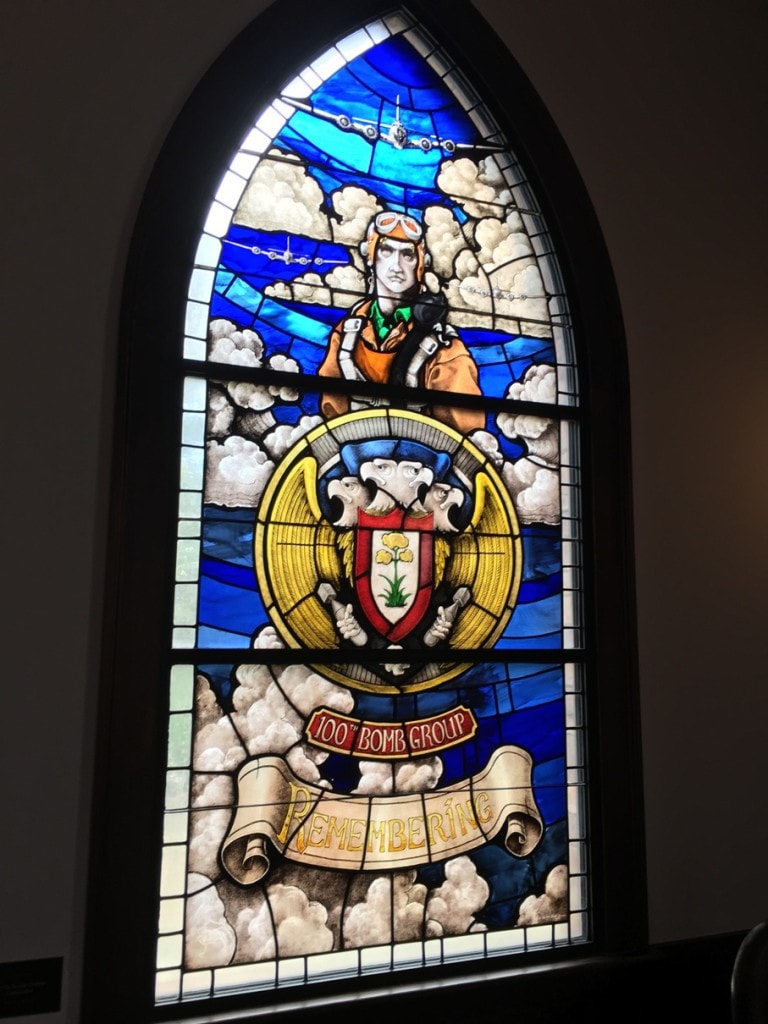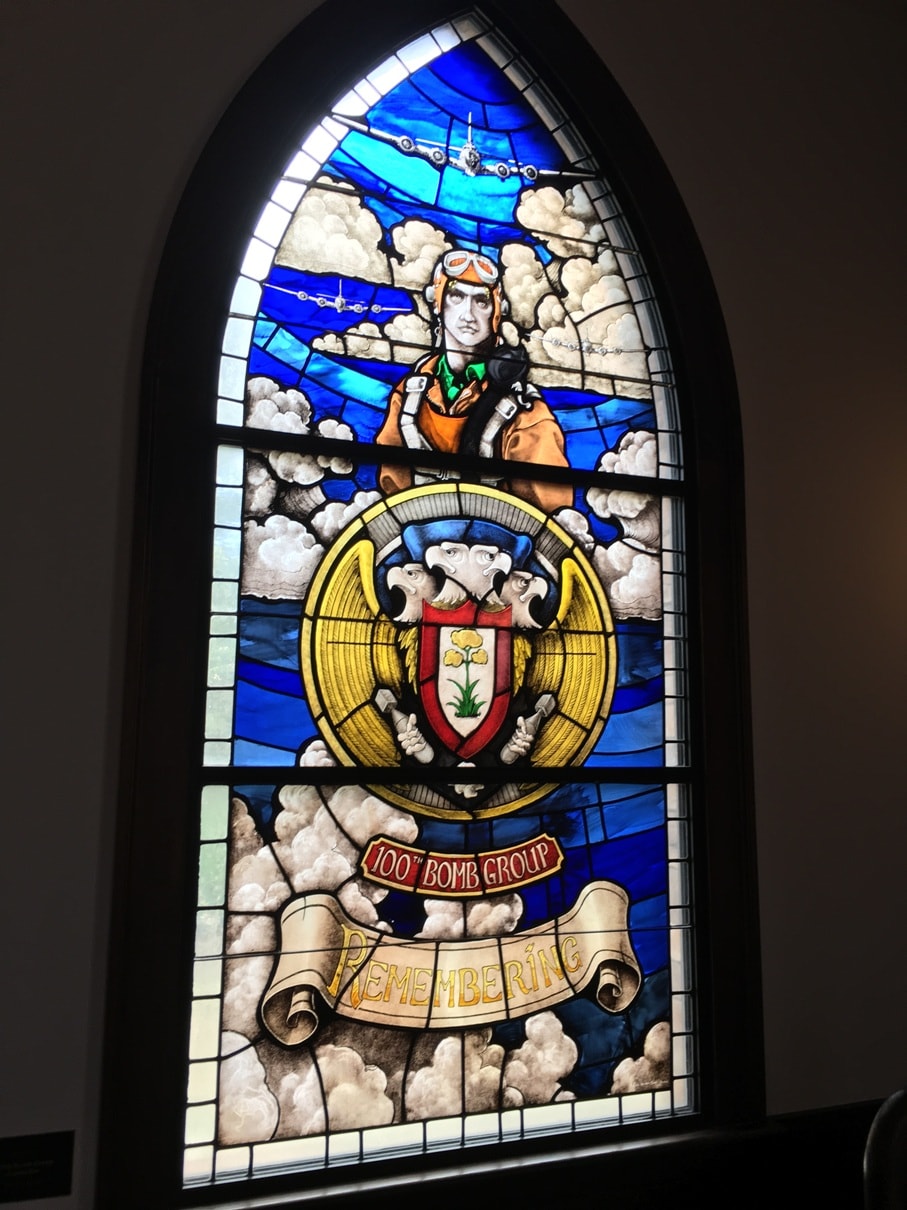 The Memorial Gardens outside are equally as moving. The grounds are a quiet place to reflect and get a glimpse of how many men and women died fighting for freedom.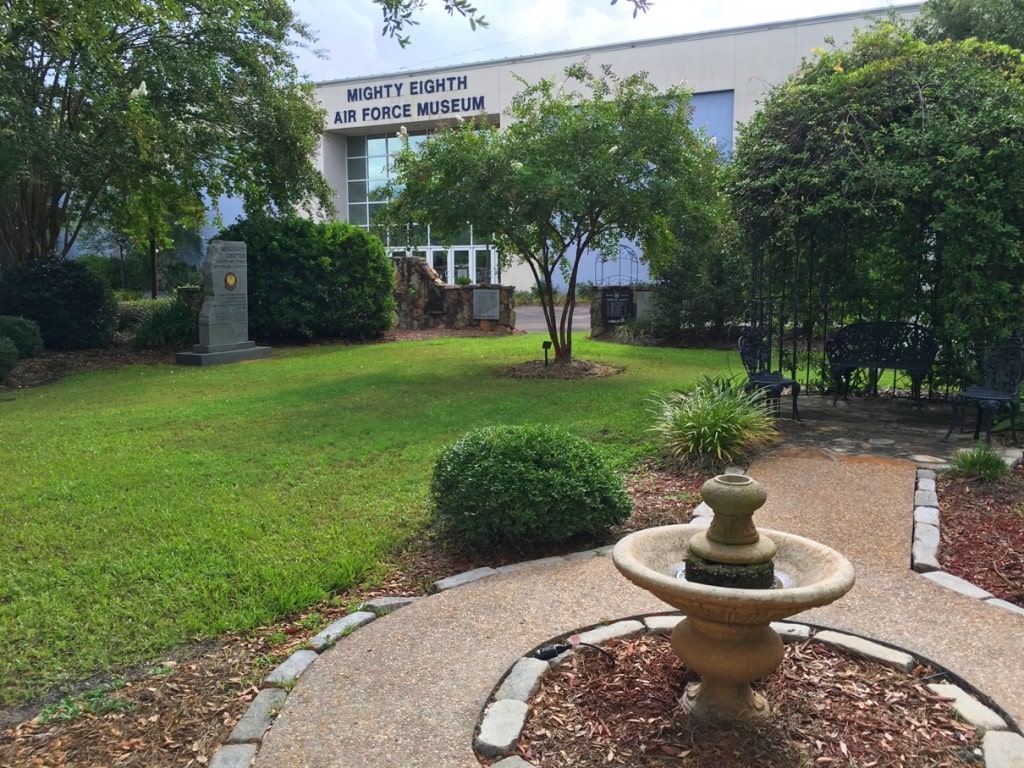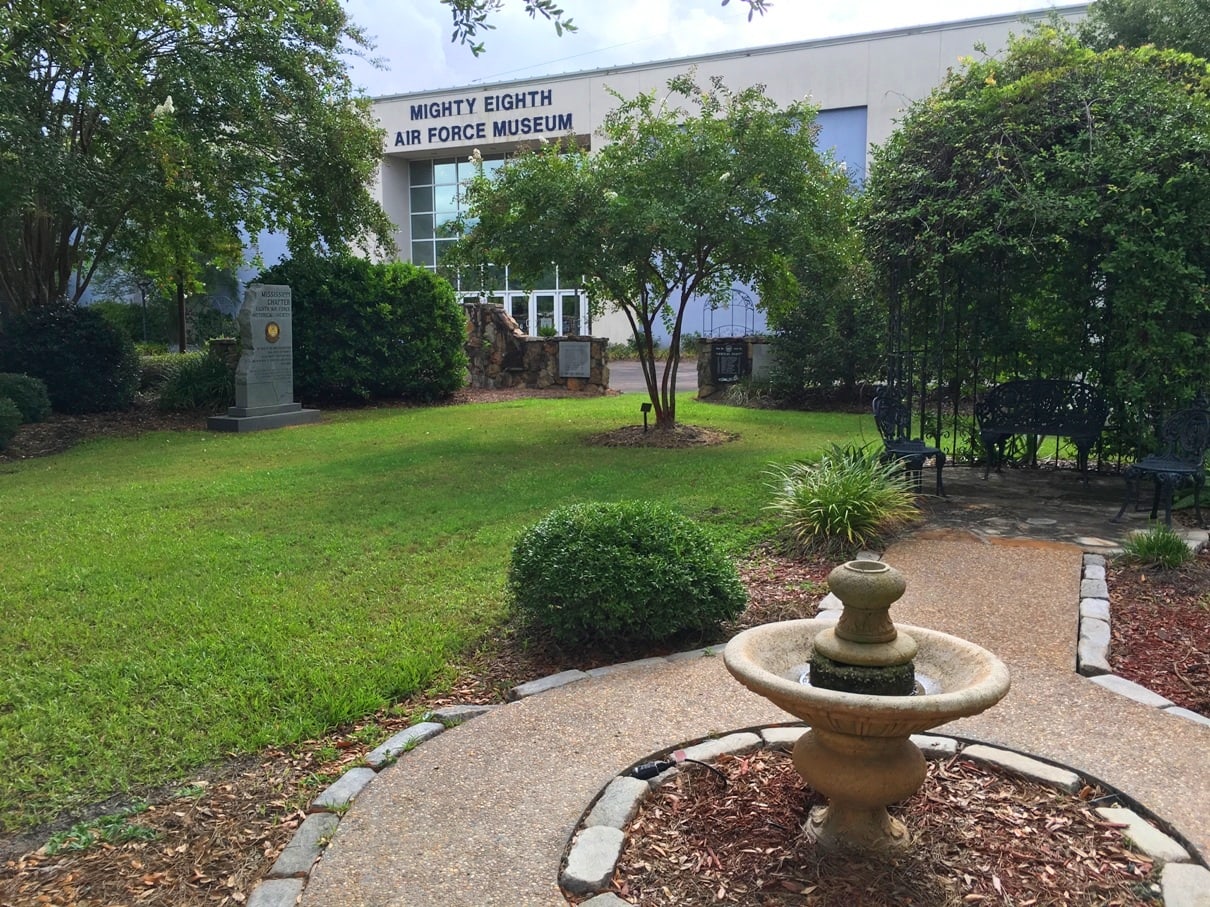 You'll see I-95 traffic just beyond the memorials, yet somehow it doesn't intrude on the tranquility of the Memorial Gardens.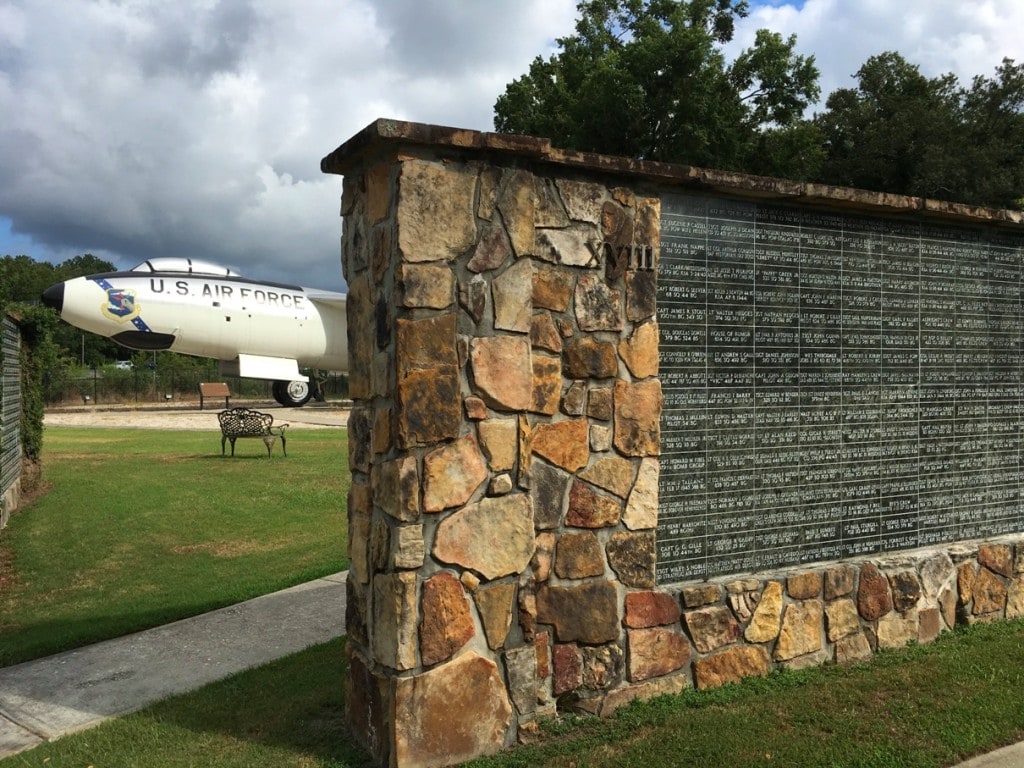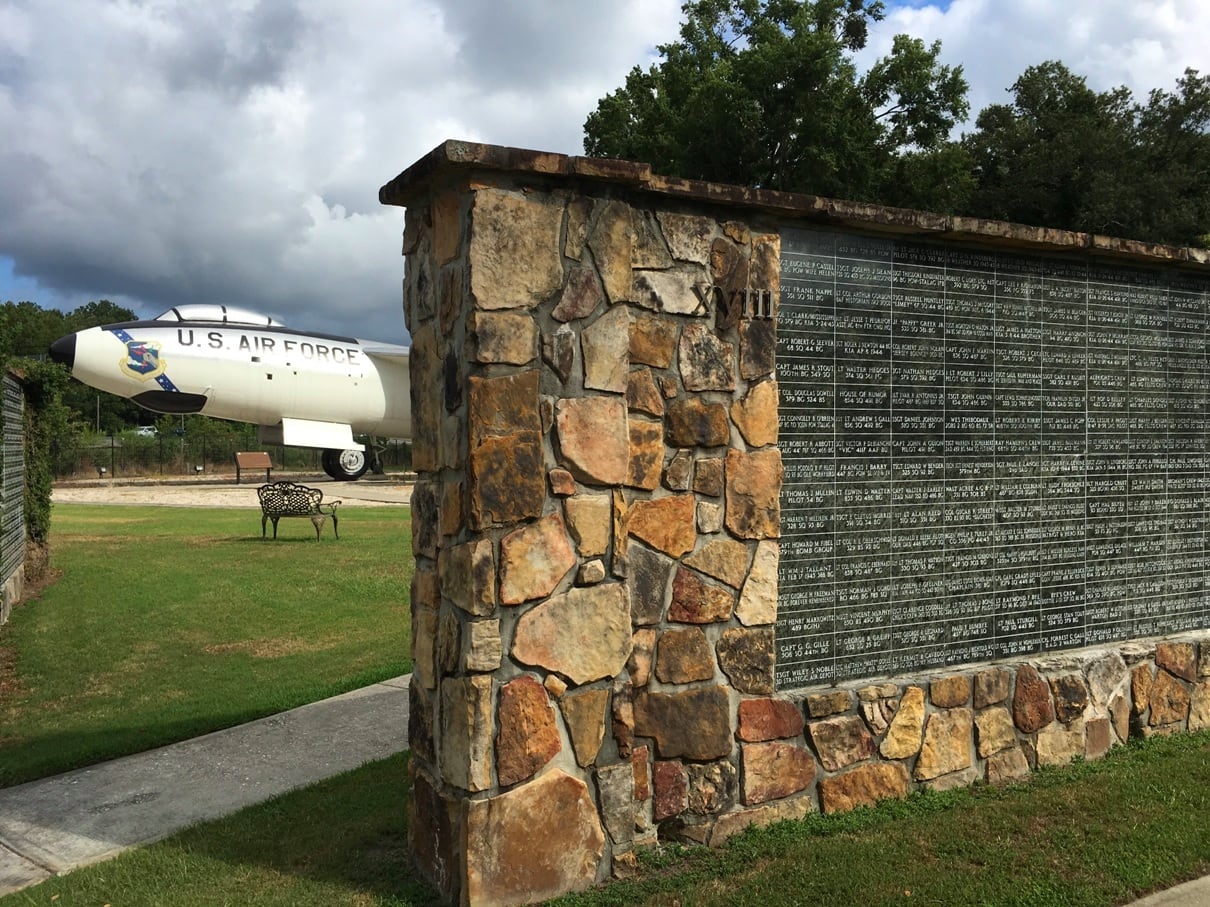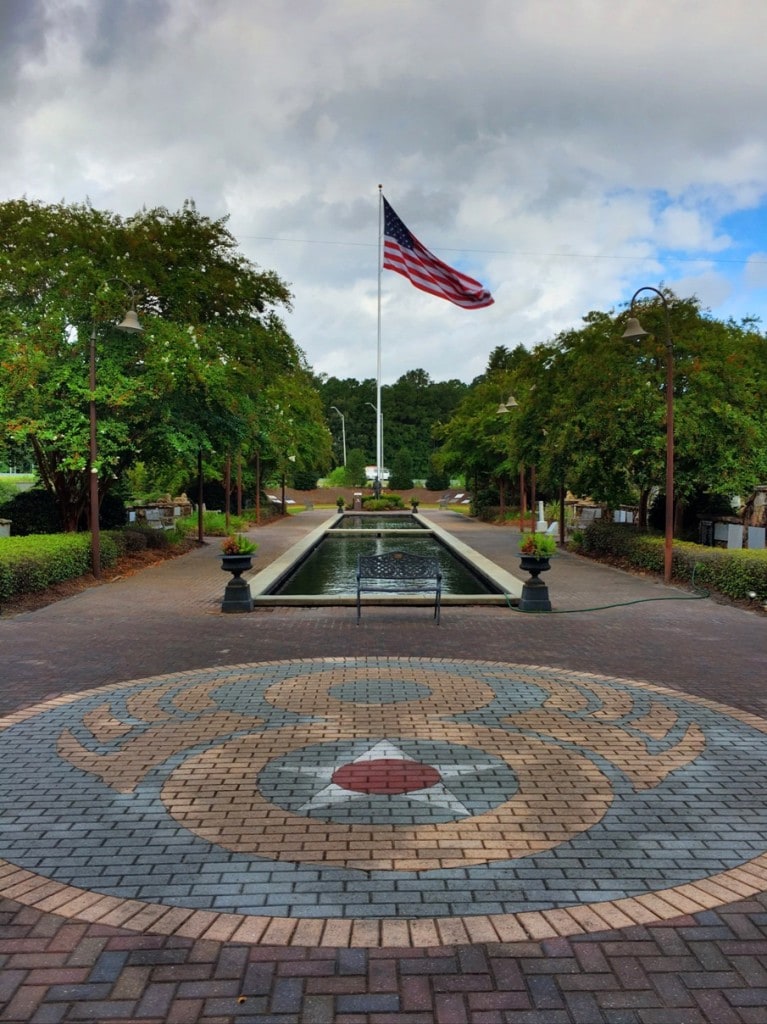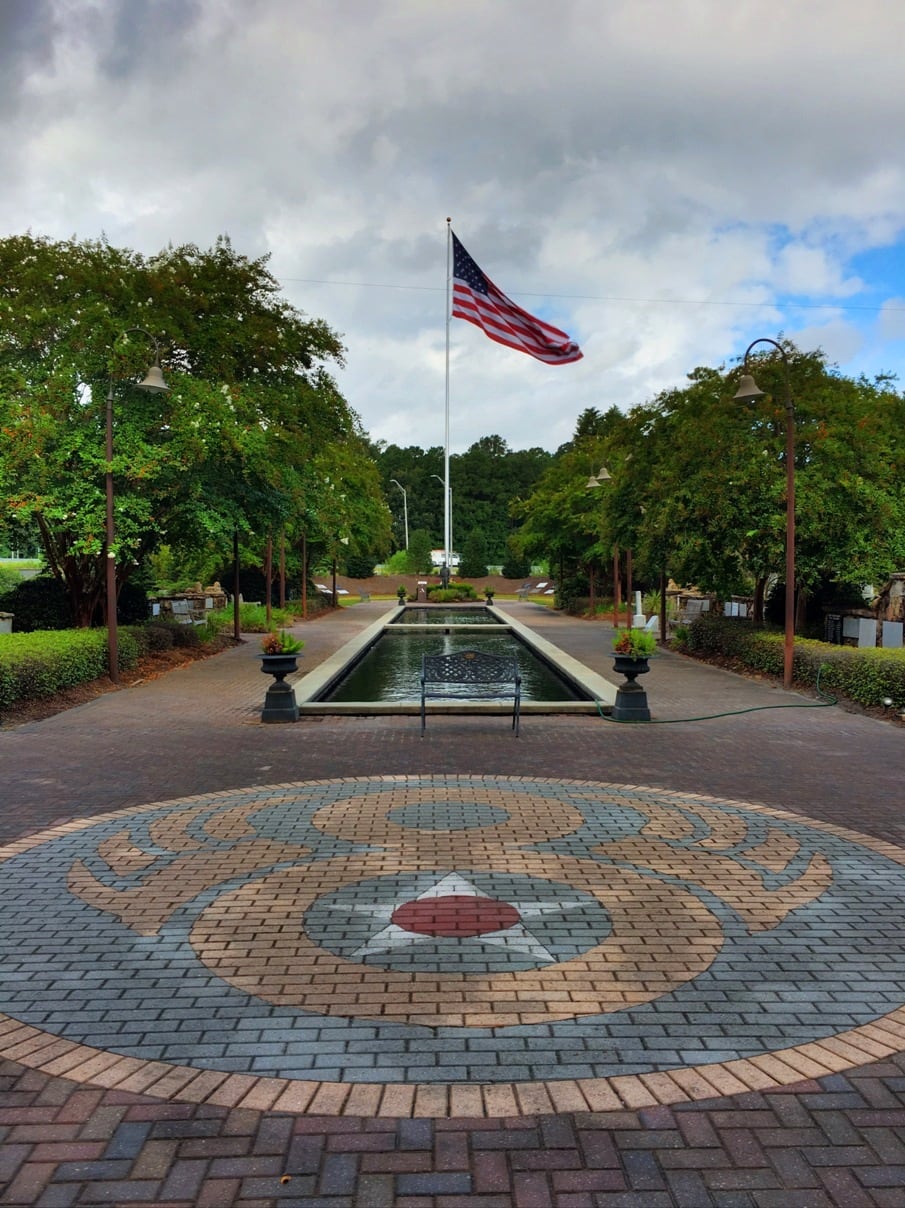 The English theme continues (the 8th Air Force were based in England) with a recreated English pub named Miss Sophie's Marketplace. Lunch is served daily Monday – Friday, 11 am – 2 pm. Stop in for a hearty meal with affordable prices and friendly staff.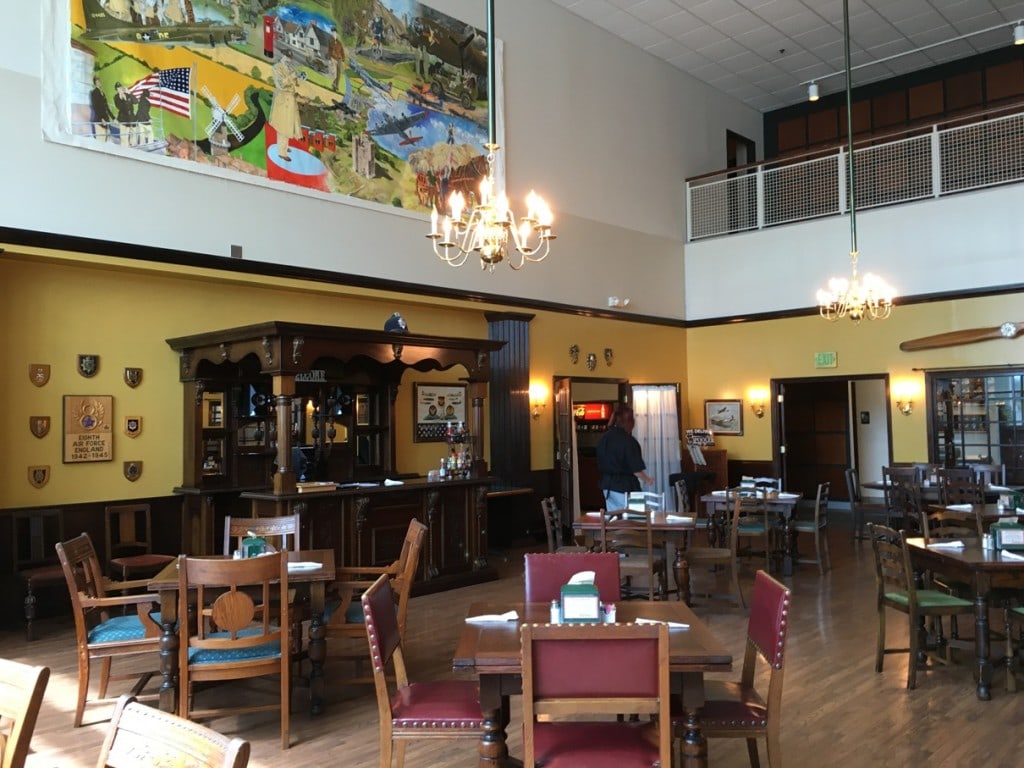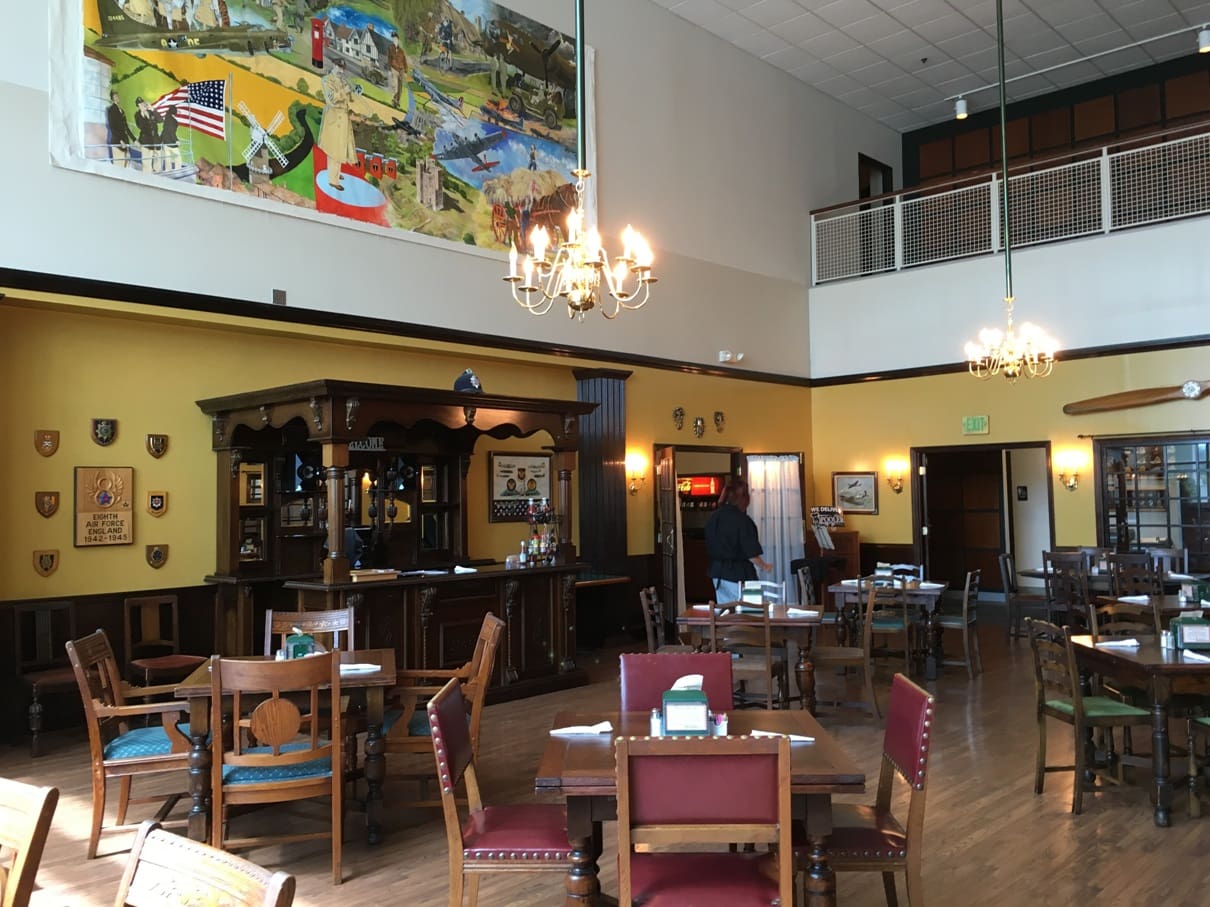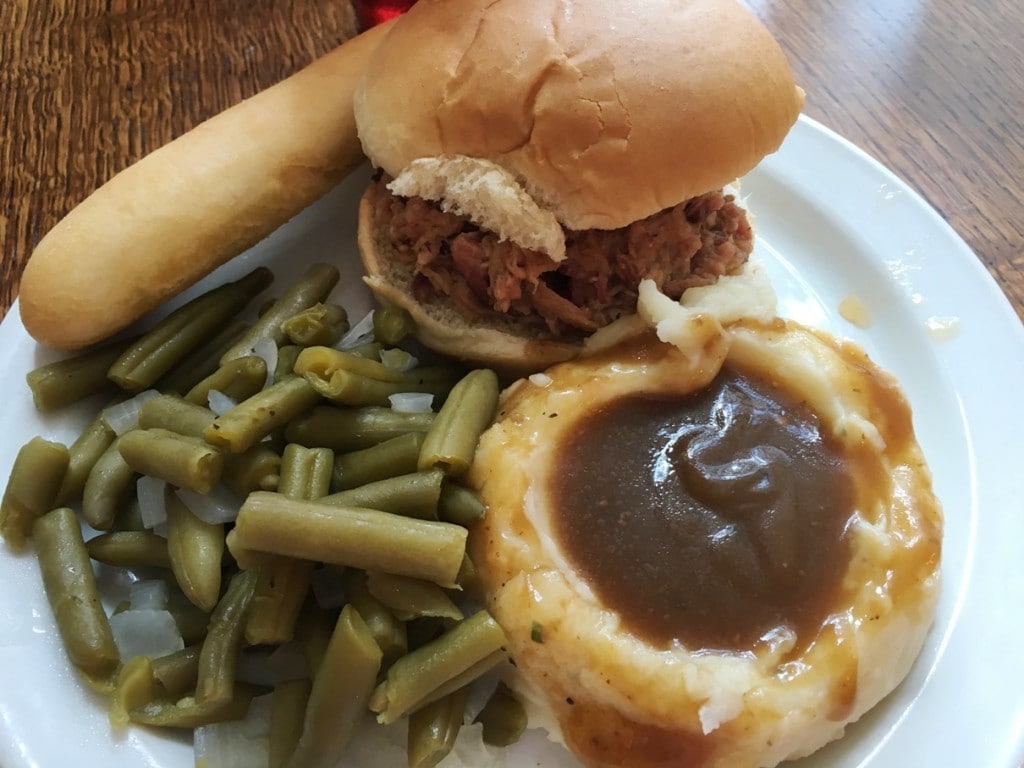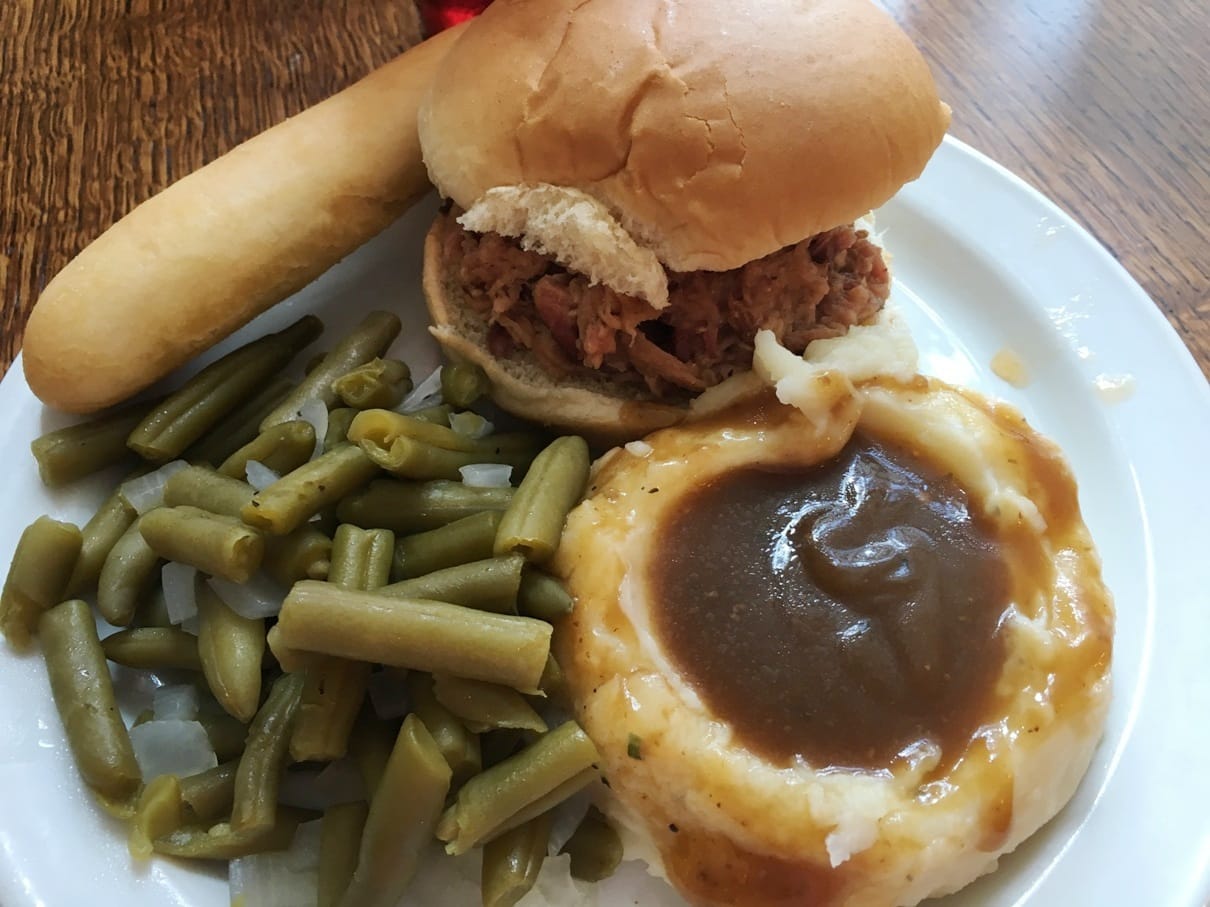 Even if you don't pay the admission to get into the Mighty Eighth Air Force Museum, it is still worth a stop.
Outside, two ancient planes (F-4 Phantom and MIG-17A) are perfect for photo ops. Lots of picnic benches line the grassy areas ideal for stretching your legs. A great gift shop is located just inside the building, and you can eat in the pub without entering the museum.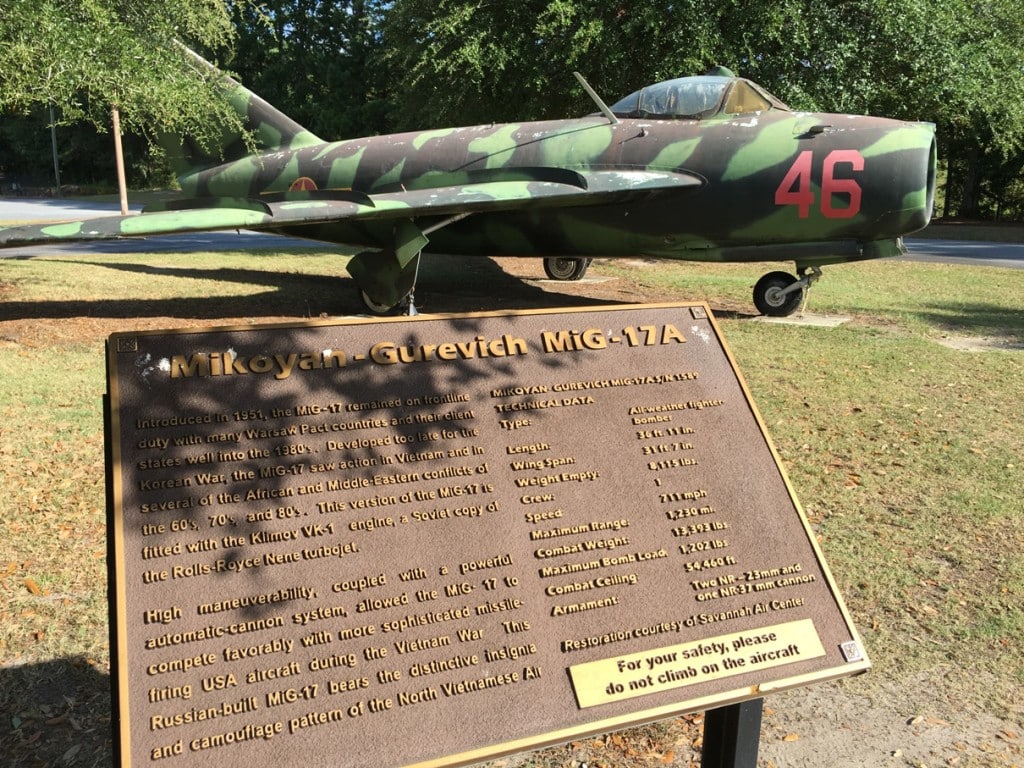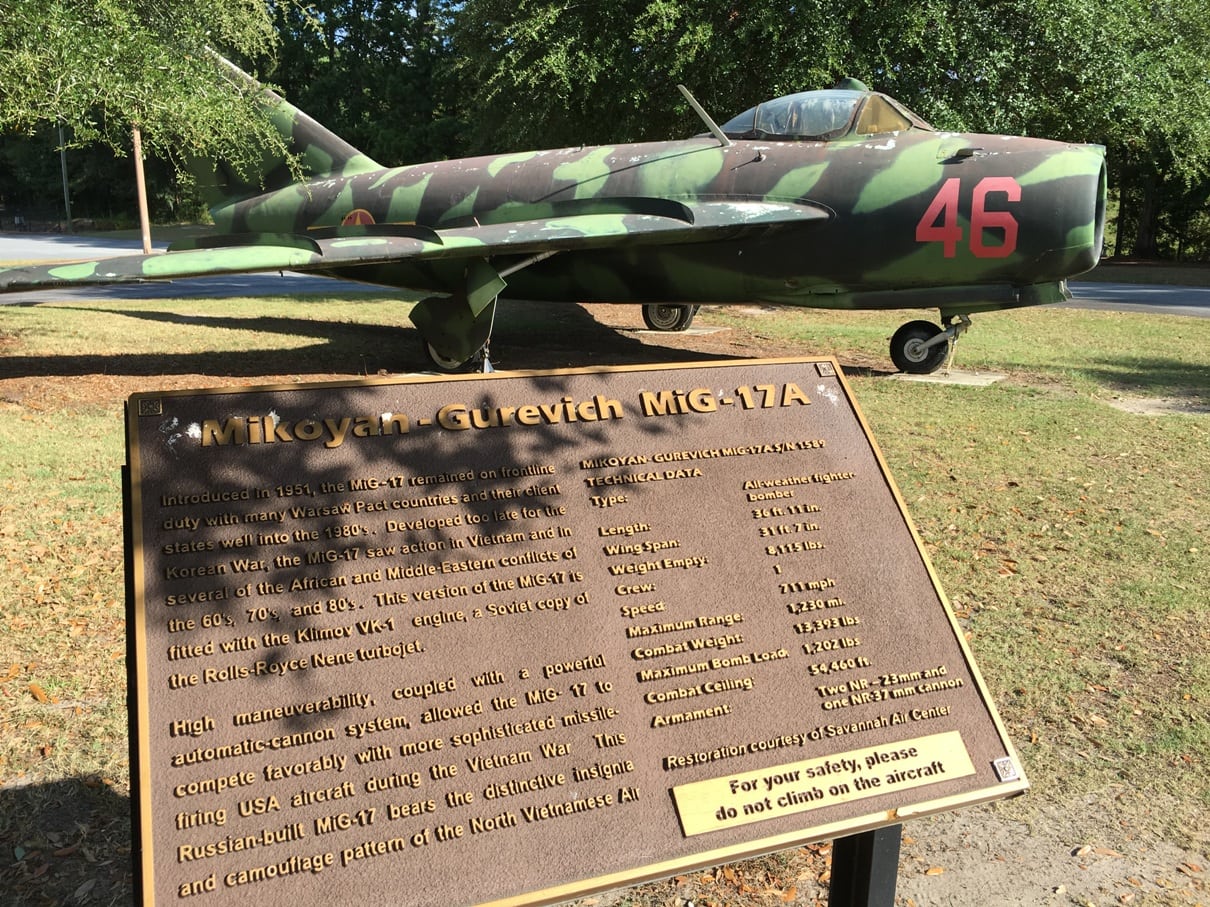 See our video tour:
Tanger Outlets
Tanger Outlets Savannah is actually located in Pooler. The Exit 104 location has late hours so that you can sneak in some shopping after driving all day.
With over 100 stores, there is something for everybody. The outlets feel more like a large outdoor mall, with rambling avenues lined with stores.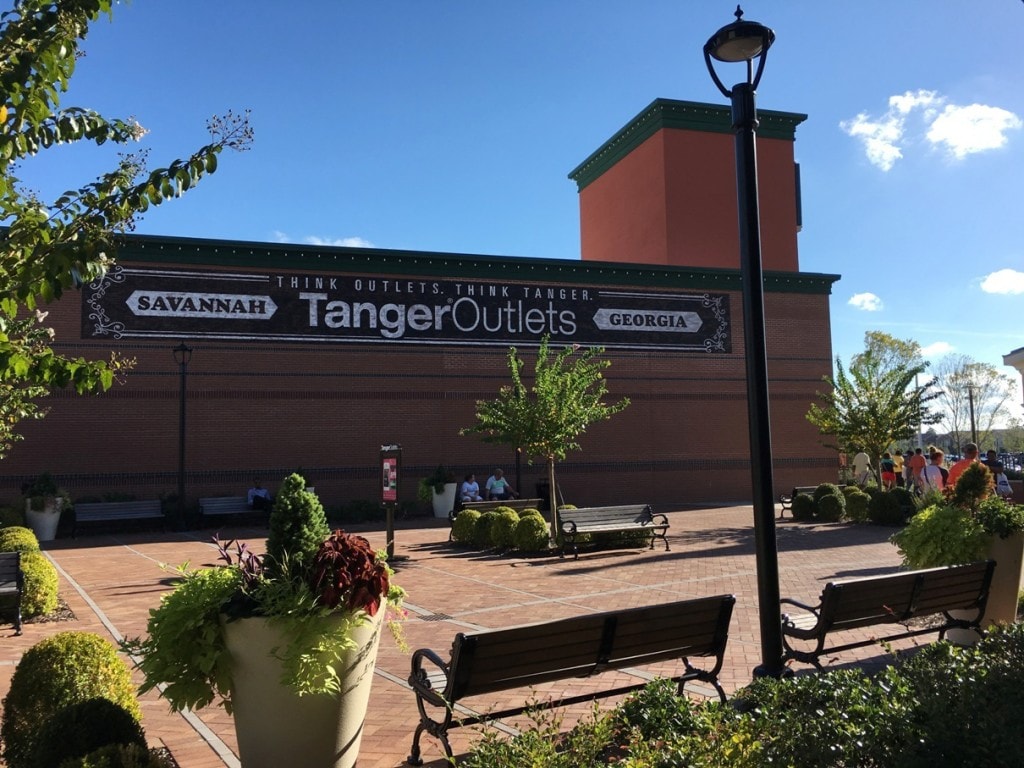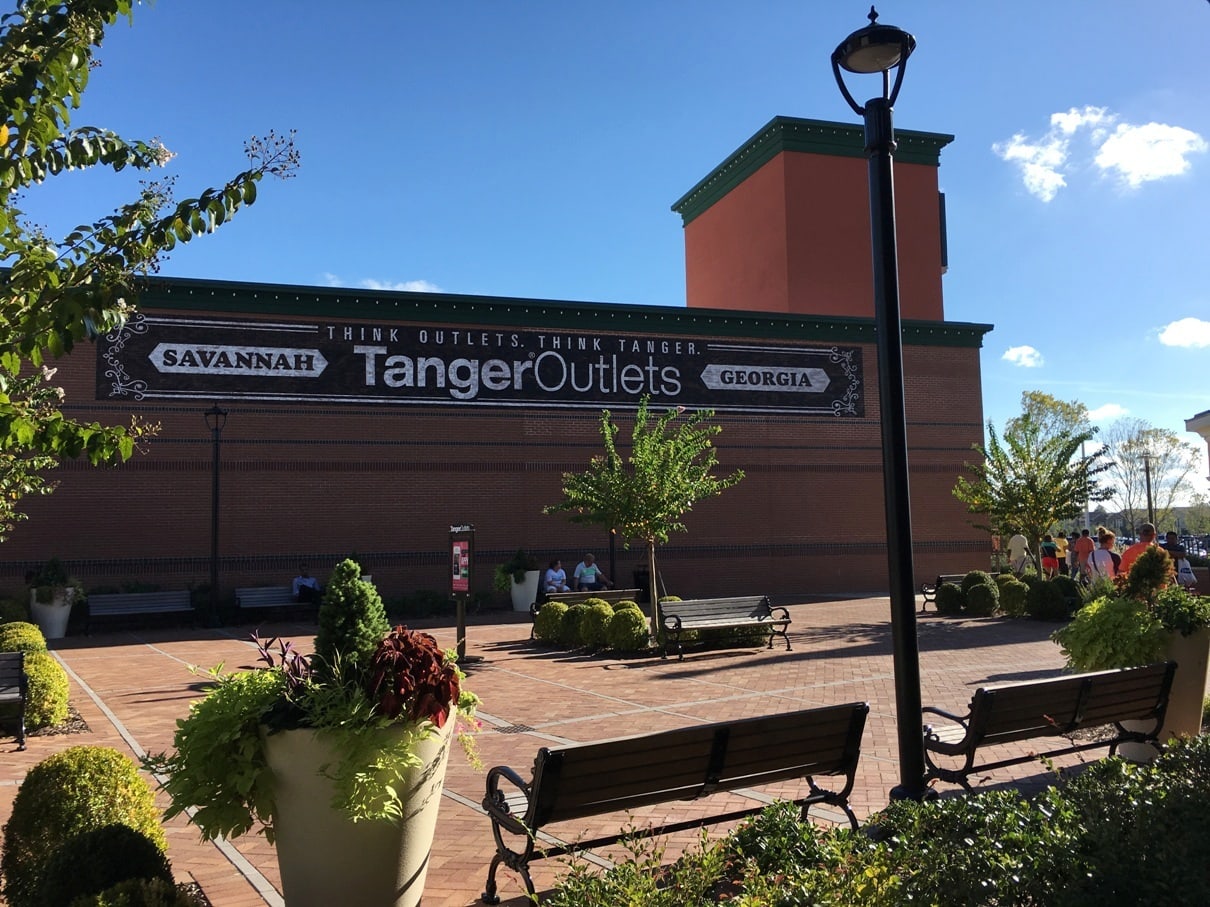 There is plenty of covered seating, lounge chairs, fountains and even an impressive playground area for the kids.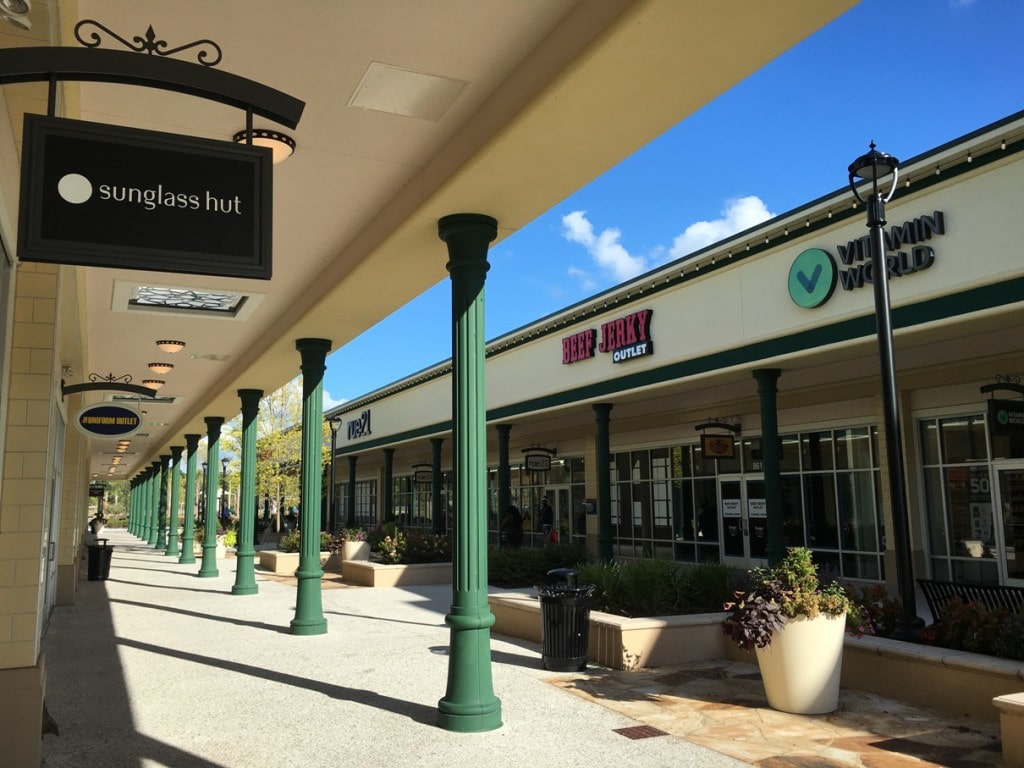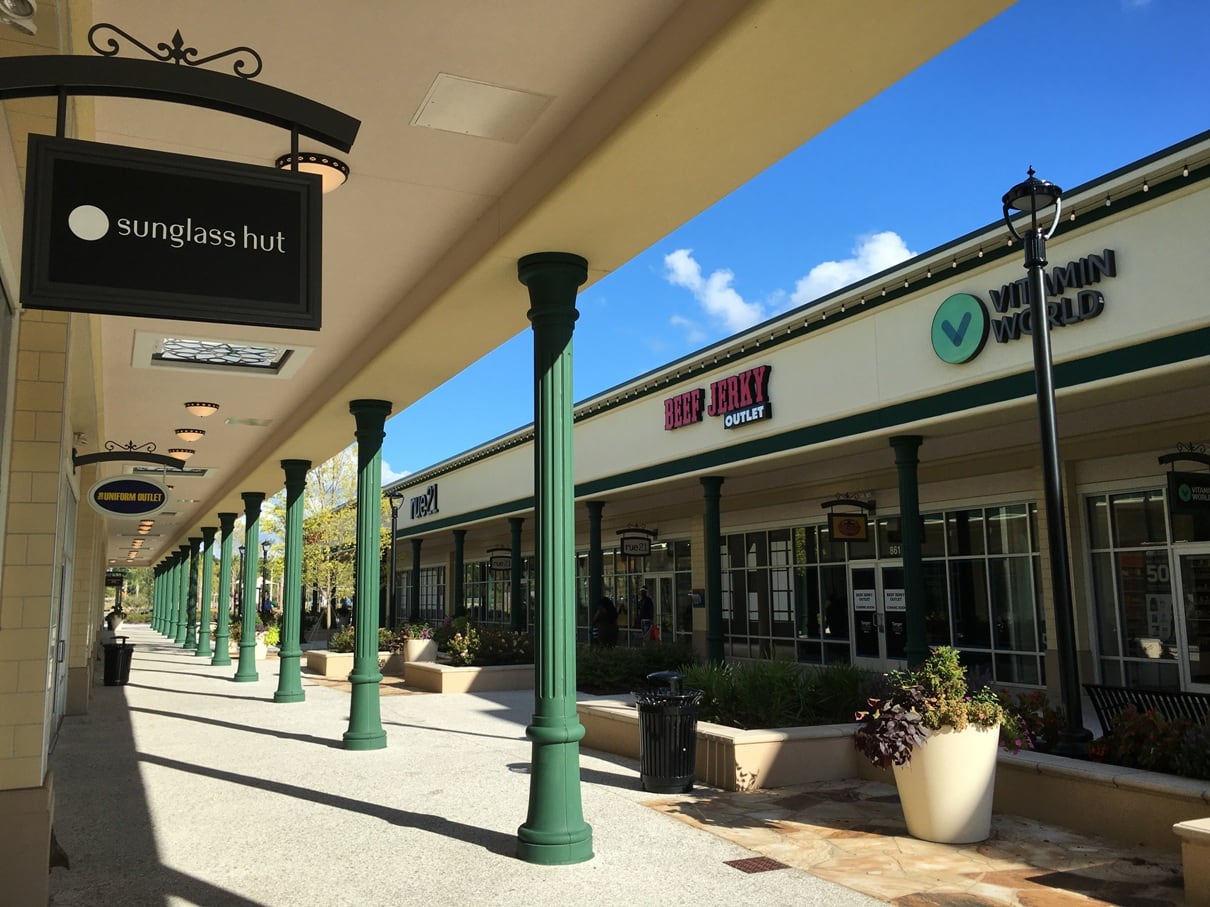 There are some great restaurants at Tanger Outlets, too, including Johnny Rocket's and River Street Sweets Savannah's Candy Kitchen.
It is a one-stop destination for food, shopping, a kid's playground and a chance to stretch your legs during your road trip.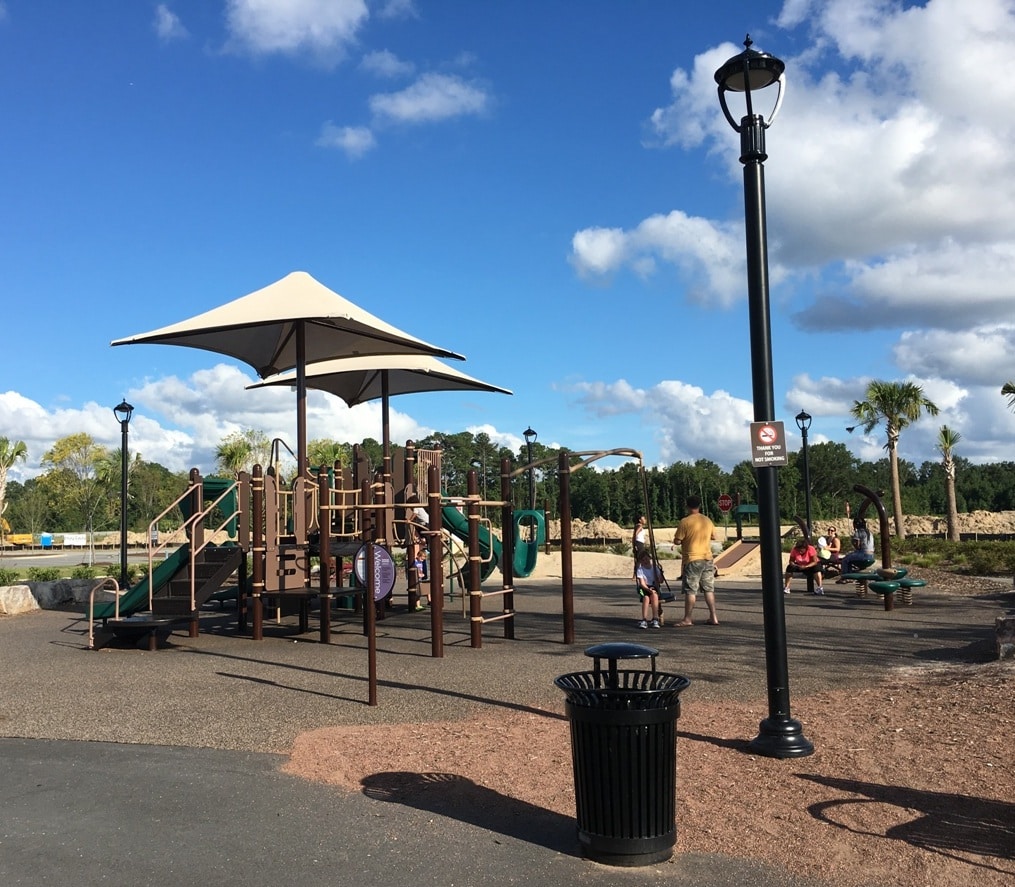 Hotels In Pooler, Georgia Off of I-95
I have driven between Orlando and Asheville many times, and I often stay in Pooler, Georgia. There are a variety of hotels available on both exits.
Best Western Plus
I've found one of the best places to stay is the Best Western Plus Savannah Airport. Located adjacent to the Mighty Eighth Air Force Museum in Pooler, the name is a little misleading. It is located just off of the I-95 exit and is quietly tucked away without much noise or traffic.
Another Best Western Premier is located nearby, so be sure to see which one you are looking at when booking.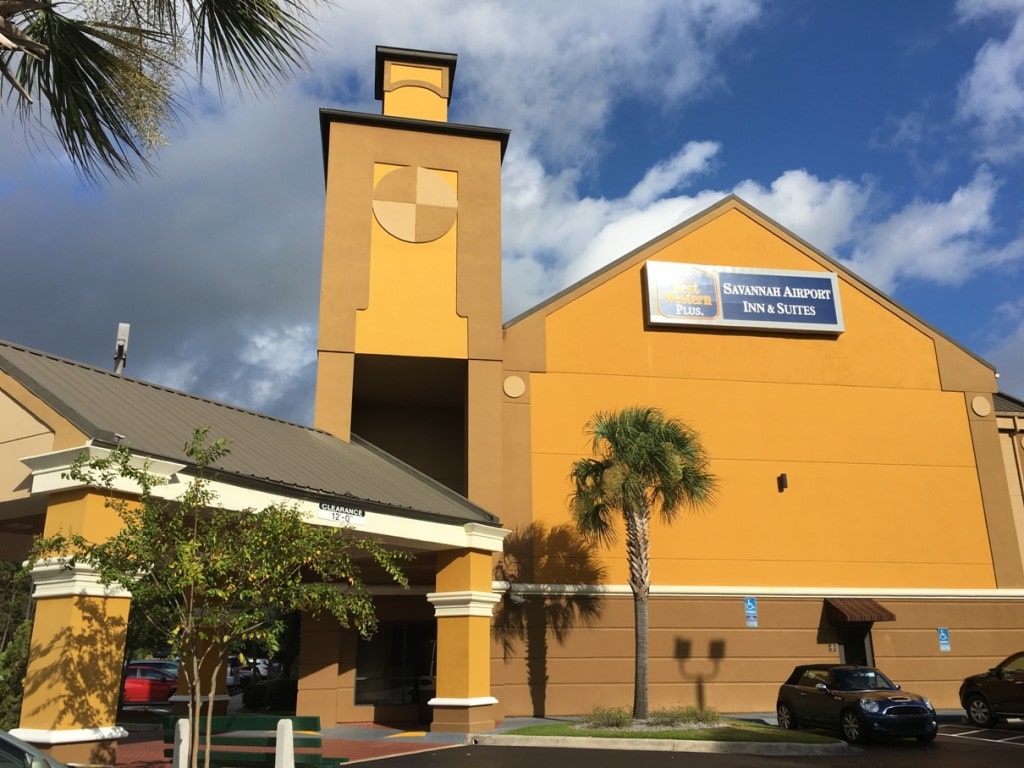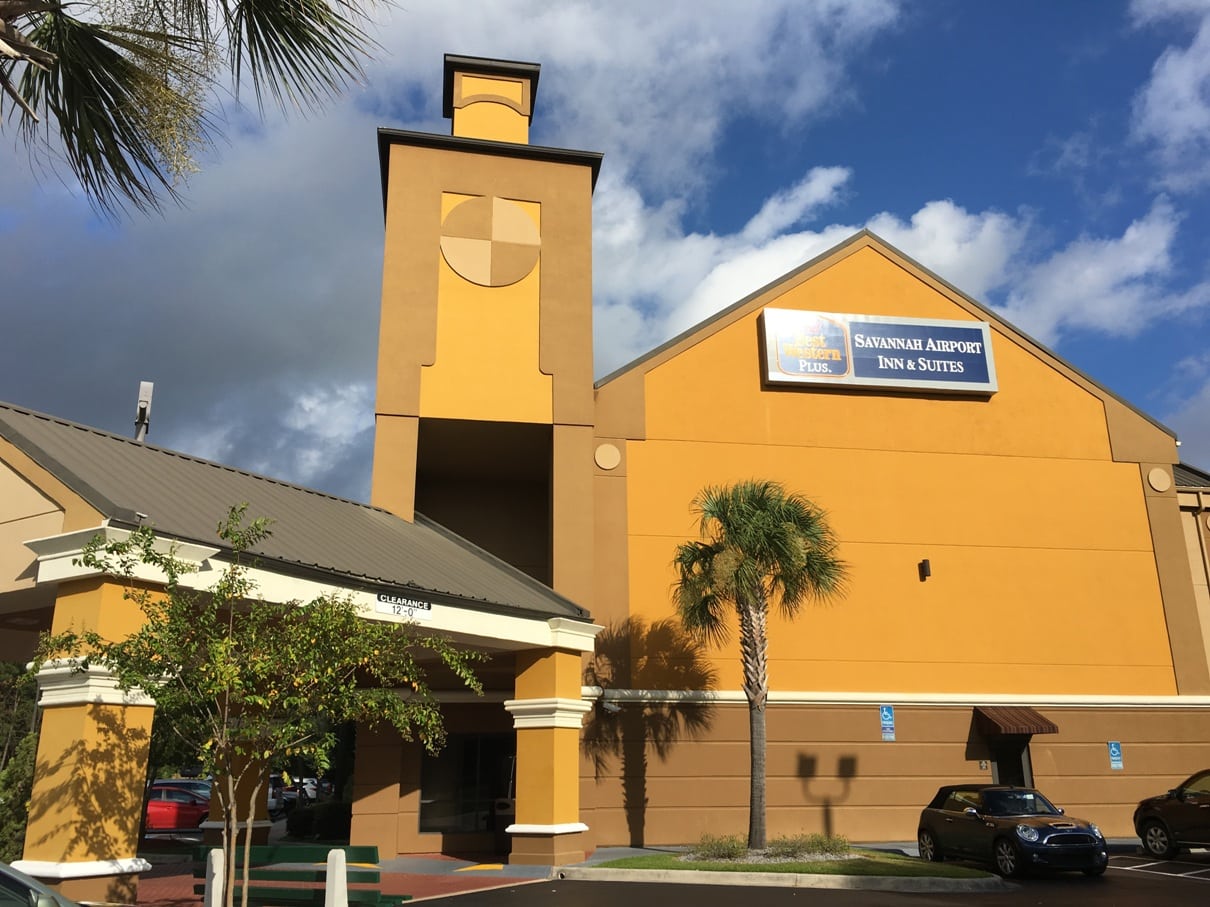 See my video room tour:
I have researched a lot of hotels in Pooler – on both of the exits – and found the Best Western Plus Inn and Suites to be the best value, as well as one of the most affordable. This all-suites hotel gives its guests the luxury of suite living without an elevated price.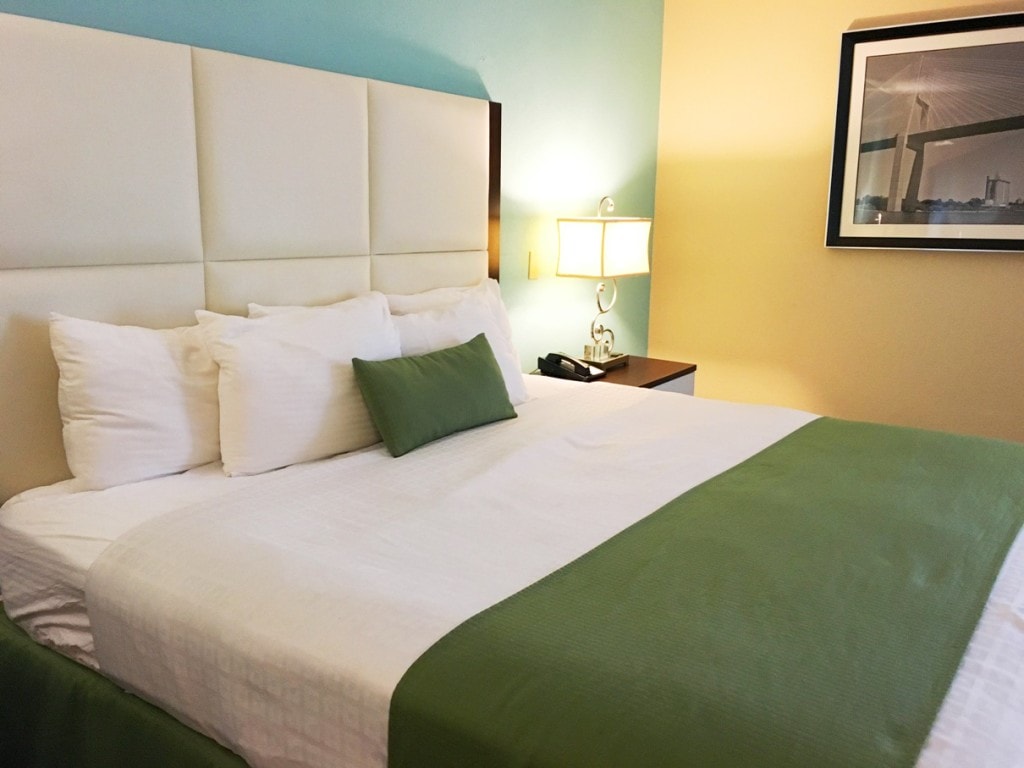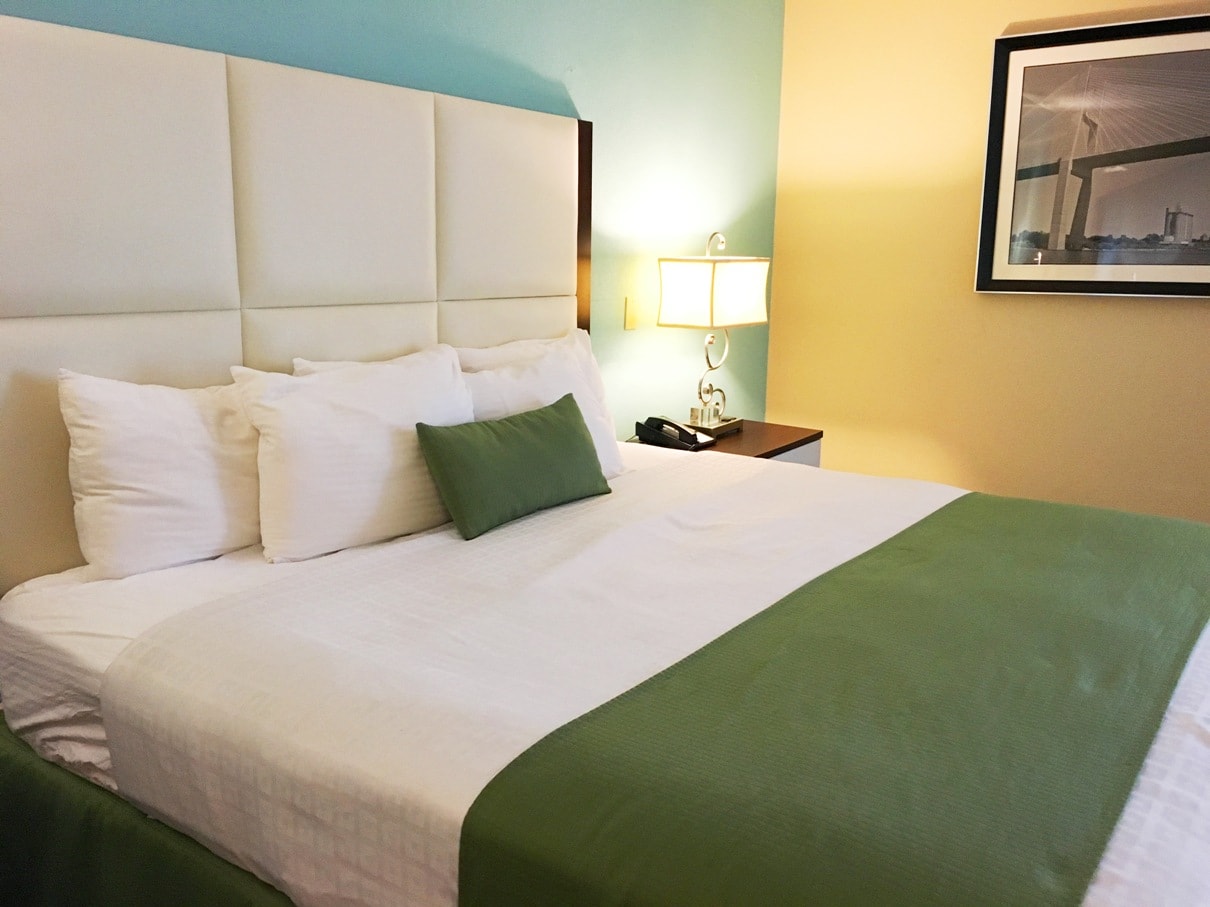 The 100% Non Smoking hotel (such a relief for people that are allergic to cigarette smoke, like me!) has large, spacious guest rooms equipped with modern amenities, including a microwave and refrigerator.
With luxury firm Euro pillow top mattresses, I slept so good that even I was amazed!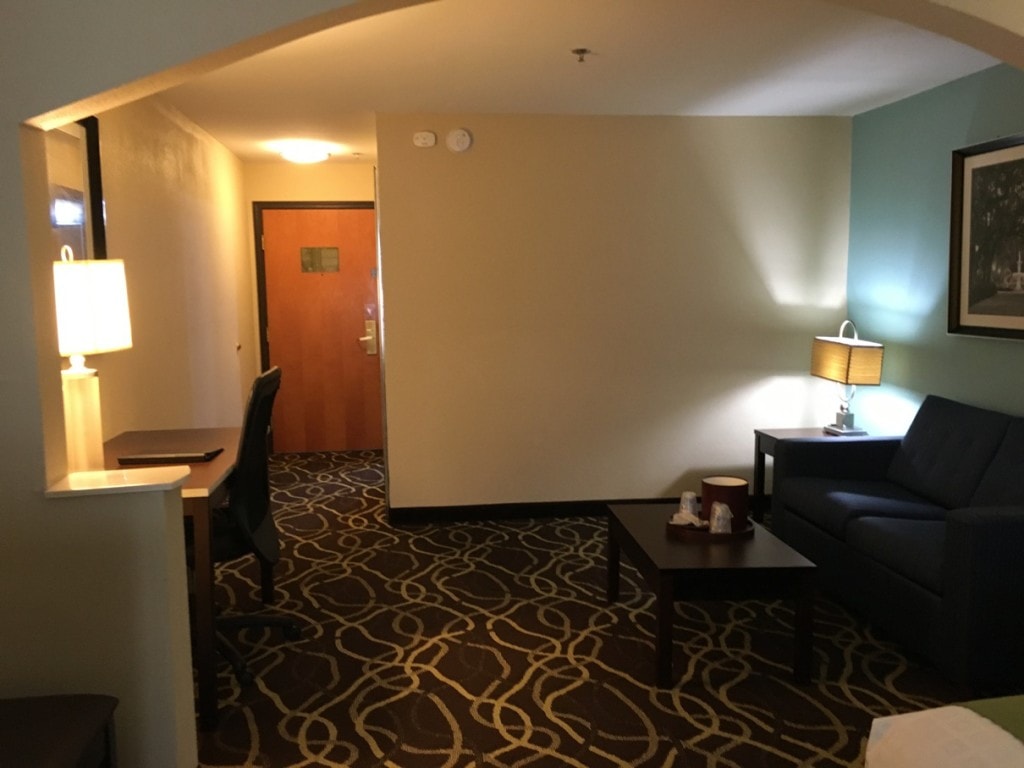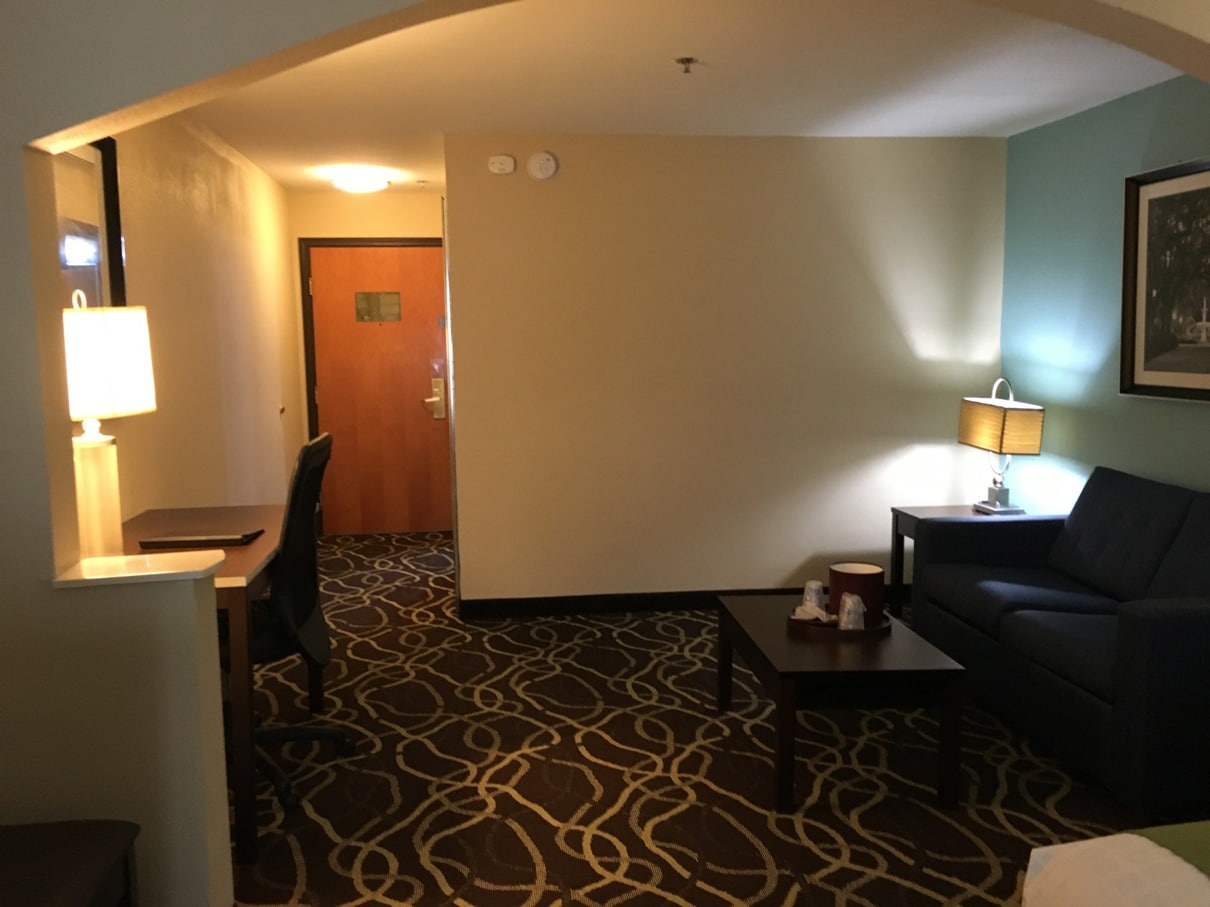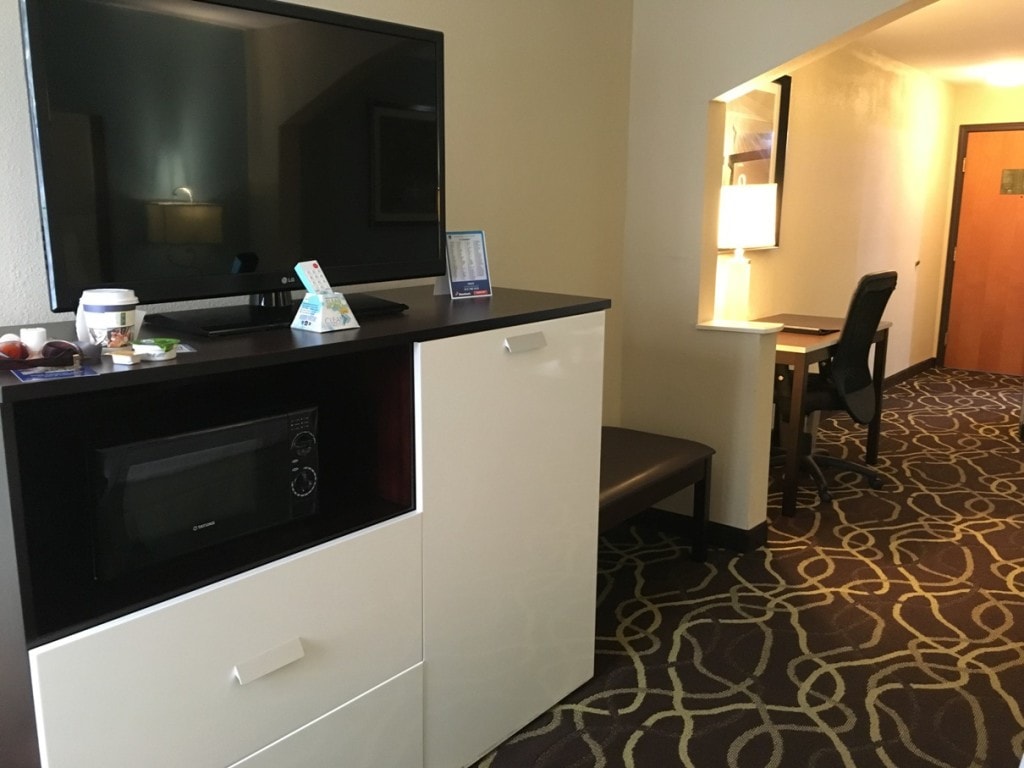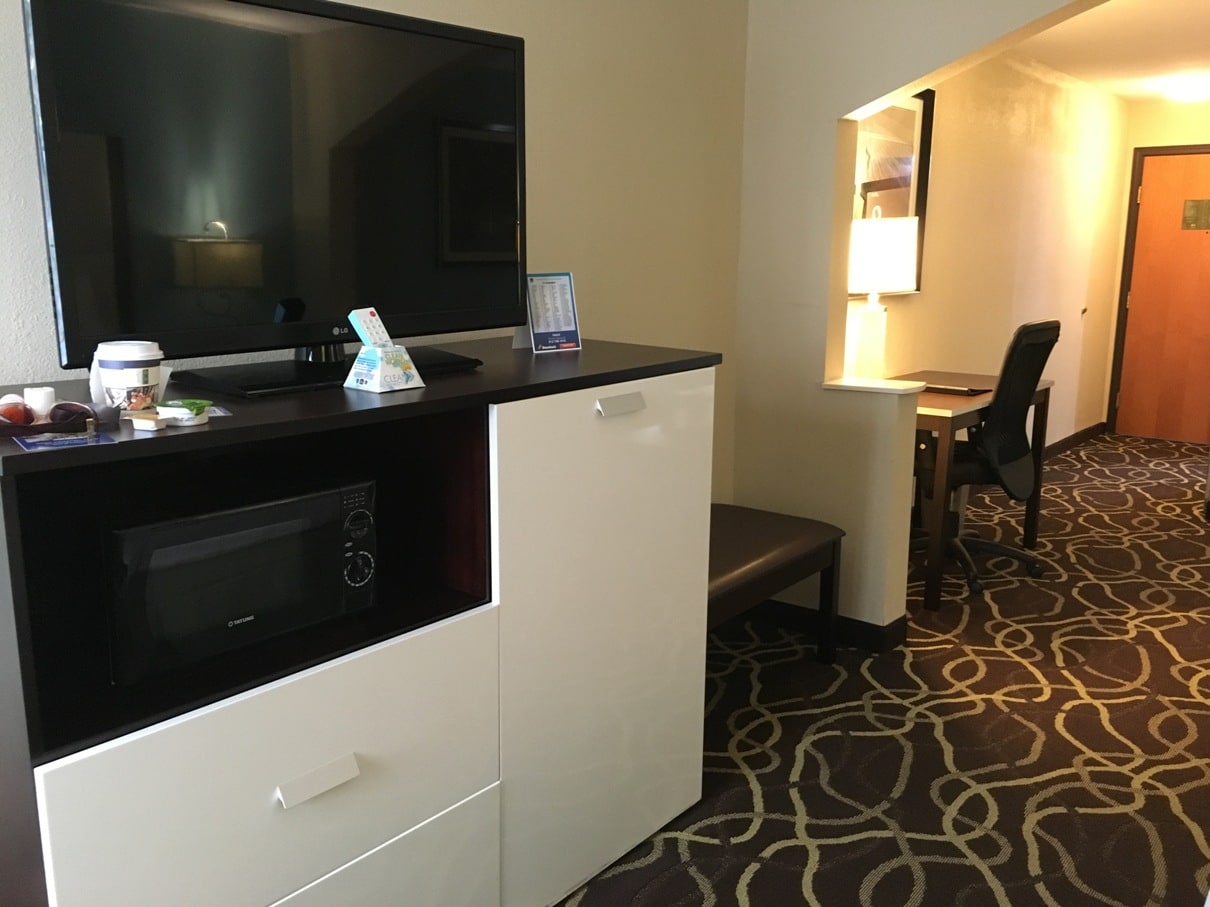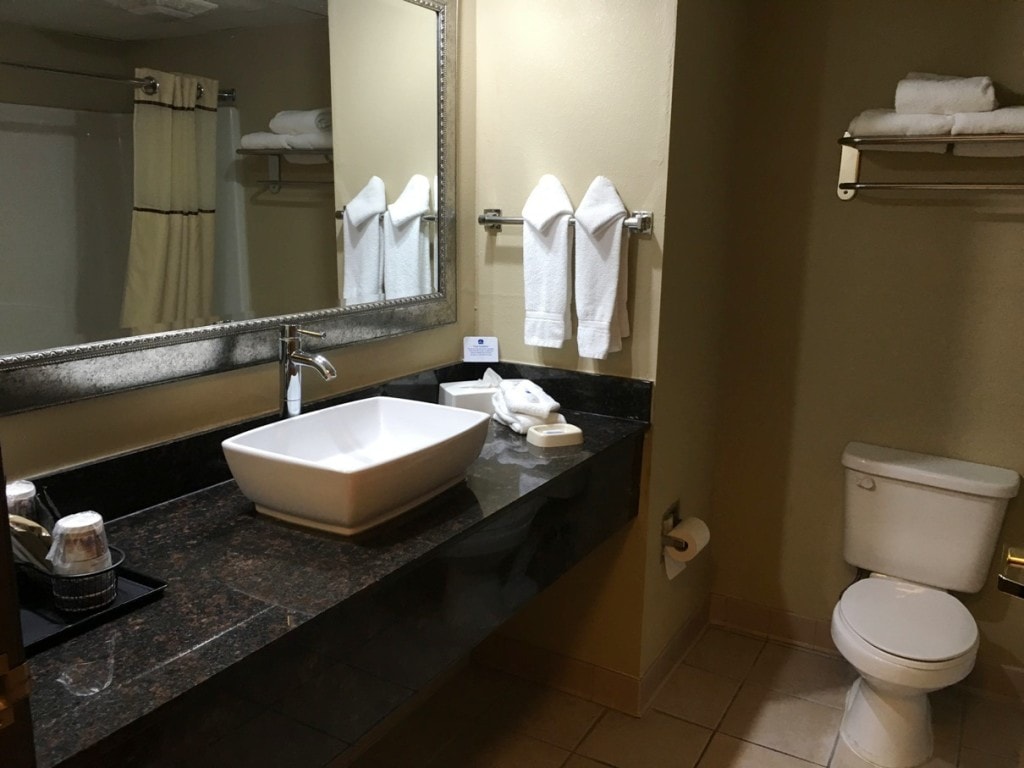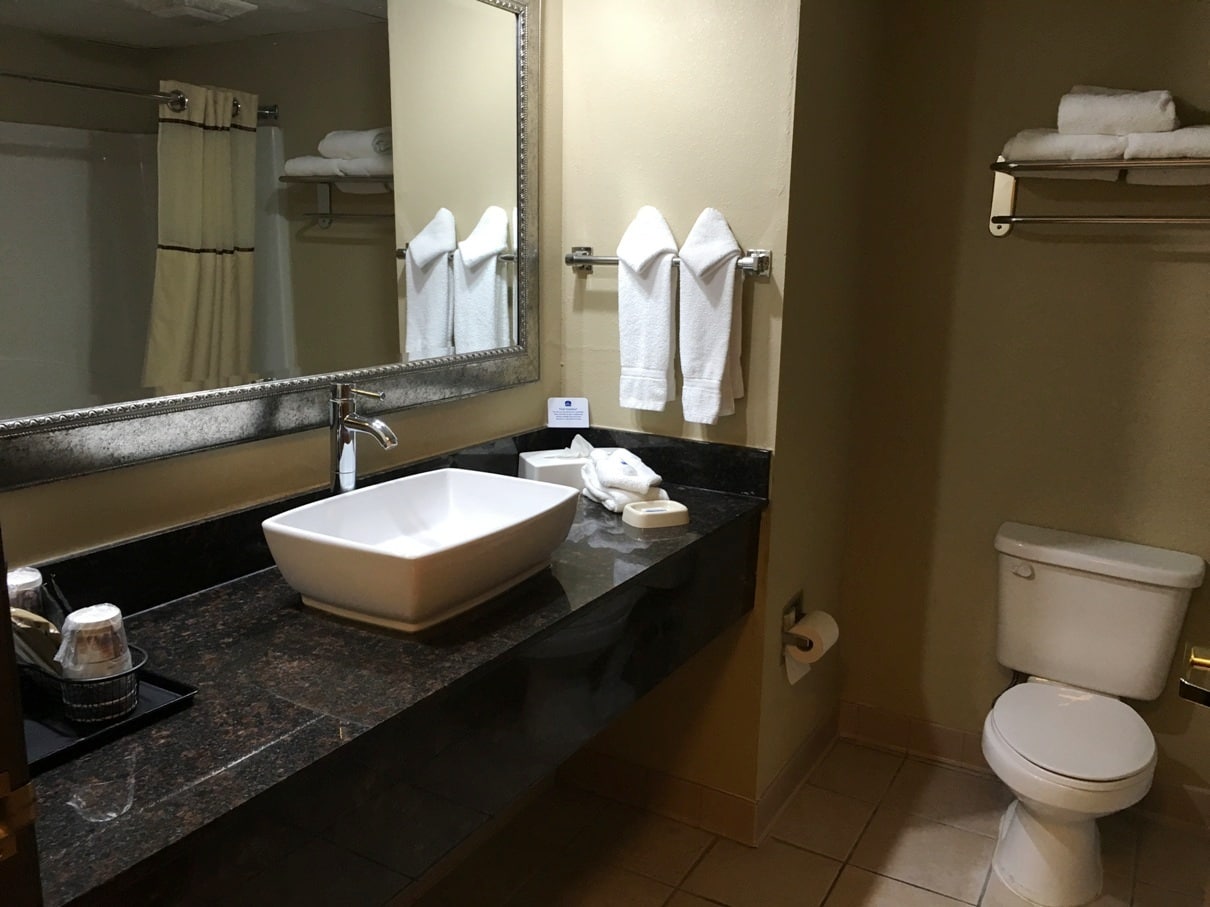 The bright and colorful lobby area has a water wall feature. A complimentary Deluxe Hot Breakfast is available each morning.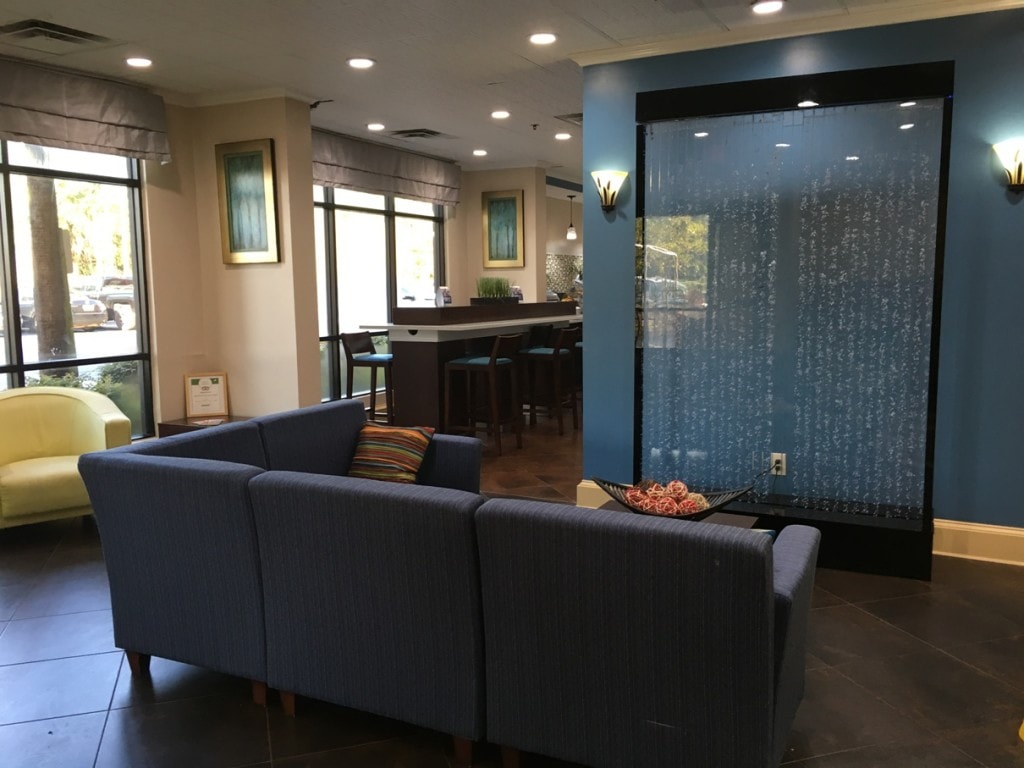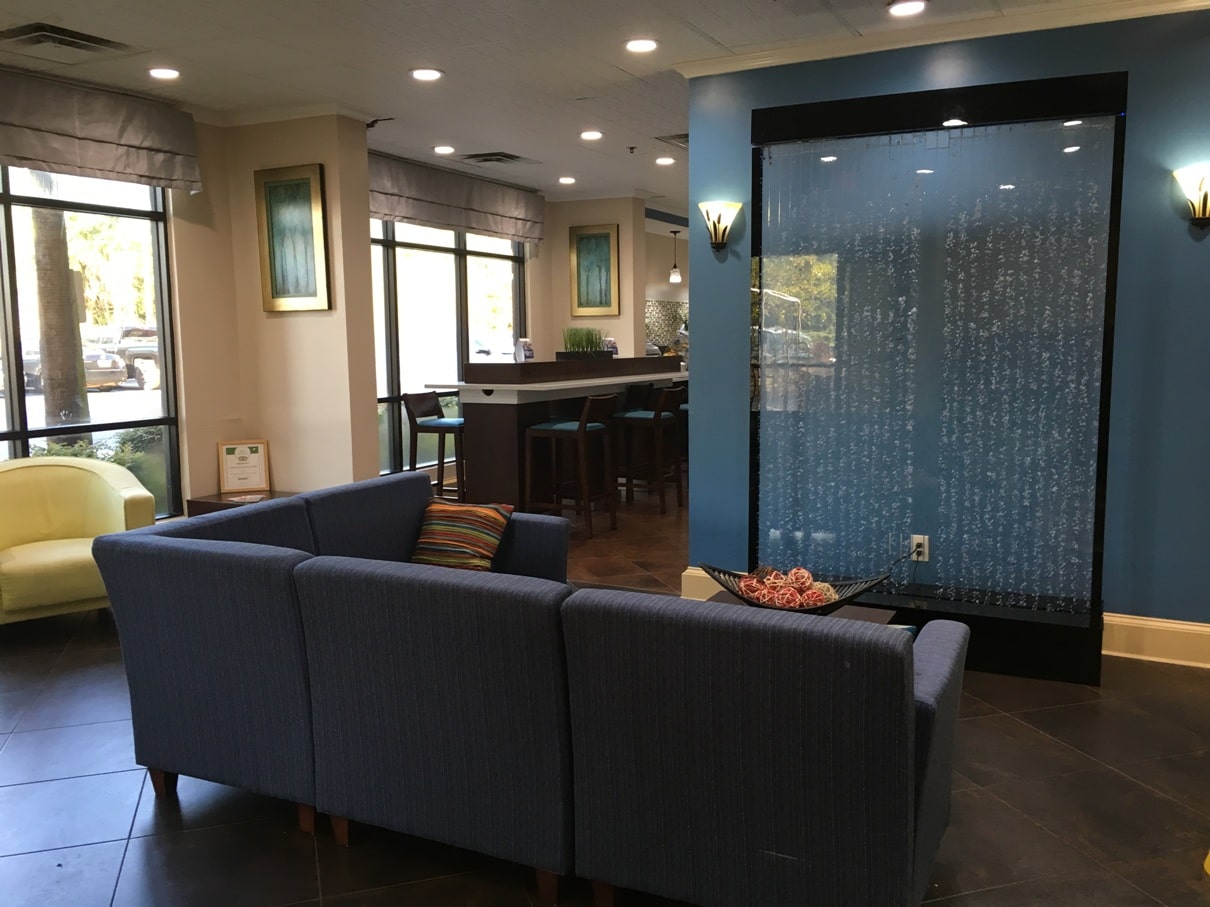 For other meals, there is a Cracker Barrel within walking distance (just about one parking lot away).
The Free WiFi worked great, too! Plenty of oomph and speed for social media posting.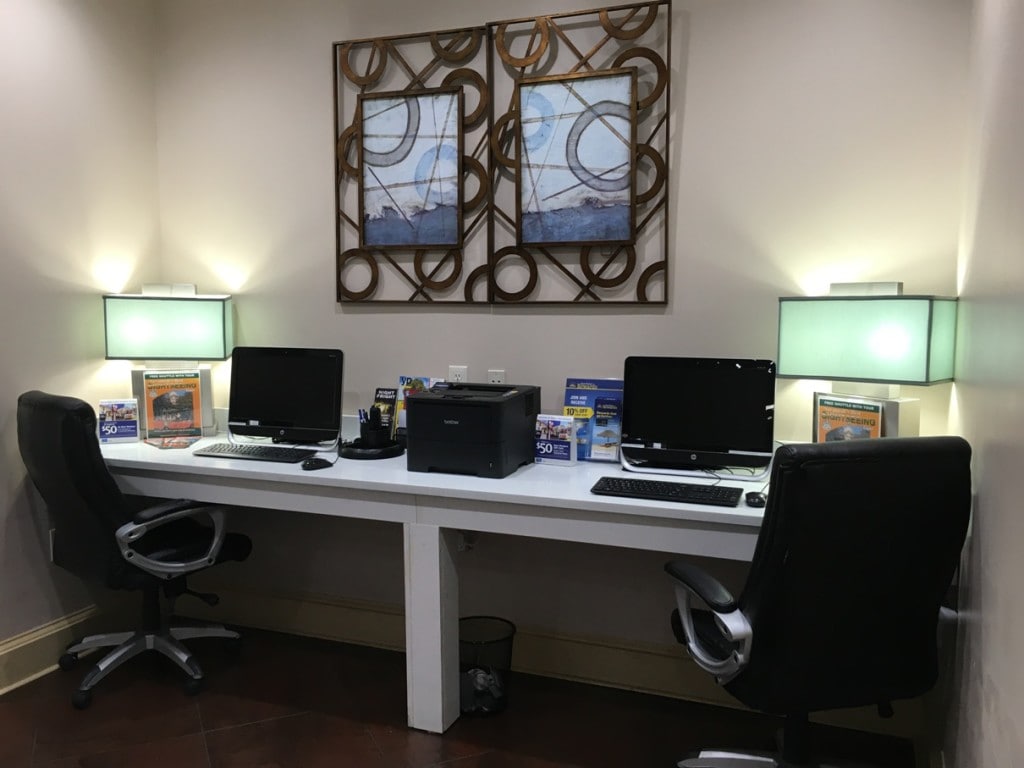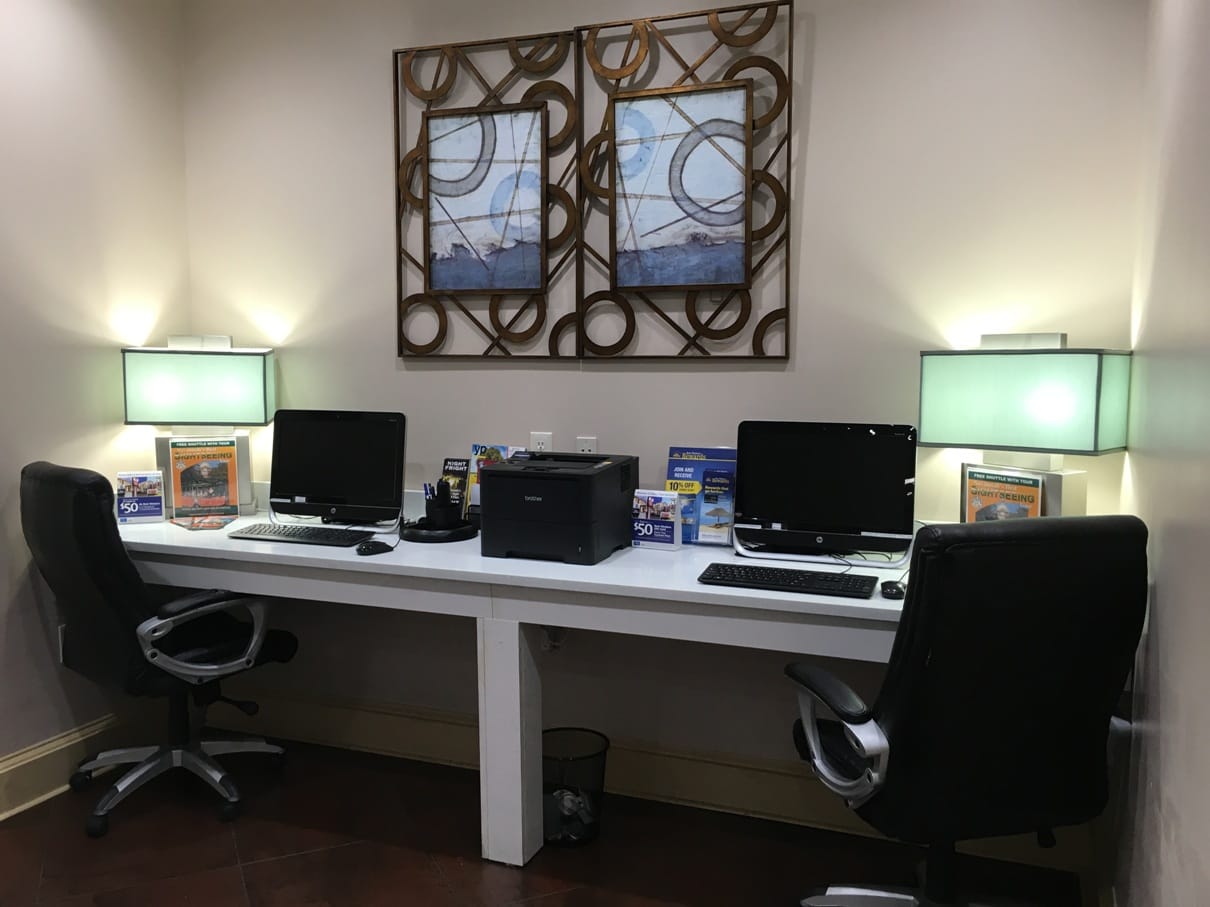 A saltwater indoor pool, fitness center and sauna round out the features of the Best Western Plus. If you were flying out, there is a complimentary shuttle service to the airport.
It is just a short drive to the Tanger Outlets and shopping area from the Best Western. You don't have to hop on I-95 again, there is a back way using alternate roads.
Other Hotels on Exit 102 in Pooler
Though just one exit away from Tanger Outlets, these hotels are usually less expensive. If you are wanting to see the Mighty Eighth Museum and aren't as concerned about shopping, these would be a smart choice.
Baymont by Wyndham
Microtel Inn and Suites
Motel 6 Pooler Georgia
Quality Inn Pooler
La Quinta Inn and Suites
Sleep Inn and Suites
Best Western Premier
Hotels on Exit 104 in Pooler, Georgia
Hotels near Tanger Outlets seem to be more expensive, based on my research. You will have the convenience of being closer to the large variety of stores on Pooler Parkway, such as Ross, Home Depot, Walmart, Sam's Club, Publix, Michaels, T.J. Maxx, Hibbett Sports and PetSmart.
Hyatt Place Savannah Airport
Wingate by Wyndham
Hampton Inn and Suites
Holiday Inn and Suites
Red Roof Inn and Suites
Courtyard by Marriott
Be sure to keep this guide for your travels! Pin it to a travel board on Pinterest to keep for later.

Pooler, Georgia is a surprisingly fun spot along I-95 if you appreciate military history or have a love of shopping. If you are looking for more fun things to do while driving I-95, check out our guide to Walterboro, SC.