If you are heading to Walt Disney World Resort or Disneyland, you can expect to be eating out a LOT. Which is why a zero waste kit for Disney is a fantastic idea.
You can bring food into Disney World, so these reusable food kits are perfect for enjoying your snacks for Disney without a lot of waste.
Trying to Go Zero Waste in Disney Theme Parks
Living by Disney World in Orlando, Florida for more than a decade, I am used to going to the theme parks quite a lot. As a local, I don't find myself eating in Disney's theme parks as often as visitors who spend all day there from morning to dark.
And when I have decided to eat at the quick service restaurants, I have been pretty shocked at the amount of waste created by the tens of thousands of people in the theme parks every single day. Think to-go plates and containers, paper napkins, plastic utensils, to-go cups with plastic lids, etc.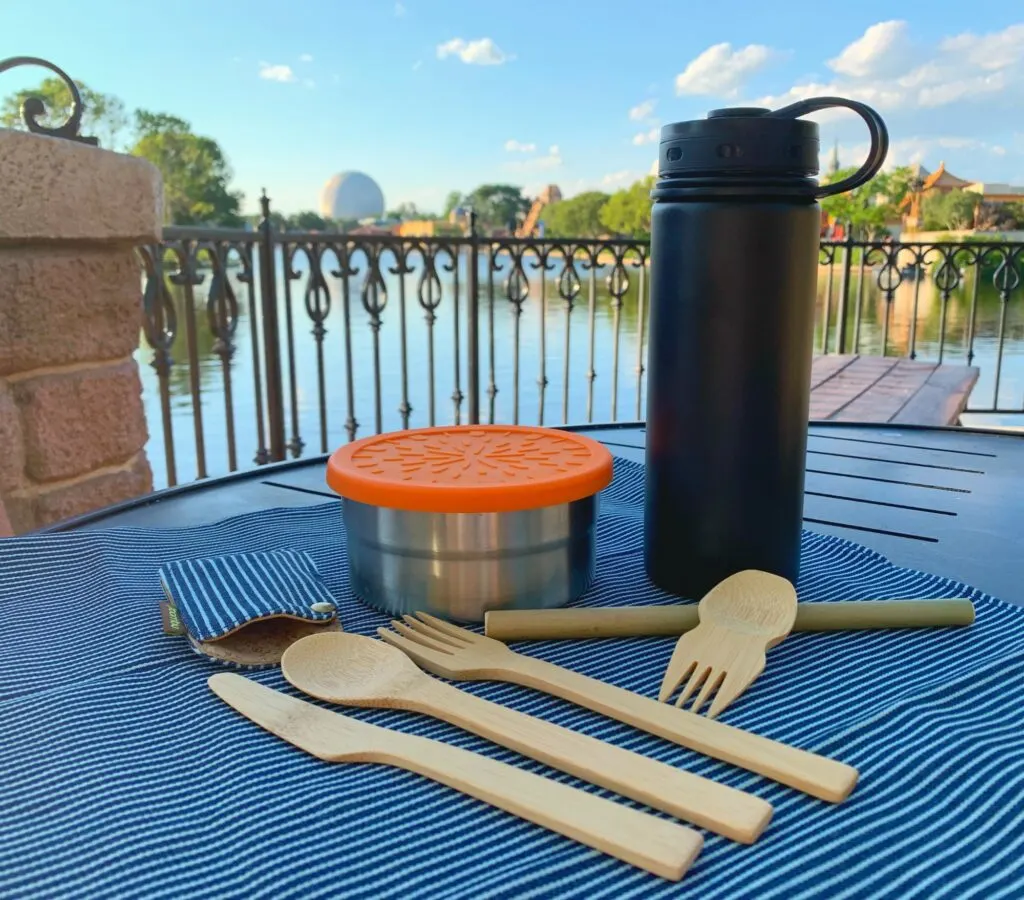 Bringing your own picnic kit not only is eco-friendly, but it can save money, too. Which is a great thing with the cost of theme park visits!
Zero Waste Kit for Disney
Here are my perfect picks for creating the ultimate sustainable zero waste kit for Disney.
If you're in a hurry, you can get an all-in-one zero waste picnic kit that is really fun and stylish.
Investing in a few of these pieces will pay off over years of use. And, you can use them wherever you travel, it doesn't have to be just Disney. Even better, use them at home anytime you eat out or bring your food.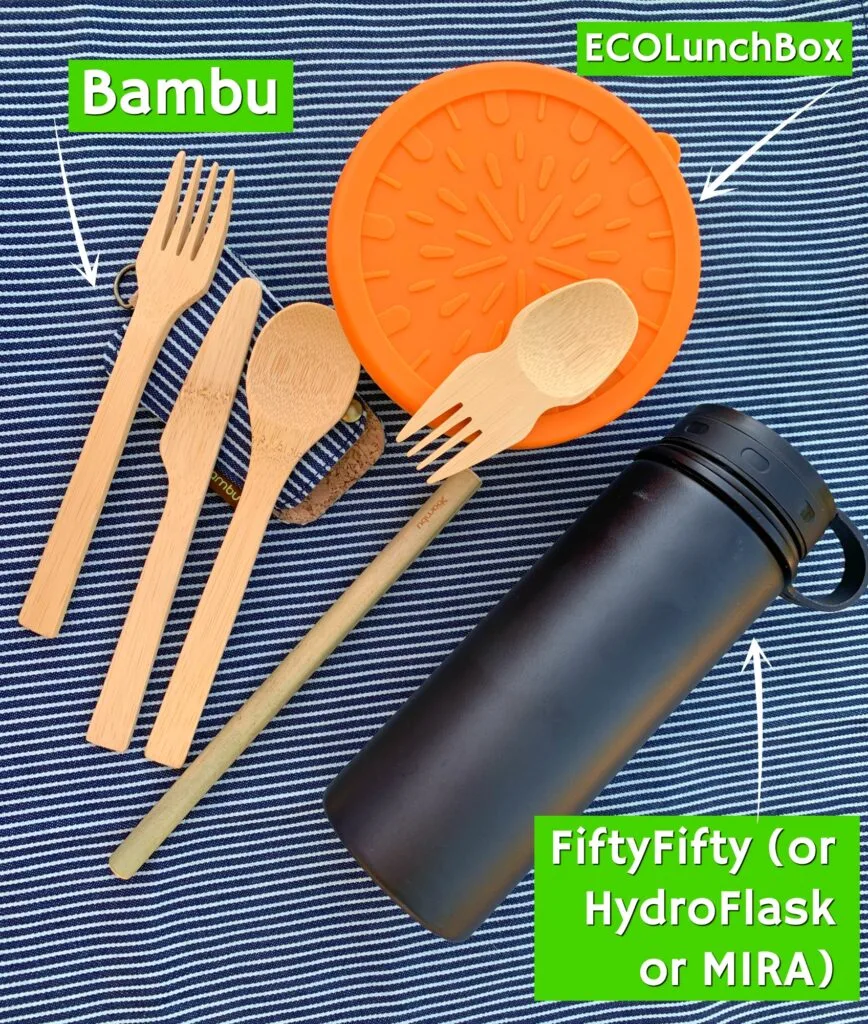 Reusable Utensils
Plastic utensils are among some of the biggest wastes when eating at quick service locations at Disney. I often just sit back and look at how many forks, spoons and knives are wasted as people grab handfuls of them.
Or they drop them on the ground or leave them behind after they have touched them.
Bringing your own zero waste utensil kit can really cut back on trash. What is great is that Bambu's bamboo utensil set comes in a cork lined carrying case so you don't have to worry about keeping them clean while enjoying theme park rides.
Check out these other reusable utensil sets that I think you'll love, too!
A spork from Bambu is also a smart idea, too. It takes up much less space and can easily fit in a pocket or backpack.
Reusable Straw
If you do buy a drink while at Disney, chances are you might need a straw. Plastic straws have been removed at Disney, being replaced with paper versions.
If you hate the feel of a paper straw or the idea of the waste, then bring your own. I show a bamboo reusable straw in my kit.
However, any zero-waste, zero-plastic straw is perfect to use!
I'm a big fan of these bendable metal straws that come in their own tiny carrying case.
Stainless Steel Leak-Proof Bowls
Whatever food you pack to bring into the theme parks, make sure the container is a leak-proof container. That way, you don't have to worry about what type of food you bring.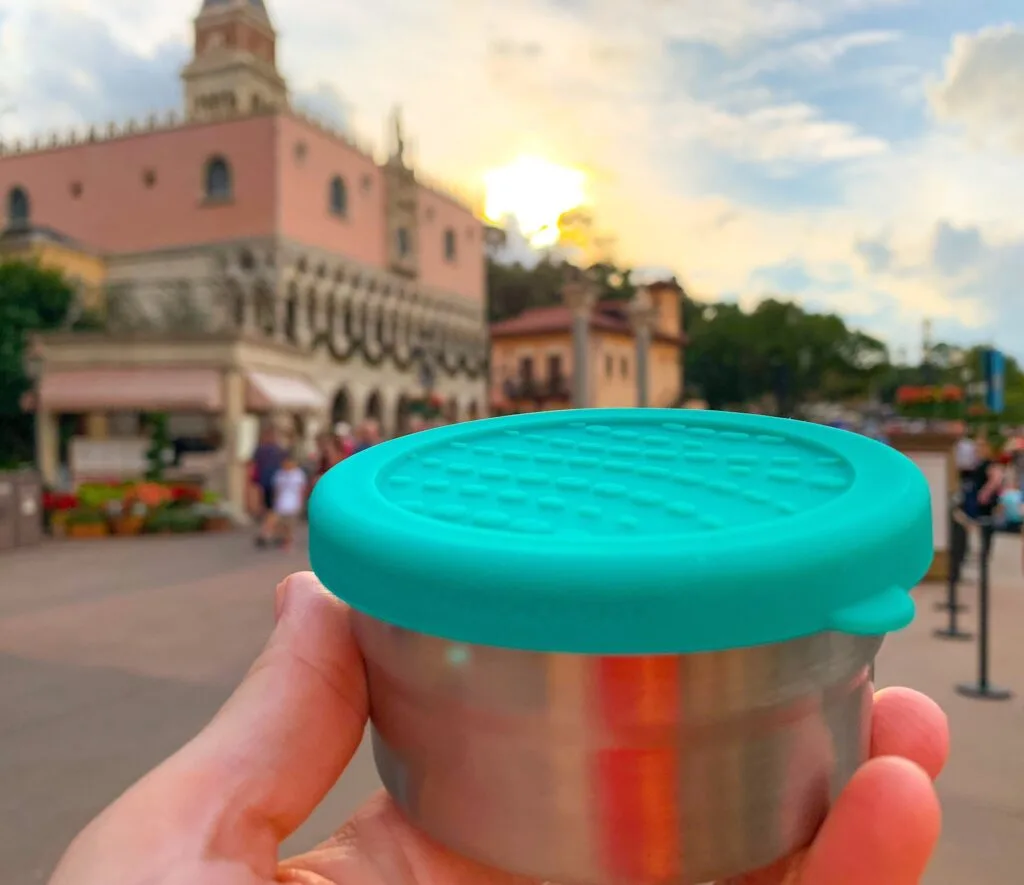 This ECOLunchBox stainless steel bowl is one of my favorites.
Be sure to check out my list of all of my favorite stainless steel lunch containers and stainless steel snack containers.
Reusable Napkin
There are so many ways that a zero-waste napkin comes in handy at Disney! Not only do you save handfuls of paper napkins, but you can use these cloth napkins in other ways.
Consider using your clean napkin to store food, whether you bring in a sandwich or you wrap up a half-eaten muffin from breakfast.
And the cloth napkins can be used in other unconventional ways. They make great table covers or use them to sit on while watching the parade from a curb or park bench.
Helpful Tip: Use a Disney hand towel as your napkin. They are bigger, and you can always use them in your kitchen or bathroom when you get home!
Insulated Stainless Steel Water Bottle
I just think it is completely crazy to go to Disney without some type of reusable water bottle. After all, the cost of a water bottle at Walt Disney World currently costs about $3.50. And in the Florida heat, you will NEED a ton of water.
Can you bring a reusable water bottle into Disney? YES!!!!!
So bringing an insulated reusable water bottle not only helps keeps your budget down, but also ensures ice cold water all day long. (I tested this Klean Kanteen in 100 degree heat in Disney's theme parks and was surprised that the ice lasted all day!)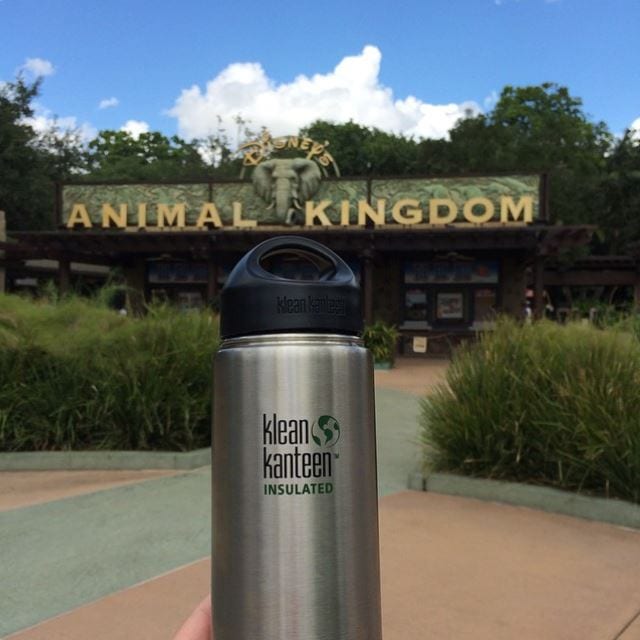 PLUS, you can get FREE ice water at any Disney quick service restaurant. So you can keep filling up your water bottle with ice cold water. (There are some water bottle refilling stations, too.)
Here is my list of my favorite wide mouth water bottles.
A stainless steel insulated water bottle isn't for everyone, though. Here are a variety of reusable bottles, including collapsible water bottles which are great for travel, which are the best water bottles for Disney.
Sometimes you have to get a plastic bottle, though. Especially if it's a matter of suffering from heat exhaustion from high temperatures and humidity. Here's a fun tutorial on upcycling plastic bottles into Mickey Mouse and Minnie Mouse flower pots.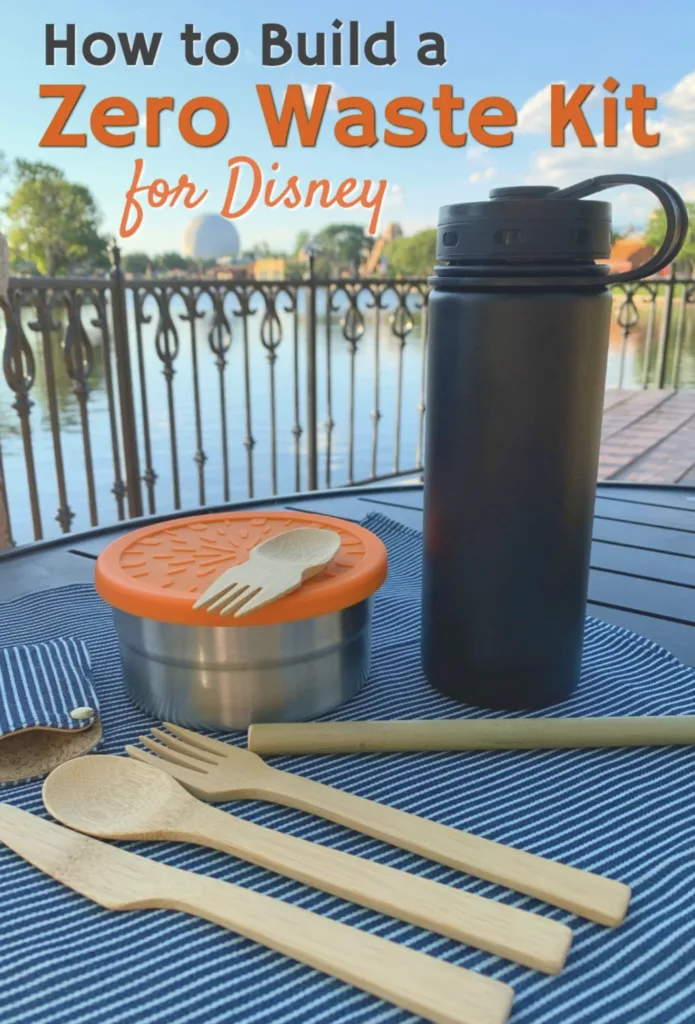 Here's another 11 Ways to Live a Zero Waste Lifestyle.
Here's some more great tips for enjoying your Disney vacation: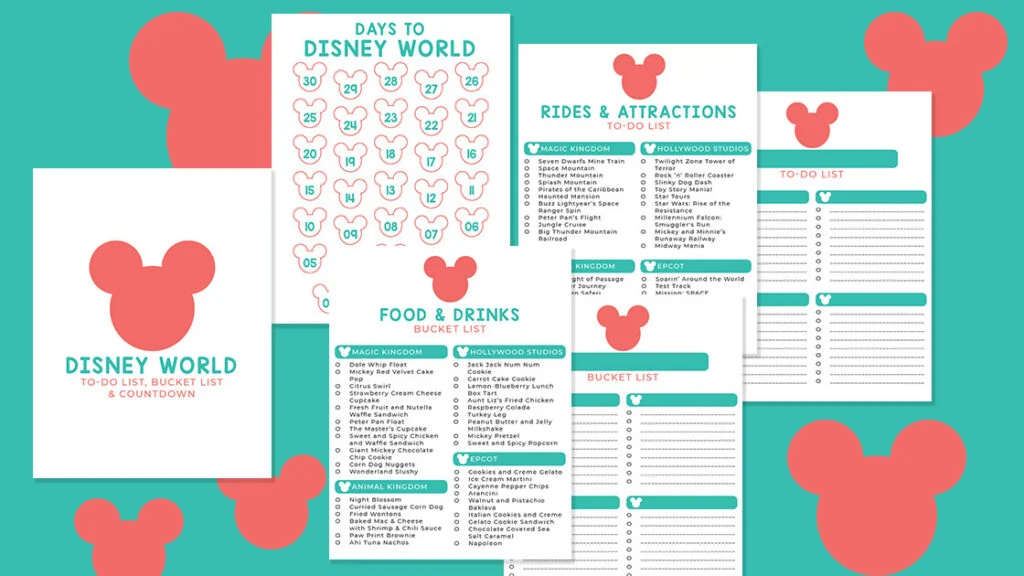 Free Disney World Countdown and Bucket List Planners!
Instantly download a fun Disney countdown along with bucket lists, to-do lists and Disney-themed checklists.
Get your free Disney printables pack now!