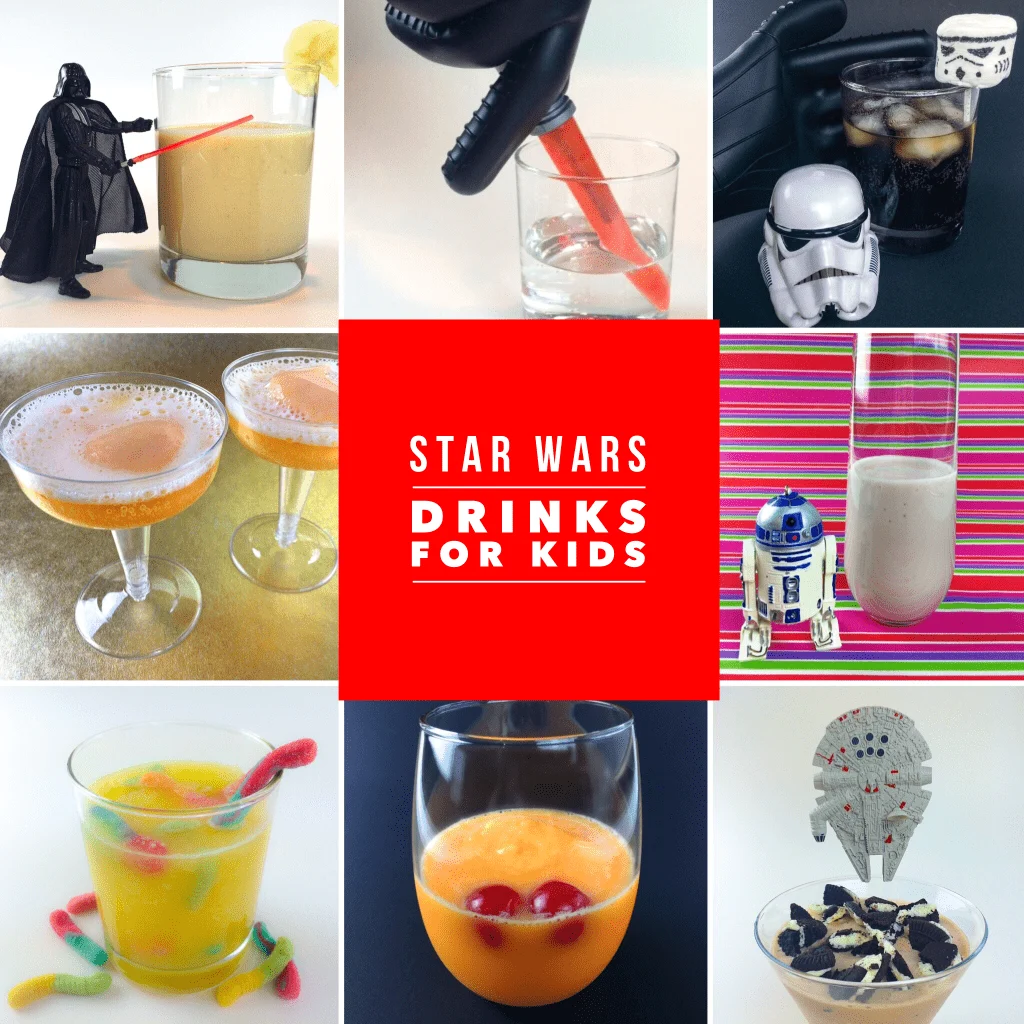 Excited about the new Star Wars movie debuting soon? Who isn't? Here are some Star Wars inspired drinks and mocktails recipes for kids – and adults alike – for celebrating your favorite Star Wars films. Each recipe has only 3 ingredients – or less!
Heading out to see a new Star Wars movie? Why not mix these Star Wars themed drinks before heading out to the theater? Throwing a Star Wars party? These drinks are great for kids and adults who prefer a non-alcoholic drink. Binging on the Star Wars movies? Settle in for the night with one of these mocktails! (And don't forget about our Star Wars cocktail recipes for adults, too!)
For a fun Star Wars party, be sure to see our DIY Darth Vader Helmet Hat and these cute Yoda figures to make with a cork.
1. Dark and Stormy Mocktail Drink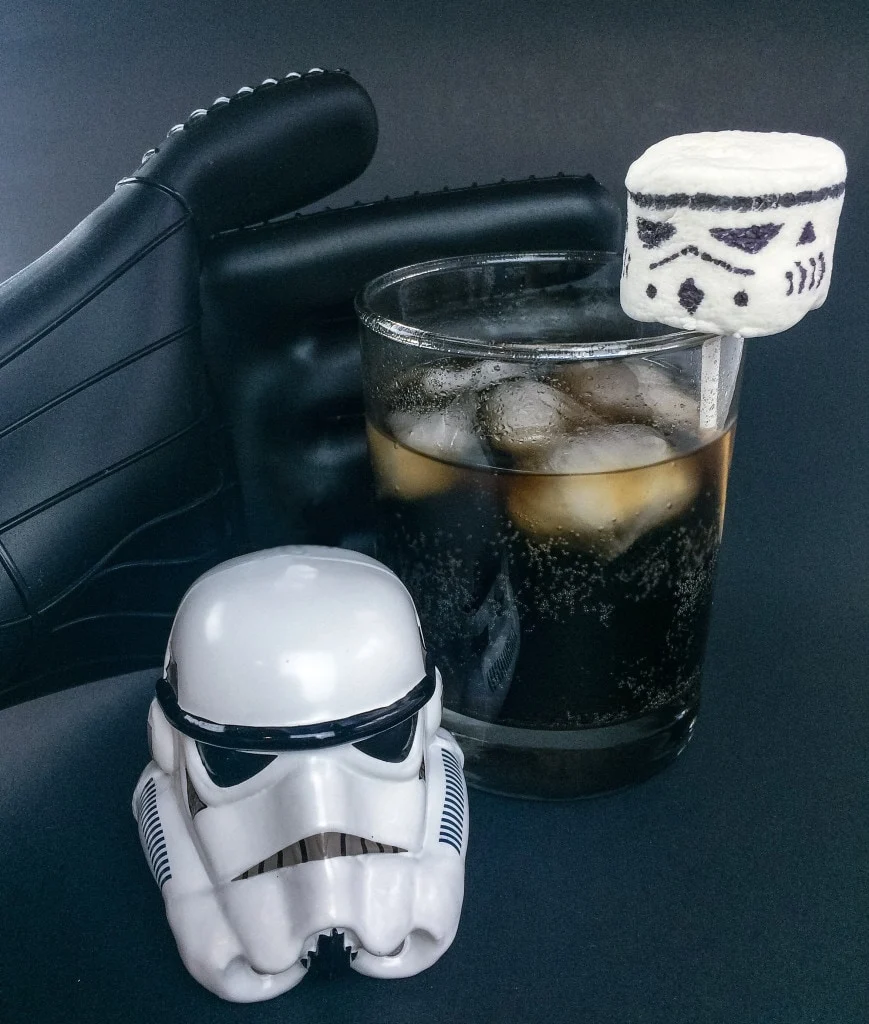 Ingredients
Coca-Cola
Marshmallow (Large or Jumbo)
Want to make a Dark and Stormy even better? Use Darth Vader ice cubes instead of normal ones.
Directions
Create Stormtrooper Helmets using a marshmallow and food-grade marker. Use this tutorial to easily make the Stormtrooper marshmallows.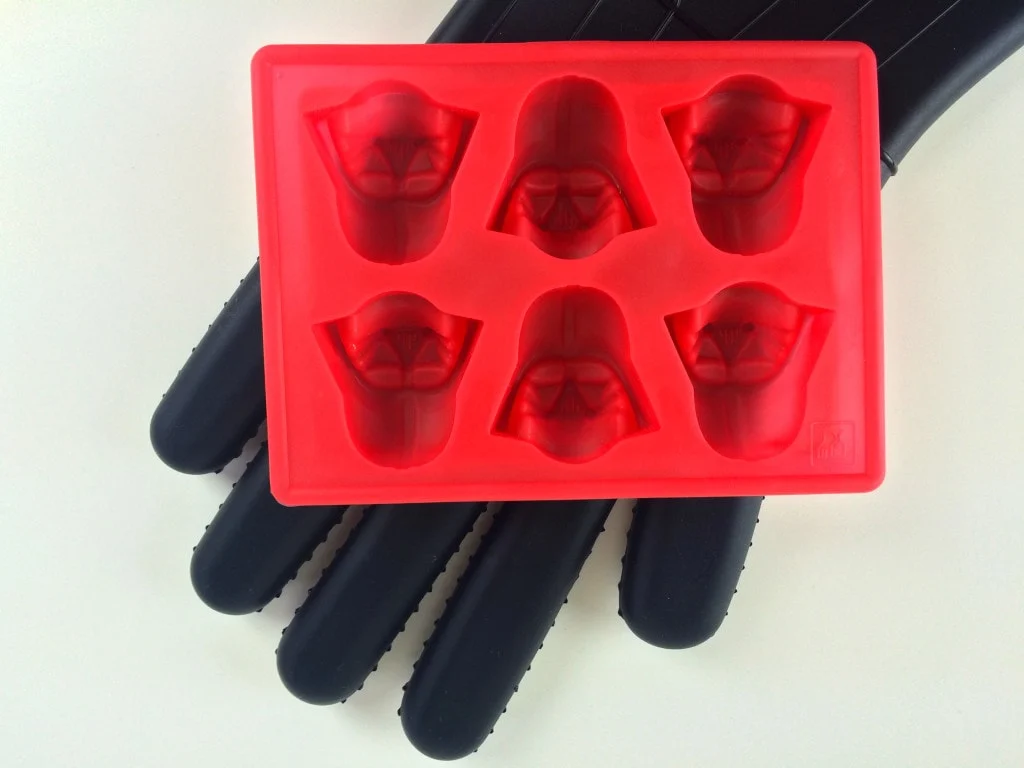 Add ice to glass. Cover with Coca-Cola. Either float the Stormtrooper marshmallow on top of the ice, or place it on a lollipop stick and insert into the drink.
This Darth Vader oven mitt is perfect both to serve up drinks and bake up cookies!
Makes 1 serving.
2. Tatooine Sunsets Drink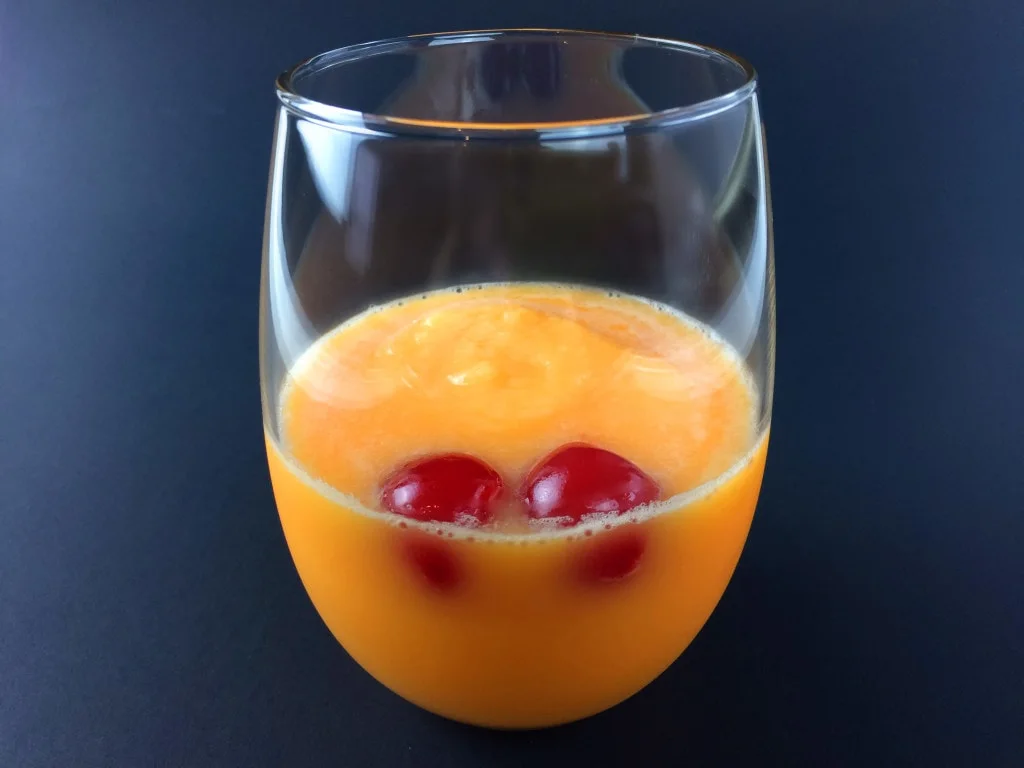 Ingredients
1 cup orange sherbet
2/3 cup orange juice
2 jumbo maraschino cherries
Directions
Stir orange sherbet and orange juice together until just blended. Pour into a glass.
Immediately before serving, add two cherries alongside the edge of the glass, so that they are visible and resemble a sunset.
Makes 1 serving.
3. The Force Field Drink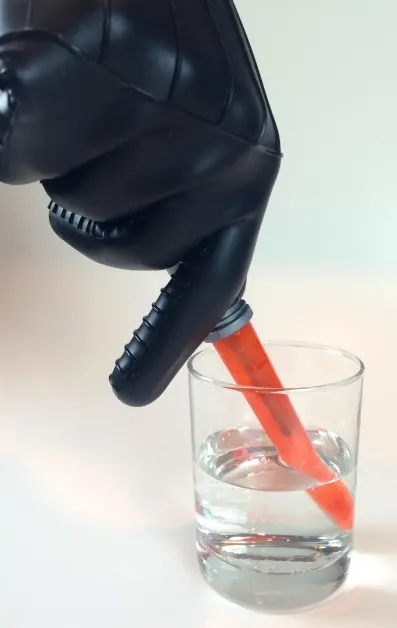 Ingredients
Lemon lime soda, such as Sprite or Zevia
Food coloring
Directions
Choose your side. Which color will you choose – a red lightsaber or blue? Perhaps green?
Once you have decided on colors of your lightsaber, add 4 drops of the specific food coloring to 1/2 cup water. This is enough liquid to make about 4 ice lightsabers. Alternatively, you could use colored fruit drinks, such as fruit punch or PowerAde. Freeze the lightsabers until solid.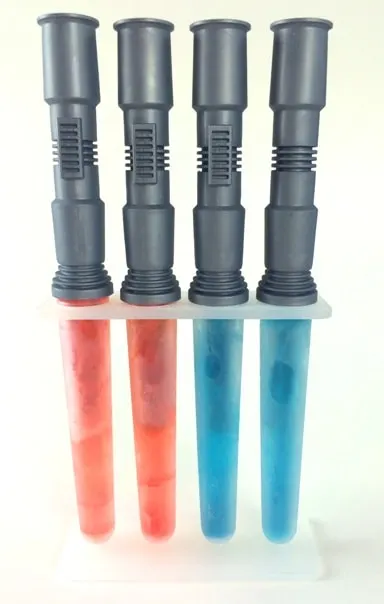 Pour lemon lime soda in a glass. Immediately before serving, remove frozen lightsaber and add to the glass.
Makes 4 servings.
4. Blue Milk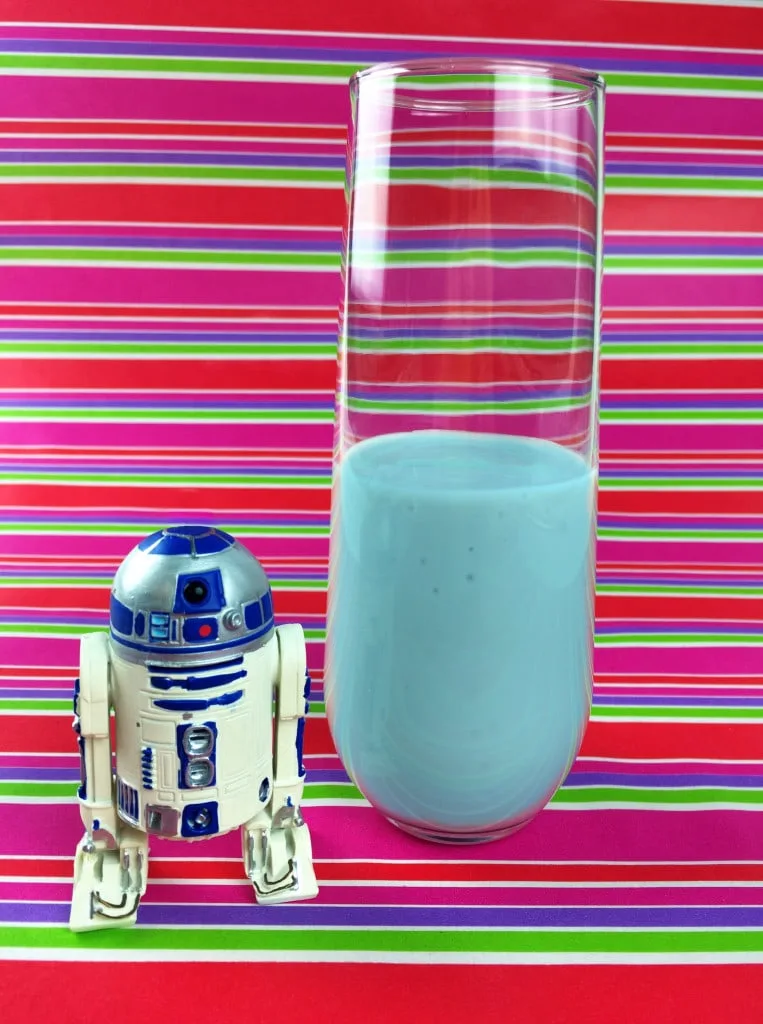 Ingredients
4 oz. blueberry yogurt
3 tbsp. milk
3 drops vanilla extract (optional)
Directions
Combine blueberry yogurt and milk. This can be done by stirring with a fork, a whisk or in a blender.
Add vanilla extract if desired.
Want a more blue color to your Blue Milk? Add a drop or two of blue food coloring.
Prop used is a Hallmark Christmas ornament.
Makes 1 serving.
5. Death Star Mocktail Drink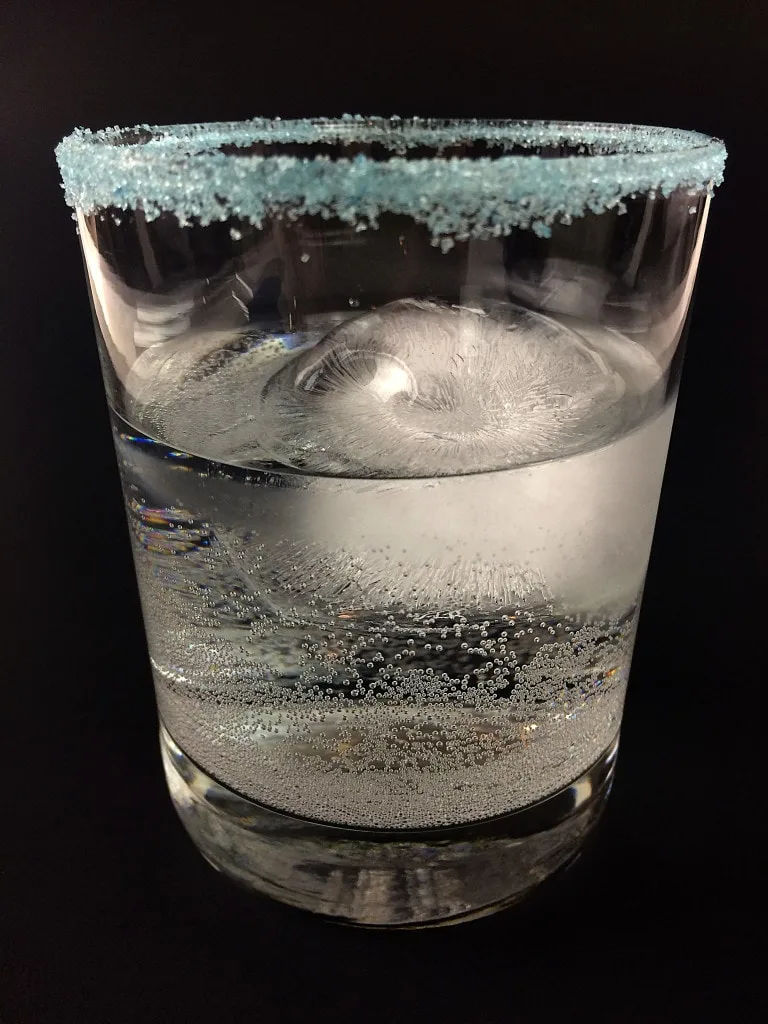 Ingredients
Lemon lime soda, such as Sprite or Zevia
1/2 tbsp. sugar
1 drop blue food coloring
Directions
Make Death Star ice cubes ahead of time. (Tip: Don't fill mold completely full. Leave a bit of room for ice to expand).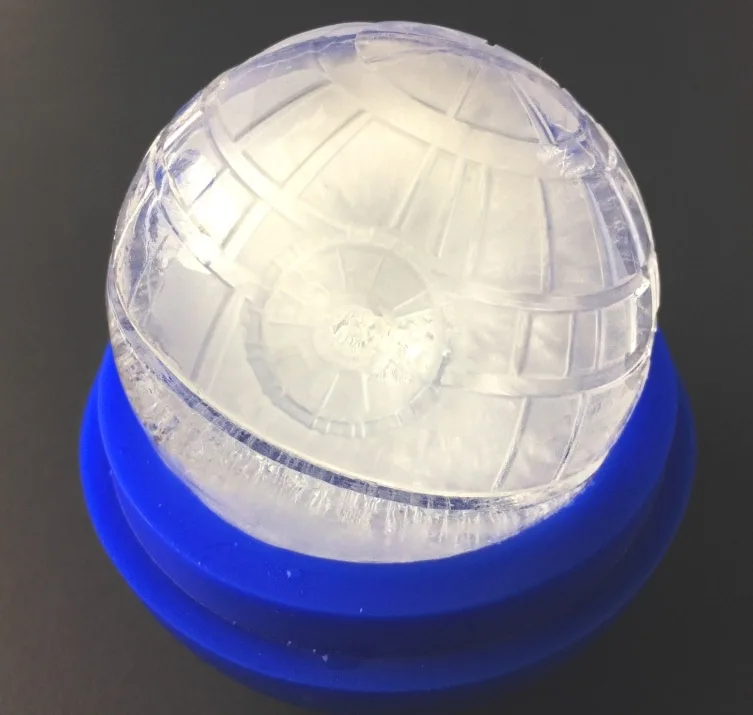 Create blue colored sugar for rimming glass by adding normal sugar to a glass bowl. Add one drop of blue food coloring. Using a spoon, stir the colored sugar around, using the back of spoon to continue working the colored sugar through the entire bowl as all sugar becomes dyed with color. Coat rim of a short, wide glass with sugar. (You may want to add a very light coating of corn syrup or coconut oil to the rim of the glass before dipping it in sugar for it to stick.)
Add one Death Star ice cube to the glass. Cover with lemon lime soda.
Serve immediately.
Makes 1 serving.
6. Ani Banani Drink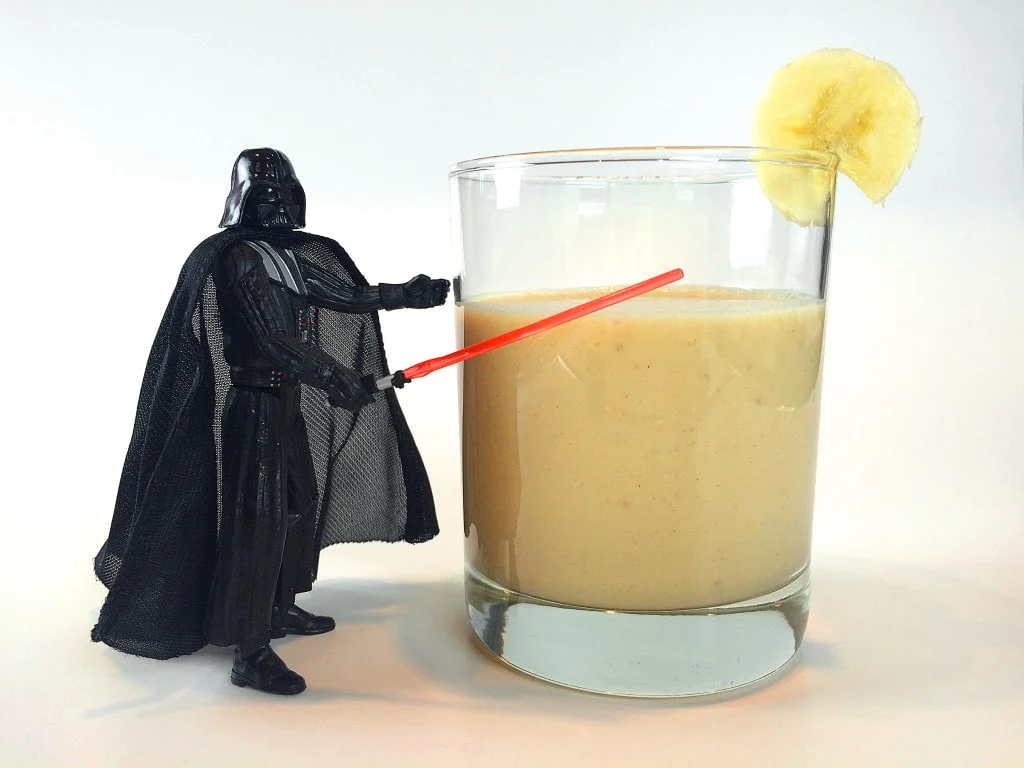 Ingredients
2/3 cup milk
1 banana, slice (reserve one slice for garnish)
2 tbsp. peanut butter
Directions
Blend all ingredients together. Add to a glass.
Garnish with a slice of banana.
Makes 1 serving.
7. Angry Asteroid Drink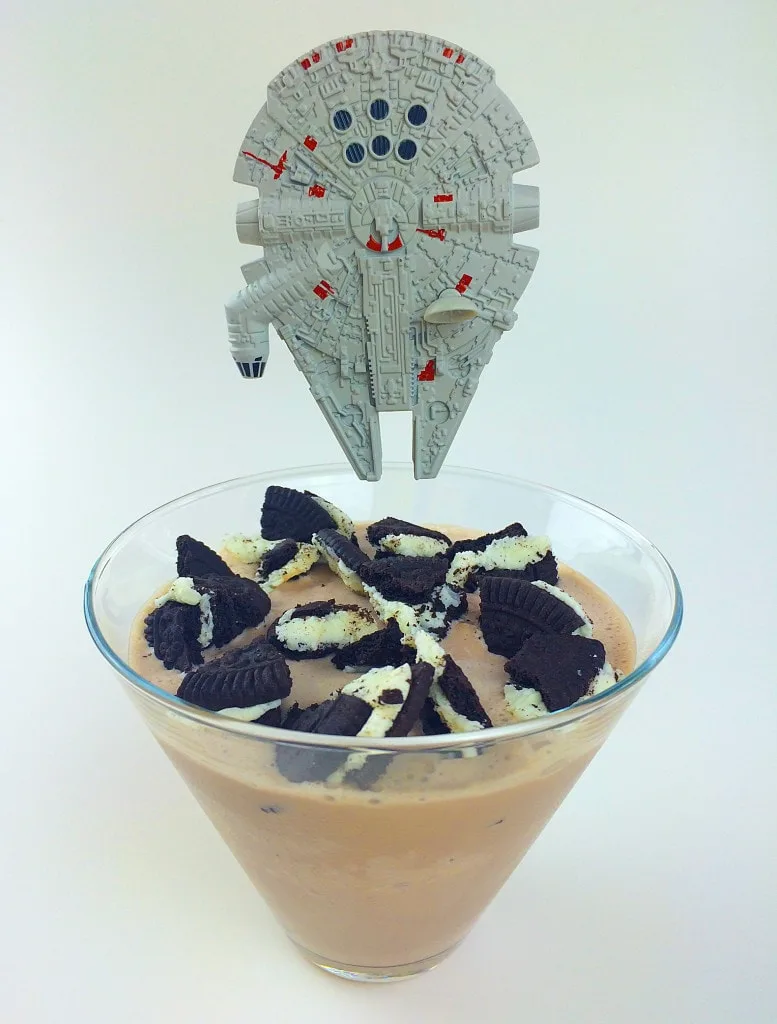 Ingredients
1 cup chocolate ice cream
1/3 cup milk
4 crushed chocolate cream cookies, like Oreos
Directions
Place two crushed chocolate cream cookies on bottom of a glass.
Quickly blend together ice cream and milk, leaving a bit chunky (don't liquefy the drink, just enough to blend together).
Add to glass.
Top with two more crushed chocolate cream cookies.
Toy: Hot Wheels Millennium Falcon.
Makes 1 serving.
8. Utinni Bellinis Mocktails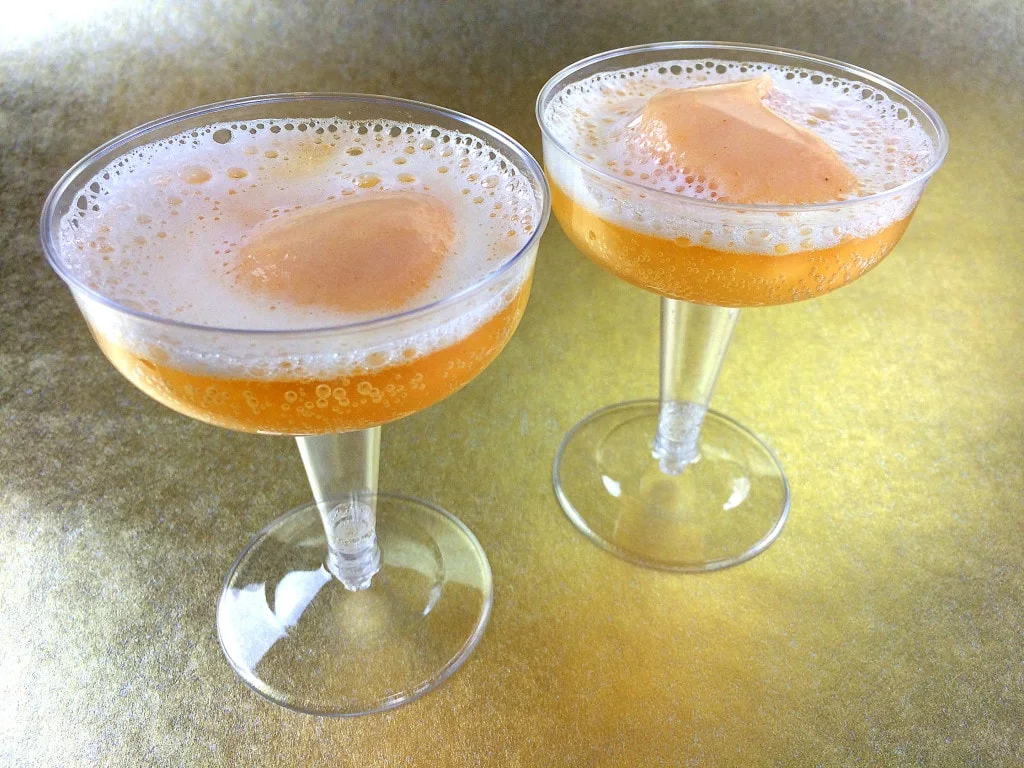 Ingredients
1/4 cup white sparkling grape juice
2 tbsp. peach puree (We used frozen Haagen-Dazs Orchard Peach)
While you can serve up Utinni Bellinis – a non-alcoholic version of the famous Italian bellini – in any type of glass, it's fun to celebrate by serving the drinks in champagne glass (we used disposable plastic ones – just to be safe!). Larger glasses will require larger amounts of ingredients.
Directions
Add peach puree in a glass.
Top with sparkling white grape juice.
Makes 1 serving.
9. Swamp Juice Drink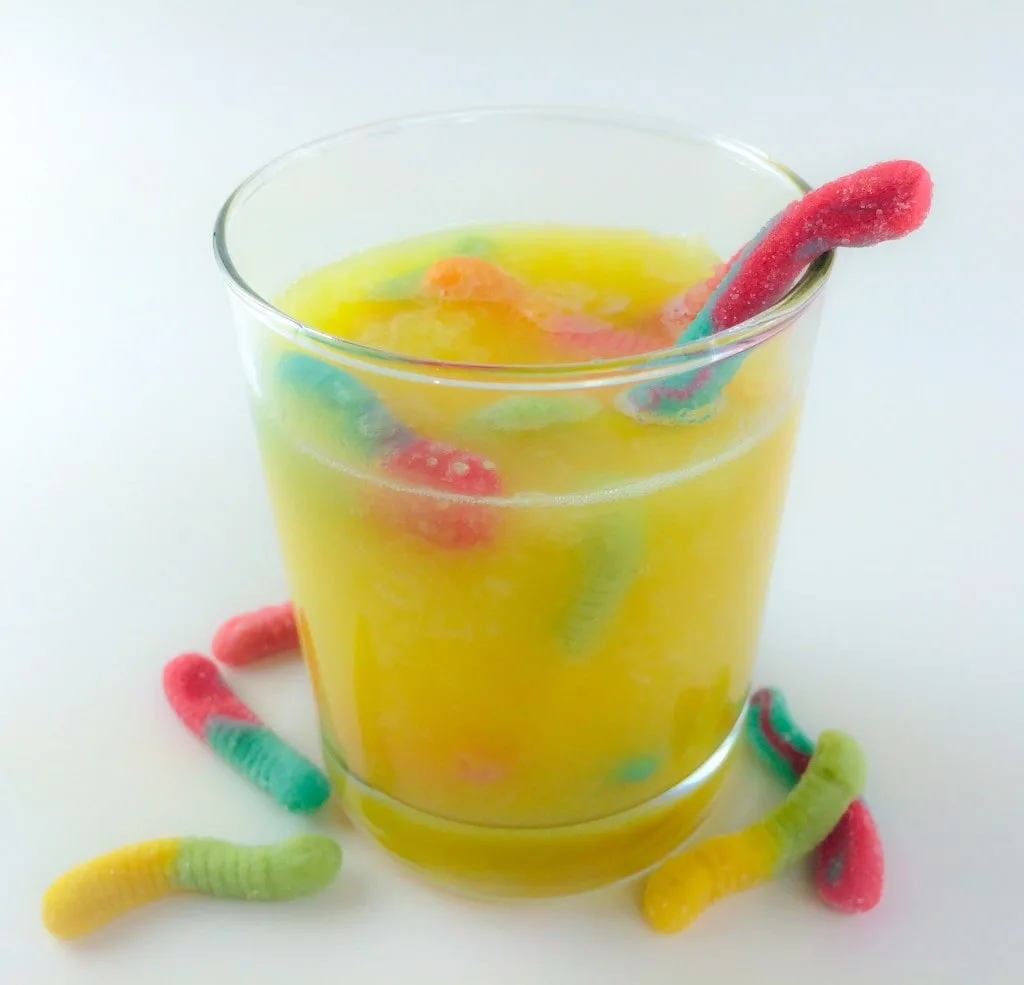 Ingredients
1 cup green colored sports drink, like Powerade or Gatorade
8 oz. (1 can) crushed pineapple, with juice
Directions
Blend sports drink and pineapple together in blender.
Pour into glasses.
Add gummy worms in the glass, as well as positioning one on the edge of the glass.
Makes 2 servings.
___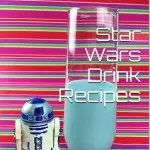 Get our brand new E-book! Star Wars Drink Recipes – A Galactic Collection of Star Wars Inspired Cocktails and Mocktails for the Entire Family! Buy it here.
____
Bonus Star Wars Drink Recipe
Here's a 10th Star Wars Mocktail recipe idea perfect for kids!
Check out our YouTube video to see how to make it.
We love this Chewbacca Jacket (it's REALLY warm and furry!) This Chewie Christmas ornament is so cute, too!
……
Pin & Share! Bookmark these recipes so you'll have them the next time you want to celebrate Star Wars!
..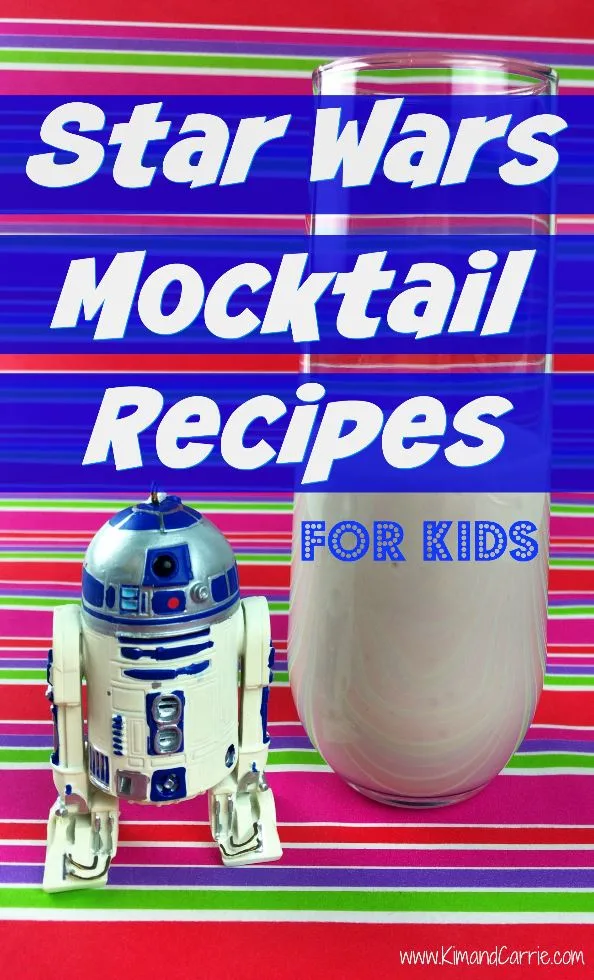 ..