There's nothing like escaping winter in the north and spending a week in Florida. That is, unless you happen to pick the insanely cold week of Winter Storm Grayson to stay at a beach resort in Orlando! Even with below freezing temps, we had an amazing time at Universal's Cabana Bay Beach Resort in Orlando, Florida.
And if you can have a great time at a beach resort when the pools are closed and it's literally too cold to walk outdoors because of the frigid wind temperatures, then you KNOW it's a resort that will definitely keep your family entertained.
*Be sure to check out our Best Lanyards for Universal to keep your hotel room keys, Express Passes and ID safe and easily accessible all day long.
Cabana Bay Beach Resort Room Tour
We absolutely loved the rooms and suites at Cabana Bay Beach Resort! Of course, we like mid-century modern décor and architecture, along with bright colors and kitschy décor.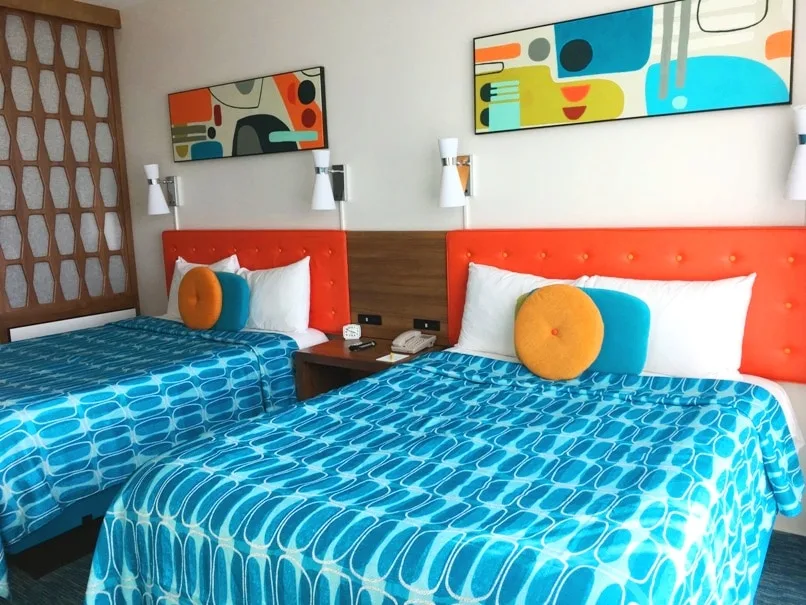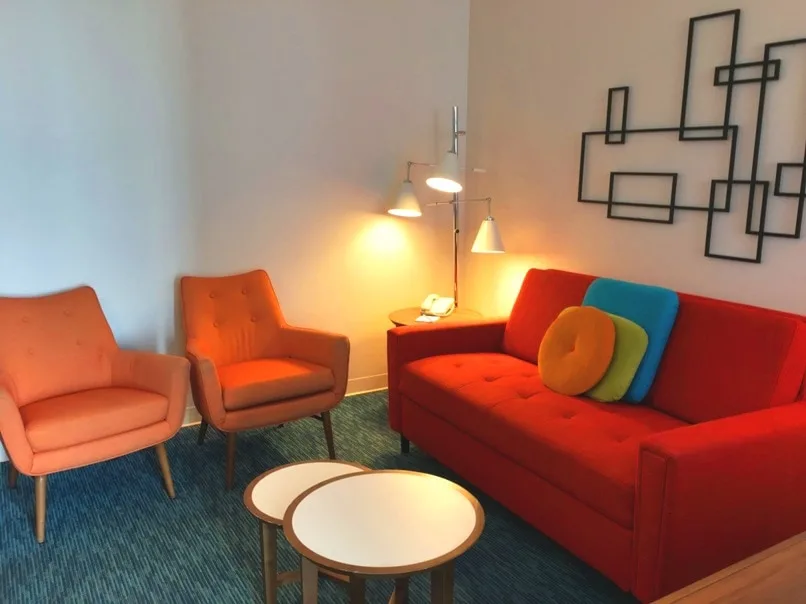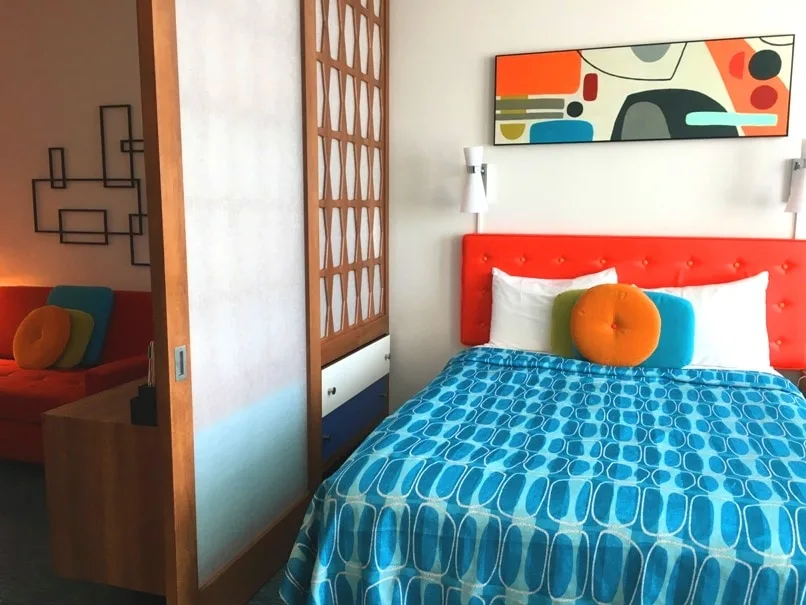 If you don't smile at retro styling or fun colors, then this resort might not be the best fit for you. Watch our video room tour below for an in-depth look at the family suite.
We chose a suite rather than just the hotel room. I think the cost difference was about $10-20, which was totally worth it considering we could cook food in our hotel room and keep food in the refrigerator.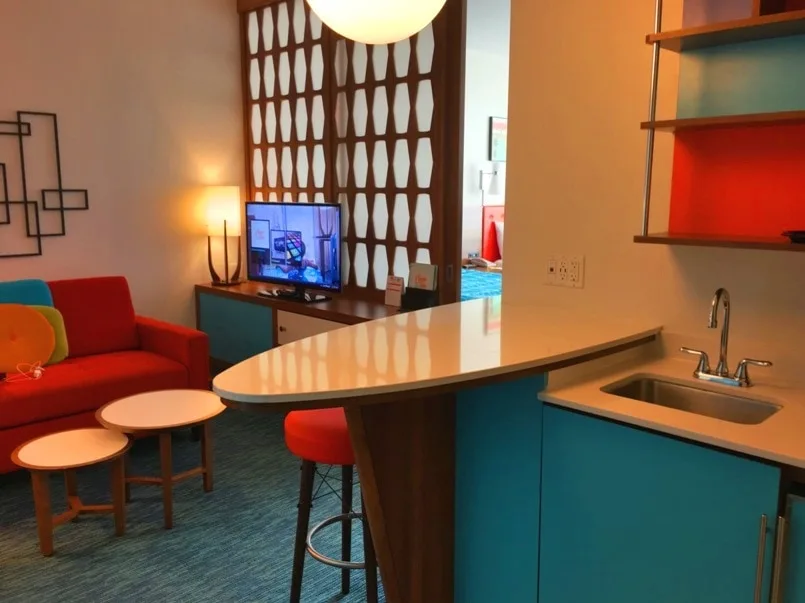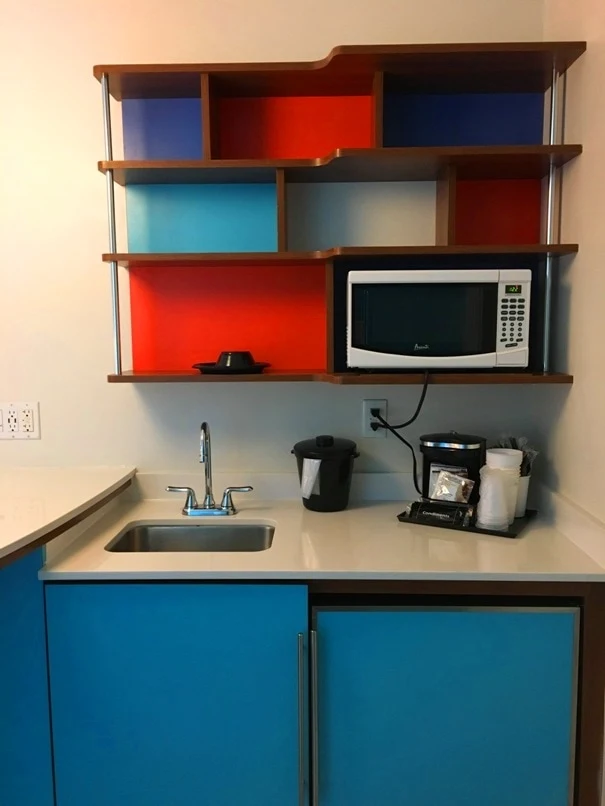 Insider Tip: Florida resident deals are a great way to save at Cabana Bay Beach Resort at Universal Studios in Orlando! We found great prices! Not a Florida Resident? You can score great deals on Universal Studios theme parks tickets and hotels using our favorite travel website with discounted rates.
Having that extra room to live and lounge in made all of the difference in the world. With the living room and extra TV, as well as a kitchenette with lots of additional storage, a microwave and a refrigerator made our long term stay more enjoyable.
Being able to cook in your room is just one of the many old-fashioned ways to save money on your theme park vacation.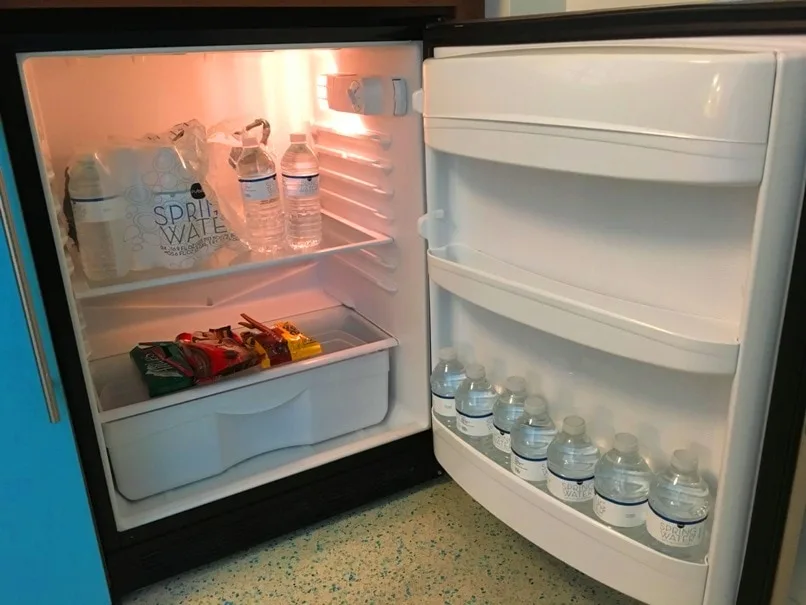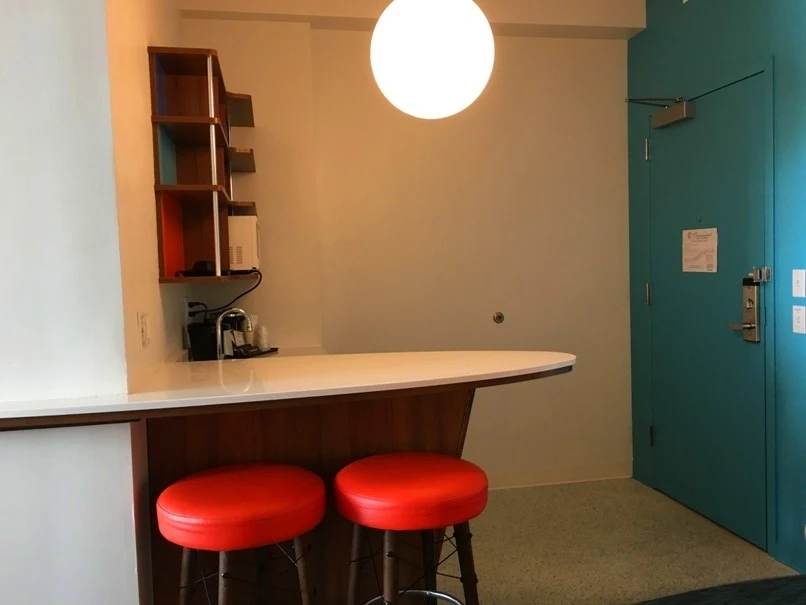 The beds were quite comfortable in the guest rooms at Cabana Bay Beach Resort.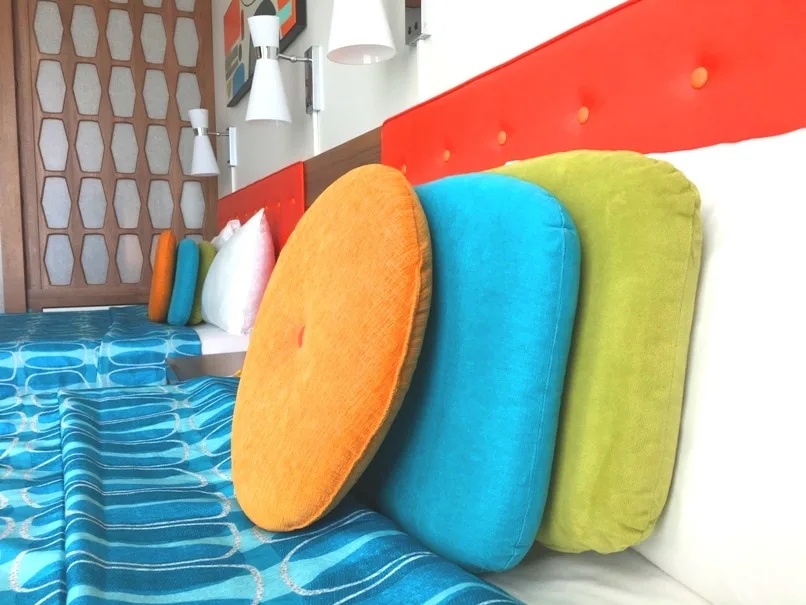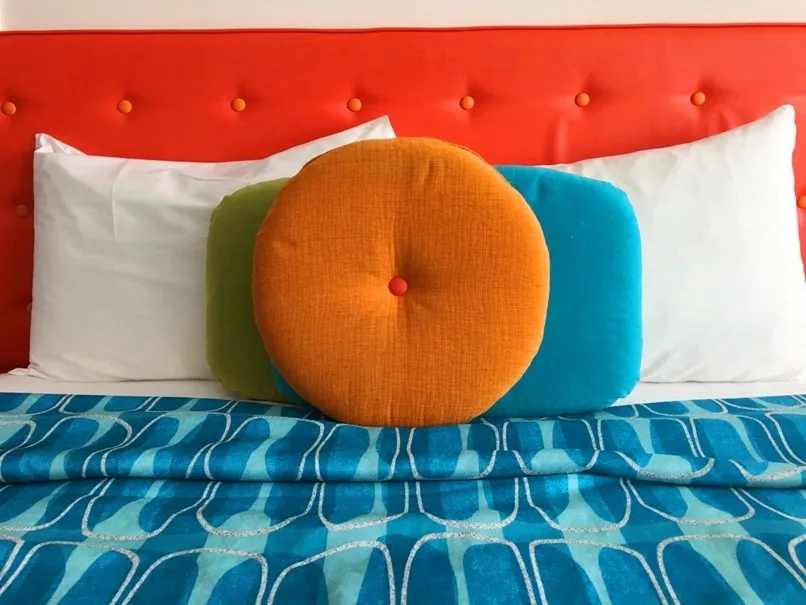 We loved the way the bathroom was set up, too. It makes so much more sense to have the toilet and shower in separate rooms than the sink, so that multiple members of your family can get ready at the same time.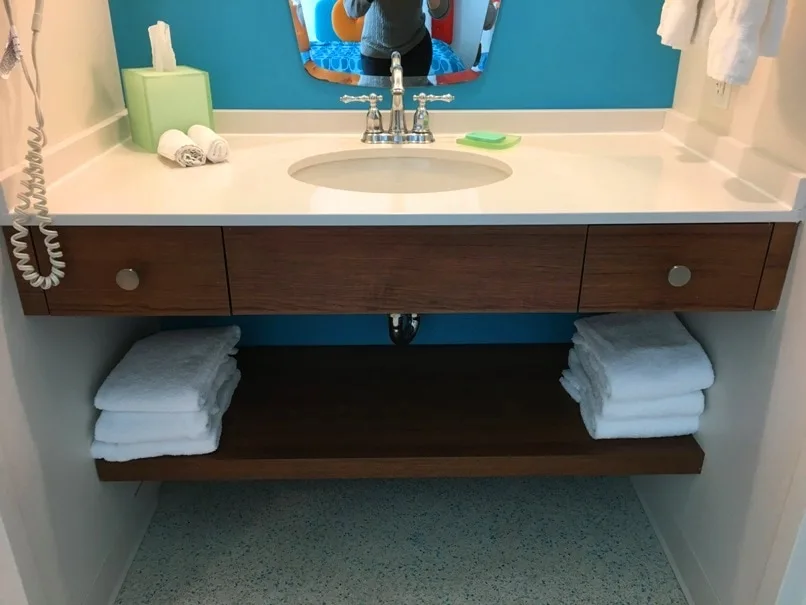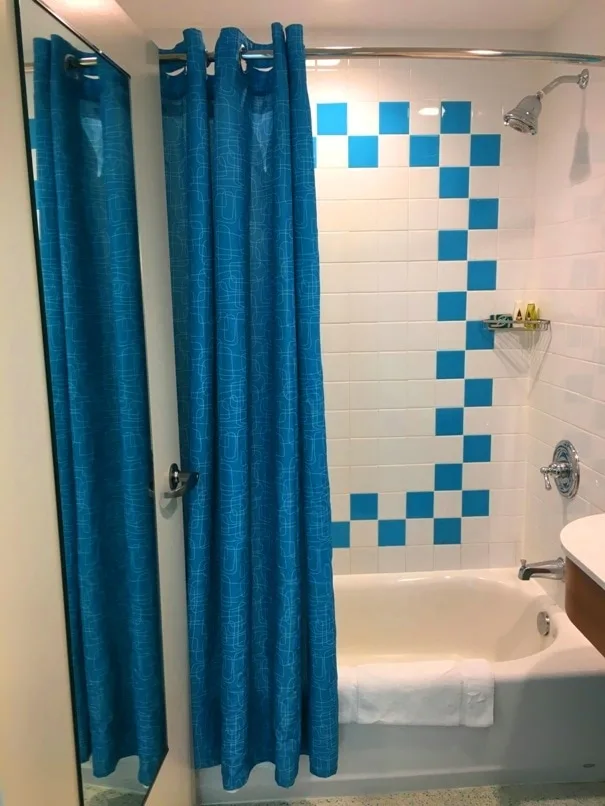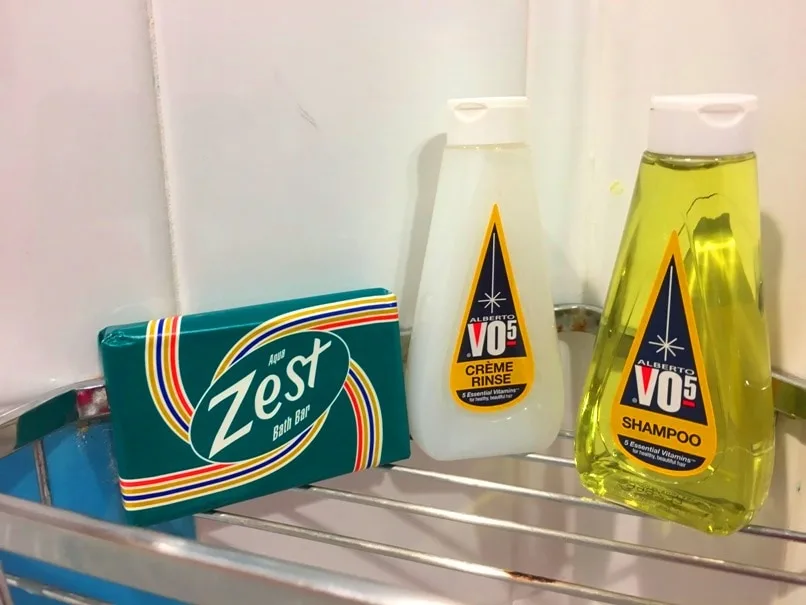 The walk in closet was a winner, too! We've not had a hotel room before that actually had that much room in the closet and such ample storage for both luggage as well as shoes at the same time.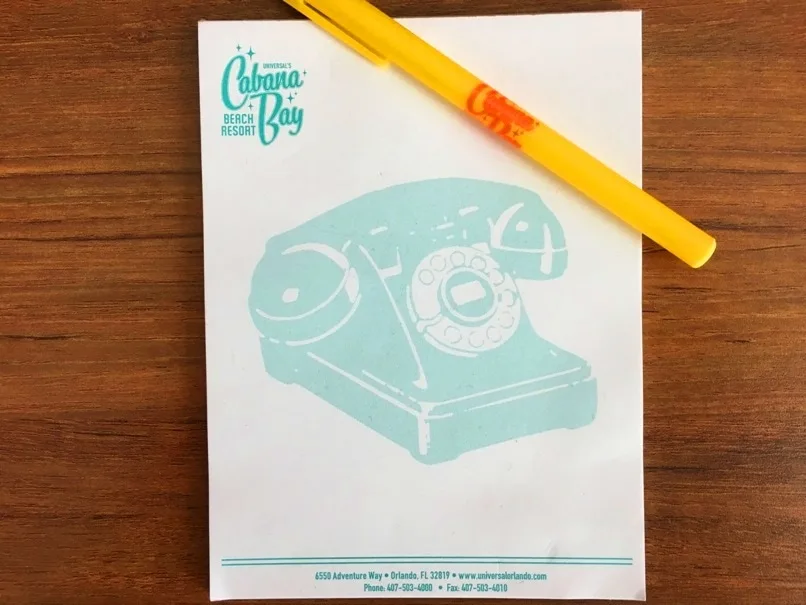 The living room area has a pullout couch. If you're putting kids or adults in here, it's nice to be separated, but keep in mind it won't help lessen their noise. There is just a sliding door to shut off the living room from the bedroom and it's definitely not solid or sound-proof.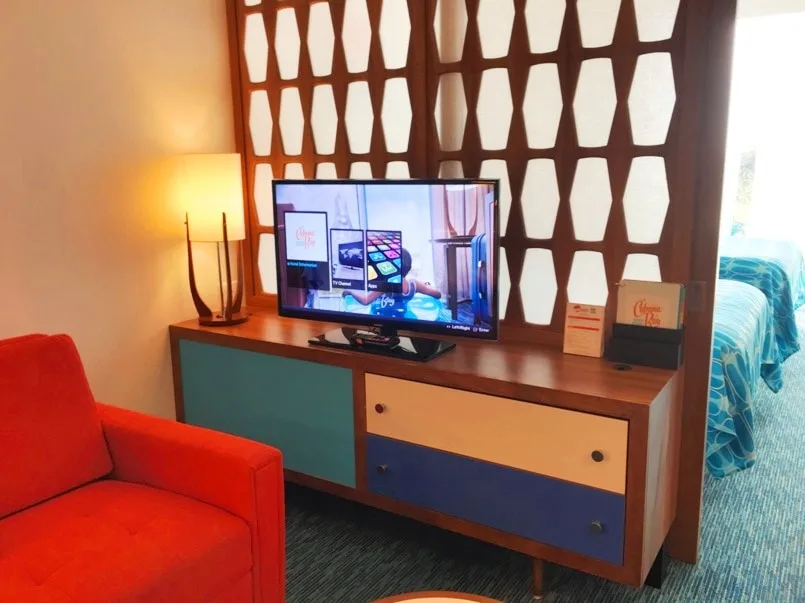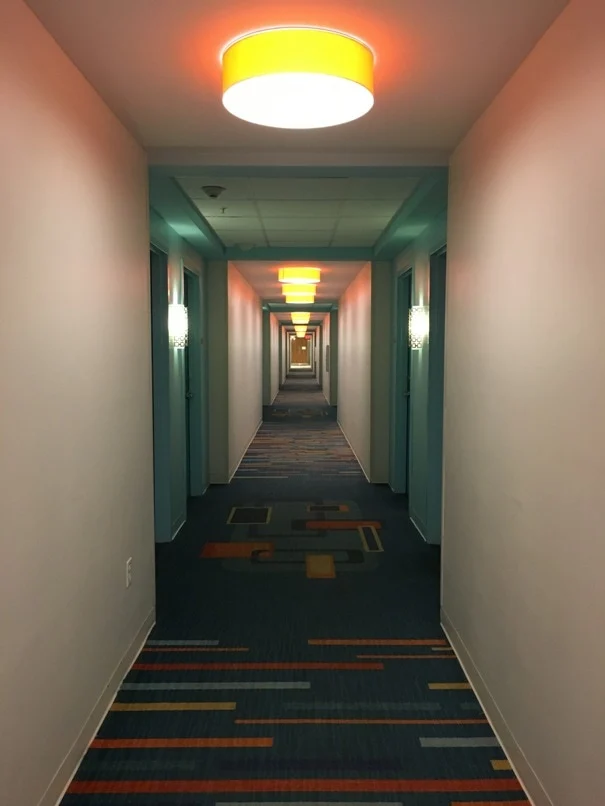 One of the few things that we didn't like about Cabana Bay Beach Resort was how loud the rooms were. For new construction buildings, there is no reason why you should hear all of the doors slam down the hallway – with the vibration of each door closing, too.
Plus, I shouldn't have to hear the conversation and muffled TV of the people in the room next door. That is simple guest satisfaction that can easily be addressed in construction.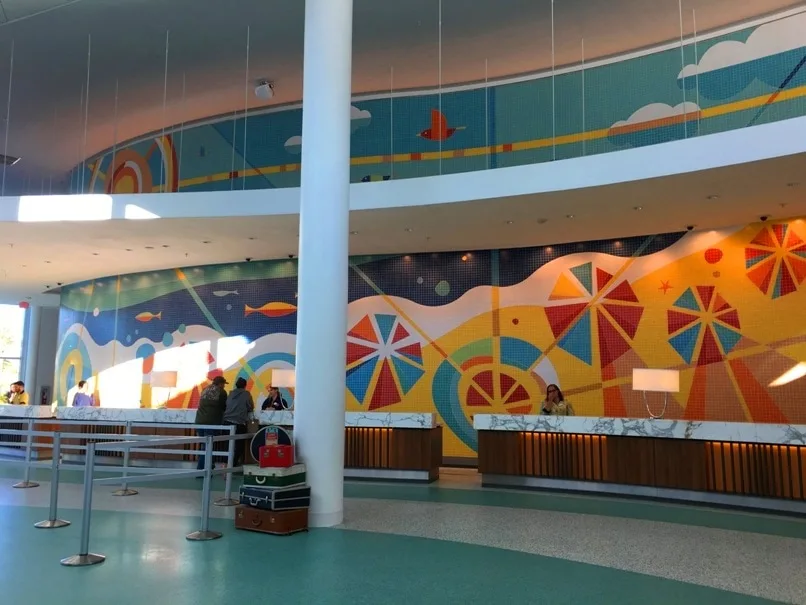 Overall, the guest service at Cabana Bay Beach Resort was amazing. Every single member of the staff knocked it out of the park with their friendliness and helpfulness. That was surprising and quite refreshing!
Check out these other great Orlando hotels that we love:
Cabana Bay Beach Resort Pools
One our first stay at Cabana Bay Beach Resort, we never set foot in a pool (even though they were heated). Which kind of broke my heart a little bit.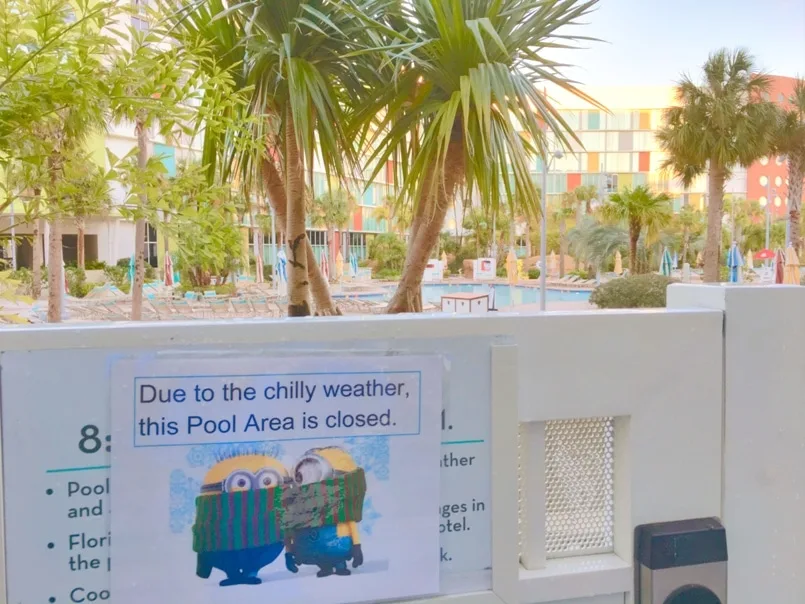 But we did get to go into the pools on the next two times we stayed at Cabana and loved it!
The two pools at Cabana Bay Beach Resort look like so much fun. But they were closed half of the time that were there, and the other half of the time the weather was too cold for most people to enjoy a pool.
They are located on two opposite sides of the resort, on opposite sides of the Lobby.
By the way, Cabana Bay's pools are part of the pool hopping benefits at Universal hotels.
Related Posts:
The Cabana Courtyard
The biggest pool area at Universal's Cabana Bay Beach Resort is The Cabana Courtyard. It has a large pool, Kids Splash Pad, Water Slide, Hot Tub, Pool Activities, Cabanas, a lawn, covered pavilions, and picnic tables.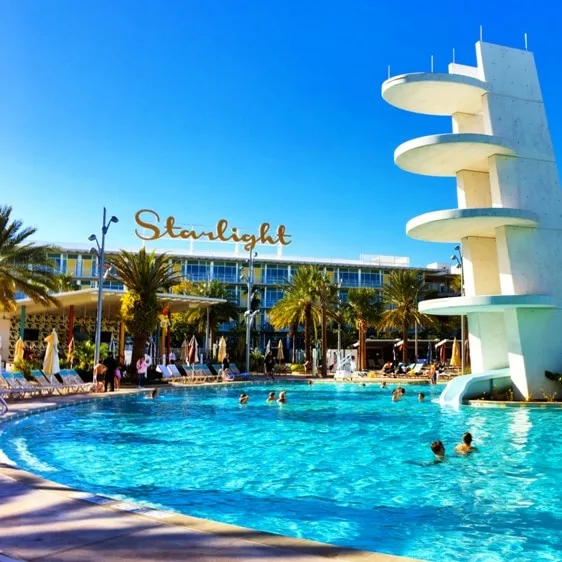 If you've got little kids – or want a place for the kids to have multiple ways to play during the day – this is the pool area where you'll want to be.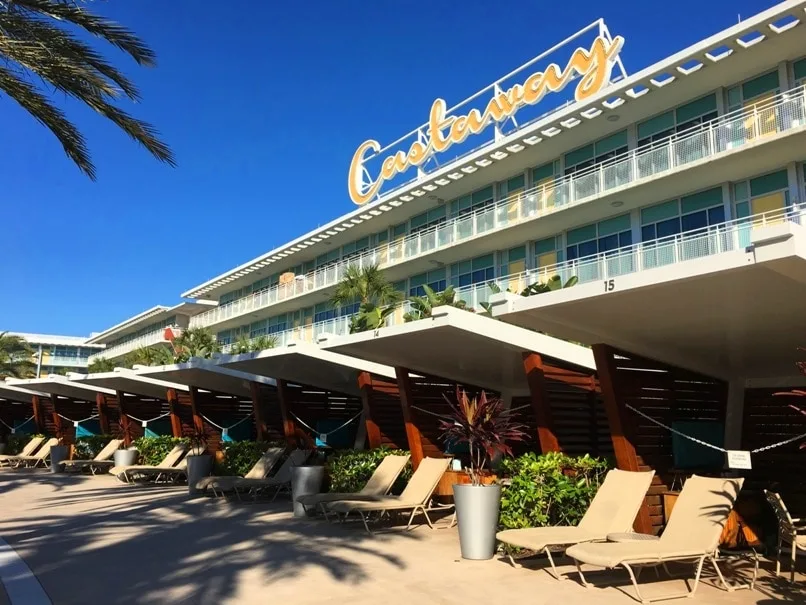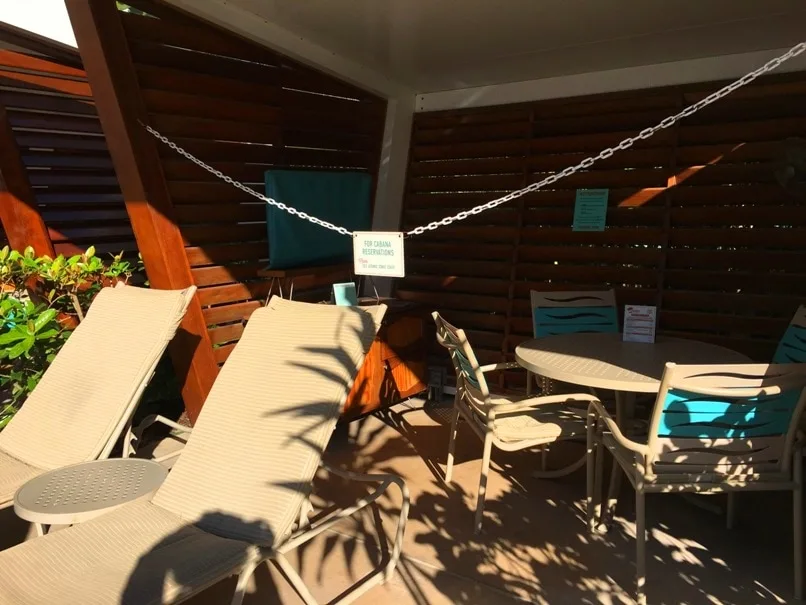 The waterslide comes out of the old-fashioned diving tower.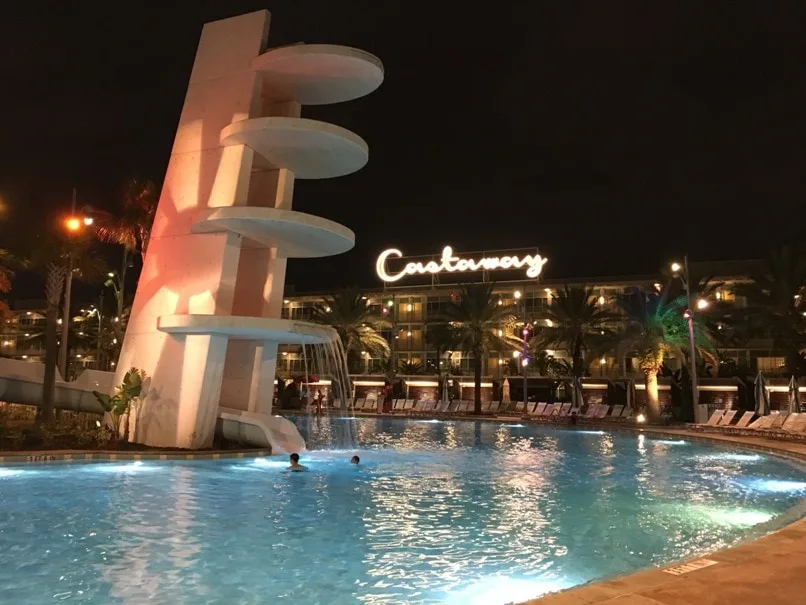 Lazy River Courtyard
The Lazy River Courtyard has a pool and a lazy river. (There aren't too many Orlando hotels with a lazy river.) There is also The Hideaway Bar and Grill. This is the smaller of the two pool areas.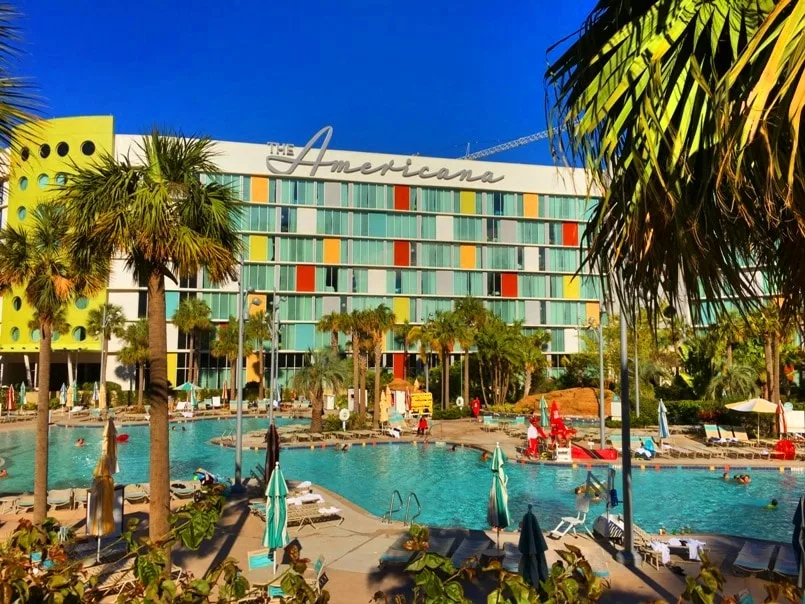 The lazy river is free to use for Cabana Bay Beach Resort guests. However, you need to keep these helpful tips in mind for enjoying the lazy river:
There are NO free tubes to use on the lazy river. You must bring your own tube or purchase one at their Tube Shack.
The Tube Shack will inflate tubes that you purchase elsewhere and bring to the lazy river. (Hello, Dollar Tree!) So there is no need for you to be blue in the face trying to blow up an inflatable tube.
The Tube Shack will also deflate tubes for you, regardless of whether you bought them there or elsewhere. This is great news so you can pack up the tube to bring home.
The lazy river isn't as long of a ride as you might think. Don't be disappointed with a short trip floating in the river.
Prices for tubes at The Tube Shack in January 2018 were: 36″ tubes ($6); 47″ tube ($12); My Baby Float ($6); Arm Bands ($4); 24″ beach ball ($4); 38″ tube ($8); Sit n' Lounge tube ($15)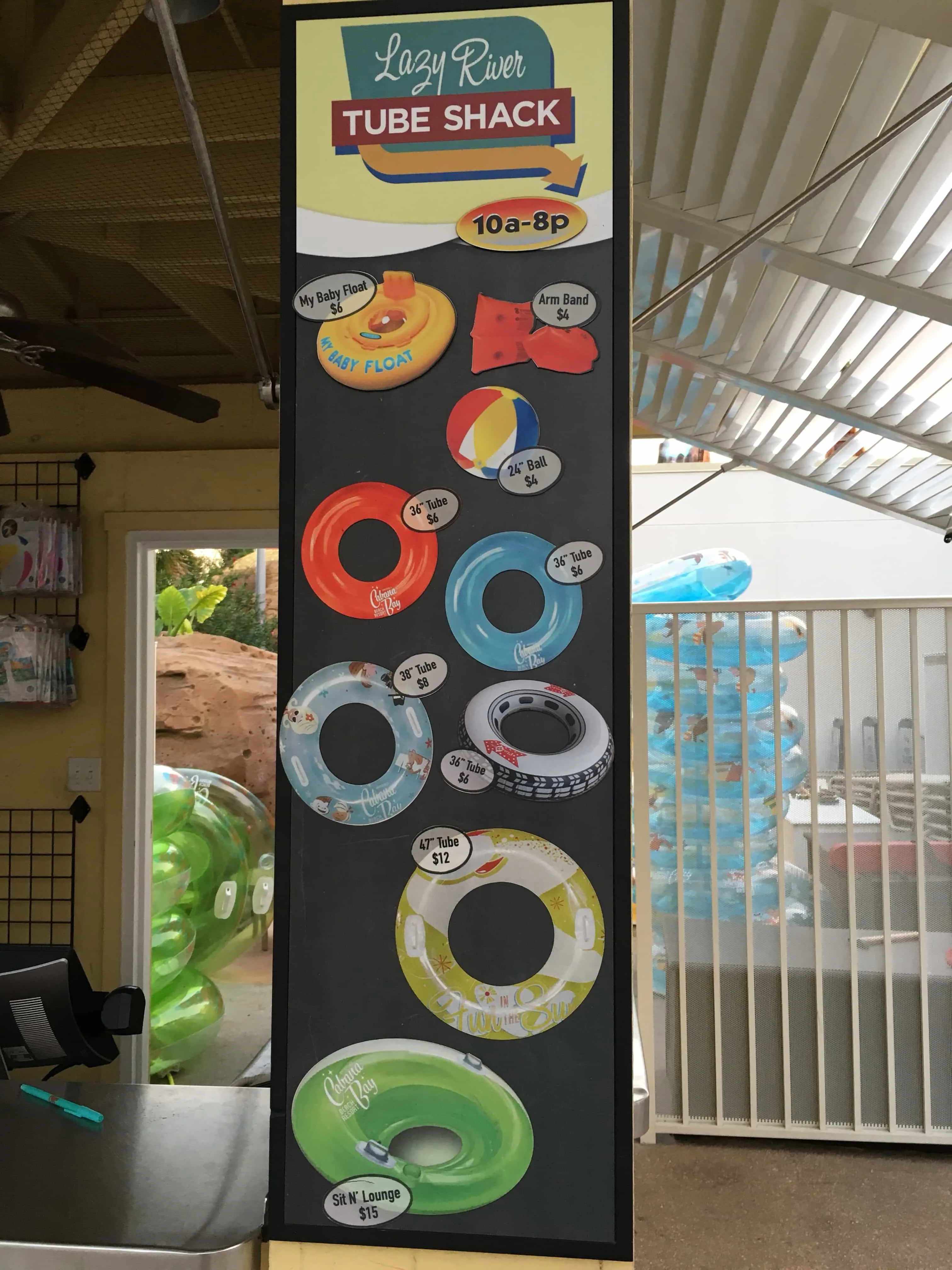 The pool in the Lazy River Courtyard is located by Volcano Bay Water Theme Park. The top of the volcano can be seen from the pool area. It's a really great feature at night when colored lights illuminate the smoking volcano.
If you're visiting Volcano Bay, be sure to check out their cabana rentals!
These waterproof fanny packs make it easy to enjoy the pool and lazy river without worrying about where to leave your phone, room key or other valuables.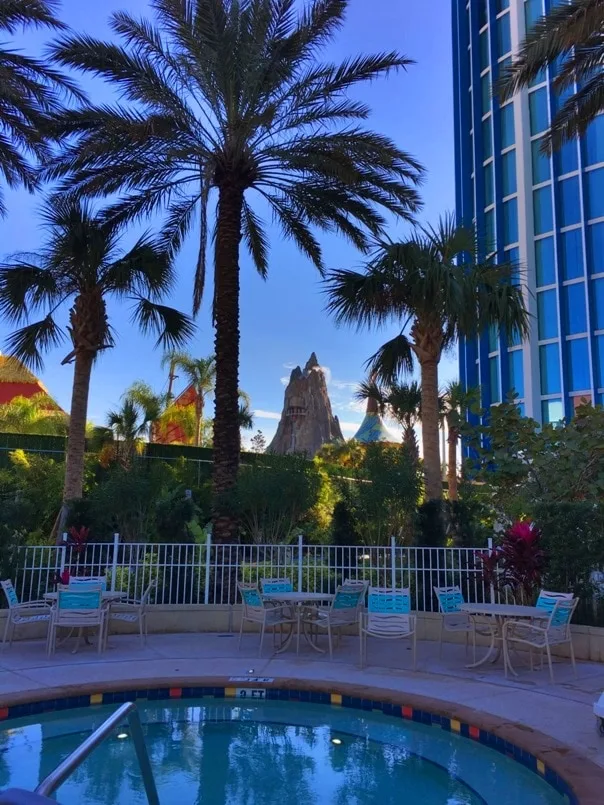 The Hideaway Bar & Grill is an awesome retro-looking bar and eatery tucked away. We love the 1950s and 1960s furniture and décor. It really is so well done.
Cabana Bay Beach Resort Bowling Alley
Galaxy Bowl is Cabana Bay's Bowling Alley and Restaurant. Located in the Lobby building, it's a retro spot to have fun any time during your stay. But it's especially nice when the weather is inclement outside (too hot in the middle of the day, raining, too cold).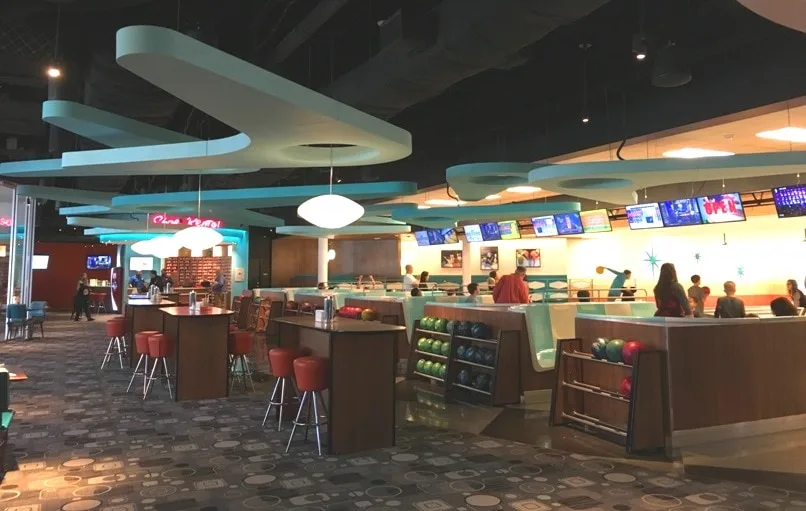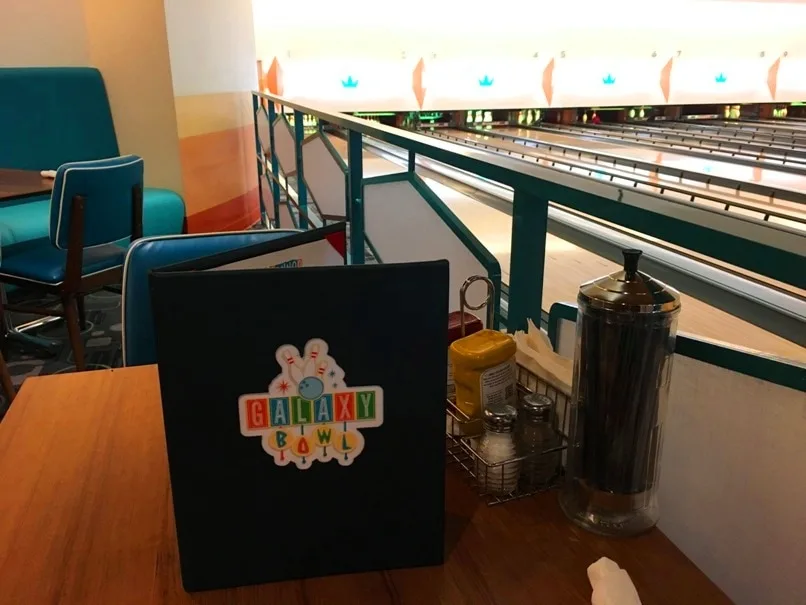 Galaxy Bowl is a combination of a small bowling alley and a restaurant. There are two eating areas on either side of the alleys, as well as dining behind the bowling alley area. A small bar is also located inside Galaxy Bowl.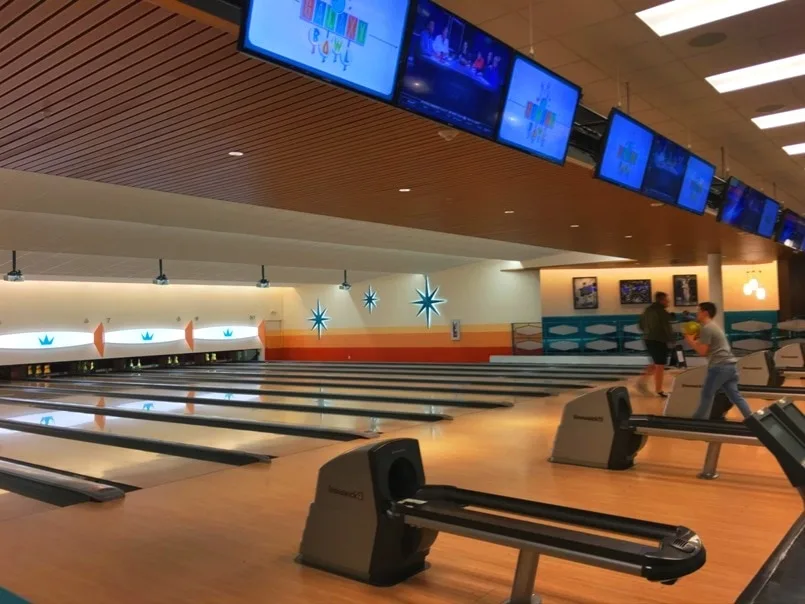 Consider bowling in the middle of the day between 12-4 p.m. During our stay, everyone who bowls was charged the kid's rate during these hours.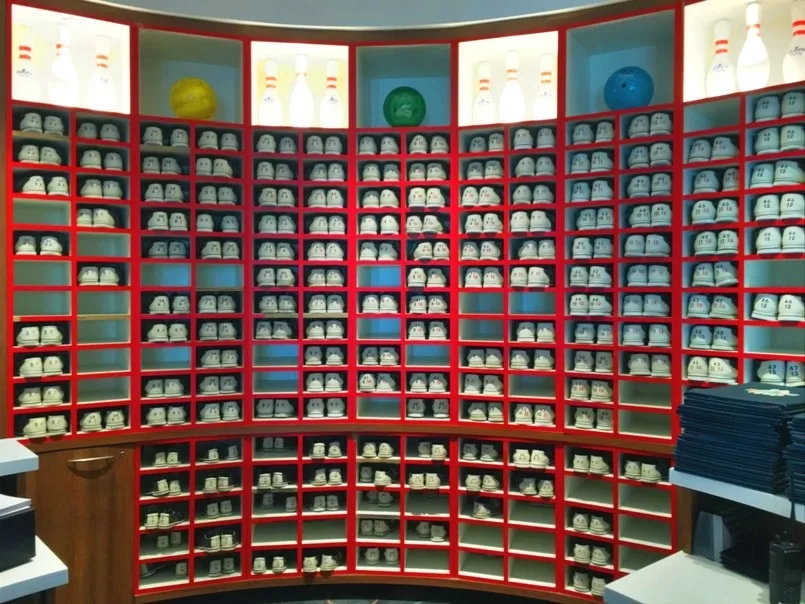 Parking is validated for visitors wanting to bowl or eat at Galaxy Bowl at Universal's Cabana Bay Beach Resort. See the parking information below.
Cabana Bay Beach Resort Restaurants and Dining
There are several places to eat and drink at Universal's Cabana Bay Beach Resort.
Restaurants include:
Bayliner Diner
Starbucks Coffee
Galaxy Bowl
The Hideaway Bar & Grill
Atomic Tonic
Swizzle Lounge
Pizza Room Service
Bayliner Diner
This large restaurant is the main dining location at Cabana Bay Beach Resort. Open all day long, it serves up breakfast, lunch and dinner and snacks.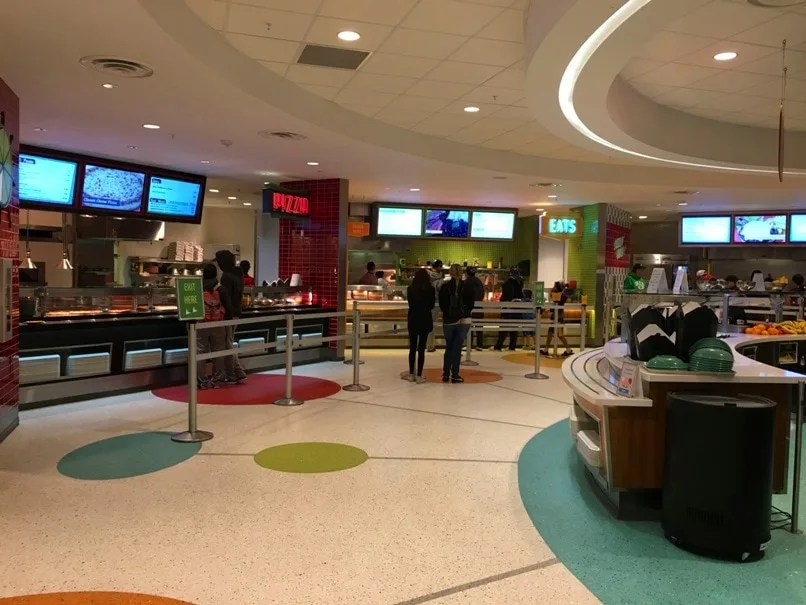 This is a fun place to eat, because of the giant TV screens they have throughout the dining area showing commercials and TV clips from the 1950s. It's similar in feel to Prime Time Café or Sci-Fi Dine-In at Disney's Hollywood Studios.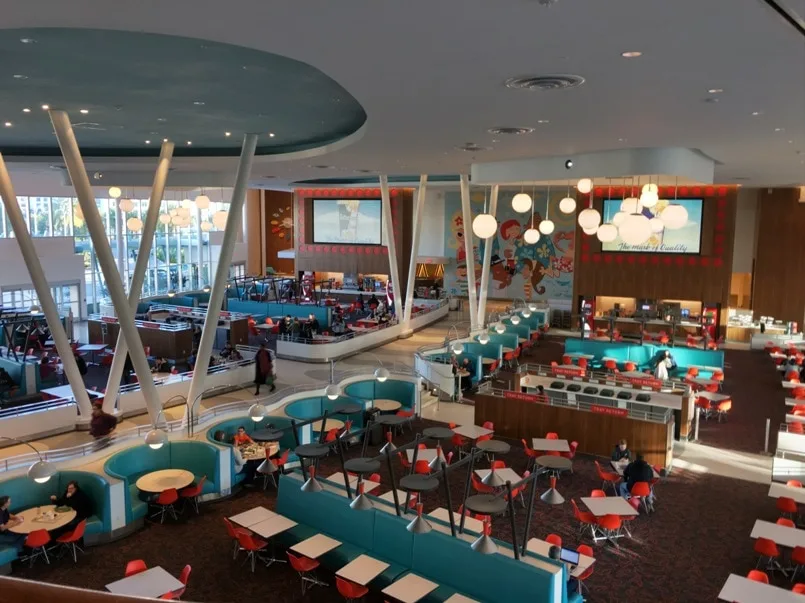 There is a little something for everyone at Bayliner Diner. It's where to go when nobody agrees on the same type of food. Sandwiches, salads, burgers, a grill station, pizza, Italian and hearty entrees were on the menu during our stay.
Here were some of our selections:
There's also a general store-type area with snacks, chips, candy, fruit, grab and go salads and sandwiches, etc.
Starbucks Coffee
Just like any other Starbucks across America, you'll find the same foods and drinks and the same long lines in the morning.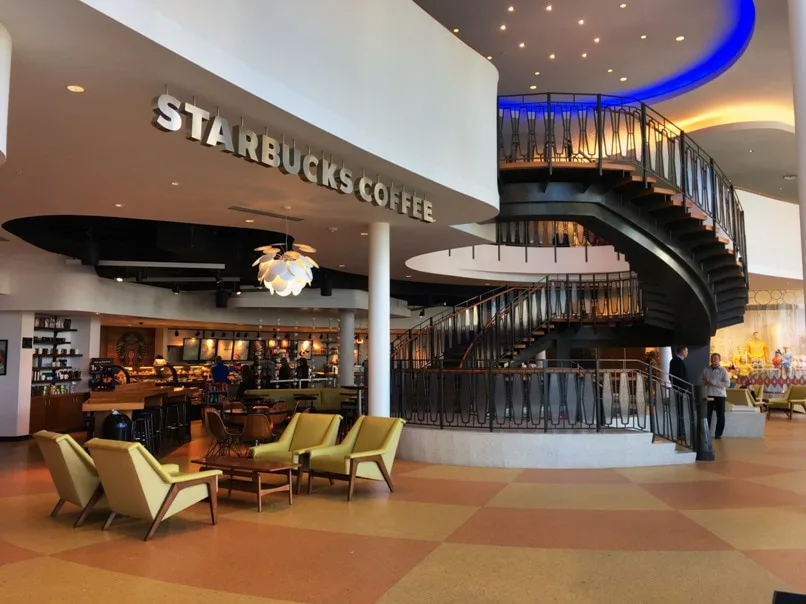 This is one of the many locations where you can get Starbucks coffee at Universal Studios.
Galaxy Bowl
A surprisingly fun restaurant, there's a decent selection of delicious foods and drinks at Galaxy Bowl.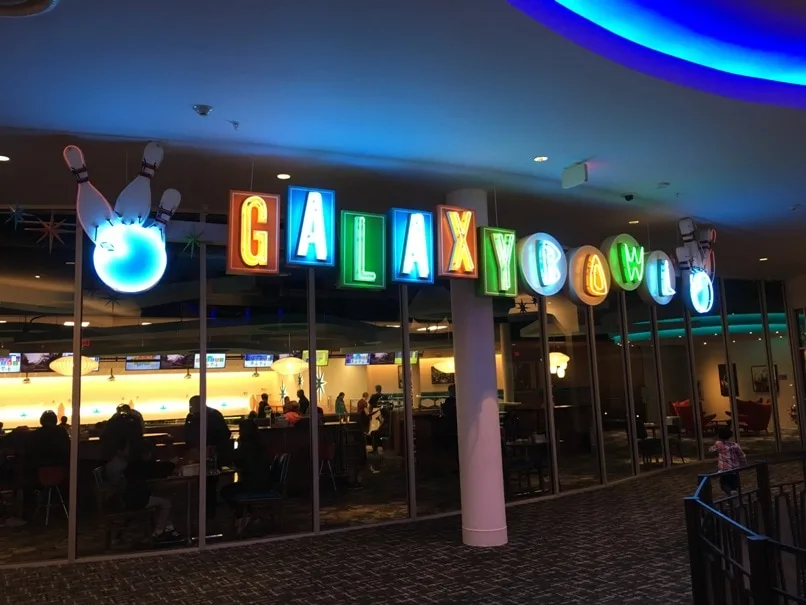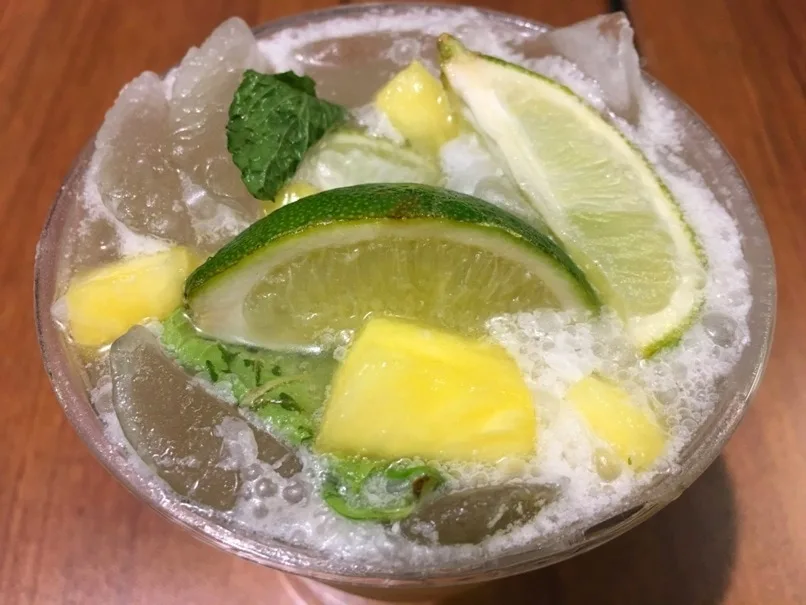 We highly recommend the Pineapple Coconut Mojito. It was by far the best cocktail we had, and even the staff said it's among the best and most popular mixed drinks.
The Hideaway Bar & Grill
Order your food and enjoy in the old-fashion concrete grotto or bring to your pool chair.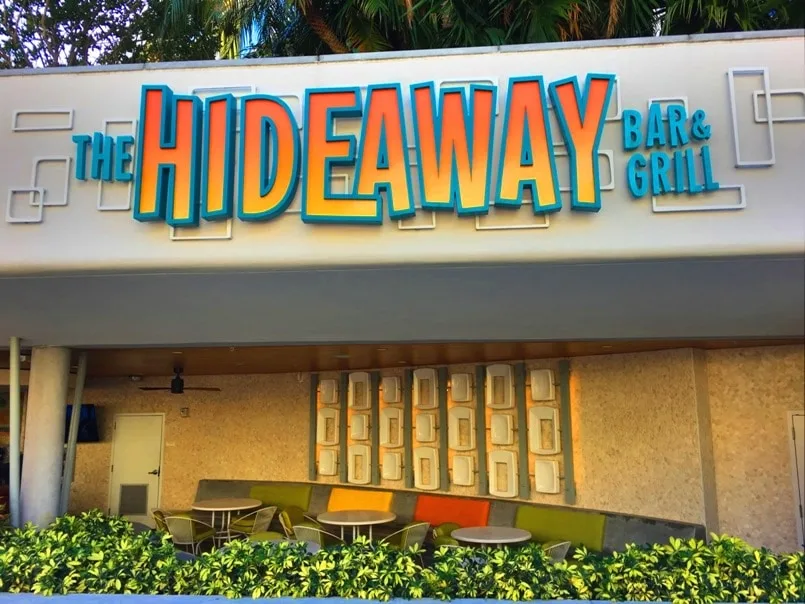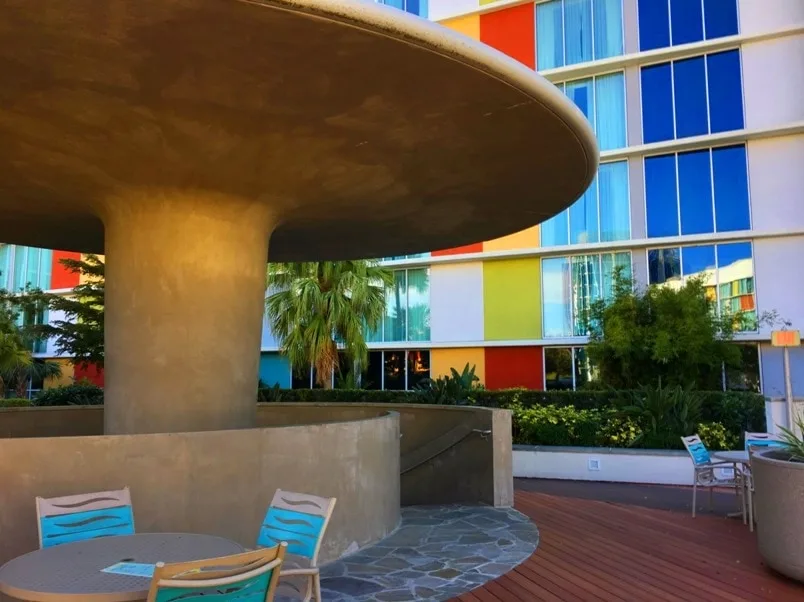 This grill is known for hotdogs, especially The Original Honolulu Hot Dog.
There are also sandwiches, salads, burgers and appetizers available at The Hideaway Bar & Grill. The bar itself is located just away from the food ordering area.
Atomic Tonic
This eatery by the pool has a bit of a different selection than you're used to for pool fare, with an emphasis on Mediterranean eats.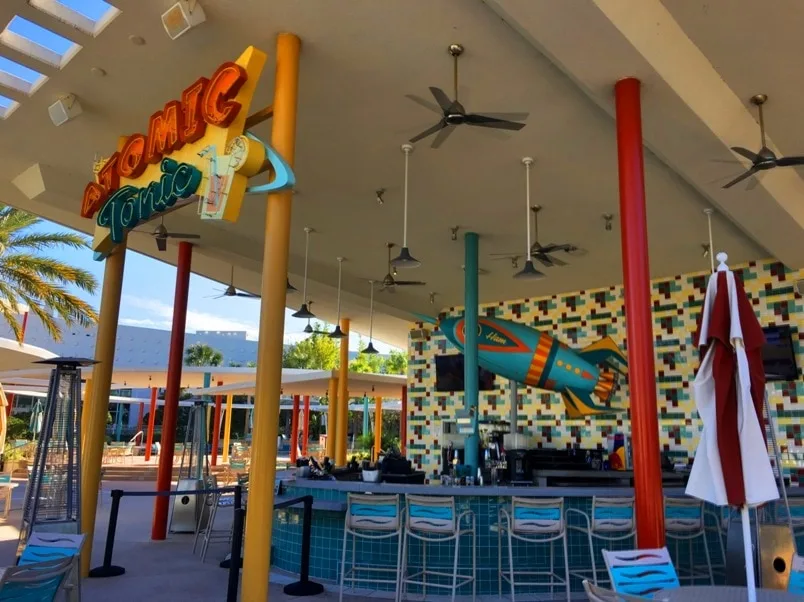 Food at the Atomic Tonic is kebabs, sandwiches, salads and a Mediterranean platter.
Swizzle Lounge
This lounge in the lobby is such a cool place to hang out! A great place to meet friends and family or just people watch.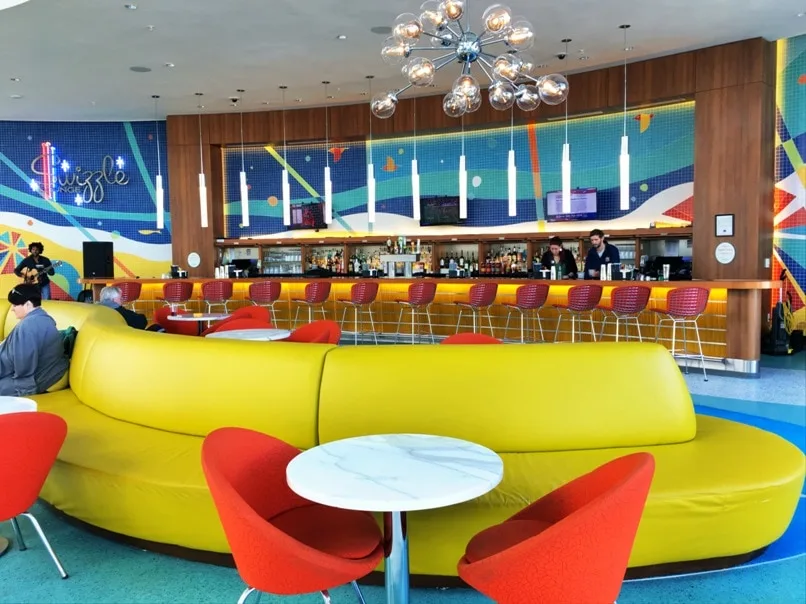 You can order a limited selection of foods in the Lobby's Swizzle Lounge. The food is prepared and comes from Galaxy Bowl, so several of the selections are the same. Sometimes there are wait times for getting food at the Swizzle Lounge depending on staffing and how busy they are in Galaxy Bowl.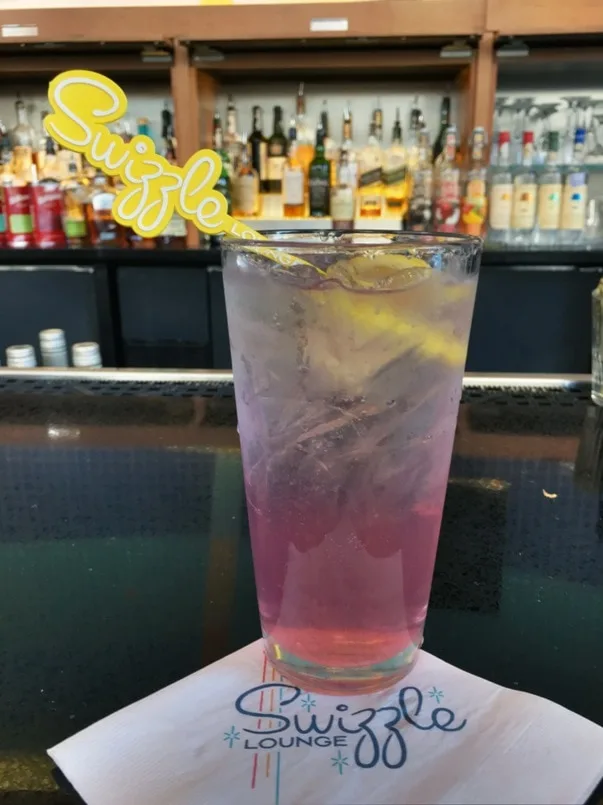 Money Savings Tips for Cabana Bay Beach Resort
Resort fees at a hotel can be expensive. Here are a few tips:
Cocktails at the pools had a $3 upcharge for a reusable plastic cup (glass is not allowed). I asked if I had to buy the reusable cup and the answer was yes. So I'd suggest getting one cocktail and paying the $3 upcharge, and then getting additional cocktails in the same cup. You can bring the cup back and they'll reuse it.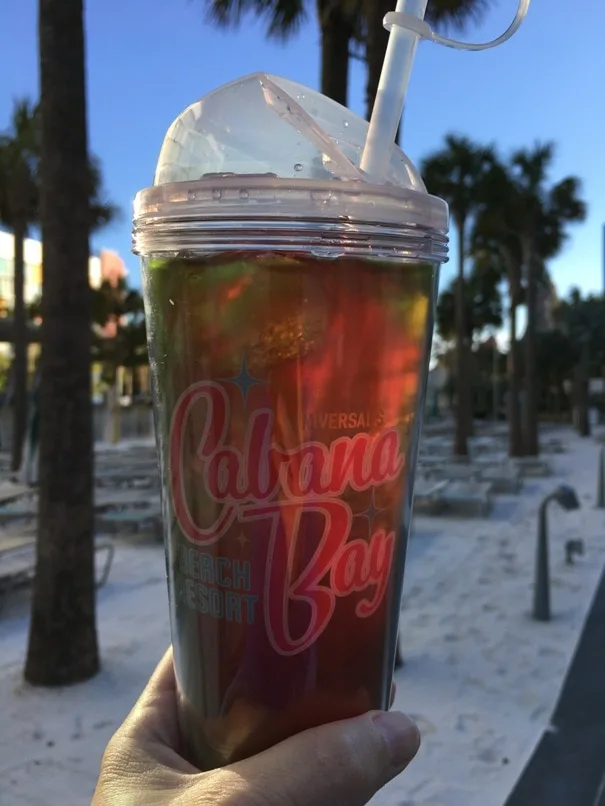 Reusable drink mugs were available at Bayliner Diner. This could be a great option for families that drink a lot of soda or tea. There were rinsing stations at the beverage bars.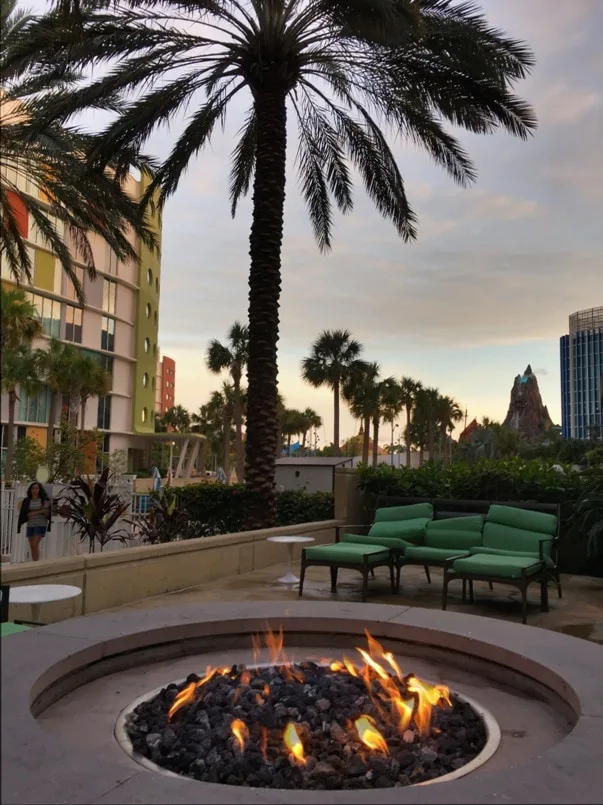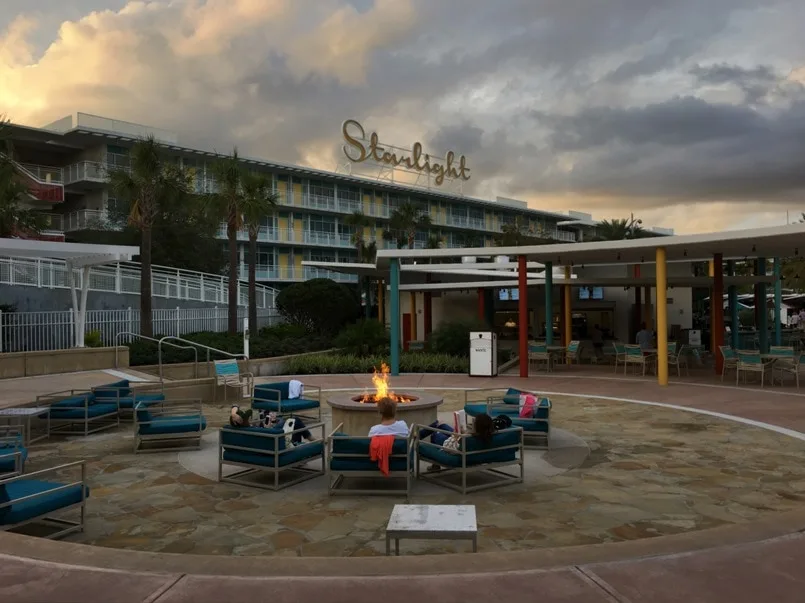 There are many fire pits at Cabana Bay Beach Resort. Which are perfect for enjoying s'mores. At Bayliner Diner, S'mores kits are sold for $8. Yet there is only enough supplies to make 4 s'mores, which means they'll cost $2 EACH! Bring your own supplies, including marshmallow, chocolate, graham crackers and roasting sticks, to enjoy the night-time desserts at a fraction of the cost.
Cabana Bay Beach Resort Parking
There was ample parking during our stay at Cabana Bay Beach Resort. Staying in The Continental building, our parking was a mixture of both single level, uncovered parking spaces, as well as a parking garage.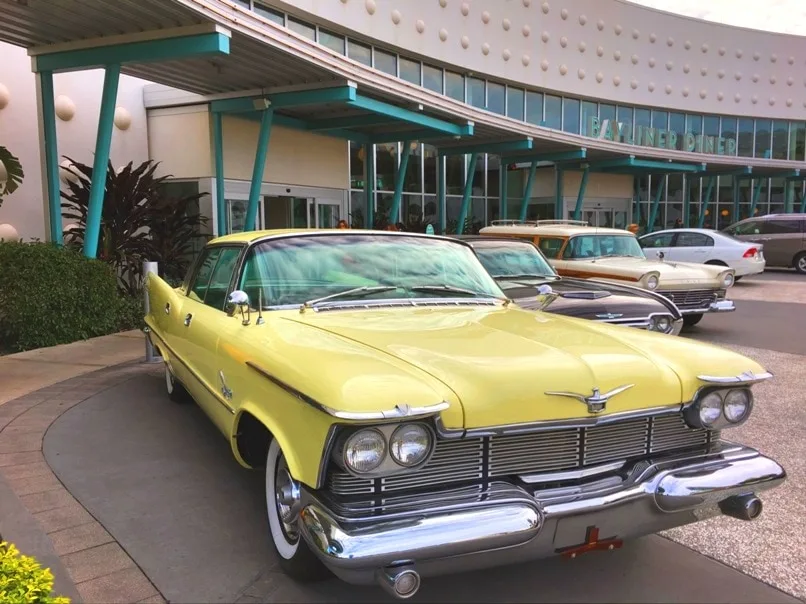 Parking for resort guests is $12 a day.
To access guest room parking, you must swipe your room key to enter the parking areas and again to leave the parking lots.
There are a variety of different parking lots for each building. Overall, the parking lots seem to be pretty close to the actual building itself. Which means you're not walking across a massive parking lot with your luggage to get to the hotel room.
Luggage carts were plentiful in the courtyards where the elevators were located near the parking area.
For short term parking, there are parking spaces outside of the lobby building. I'm not sure how often these parking spaces are cleared or tickets given. It states a 20 minute time frame for the parking.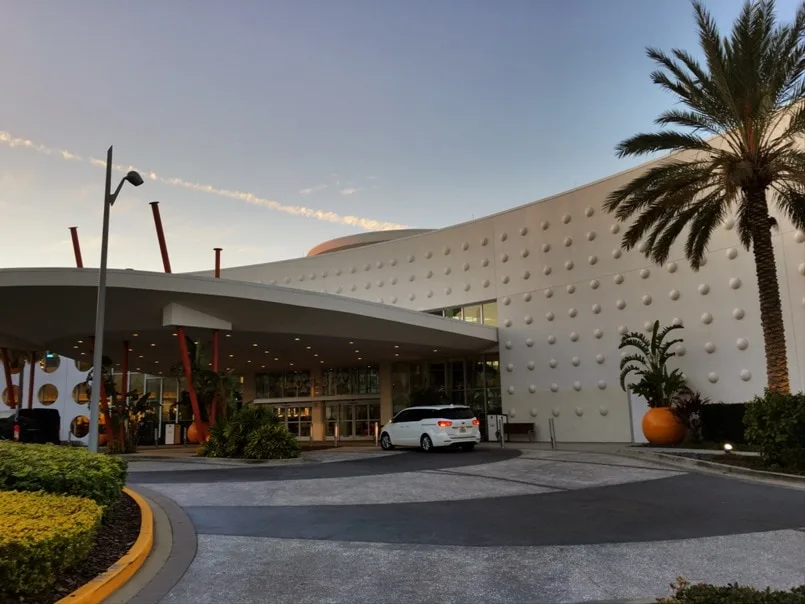 For guests visiting the Cabana Bay Beach Resort bowling alley to play a game or eat, parking will be validated (Non-resort guests do have a $45 parking fee. I am not sure about the specifics of this – and whether you'd pay the fee if you could find short term parking in front of the lobby. If you had to access the parking lots, you would need some type of card to get in.)

Cabana Bay Beach Resort Christmas Decorations
We checked in on the last day that the Christmas decorations were up at Universal's Cabana Bay Beach Resort. On January 3, all of the decorations were still up.
On January 4, some of the decorations started to come down. Including the Christmas trees in the lobby and the garland.
Yet many remained for a day or two afterwards.
Cabana Bay Beach Resort is one of eight hotels in Universal Orlando. Check out our Ultimate Guide to Universal Studios Hotels for more options for staying at the resort. You might also like our beginner's guide to Universal Orlando for helpful tips in planning your vacation, and our Ultimate Guide to the Wizarding World of Harry Potter.