Volcano Bay has become one of the best water parks in Orlando. The Universal Orlando theme park is very popular and can get very crowded. You might be considering a Volcano Bay Cabana rental to get a little more privacy and luxury during your visit. Here's what you need to know about booking.
What Types of Cabanas Are Available?
Volcano Bay's cabanas are unlike most resort cabana rentals. All of the cabanas have a tree-house or tiki-hut feel, with dark wood and decor. The cabanas come in a two-story configuration, with upper cabanas on top of the lower ones.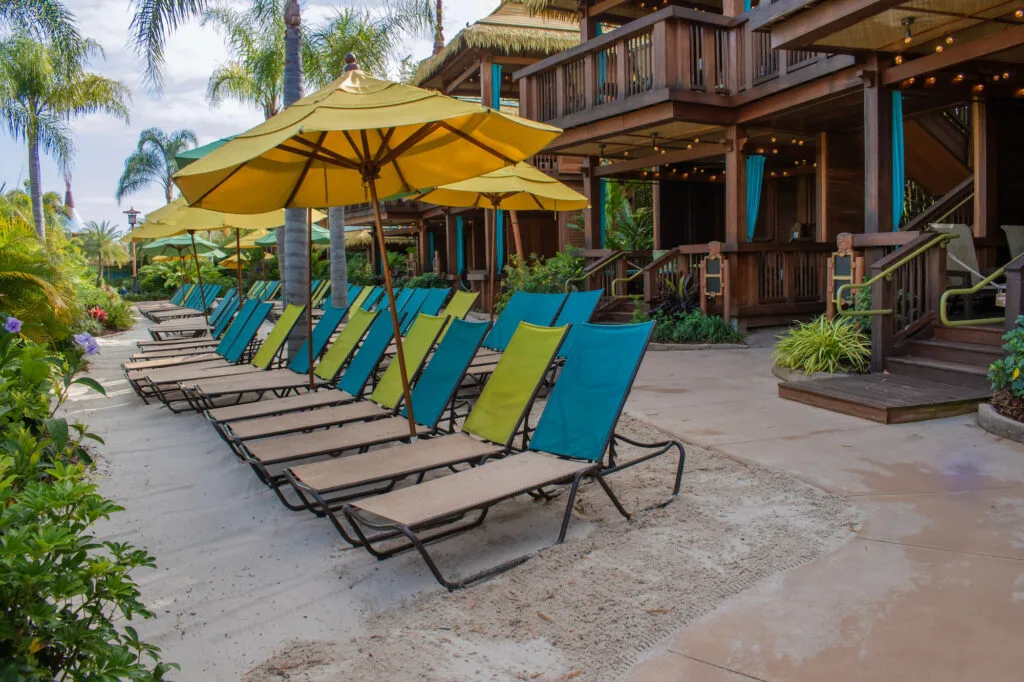 Yes, that means that you will have people above you in an upper cabana if you have a lower cabana.
There are 51 cabanas available. Most are in the upper and lower configurations.
The lower cabanas have easy, ground-level access. This might be the choice for you if you are traveling with anyone with limited mobility or have kids that want to run right out of the cabana into the sand.
Upper cabanas give you a better view of the water park. They have the same amenities, however they also have an additional patio that stretches out over the lower cabana. So, technically, you will get more space. However, you will need to climb the stairs to get to your cabana.
Stand-alone cabanas will give you more privacy, since you won't have people above you or climbing the stairs beside you if you have the lower cabana.
There are two stand-alone cabanas inside Runamukka Reef (#11 and #12), which is a kids play area. While you cannot request being in or out of this location, keep this in mind when checking in.
Family cabanas (#1 and #3) are similar to the other types, just with a lot more space for 16 people. There are only 2 family cabanas available.
To see every single cabana, watch this video below:
Cabanas are especially nice to have if it starts to rain while you are at the water park. Be sure to see the Volcano Bay Rain Policy.
What Is Included in a Cabana Rental?
A cabana rental gives you a private space just for you and your family where no one else is going to be stealing your lounge chairs! In addition to your own private oasis, your fully stocked cabana includes:
One large padded lounge chair
2 chairs to sit in
Table with checkerboard on top
Concierge service (raise the flag for your waiter to come to your cabana; order from any of the 4 restaurants or 2 bars)
Text an attendant for more towels, waters, or any requests
Small refrigerator stocked with bottled waters
Food basket stocked with fruit and snacks, such as danishes, muffins and cookies (Included in price)
Exclusive food and drink menu (you have to pay for the food)
Free towels to use, as well as towel service to bring you more if needed
Storage Locker with plenty of room for your phones, chargers, etc.
Ceiling fan
Curtains for privacy on three sides
Music in cabana
Guest Experience Transformation (GET) Tablet which allows you to schedule your virtual lines in your cabana, rather than running around with your TapuTapu
The family cabana includes:
8 chairs to sit in
2 large padded lounge chairs
An expandable dining table
How Many People Are Allowed in a Cabana?
Only 6 people are allowed in the single cabana units. Up to 16 people are allowed in the family cabana.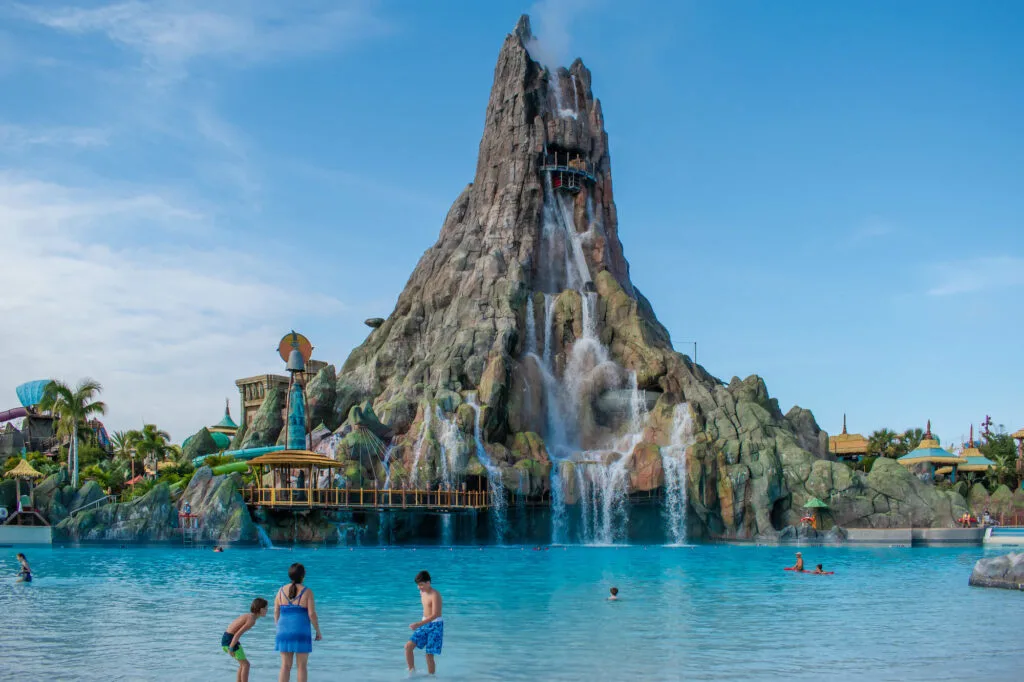 Can I Request a Specific Cabana?
No, you cannot request a specific cabana number. You can reserve either a upper cabana, lower cabana, stand alone cabana or family cabana. However, the location is to be determined when you arrive at Volcano Bay.
Related Posts:
Volcano Bay Cabana Rental Cost
Prices fluctuate greatly based on the time of year, crowd levels, and how far in advance you reserve your cabana.
In 2021, the prices varied from $200-800 for a one day rental.
For a July 2022 reservation, the price quotes were $750 for a standard cabana and $1,100 for a family cabana. A June 2022 reservation had the price of the family cabana at $1,200.
However, an October 24, 2022 reservation cost only $212, though it was booked in June.
When looking at price estimates, make sure that they are prices in 2022, because the prices have skyrocketed since mid-2021.
Booking early usually locks in a better rate than booking last minute.
Related: See the private cabanas at Discovery Cove in Orlando. Check out our video of our cabana tour, which looks much different than Volcano Bay's rentals.
Be sure to see our packing list of What to Bring to Volcano Bay!
What is Premium Seating?
If the cost of a private cabana rental is too much for you, then consider the more affordable Premium Seating option. Premium Seating includes 2 padded seating lounge chairs with an adjustable shade cover, as well as a storage locker in between the chairs for valuables.
You will also get a waiter that will bring you food and drink that you have ordered off of the menu.
Related: See the best Universal Orlando Dining options.
How much does Premium Seating cost? Again, it varies with season and demand. However, during a visit in 2021, a cabana was renting for $700 while premium seats were $119 for two people.
Are There Accessible Cabanas?
Yes, there are accessible cabanas. Be sure to tell your reservation agent that you require an accessible unit. Units #13, 14, 15 and 17 have an elevator.
Related Post: If you love water parks, check out these fun Orlando hotels with a lazy river!
Can I Get a Cabana During Early Entry at Volcano Bay?
Yes, cabanas will be ready for guests who are able to enter Volcano Bay early as a perk for staying at a Universal Orlando Hotel.
Is My Reservation Refundable?
No. As of this time, your booking is not refundable for any reason. Confirm current policies while making your reservation.
Can I Book Cabanas or Premium Seating Online?
No, you have to call Universal Orlando to book the cabanas or premium seating. This can be a hassle because it has taken 1-2 hours of being on hold before being able to talk to someone.
Cabana Reservation Phone Number, to book, call 1-877-801-9720.
To book Premium Seating, call (877) 489-8068.
Related Post: How to Pool Hop at Universal Orlando Hotels
Can I Wait Until the Day I Arrive to Get a Cabana?
Volcano Bay is popular and there are a limited amount of cabanas and premium seating. Chances are good that they will all be reserved and booked. However, you can go to the Cabana Hut check-in (to the left of the Volcano at the entrance to the water park) when you arrive to see if there are any available.
Where Do I Check In For My Cabana?
The check in kiosks are located inside the water park after you have gone through the turnstiles. The Cabana Hut will be to the left as you are looking at the volcano.
An attendant will guide you to your cabana or premium seating.
Do I Need to Tip My Cabana Attendant?
While not mandatory, it is pretty much expected that you tip.
Related Post: Where to Park for Volcano Bay
Helpful Tips
Cabanas are reserved all day. You don't have to get there early if you don't want to.
These small portable safes attach to a beach chair, so that you can leave your valuables secure while enjoying the water rides.
Want to get a cabana on the day you arrive? You might be able to get a cabana at 30% off when people leave their cabanas early. In the afternoon, ask if there are any available.
Use a waterproof fanny pack to bring your phone and other valuables with you while swimming and on the rides if you don't want to leave everything in the locker.
Consider bringing a notepad or scratch paper to leave notes to your party if you are doing separate activities.
Bring flavor drops for the water bottles to save money on buying beverages. You will get free bottled water, so make the most of them!