Universal Studios Orlando has two different Harry Potter lands: Diagon Alley and Hogsmeade. Each land is themed in a completely different way, with different rides, shows and photo opps.
If you are visiting The Wizarding World of Harry Potter at Universal Orlando Resort, these are the must do experiences, foods and drinks that are the best things to do in Diagon Alley.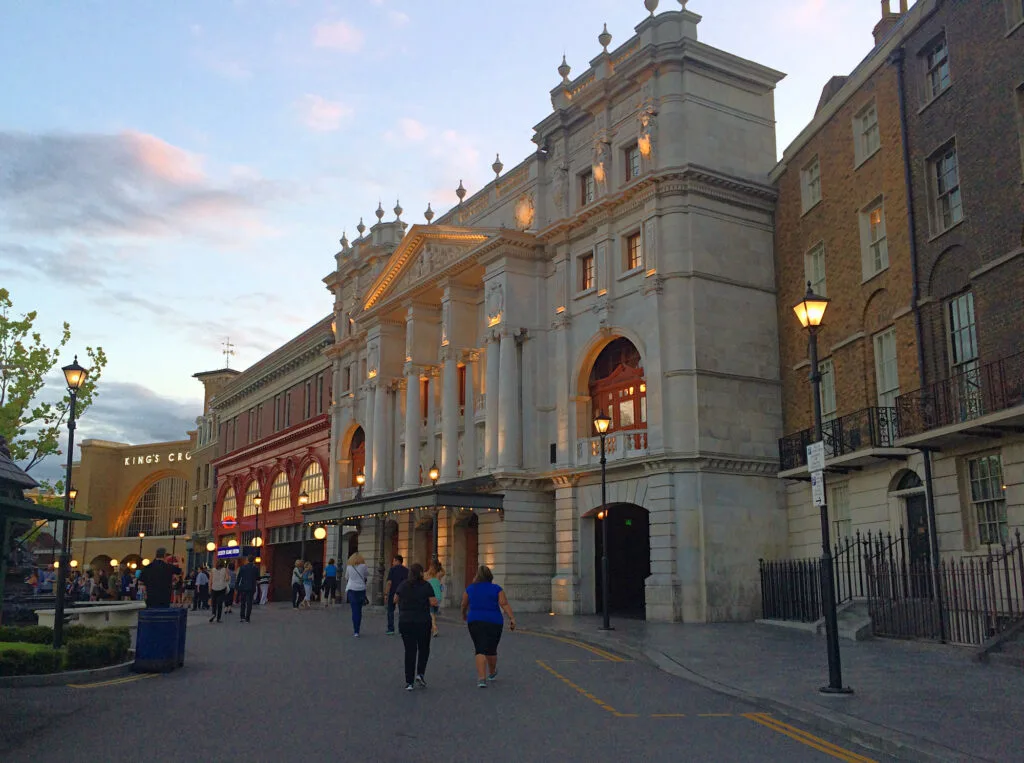 Diagon Alley at Universal Orlando
Watch the Fire-Breathing Gringott's Dragon
One of the most popular picture-taking spots in Diagon Alley is under the Gringott's Dragon!
You will know that the dragon is about to spit fire when you hear some rumbling sounds. Once the dragon is rumbling, you know to get your camera ready to take a picture of the flames shooting out of its mouth.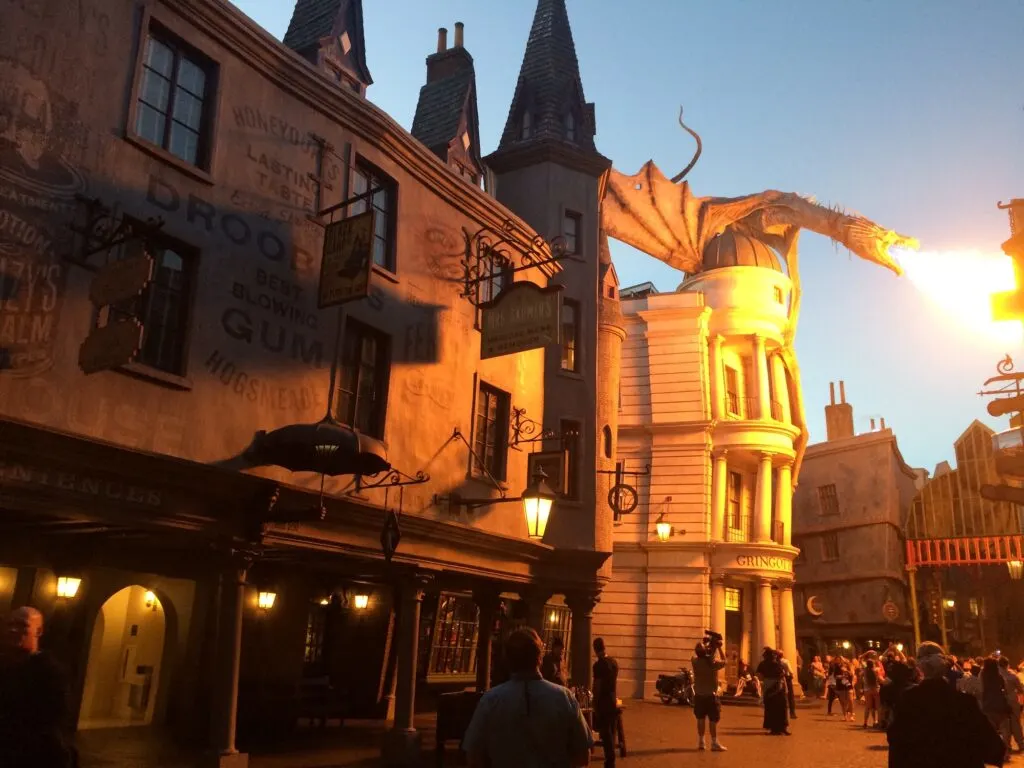 With flames that reach 3,560 degrees Fahrenheit, you will feel the heat off of this fire-breathing dragon!
Walk Through Platform 9 3/4
One of the most magical parts of the Harry Potter movies and books are when the wizards disappear into Platform 9 3/4.
Muggles can do the vanishing act, too, when you visit the Hogwarts Express train platform at King's Cross. With the help of a mirror, it looks like you are walking through the platform. Be sure to get someone to take your picture or a video for the full effect!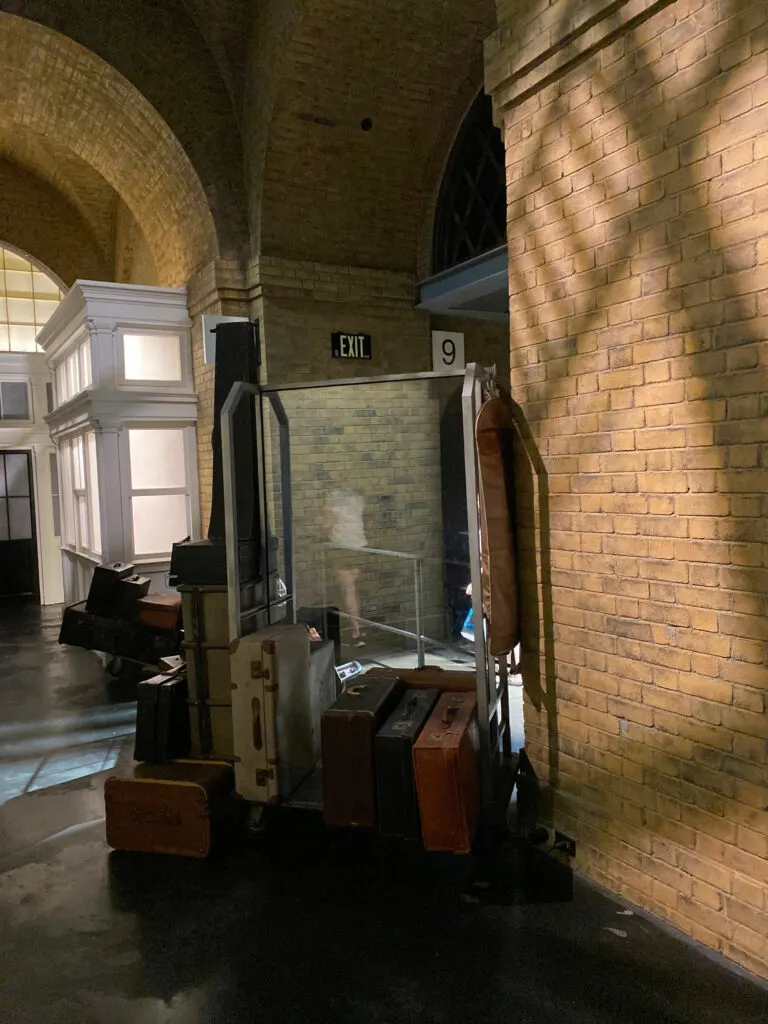 Look for the House Elf
Kreacher can be seen in the windows at 12 Grimmauld Place in Diagon Alley. This is the former home of Sirius Black.
He doesn't always make an appearance, so go up to the door and knock.
Then stand on the street for a minute for the best view point to see if the house elf comes to the window to stare at you.
He usually peeks out about every 60 seconds, but he will do what he wants when he wants!
Check Out the Knight Bus and Shrunken Head
Located across from 12 Grimmauld Place and the train station, be sure to stop by the big purple bus.
If the bus driver is there, you will be delighted with the comical interactions between the driver and the shrunken head.
This is just one of the many character interactions in Universal Studios.
Withdraw Money at Gringott's Money Exchange
You can exchange your muggle money for wizarding money at Gringott's Money Exchange! Not only do you get a magical currency in a souvenir envelope, but you will have a unique Harry Potter experience by interacting with the goblin.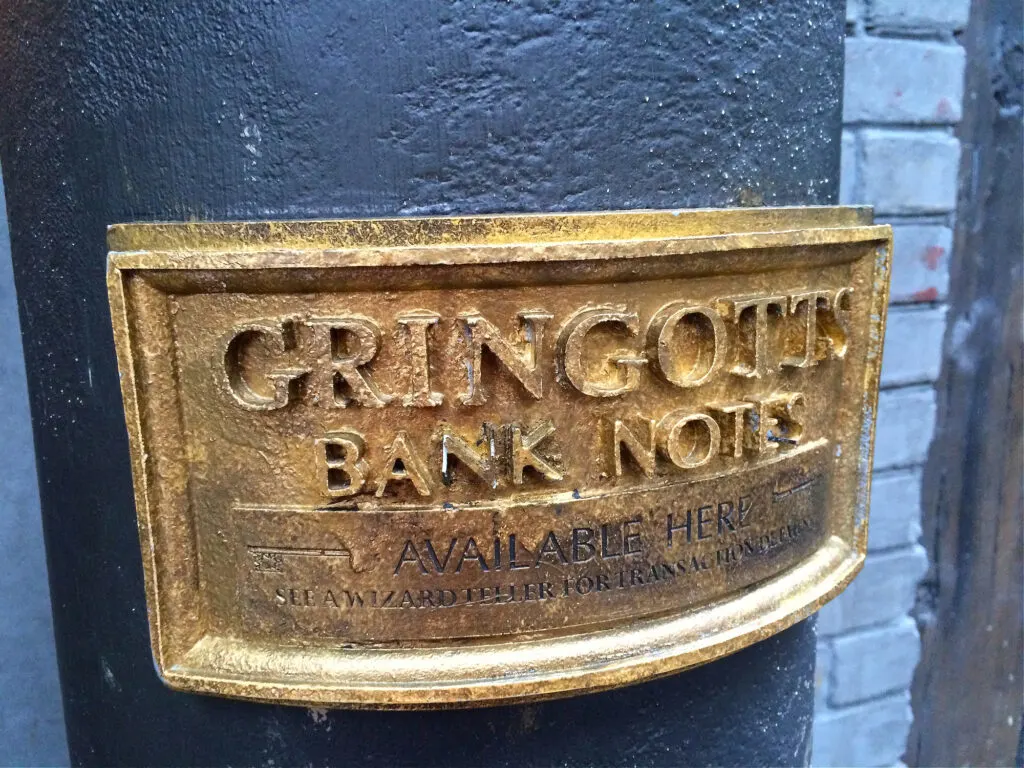 Wizarding money can only be exchanged in $10 and $20 muggle money increments (U.S. Dollar Bills). There are not smaller denominations or change.
While the magical currency can be used just like cash throughout Universal Studios Orlando, you will probably want to keep a bank note (or at least take a photo) as a souvenir.
If you ask the goblin questions while exchanging your money, he will answer you back.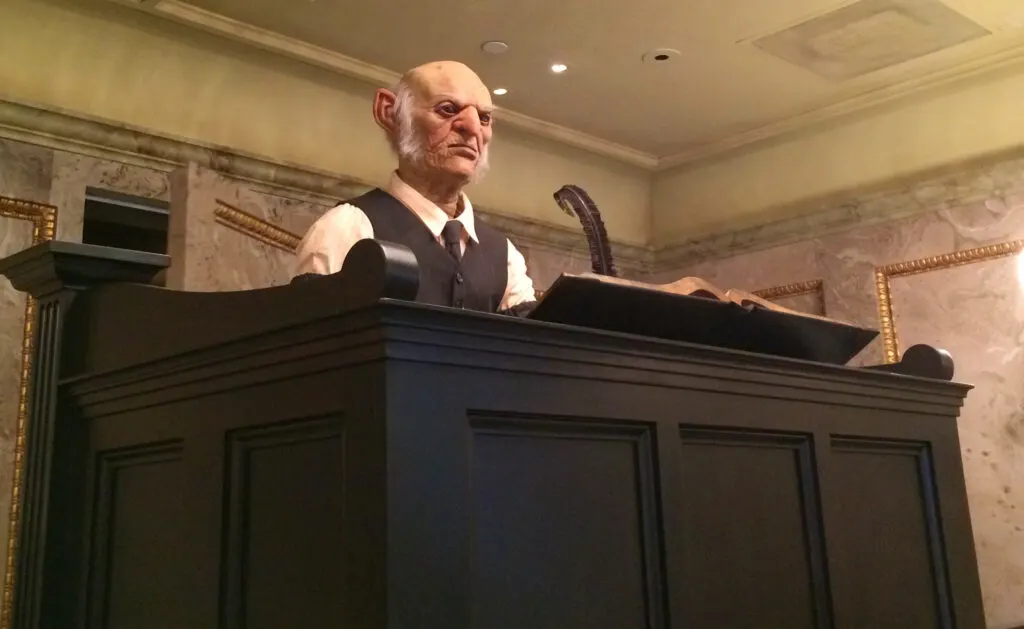 By the way, don't call the goblin money exchanger an elf unless you want some back talk!
Fun Fact: Look up at the four chandeliers inside the bank. They contain a total of 62,000 crystals.
Call the Ministry of Magic
Step inside the red phone booth that is located in front of the record shop. Follow the instructions inside (pick up the phone and dial MAGIC) to hear a message from a witch at the Ministry.
Dine in the Leaky Cauldron
Enjoy traditional British pub fare at a recreation of the pub that Harry Potter and his friends visited every year.
You will sit down at long wooden tables and enjoy breakfast, lunch or dinner.
This is the main dining location in Diagon Alley and one of the best Harry Potter restaurants.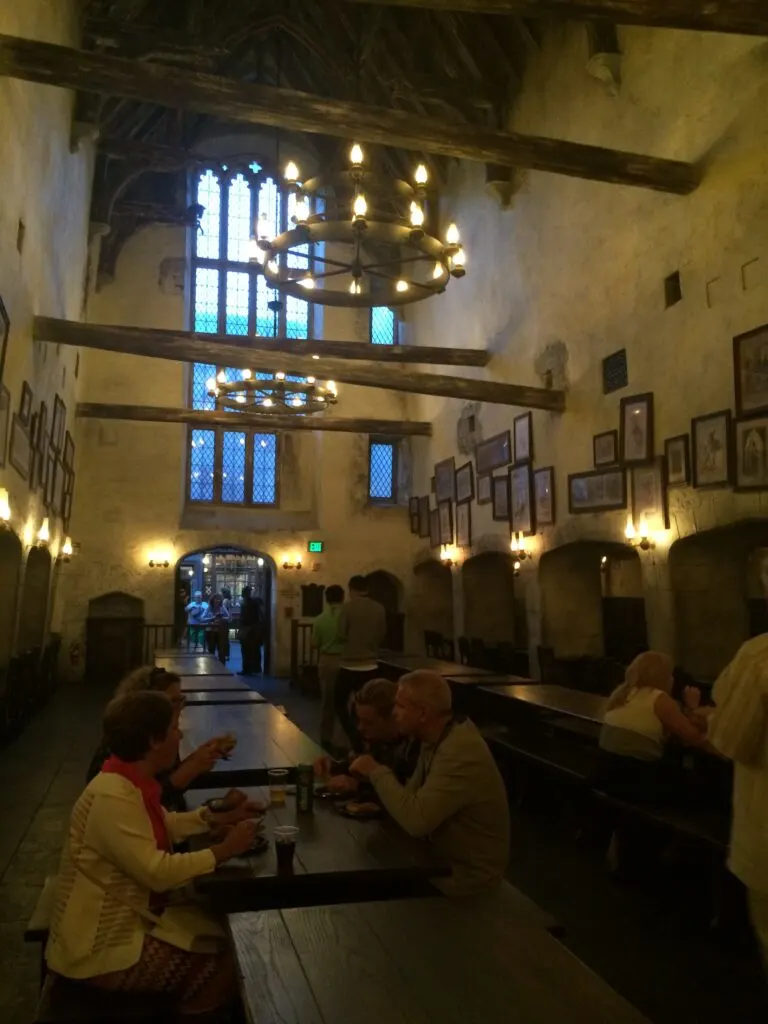 No reservations are possible at this quick-service restaurant, so there may be a wait!
Drink Butterbeer!
It's a rite of passage to get a butterbeer when in either Harry Potter world. If you don't plan on visiting Hosgmeade, then you must get a butter beer here!
There are a variety of different types of Butterbeer, including:
Cold butterbeer
Frozen butterbeer
Hot butterbeer
No matter what type you get, try at least one version of the crazy sweet drink!
Visit the Daily Prophet Office
Put your ear next to The Daily Prophet Office and you will hear reporters hard at work!
Visit Knockturn Alley
Knockturn Alley is easy to miss, so be sure to try to find it pass the bathrooms.
Once inside the dark passage, you will find black light spells, singing shrunken heads, and shopping!
Search for Hidden Spell Locations
There are spell locations on the map that comes with your Harry Potter wand when purchased at Universal Orlando.
And then there are hidden locations!
To find these spots, go towards Ravenclaw haven and Carkitt Market.
Helpful Tip: You can find these hidden spell locations on the map when you hold it under black light in Knockturn Alley.
Be Insulted In Front of a Magic Mirror!
If you've got thick skin and don't mind some harsh words, stand in front of the magic mirror in Madam Malkin's Robes for All Occasions. Just be warned, she is really judgmental!
Make Magical Potions
Turn your water into something magical at Eternelle's Elixir of Refreshment.
You will be essentially buying flavored water drops, but kids will love this fun experience. (Bring your own water if you don't want to increase the cost by having to pay for bottled water there.)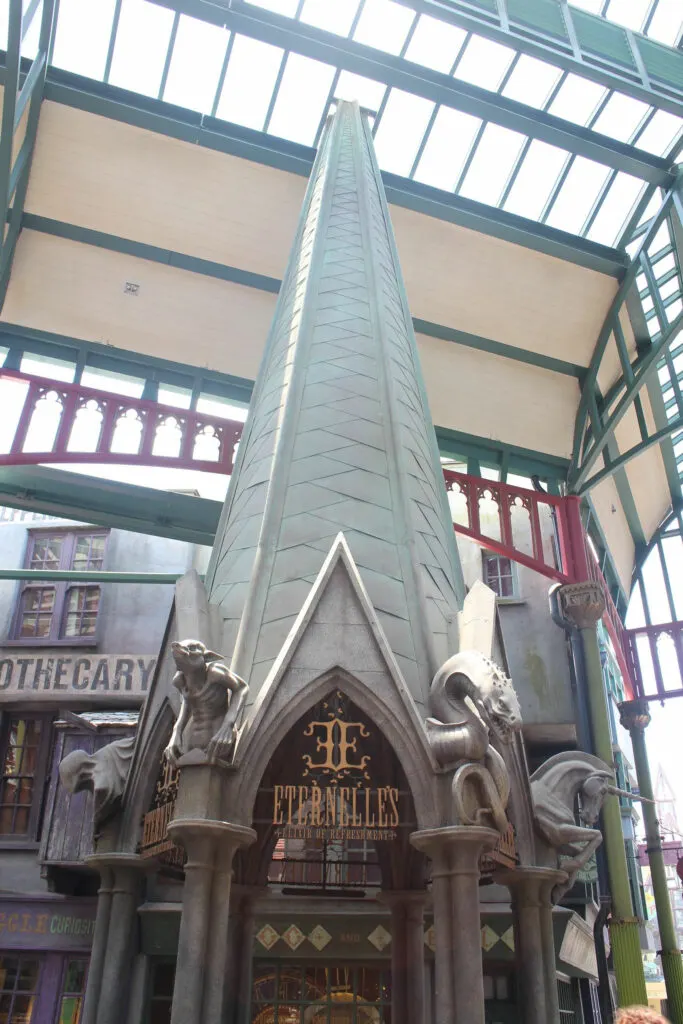 Savor Unique Ice Cream Flavors
Florean Fortescue's Ice Cream Parlour has the most amazing flavors of hard ice cream and soft serve ice cream.
This is where you can get Butterbeer ice cream!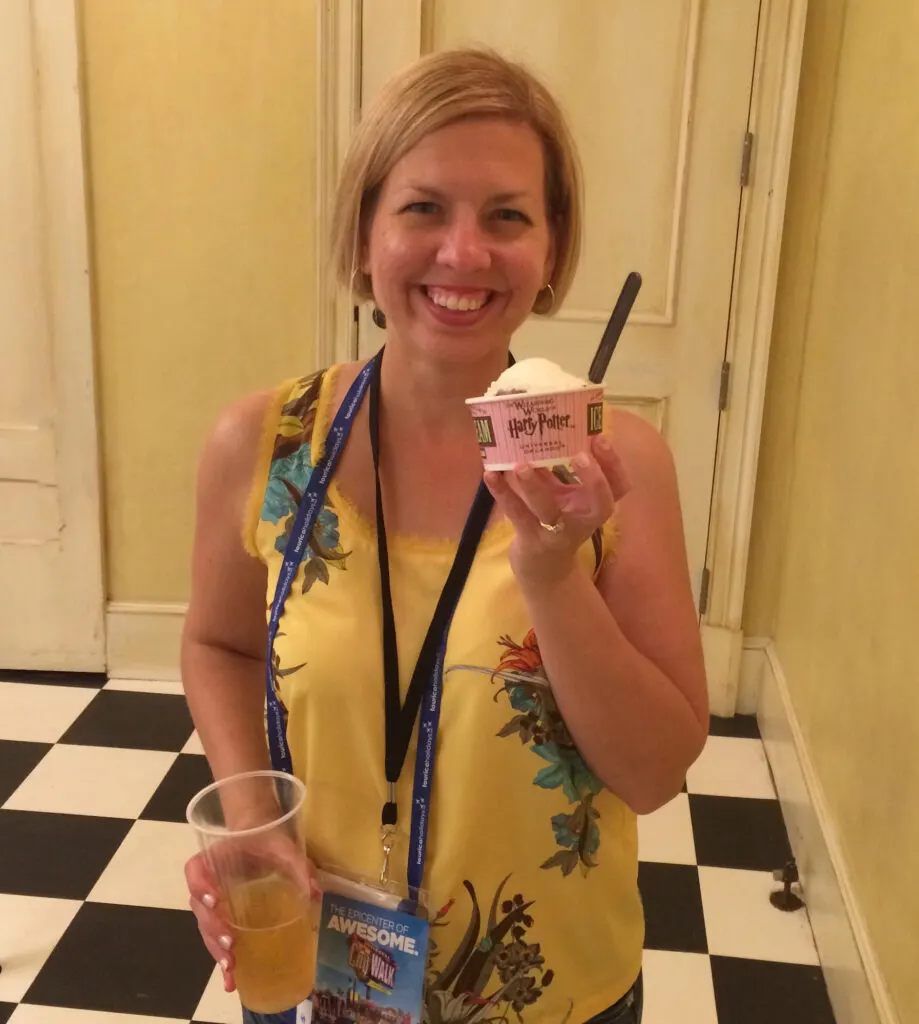 I also love the Earl Gray and Lavender, but I hear the Sticky Toffee Pudding ice cream is pretty good, too!
Ride Escape from Gringott's
The only ride in Diagon Alley is Escape from Gringott's.
Hogwarts Express is also located in Diagon Alley, but it is a method of transportation to Hogsmeade at Islands of Adventure, so not everyone will have the opportunity to experience it unless you buy a 2-park ticket.
Escape from Gringott's does have a minimum height requirement so you may need to utilize the Universal Child Swap option if traveling with young children.
Listen to Celestina Warbeck and the Banshees
This live-action musical is so much fun to watch and full of high-energy music. You will be tapping your toes and dancing along.
It's especially hilarious when they pull a guy from the audience to sing to on stage.
Speak Parseltongue
If you think that you could speak parseltongue, then visit the snake in the shop window of Magical Menagerie.
Visit the Vanishing Cabinet
In Borgin and Burke's, the Vanishing Cabinet can be found tucked away in a corner. Listen for sounds from inside. (We heard a bird!)
Send an Owl Post
Send friends, family or yourself a postcard from Diagon Alley. You will get a special cancellation stamp on the mail that you send.
You can send yourself souvenirs that you have purchased in Diagon Alley, but the most popular option is to send a postcard.
We suggest bringing a postcard and a stamp with you, because we have heard about some limitations with availability before. But if it's a spur-of-the-moment visit, don't worry. Owl Post is used to muggles visiting.
Look in the Store Windows
Even if you are not shopping in the gift shops, be sure to take some time while strolling by.
The theming and small details in the store windows are amazing. It is all of the little details that make this land so special!
After all, this is where Harry Potter and his friends stocked up on school supplies before the beginning of the school year. So there is a lot of great shopping in this land!
See the Monster Book
Ollivander's Wand Shop is where you will find this cranky book in a cage to protect muggles from its growling and biting.
Watch The Tales of Beedle the Bard
Another live show at Diagon Alley is The Tales of Beedle the Bard. This puppetry show might be more intriguing for kids compared to Celestina Warbeck and the Banshees. However, it is a bit slow moving.
Borgin and Burke's
Shopping at Wizarding World of Harry Potter gift shops is like no other shopping experience. There are so many hidden references to the movies and books, along with animated props.
Always ask a team member if there are any unique features in the shop that you should see. In addition to the vanishing cabinet mentioned above, you can also see trunks that are shaking.
Many of these experiences are on our list of 33 Things to Do in The Wizarding World of Harry Potter. Make sure you see them all!