The two biggest theme park destinations in Florida and California are Universal Studios and Disney. Are these epic vacation spots owned by the same companies?
Here are all the answers you need.
Is Universal Owned by Disney?
No, Universal Studios is not owned by the Walt Disney Company.
Universal Studios and Disney have been long time competitors, both in theme parks, movie production and even television networks.
Universal Studios is now owned by Comcast. See the entire (and somewhat bizarre) list of owners of Universal Studios theme parks.
Walt Disney World and Disneyland theme parks are owned by the Walt Disney Company and have had the same owner ever since their beginning.
Disney's Hollywood Studios vs. Universal Studios
Are Universal and Disney Located Next to Each Other?
While Universal Orlando Resort and Walt Disney World Resort are both in Orlando, Florida, they are not located side by side.
You cannot walk from Disney to Universal Studios theme parks.
You will need to drive or get a shuttle or ride share to get between Disney and Universal Studios.
Universal CityWalk vs. Disney Springs: Which is Better?
How Far Apart are Universal Studios Florida and Disney World?
The two theme park resorts are about 12 miles apart from each other.
Distance depends on what part of each theme park resort you leave from and go to. Because these theme parks are so huge, there can be a difference of a mile or two when talking about how far apart Disney and Universal Studios are from each other.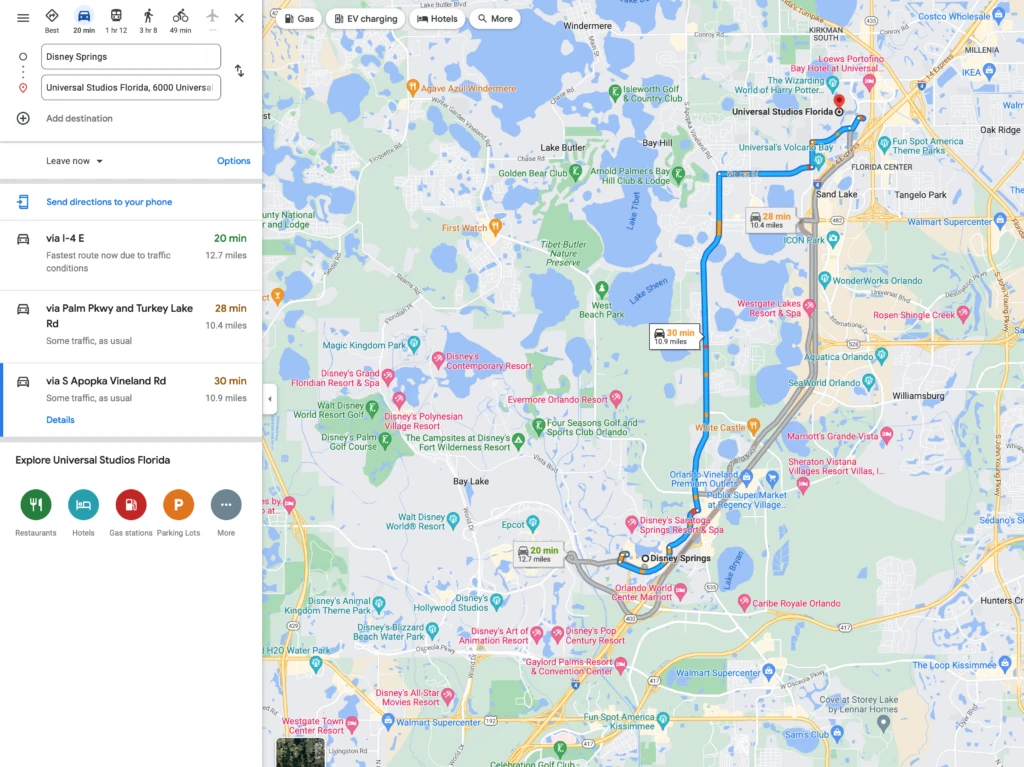 Is Harry Potter Part of Disney?
As Harry Potter is such a huge character and the Wizarding World of Harry Potter is so well done, many people believe that Harry Potter is part of Disney World.
Harry Potter is not part of Disney. It is part of Warner Brothers, who in partnership with Comcast has developed Harry Potter lands at Universal Studios theme parks.
Our favorite way to buy tickets is through Get Away Today. They are an authorized ticket seller and you can get savings on park tickets, hotels and more.

We have found savings on every type of ticket using Get Away Today compared to buying through Universal.