Walt Disney World and Universal Studios Orlando are competing theme park resorts. They DO NOT offer free transportation to their competitor! If you want to get between Disney and Universal, you will need to provide your own transportation, and there are a lot of options.
Our Ultimate Guide to Transportation from Disney World to Universal Studios shares all of the ways to get between the theme parks.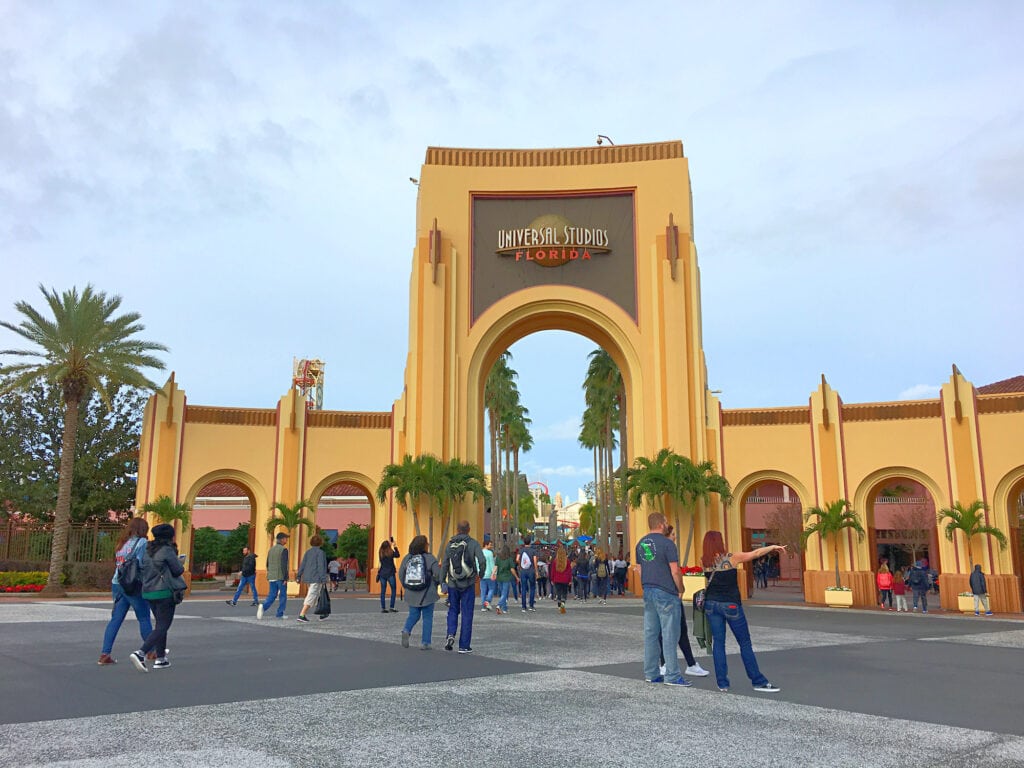 How to Get Between Universal and Disney World
You can definitely do both Walt Disney World and Universal Studios in one vacation. In fact, many people do a couple days at Universal and a few days at Walt Disney World.
The two theme park resorts are both located in Orlando, Florida and are relatively close to each other. About 9 miles apart at the closest place.
Universal Studios Orlando is located to the north of Walt Disney World.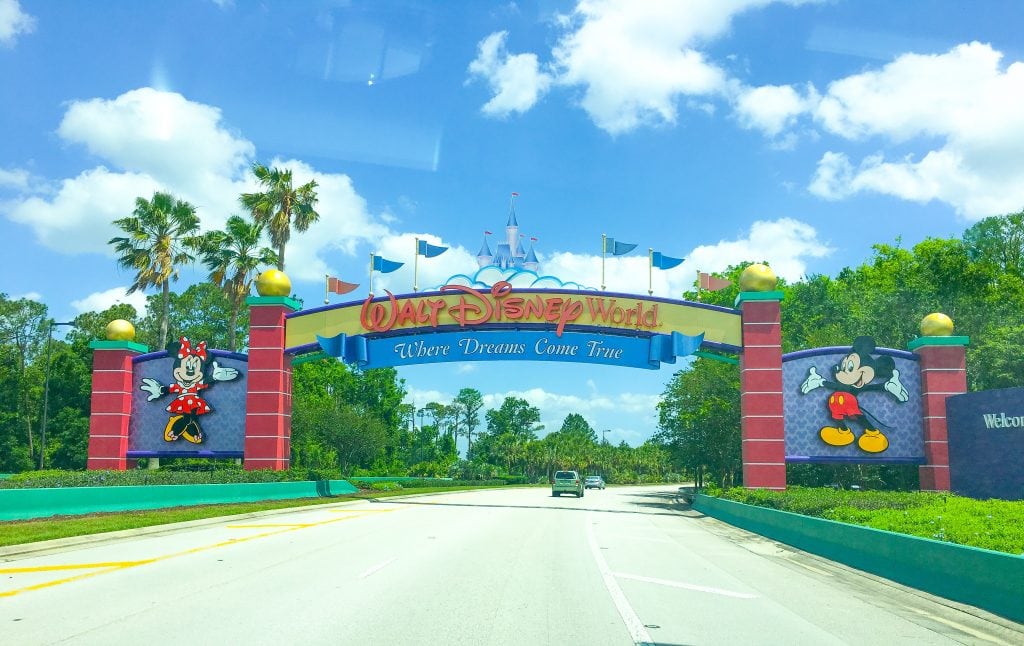 How Far is Disney World from Universal Studios?
While Universal Orlando is in one compact place, Walt Disney World spreads across 39 square miles of property. It is like a little city.
So asking how far it is from Disney World to Universal Studios depends on what part of Disney you are talking about.
In general, Disney and Universal are about 12 miles from each other. However, some parts of Disney are closer to Universal Studios, and some are further away.
Magic Kingdom, Animal Kingdom and the Disney resorts in those areas (Contemporary, Polynesian, Grand Floridian, Disney's Animal Kingdom Lodge, Pop Century and All-Stars) are the furthest away from Universal Studios.
Epcot and Disney's Hollywood Studios, as well as Disney Springs and the hotels in those areas, are the closest.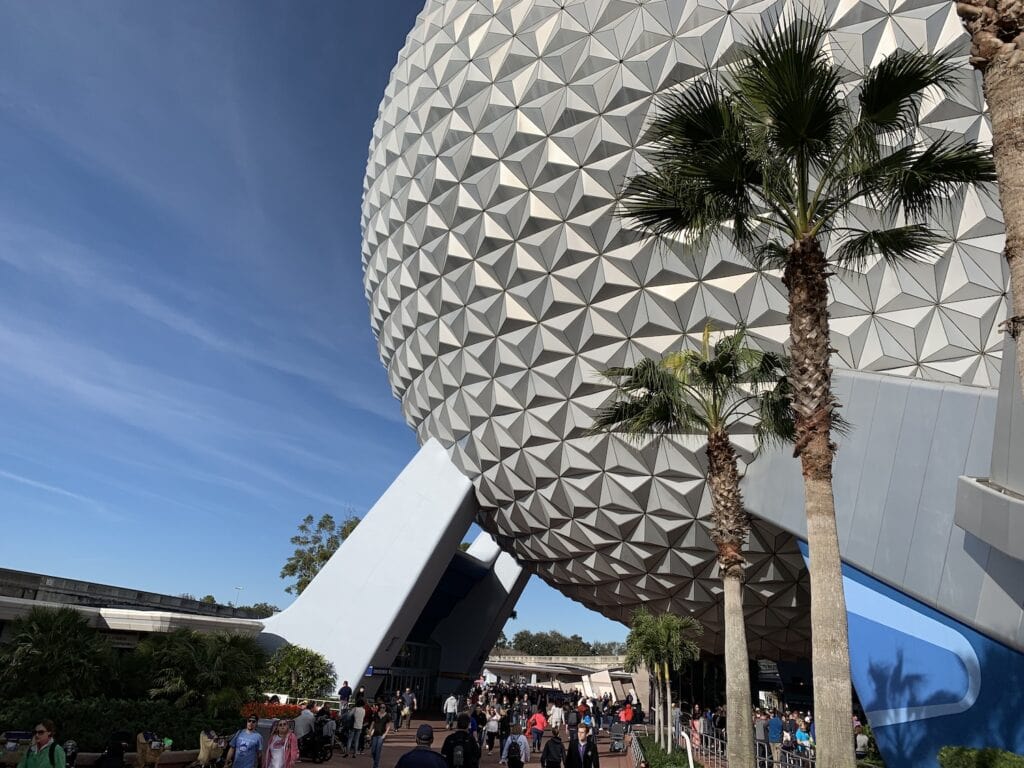 It can take quite a while just to get across WDW property, even before you start trying to get towards Universal Studios. Especially if it is after fireworks and the theme parks are emptying out.
Most GPS coordinates and Google Maps will have you take I-4 between Disney and Universal. This is fine if there are no traffic back-ups or it is not rush hour. Let's be honest, it's rare for there not to be heavy traffic on I-4.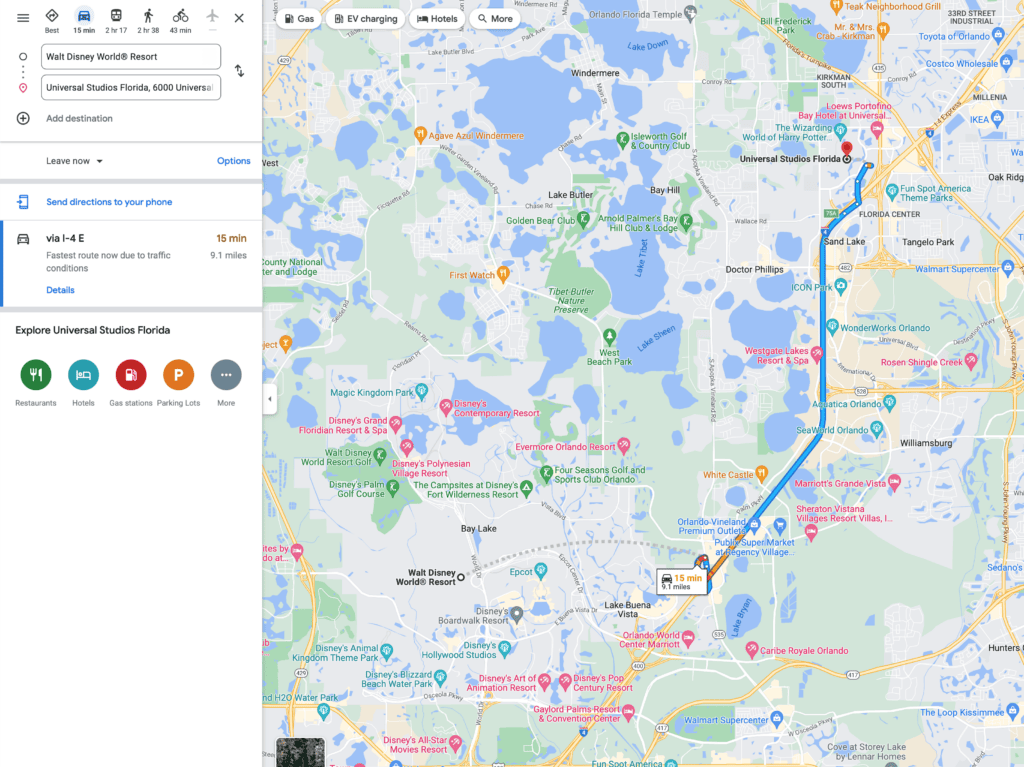 Personally, when we travel from Disney to Universal, we will take South Apopka Vineland Road from Disney Springs to Universal. This is personal preference and can take a few more minutes. If you want to avoid the highway, this is the route for you.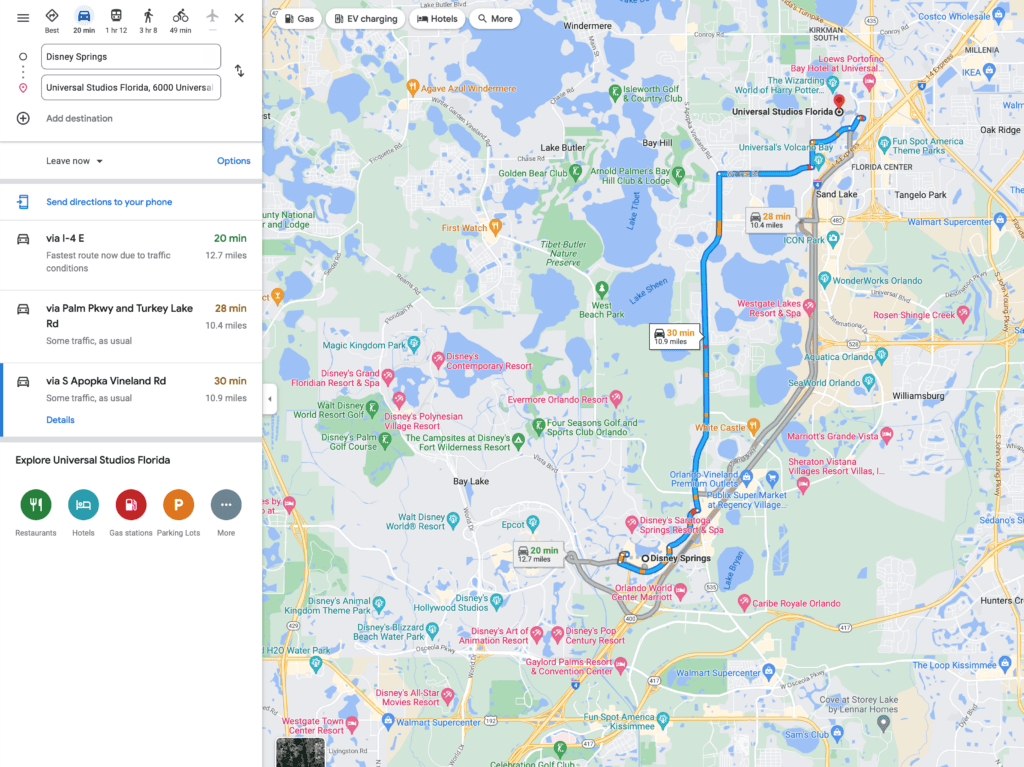 After living at the doorstep of Universal Studios for quite a while as Orlando residents, we would travel this way every time we visited Disney World. If you are needing to go to a supermarket, Walmart, drugstore or Whole Foods, please do this route for the convenience of finding those locations along the way.
Rideshare (Uber or Lyft)
Our number one choice for getting between Disney and Universal is a ride sharing app, such as Uber or Lyft.
It is convenient to book an Uber or Lyft with your app. Both ride sharing companies provide transpiration at both Walt Disney World and Universal Orlando.
A big plus is that you don't need cash or to show credit cards when using Uber or Lyft. Since all of your information is in the app, there is no need to handle payment with the driver.
We have found that Lyft is generally less expensive than Uber. However, it depends on time of day, availability, etc.
An Uber from Disney's Pop Century Resort to Universal's Islands of Adventure Theme Park costs between $23-35 in March 2023.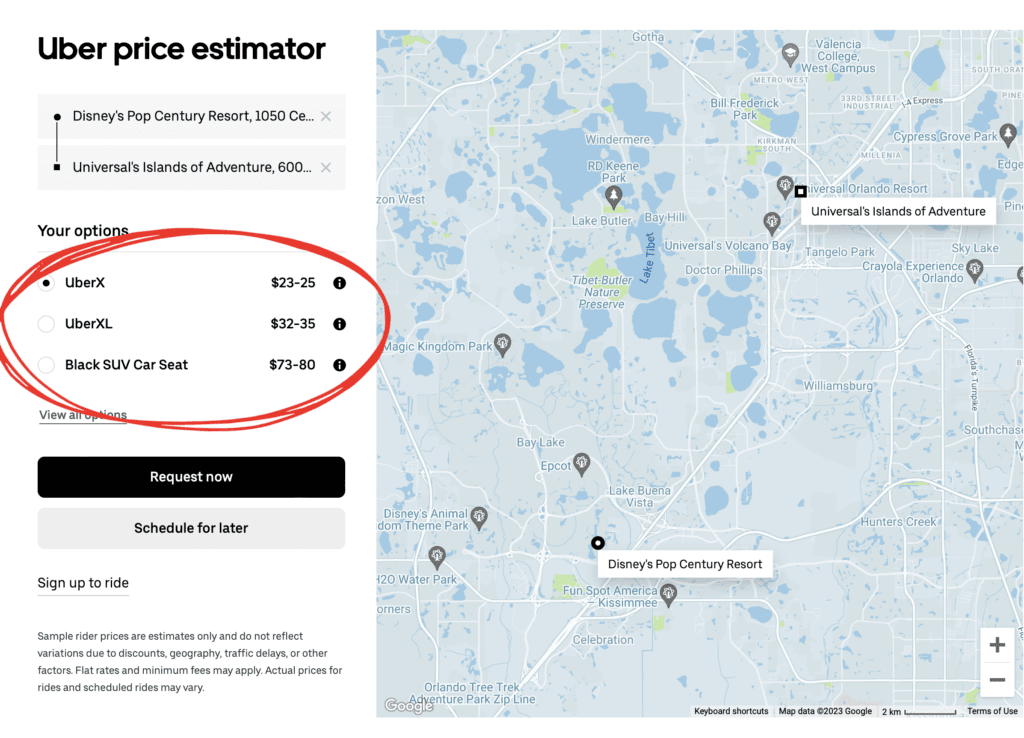 On the same day at the same time, we priced out a Lyft from Disney's Pop Century to Universal Orlando Islands of Adventure. The cost was much less than Uber, at $15-30 in March 2023.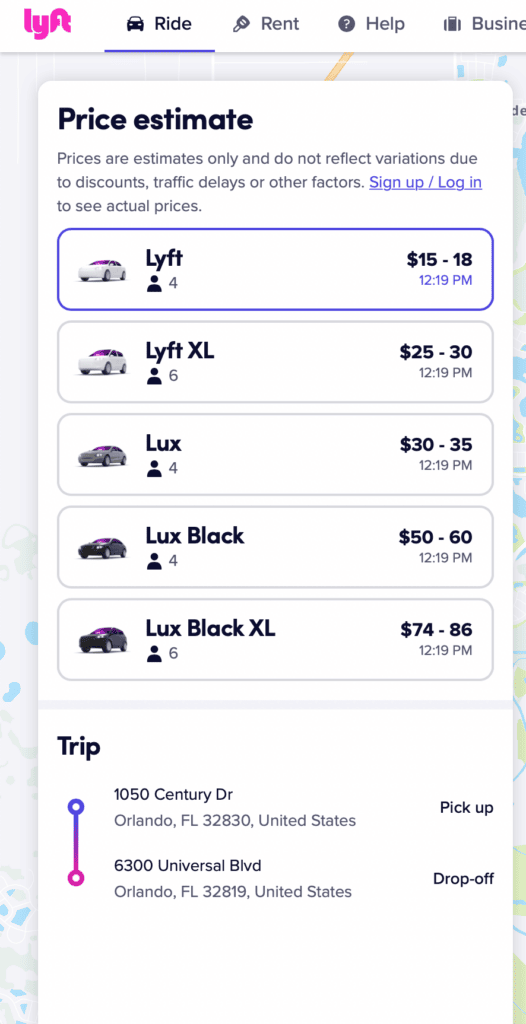 Taxis
Don't have a smartphone or don't want to use a ride share app? Then a taxi is your next choice for quickly getting between the two theme park resorts.
Taxis will cost more than Uber or Lyft, but they can be just as convenient. You might find that there are taxis available outside your hotel or theme park to quickly hail a cab. If not, you can probably have the front desk call one for a quick arrival.
The most well-known transportation company in Orlando is Mears Transportation. They have a variety of transportation options, including many ways to get from the airport to Universal Studios or Disney World.
A taxi from Disney's Pop Century Resort to Universal's Islands of Adventure Theme Park costs nearly $39.00 in March 2023.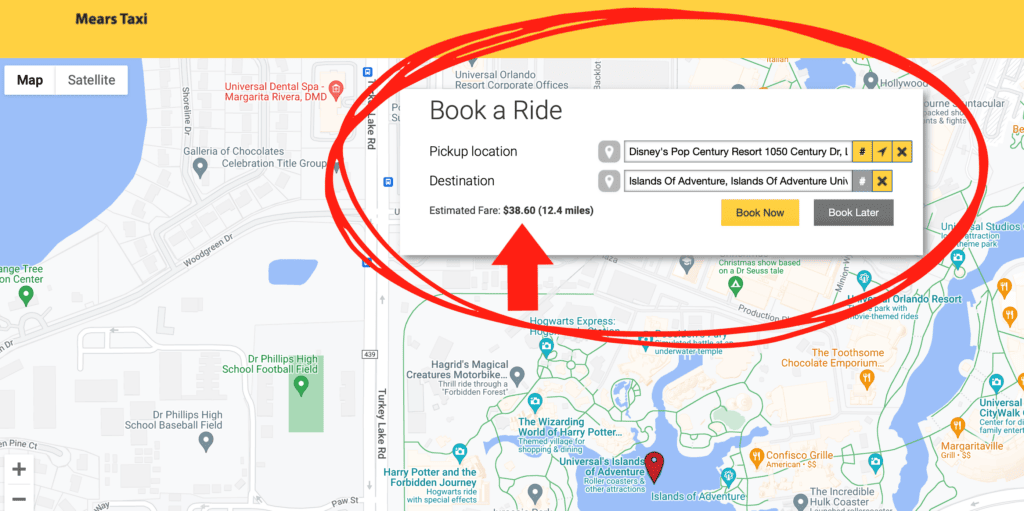 You can get an estimate of a cab ride fare on the Mears website. Just put in your location and destination for an approximate fare.
Mears offers traditional cars and taxi vans accommodating up to seven guests.
Shuttle
Is there a shuttle that goes between Walt Disney World and Universal Studios Orlando? Yes, there is. But it is not free and it is run by a third-party provider.
Again, Mears Transportation Group is the leading provider in Orlando. This is the company that used to provide Disney's Magical Express transportation until Disney cancelled the free perk.
You will need to book a shuttle from any of the Disney hotels to Universal Studios. At Universal Orlando Resort, you will be dropped off at the bus spot which is right next to Universal CityWalk, from which you can walk to either Universal Studios or Islands of Adventure, or you could go to Volcano Bay.
A recent calculation for the Mears shuttle was $27 per person (either an adult or child) for roundtrip transportation, or $13.50 one way per person.
A shuttle needs to be booked ahead of time, which really limits the spontaneity of leaving when is convenient for you. You will need to book at least 3 hours in advance.
Plus, a shuttle will make several stops along the way. You will be wasting time by having to go to all of the other shuttle stops along the route unless you are the very last stop.
Hotel Shuttles
There are some hotels that are not owned or operated by either Walt Disney World or Universal Studios that will offer shuttle service to both theme park resorts.
This can save you money from having to pay for private transportation to get between the two theme parks.
However, you will still need to stop at the hotel in between to get from Disney World to Universal Studios. Since most hotel shuttles only offer early morning departure times to the theme parks, this is usually not an option for finding transportation directly between Disney World and Universal. It only works if you are leaving for the theme parks directly from your hotel.
We are not a big fan of relying on hotel shuttles because of the lack of flexibility with departure times and the fact that they can take longer because of making many stops.
If you are on a tight budget, though, and have more time to spend than money, these might be a great option for you.
Driving from Universal Studios to Walt Disney World
If you have your own vehicle, you can drive from Disney World to Universal and vice versa.
You can rent a car in Orlando, too, if you want more convenience of getting around. However, we have found that it could cost more per day to rent a car and park, rather than using a ride share, taxi or shuttle.
If you are interested in renting a car to get between the theme parks, here are your options:
Rent a car at the airport
Rent a car at Disney World's Car Care Center from either National, Enterprise or Alamo. This rental location is located next to Magic Kingdom (you have probably seen it on the way out of Magic Kingdom). You will be picked up free of charge with a shuttle anywhere on Disney property and brought to the Car Care Center to pick up your vehicle. Then they will drop you off anywhere on property after your vehicle return. Call (407) 824-3470.
The Walt Disney World Swan and Dolphin hotels also have National and Alamo rental cars at their location.
Disney Springs partner hotels (not owned or operated by Disney) also could have car rentals available.
DoubleTree Hotel at Universal has an Avis rental car counter
You will need to pay for the cost of the rental, in addition to any tolls on the routes you take, gas, as well as parking fees at the theme parks or hotels.
Keep in mind that the cost of parking at Universal Studios is $27 per day, unless you are visiting during the times you can get free parking at Universal Studios.
If you rent a car with Avis or Budget and go to Universal Studios, you will receive a free upgrade for Prime Parking, based on availability.
Walt Disney World theme park parking costs start at $25 per day. Disney has stopped charging for self-parking at the Disney-owned hotels. Disney Springs parking is free.
Public Transportation
While there is the possibility of getting between Disney World and Universal Studios with public transportation via Lynx, it requires a lot of effort and a lot of time. So we are not even suggesting it as an option for getting between Universal and Disney.
The public transportation options in Orlando is absolutely horrible. The city has done nothing to make it easier for theme park guests or even locals to get around quickly and easily using eco-friendly mass transit. Therefore, Orlando visitors will almost always need to pay for private transportation through the companies running a business in the city.