There's a hidden secret just about 30 minutes from bustling downtown Orlando: Manatees at Blue Springs State Park.
Orlando and the surrounding area is typically more well known for cartoon animals at Walt Disney World or Universal Studios Orlando.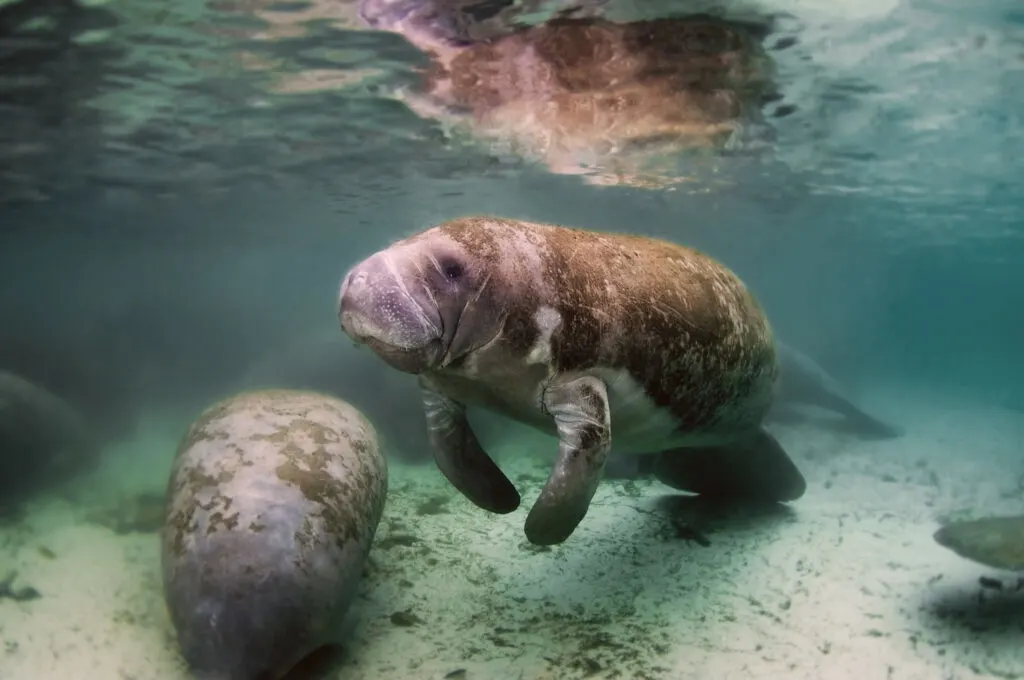 However, it's nice to be reminded that there are real life animals that are just as entertaining in some hidden spots of natural Florida that haven't been touched by a developer's hand.
One of these blessed natural retreats is Blue Springs State Park in Orange City, FL.
Blue Springs State Park is just about a 30 minute drive from downtown Orlando. It would take a little bit longer from the hotels near the theme parks, but it is totally worth it!
Are the Manatees Still at Blue Springs State Park?
Blue Springs State Park is ESPECIALLY great from November to March! That is when those gentle giants from the deep – manatees – decide to make Blue Springs State Park their winter home. There were a record 485 manatees at Blue Springs in 2018.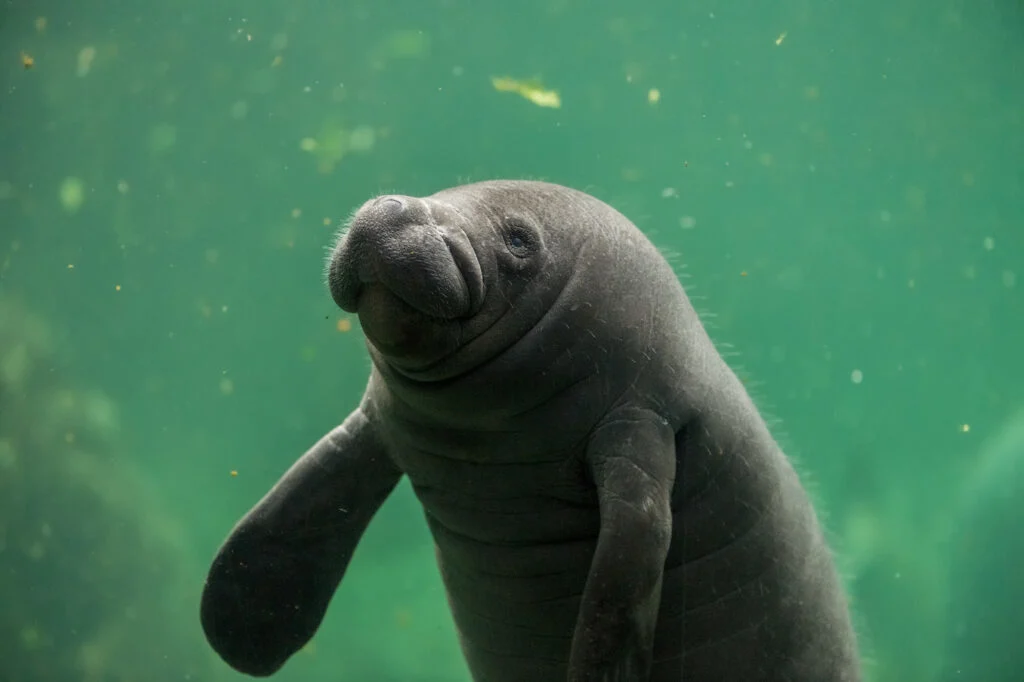 Yep, even the wildlife are snowbirds, too!
In fact, Blue Springs State Park is one of the largest winter gathering sites for manatees in Florida.
Every winter, hundreds of manatees swim towards Blue Springs State Park to protect themselves.
But why?
How Do Manatees get to Blue Springs?
The natural springs of Blue Springs State Park are a constant 72 degrees. When the weather gets cold in Florida (yes, it really does get cold!), the water temperatures of the St. Johns River drop.
When the water temperature up in north Florida drops, then the manatees journey towards their winter home in Blue Springs. They get to the state park simply by swimming in the river towards the source of the St. Johns River – Blue Springs headwaters.
Though manatees look like they are full of fat and well insulated, they are actually very susceptible to cold weather. They can't tolerate temperatures under 68 degrees. Otherwise they can be victim to cold stress syndrome, which is like frostbite or hypothermia in humans.
Because river temperatures can vary with the weather, but springs stay a constant temperature no matter what the weather is like. That's because water in the springs comes out directly from the Earth, and is always a constant 72 degrees temperature.
So the manatees come to the source of the river – Blue Springs. From these springs, 100 million gallons of water come out of the ground and dump into the St. Johns River.
Blue Springs State Park is a protected area full of warmer water, no boats and hidden lagoons. Here, manatees can be protected both from the cold weather and from humans in watercraft.
Best Ways to Visit Blue Springs Manatees
It is very easy to see manatees (also known as sea cows) in Florida at Blue Springs State Park.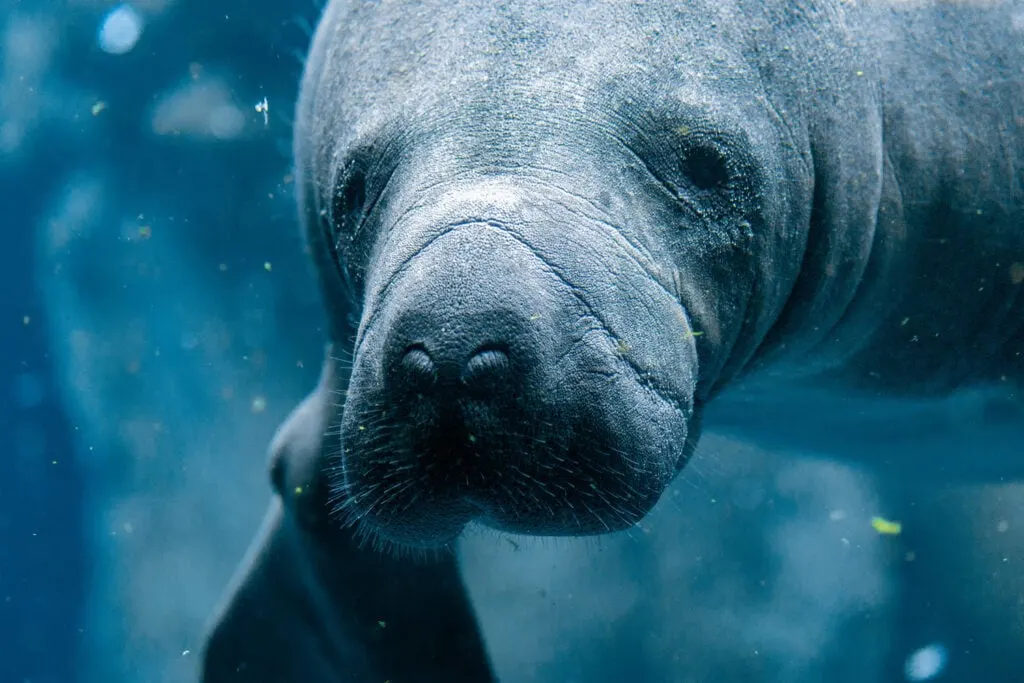 So many people love seeing all of the manatees that the state park often has to close to visitors. That's right! You need to get there early in the day when manatees are in Blue Springs in the winter.
And on the weekends, you MUST get there super early in the morning in order to get into the state park!
From November to March, all water activities, such as swimming, snorkeling, scuba and paddle sports, are stopped. This is to protect the manatees and give them a safe home.
So don't expect to go snorkeling or paddle boarding with the manatees at Blue Springs State Park. It is not allowed.
There's still plenty of activity to enjoy at Blue Springs State Park when the manatees are in season.
How Can You See Manatees at Blue Springs State Park?
You don't need to get into the water or on a boat to see the manatees in their natural habitat at Blue Springs State Park in Florida.
It's actually really easy to see the manatees.
All you need to do is take a stroll. There are elevated pathways in the state park following the 1/3 mile journey from the headwaters of the natural spring to where it empties into the St. Johns River.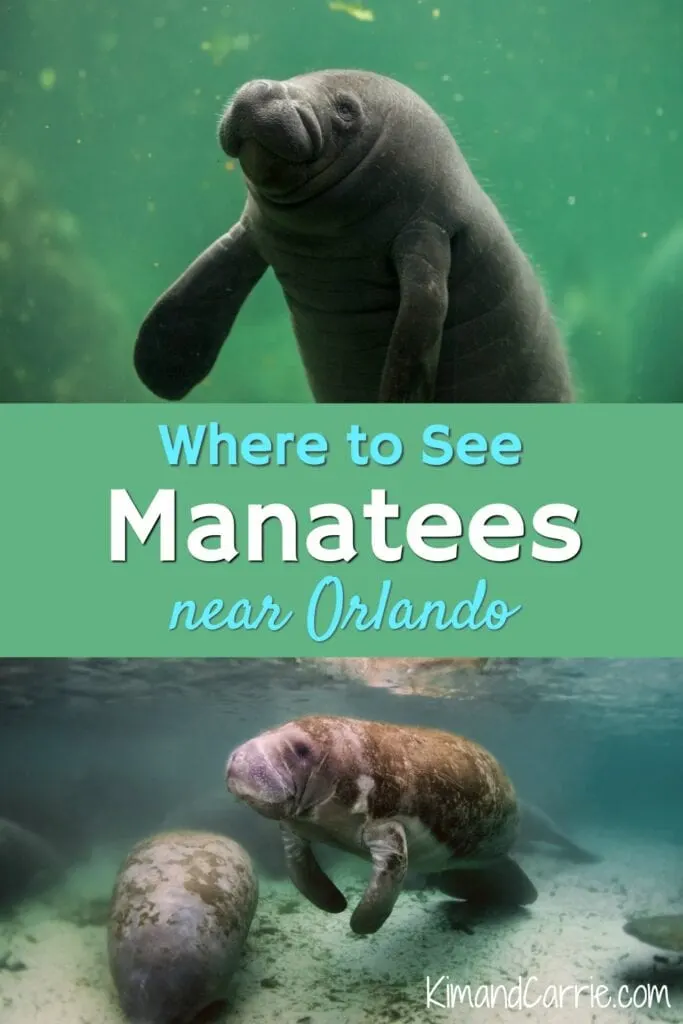 Along this waterway, you will see manatees just floating along and being lazy.
At first, you might not even realize they are manatees. They actually look like large rocks! But then you might see them slowly move and realize they are animals.
Or you could hear them snorting as their tiny noses come up out of the water to get some air. Sometimes they twist and turn and run into each other in the water. You'll never see the same show twice from the wildlife!
Interpretive talks are offered throughout the day, explaining more about the often misunderstood manatee who has NO natural predators – just man.
Can't get to Blue Springs State Park? Then you'll want to watch this underwater webcam which shows the manatees in the winter time. Here's a recap video of manatees in Blue Springs State Park in 2018-2019.
More Ways to Enjoy Florida's Outdoors
If you can't visit during manatee season, don't worry. Blue Springs State Park is beautiful throughout the year.
When water sports are allowed, you can rent a tube to lazily float in the springs. Snorkeling is also fantastic here. Or you can go scuba diving.
St. Johns River Cruises offers 2-hour narrated nature cruises. And there's guided Segway tours.
When out for a walk or hike in nature, always bring these 4 hiking essentials, even if you think you'll only be gone for an hour or two.
In Florida, alligators are a part of nature. Here's how to protect yourself from alligators.
Mosquitoes are a part of nature, too. So be sure to read these tips on how to avoid mosquitoes from the Everglades National Park staff, who know all the best ideas.