If you are going on a road trip with kids, one of the things you are most terrified about is keeping them entertained and not cranky or crying, right? Especially if you don't rely on electronics to keep them occupied.
Here are 52 great road trip activities for kids age 10 and under to keep them entertained for hours while driving. Most of these activities are technology-free without using electronic devices.
In fact, we're happy to say that only TWO of these ideas use a tablet or video playing device!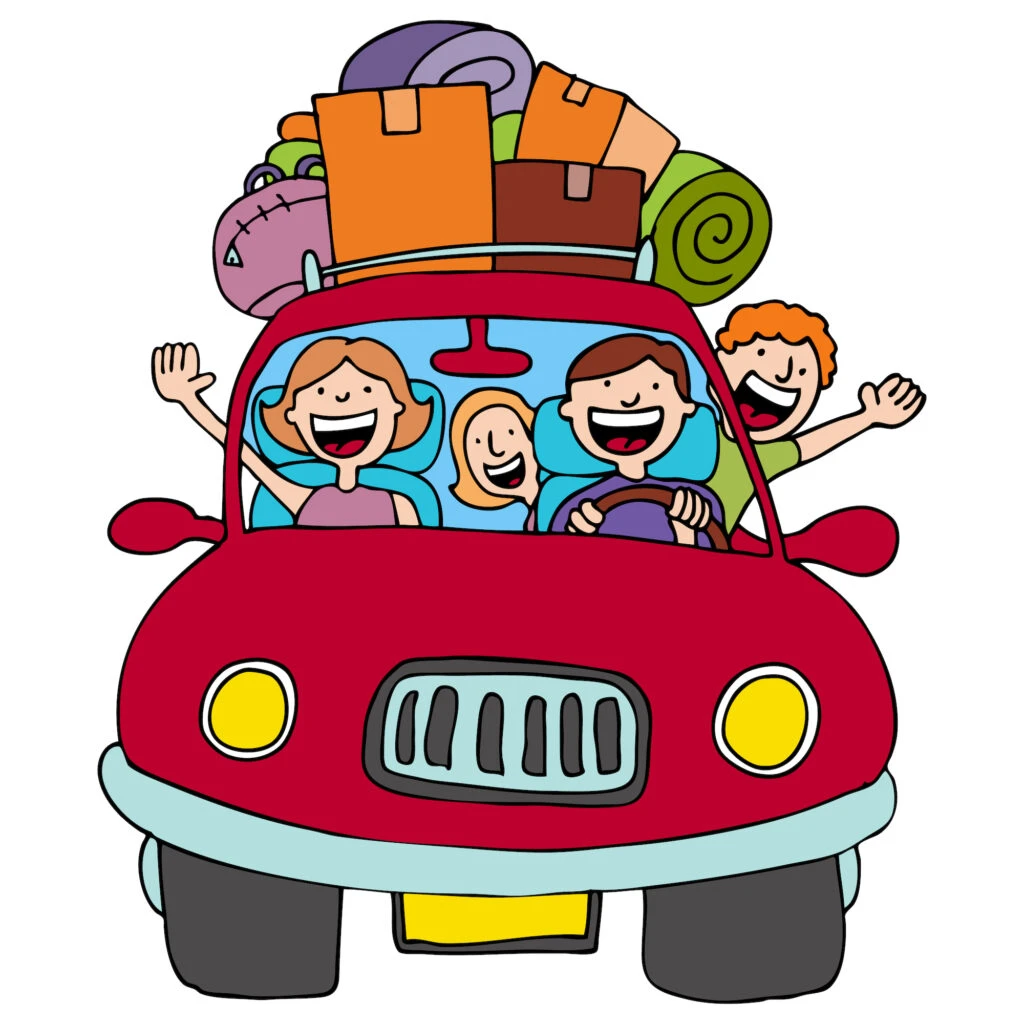 Be sure to see our 11 Ways to Keep Kids Entertained on a Plane and What to Pack in a Diaper Bag for Flying for more kid-friendly travel tips.
Best Road Trip Activities for Kids
1. Listen to an Audio Book
Put an interesting and engaging audiobook in the car for your children to listen to, such as 20 Mystery Short Stories for Kids.
Or try audio games, such as Family Road Trip Trivia: Grade School Edition.
2. I Spy
Have everybody play I Spy, where you try to guess what your children have spotted while passing through different areas on the road trip. Need some inspiration and help playing? Why not get an I Spy with My Little Eye Vehicle Adventure book?
3. Busy Bags
Make busy bags for the kids to play with that include different items, including buttons, pipe cleaners, and other simple items. They can get creative with these interesting items and stay busy!
4. Coloring Books
Get a bunch of coloring books at the dollar store for little kids. But for older kids, check out the next idea!
5. Color by Number
Traditional coloring books are great for little ones, but older children might think they are just for babies! 😉 Try giving your kids color by number books for more of a challenge and to create beautiful artwork.
6. Travel Bingo
Play games of travel bingo in the car. Print the cards out online or buy an inexpensive retro travel themed bingo card set.
7. Kinetic Sand
If you want to provide stress-free, mess-free sensory play, kinetic sand is an excellent choice. You can use a baking sheet to keep the mess contained, but rest assured this type of sand isn't as messy as playground sand!
8. Make Candy Necklaces
Give your kids candy, such as Lifesavers, that can be strung on string to make fun candy necklaces. They only get to eat the candy as a snack if they are behaved until your next stop!
9. Tic-Tac-Toe
Who doesn't enjoy a good game of tic-tac-toe? Let the kids play together in the backseat to see who will win the most times! All it takes is a piece of scratch paper and a pen or pencil to have fun! Or you can bring a fancy tic-tac-toe game that works great at home and in your hotel, too.
10. Crossword Puzzles
Crossword puzzle books are great for older children. You can find these for cheap in the Dollar Tree.
If you can't find anything child-friendly in the dollar store, consider this collection of 101 Crossword Puzzles for Kids Age 6 and up.
11. Drawing
A piece of paper and crayons, markers, pen or pencil is really all it takes to keep kids entertained with this old-fashioned idea. White typing paper or a construction paper pad are great to bring. Even the back of a map or hotel stationery will work!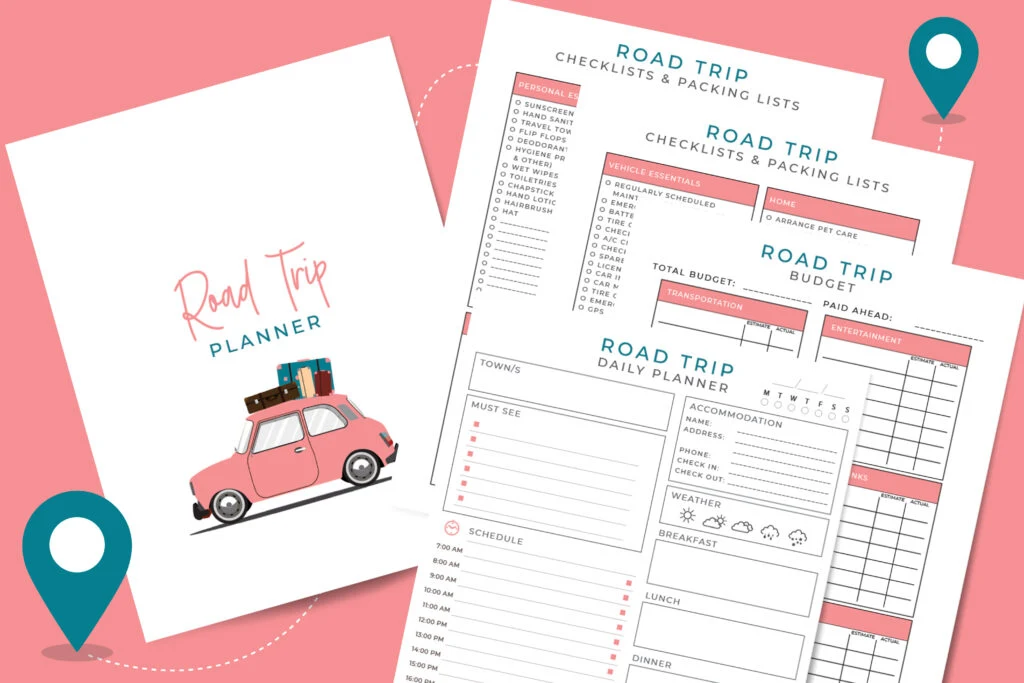 Get Our Free Road Trip Planner!
Organize your travels with this instant download. Checklists, packing lists, budget tracker and a daily planner are all included.
12. Doodle Board
Don't want to waste paper, or your choosy kids will turn their noses up at really simple ideas? Then get a fun doodle board for endless drawing.
13. Play-Doh
If you have a cookie sheet or plastic trays for your kids to play on, Play-Doh is a fun, sensory entertainment idea. Just be sure it doesn't get stuck to the seats!
14. Stickers
Who doesn't love stickers? Give them a pile of stickers (you can find lots of them at the Dollar Tree or Walmart) and paper and let them make art.
*I personally love this awesome collection of 1,650 puffy stickers that don't cost a lot of money and save me the stress from trying to get tons of packs at a store!
15. Silly Putty
Silly putty, just like Play Doh, is fun if you have lap-tables to use and don't get it on the seats!
16. Make Beaded Bracelets
When you have older children between the ages of eight and ten in the car, making beaded bracelets is a lot of fun. Be sure to supply the beads and string so that they can create their jewelry.
17. Phone or Tablet Apps
If you don't mind the electronics, you can let the kids play on the phone or tablet. There are lots of age-appropriate and educational games available to keep children occupied.
18. Twenty Questions
The classic Twenty Questions game is always a winner with kids!
19. Checkers
A magnetic, travel size checker board makes it easy to play a game of checkers in the back seat.
20. Card Games
If you have a deck of cards, you can play a lot of different games such as Speed, Go Fish, and more. Just be sure to find the directions and rules before you leave to travel.
21. Simon Says
You can't go wrong with an old-fashioned game of Simon Says. It will have everyone in the car laughing!
22. Magnetic Face Dress Up
Supply your younger kids with a magnetic face dress up game. The book is magnetic and allows children to create different faces using colorful, fun magnets.
23. Magnetic Mazes
These are great for young kids. The stylus is attached to the magnetic maze board so that they won't lose it. It will have them thinking critically and keep them entertained.
24. Blow Bubbles
Grab mini bottles of bubbles and let the kids see who can blow the biggest ones out the windows (this is best for long country roads in the midwest or west, not busy highways or busy streets).
25. Sensory Board
Make or buy sensory boards for each child. These boards are perfect for younger children and can improve their fine motor skills.
26. Printable Worksheets
Find fun printable worksheets for the kids to do. You can find plenty of free options that are entertaining and full of unique activities.
27. Sticker by Number
Just like the color by number books, you can find sticker by number books, too.
28. Fashion Designer
Kids can let their creativity soar when they design their own clothing and fashion trends using this fun sticker stylist. Ask your girls to design an outfit for a place that you are going. Who knows, they might be able to recreate what they come up with based on clothes in their luggage.
29. Seek and Find Books
Have you ever heard of Where's Waldo? It might be the original seek and find book, but there are plenty of others available for all ages, too, such as these Disney Look and Find Books for Toddlers. These picture searches will keep them entertained for quite a while!
30. Read Books
Let each child pick out a book or two that they get to read during the road trip. When you need some quiet time, have them read the book. Or, if you want them to practice their reading skills, have them read the book aloud.
31. Magnetic Letter Board
Kids can learn how to draw upper and lowercase letters with this magnetic letter board. Perfect for homeschooling or road schooling while traveling.
32. Play School
Let the kids take turns being the teacher while playing school! It's a silly and fun activity that children under 10 will like because they get to be in control for a little bit!
33. Eating Snacks
If you bring fun snacks, it's just as entertaining to eat them as to play with any of these other toys! Why not bring a bunch of finger-sized snacks in a tackle box or craft supply box with lots of little organizers to make choosing the foods more fun?!
Need great road trip snack ideas? Here's our Big List of 269 Non-Perishable Foods for Road Trips.
34. Sing-Along Songs
Put on some sing-along songs for a lot of laughing! These 100 Singalong Songs for Kids streams for free when you have Amazon Prime.
35. Watch Movies
Perhaps the most-used entertainment for modern-day roadtrips, a portable DVD player can keep kids entertained for hours and hours. Just be sure to bring headphones so that you don't have to listen to the movie, too.
If you are heading to theme parks, this list of 35 Movies to Watch Before Visiting Universal Studios is perfect for getting kids excited about their visit!
36. Rubik's Cube
It is amazing how one little cube of colors can keep older kids entertained for hours! The original Rubik's cube is a great tech-free toy. However, there are modern day variations such as this flashing cube that is also a memory game.
37. Action Figures
Pull out the action figures for the road trip (and include a new one to keep them interested) and let them make up stories with the figures.
38. Barbie Dolls
Barbie dolls are fun to play with, too. Why not bring a few new outfits for Barbie or Ken to keep things fresh and different than playing at home.
39. License Plate Search Game
Enjoy the license plate game. Ask your kid if they can find a license plate with a specific state on it! The game keeps them looking out the window for quite a while trying to find the next new state. Keep track of all of the states that are found with this fun Travel License Plate Game board.
40. Make a Mask
Give the kids paper plates, markers and crayons and let them create a mask. Bonus points if you bring string, tape and scissors to make a mask that they can wear when they get out of the car!
41. Hangman
The classic game of hangman can be played on paper, a dry-erase board or this inexpensive magnetic game board.
42. Searching for Signs
Play a sign search game where the kids will look for specific signs, such as stop signs, one-way signs, and more.
43. Create Silly Songs
Ask the children to help you create silly songs about what you are seeing or where you are going to. It's even better when you choose a word that you must have in the song or absolutely can't have in the song!
44. Craft with Felt
Bring kid-friendly safety scissors and inexpensive pieces of felt for your kids to cut shapes. They can glue together with a glue stick to make artwork, too.
45. Connect Four
Connect Four is a great game to play because you don't have game pieces on a flat board. Instead, all of the game pieces are in the vertical Connect Four game piece, which can be easy to pass to the person sitting beside them.
This mini checker drop game is the same as Connect Four, but takes up less space!
46. Guess Who?
The popular game of Guess Who? can keep older children entertained for a while. Without a lot of little game pieces, it's great for the car or van.
47. Paint Rocks
Using paint pens designed for rock painting, let the kids decorate rocks that they find on their travels or that you bring. They can even hide them at your road trip stops for other people to find!
48. Silly Stickers
Give the kids a bunch of alphabet stickers and have them come up with silly words and phrases on a piece of paper.
49. Printable Road Trip Games
Find and print some easy road trip games that will keep the kids entertained.
This Old-School Pen and Paper Games activity pack has fun ideas for the family.
Our U.S. National Landmarks Memory Game and Bees and Honey Game are also some great free printables to bring.
50. Binoculars
Let them use kid-friendly binoculars to see what they can find, such as trains in the distance or planes in the air.
51. Nail Painting
If you don't mind the smell and you have children between the ages of nine and ten in your car, you can let them paint their nails to stay busy. Be sure to add some fun stickers and embellishments for their on-the-road manicure. This 280-piece nail kit is perfect because it has nail polish pens for no spilling, as well as lots of stickers and nail art fun!
52. Gel Pen Coloring
Drawing with gel pens just seems a little fancier and different than drawing with markers! Let the kids draw on blank pieces or paper or in a journal book.