Packing for yourself can be a challenge when traveling and flying. The stress of figuring out everything you need to bring for your baby can be extra hard. Don't worry, though! Here are some helpful tips for packing a diaper bag for a plane so that you can enjoy your vacation.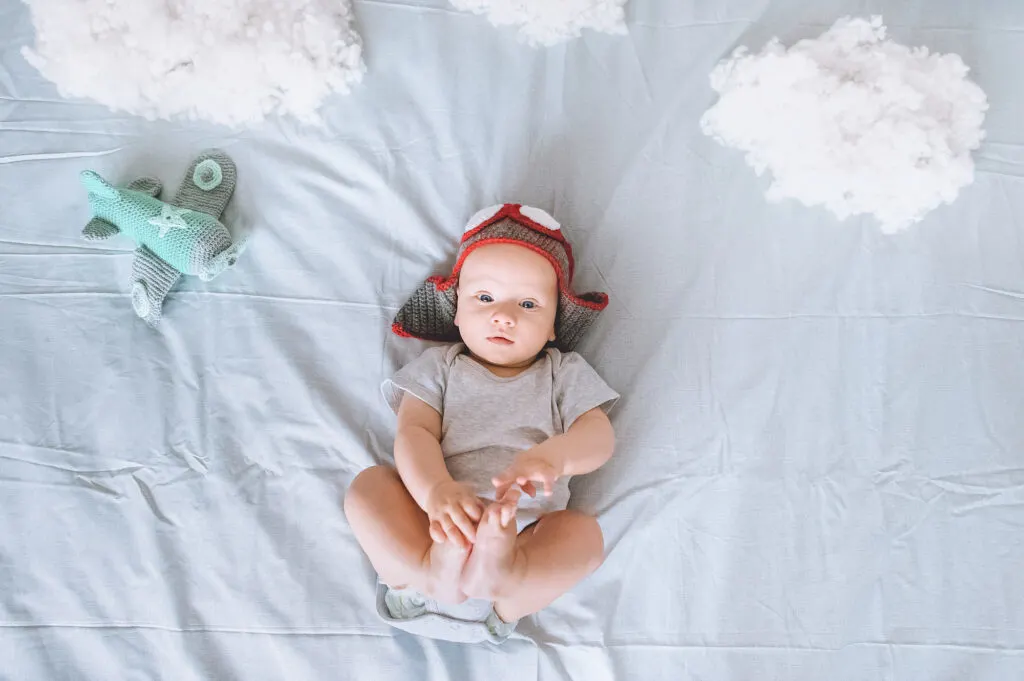 What To Pack in a Diaper Bag for the Plane
Both a Wet and Dry Bag
If your child has a poopy diaper or throws up on their clothes, you are going to need somewhere to put those soiled items without getting everything dirty (or stinking up the airplane). A wet bag is essential to store dirty clothes, and even soiled diapers that might not fit in the trash cans onboard.
A dry bag can hold the essentials you need when going to the lavatories, or to tuck into the seat pocket while you are sitting in your seat.
Plenty of Diapers and Wipes
A diaper bag's most important item is the diapers and wipes! Make sure you bring the amount that you need, and then add in one or two more just in case. It's best to be prepared for delays and potential upset tummies due to the stress and lack of routine when traveling. Plus, you could always share extras with a mom in need.
Extra Food
You never know when a flight is going to be delayed. It could be 20 minutes or four hours. And often, when a flight is delayed you are on the tarmac and unable to stand up and rummage through your suitcase.
Everyone knows that a hungry child is a screaming child. Keep baby calm, and other passengers, too, by having extra food on hand just in case you are flying during feeding time. This includes items such as:
Baby formula
Breast milk
Puffs
Squeeze pouches
Cheerios
Goldfish snacks
Consider using this diaper bag backpack to keep foods chilled if needed, as well as everything organized. Plus, it's easier to carry through the airport and while using transportation.
Toys / Entertainment
You definitely don't want your baby to get bored when flying, because that is when they get cranky! Bring a variety of toys to keep them entertained and switch things up when they get bored.
It is important to not bring toys that are loud, have flashing lights or will be a nuisance to other passengers. For instance, don't bring the plastic keychain that clanks when your child shakes it in the air or a rattle with a squeaker inside. Instead, choose plush toys that are soft, silent and won't hurt a fellow passenger if they are accidentally thrown in the air.
Change of Clothes
Bring at least one change of clothes for your child on a short flight. For longer flights, you might want to bring two or three changes of clothes for different temperatures. Long flights can get cold overnight, or could be warm while waiting to take off. Have a layer to make your child comfortable no matter what the temperature.
Don't forget to have an extra shirt, pair of pants or jacket for you, too. If your baby spits up or has a leaky diaper, you will need a change of clothes as much as they do! If you are bringing a carry-on bag in addition to your diaper bag, your change of clothes is probably best in the separate luggage.
Changing Mat / Towel
Airplane bathrooms are gross for anyone trying to use the small spaces. When you are trying to change your baby, though, it can be really challenging to find a clean, flat space to lay them down. Be sure to bring a changing mat or even a towel to protect your child from the public surfaces on the plane and in the airport. Diaper bags such as this Tactical Baby Gear Diaper Bag have a changing mat included.
Ear Protection
If you are worried about your little one being scared or agitated from the loud noises of crowds and announcements on the plane and in the airport, consider bringing baby ear protection. These specially designed ear muffs for newborns and up to 36 months will help reduce and cancel out noises.
Pack Only What You Need
There is a balance between packing everything that you might need and trying to pack light. It seems like you can't do it both, and you might be right. But with every item that you put in your diaper bag, ask if it is really necessary for a few hours.
You will need to carry your diaper bag and baby through the airport, get through security, and get everything settled in your seats. Too much weight, too many items and a bulging diaper bag can make things more stressful than necessary.
If you are bringing a wheeled carry-on, consider putting some of the items you likely won't really need in your luggage. That way, you have them if they become necessary. But you don't have to carry them in a bag on your shoulder while also carrying your child.
Does a diaper bag count as a carry-on?
When you are traveling with a baby, a diaper bag does not count as a carry-on. In fact, a stroller and car seat do not count as extras when you are traveling with an infant, either.
You always want to check with the airline you are traveling with before packing just to be sure what the current regulations are. However, diaper bags have almost always not counted towards your carry-on baggage limit!
Want more tips for easy plane travel with kids? Check out these articles: