There is something special about picking your own flowers. Wandering through flower fields and being surrounded by thousands of gorgeous blooms is a unique experience. And the pictures that you can take are just amazing!
If you are ready for a new kind of outdoor adventure, visit one of these U-Pick Flower Farms in the Asheville area (including Hendersonville, Brevard, Etowah, Barnardsville and Fairview).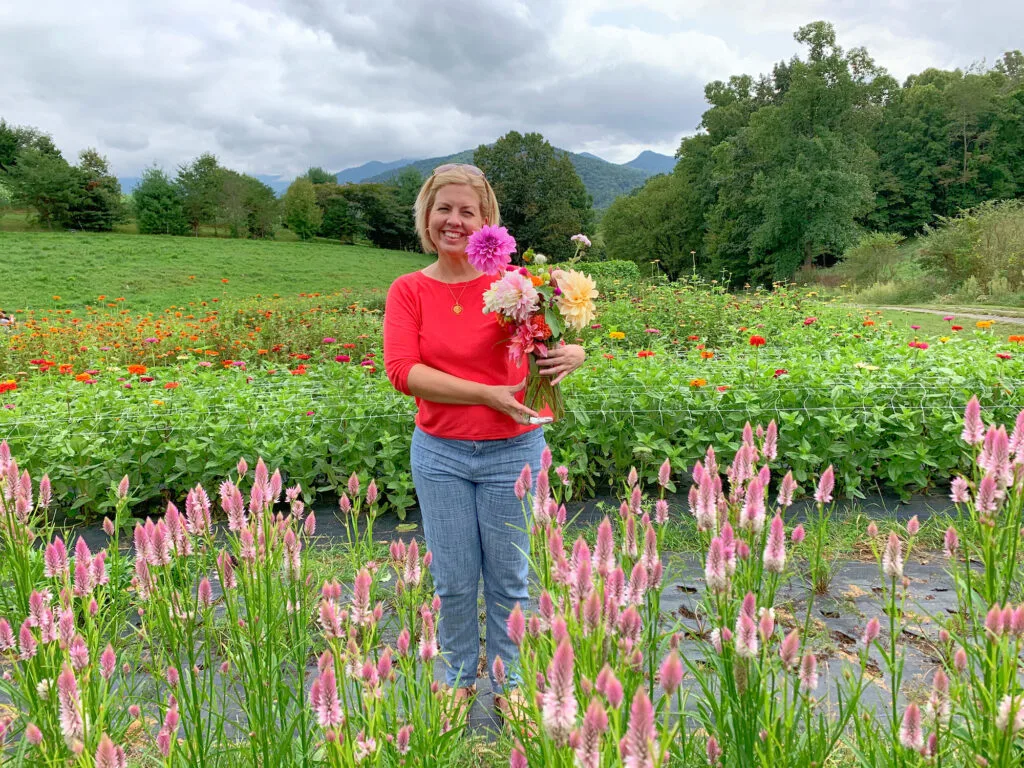 Never Ending Flower Farm
Location: 152 Tom Harris Trail, Barnardsville NC 28709
We absolutely love The Never Ending Flower Farm just outside of Asheville in Barnardsville. Just as the name implies, this family-owned farm has flowers for every growing season between the last frost of Spring and the first frost of Fall.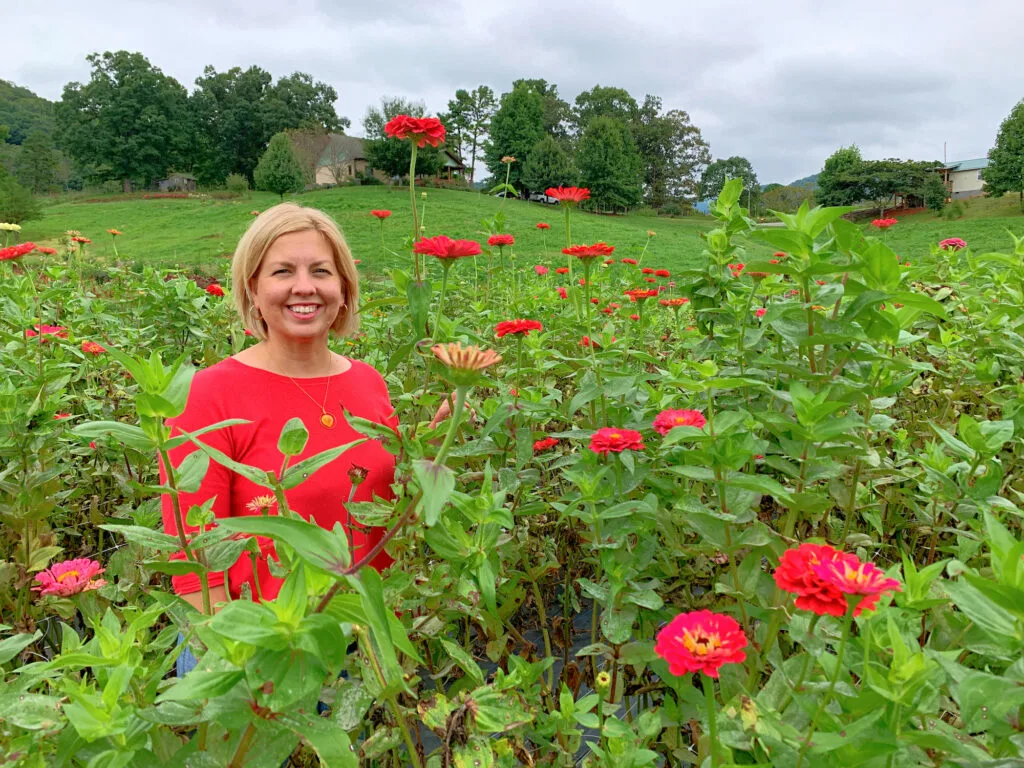 We have visited during tulip picking time at Easter and enjoying the last weeks of dahlias and autumn flowers in September. With mountain views and plenty of rows full of a variety of flowers, this U-Pick farm is just stunning!
A covered shed pavilion can be rented to host a small party, dinner, elopement or wedding with views overlooking the flowers.
The Never Ending Flower Farm is very active on Instagram and Facebook, constantly updating the status of flower fields, what's blooming and how the weather is impacting visitors. Be sure to check them out online before heading to the farm.
Flying Cloud Farm
Location: 1860 Charlotte Highway, Fairview, NC 28730; (828) 768-3348
This flower farm and farmstead is just outside Asheville on the way to Lake Lure and Black Mountain. Not only does the road-side farm stand sell pre-cut flowers, you can also purchase produce, too.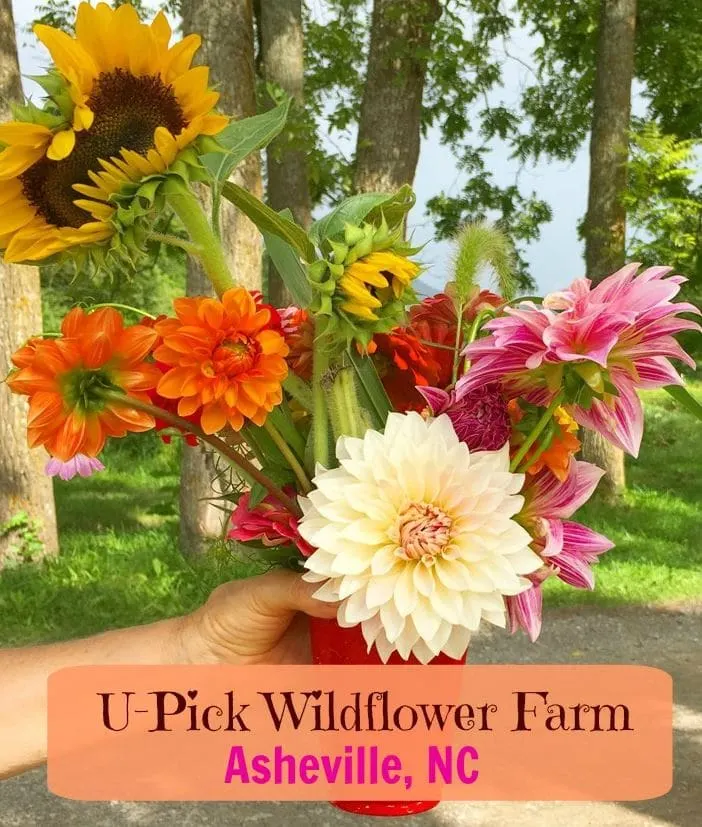 A variety of flowers are available from mid-June to October. Pay for a cup or bucket and then wander through the fields with pruners for cutting.
We have loved visiting these flower fields many times. See our Flying Cloud Farm review to learn how special it is.
Sideways Farm and Brewery
Location: 62 Eade Road, Etowah, NC 28729; (828) 595-4001
Sipping on beer and picking wildflowers? Yes, please!
Sideways Farm and Brewery in Etowah is proud about bringing beer production back to its agricultural roots, when carbonation was made from wildflower honey and co-existing with nature.
Their U-Pick flower farm is just as natural, using only sustainable growing methods for flowers such as dahlias and sunflowers.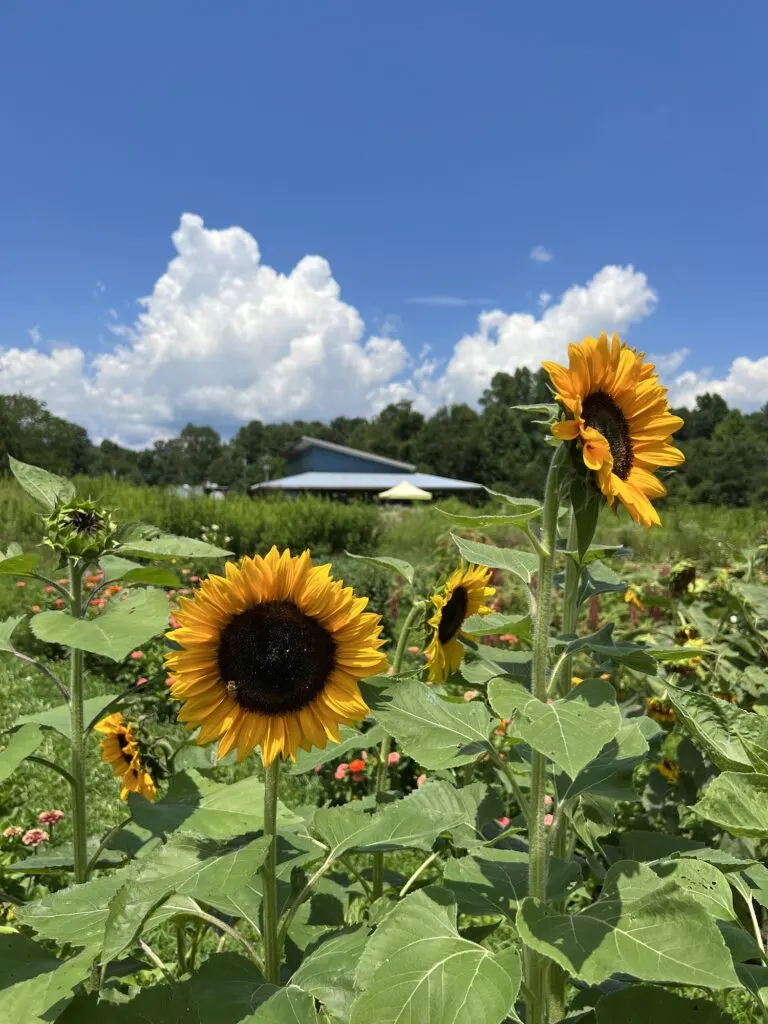 Bridal Flower U-Pick Experiences are available with a private visit to the farm to pick wedding flowers, along with enjoying Sideways Brewery beer.
You might even see the farm animals wandering around depending on where they are grazing.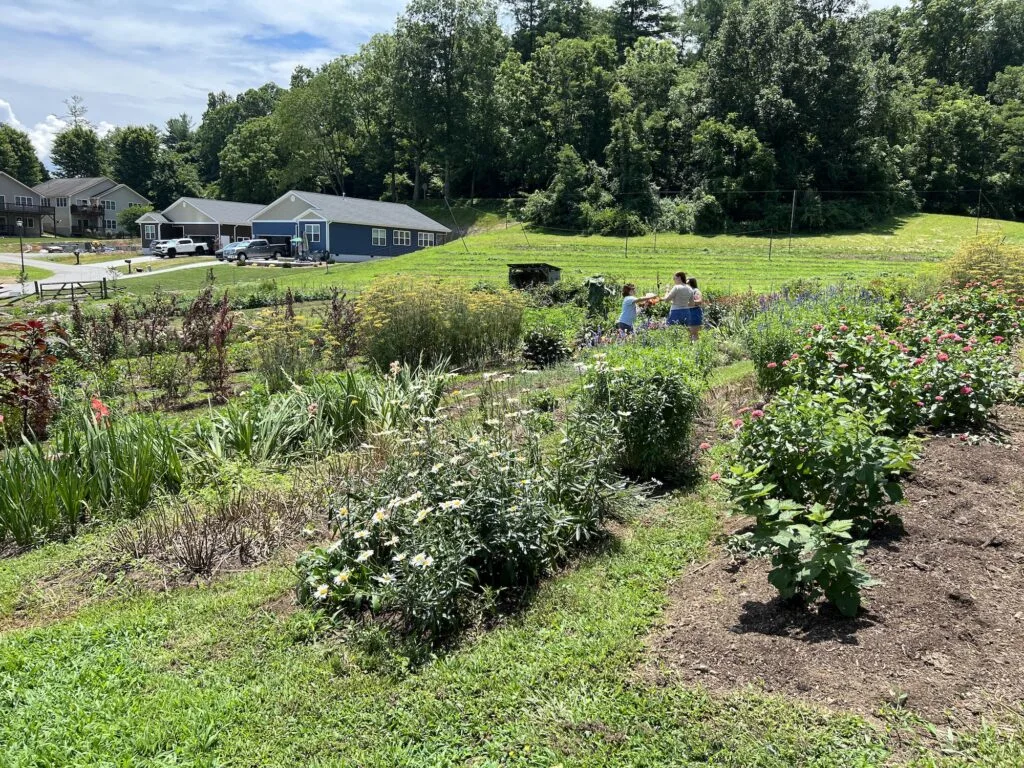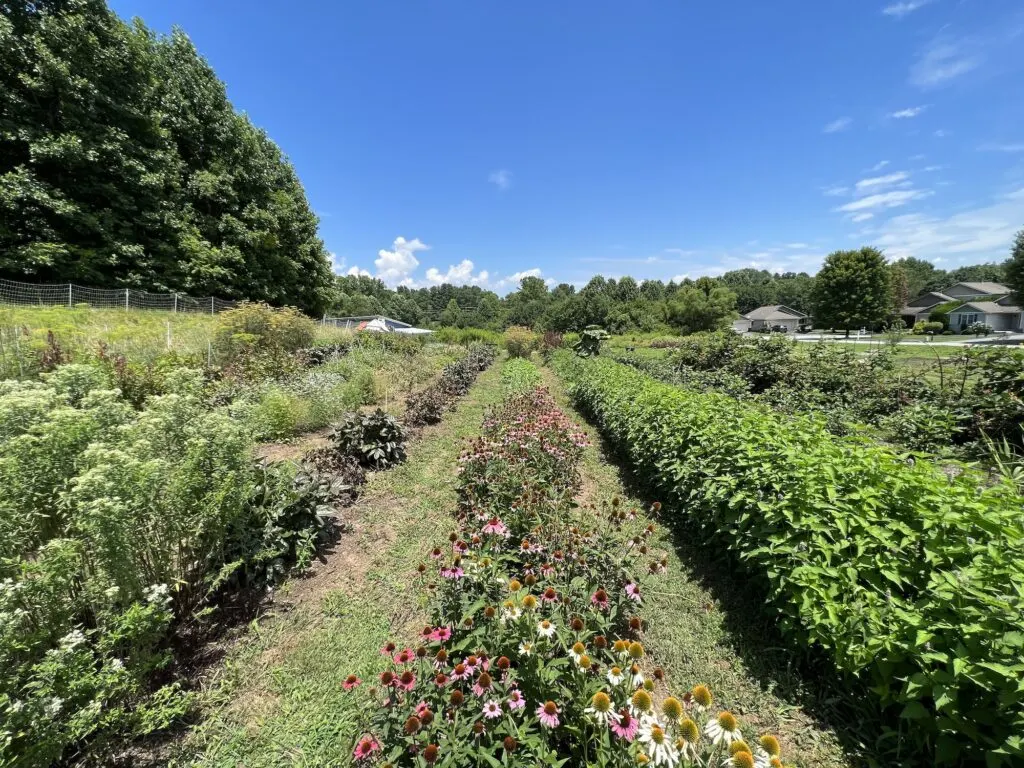 Open only Friday afternoons, and Saturday-Sunday.
Jeter Mountain Farm
Location: 1126 Jeter Mountain Road, Hendersonville, NC 28739; (828) 513-0404
Jeter Mountain Farm is more well-known for their apple picking and hard cider. They are one of three hard cideries in Hendersonville.
See our complete guide to all of the u-pick apple orchards in Hendersonville, including Jeter Mountain Farm!
However, in mid-July sunflowers are available for U-Pick, along with a variety of fruits. Ten varieties of sunflowers are available, with some reaching heights up to 9 feet tall!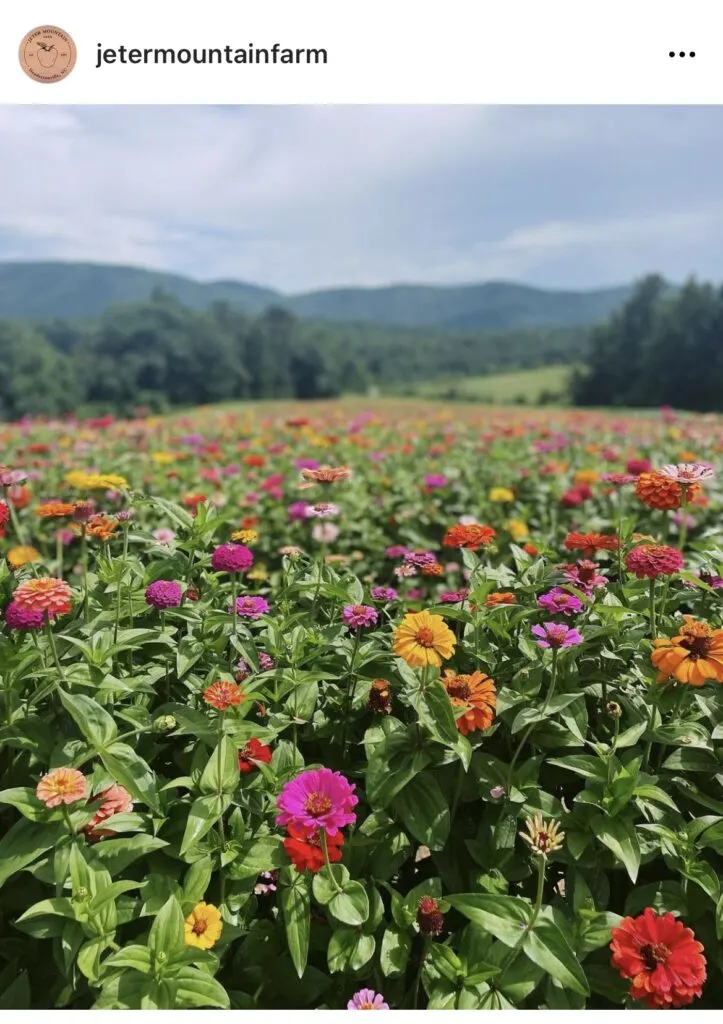 We have also found U-Pick Dahlias at the farm in early October.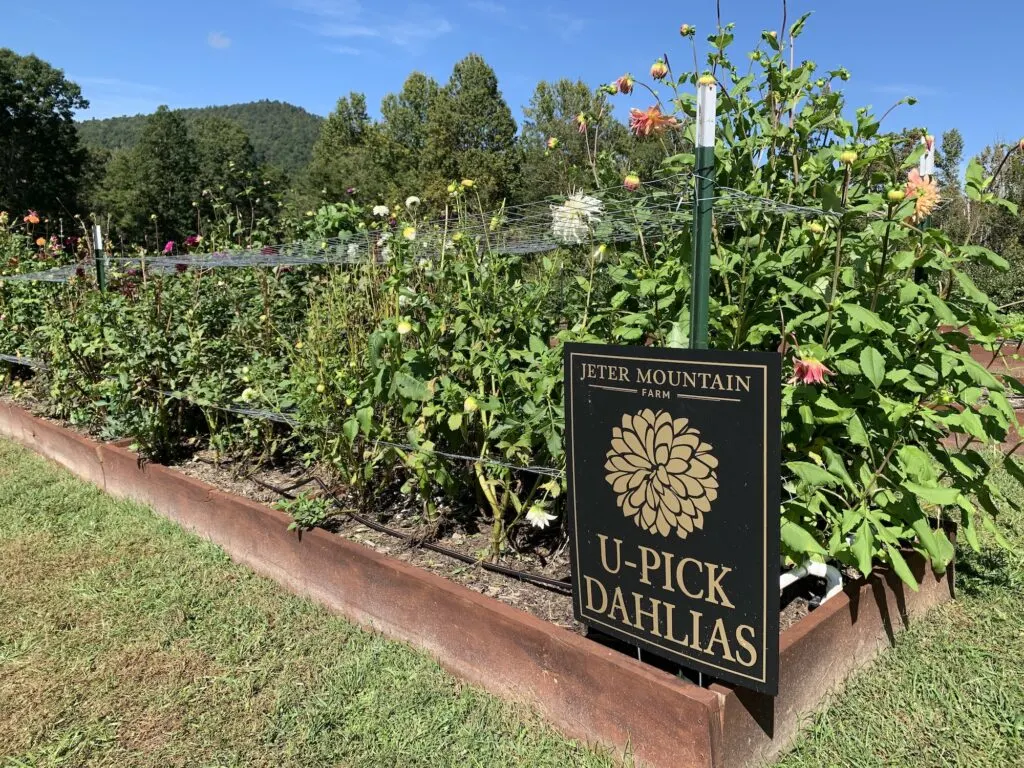 Jeter Mountain Farm has very limited hours to the public, and usually only on weekends. Be sure to check their website or call ahead to confirm they are open.
Johnson Family Farm
Location: 1202 Kanuga Road, Hendersonville, NC 28739; (828) 202-1745
This small, family-owned farm in Hendersonville has a large field in the back of the farm stand for U-Pick flowers.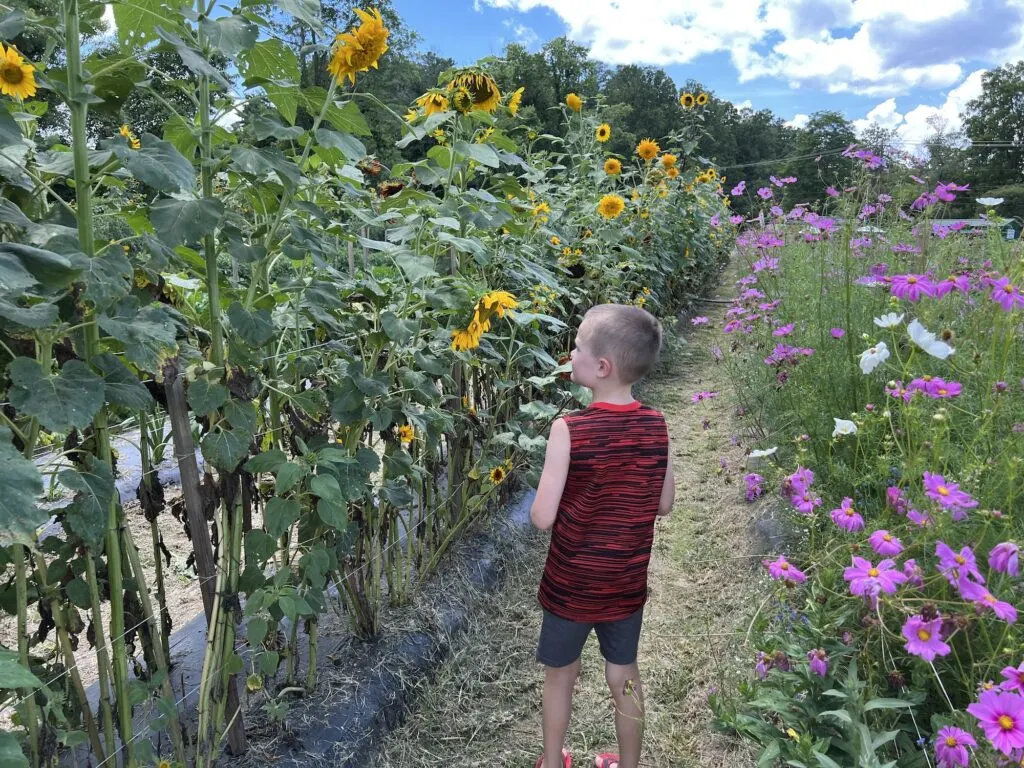 When we visited in 2022, sunflowers were 2 for $1, gladiolas were $1 each and a bucket of wildflowers was $7.
This is a great location for having rows and rows of flowers to cut, while also having a farm stand with lots of fresh produce, prepared foods and ice cream.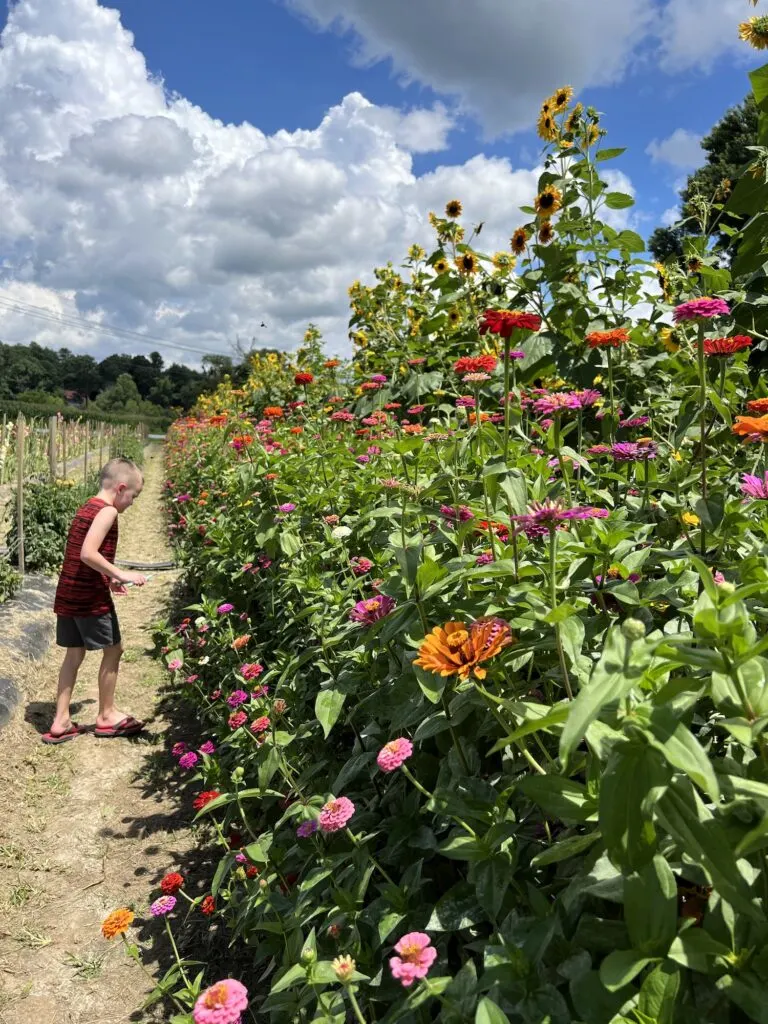 Johnson Family Farm is open Tuesday through Saturday.
McCall Farm
Location: 2400 Crab Creek Road, Penrose, NC; (828) 884-4054
Flowers and ice cream is a perfect day, right? That's what you can get with a visit to McCall Farm in Penrose, located just outside of Brevard, NC.
Pick up some produce from their farm stand, enjoy ice cream and pick flowers such as gladiolus.
Open June-October.
The Ten Acre Garden
Location: 158 Chambers Farm Lane, Canton, NC; (828) 235-9667
A century farm in Haywood county, the next generation is continuing the tradition that their ancestors started generations ago.
In addition to picking vegetables and fruits at The Ten Acre Garden, you can also pick flowers in a wild garden setting. Zinnias, sunflowers and Black-eyed Susans are among the wild blooms.