Wilmington, NC is a major city on the beautiful Carolina coast. If you are looking for a combination of big city amenities with historic charm and plenty of beaches nearby, then Wilmington is a perfect destination for you.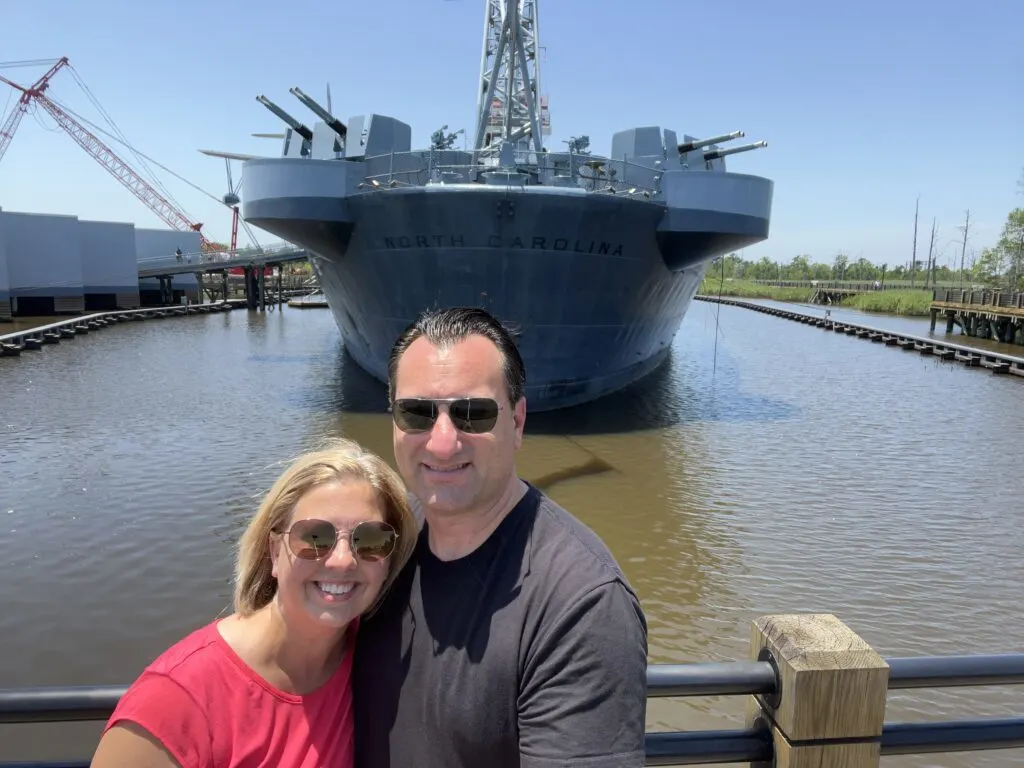 We visited Wilmington for a weekend in June 2022. Here's a detailed look at our itinerary for two nights in the city.
Where is Wilmington Located?
Do I Need a Car in Wilmington?
Best Things to Do in Wilmington, NC
Cargo District Wilmington, NC
Places to Eat in the Cargo District
Bars in Wilmington's Cargo District
Places to Eat and Drink in Wilmington
Best Souvenirs from Wilmington
Location
Wilmington is located on the southeastern North Carolina coast. With its position between the Cape Fear River and the Atlantic Ocean, the city has a variety of beaches close by, including Carolina Beach, Wrightsville Beach, and Kure Beach.
If you are flying into Wilmington, you will arrive at the Wilmington International Airport (ILM), which is 3 miles from downtown. ILM is North Carolina's 5th largest airport.
If you are driving, Wilmington is surprisingly close to many major southeast cities:
Myrtle Beach to Wilmington: 1 hour, 40 minutes
Asheville to Wilmington: 5 hours, 25 minutes
Raleigh to Wilmington: 2 hours
Greensboro to Wilmington: 3 hours
Charlotte to Wilmington: 3 hours, 30 minutes
Winston-Salem to Wilmington: 3 hours, 30 minutes
Atlanta to Wilmington: 6 hours
Charleston, SC to Wilmington: 3 hours, 30 minutes
The city is located about halfway between New York City and central Florida.
Do You Need a Car in Wilmington?
If you are flying in for a short weekend, you might be wondering if you need a car to see everything in Wilmington.
You certainly don't need a car in Wilmington to see a lot of the sights. However, many of the most popular attractions and destinations, including the beaches, are so far apart from each other that you will definitely need an Uber, taxi or Lyft.
If you are staying in downtown Wilmington, you will be able to easily walk to the shops, restaurants, bars and Wilmington breweries found along the river. From the Water Street area, you can hop onboard a riverboat for a cruise down the Cape Fear River. Water taxis from downtown will take you across the river to Battleship North Carolina, one of the most popular attractions in the city. And the Ghost Tour leaves from downtown.
So you can have plenty of things to do for a weekend without needing a rental car if you stay downtown at a hotel such as the Hotel Ballast.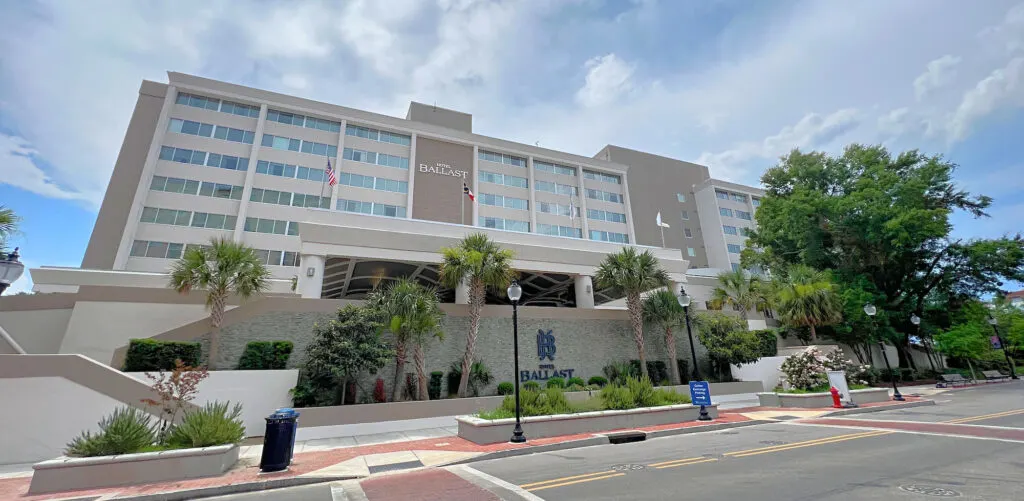 Other locations on this itinerary, such as Airlie Gardens, Cargo District and Benny's Big Time Pizzeria would definitely require a car to get to.
Best Things to Do in Wilmington, NC
This is a map of all of the best things to do in Wilmington, NC, including restaurants, attractions and where to stay.
For your convenience, you can easily email this map to yourself, or share on Facebook or Twitter. Just click the arrow with the three dots that is located to the right of the map title for the options to appear in a dropdown box.
Downtown Walking Tour
Downtown Wilmington is located on the Cape Fear River. It is a scenic destination with blocks of shops, restaurants, bars, and historic homes to visit and explore.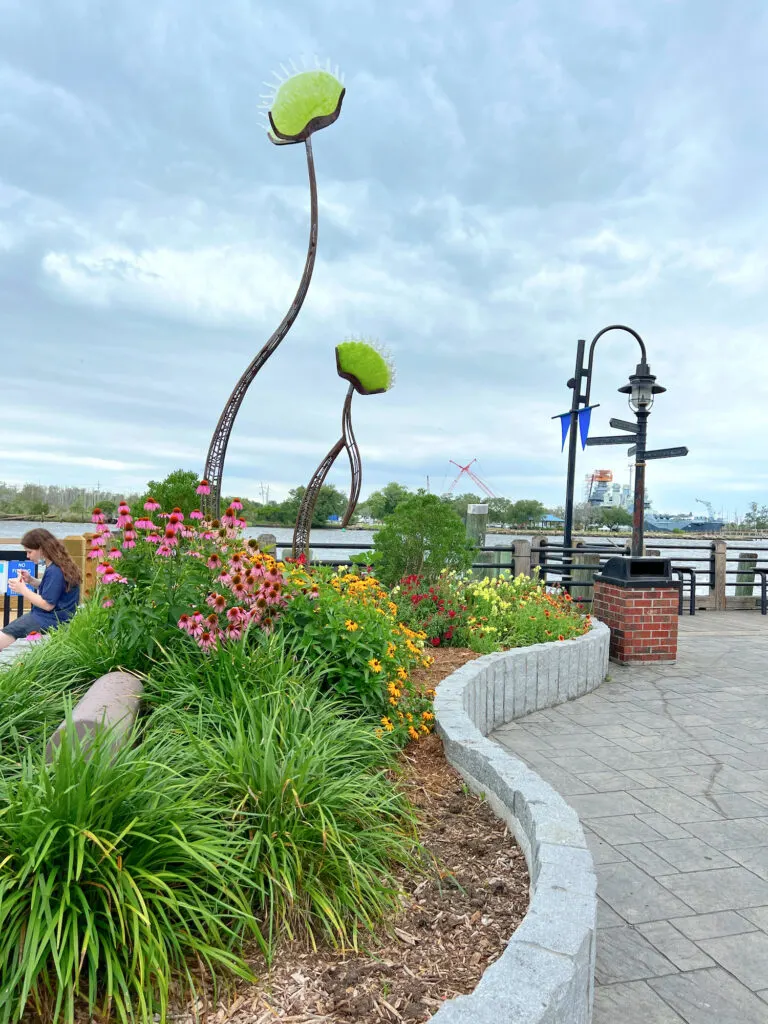 Walking along the Cape Fear River is beautiful. The walkway meanders along the waterfront, with seating and tables to enjoy. You will be able to see the impressive Battleship North Carolina across the river. There are plenty of restaurants, water taxi stations and riverboat tours found here.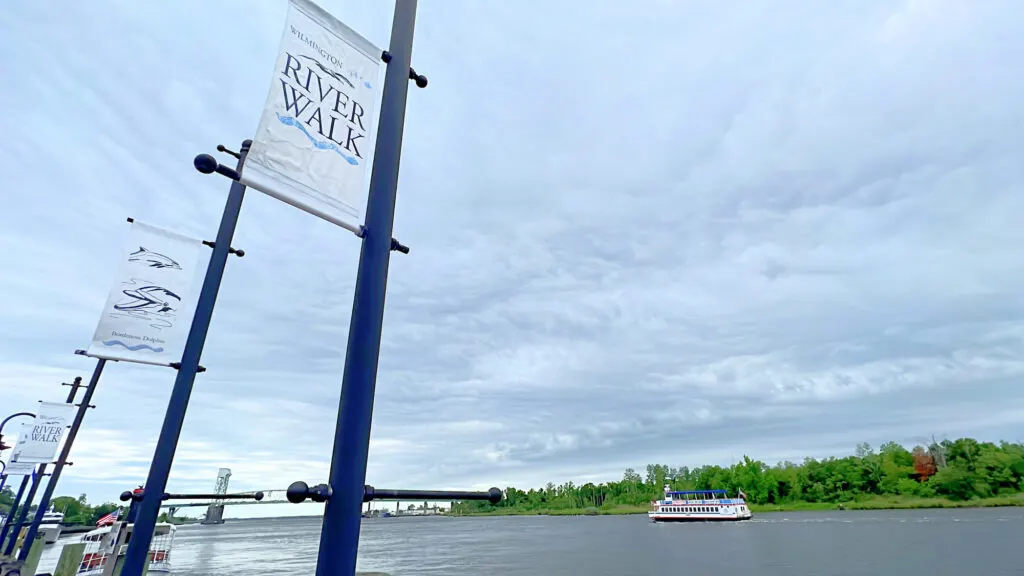 We love the seats that are right on the river. They're perfect for enjoying the view and a drink.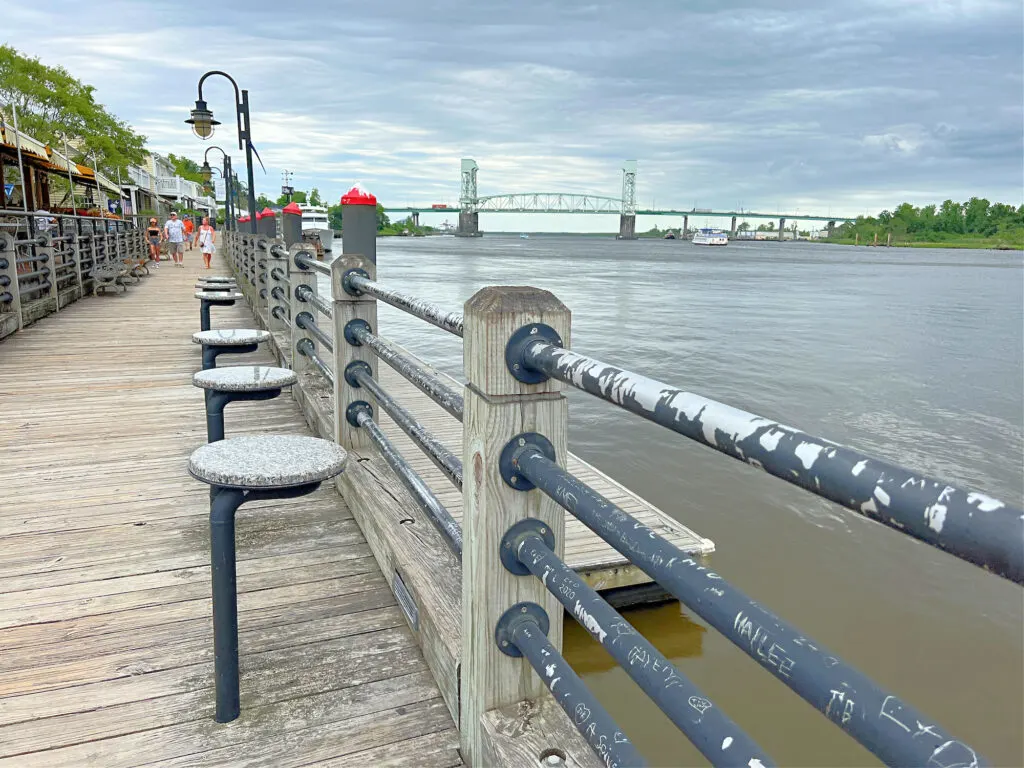 One block up you will find the commercial district with a selection of shopping and dining. This area reminded us a little bit of a combination of Nashville and New Orleans in its look and feel.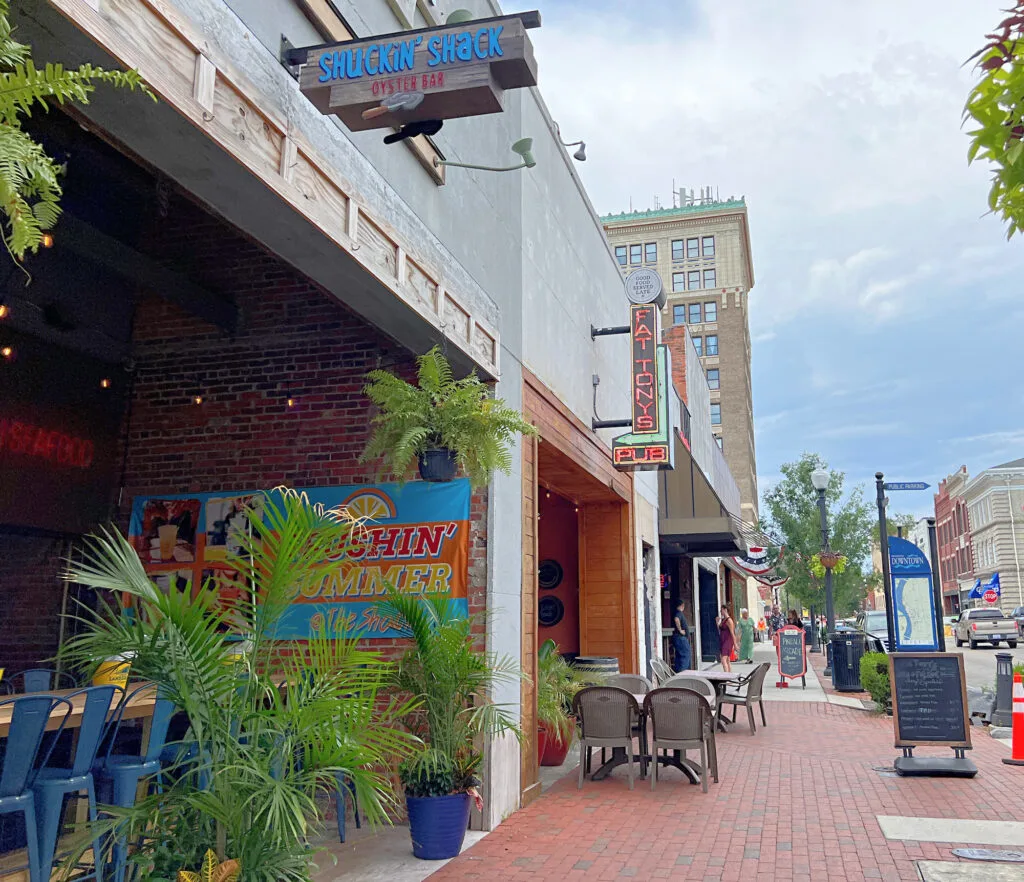 Parking is limited here, so expect to pay for a parking garage.
Horse Drawn Tours
An interesting way to enjoy downtown Wilmington is through a horse drawn tour operated by Springbrook Farms. The Percheron horses used for the tours are rescued by Springbrook Farms from abusive situations or meat processing plants. By supporting the tour, you are actually helping the horses and making it possible to reduce more horses.
The tour vehicle has several rows of bench seats. You will be sharing your tour with others, unless you would like to schedule a private horse drawn carriage tour.
Hard seats and bumpy roads aren't great for my neck, and I was feeling a bit of a headache after the tour. I wish I had brought my foldable seat cushion to sit on because it would have made the ride more comfortable.
You will find the horse drawn tours on Market Street, between Water Street and Front Street. When you are in downtown Wilmington, it will be easy to find the spot if you are wandering around, because the starting point is located among the most popular area facing the river. This also makes it a great idea to get off of your feet, relax and sit down, before walking around again because you don't have to go out of your way to find it.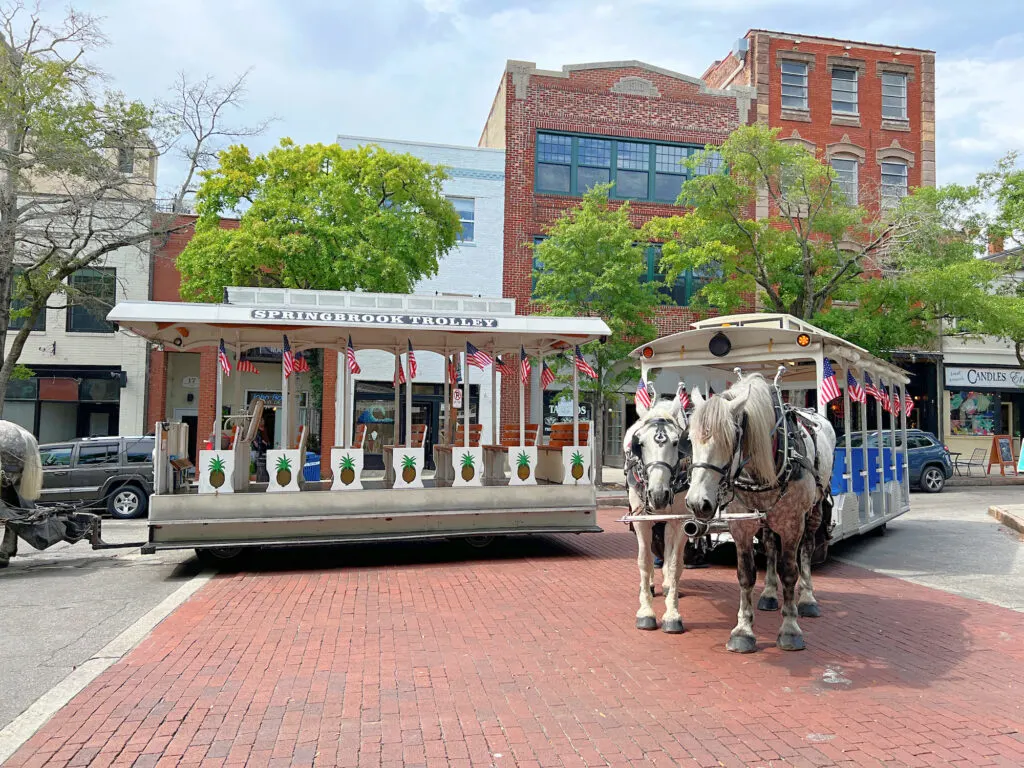 Enjoy a brief introduction to the history of downtown Wilmington, along with seeing some interesting historic homes. The entire tour is about 30 minutes.
Our tour guide's humor reminded us of the corny jokes on Disney's Jungle Cruise – lots of puns that make you laugh and make the tour fun.
Tour Tickets are $14 for adults, $6 for children 12 and under.
Tours are run daily from April to October; Monday – Saturday from November to March.
Airlie Gardens
Airlie Gardens is a stunning collection of gardens by the sea, with a variety of unique habitats and an undeveloped natural oasis on Bradley Creek. Expect to spend about an hour strolling through the acres of gardens.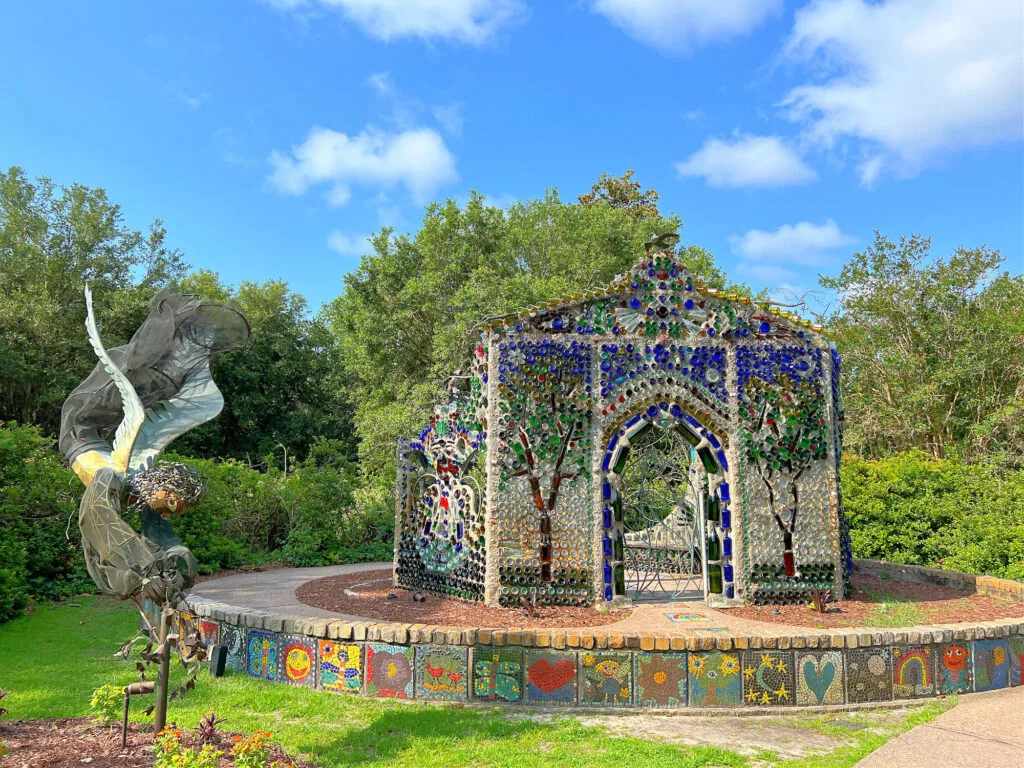 The unique features include:
Camellia Garden Antique camellias planted in the early 1900s can be found in this extensive collection that blooms from late fall through early Spring
Lebanon Chapel Church services are still held in the 1835 Episcopal church
Pergola Garden A lakefront tranquil garden designed in the early 1900s
Butterfly House From May to October, walk among the fluttering butterflies inside this enclosed garden
Spring Garden Though gorgeous all year long, it's especially impressive when more than 75,000 azaleas and thousands of tulips are in bloom
Airlie Oak A North Carolina state champion Live Oak dating back to the 1500s
Bottle Chapel A unique structure made from more than 2,800 bottles
Airlie Gardens is open Tuesday through Sunday from March to December.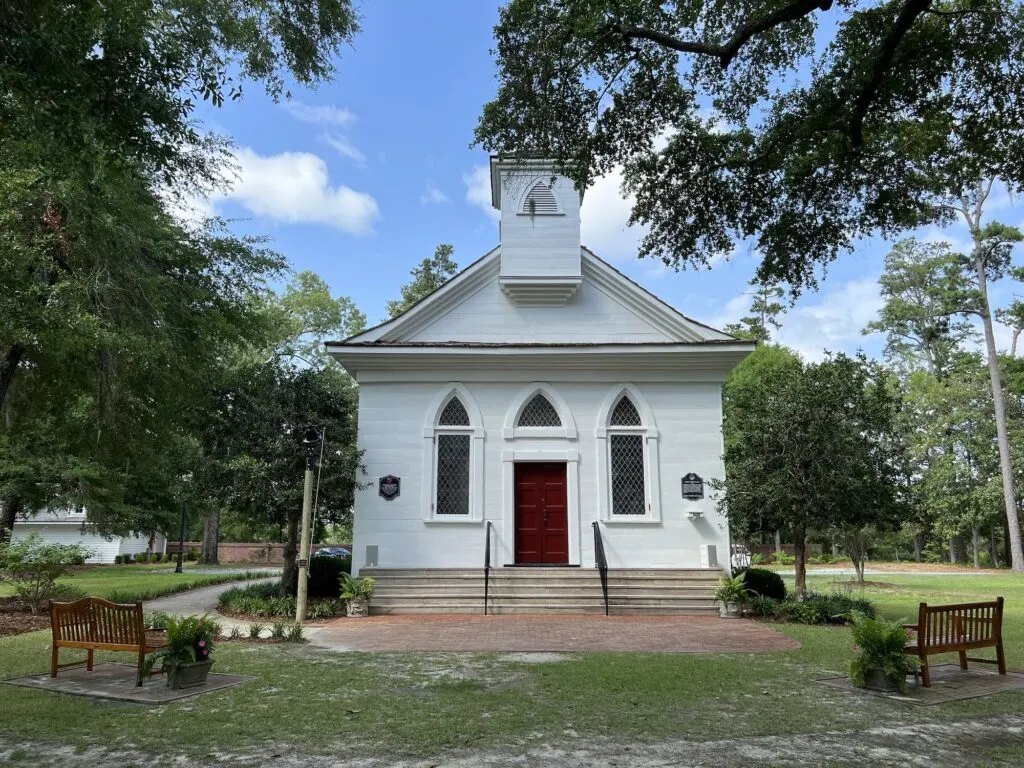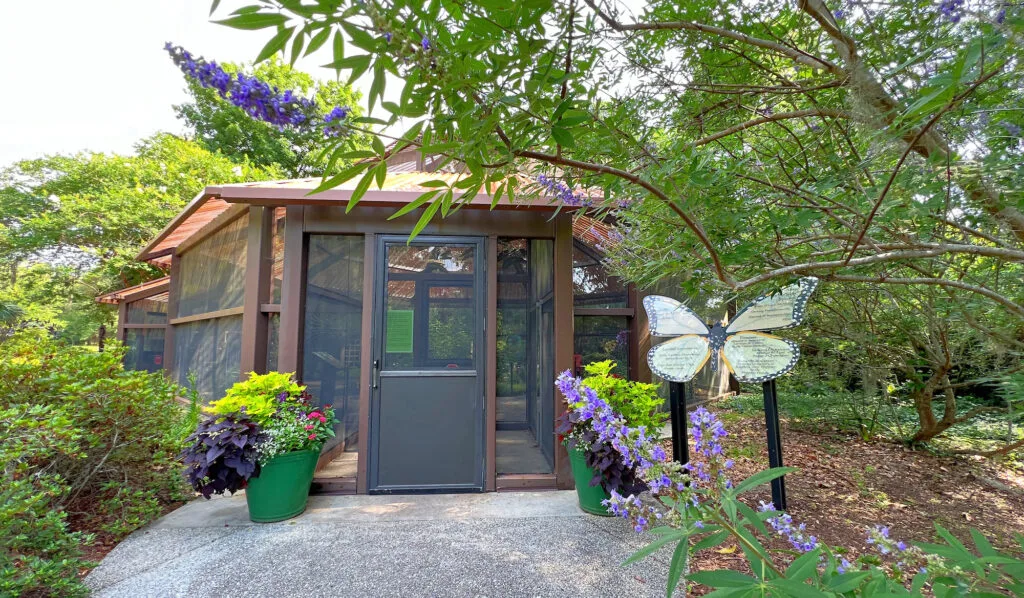 Helpful Tips for Your Visit
All tickets must be purchased in advance online for general admission.
Go early in the morning to avoid the heat
There is plenty of free parking available. If you are driving with an RV or camper van, there is plenty of room in the fields for parking.
Be sure to visit the gift shop, which has a lot of great and unique gifts.
A complimentary shuttle system is available from spots within the gardens. Volunteers use golf carts to transport guests to the most popular destinations so that you don't have to walk as far.
Ghost Walk of Old Wilmington
One of the most interesting ways to learn about the history of Wilmington is to take a Ghost Walk of Old Wilmington. Enjoy a walking night tour going to haunted homes and burial grounds, or a haunted pub crawl.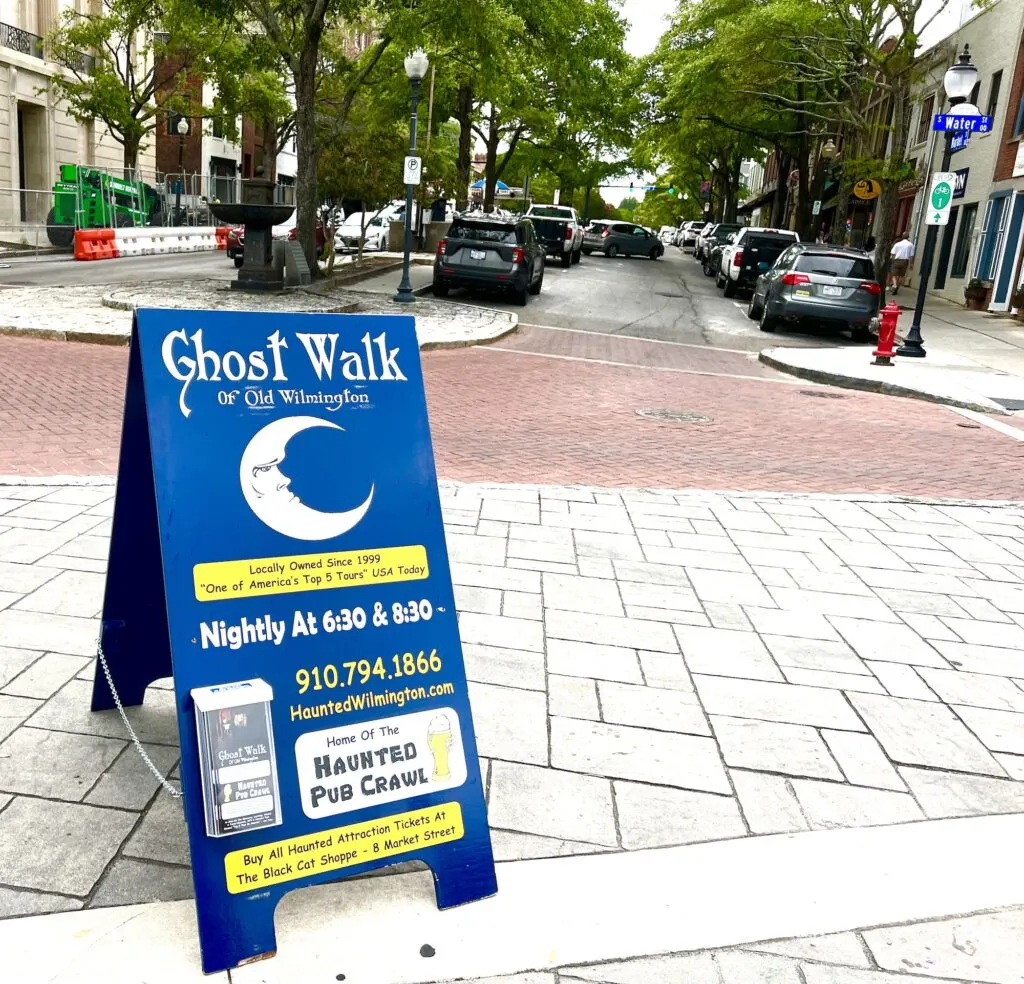 Tours are available all year long.
USS Battleship North Carolina
The City of Wilmington was officially named the first World War II Heritage City in the U.S. in 2020. The USS Battleship NORTH CAROLINA is an integral part of that designation.
The Battleship North Carolina is one of the best attractions in all of Wilmington, as far as we're concerned. You can't miss this massive battleship on the edge of the Cape Fear River and visible from downtown.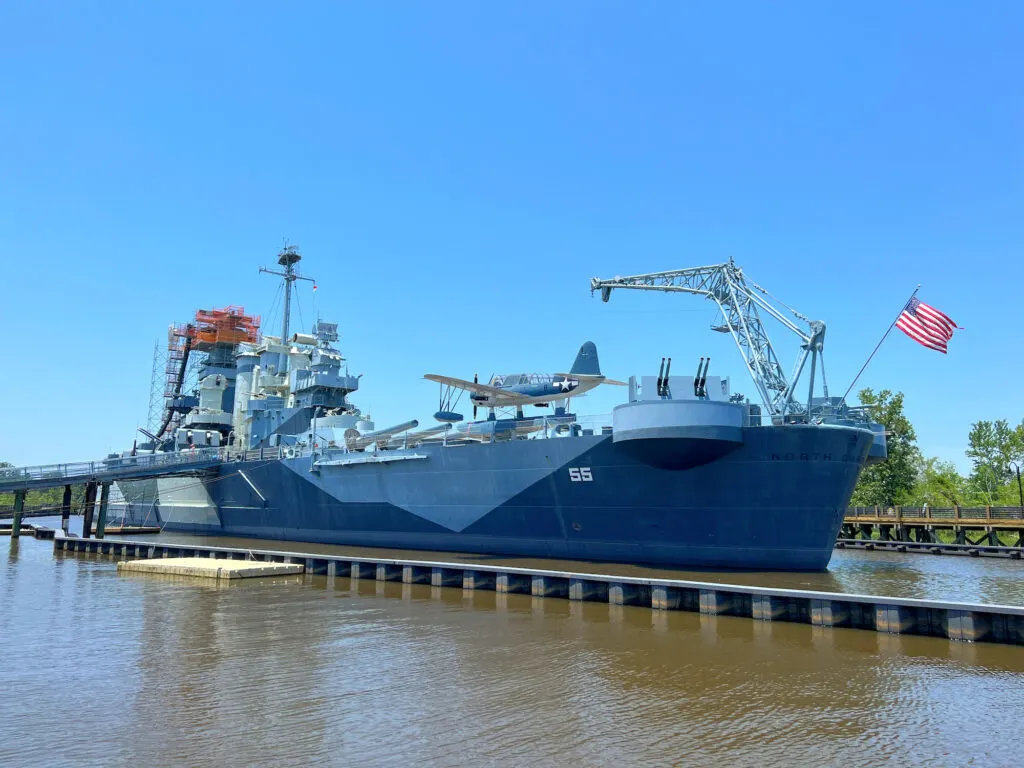 Expect to spend a few hours touring the most decorated U.S. battleship from World War II. There is so much to see here and so many helpful tips to share that we have an Essential Guide to Battleship North Carolina for more information.
Movie Location Tour
Wilmington and the surrounding area are well-known as great filming locations for movies and TV shows. In fact, the city is known as "Hollywood East."
Check out this list of movies filmed in North Carolina because you might have already seen some parts of Wilmington on the big screen!
You can do a self-guided tour of Wilmington's film locations.
Cargo District Wilmington, NC
One of the most modern and trendy areas of all of Wilmington is the Cargo District. Named after the shipping containers used to create the buildings, the area is an urban living and working district with plenty of shops, bars and restaurants for visitors to enjoy.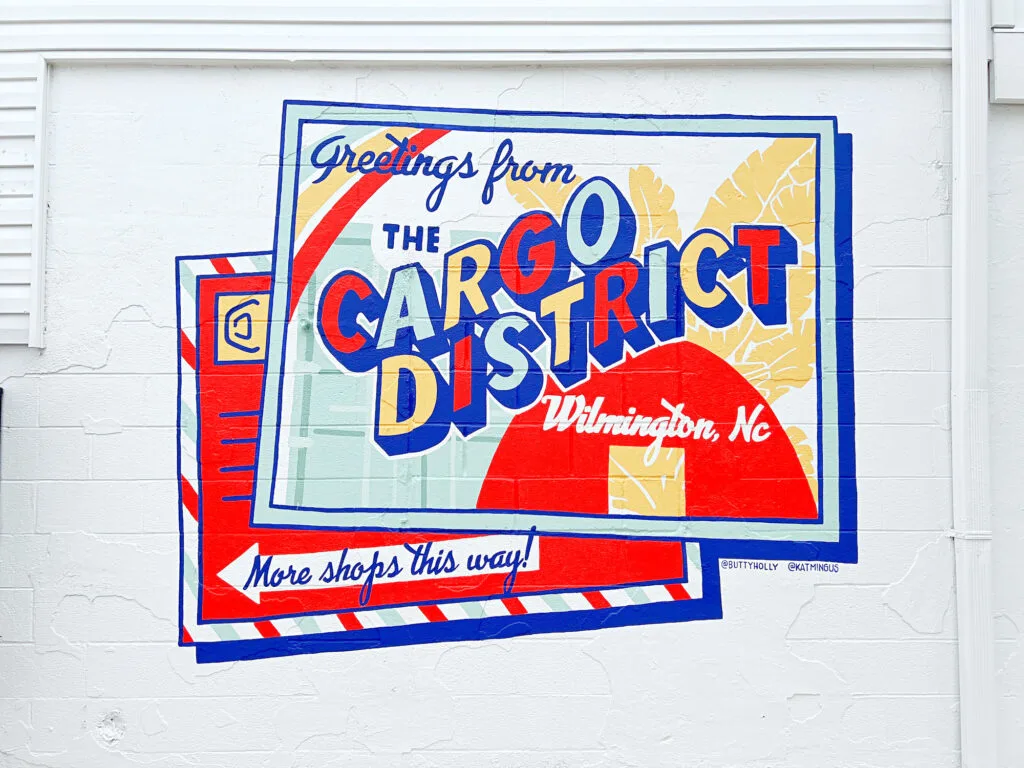 The architecture in this area is distinct, unusual and imaginative. It is amazing how old metal shipping containers can be transformed into stunning works of art to live and work in.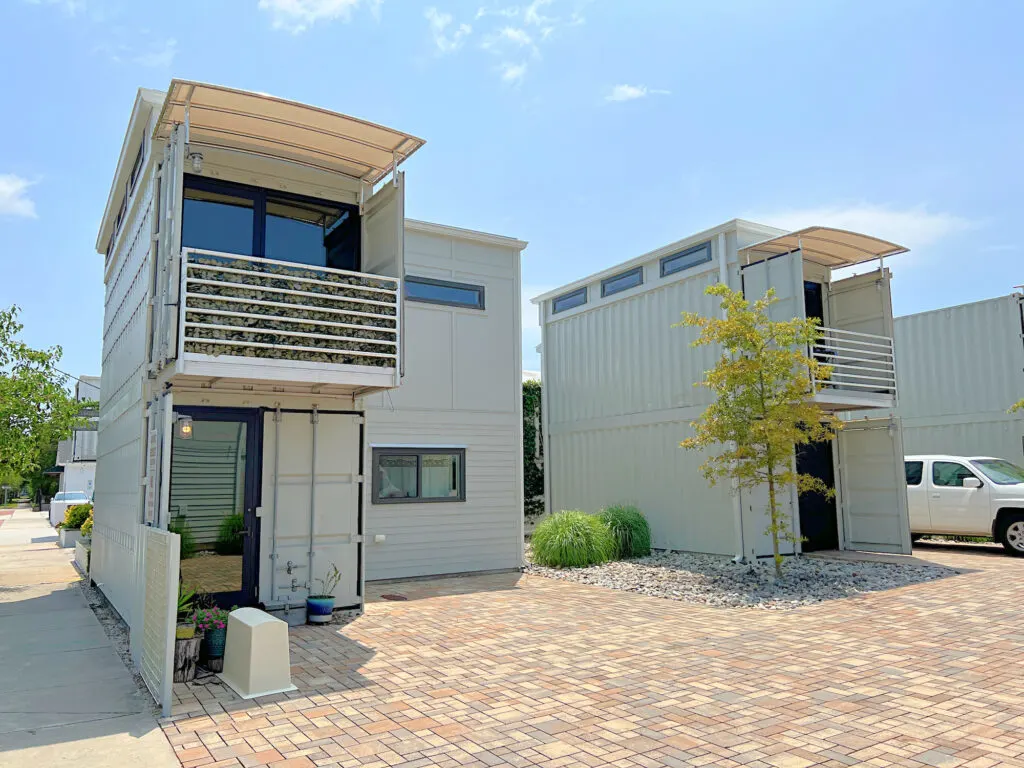 I'll be honest, we visited the Cargo District on one of the hottest days in Wilmington. I was really concerned about eating and shopping in metal boxes and worried that it was going to be so uncomfortably hot. I was very pleasantly surprised that the buildings are insulated and well-designed just like any traditional sticks-and-bricks location.
Places to Eat in the Cargo District
Mess Hall
Mess Hall has one of the best burgers that I've ever eaten! Their smash burgers are messy and delicious, just what you want a burger to be! All burgers are served with tater tots.
I enjoyed the McWhat?, a combination of hamburger patty, fried chicken tenders, secret sauce and cheese. It was absolutely delicious and highly recommend!
Vegan black bean burgers are served up, as well.
Regardless of what type of burger you choose, you'll be happy to find that they are all made in-house and fresh as possible.
Mess Hall is located in a collection of shipping container buildings and a quonset hut which are all surrounding a central covered courtyard, called The Outpost. In this one spot you will also find the Alcove Beer Garden and Blue Cup Roastery. There is plenty of free parking!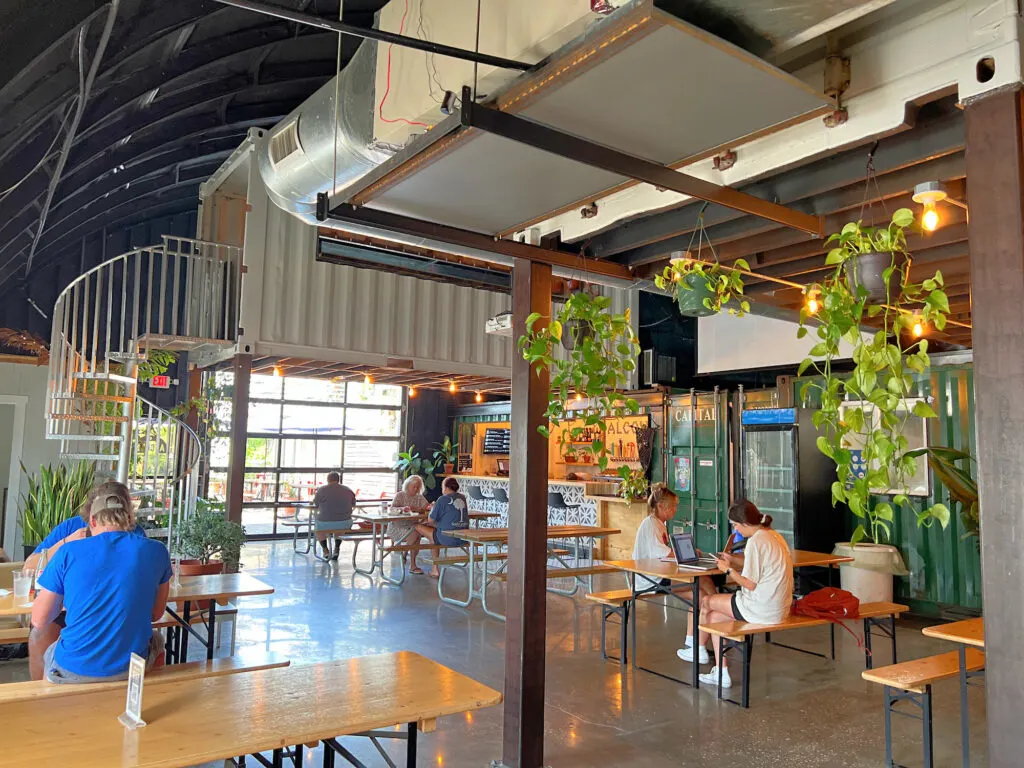 Cheesesmith
This artisanal grilled cheese sandwich eatery got its start as a popular Wilmington food truck. The location is one block away from The Outpost area in the Cargo District.
Enjoy a variety of grilled cheese sandwiches, along with fries or brussels sprouts. It's a limited menu but done so well!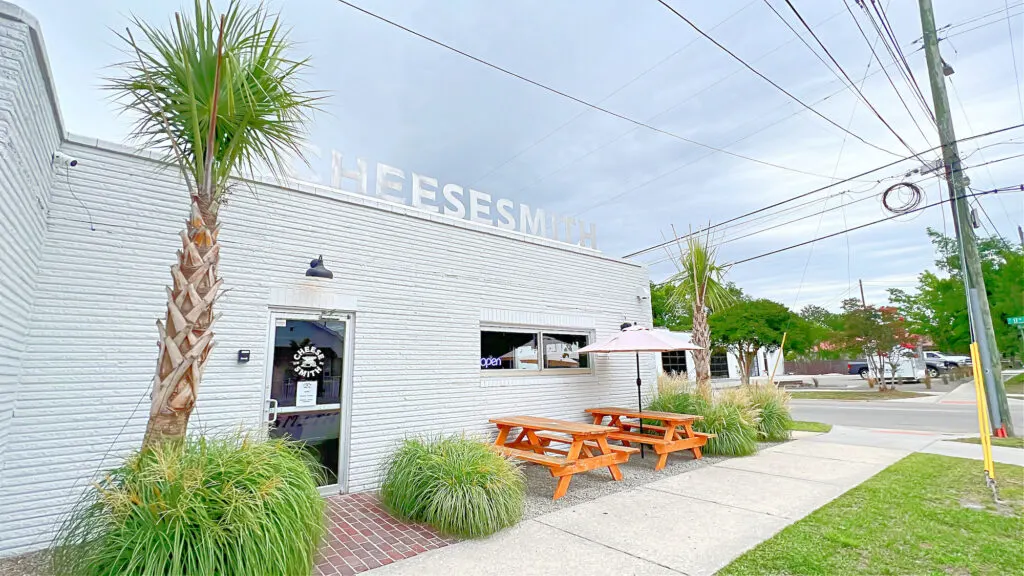 Bars in the Cargo District
There are a lot of places to enjoy a drink in the Cargo District. Just pick the type of alcohol you like and find a unique setting to enjoy your drink.
EOD Distillery
We thoroughly enjoyed our visit to End of Days Distillery (EOD). Housed in a renovated quonset hut (which are domed buildings the federal government used in war time), this distillery not only is stunning to look at, but creates amazing spirits, too.
The cocktail bar creates a huge selection of delicious cocktails using a variety of their spirits. Grab a glass and enjoy a seat in the beautiful lounge.
Or visit their store for buying bottles of EOD Distillery spirits. You can enjoy a small sampling of the rum, bourbon and gins as you are deciding which to choose. The market also has cocktails in a can and other merchandise for sale.
There is a parking lot at the distillery with free parking.
The Starling
A stunning cocktail bar featuring cocktails, whiskey, wine and beer. The whiskey flights, bourbon and antique whiskey selections make this an elevated bar experience perfect for enjoying with friends or a date-night.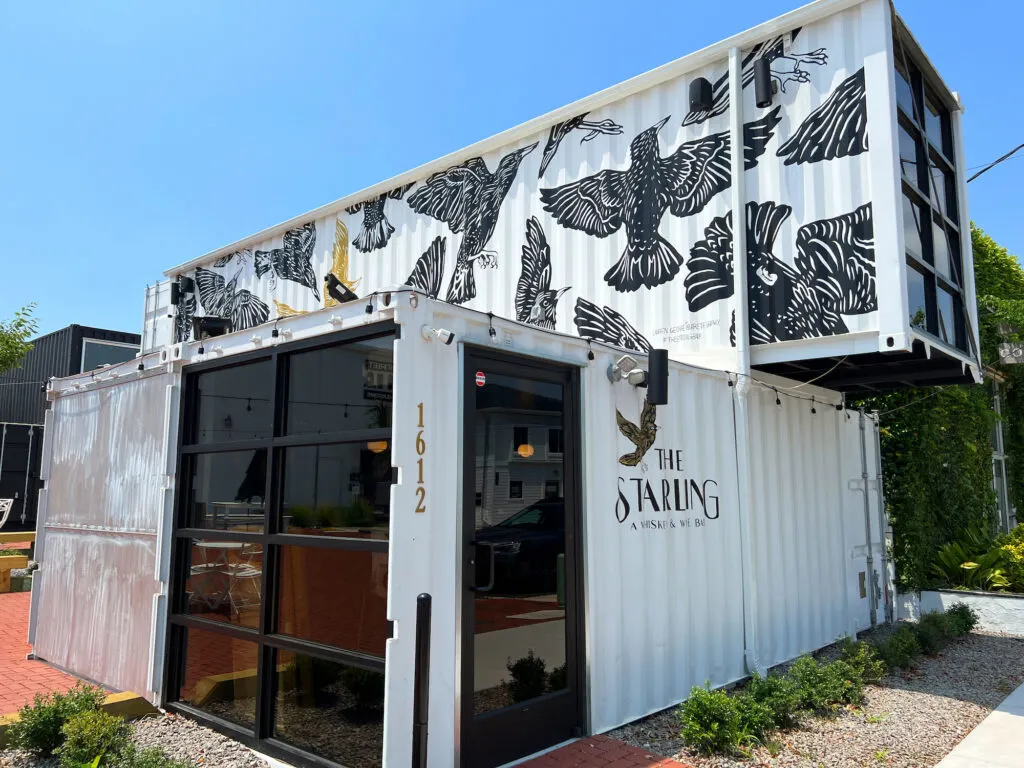 The Starling is technically a private club, so be sure to pay your $1 annual membership fee before visiting!
Alcove Beer Garden
Expertly located next to Mess Hall, what could be better than a beer and a burger together? Alcove Beer Garden serves up brews in The Outpost with communal seating in the central covered courtyard.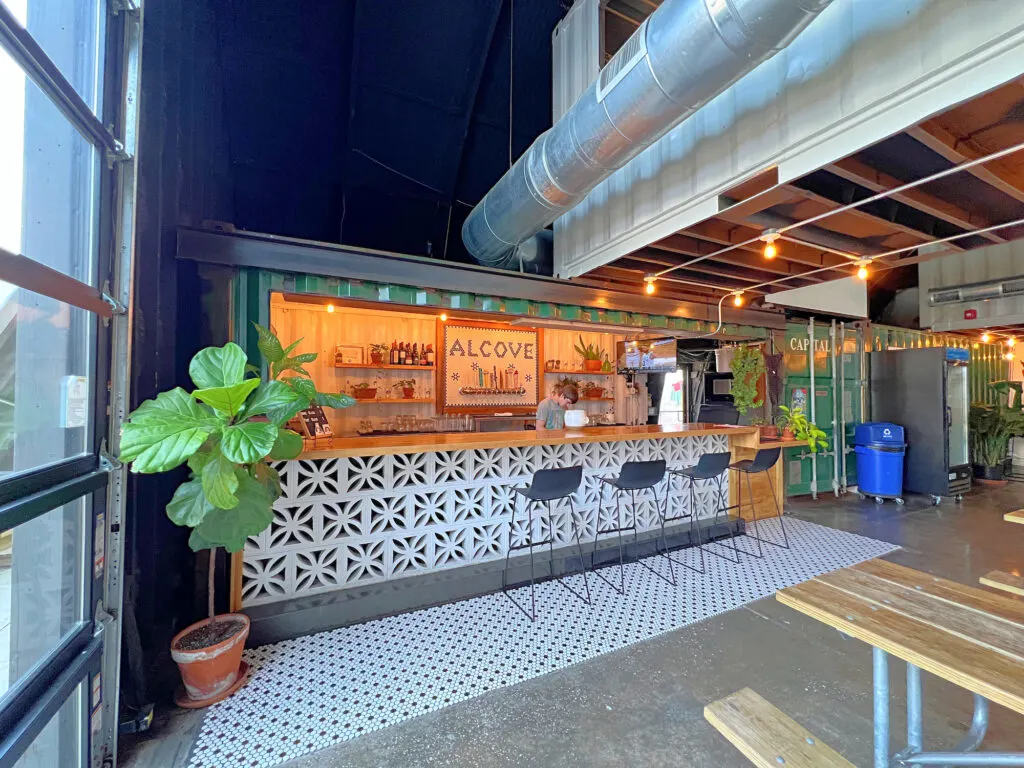 Bull City Cider
The popular Durham-based Bull City Ciderworks opened at outpost in the Cargo District in July 2022. Enjoy hard cider as well as cider cocktails.
Bottles
Organic wines made naturally are the focus at Bottles, which features both wine and craft beer. There is a huge selection of wines to choose from.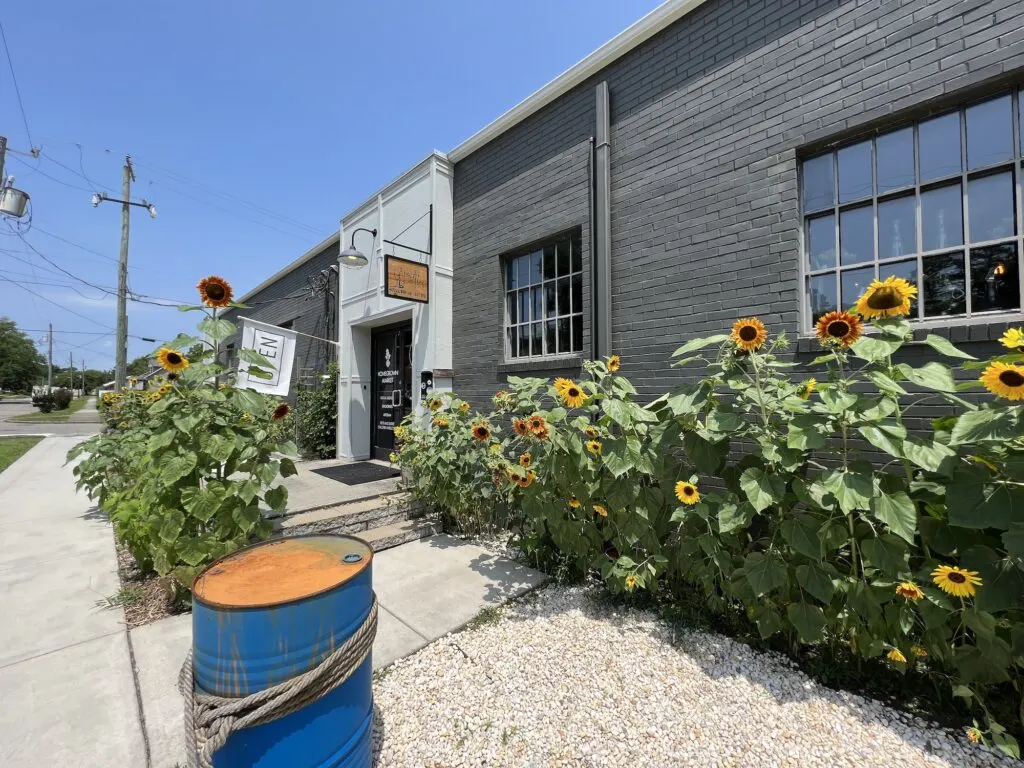 Places to Eat and Drink in Wilmington
During our weekend visit to Wilmington, these are the restaurants that we enjoyed.
Mess Hall Wilmington
I wrote about Mess Hall in the Cargo District section above. This hamburger restaurant was by far one of our favorite places to get a great meal.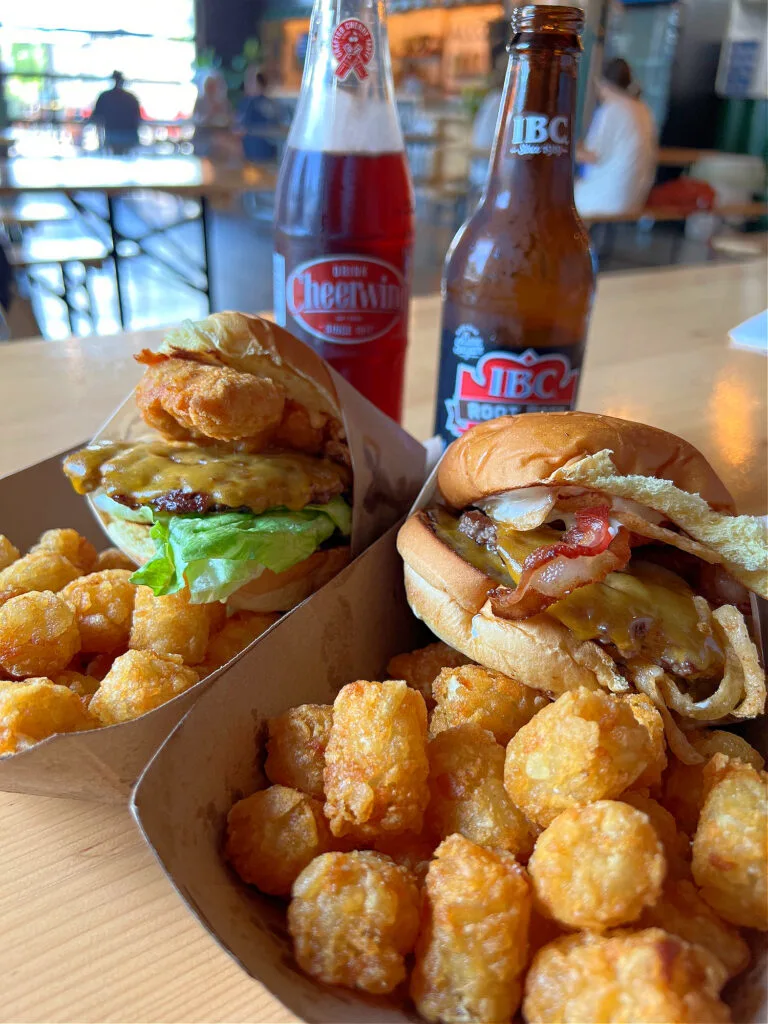 Benny's Big Time Pizzeria
We were incredibly excited to dine at Benny's Big Time Pizzeria, one of celebrated chef's Vivian Howard's restaurants. We have previously eaten at two of her other locations, including Chef and the Farmer, as featured on the PBS show.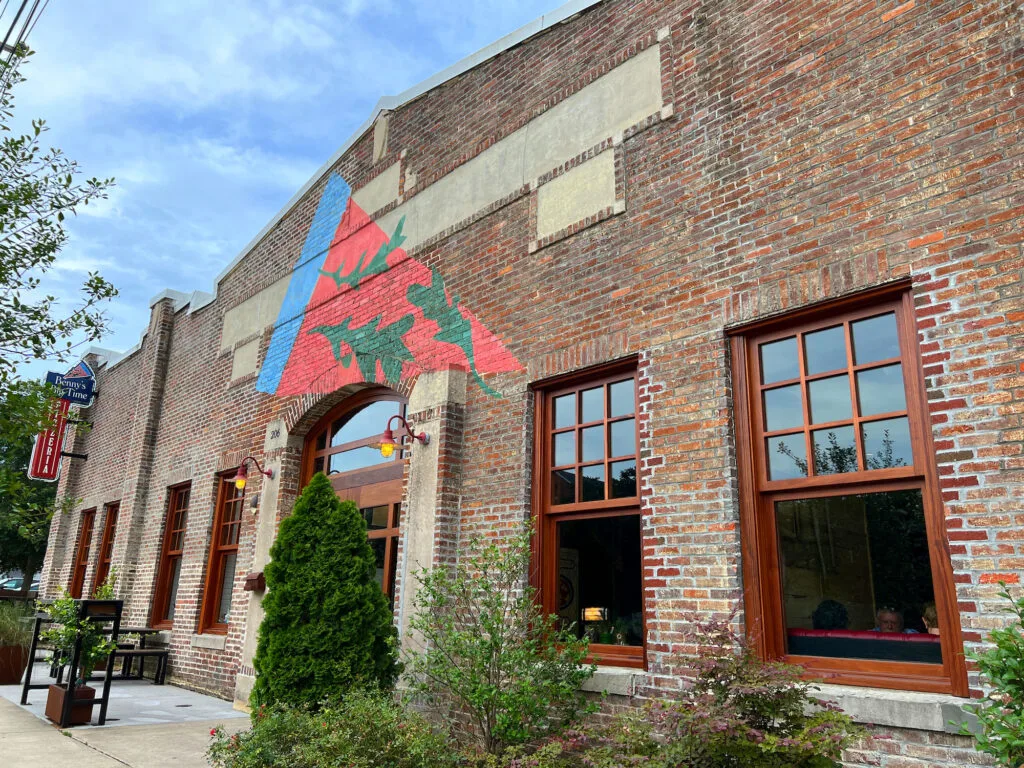 Our excitement was quickly tempered, though, from the moment we stepped inside. Between the service, the food and the atmosphere of the restaurant, we were actually really disappointed.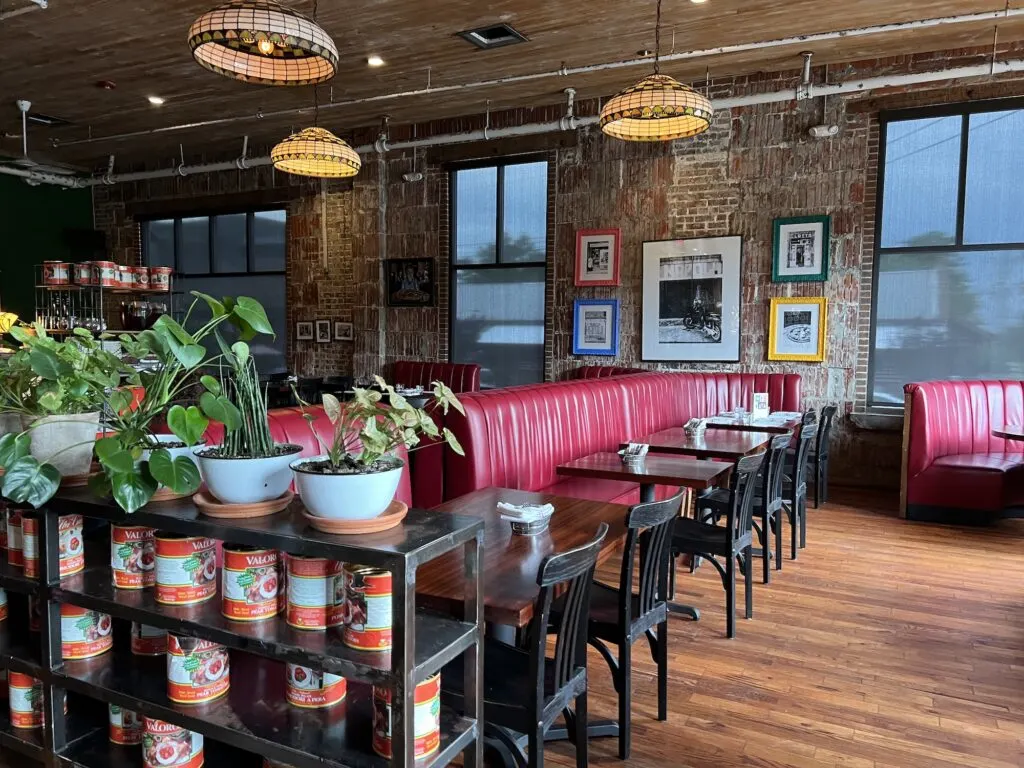 We tried the Southern Fried Chicken Parm as an appetizer, and were confused about the flavor profiles. It just seemed like an odd mix.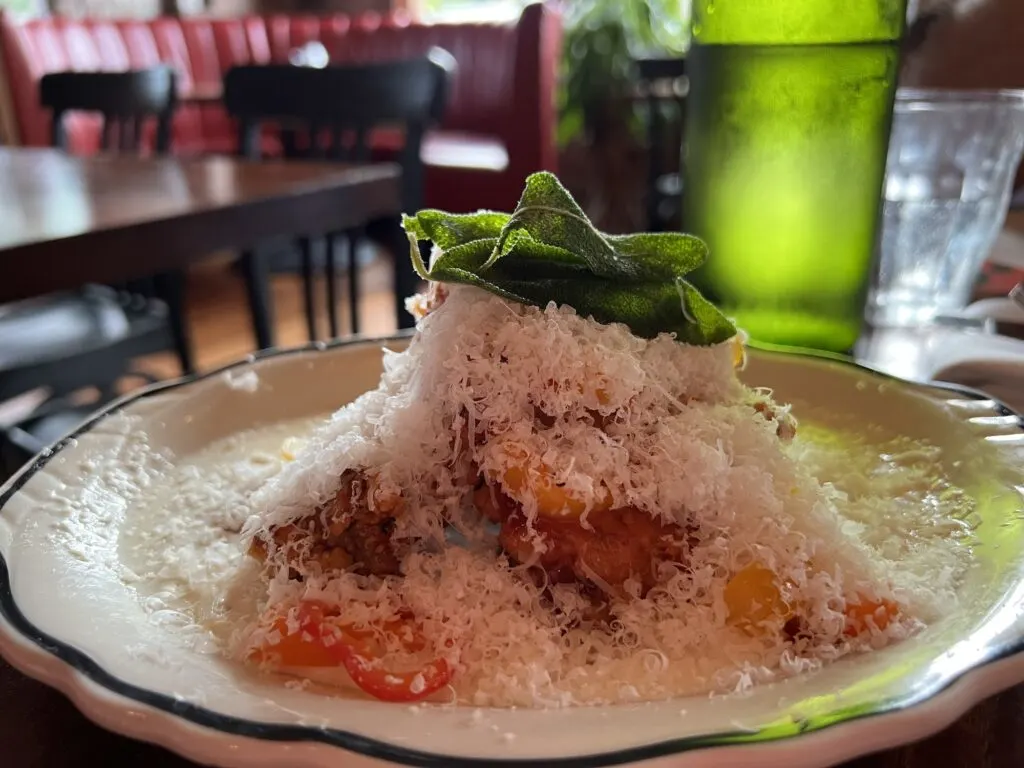 The pizzas are huge and should definitely be shared. Seriously, if they seat you at a two-top table, there is NO room to put two pizzas on the table. I was not a fan of the Kale Yeah pizza, which apparently is one of the signature pizzas. The kale was black, charred and hard to bite into. Plus, it tasted like eating smoke.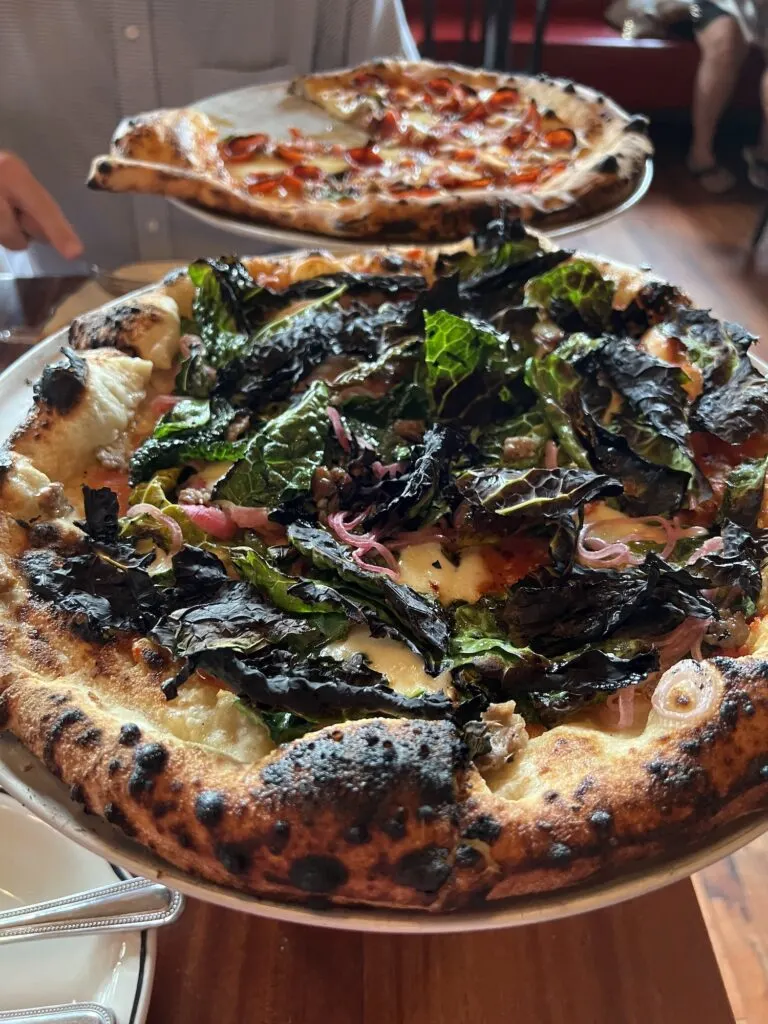 The desserts were nothing to write home about, so to speak. The gelato was good, but nothing spectacular.
Perhaps we're the only ones who had high hopes that were dashed. The restaurant was packed and if you didn't have a reservation, you weren't getting in that night.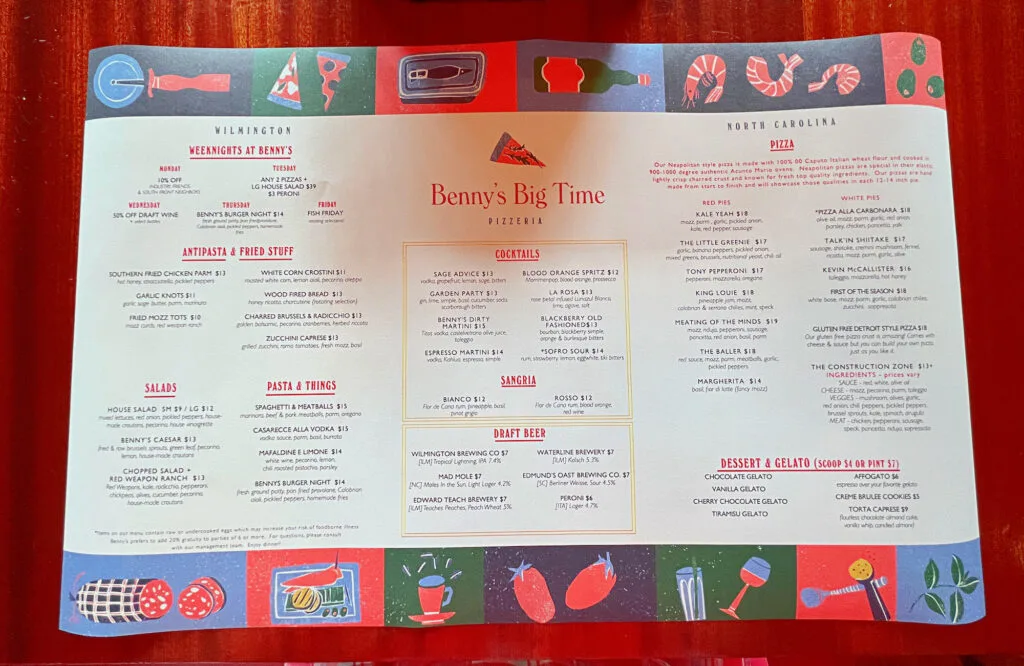 If you are a fan of Vivian Howard's cooking, this might not be the first restaurant you should try. It very much felt like it wasn't a product of hers, but more of a restaurant that just features her name. Howard herself states that "I've long resisted the urge to cook Italian" on the restaurant's website. As a huge Vivian Howard fan, it pains me to say that I wasn't thrilled with this restaurant.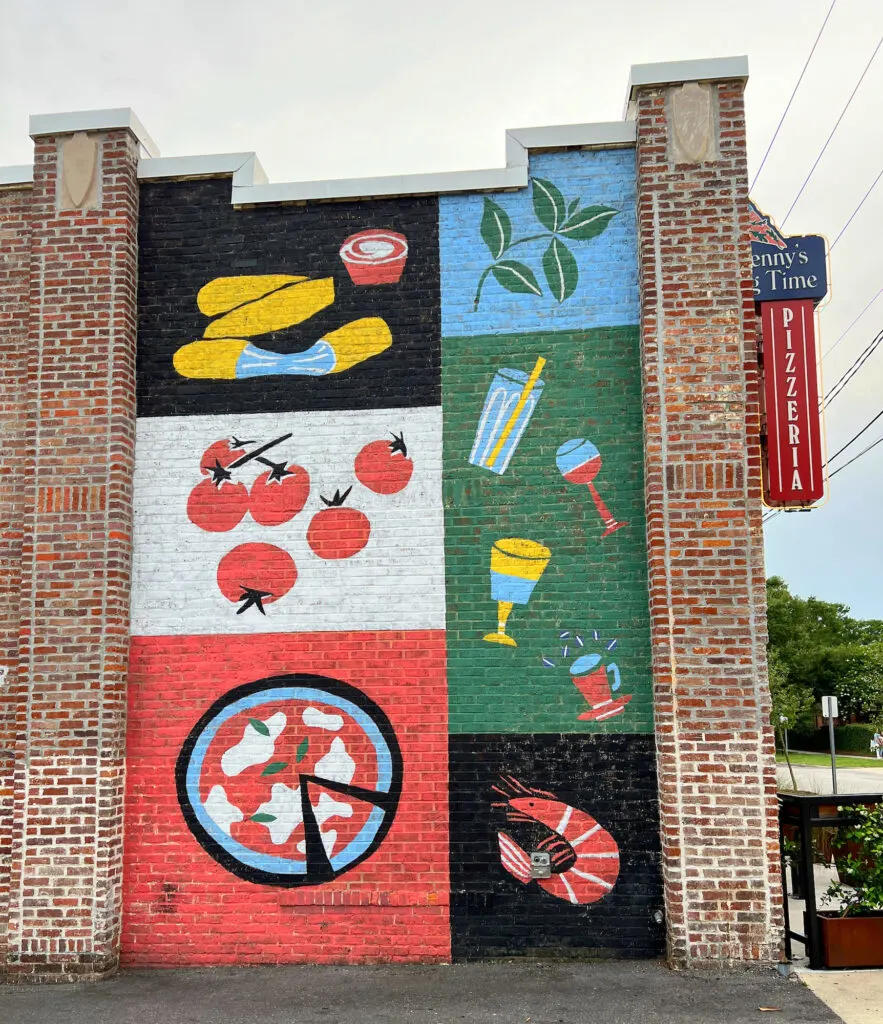 Anne Bonny's Bar and Grill
A fun place to grab a drink and a quick bite to eat while strolling through downtown Wilmington. The location on the river is hard to beat!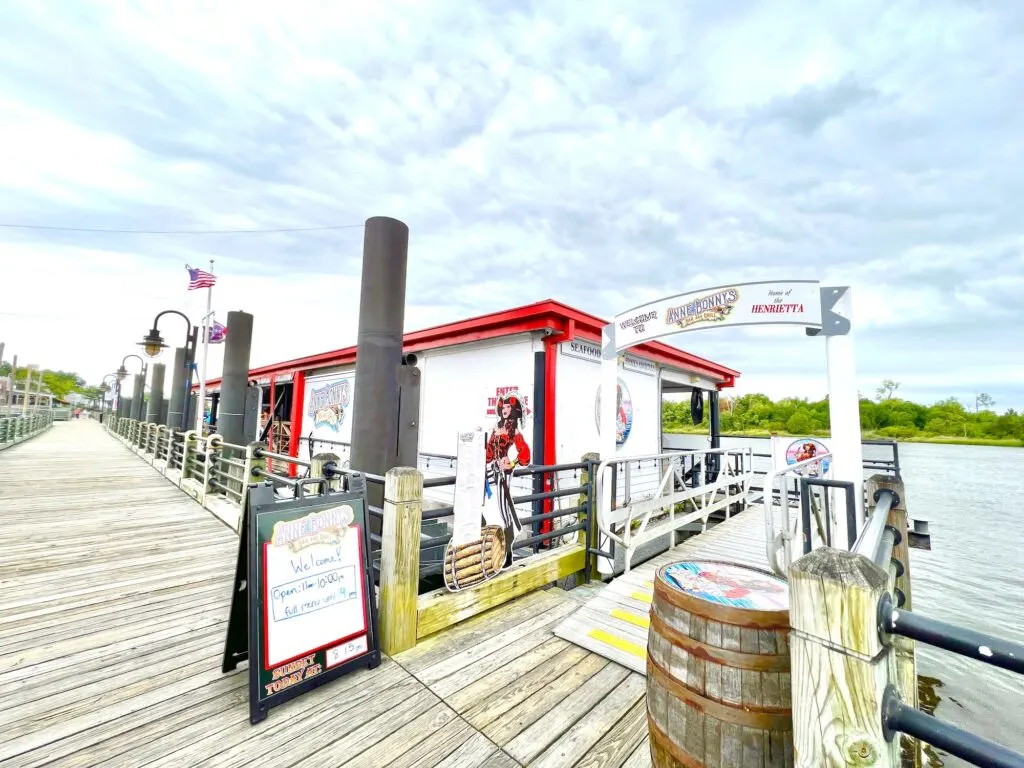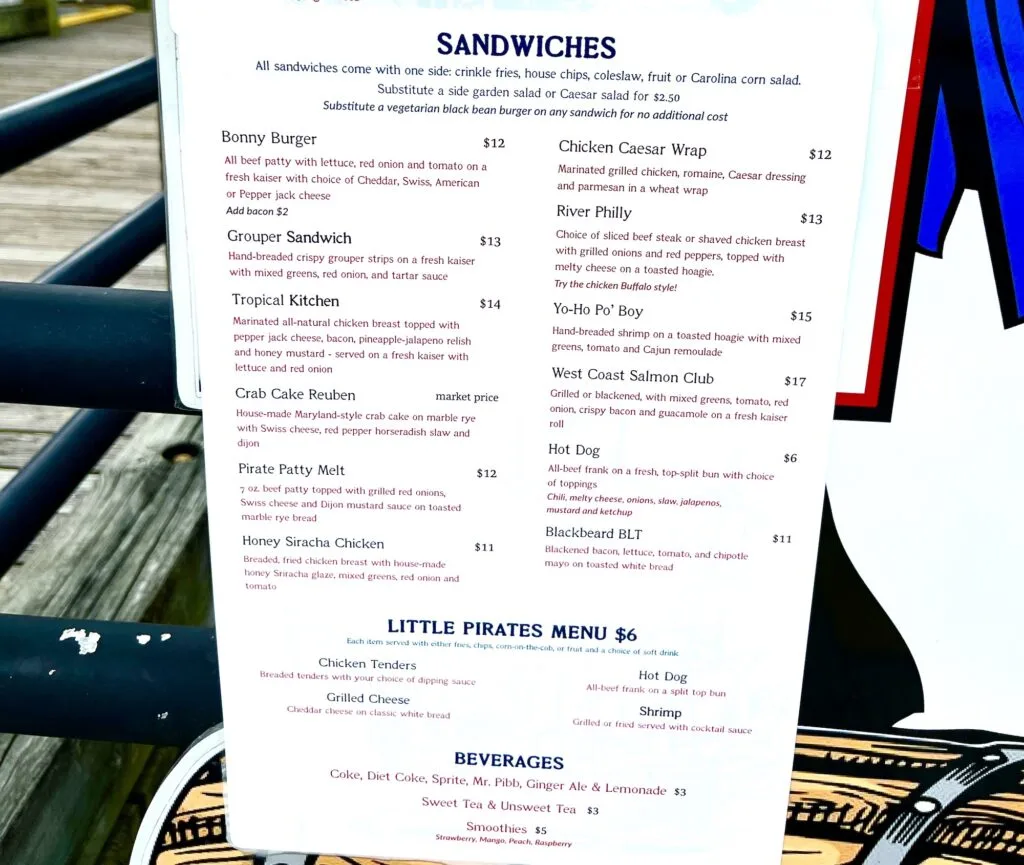 The Second Glass
We found this gorgeous wine bar across the street from Benny's Big Time Pizzeria as we were waiting for it to open. I've got to say, I wish we had spent more time at this restaurant because it really had a great menu and amazing service!
We had the Southern Nites cocktail with whiskey and it was amazing! We enjoyed a seat outdoors, watched people walk by, and pretty much dreamed of having dinner here.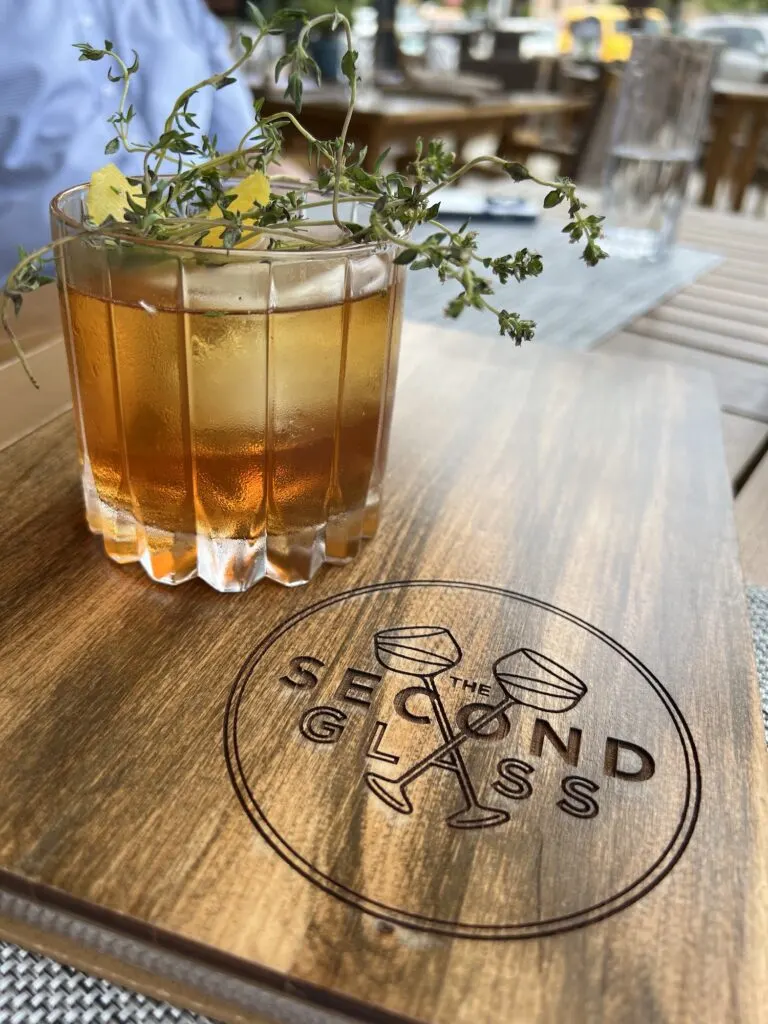 The parking lot was large and offered free parking for guests of the surrounding businesses, including The Second Glass.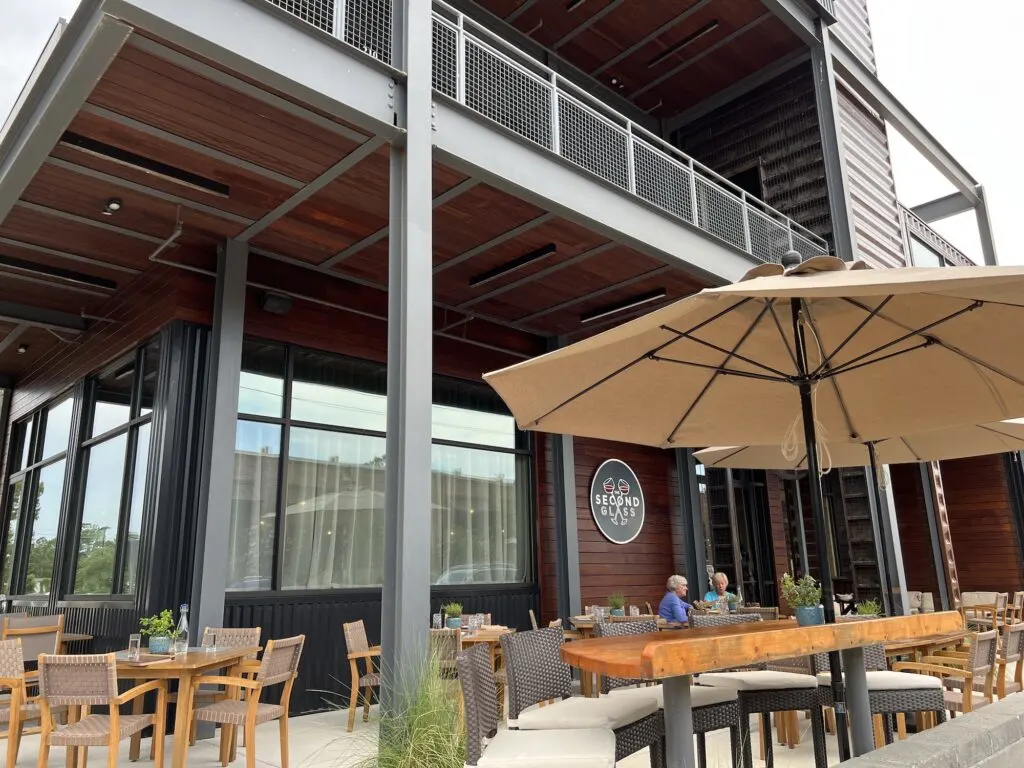 Our Weekend in Wilmington Itinerary
To see a timeline of how we spent a weekend in Wilmington, NC, here is what we did:
Friday
Check-in to Blockade Runner Resort at lunch time (Be sure to see our review and what our room looked like!)
Lunch at East at Blockade Runner Resort
Fell asleep! (Though we intended on going to the beach or the pool; It had been a long week and I just couldn't push through the exhaustion)
Would have had dinner at Shark Bar and Kitchen in Wrightsville Beach if we hadn't slept so long
Sunset Cruise at Blockade Runner Resort
Saturday
Breakfast at The Workshop
Airlie Gardens
Cargo District for lunch at Mess Hall
Cocktails and tastings at End of Days Distillery
Downtown Wilmington for walking around and shopping
Anne Bonny's Bar and Grill for Snacks and to cool off
Horse Drawn Tour of Downtown
Drinks at The Second Glass
Dinner at Benny's Big Time Pizzeria
Ghost Tour downtown
Sunday
Breakfast at East at Blockade Runner Resort
Battleship North Carolina tour
Depart Wilmington
Best Wilmington Souvenirs
Cape Fear Rum Cake
The rum cakes baked from scratch and hand glazed in Wilmington, NC are amazing! I got a small Golden Cape Fear Rum Cake and had every intention of taking a picture but I literally ate it so fast I forgot! It was absolutely delicious.
Moist, flavorful and vacuum sealed so that it will last several months in the box, a rum cake makes a great souvenir to buy to bring back home for the holidays or a family dinner.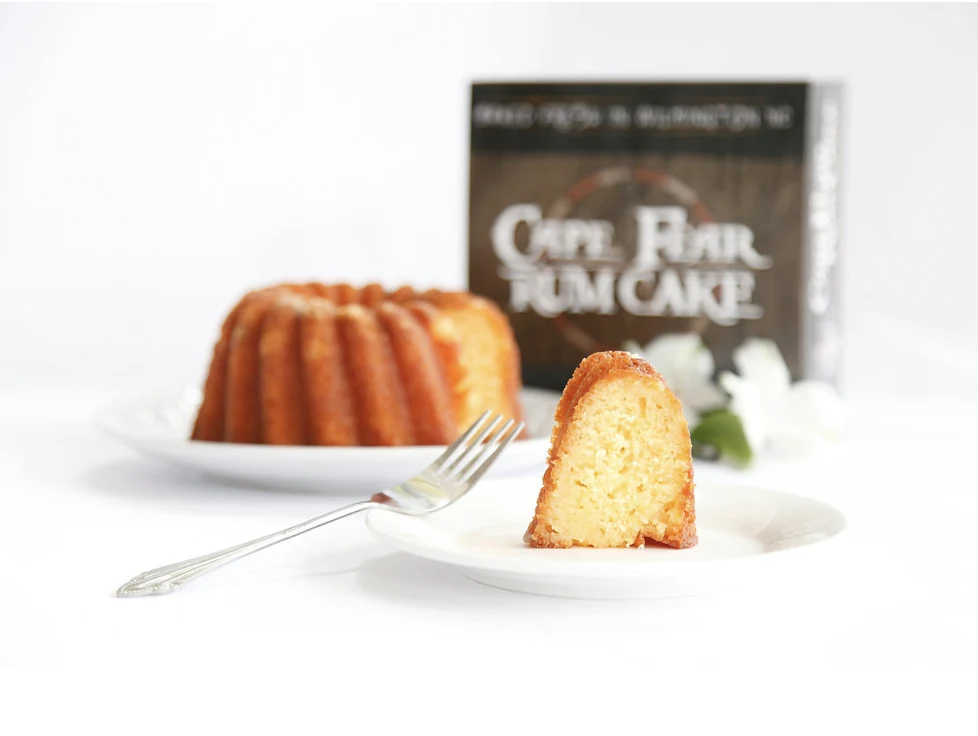 Cape Fear Rum Cake is a family owned and operated bakery located in downtown Wilmington, so you can easily step inside and get any of their variety of cakes. Golden is the classic flavor, and the one that I really enjoyed.
There are specialty and holiday flavors, too, such as Pineapple Gingerbread Rum and Orange Eggnog. Gluten free options are available, too.
Holly Aiken Bags
Holly Aiken makes the most awesome purses! I own two of them and always get compliments on their design, colors and ease of use.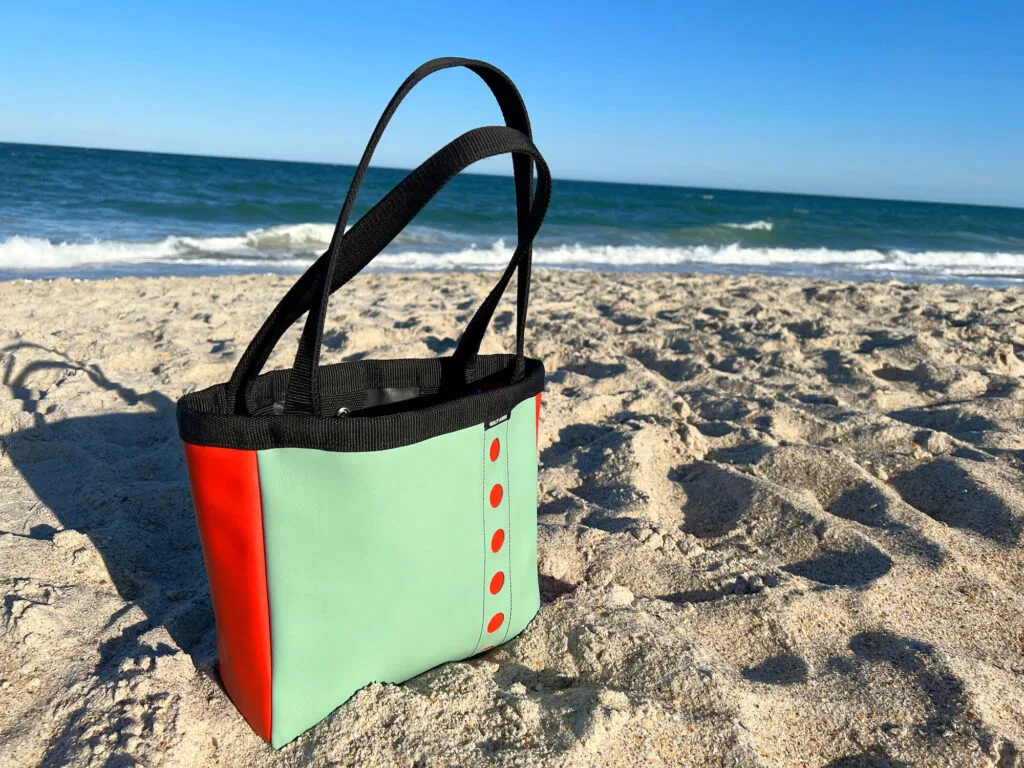 Aiken's purse and accessory company used to be headquartered in Raleigh until she moved her shop to Wilmington.
You will love these handcrafted purses made with modern geometric prints. They can easily be wiped off and there is plenty of room inside, including a handy phone pouch that is my favorite feature.