After a week of exploring America's capital, I quickly realized that I wished I had known about the essential things to pack for Washington D.C. before we got there! Knowing these items would have saved us some money, frustration and pain during our vacation.
Whether you are visiting the nation's capital for a day, a weekend or a school trip, here is what to pack for your visit.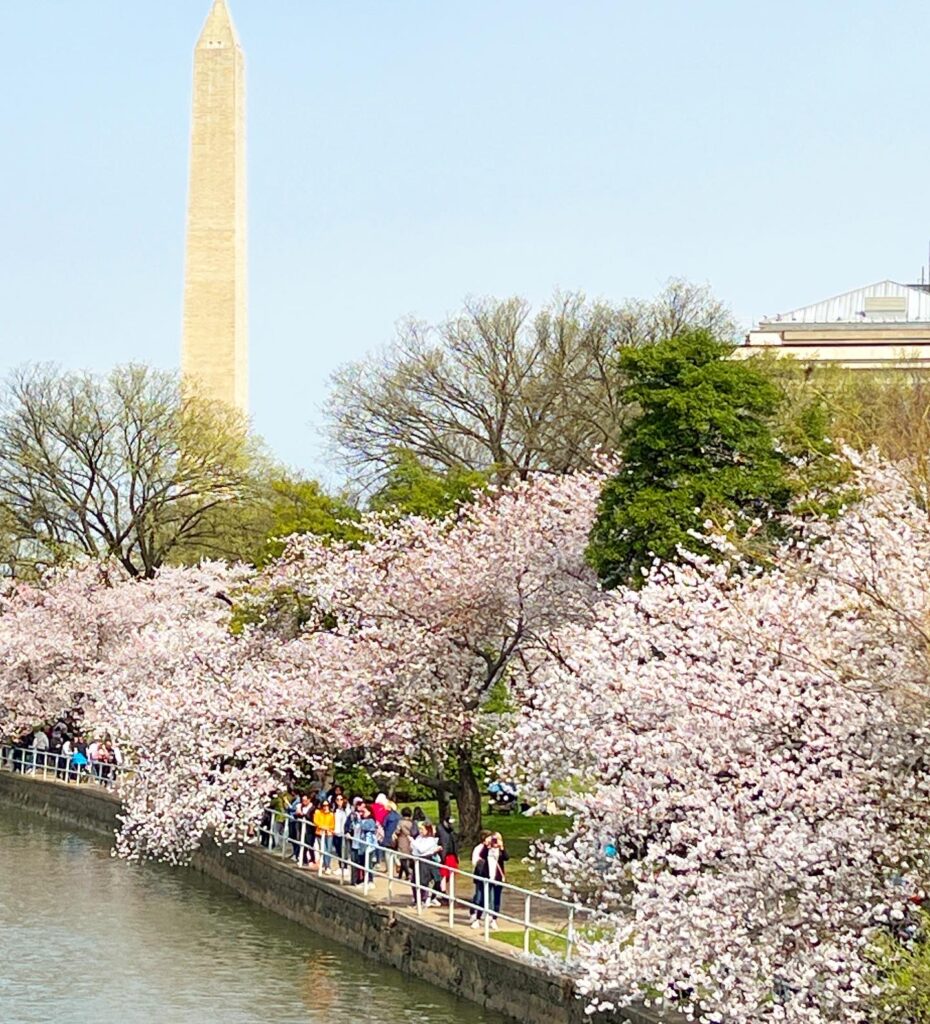 If you are visiting during March or April, here's our ultimate guide for how to see cherry blossoms in Washington D.C.
Washington D.C. Packing List
Packing for a trip to Washington D.C. is all about bringing comfort for long days of walking and exploring monuments and museums. A few smart choices can really make your days in the District of Columbia more enjoyable and less stressful.
Comfortable Shoes
Above all else, you must pack comfortable shoes for Washington D.C.!
You will probably be walking a lot between museums, monuments and your hotel or public transportation. There is a LOT of walking. In six days we walked 40 miles, and that was with a lot of time in our hotel (see our Hilton National Mall The Wharf Hotel Review) because of bad weather!
The walkways are hard stone pavers, and that can really make your feet and hips feel worse from walking, compared to hiking in dirt or walking on grass.
Now is not the time to break in a new pair of shoes that you bought for the trip! Be sure you have comfortable shoes that are molded to your feet, with plenty of support.
Some great shoes to bring with you are:
Do not wear flip flops or ballet flats while exploring D.C. You will be miserable.
Foot Pain Relief
Even with comfortable shoes, your feet will probably be achy, swollen and hot at the end of the day. Every visitor we talked to in Washington D.C. had the same complaint.
Bringing a few items with you during the day, or to keep in your hotel or car, can really help alleviate the pain and misery of having your feet hurt. Here's what we suggest:
Water Bottle
You will work up a thirst walking around D.C. Buying bottled water from the food trucks on the mall isn't the cheapest way to stay hydrated. And I saw a shocking warning that some water bottles sold are actually just reused bottles. Gross!
Bring a water bottle with you at the start of the day. You can find a few water refill stations is some National Park Service sites and some attractions and museums to replenish your water. When I had a meal at a restaurant or cafe, I would get a glass of water and refill my water bottle there.
While almost every building has a warning that no food or drink is permitted, almost every place DOES allow water bottles.
If you are concerned about the quality of water at the free water refilling stations, you can invest in a reusable water bottle with a filter. A great quality water filtering bottle will give you better water than bottle water, and it will end up saving you money pretty quickly.
Purse or Backpack
Even though you can bring bottled water most places, some museums or attractions want you to have the bottle out of your hands and concealed. The National Gallery of Art is one example of a place where you can bring water, but it must be in a bag.
A large purse or small backpack comes in especially handy when you need to stash water bottles away during a visit. It is also essential to keep snacks or food, as well as all of the other stuff that you need throughout the day. National Park Service sites are not supplying bags with gift shop purchases to prevent plastic waste, so you will need to buy a reusable bag to carry souvenirs if you don't bring your own bag.
Choose a bag that is big enough to carry what you need but not too big that it would need to be checked at the front desk as luggage.
Snacks
I was actually shocked at how few places there are to eat in Washington D.C. as a tourist. That's not to say there isn't food available. It's just found in different ways.
Gift shops at museums and attractions don't really sell any snack foods or drinks AT ALL. If you're looking to grab a candy bar at a gift shop as a quick snack in between visits, you will be disappointed and frustrated.
Unless you want to order food from the food trucks on the mall or visit one of the few cafes in museums, you will be struggling to find a quick bite to eat for a snack. Seriously.
Pack a few candy bars, bags of cookies or whatever treats you might like to enjoy as a pick-me-up between meals. Here are some great ideas of what to bring. You will save time from having to wander around D.C., as well as saving money from over-priced vendors who know they are your only option.
Keep in mind, the rules for bringing food into every attraction are interpreted differently. While pre-packaged snacks didn't seem to be a problem, you might find more challenges with bringing in a half-eaten sandwich wrapped in plastic wrap or a container filled with fruit in its own juice, which is naturally more messy and could cause damage to exhibits.
Picnic Lunch
It is really hard to find a budget-friendly place to eat when in the tourist sections of Washington D.C. Most of your options that are close by will be the food trucks that line the streets of the Washington Mall and the cafes available in some of the Smithsonian restaurants, including the Smithsonian Castle, Natural History Museum and the National Gallery of Art.
During our March 2022 visit, we found that half of the cafes were closed due to staffing issues. So you will be more limited than normal until staffing shortages are resolved.
Packing your own lunch can help save a lot of money for your family. This is a smart choice if you will be visiting monuments outside on a walking tour leading up to lunch time, without entering the museums or historical sites with all of your food.
Game Plan
There is a lot to see in Washington D.C. and everything has different hours of operation, rules, requirements for tickets, etc. You need to spend some time researching before you travel to get an idea of where to go on what days, and what attractions are closest together.
Write out a game plan of what you want to see, hours, prices, etc. You also want to see the Metro routes and stops if you are interested in public transportation. This will help you out when you are trying to navigate the city. Otherwise, you will spend a lot of time on your phone researching destinations and wasting time while you are there.
A printed map could also help you a lot, compared to online maps. We got a printed map from the National Park Service that showed all of the major attractions in D.C. and it really helped put things in perspective for walking. Also, we found other unique places of interest that we didn't even know existed because they weren't prominently shown on Google maps.
Umbrella or Hat
While walking around, you won't have a lot of cover from the elements. Whether it is raining or snowing, or the sun is beating down on your shoulders, you want a way to protect yourself from the weather.
During warm weather months, bring a wide brim hat to keep you cool and prevent sunburn. We own several of these wide-brim hats that fold flat and they work really well.
We visited during March and the wind was crazy, making walking miserable. A warm hat or an ear warmer headband could have really helped a lot.
A travel-size umbrella is not only great for protecting from rain (or sleet), it also can shield you from the hot sun.
Battery Charger
Taking pictures and videos all day, along with searching Google Maps or attraction websites, can drain your battery fast. And there isn't a lot of convenient places to charge your phone! Most of the attractions and destinations you visit will not have charging stations or even accessible power outlets.
Bring a portable battery charger and charging cords so that you don't have to stop your travel to wait for your phone to charge.
Excessive heat or cold can drain your battery more quickly, too. Insulate your phone from the elements with a thermal protection sleeve.
To reduce battery drain, turn off Blue-Tooth on your phone unless you need it. Blue Tooth will really drain your battery very quickly while churning in the background.
Blanket or Portable Chairs
If you have kids or older adults that you are traveling with, you might be shocked to find out that there really is no comfortable place to just rest and relax for a bit while you are walking around D.C. There are not a lot of benches or chairs in most places. And what you do find will likely be hard, solid benches that aren't cozy or comfortable.
Consider packing a compact travel blanket to lay down on the Washington Mall or in any of the grassy park areas. It's a lot less messy than sitting on the dirt and grass.
For older adults, consider bringing a walking cane that turns into a chair if you must sit down a lot.
Helpful Tip: The art museums have some of the most comfortable seats among all of the attractions. While designed for sitting and contemplating the art work in front of you, they are also a nice way to get off of your feet for a few minutes and sit on plush, upholstered chairs.
First Aid Supplies
Bring a few basic first-aid supplies in case all of the walking and time outdoors takes a toll. You don't to pay exorbitant prices for these items in a drugstore or hotel lobby in the tourist districts. Some of the items to bring are:
Band-aids
Sunscreen
Aloe Vera for sunburns
Layering Clothes
Bring a variety of clothes that can easily be layered to accommodate for fluctuations in temperatures. For instance, when we visited in March it was very cold outside, but warm inside the museums. We needed to be able to take off a coat or a sweater when inside. In the summer, you might be very warm outdoors but the air-conditioning inside can feel cool.
Layering a t-shirt with a hoodie and an outer jacket is a smart way of being prepared for all weather changes during the day.
If you enjoyed this packing list for your Washington D.C. trip, be sure to check out our review of the International Spy Museum if you are thinking of visiting.