One thing you can almost always count on is for Florida to be HOT! It's not uncommon to sweat year round, especially with high humidity throughout Florida. So if you're coming to Orlando for Walt Disney World, be sure you can beat the heat by making a bottle of our natural cooling spray, which we like to also call Magical Cooling Mist!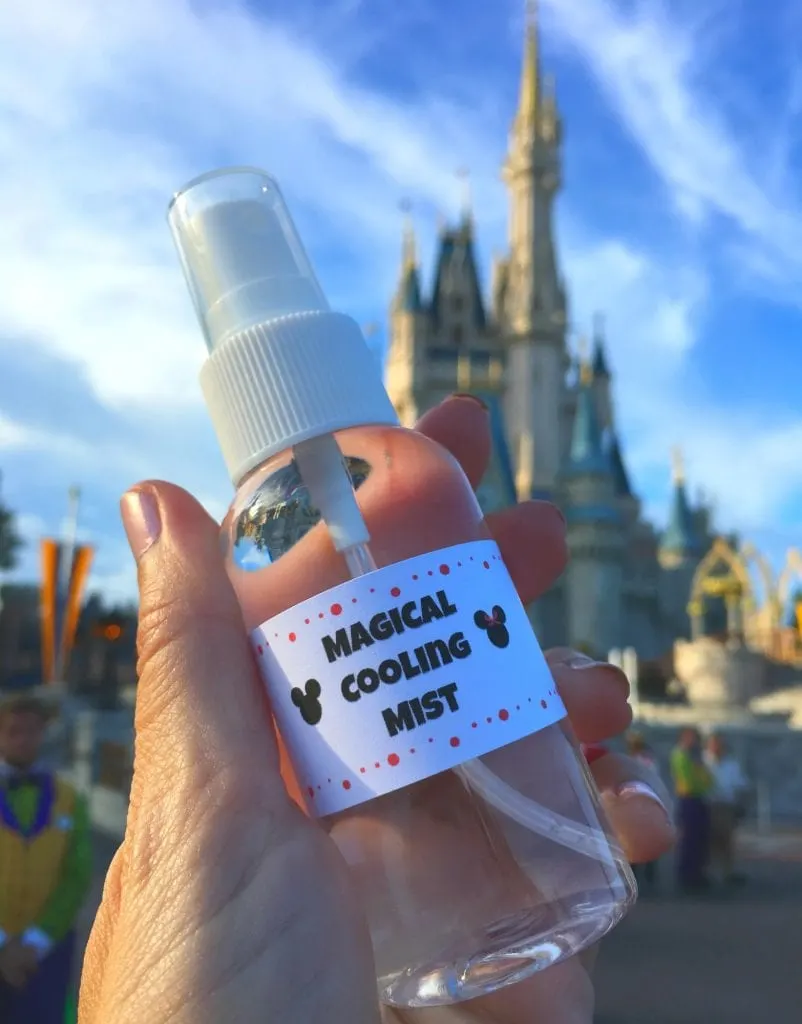 How to Beat the Heat in Florida
There's really no way to avoid heat and humidity in Florida.
Yes, there are a few months where the weather is absolutely BEAUTIFUL!!!! These are generally from January to April.
But if you can't visit Disney World in Florida during those months, you might be struggling with feeling too hot and sweating immensely any other time of the year. It's true.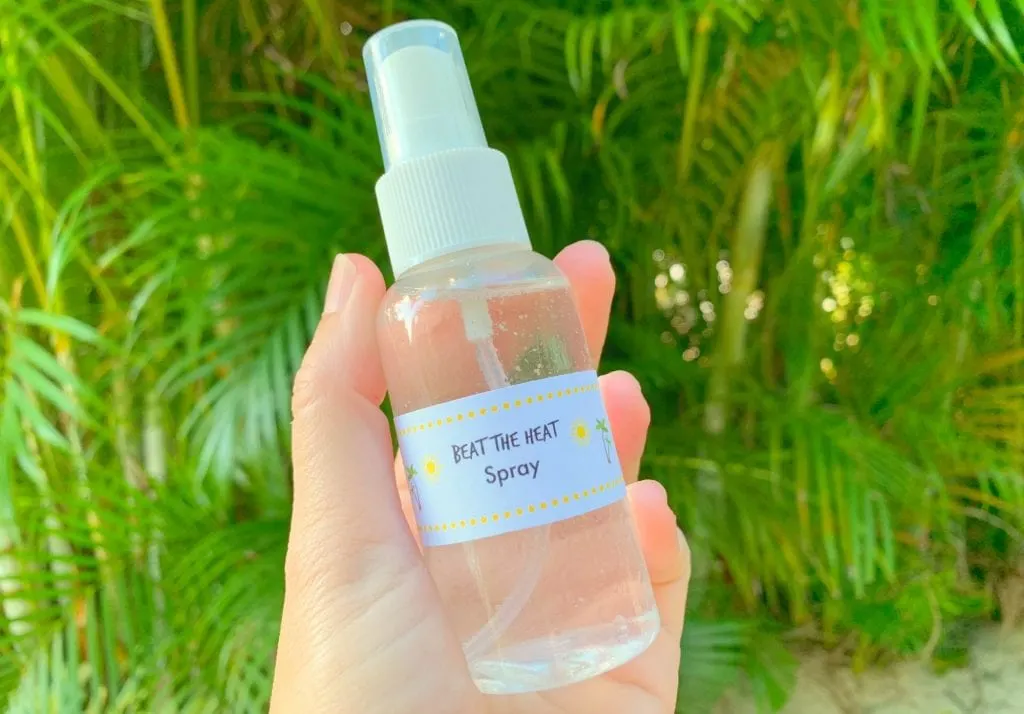 One of the most important (and best) ways to beat the heat in Florida is to stay hydrated! It is essential that you drink enough water to replenish the liquids you will lose while sweating. Our picks for the best water bottles for Disney World offer lots of suggestions on how to enjoy fresh, cold ice water all day long without having to buy bottles of water.
Proper footwear is also important in trying to beat the heat and keep cool in Disney World, as well as all of Florida. When your feet are warm, your whole body is warm! These best shoes for Disney World allow your feet to breathe while supporting your feet as you walk on concrete for miles every day.
Even with ice cold water and breathable shoes, you are still going to get hot and possibly overheated while being outside in Florida. Which is why you really need to bring our Magical Cooling Spray.
DIY Magical Cooling Spray to Beat the Heat at Disney World
Whether you are waiting in outdoor lines for rides at Disney World, or watching the parade or fireworks, you are going to get hot most of the time. It's just the way it is in Florida.
Our Magical Cooling Spray uses natural ingredients to help cool your body down quickly and easily.
How?
After using a cooling spray, as the moisture evaporates off of your skin naturally, it removes heat and lowers your temperature. You can increase the effects of cooling by spraying pulse points on your neck, wrists, and behind your knees, which are areas where arteries run close to the surface of the skin.
The natural ingredients include:
Why do these ingredients work?
Aloe Vera gel is known for cooling sunburn and healing the skin. But you don't have to wait until you have sun burn to use it! Applying the gel to your skin instantly brings a cooling sensation and works to heal your skin from exposure.
We use aloe vera gel because it is a common product that most people have. Aloe vera juice can also work, too. It is more expensive, so we wanted to give everyone an option.
Peppermint essential oil is naturally cooling. Smelling peppermint can trick your brain into thinking it is cooler than the actual temperature. (Ever notice how when you smell peppermint you think of snow and Christmas?) Applying peppermint oil to the skin (do not apply it directly because it can burn – it must have a carrier, which in this case is the aloe vera and water) will give a physical sensation of cooling, as well.
Tea Tree essential oil helps to kill germs and bacteria that can grow on your skin with sweat. It can feel refreshing, as well, when applied.
***As with any essential oil, do not apply directly to skin because it can be unhealthy for some sensitive people. And this spray does NOT prevent sun exposure! It only helps to cool you off! You still need to apply sunscreen regularly.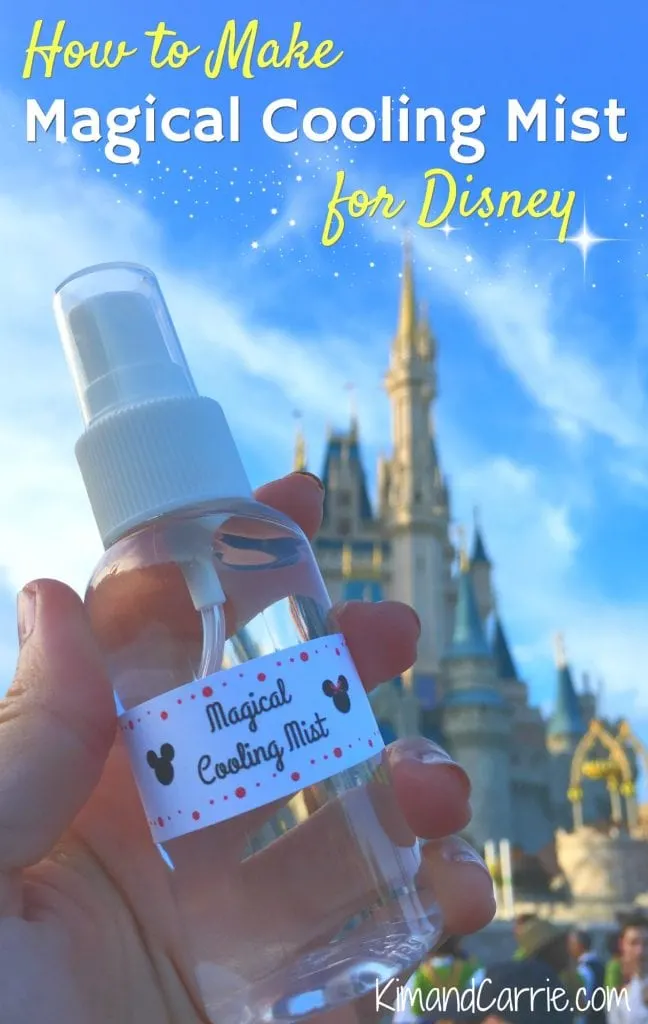 Free Printables: Magical Cooling Mist and Beat the Heat Spray
You can create our magical cooling spray and store in any spray bottle that you have (we bought ours as part of a three-pack at The Dollar Tree, but this plastic 2 oz. spray bottle is also a great buy). But you might want to jazz up the bottle for your vacation.
Or, you can make a bottle to give to a friend or family member for their upcoming vacation.
We created two printable labels for this cooling spray. One is specifically for Walt Disney World. And the other can be used for traveling anywhere! Download the labels in our Free Digital Library. (Pictures below are an example of what they look like and will not print well.)


Magical Cooling Spray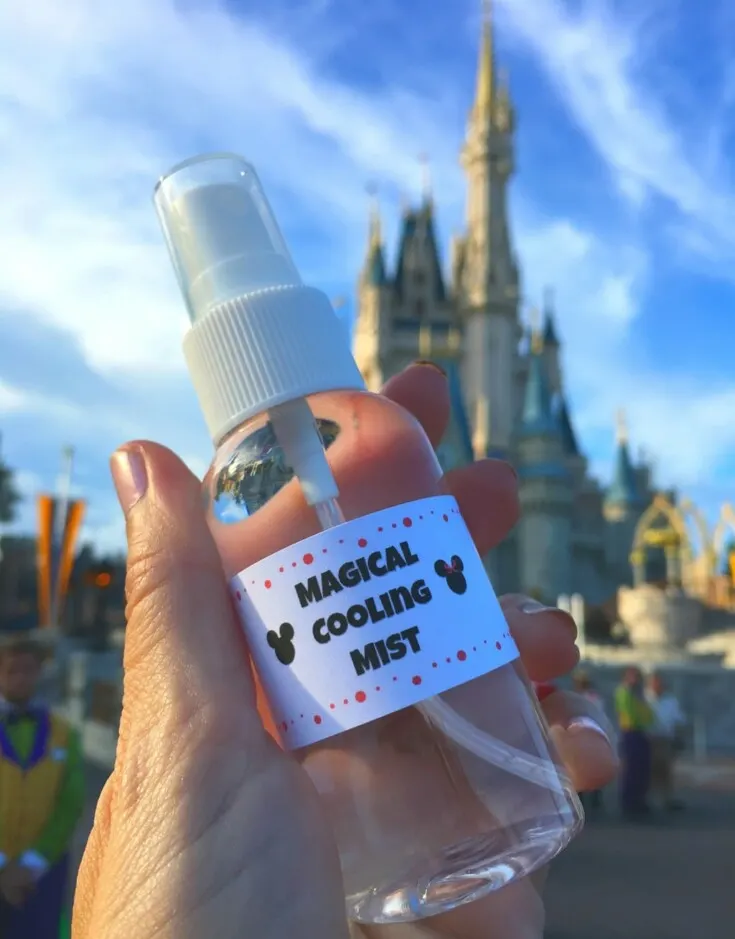 A magical cooling spray to beat the heat at Disney or wherever you vacation.
Materials
1 tsp. Aloe Vera Gel (or Aloe Vera Juice)
10 drops peppermint essential oil
10 drops tea tree essential oil
Water
Tools
Small spray bottle (we had a 2 oz. size from The Dollar Tree)
Instructions
Combine aloe vera, peppermint essential oil and tea tree essential oil in the bottle.
Fill with water to just below the top of the bottle.
Shake vigourously to combine all the ingredients.
Apply to skin when hot or sweating.
Notes
*This cooling spray does not contain any preservatives. Therefore, it's best to only keep the spray for a week at the most.
*Keep the cooling spray out of direct sunlight. For instance, don't have it in a mesh pocket on your backpack. The sun will break down the ingredients.
*Consider making the cooling mist when you get to your destination since it is easy to make.
*If you have a cooler, keep the magical cooling spray chilled for an extra burst of cooling to beat the heat!
Recommended Products
As an Amazon Associate and member of other affiliate programs, I earn from qualifying purchases.

More Disney Tips
Sometimes it feels like there's SO MUCH to know before heading to Walt Disney World!
Don't worry. We want you to enjoy your Disney vacation stress free! Here's some of our best Disney World hacks and tips: