Planning a visit to Universal Orlando? There is so much to see and do that you might be overwhelmed with your first visit. Or maybe you just haven't been to the theme parks in a while and so much has changed. Our Universal Studios Orlando Vacation Guide gives you the information you need to start planning your trip to Orlando.
You definitely won't be bored with a visit to America's theme park capital! Universal Orlando has so much to offer, including 8 amazing resort hotels, 2 epic theme parks, a water park and amazing dining. There is so much information on Universal Orlando that it can feel overwhelming, but this guide will help you with all of that!
If you are a first time visitor, we suggest watching some of these movies before going to Universal Studios so that you are familiar with the characters and stories!
Universal Studios Orlando Basics
Universal Studios Orlando Resort Address: 6000 Universal Blvd, Orlando, FL 32819
What to See and Do: There are three theme parks: Universal Studios; Universal Islands Of Adventure; and Volcano Bay Waterpark (Universal Studios calls it a theme park, but it isn't one in the traditional sense.) Universal CityWalk is a dining, shopping and entertainment complex. There are 8 Universal hotel resorts on property.
Helpful Tip: You can download the Universal Orlando Resort app to find up to date wait times on all of the rides you're interested in.
Security: You will need to go through a security checkpoint to enter the theme parks or Universal CityWalk.
Face Masks: As of February 12, 2022, fully vaccinated individuals are not required to wear face masks either indoors or outdoors. Those who are not vaccinated are encouraged to wear a mask, but are not required to.
For more helpful tips about planning a vacation to Universal Orlando, see these posts, too:
Best Time To Visit Universal Studios Orlando
Weather and school holidays play a large part in determining when is the best time to visit Universal Orlando.
Weather
The best weather is going to be from November to March. This is when temperatures in Orlando are mild, generally around 70-80 degrees. Rain is not as common during this time frame. Humidity levels are lower, making the ambient air temperature feel cooler than normal in central Florida.
However, over the past five years, we have seen the weather go a little crazy in Orlando during this time frame. There have been days and weeks with unseasonably cold winter weather, as temperatures dip towards freezing overnight. Intense thunderstorms and tornado warnings are becoming more prevalent. And then the weather swings towards excessive heat, with temperatures that feel like 90 degrees.
Still, the weather is going to be much better in the winter and early Spring, compared to any other time of the year in Orlando.
June through November is hurricane season in the Southeast. This is when hurricanes can form, along with tropical storms and pretty bad thunderstorms.
While not common, it is a good idea to purchase vacation insurance if you are planning a visit during these months in case a hurricane prevents you from traveling.
See Universal Studios Rain Policy and Volcano Bay's Rain Policy for more information on how weather can impact your visit.
When Are Peak Crowds?
Orlando is a family vacation destination for Americans and the rest of the world. When school is out around the globe, that is when you will find the most visitors to Orlando.
Spring Break, Easter, July 4th, Summer, Thanksgiving, Christmas, New Year's and any official holiday (even Labor Day) are going to be peak times in the theme parks. Heavy crowds are to be expected on the actual holiday, as well as one week before and one week after the holiday.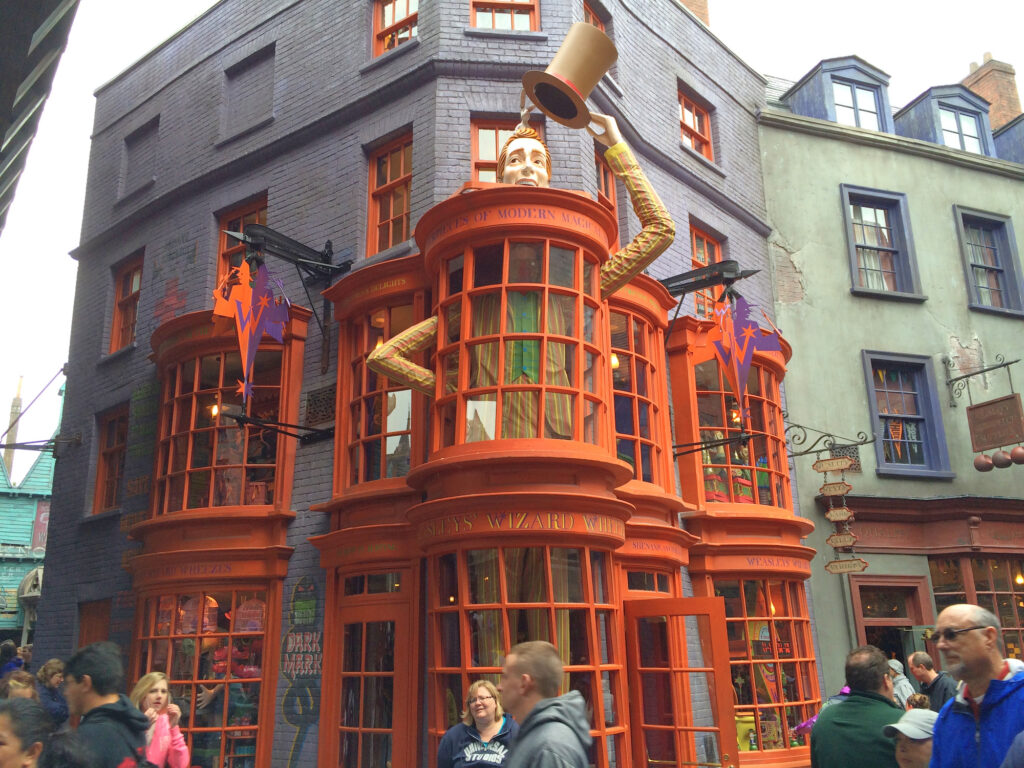 How Long To Visit
How many days should you spend at Universal Orlando? Ideally you will want to budget 3-5 days for seeing the theme parks and water park, as well as enjoying shopping and dining.
Of course, this is a personal decision that only you can make. A three day visit will give you one day at each of the theme parks (including Volcano Bay, which is a water park but is called a theme park). That will be a very busy vacation and you will probably be tired at the end.
Keep in mind, a 3-day visit to Universal Orlando could actually be a 4-5 night stay. To have three full days, you will need to arrive to your hotel the night before and plan to spend the night on the last day, with departure the day after.
Universal CityWalk likely would not be a full or even half-day adventure for most. It is better to budget time for this attraction on an arrival or departure day, or after visiting the theme parks in the evening.
For long stays, consider buying outside food to bring into Universal Studios to save money. Here's a great list of the best snacks for theme parks and where to get grocery deliveries.
Getting To Universal Orlando
Flying
The closest airport to Universal Orlando is Orlando International Airport (MCO). It's an easy 19 minute drive from MCO to the Universal Orlando parks.
Sanford Orlando Airport (SFB) is located in Sanford, Florida. While low-cost carriers fly into the airport, keep in mind that it is about an hour from Universal Orlando (depending on I-4 traffic).
Getting to Universal From The Airport
Rent a Car You will have transportation of your own, but you will need to pay parking fees at Universal Studios, either parking at a Universal Studios Hotel or in the parking garage when visiting the theme parks.
Uber, Lyft or Taxi These service start about $30 from MCO depending on day and time.
Shuttle Service Transportation services, such as Mears, can be booked for shuttle service to area hotels. These are different than an Uber or taxi because you will probably be sharing a van-ride with other visitors.
Universal Studios Orlando Hotel Transportation If you are staying on-site at a Universal hotel, you can book transport through the resort.
For more detailed options, visit our guide for how to get from the Orlando Airport to Universal Studios.
Train
Taking a train to Universal Studios Orlando is not an easy or cost-effective transport to the area in most cases.
Amtrak does have service to Orlando. There is a train station downtown, as well as in Winter Park (which is further away).
The Amtrak Auto Train allows you to bring your vehicle with you. The service runs from the Washington D.C. area to the Sanford, Florida Amtrak station.
You will definitely need to pair your train ticket with a taxi ride or Uber or Lyft to get to Universal. Expect to pay at least $17 for an Uber ride from the Orlando train station to Universal.
When high-speed rail finally comes to Orlando one day, taking a train will hopefully be quicker, easier and less expensive.
Driving
You can drive to Universal Studios. When checking your route and transportation times, keep in mind that traffic in Orlando is very heavy and expect many delays that might not show on your map tool.
If you are arriving to Orlando at rush hour times, from 7-9 a.m. or 3-7 p.m., expect heavy delays. Traffic on the weekends is also heavy, as well as during holidays.
Does it sound like traffic is always busy in Orlando? Yes, it is. If you are planning a long travel day and arriving in Orlando at the end of a long journey, you could find yourself frustrated and exhausted by sitting in a traffic delay while so close to your final destination.
Where to Stay At Universal Orlando
There are 8 resort hotels operated by Universal Studios Orlando. These hotels are the closest to the theme parks and offer many perks that can save you a lot of time (and sometimes money) when choosing these accommodations.
Check out our extensive Universal Studios Orlando Hotels Guide for more information. Including the best hotels for large families, with rooms that can accommodate up to 8 people.
If you are camping or RVing, here are the best RV parks near Universal Studios Orlando.
There are plenty of hotel chains surrounding Universal Studios that can offer less expensive rates and free hotel shuttles to Universal. You might choose these for the costs, or because you are using a loyalty program with the hotel brand. Some of the ones we suggest are:
Doubletree by Hilton
Drury Inn and Suites
Holiday Inn and Suites
Hyatt Place
Tickets
You will need to know how many days you are staying in Orlando and how many theme parks you want to see before deciding on how to purchase tickets.
Unless you are visiting just one theme park for one day, then a combination ticket is likely the best for you.
Individual theme park tickets for one day at one park start at $109.
At Universal Orlando, you can buy single day tickets to each park, 2 day, 3 day, 4 day and 5 day tickets. The more days you buy, the cheaper the tickets will be per day.
However, you can save even more money by buying Universal tickets at Sam's Club or through Costco.
Park To Park passes are a great purchase and are a bit of a necessity if you are visiting more than one park. (This is also NECESSARY if you want to ride the Harry Potter train attraction that goes in between the two theme parks.) The cost of Park To Park passes is an additional $60 to $70 total depending on how many days you will be in the park.
*We highly suggest using a lanyard at Universal to keep track of your tickets and passes. Here are the best lanyards for Universal.*
For a long visit to Universal Orlando, consider getting an Annual Pass. Even if you don't use it for the entire year, it might make sense to get the annual pass and be able to use its benefits, such as dining, merchandise and hotel discounts. These can be especially cost-effective if you are a Florida resident or have business in the state that allows you to get the Florida resident discount.
If you aren't staying at a premiere resort then Express Passes are an additional expense. Think of a Universal Express Pass like a Disney Fast Pass. These passes allow you to have a shorter wait time in a separate line than the other park guests. They cost an additional $150 per person, per day.
Our favorite way to buy tickets is through Get Away Today. They are an authorized ticket seller and you can get savings on park tickets, hotels and more.

We have found savings on every type of ticket using Get Away Today compared to buying through Universal.
Related Post: Best Harry Potter Restaurants at Universal
Universal Studios
Universal Studios is a 541-acre theme park where all of your favorite tv shows and movies come to life. It is also home to one of the lands of Wizarding World Of Harry Potter, Diagon Alley.
It can be confusing when talking about Universal Studios. Not only is it the proper name of the first Universal theme park in Orlando, but it is also the general name that people use to talk about the entire resort.
Universal Studios theme park is located on one end of Universal CityWalk. You will enter the main gate off of CityWalk, right near where the rotating Universal globe is that is fun to take pictures with.
You can walk between this theme park and Islands of Adventure from the outside of the parks, via CityWalk. Or you can hop in-between parks on Hogwart's Express, the Harry Potter train.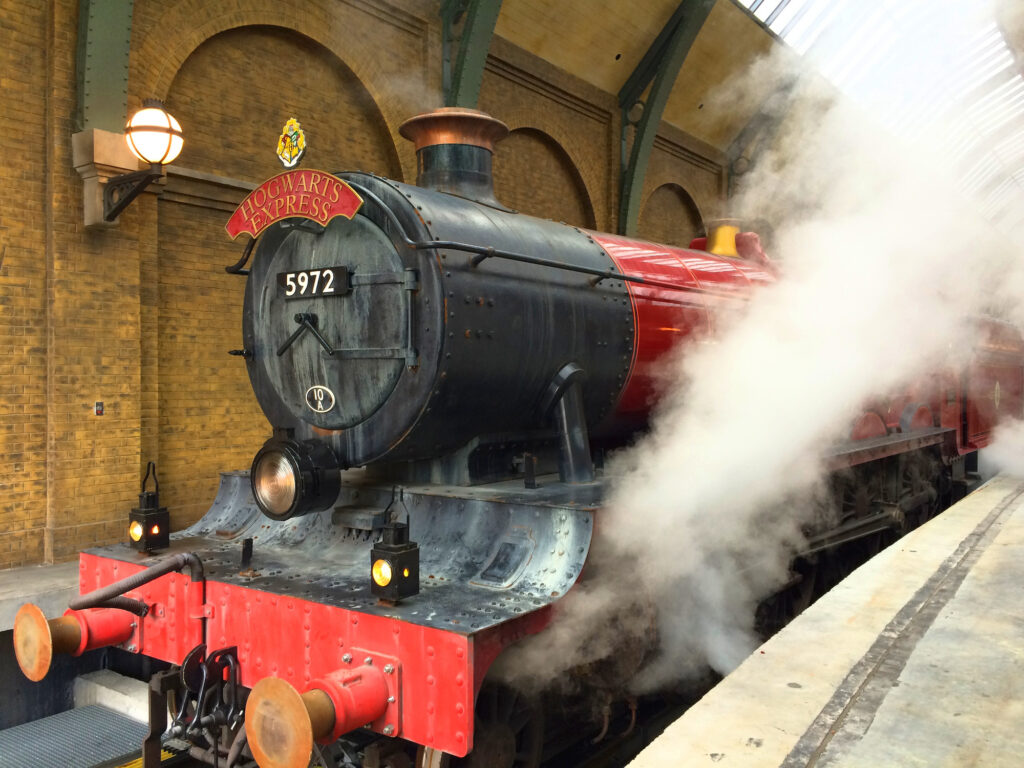 If you leave a theme park, you can re-enter Universal Studios on the same day with your valid ticket.
Universal Studios Themed Lands
There are specific lands inside the theme park. However, they are not as clearly defined as the themed lands are in Walt Disney World. So if you're not sure where you are, you are probably not alone! The lands include:
Wizarding World Of Harry Potter: Diagon Alley
Springfield: Home Of The Simpsons
The Lagoon
Hollywood
New York
San Francisco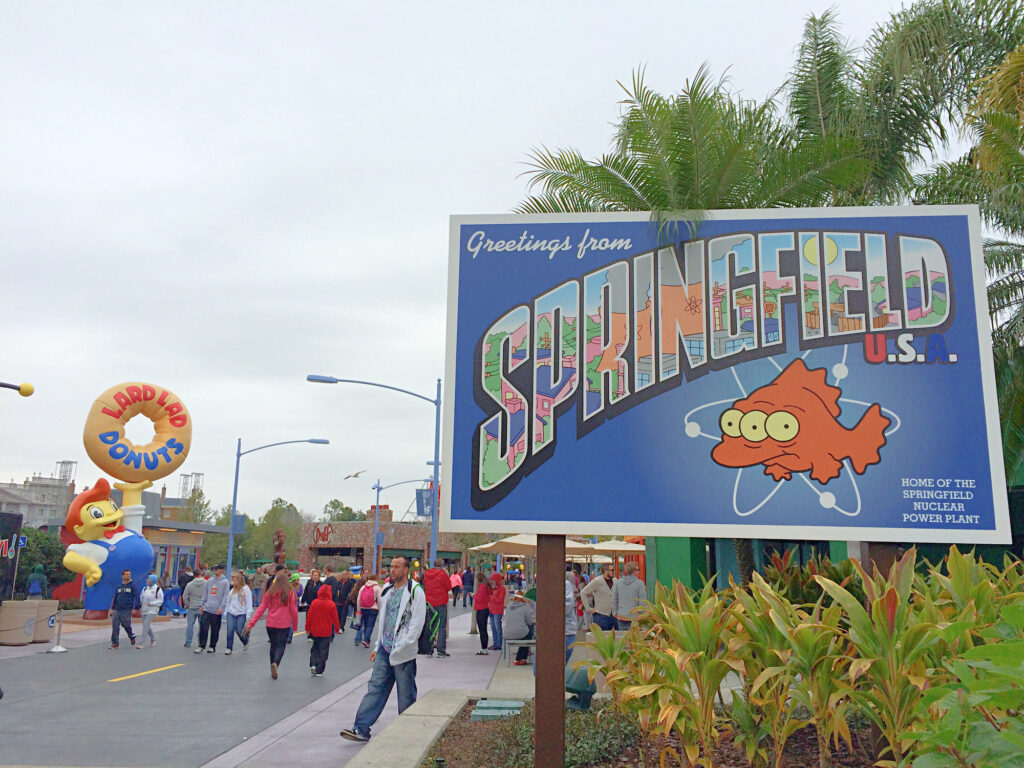 Below are some of the best attractions and shows that you can find at Universal Studios.
Harry Potter and the Escape From Gringotts
In Diagon Alley, riders will discover the magical thrill ride, Escape From Gringotts. You'll know you're in the right place when you see the fire breathing dragon! On the ride, you'll navigate the subterranean vaults of Gringotts Bank with Harry, Ron and Hermione by your side.
Despicable Me Minion Mayhem
On this ride, that's fun for the whole family, you'll join Gru's minion army through a supervillain's laboratory! This ride is consistently voted a family favorite, kids will love joining the minion army.
Fast & Furious Supercharged
As one of the latest additions to Universal Studios, this attraction takes you on a super charged thrill ride with the Fast & Furious crew. It may not be suitable for children.
Revenge Of The Mummy
On this thrill ride, you're transported to Egypt into the world of The Mummy. You'll race through pyramids, forwards and backwards to escape the evil mummy, Imhotep, on this racing rollercoaster.
Men In Back Alien Attack
On this family-friendly motion simulation thrill ride, you are a new agent in the Men In Black during an alien invasion. Use your laser pointer gun to zap aliens and earn points!
The Simpsons Ride
On this motion ride, featuring 3D animation, you'll join the Simpson's on a trip to Krustyland. You'll get to see see all of your Simpsons favorites as you careen through Springfield.
The Bourne Stuntacular
You've never seen anything like the stunts in the Bourne Stuntacular. Although this show does have a parental advisory, it doesn't get more thrilling than watching Jason Bourne in fist fights and shootouts. Complete with rooftop and motorcycle chases this show will leave your heart pounding.
Tales Of Beedle The Bard
Harry Potter fans won't want to miss the compelling Tales Of Beedle The Bard in Diagon Alley. This trunk show features the thrilling tales depicted in the famous wizarding book. It's entertaining for the whole family.
Character Party Zone
At the Character Party Zone, your family can meet favorite characters like Gru and the Minions, Spongebob Squarepants and many more.
DreamWorks Destination
At the DreamWorks Destination you can see most of your DreamWorks favorites in an interactive experience. Characters here include Madagascar favorites, Kung Foo Panda, and Shrek among others.
Hollywood Character Zone
At the Hollywood Character Zone meeting classic characters is the name of the game. These characters include Scooby Doo and the gang, Betty Boop, Doc Brown (Back To The Future), and Woody Woodpecker.
Universal Islands Of Adventure
The second theme park at Universal Studios Orlando, and the newest, is Islands Of Adventure. This park features the Marvel Super Hero Island, with The Incredible Hulk Coaster coaster; Hogsmeade Village; and Jurassic Park, which includes the Jurassic World VelicoCoaster. This is also where you will find the three water rides at Universal Orlando Resort.
You will enter Islands of Adventure from Universal CityWalk. You can walk between this theme park and Universal Studios from the outside of the parks, via CityWalk. Or you can hop in-between parks on the Hogwarts Express, the Harry Potter train.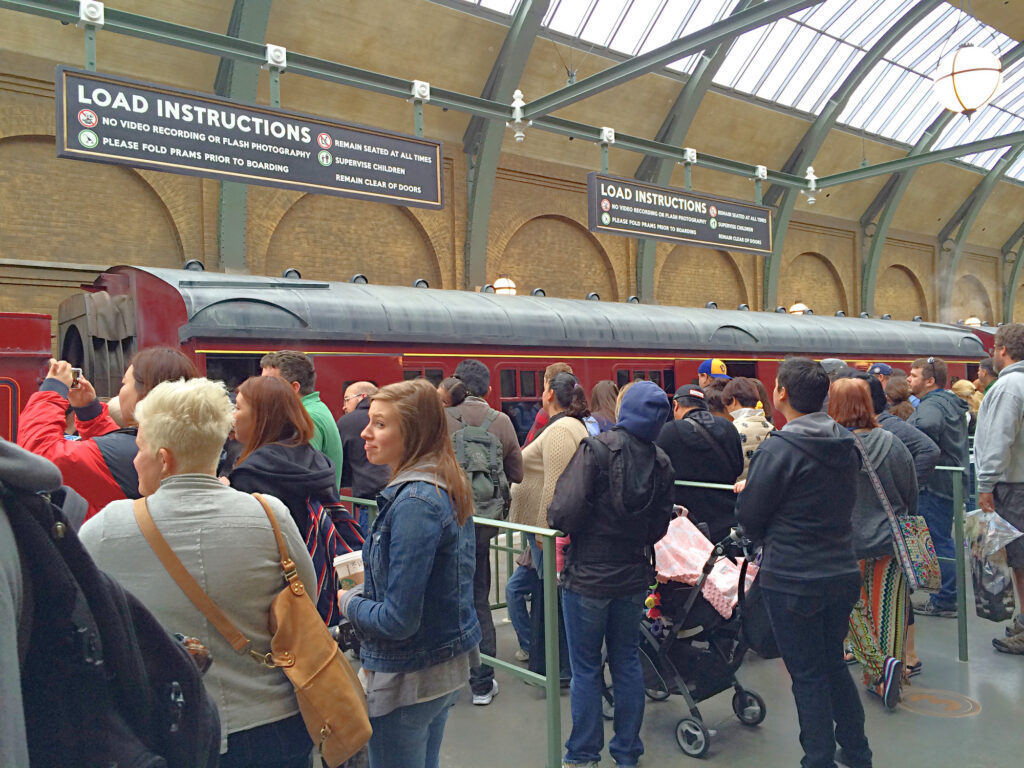 The most popular rides in the park are Hagrid's Magical Creature Motorbike Adventure, VelociCoaster, and The Incredible Hulk Coaster. If you want to ride any of those without a crazy long wait, make sure to ride them first thing in the morning.
Universal Islands Of Adventure Themed Lands
The lands at Universal Islands Of Adventure are, quite literally, out of this world! You will walk from land to land, each with a different look and theming. They include:
Port On Entry (Park entrance)
Wizarding World Of Harry Potter – Hogsmeade
Marvel Super Hero Island
Skull Island
Jurassic Park
Toon Lagoon
Seuss Landing
The Lost Continent
Wizarding World Of Harry Potter: Hogsmeade
The Wizarding World Of Harry Potter is split up between Islands of Adventure and Universal Studios. At Islands of Adventure you will get to enjoy Hogsmeade, which is complete with Hogwart's castle.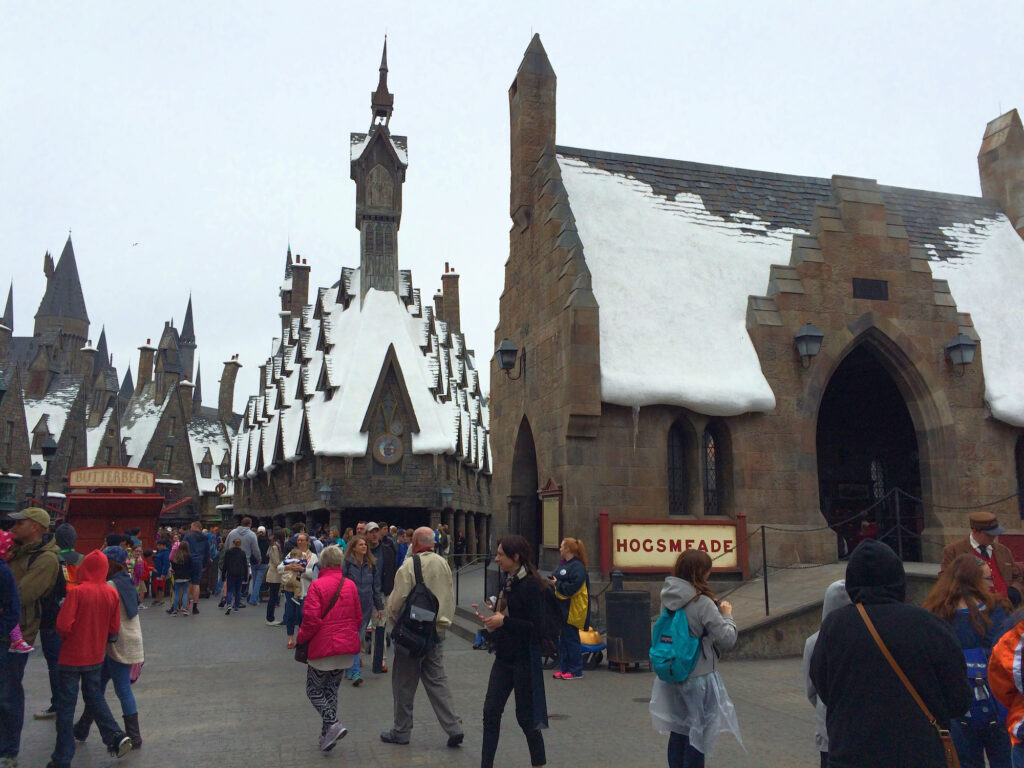 Hagrid's Magical Creature Motorbike Adventure One of the newest additions to the Wizarding World, this thrill ride has been deemed one of the best rides in all of Florida. This rollercoaster is complete with surprises, animatronics and beautiful scenery. It's one of the best and most popular rides in the entire park.
Harry Potter and the Forbidden Journey This fan favorite is one of the most popular rides at Islands of Adventure. The queue is inside of the Hogwarts castle and the interactive nature makes the long wait times fun. Once on the journey, you'll fly through the grounds of Hogwarts on the ride of a lifetime. A word of caution, this ride tends to leave adults dizzy and nauseous.
Islands Of Adventure Frog Choir At this show in Hogsmeade, you'll get to hear the musical stylings of the choir of Hogwarts Schools of Witchcraft and Wizardry. Complete with giant croaking frogs just as they are in the Harry Potter films.
Marvel Super Hero Island
If you're a Marvel universe fan, then you can't miss Marvel Super Hero Island. It's anything and everything Marvel, including themed restaurants, coasters and character meet and greets.
The Incredible Hulk Coaster The Hulk Coaster is one of the premiere rides at Universal Islands Of Adventure. Although the coaster is 20 years old it still impresses with a quick launch and incredible corkscrews. Join the big green guy as you twirl and race through the air.
The Amazing Adventures Of Spider Man This 3D simulation action packed adventure has you bobbing and weaving through a variety of Spider Man'sunforgettable moments. The wait can get long for this ride so make sure to ride this thrilling simulation early in the day.
Character Encounters Fans can meet the Marvel Super Heroes who regularly parade through Marvel Super Hero Island. Super hero meet and greets include Spider Man, Captain America, Wolverine, Dr. Doom and many more.
Skull Island
Skull Island has one ride. It's not hard to guess which attraction that is! It is Kong!
Skull Island: Reign Of Kong This is a screen based ride where you will encounter all of the large inhabitants of Skull Island, including Kong himself. Keep an eye out for the giant animatronic Kong at the end of the ride.
Jurassic Park
Be transported to the land of dinosaurs in Jurassic Park. Themed after the hit 1990's popular films and the book by Michael Crichton, this land feels like you've stepped into the jungle!
Jurassic World VelociCoaster This roller coaster is known as one of the best in all of Orlando! Roller coaster enthusiasts will appreciate all of the thrilling twists and turns of the rip-roaring VelociCoaster.
Seuss Landing
Seuss Landing takes you into the whimsical world of Dr. Seuss and all of the fun that goes with it!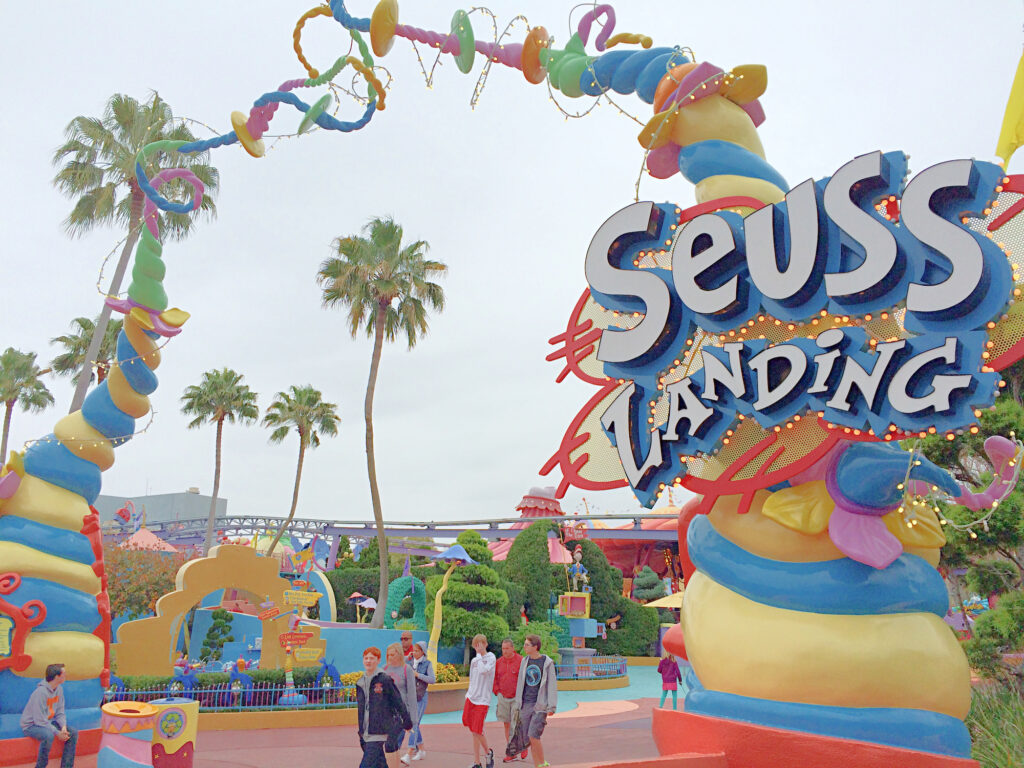 The High In The Sky Trolley Train Ride This trolley train ride will give you great aerial views of the park and a fantastic scenic overview of Seuss Landing.
Oh! The Stories You'll Hear! You can find this show in Seuss Landing, where whimsical characters like Cat In The Hat, Thing One and Thing Two, and the Grinch perform musical tellings of their stories.
Dr. Seuss Character Zone Kids can meet their favorite Seuss characters including Sam I am, The Cat In The Hat and the Grinch.
The Lost Continent
Though the Lost Continent land is pretty big, it doesn't have many rides and attractions. Mythos Restaurant is one of the biggest draws of this land, as it is one of the most popular restaurants at all of Universal Studios.
Posiden's Fury Although this is widely considered a show, it consistently has wait times similar to rides and attractions at Universal Islands Of Adventure. This is a walk through attraction where you explore the chambers of the temple of Poseidon. The show lasts about 10 minutes and features fun effects and some scary moments.
Volcano Bay Waterpark
This water theme park is like no other! At Volcano Bay, you will notice the gigantic volcano in the middle of the waterpark immediately. (If you stay at Universal's Cabana Bay Resort, you can get rooms with the Volcano view! Plus, it's right next door so no long drives to get to the water park.)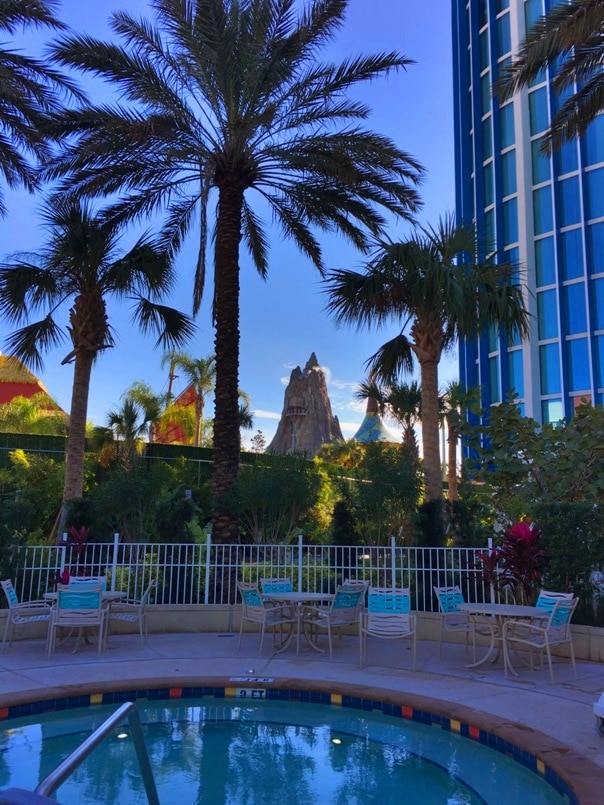 There are 18 different rides and attractions in the park, and it even has a water coaster! Here are some of the fun things you will find here:
Krakatau Aqua Coaster Your 4 person canoe will slide through dark tunnels and the mists of the mighty volcano before plunging through a waterfall into a pool below on this water coaster.
Honu of Honu ika Moana Fans of Moana will appreciate that much like the ancient Waturi people, you too can ride the waves on this massive multi-person water slide.
Kopiko Wai Winding River If you're not into thrill rides at waterparks, then you can relax in the Kopiko Wai Winding River. You'll still be in for a few surprises along the float, as you enter the Stargazer's Cavern make sure to check out the dazzling night sky.
TeAwa, The Fearless River The opposite of a lazy river, this ride takes you on a thrilling whitewater adventure and the TeAwa. You'll be wearing a life-vest as you race through rapids and waves along the river.
Waterpark Bambu Find staples like burgers, fish and chicken sandwiches at this island hideaway. This quick service restaurant is the perfect place to grab a bite on your busy waterpark day.
Whakawaiwai Eats This quick service eatery is all about the tropical flavors, and favorites here include BBQ Chicken Pizza, Hawaiian Pizza and Jerk Shrimp Mac & Cheese.
You might be interested in reserving a Volcano Bay private cabana for more privacy at the water park.
Universal CityWalk
Universal CityWalk is not a theme park, and it probably wouldn't be a great destination for an entire day. Universal CityWalk can be compared to Walt Disney World's Disney Springs, just not as big.
In order to get to either of the Universal theme parks, you will need to pass through CityWalk. Whether you are parking in the parking garage or using water taxi shuttles from Universal hotels, you will find yourself walking through the area in order to get to where you need to be.
Avoid parking fees with these tips of how to get free parking at Universal CityWalk.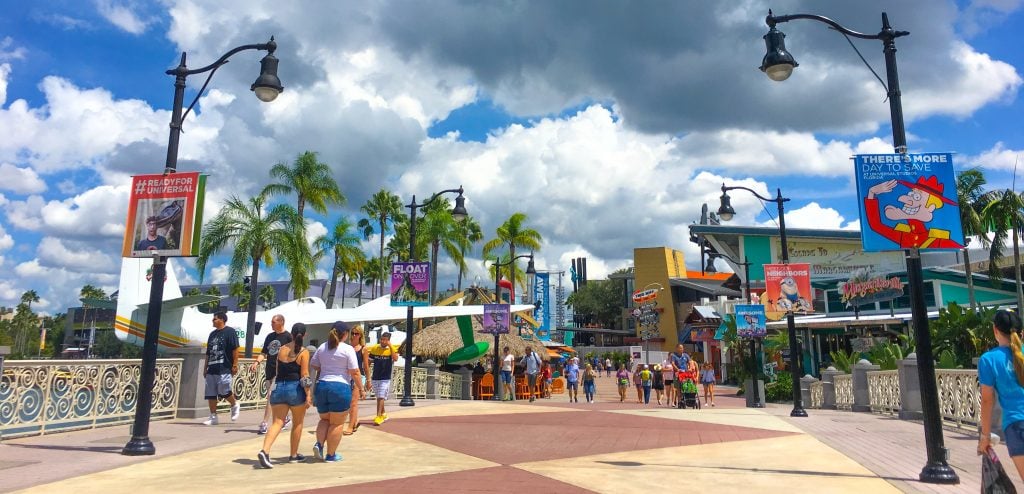 Universal CityWalk is a fun and vibrant collection of restaurants, snack stands, clubs, shopping and entertainment. It's also one of the best places to get coffee at Universal Studios.
However, if you are not eating in a restaurant or needing to buy souvenirs, you might consider this area just a colorful place to walk through and not actually spend much time here.
Consider planning a few hours to visit CityWalk on a check-in or check-out morning at Universal's hotels. That way, you don't waste a park ticket on a half day at a theme park. These places to have breakfast at CityWalk are great ideas for getting a meal.
Enjoying the dining and shopping is most popular after leaving the theme parks, as Universal CityWalk is open until 2 a.m. However, this is the time when it is most crowded, too.