Discovery Cove reviews and photos from the all inclusive resort where you can swim with dolphins in Orlando!
Many thanks to Discovery Cove for inviting us to experience the tropical paradise.
Discovery Cove is like a much-needed tropical vacation, without the need to fly anywhere or take days off of work. Seriously. If you're looking for a tropical vacation at an affordable price with unique bucket list worthy moments, then make plans to go to Discovery Cove in Orlando now!
As an Orlando resident, I know what it's like to be tired of awesome vacation destinations that are ruined by too many crowds, too much waiting in line, and too many uncharges for every single little thing.
Discovery Cove in Orlando, Florida is different. Vastly different.
If you're looking for a great value, few crowds, unique experiences and where to swim with dolphins in Orlando, then look no further.
I always feel like I'm on a cruise ship's private island when I go to Discovery Cove. It's like a mini vacation that feels like you've been away for 2-3 days. Who doesn't need that in their life?
Here's my reviews of Discovery Cove, the animal encounter experiences, food, photo package and more.
What You Need to Know About Discovery Cove In Orlando
Discovery Cove is a family friendly, all inclusive day resort. SeaWorld, Aquatica, Busch Gardens and Discovery Cove are all part of the same company.
A Place with Few Crowds in Orlando
There are a limited number of tickets sold to Discovery Cove each day. Only 1,300 guests a day! Can you believe it?!? (By comparison, the Magic Kingdom has about 50,000-55,000 guests at full capacity.)
Attendance is kept low for a reason. It's a wonderful thing, especially when you're used to the massive crowds at Walt Disney World or Universal Orlando.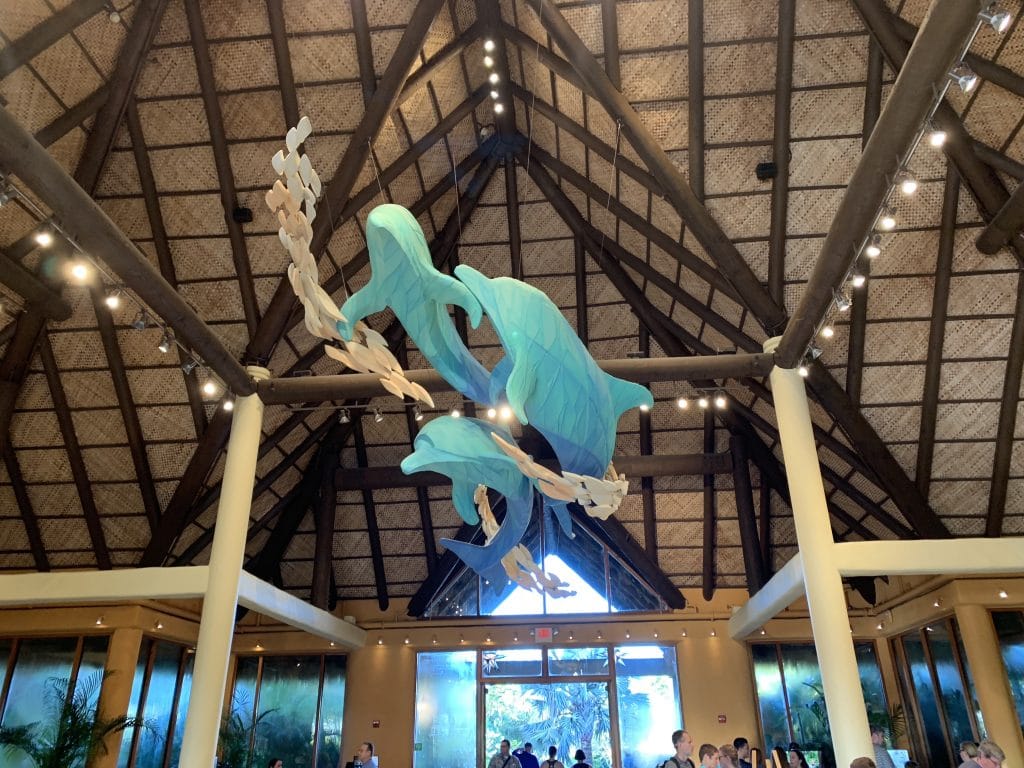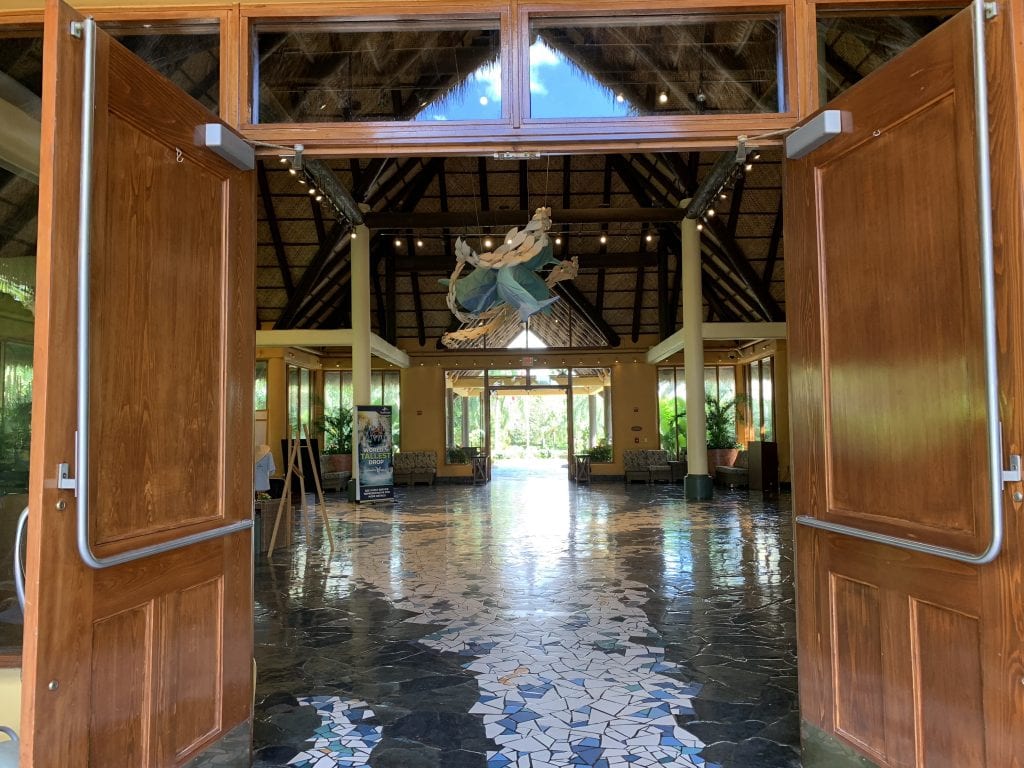 Low attendance also means that tickets sell quickly. Especially during peak travel times. Booking ahead of time for Discovery Cove might not be mandatory, but it's a really, really smart idea. Especially if you want to sign up for any upgraded animal counters (see below) which have VERY limited availability.
Awesome Amenities at Discovery Cove
Discovery Cove tickets also come with UNLIMITED FREE ADMISSION to SeaWorld and Aquatica (and Busch Gardens if you upgrade) for 14 days. That is a wonderful deal! Not only do you get the all-inclusive resort experience for one day, but you'll be able to visit even more theme parks and a water park for two weeks afterwards for one price.
There's a little something for everyone at Discovery Cove. Whether you've got small children, don't like to swim, or are adventure seekers, you'll have fun in your private tropical resort!
All animal encounters and water experiences are complimentary, unless you want to do an upgrade for a specialty experience (see below for our animal encounter reviews).
What to Do at Discovery Cove
Discovery Cove offers the following all-inclusive options: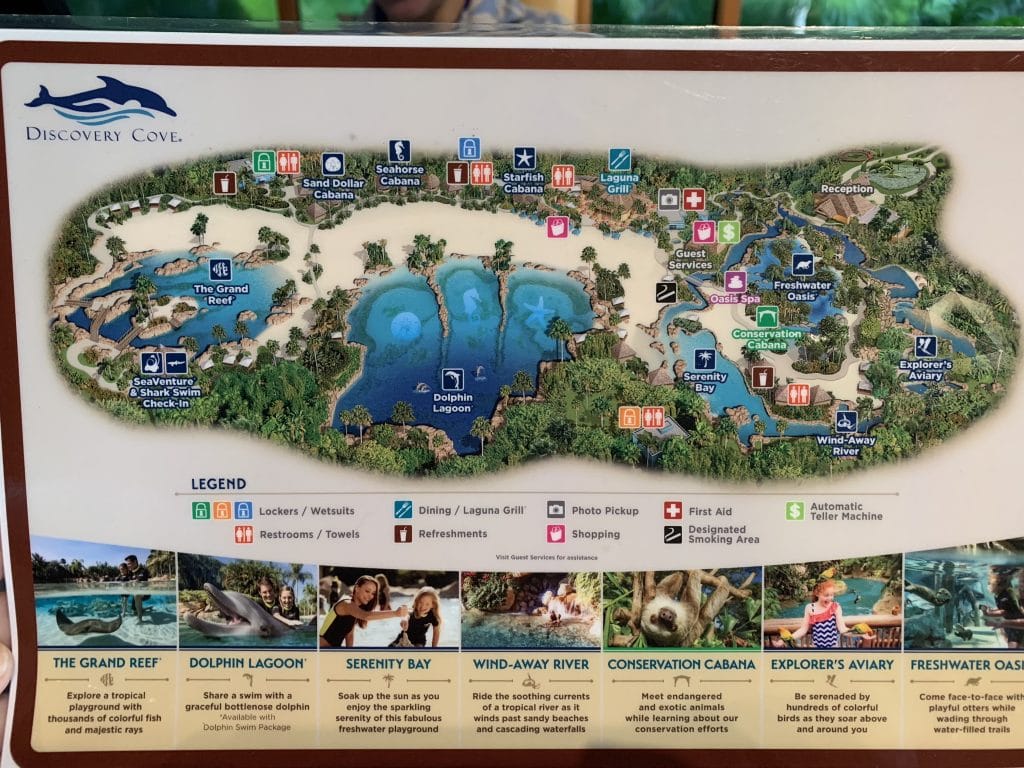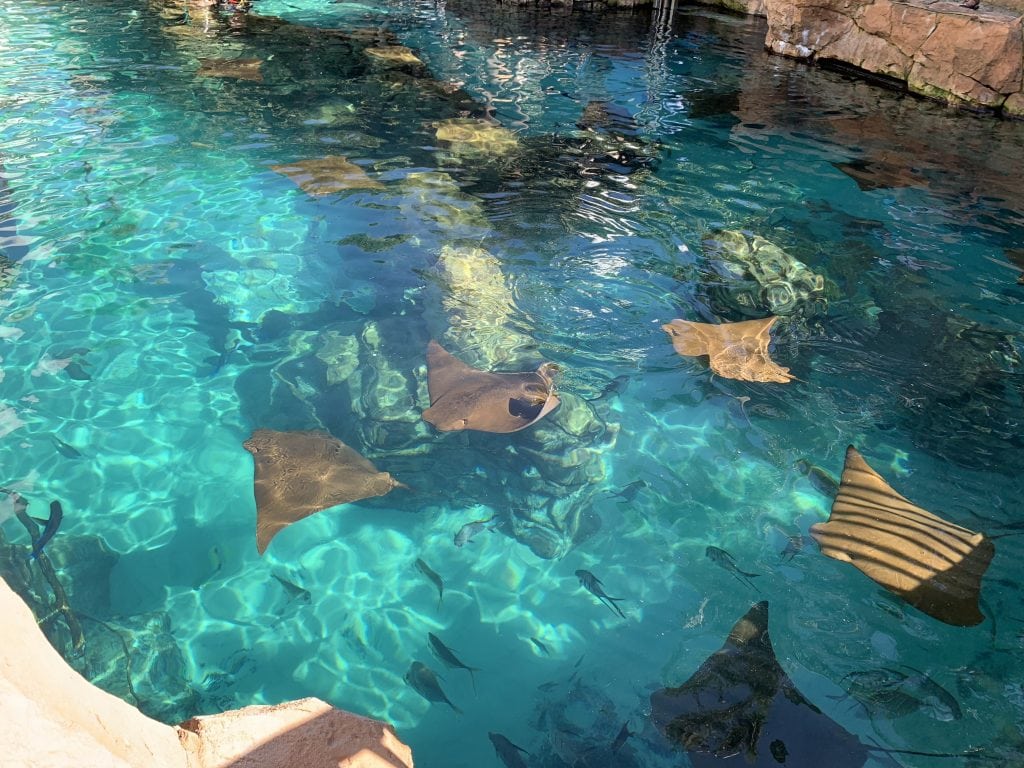 The Grand Reef This large pool is packed with sting rays and tropical fish. You won't believe how close you can get to the sting rays! In fact, there were sting rays in the shallow area swimming around our ankles and we weren't even waist-high in the water. The tropical fish will swim all around you, too, among the colorful (but not real) coral.
Wind-Away River There's not quite a fast current in this river, so you'll need to do some work to keep moving. But the rewards are varied tropical landscapes and a gorgeous cascading waterfall.
Serenity Bay Considered the main pool area for Discovery Cove, this huge freshwater pool is heated to 85 degrees every day. It feels great after snorkeling in the cold waters of The Grand Reef! Serenity Bay is surrounded by tons of sand and beach chairs for a totally relaxing environment.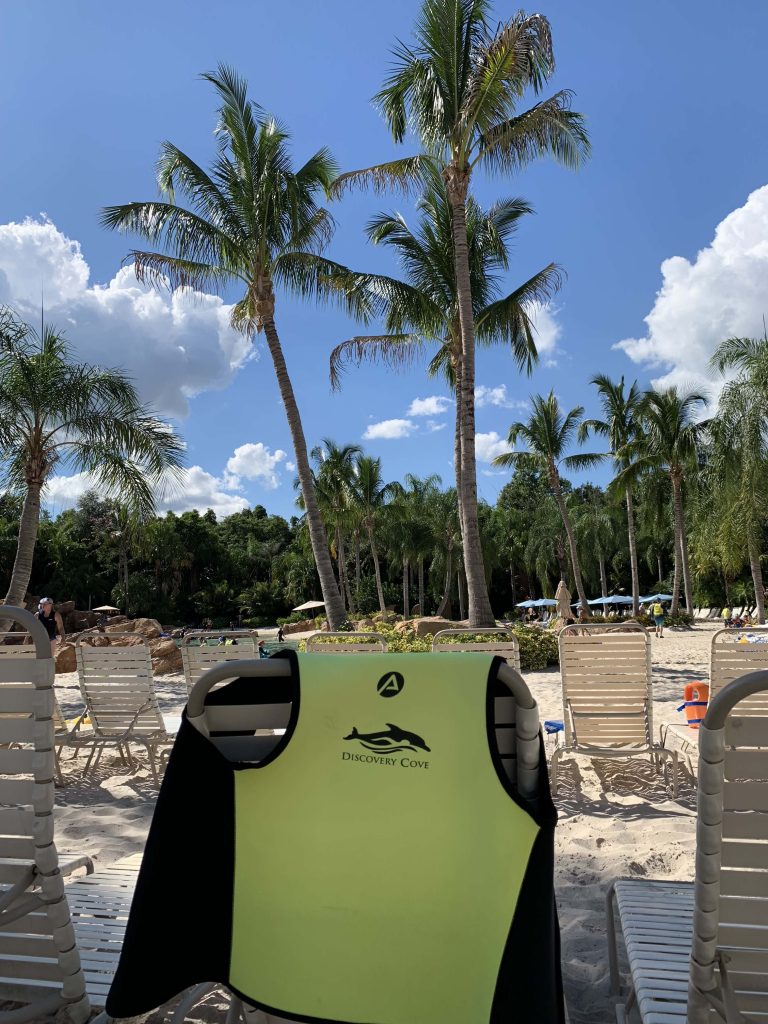 Freshwater Oasis If the crazy antics of river otters make you smile, then you'll love Freshwater Oasis. You won't be swimming with otters, but you'll be able to see them up close through observation windows. Marmosets are also among the animals that you'll see in this wading area.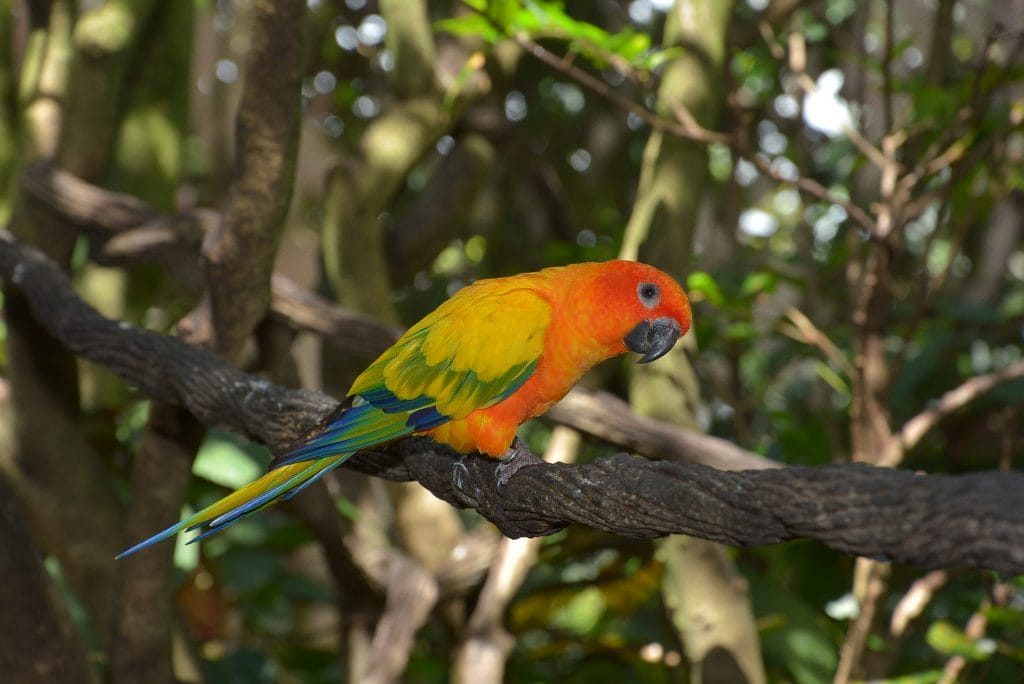 Explorer's Aviary Step into a colorful world of hundreds of exotic birds in this unique animal encounter where you can hand feed the birds. This is definitely an area that's an unexpected surprise among so many other water-based activities. This is perfect for little ones or adults that don't want to get in the water. Bird encounters are part of the upgraded Animal Trek experience (see our Animal Trek review below), but during those experiences the Explorer's Aviary will be closed to other guests for a private encounter.
What's Free at Discovery Cove with Admission
This all-inclusive Orlando resort gives you free use of:
towels
snorkeling gear
wet suits
life jackets
swim vest
flotation devices
animal-friendly sunscreen
private lockers
beach chairs
hammocks
umbrellas
showers
changing facilities
parking (see below)
food (see pictures and information below)
drinks (see pictures and more information below)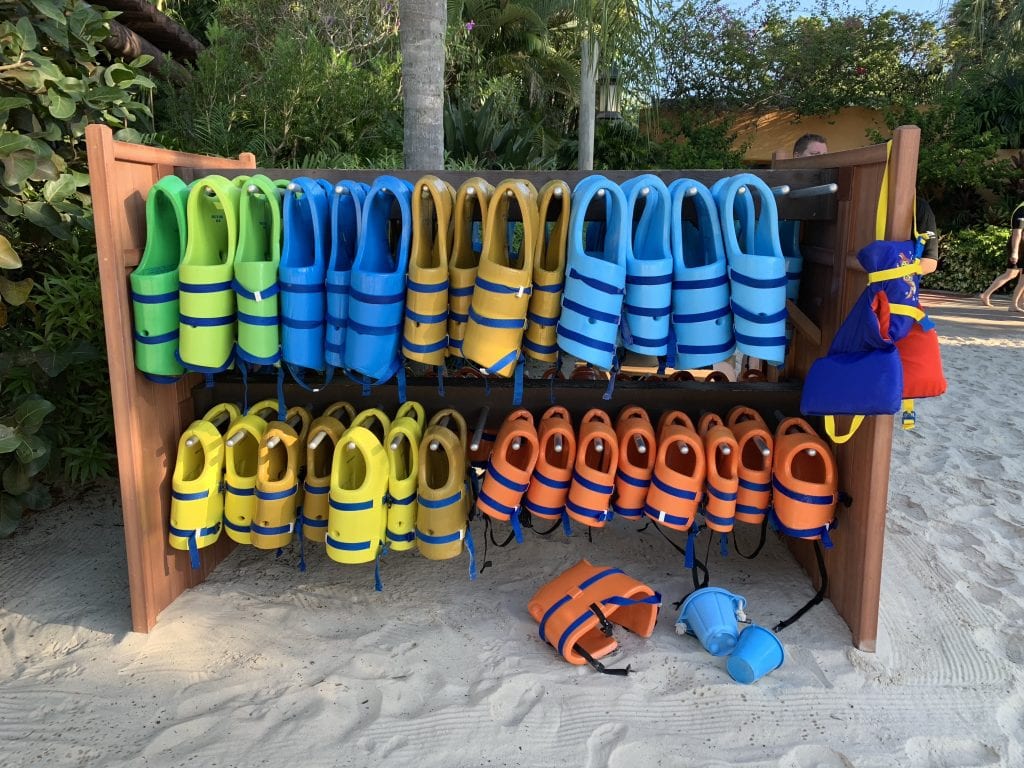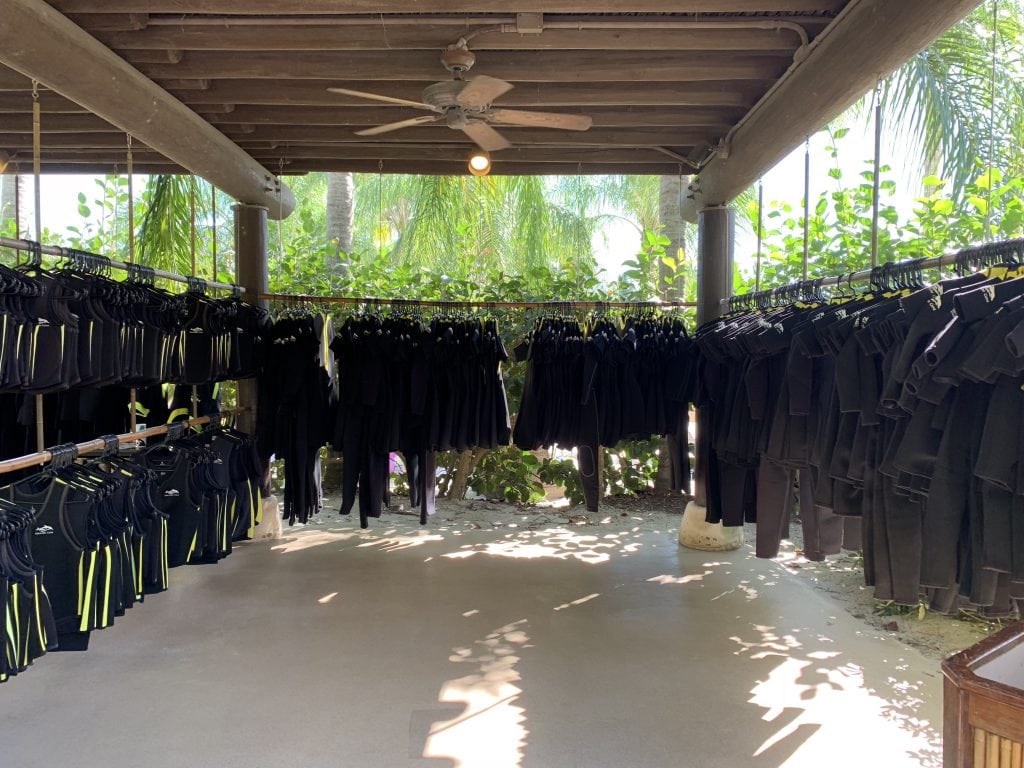 What You Can't Bring to Discovery Cove
There is so much included at Discovery Cove that you really don't need to bring much of anything! Which is great, because the following items are not allowed for you to bring into Discovery Cove:
Food
Drink
Cooler
Pool noodles
Sand toys
Swim fins
Discovery Cove's waterways are open from 9 a.m. to 5 p.m. daily. You can arrive as early as 7:15 a.m., though, to start the check-in process and get breakfast. To get the most value from your day, it's wise to get there as early as possible to eat, get lockers, change, get wet suits or snorkeling gear, and get in the water as soon as it opens.
Discovery Cove Shark Swim Experience Review
When we booked Discovery Cove, I knew that the Shark Swim Experience was a MUST. Which made it incredibly hard to find a date to book Discovery Cove.
It turns out that the Shark Swim is not offered every day. And only twelve people can do it in a day. Which means only two groups of six people.
The reason behind so few Shark Swims? It's because Discovery Cove is still acclimating the sharks to the Shark Swims. And they're taking it carefully slow.
Also, the shark area is really small. Trying to get too many people in there wouldn't work.
Related: 105 Quotes about Sharks, Scuba Diving and the Ocean
What You Can Do in the Shark Swim Experience
During our Shark Swim Experience, we had two separate encounters:
Sitting down in a shallow part of the pool and petting a shark
Snorkeling with sharks in their tank
After an introduction to the Shark Swim Experience (we had to snorkel through the Great Reef to get to the other side to get to the shark tank location), we made sure we were well suited up.
For the Shark Swim Experience, we needed to wear a long wet suit. We simply chose a long wet suit to wear for both of our encounters (including the Dolphin Experience), but I guess you could put on a long wet suit just for this encounter if you wanted to.
We also were provided booties to cover our feet, and gloves to wear in the water. Yes, we were definitely covered from neck to toe!
Our small group was divided into even smaller groups (3 people each group) and we each did a different part of the Shark Swim Experience at the same time.
Three of us started in the shallow area. We were directed to a rocky bench in the water and sat down. We had to keep our hands above water, since, after all, this is a real life shark tank!
Then a shark was brought over to us to learn more about, and touch the skin. After an up close learning encounter, the Discovery Cove photographer took pictures of us holding and touching the shark.
Next, it was on to snorkeling and swimming with sharks. This was the BEST PART! There were a variety of sharks in the tank, but none with the nasty set of teeth that scare you when face to face!
Instead, most of the sharks were content to lay around on the floor of the tank. There were a few that were swimming below us. During our encounter, no shark ever came face to face or even very close to us.
Shark Swim Experience Helpful Tips
The only problem is that the Shark Swim was over too fast! I heard an aquarist that was with us in the shark tank say to another staff member while we were snorkeling that it had already been 6 minutes and time to get out. So count on less than 10 minutes to swim with sharks, probably, unless they change things.
The Shark Swim Experience is definitely unique and maybe a once-in-a-lifetime bucket list adventure to swim with sharks without being scared. Definitely a MUST DO if you're visiting during Shark Week 😉 Although you might want to book well in advance for that time frame!
Currently, Swimming with Sharks is $109 added onto your base Discovery Cove ticket.
Travel Tips: No cameras or video cameras are allowed in the shark tank. There is a bridge that goes over the shark tank, where people can stand if they are not part of the Shark Swim Experience. However, I'm not sure that the camera angle is great for friends or family members to get any great pictures of you holding the shark. Maybe if you're snorkeling they could get some photos. (I wish someone had been up there taking photos of me!)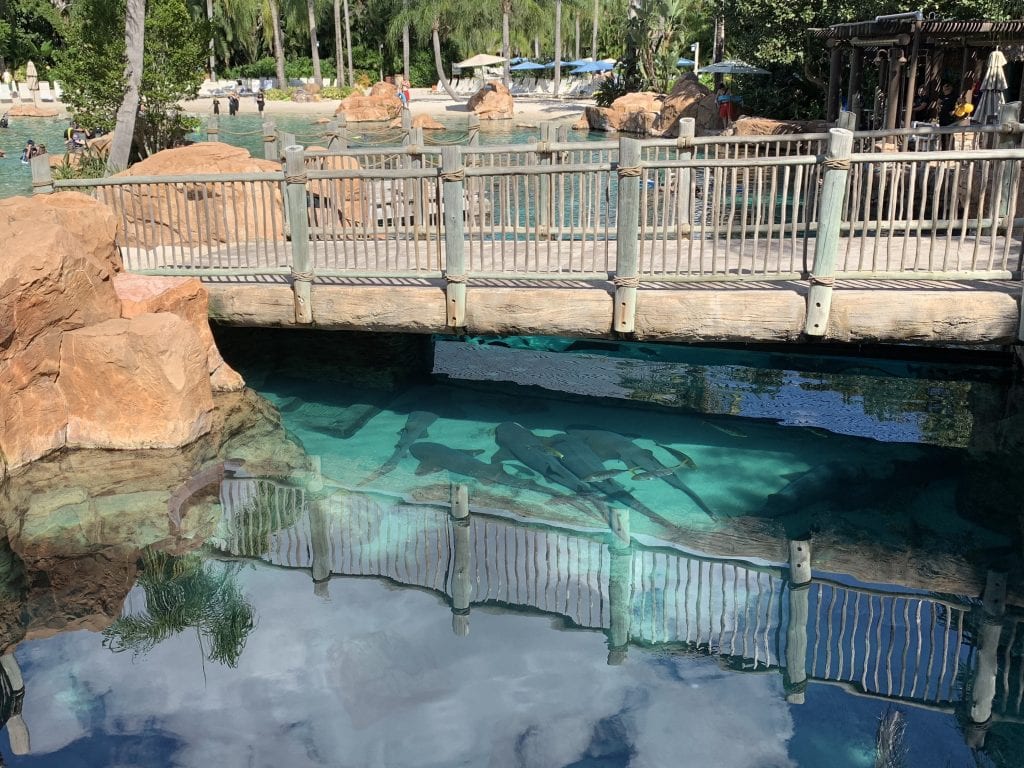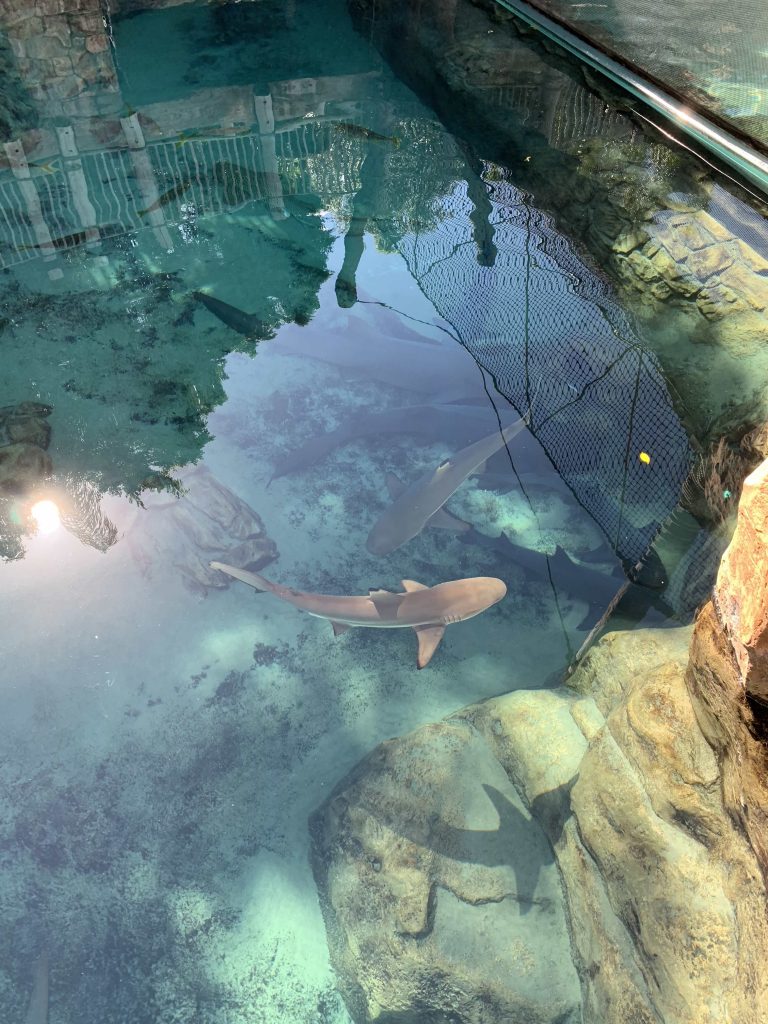 Children under the age of 10 are not allowed to do the Shark Swim.
Discovery Cove Animal Trek Review
After the Dolphin Encounter and Shark Swim, it was time to enjoy the new Animal Trek private tour.
The Animal Trek tour just started in Summer 2018. We were told that it's very similar to the Trainer for a Day program that you can get at SeaWorld, only it's condensed into about 1.5 hours.
Animal Trek is $79 to add to the base of your Discovery Cove day ticket price.
The only thing that I wish was different about Animal Trek is that it was right after being soaking wet all morning! For a tour that offers so many photo opportunities, we were feeling pretty un-photogenic, with wet clothes, knotted hair and no makeup. 😉 So if you care about getting Christmas-card perfect photos of the kiddos with a sloth, then make sure you have time to get yourself pretty beforehand.
On our Animal Trek tour we saw:
Birds in the Aviary (including macaws)
Otters
Owl
Sloth
Ant Eater
As is with everything at Discovery Cove, animal encounters can't be guaranteed. If the animal doesn't want to do an interaction, they aren't going to force them. So just keep that in mind.
In the Aviary, we had a private time scheduled to be surrounded by the birds and feeding them. The bird feeding experience is available to all Discovery Cove guests. However, the Animal Trek tour blocks off the Aviary room for just the tour participants for a small amount of time so it's less crowded.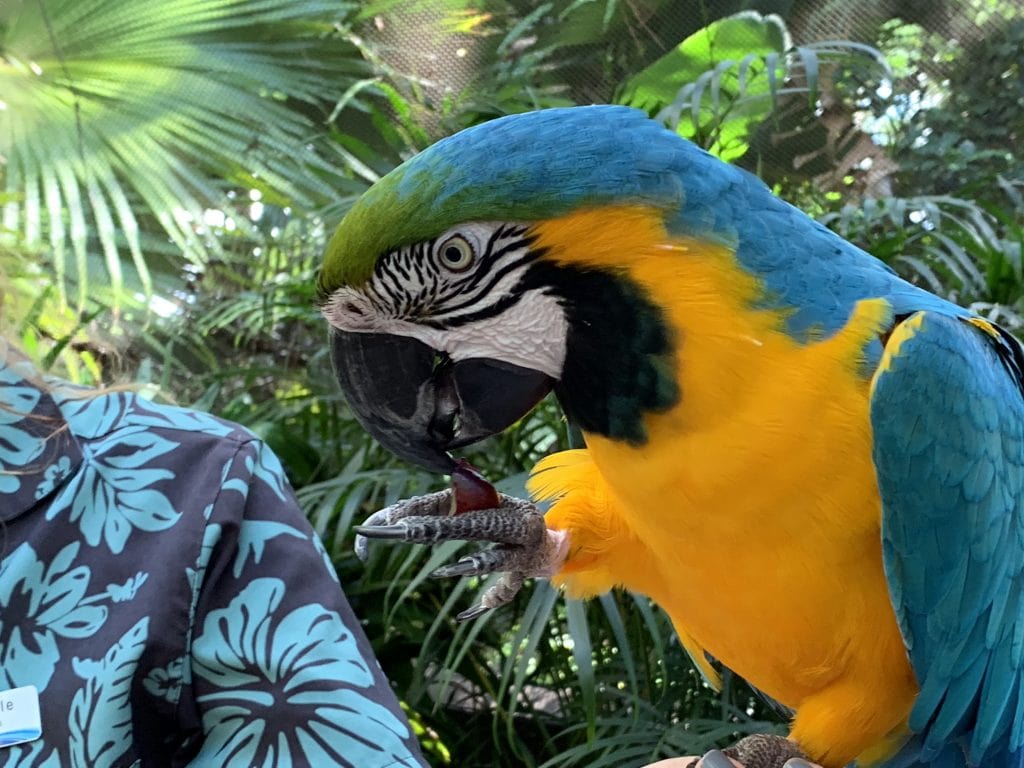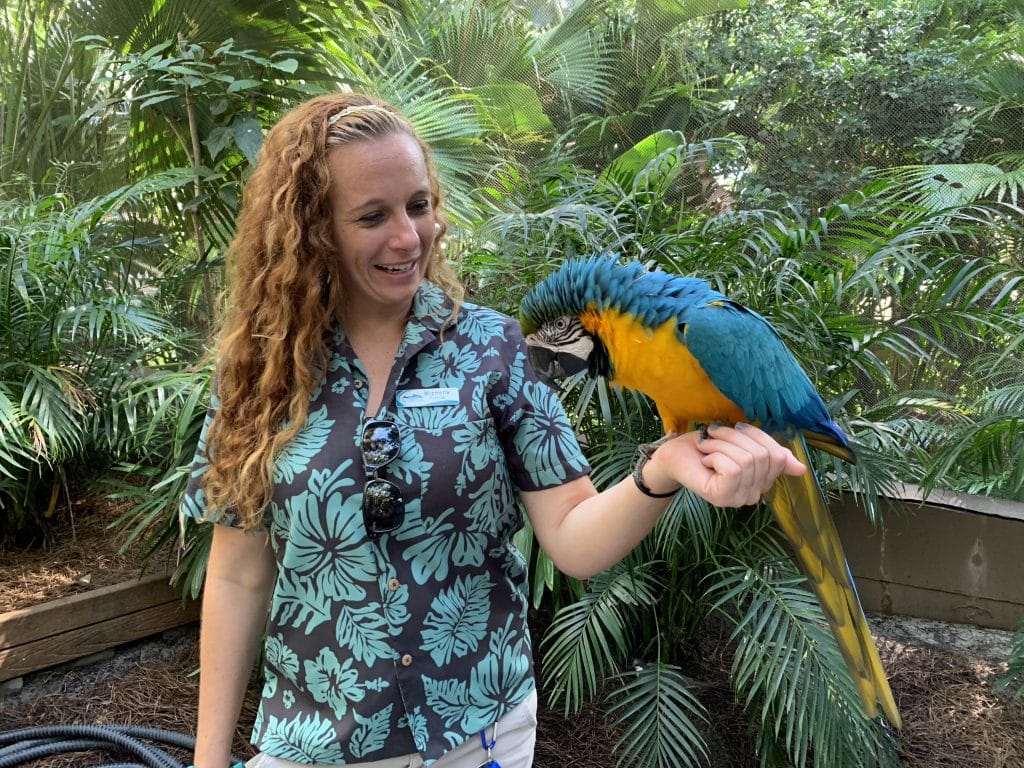 Plus, you get some photo opps with colorful birds that you won't normally find in the Aviary!
We loved holding a small bowl filled with strawberries and little bits of food for the birds to eat. We held up the bowl and it was up to the birds whether or not they wanted to perch on our arms and eat. And, boy, did they ever!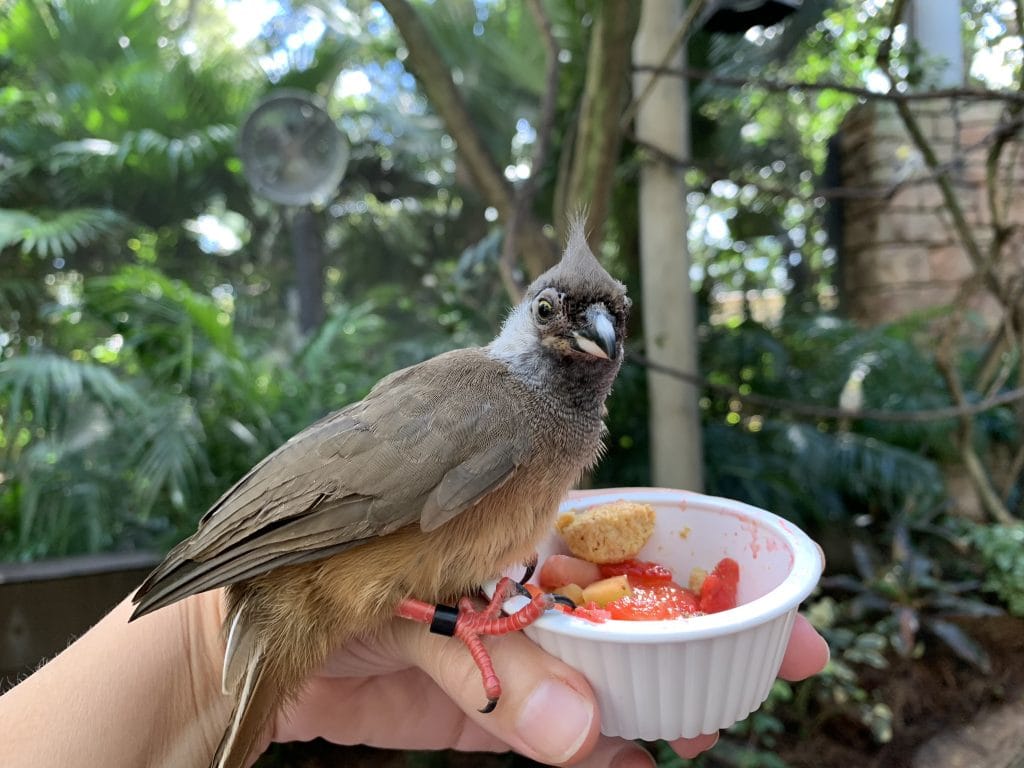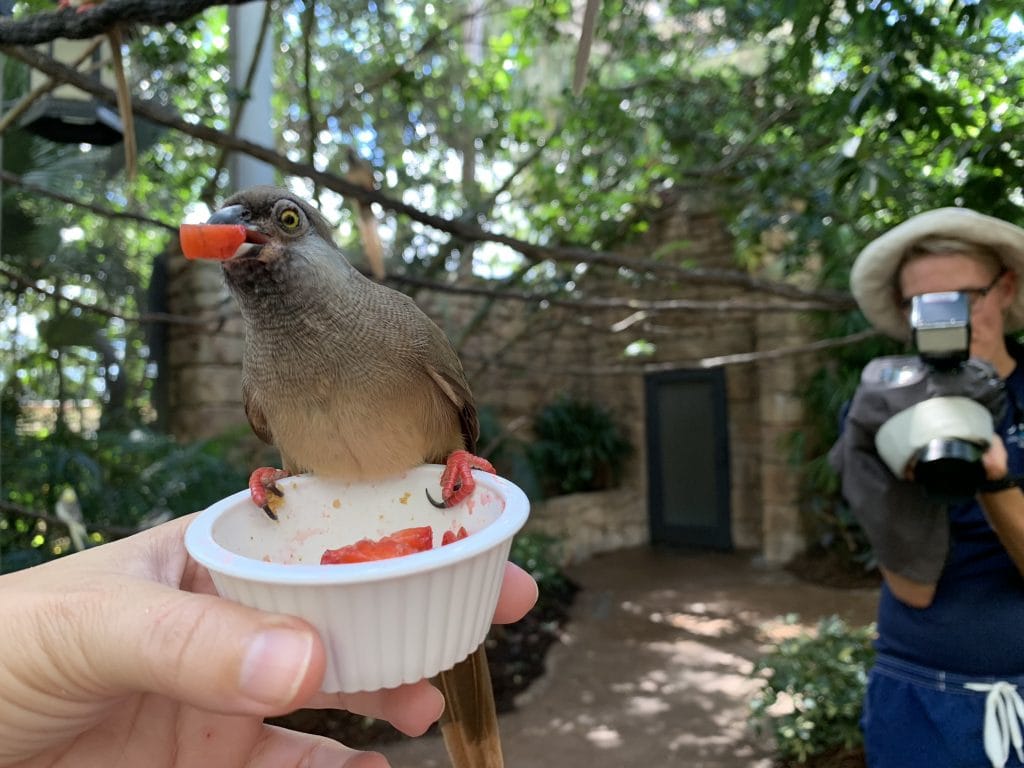 These little birds don't have sharp claws, so don't worry about them digging into your skin. They were so gentle while eating, and it was a joy to be so close and see them eat a strawberry!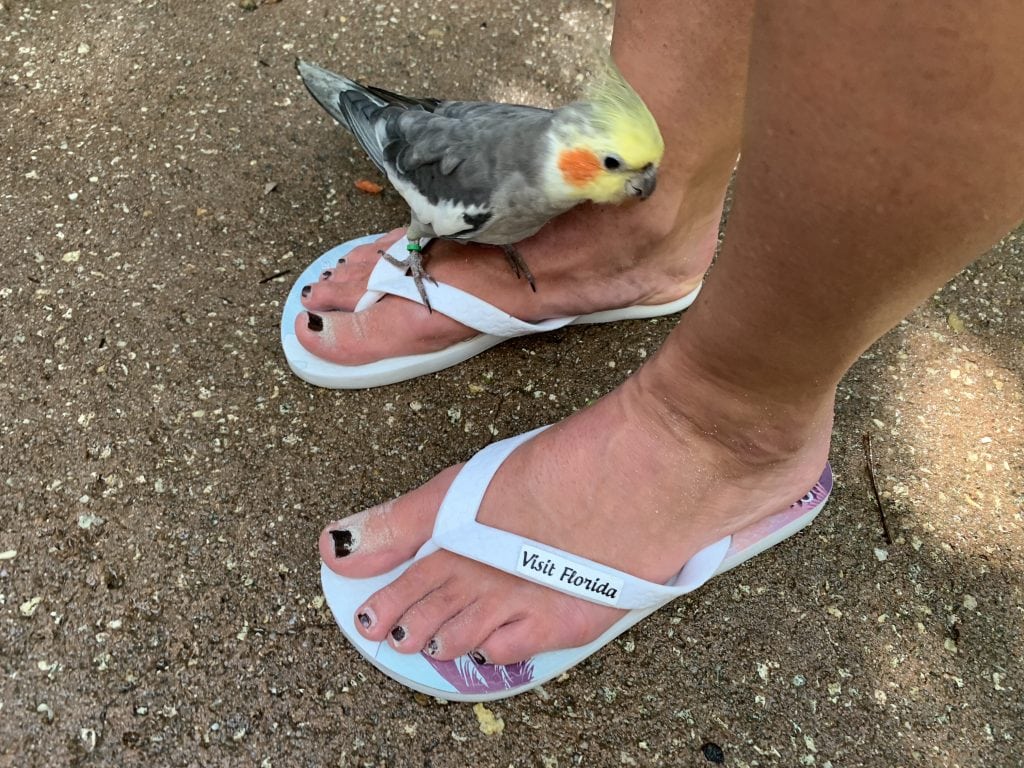 Next we went on to see a rescued owl. There were photos with the owl, but you don't hold him.
Otters were on our Animal Trek tour, too. We got a private view of the animal trainer sending food down the slot to feed them behind the glass enclosure. Again, you don't hold the otters and there wasn't any photo opportunities. But watching these hungry siblings competing for food was hilarious!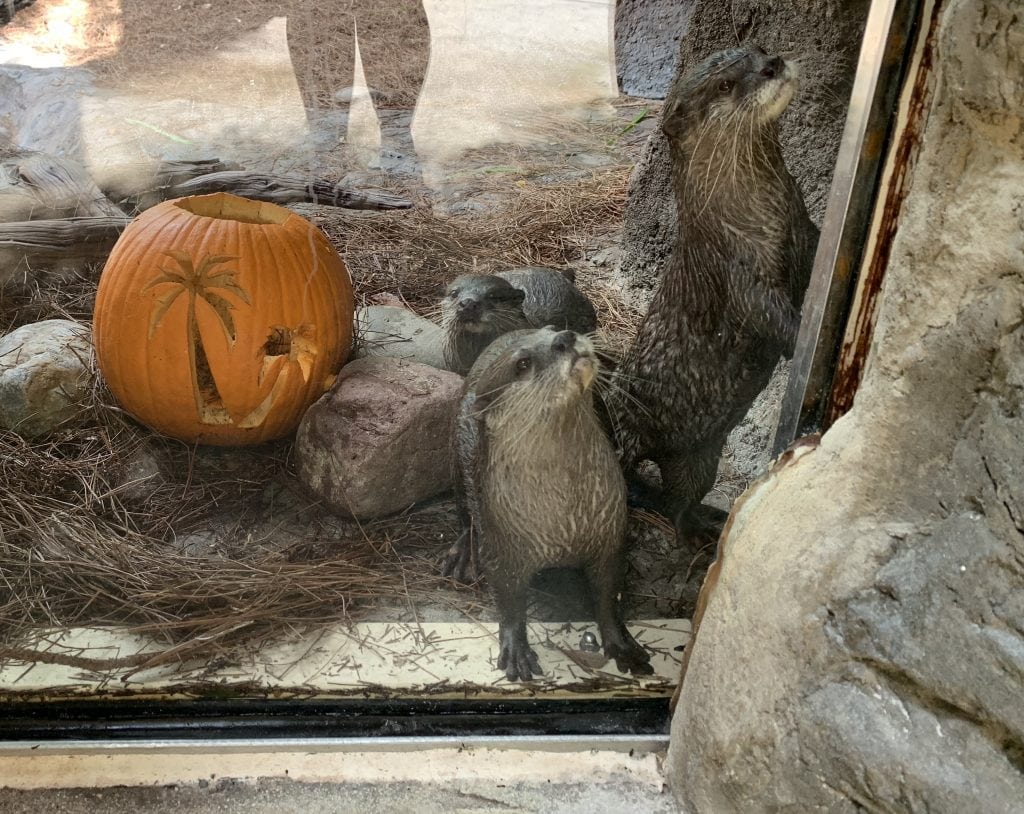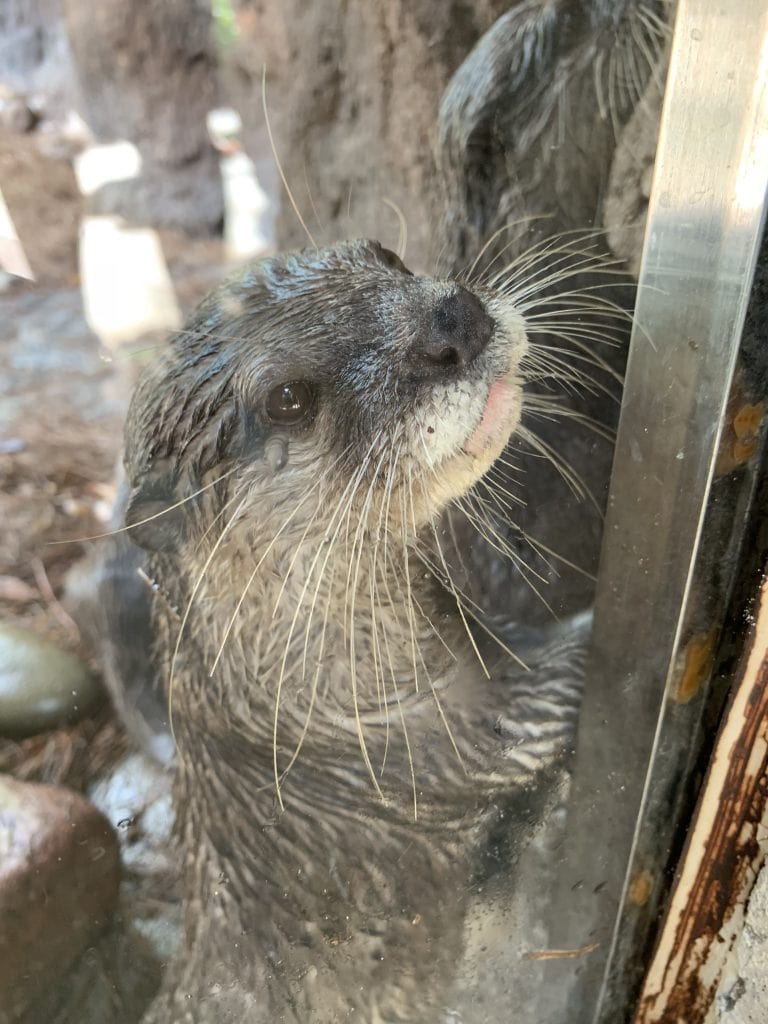 Finally, our Animal Trek tour ended with a private meet and greet with Lucky the Sloth and an ant eater. We watched the sloth be fed some snacks and got to pet her back and feel the fur. Holding the sloth wasn't part of the tour, but getting a photo taken was!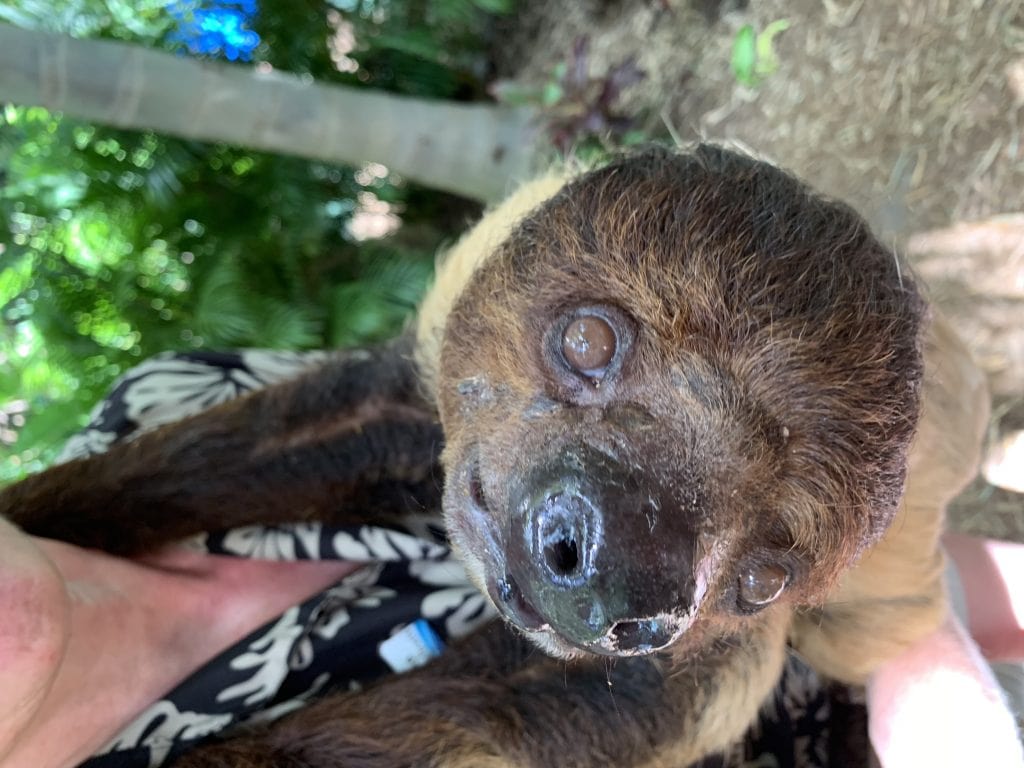 With the ant eater, it was surprising to see the unique creature up close and watch that crazy tongue eat up a mixture of avocado and banana. We also saw the ant eater walk on her back feet for some insects, too (but not ants!). Just like with the sloth, we could touch the ant eater and take photos, but not hold the ant eater.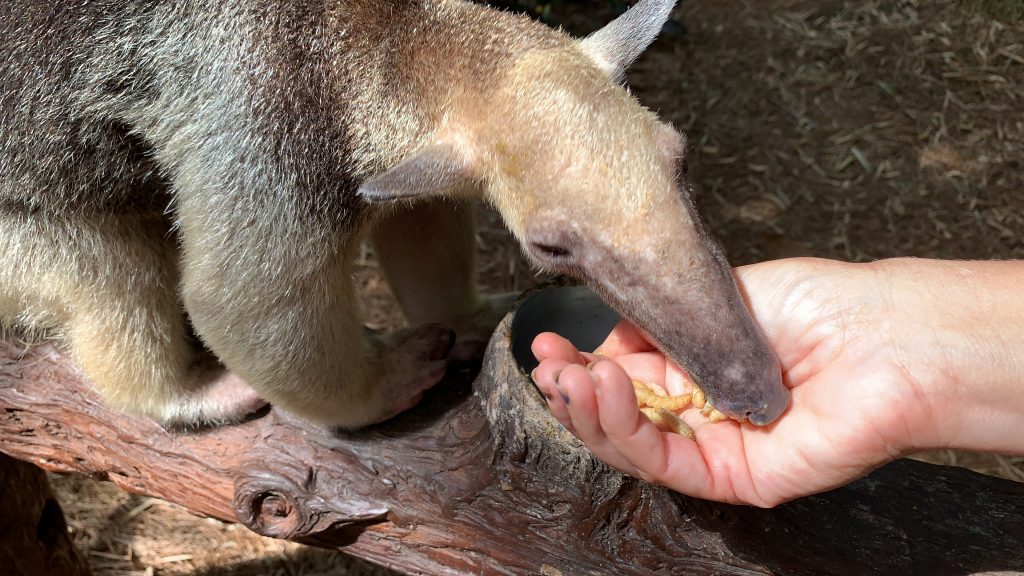 Helpful Tip: Photos and video are allowed and encouraged. Don't be shy to bring a camera, phone or video camera. Of course, the Discovery Cove professional photographer will be taking photos to include on a photo CD if you would like to purchase it.
Swim with Dolphins in Orlando, Florida
By far, one of the most popular and best experiences at Discovery Cove in Orlando is swimming with dolphins!
I had visited Discovery Cove many, many years ago and was able to swim with the dolphins. I wasn't sure if it would be as exciting the second time swimming with dolphins. But it was! Maybe more so, because I wasn't so overwhelmed with the unique experience and I knew what to expect.
The Swim with Dolphins upgrade is the most popular animal encounter at Discovery Cove, for sure. There are multiple groups of guests that interact with the dolphins all throughout the day.
You will book a time to swim with dolphins. Early morning is among the most popular times.
After a brief orientation, where you will be told what you can't bring into the dolphin cove (see Helpful Tips below), you'll follow your trainer to a part of the lagoon to encounter your dolphin.
My first time swimming with dolphins at Discovery Cove, we swam with Roxie. It's amazing how I can remember her name! This time, we swam with Kaley, who was a great dolphin with so much personality.
The 30 minute Swim with Dolphins experience is as much education as it is bucket list moments. You'll learn so much about dolphins, and you can ask any questions that you might have.
But when you're that close to a cute dolphin, you just want to touch it, right? And there's plenty of opportunities to interact with a dolphin!
During our swimming with dolphins experience, our dolphin Kaley swam by several times so that our group could touch her skin. It's surprisingly soft!
We also were able to have Kaley do some fun interactions based on hand movements that the trainers showed us. And we watched in awe as she jumped and did flips in the dolphin lagoon.
And we got to feed the dolphin (raw fish, of course) which was fun to see how she swallowed the entire fish all at once.
By far, though, the most anticipated and most awesome part of the dolphin experience is swimming with the dolphins!
One by one, we swam out to the middle of the lagoon, met Kaley, held onto her back, and were pulled through the water with the greatest of ease! At one point I remember actually kicking my legs trying to swim and then I thought, wait, what? What am I doing?!?
When you get back to shore, you'll want to do it all over again. It goes too fast. It's too awesome. And you want to protect these creatures even more.
There will be two photo opportunities:
A group photo with your dolphin and everyone in your group (not the entire dolphin swim group, just the people you are traveling with)
Kissing a dolphin (or a peck on the cheek from a dolphin
Each is special in its own way. But there is something magical – oh, so magical! – about putting your hands on a dolphin's chin, looking her in the eye and kissing her. It's one of the most up close and personal encounters you'll have all day with a dolphin. Slow down, remember the moment, and enjoy the opportunity that is so unique!
Helpful Tips for Swimming with Dolphins:
If you are visiting in the summer, be sure to schedule your Dolphin Swim in the morning. Afternoon thunderstorms with lightning are common. Which means you will need to leave the Dolphin Swim if there is any lighting in the area.
You are asked to not wear anything that can accidentally come off in the water during the Swim with Dolphins experience. This means most jewelry. While a simple wedding band is allowed, they encourage you to wrap over the ring with gauze tape that they provide. All other jewelry, including bracelets, earrings, necklaces, etc. is asked to be left in a locker during your Dolphin Swim.
Sunglasses are allowed (thank goodness because it's bright and the sun reflects off of the water in the dolphin pool), but must be worn at all times. You cannot put them on top of your head or remove them for pictures. Once the sunglasses are on, they must stay on.
A sports watch is allowed. But the Discovery Cove staff are always the ones that make the judgment call if an item can be worn in the dolphin lagoon or not.
You will need to walk from your orientation meeting to the dolphin lagoon. Then you might be asked to walk over rocks or uneven terrain under water. Swim shoes are allowed. But flip flops are not.
There are plenty of photos and videos taken during the Swim with Dolphins experience. The pictures and video are available for purchase afterwards. Under no circumstances can you bring your own camera or video camera, including a GoPro.
Part of the Swim with Dolphins experience is holding onto the dolphin's back and going for a ride. The usual experience is to swim out to the deep end (a short swim) which is 18 feet deep, tread water for just a minute, then ride back to the shore with the dolphin. If you cannot swim or do not want to be in the deep water, there is a shallow water dolphin experience that you can do as an alternative.
Discovery Cove Food
One of the best things about an all-inclusive resort in Orlando is that all food is included! Wow!
With the cost of theme park food in Orlando, you know that this is a great deal 😉
Discovery Cove admission gives you:
Breakfast
Lunch
Snacks
Alcoholic Beverages
What is the food like at Discovery Cove? It's really good!
Included Meals at Discovery Cove
For breakfast and lunch, the meals are served from one main restaurant, Laguna Grill. There is two lines for the buffet options. You'll go through line and get to choose an entree, sides, desserts, salads, etc. Sodas and other drinks are also included.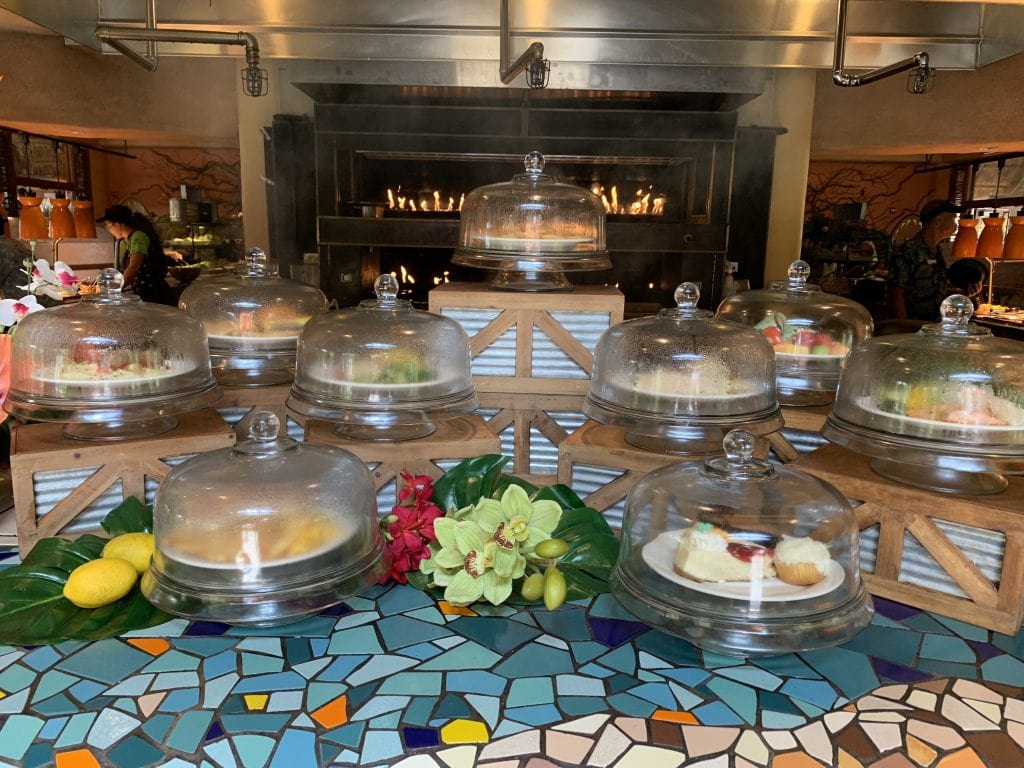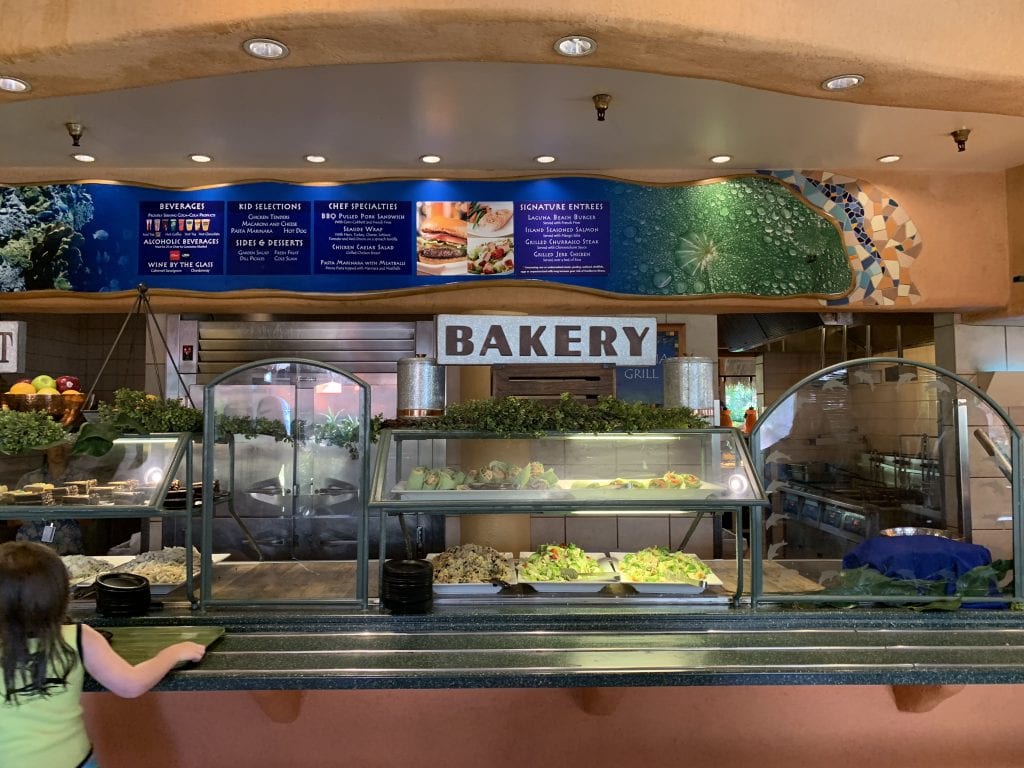 There are plenty of tables to eat at outside the restaurant. Many are shaded. A lot of tables are outside with no cover, but have umbrellas to offer shade.
Since everyone eats at different times, I have not experienced a problem finding a table when it's time to eat.
Here is my breakfast at Discovery Cove: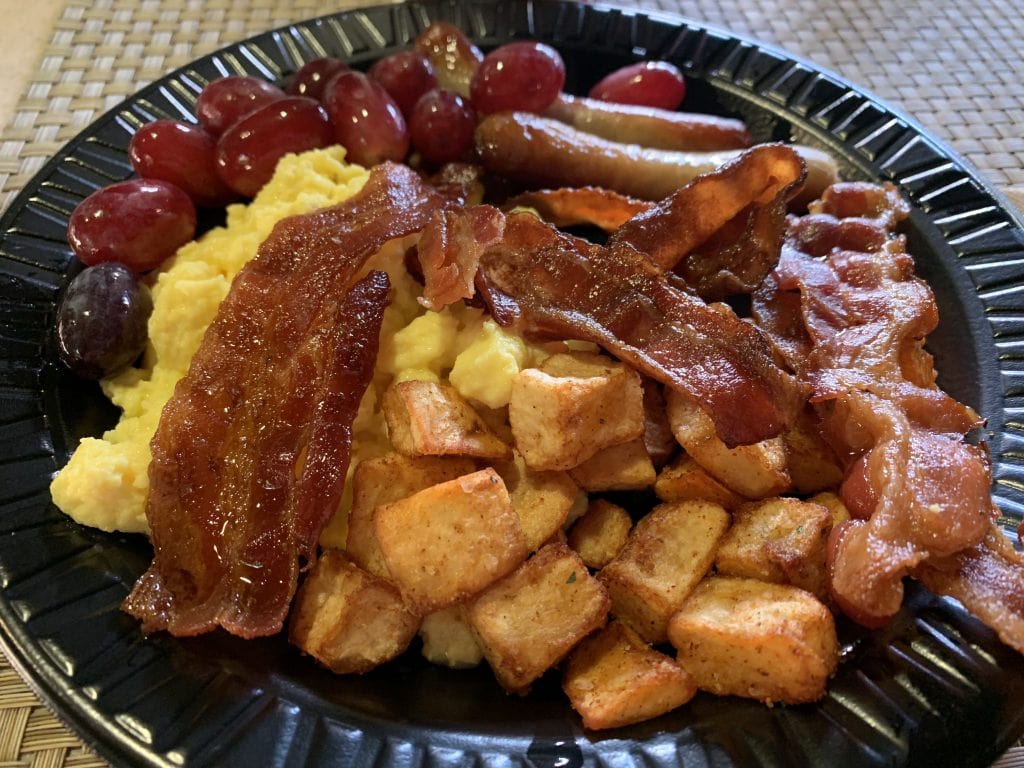 For lunch, I had the Skirt Steak. I wouldn't suggest it because it's very tough (we were told the same thing before we ordered it, but tried it anyway, and yes, it was tough).
Included Snacks at Discovery Cove
Snacks will be found in separate bar areas – there are three locations. At the snack stations/bars, you'll find bags of chips, hot pretzels, single serve Blue Bunny ice cream bowls, peanuts, plantains, Rice Krispies treats and more.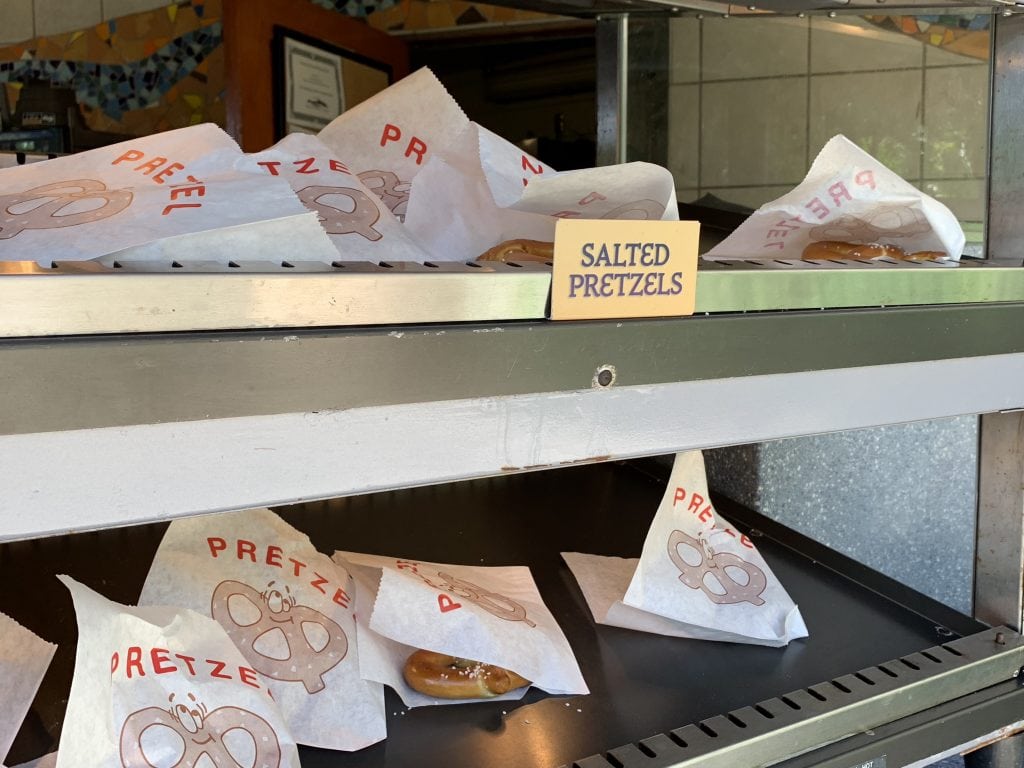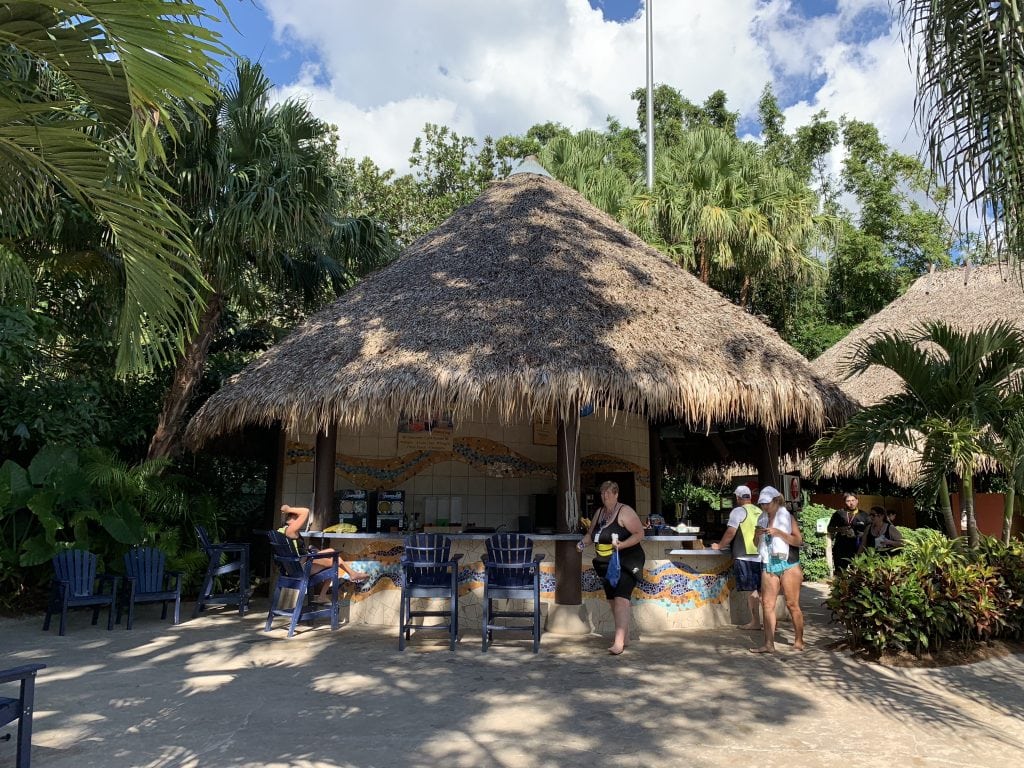 Drinks are included at the snack stations. They include plenty of non-alcoholic drinks, such as water, sodas, and frozen slushies.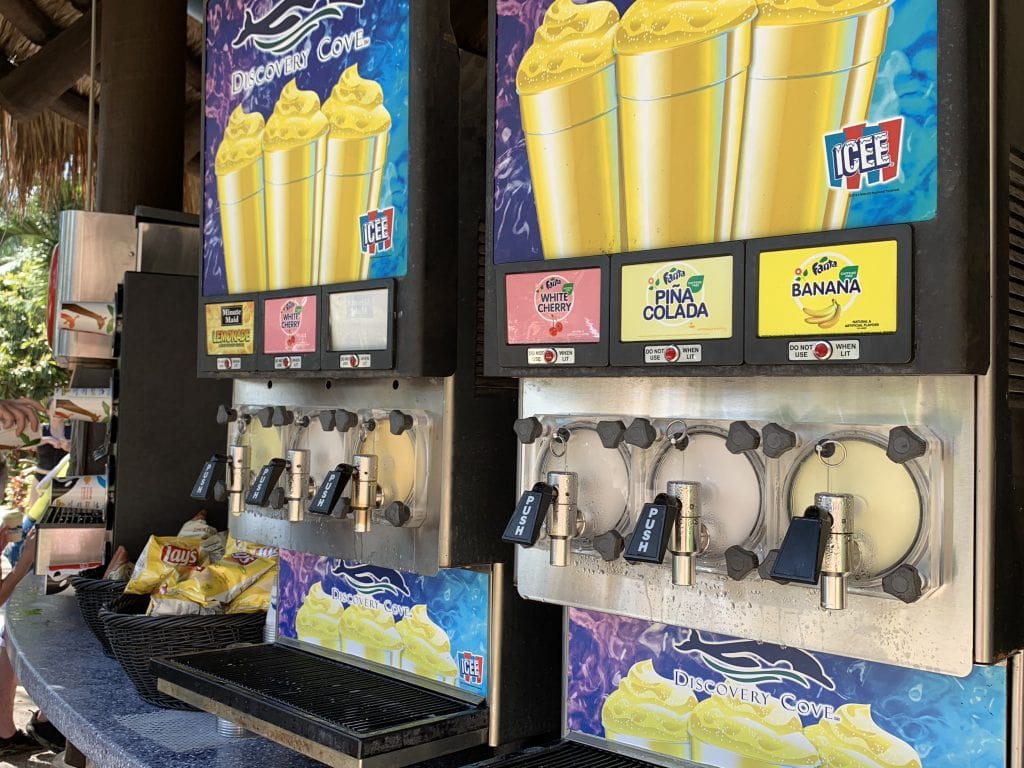 We never really felt that there was a long line or many crowds getting the drinks and snacks.
Alcoholic Drinks at Discovery Cove
Alcoholic drinks are included. During our visit, the complimentary alcoholic drinks were:
Beer
Wine
Pina Colada
Frozen Mango Daiquri
However, I'm really not sure how MUCH alcohol is in the drinks. It didn't seem like much!
You can also get an Upgraded Drink Package for even more alcoholic drink options. These premium alcoholic drinks include:
Sangria
Rum Punch
Discovery Cove Sunset
Mojito
Cuba Libre
Margarita
Local craft beers
Upgraded wine selections
One of the BEST places to enjoy your drink is this quiet shallow pool with seats built in! You are allowed to bring your drinks, and even food, into the shallow pool area and just chill. It was quiet, relaxing and definitely a unique place to enjoy a Pina Colada!
Is the Discovery Cove Private Cabana Worth It?
We were blessed to have a private cabana during our visit to Discovery Cove. The only problem with the private cabana is that we didn't have enough time to enjoy it as much as we'd like to! (With three upgraded animal encounters, there wasn't a lot of free time during the day to just sit and chill.)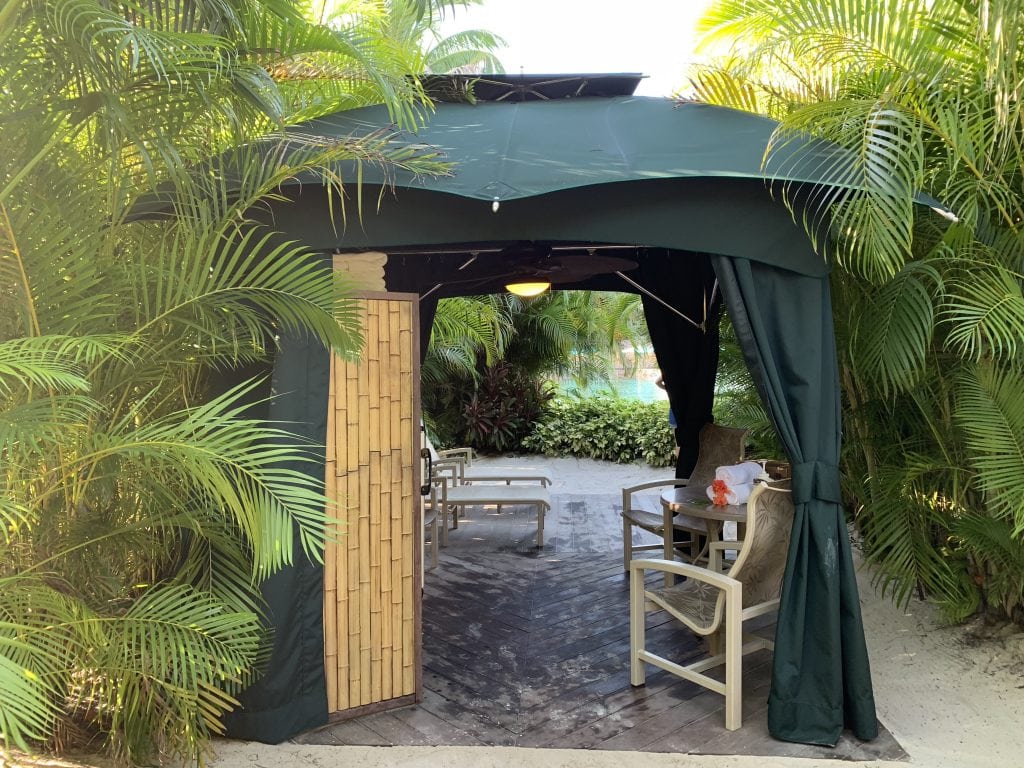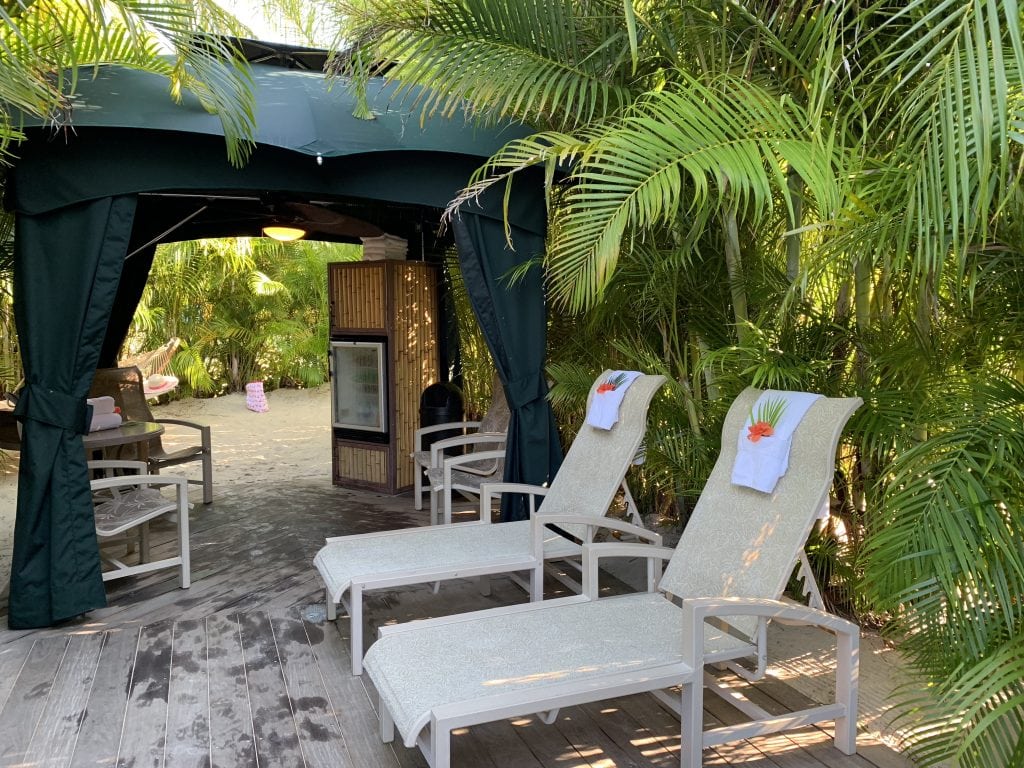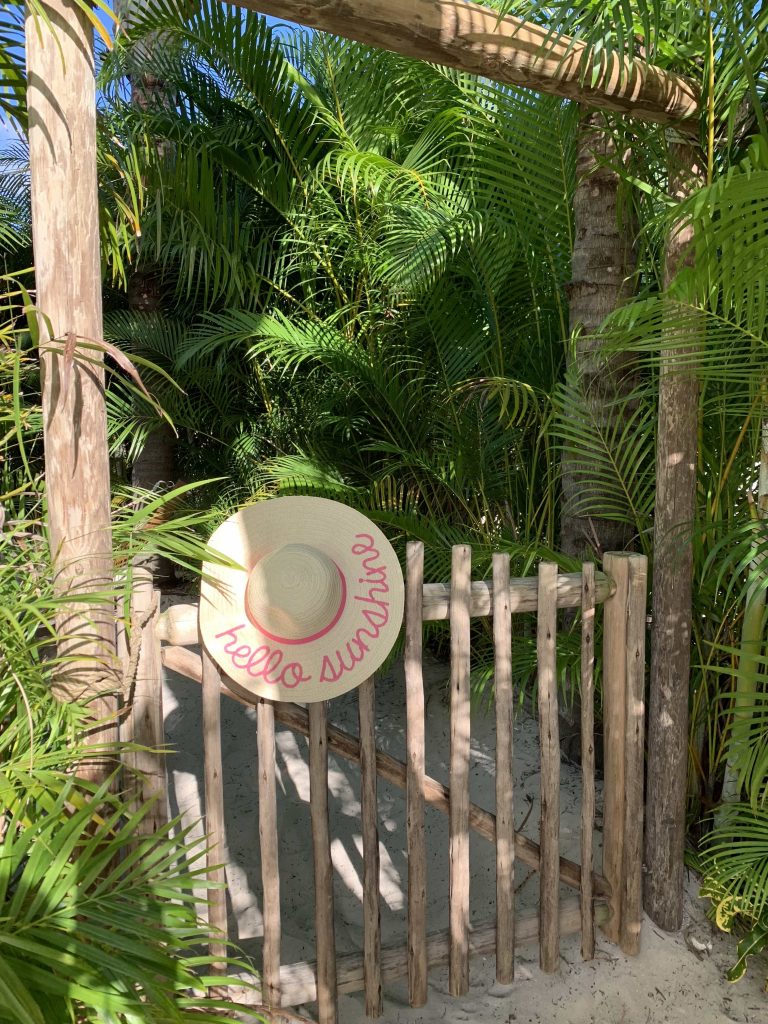 Our private cabana was right on the Dolphin Lagoon. From the moment that we entered in the morning, we could hear dolphin sounds and splashing waters as the dolphins were eating or getting ready for their Swim with Dolphins encounter. In fact, we just stood by the rocks and watched dolphins swim in front of our private cabana. It was amazing!
Included in the cost of a private cabana at Discovery Cove are:
Tables and chairs
Lounge chairs
Unlimited snacks and drinks located in your cabana (the same choices as in the resort, but a private stash in your refrigerator and snack box)
Private locker
Towels
A cabana host to check in on you and restock food, towels, drinks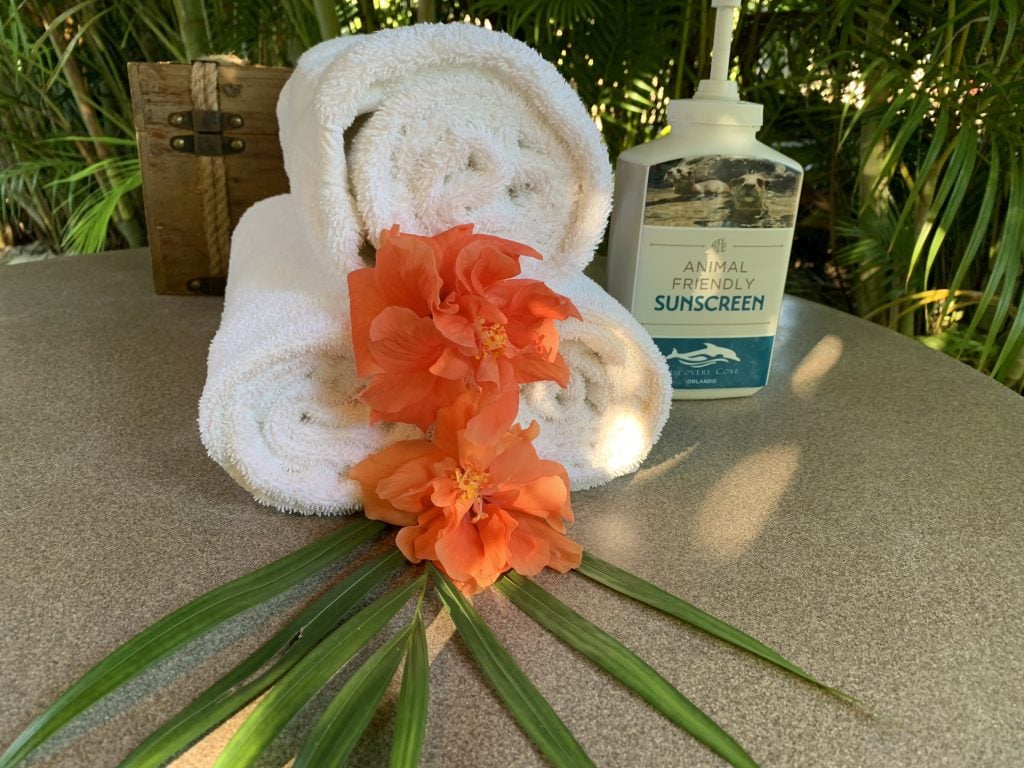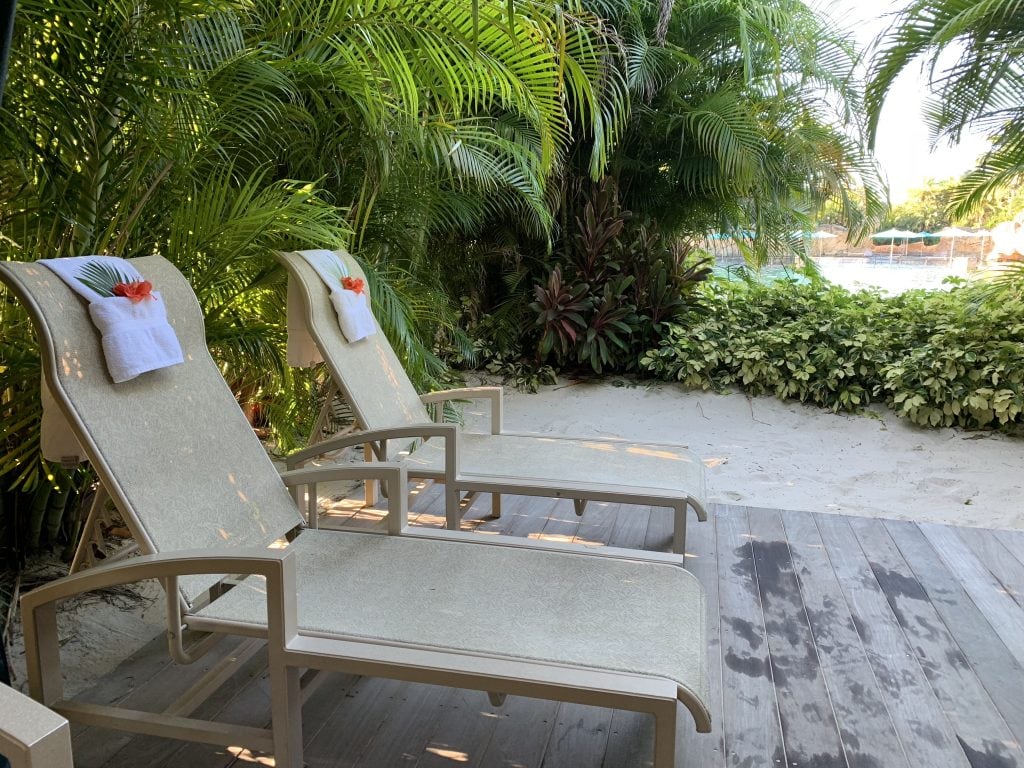 We LOVED our private cabana because of the location. Ours was just off a sandy beach at Dolphin Lagoon with views of the Swim with Dolphins experience. It was like entering our own little tropical paradise when we went through the door.
We had a private hammock, as well as plenty of places to sit and relax without worry about someone taking our things or our place.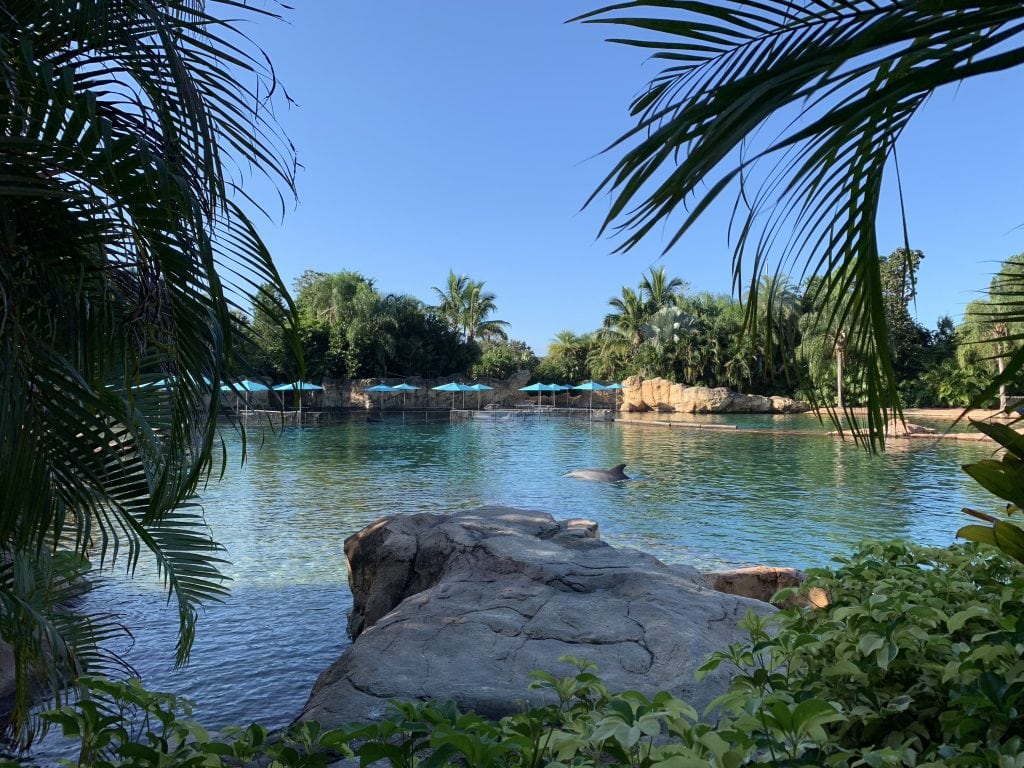 The cabana offered plenty of shade, as well as sunny areas for the best of both worlds.
Cabanas at Discovery Cove can accommodate 6 guests comfortably, up to a maximum of 10 guests. Costs start at $199 (although when I went to do a trial booking in November, the cost was $399 for the day, so it does vary).
So, are the private cabanas worth the splurge? It depends. If you are doing a lot of additional tours and experiences, we don't think that you'll have enough time to truly enjoy the benefits of having a private cabana.
However, if you're coming for the day just to relax, even if you are not doing the dolphin swim, it would be an amazing upgrade! I think the private cabana is truly the best if you plan on just chilling and relaxing, rather than trying to do everything that Discovery Cove has.
Helpful Tip for Reserving Seats at Discovery Cove:
Day Beds can be rented instead of a private cabana for a private place to relax.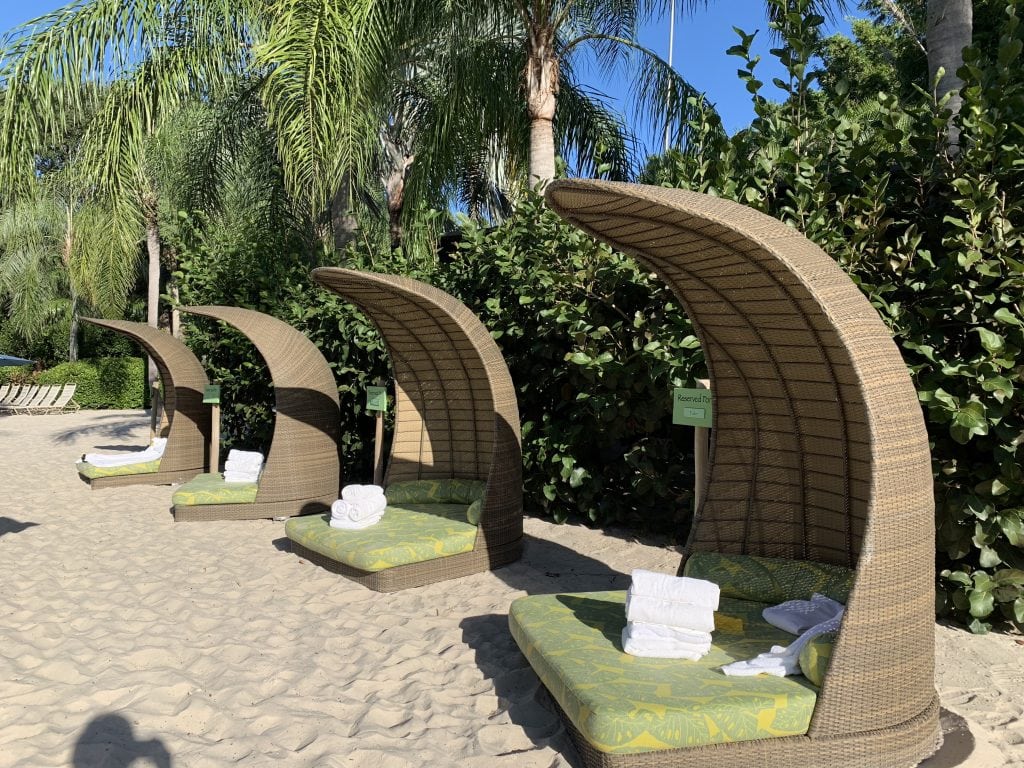 These fit two adults. Costs start at $69, but during a trial booking I saw the prices go up to $129 during Spring Break time in April.
Discovery Cove Bathrooms
If you're planning on showering and changing after a day at Discovery Cove, you might be concerned about what the bathrooms look like. And if there are enough showers and stalls for everyone.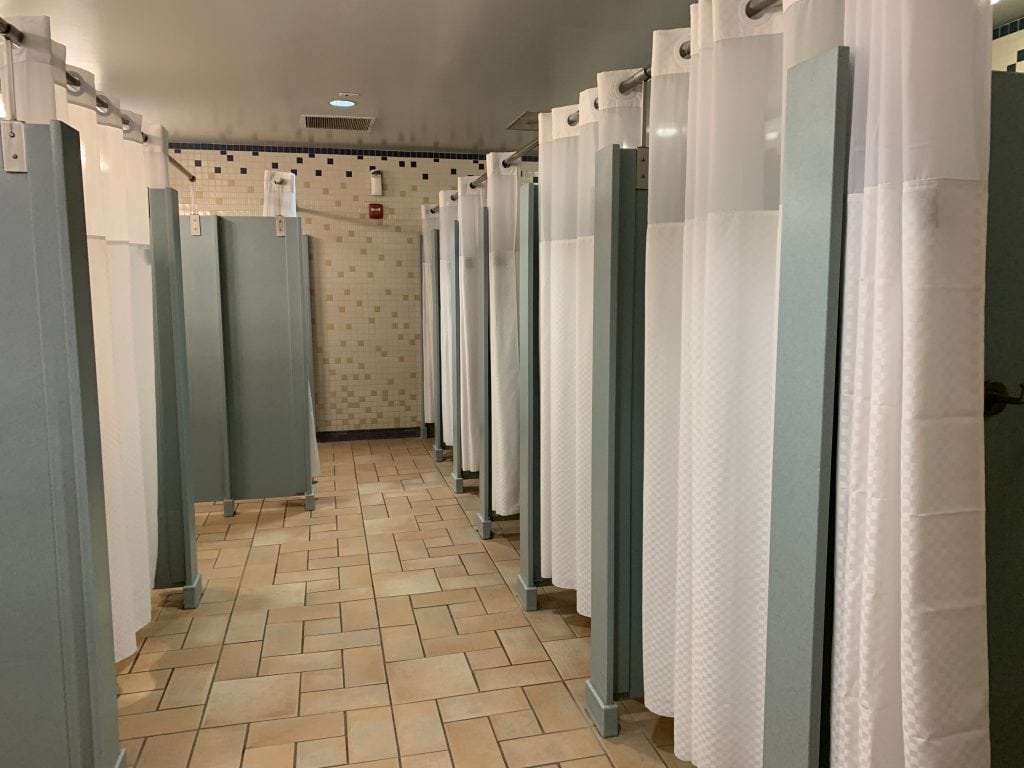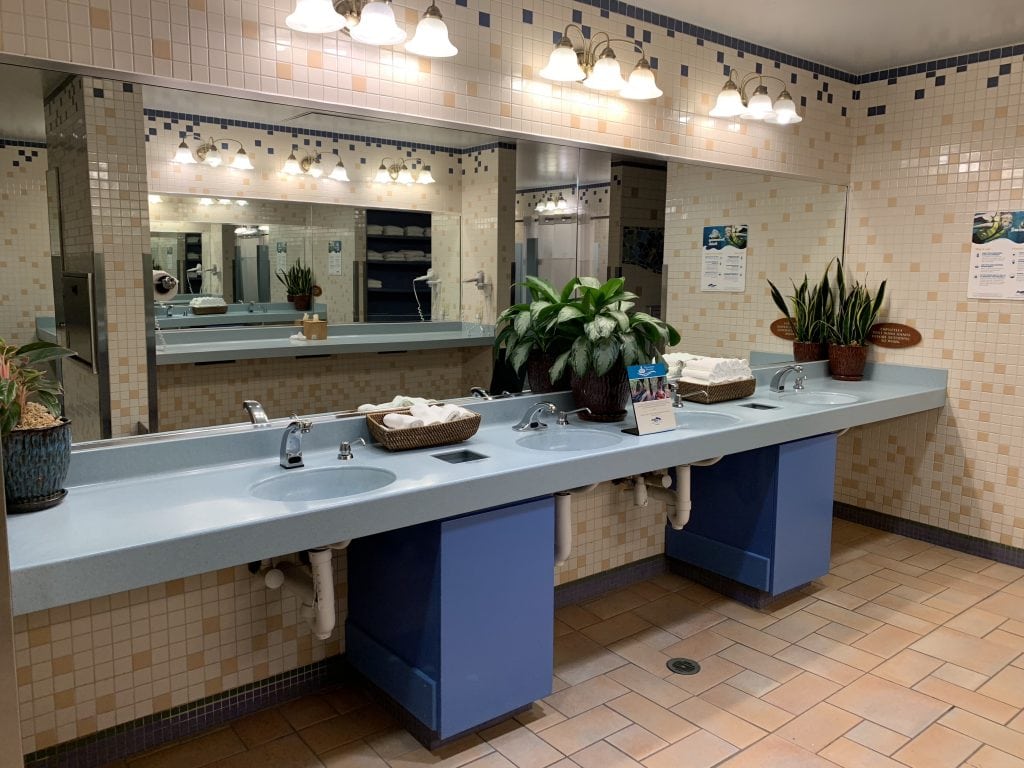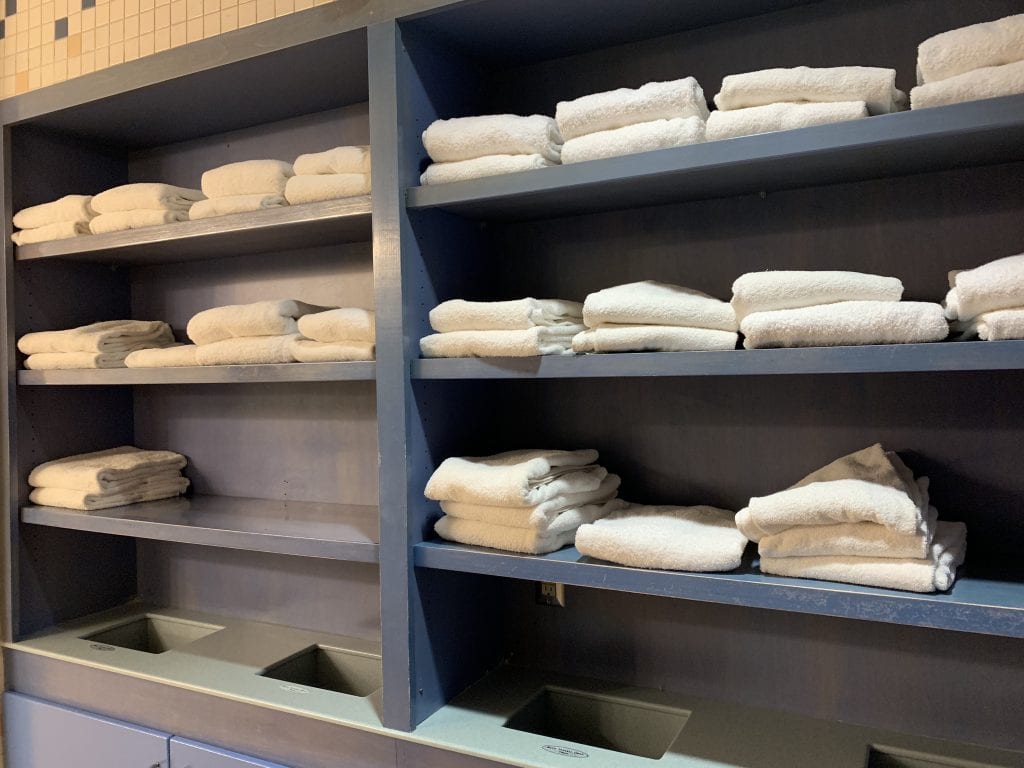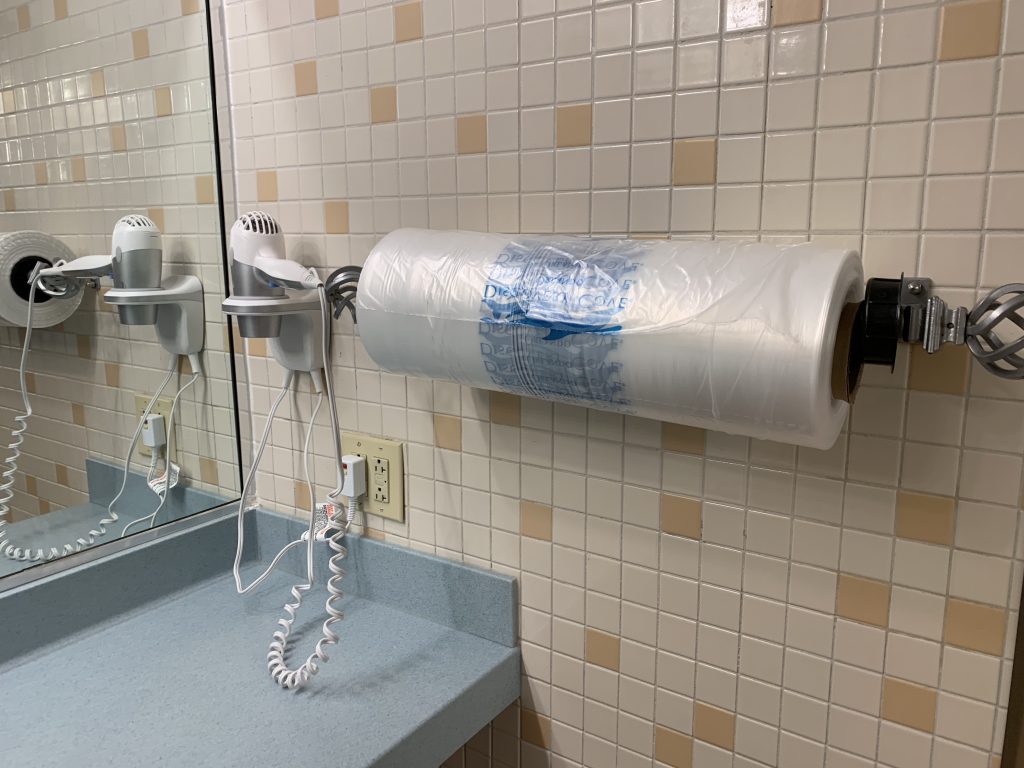 Rest assured, the bathrooms are very clean, spacious and large enough to handle lots of people. However, at the end of the day, expect there to be a line for showers in the women's bathroom. Though, does that surprise you?!?
And, there are outdoor showers, as well: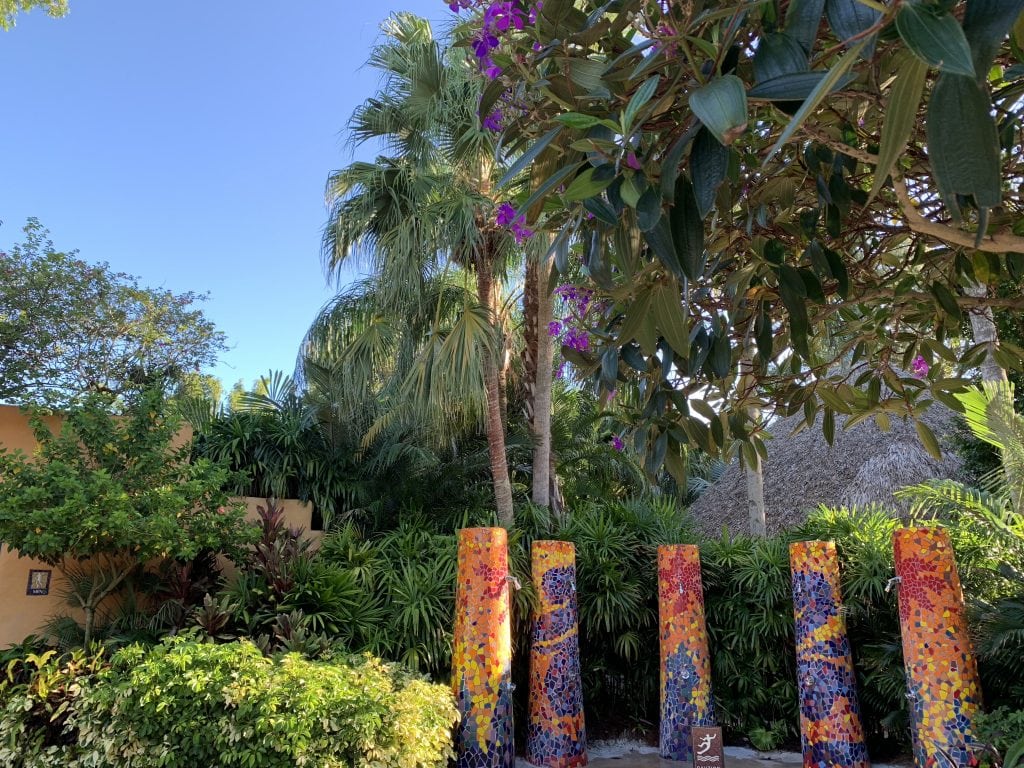 Photographs and Videos
There is SO much to photograph at Discovery Cove! After all, when you visit a perfect tropical paradise, you want to capture it all.
Professional Discovery Cove Photography
However, personal photography on tours is limited, if not outright banned. So you might not have the opportunity to take as many photos as you'd think.
BUT, there is always a professional photographer there to capture photos and videos for you.
What isn't great, though, is the price of having to buy the photos and videos. But, they are once in a lifetime memories.
If you purchase the Photo Package beforehand, the cost is $219. This includes all images from your Swim with Dolphins interaction. As well as video. Along with 6 X 8 prints and a frame.
The photos that you see in this review article of the dolphins, sharks and many of the Animal Trek Experience are all the photos that came with the Photo Package.
The BIG problem with the Photo Package – and I do mean big problem – is that the video is only supplied on a DVD. In today's technology era, this is just unheard of.
I do not have a DVD player on my computer or even in my home. Many people don't. But there is not digital video option (at the current moment, October 2018) to get your video. So you can watch it at home. But you can't share it on Facebook.
Another problem with the PhotoKey part of Discovery Cove's photo package is that there is no flash drive. The photos can be accessed by a website for instant download, which is great. But, again, in today's technological era it would be nice to have images on a flash drive to use on several devices or share with friends.
Taking Photos at Discovery Cove
You can use your own cameras in many of the areas at Discovery Cove. But the key is to use cameras with waterproof cases!
GoPros are really popular at Discovery Cove, and for good reason. They are small, they have a variety of different ways to use them (chest mount, wrist mount, head mount, gimbal stick), and take really great photos and video. The GoPro Waterproof Housing (used for GoPros older than the HERO7 model, which is waterproof without a special housing) makes this camera one of the best ways to take pictures and video underwater.
If you want to use your phone to take pictures or video in the water, especially while snorkeling, you'll need a waterproof pouch cellphone dry bag case. They are SUPER inexpensive and worth every dollar compared to getting your phone wet or dropping it in the water accidentally.
Florida Resident Rates and Deals
Yes, there are Florida Resident rates and discounts for Discovery Cove! Woo Hoo!
If you have proof of valid Florida residency (yes, they check), you'll be able to get unheard of prices for Discovery Cove. Keep in mind, dates are limited.
Check out Discovery Cove's Florida Resident Deals page, where you can book your Day resort package with a Dolphin swim. Currently, the Florida resident deal is only $159 for a day resort ticket plus a dolphin swim!
Add in unlimited admission to two theme parks (SeaWorld, Aquatica) for 14 days for approximately $16 more. Admission to three theme parks (SeaWorld, Aquatica, Busch Gardens) is just $36 more for 14 days unlimited admission.
Don't want to swim with dolphins? The day resort only fee is around $127.
There was a great promotion recently with a free dolphin swim. So look out for those! I posted it on Instagram here:
There are no Florida Resident deals for upgraded experiences, though.
What to Bring to Discovery Cove
There's so much included at Discovery Cove it's hard to believe you'd want to bring anything. But there are a lot of smart buys that you might want to invest in before your tropical getaway:
Walking on the sidewalks and in the sand can be hard on your feet, especially when it's super hot outside. Protect your feet with water socks (we're actually surprised at how many colors and styles there are to match your swimsuit).
A great bag or water resistant backpack is perfect for holding everyone's clothes, snacks, and gear when you're moving between locations in Discovery Cove.
You'll want to bring a camera (see above) to capture photos and memories. Be sure to look into waterproof cameras before heading to the all-inclusive resort for the day.
A wide tooth comb or brush is great for women's hair. After you've been swimming all day, it's nice to comb out the tangles.
Showers are included. But if you want your own personal amenities and soap, bring those.
A dry change of clothing is a must after swimming all day.
Sun protection for your lips. While sunscreen is provided at Discovery Cove, lip protection is not provided.

Parking at Discovery Cove
Parking is free at Discovery Cove. There is one big parking lot for everyone to park in directly in front of the check in entrance.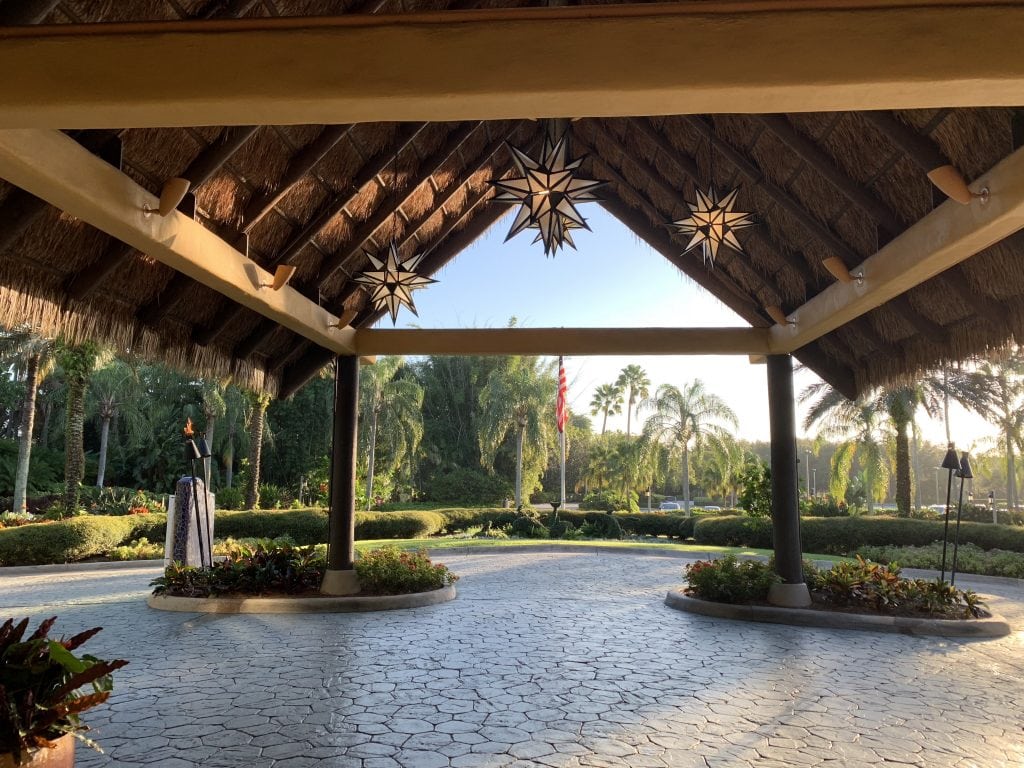 There is a pull through drop off area. It looks like the valet section of a tropical resort. This is the best place to drop off family and kids to walk right into the check-in area.
Orlando Travel Tips
Want more great travel tips for Orlando? As an Orlando local, I've got tons of helpful tips for a great vacation! Check out these travel guides: