Universal Orlando Resort has two theme parks – Universal Studios and Islands of Adventure. If you want to see both parks in one day, there are only two ways to get between the parks: either walk or take a train.
Both of these methods can take quite a lot of time. So it is important to know your options before hopping between the two Universal parks.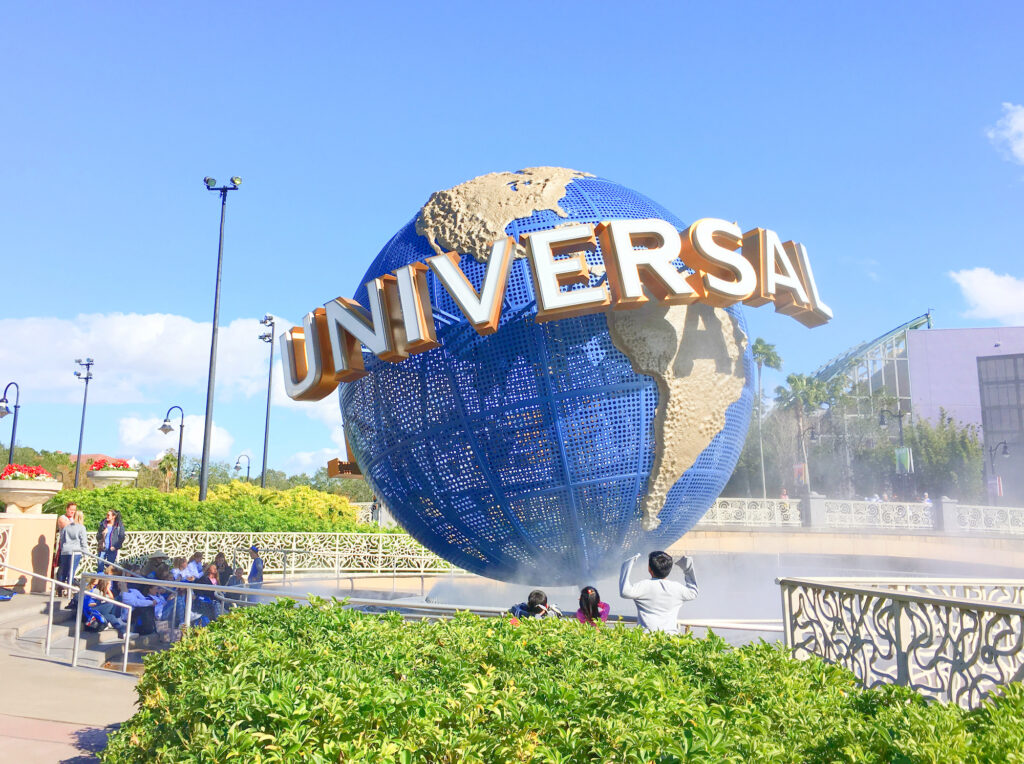 Universal Orlando's two theme parks are not located across from each other, like Disneyland Park and Disney's California Adventure Park at the Disneyland Resort. You cannot walk out of one entrance, across a courtyard, and then enter the other theme park.
Thankfully, the two parks are not located far apart from each other, unlike all of Walt Disney World's theme parks which require a bus, boat, or a monorail to get to.
You must have tickets that will allow you entry into the second theme park. Usually this will be a 2-park hopper ticket. In rare instances, you might have (2) one-park tickets and you use one ticket in each theme park on the same day. You cannot use a one-park ticket and get entry into the second theme park with that same ticket.
Where Are Universal Studios and Islands of Adventure Located?
Universal Orlando Resort's two theme parks are located side by side, with the sidewalk of Citywalk connecting the two parks outside.
You will park in one parking garage to access both theme parks, so you don't need to park in different locations if you decide to park hop.
Regardless of what theme park you go to, you will need to walk through Citywalk to get there. So going to both of the theme parks in one day is not a problem. You will not need to go to a different part of Orlando to get to a different park.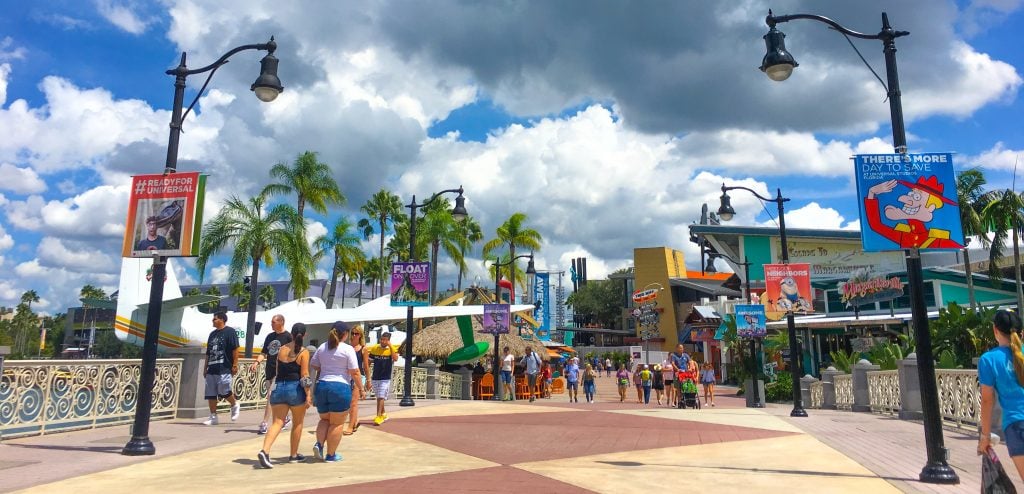 Related Post: Ultimate Guide to Harry Potter Restaurants at Universal
Walking Between Universal Studios and Islands of Adventure
Walking is the easiest way to get between Universal Studios and Islands of Adventure, or vice versa. It might take longer, but you are more in control of how your time is spent.
The distance from the entrance of one theme park to the other is about a 2/10 of a mile.
Keep in mind that you have to also add in the distance from within the theme park that you are leaving to get to the front entrance. And then the distance of walking through the second theme park once you get there.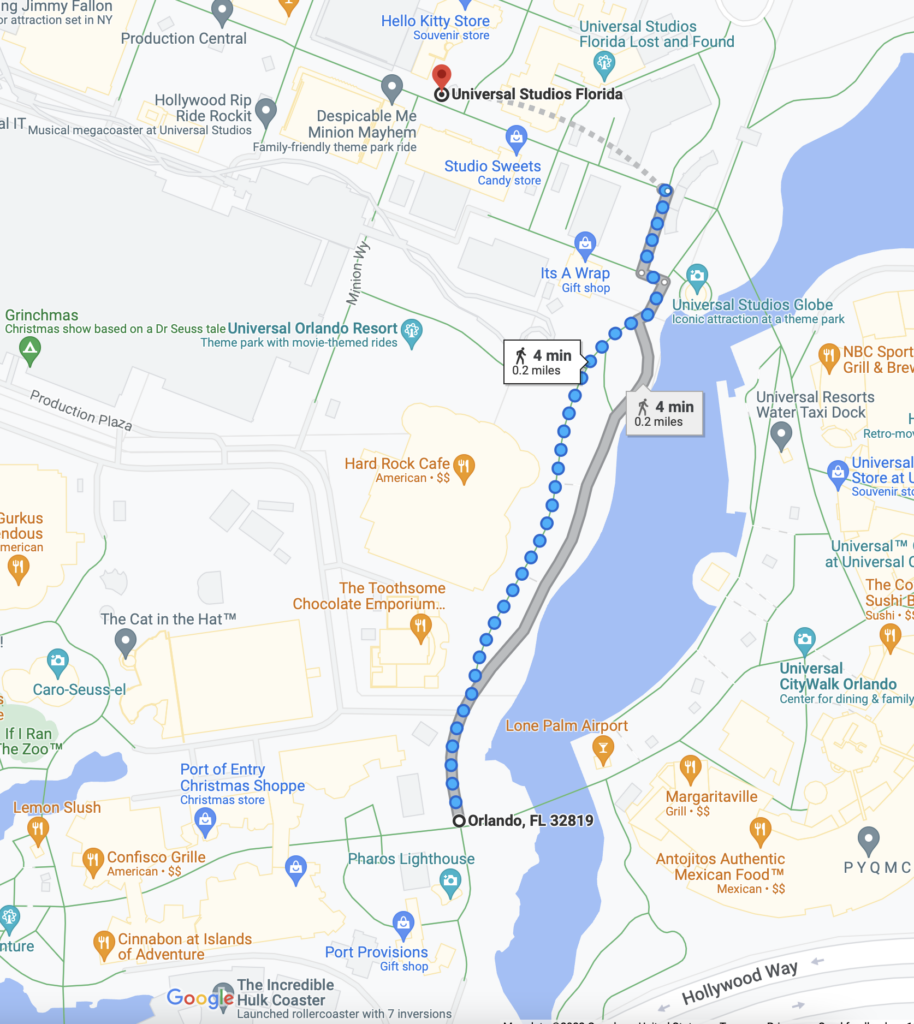 Here are the directions for walking from Universal Studios to Islands of Adventure:
Walk out of Universal Studios theme park and through the exit gates into Citywalk.
Turn right and walk two-tenths of a mile on the path until you get to Islands of Adventure.
Go through security screening.
Wait in line to scan your ticket for entry into the theme park.
If you are leaving from Islands of Adventure to go to Universal Studios, you will reverse these directions and turn left out of the exit gates.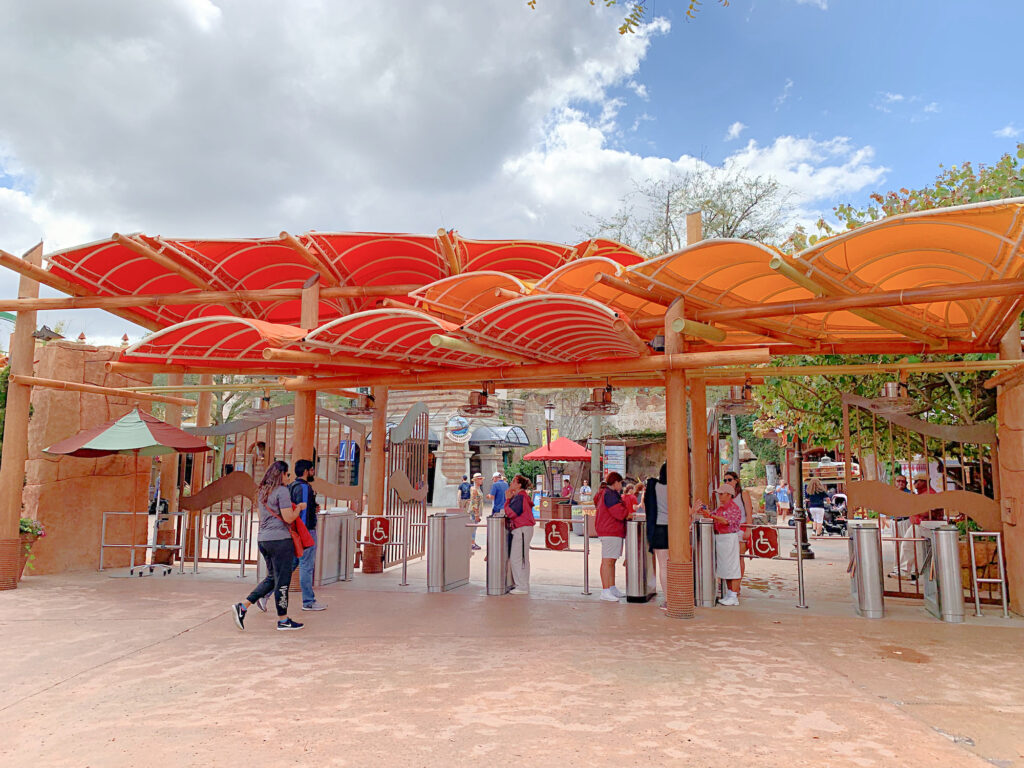 How far is it between the two parks? On average it is a 5-minute walk, but that can take shorter or longer depending on your unique situation.
You will need to factor in the time of waiting for a security screening and having your ticket scanned, too.
Helpful Tips for Walking Between the Parks
The walkway is wide and flat. It is easy to push a stroller or a wheelchair along the walkway.
There is no shade or cover along the walk.
This is not the best option during rainy weather.
Heat can be a problem on a sunny day.
You will walk past Toothsome Chocolate Emporium and Hard Rock Cafe. Both locations are great for dining at Universal Orlando. They also offer small gift shops.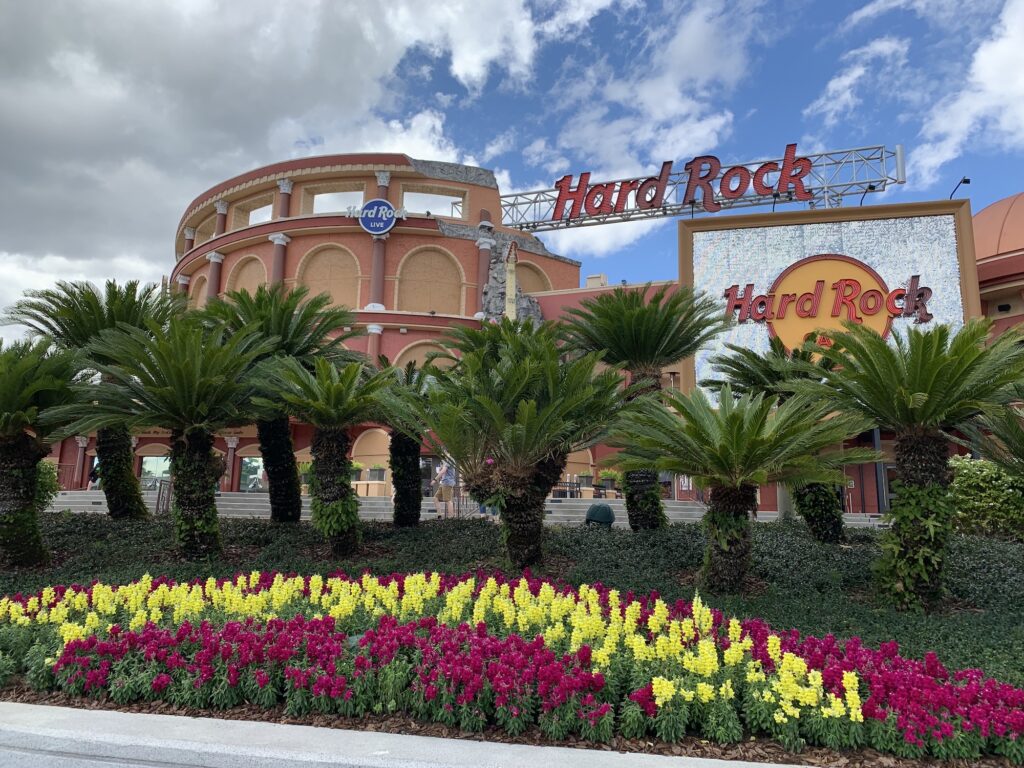 Related Post: Can You Bring Outside Food Into Universal Studios?
Hogwarts Express Train Between Islands of Adventure and Universal Studios
Hogwarts Express train requires the least amount of walking to get between the two parks. You are also able to exit and enter among the most popular parts of the two theme parks. This saves you walking through each park from the entrance or to get to the exit, since you will be in the Wizarding World of Harry Potter.
Hogwarts Express is unique because it provides transportation between the two theme parks and it is an attraction, too.
While you are moving from one theme park to another, the windows of the train will be showing images of the British countryside, just like in the Harry Potter movies.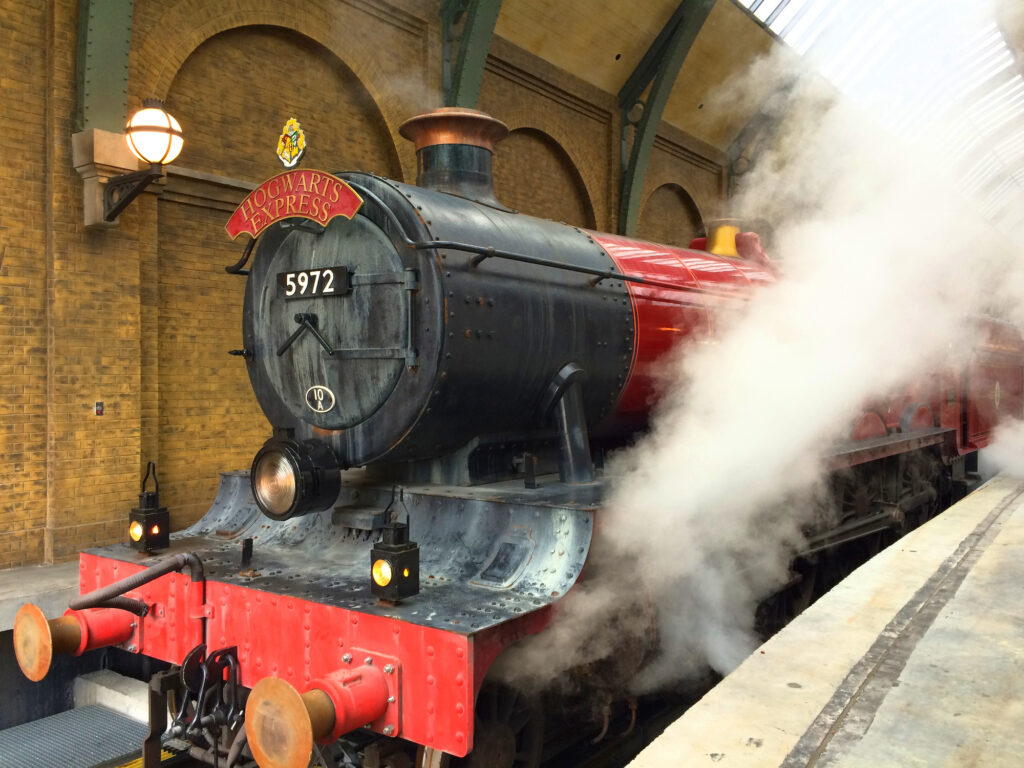 Hogwarts Express leaves from King's Cross Station in Diagon Alley in Universal Studios' Harry Potter land. Be sure to get our Guide to Harry Potter Easter Eggs to find some secret treasures on the train platform here.
The train leaves from Hogsmeade Station in Hogsmeade in Island's of Adventure's Harry Potter land.
While the train looks imposing and has smoke billowing out of the locomotive, this is not a fast train or a scary attraction. In fact, this train does not have an engine, and does not use coal or steam to power it. Hogwarts Express is actually pulled by a cable.
However, this is an attraction and just like with all rides, you can expect there to be a line and to have to wait to ride.
Lines can be long at certain times of the day in order to get onboard the train. You might expect a wait time of up to an hour during peak crowd times.
If you have a Universal Express Pass, you can skip the lines and have less of a wait.
During less crowded times of the day, you might see around a 15-minute wait. You will need to take time to have your park-hopper tickets scanned before boarding. Yes, you must have your park to park ticket (otherwise known as a park hopper ticket) scanned before boarding the Hogwarts Express.
Then you will need to wait for the next train to come into the station, disembark the passengers, and then embark the new passengers. Plus, you will need to account for the time that you are on the attraction, which is about a 4 minute train ride.
While this method of getting in between the two theme parks requires less walking, it can definitely take more time. However, you will be experiencing one of the big Harry Potter world attractions.
Related Post: How to Get Between Universal Studios and Disney World
These are just a few of the Universal tips and tricks we have to save time and money. Be sure to see all of our tips before your next visit.