The Hogwarts Express is the Harry Potter train that is an attraction in both lands of The Wizarding World of Harry Potter.
Riding the Hogwarts Express is on the bucket list of every Harry Potter fan!
We are sharing all of the details you need to know about the Hogwarts Express at Universal Studios.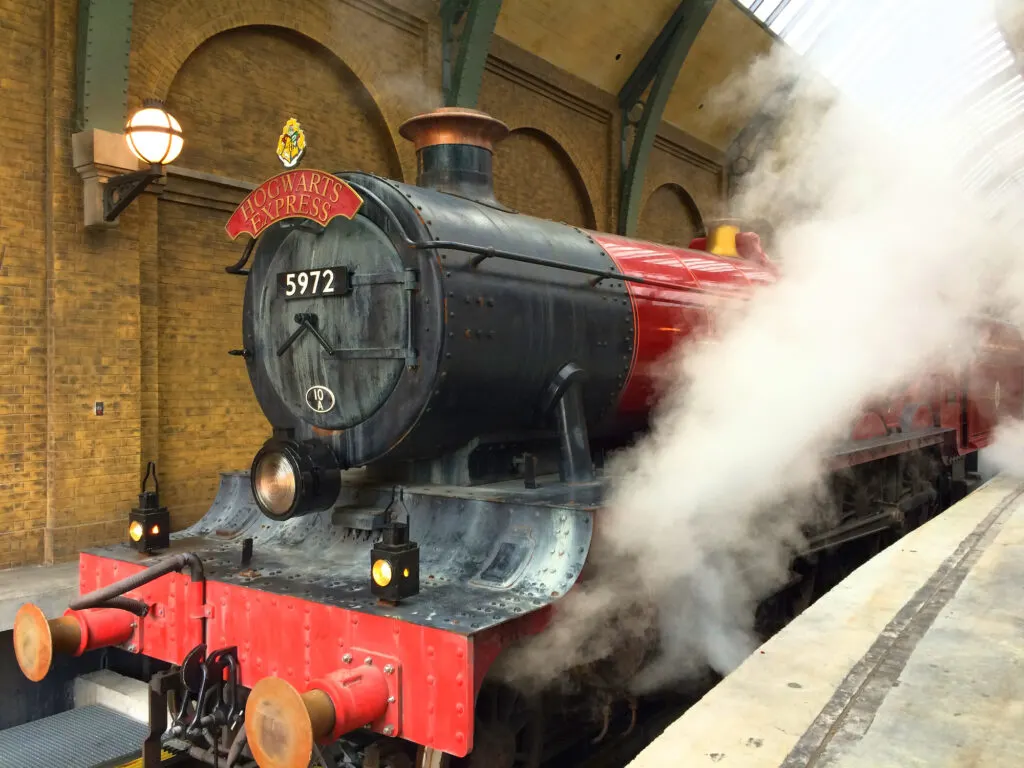 What is the Hogwarts Express at Universal?
Hogwarts Express is a ride that looks like the Harry Potter train in the movies. The steam-engine train is a replica of what you will see in the popular Harry Potter films.
Fun fact: The Harry Potter train is based on the real Jacobite Express train which is running in Scotland.
The Hogwarts Express moves between the two Universal Studios theme parks. Not only is it an attraction, it is also a way to get between the two Wizarding Worlds of Harry Potter that are located in two different theme parks.
You won't be hanging your head out the window and feeling the breeze through your hair as you travel through backstage areas at Universal Studios, though. This train ride is simulated, right down to the scenes you will see out of the windows, including the streets of London and the countryside in Scotland.
The windows are actually screens showing scenes of the popular Harry Potter characters and locations. There are two different rides on Hogwarts Express (one from King's Cross Station and one from Hogsmeade) and each ride has different scenery projected onto the window.
There are screen projections on the doors to your train car, as well.
Each train compartment will seat up to 8 people. You will be sharing your compartment with other guests unless you are part of a large party that takes up most of your train cabin.
Is the Harry Potter Train Scary?
The Hogwarts Express is one of the most gentle and least scary attractions at all of Universal Studios. The gentle ride is perfect for kids and adults.
While there is a brief moment where a Dementor boards the train (simulated on the screen), that is about the scariest thing there is on this ride.
There is no minimum height requirements, however guests 48 inches and shorter will need to be accompanied by a companion.
Where are the Hogwarts Express Train Stations?
There are two Hogwarts Express train stations, one located in each of The Wizarding World of Harry Potter lands.
King's Cross Station at Universal Studios Florida
Hogsmeade Station at Islands of Adventure
Related Post: Islands of Adventure Vs. Universal Studios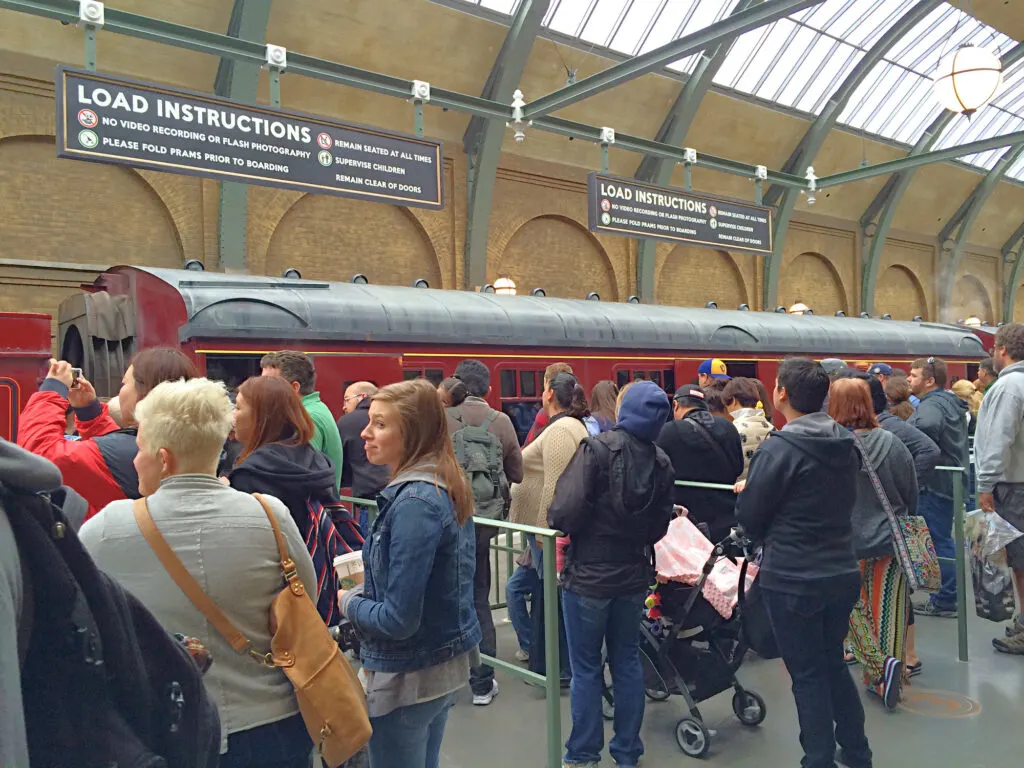 Hogwarts Express Fun Facts
Opened July 18, 2014
Hogwarts Express is located on Platform 9 3/4
There is a replica of the Hogwarts Express in Hogsmeade that is great for photo opps. The conductor often is at the train for photos and character interactions, too.
You will not be able to take video inside the train.
Your strollers will be called Prams when boarding the Hogwarts Express. In the United Kingdom, strollers are referred to as prams, and since this train is going through the Scottish countryside, the team members will make you feel as if you really are in the United Kingdom.
There are so many photo ops at each train station! Be sure to take the time to get great photos!
Walk through the Platform 9 3/4 in the King's Cross Station at Diagon Alley! It's a fun photo or video opportunity and just one of the best things to do in Diagon Alley!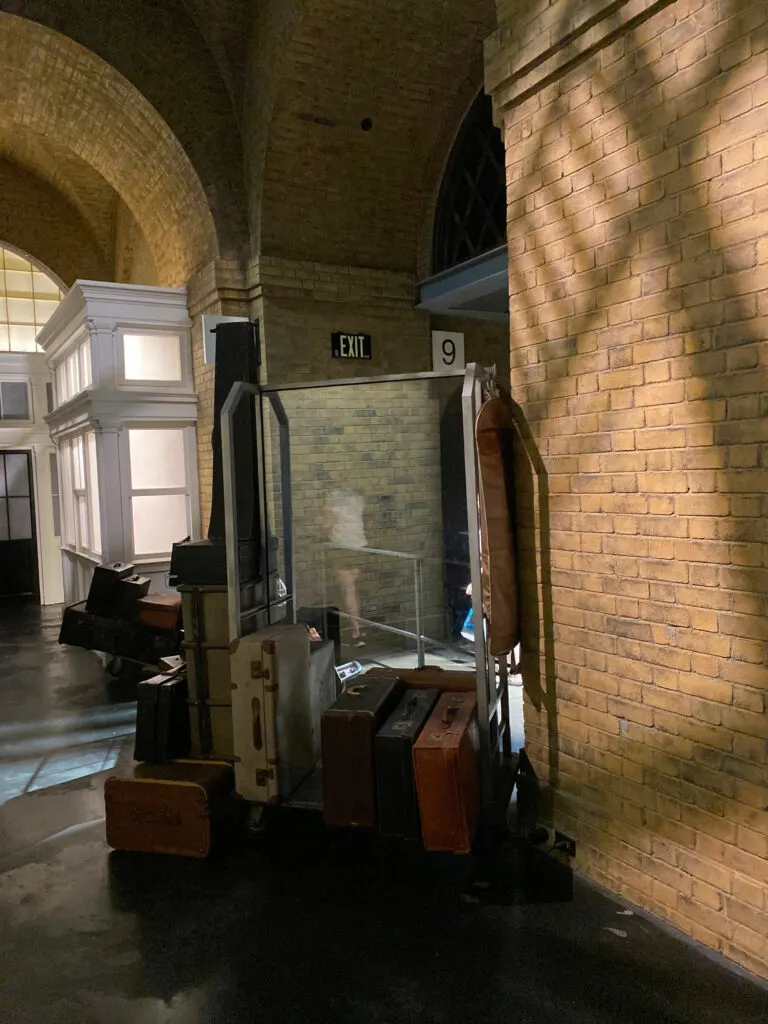 How Do I Get a Hogwarts Express Ticket?
Hogwarts Express does not need a special ticket to ride, however you do need a park-to-park admission ticket for Universal Studios.
Hogwarts Express stations are found at both Universal Studios Florida and Islands of Adventure theme parks. You can only ride the Harry Potter train by going from one theme park to the other. That is why you need a park-to-park admission ticket.
If you only have a one-park Universal ticket, you cannot ride the Hogwarts Express.
You will not be allowed admission to the train without a park-to-park ticket. There are attendants at the entrance to each station that will scan your park ticket to make sure you have a two-park ticket.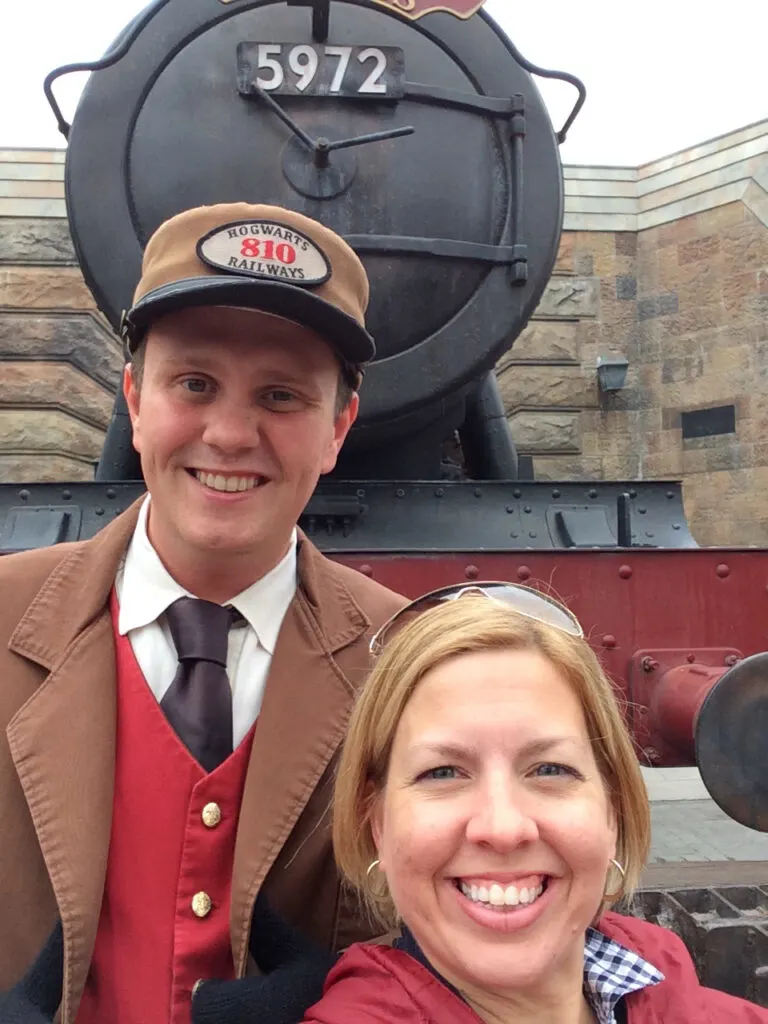 Related Post: Harry Potter Easter Eggs In The Wizarding World of Harry Potter
How Often Does the Hogwarts Express Run?
The Harry Potter train runs continuously all day long during normal operating hours.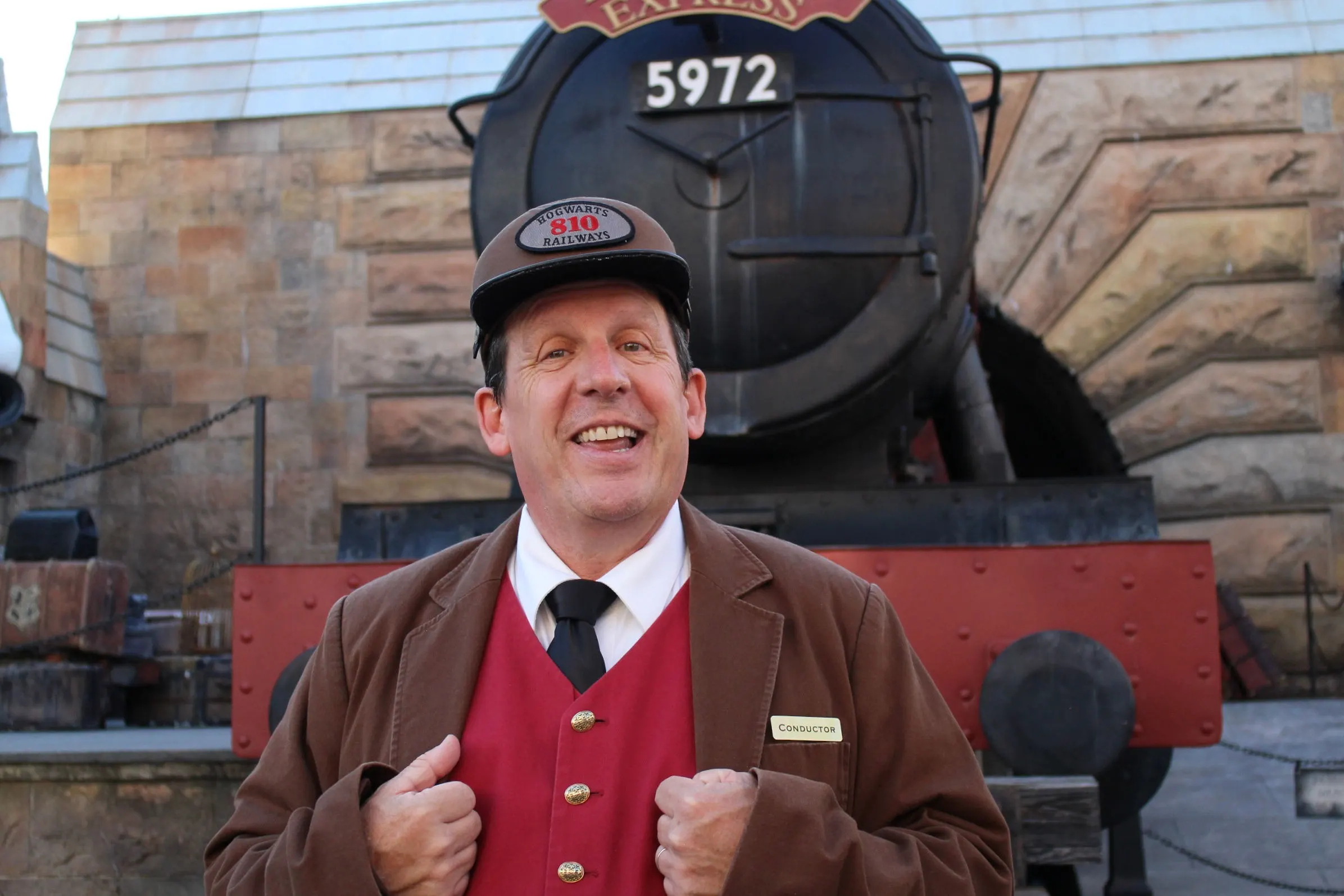 How Long is Hogwarts Express?
The simulated train ride is approximately 4 minutes long.
How Many Times Can You Ride the Hogwarts Express?
You can ride the train as many times as you would like during theme park operating hours. However, you will need to disembark the train, exit the queue line and re-enter the queue line to get back onboard.
Related Post: Best Harry Potter Restaurants at Universal Studios
Can You Ride Hogwarts Express Without Park to Park Tickets?
No, you will not be allowed in the queue line unless you have a park to park ticket.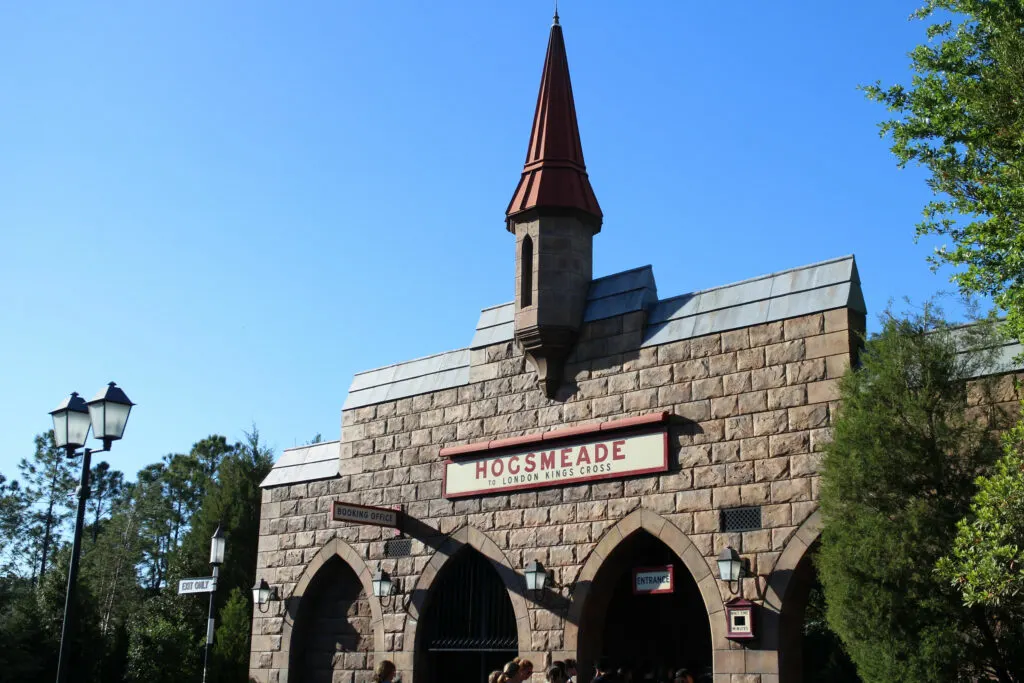 Does Express Pass Work on Hogwarts Express?
Yes, you can use Universal's Express Pass to save time and get ahead in the line.
Related Post: Where to Find FireWhisky in The Wizarding World of Harry Potter
Is the Hogwarts Express Worth It?
Whether or not the Hogwarts Express is worth it depends on if you are a Harry Potter fan.
The ride is a simulated ride through the country side on the way to Hogwarts. You will be seeing realistic movies through the windows, not actual scenery of what is outdoors.
For Harry Potter fans, it is one of the can't miss experiences in The Wizarding World of Harry Potter!
While this is one of the most immersive aspects of The Wizarding World of Harry Potter, if you do not have an appreciation for the movies, you probably won't like the train ride.
A park-to-park ticket costs a lot more money than a one-park ticket. So if you don't need to visit two theme parks in one day, and you are not a Wizarding World fan, then it might not be worth it for you.
Hogwarts Express is not the only way to get between Universal Studios and Islands of Adventure. You can also walk.
However, if you are a Harry Potter fan, this is one experience that you don't want to miss. Especially if you are unable to ride the other Harry Potter attractions because of height requirements or motion sickness.
Is There a Hogwarts Express at Universal Studios Hollywood?
No, there is no Harry Potter train ride at Universal Studios Hollywood because there is only one theme park.
Guests who would like to take photos with Hogwarts Express can use the train replica that is found there.