A Universal Studios Express Pass will save you time while in the theme parks and allow you to skip the lines at most of the rides and attractions in Universal Studios Florida and Islands of Adventure.
Universal Express Passes are not free, though. They can cost a lot of money, sometimes hundreds of dollars a day!
Our Ultimate Guide to How to Get a Universal Express Pass Discount will show you the money-saving tips and tricks to get one of these passes in the cheapest way possible. Let's get started!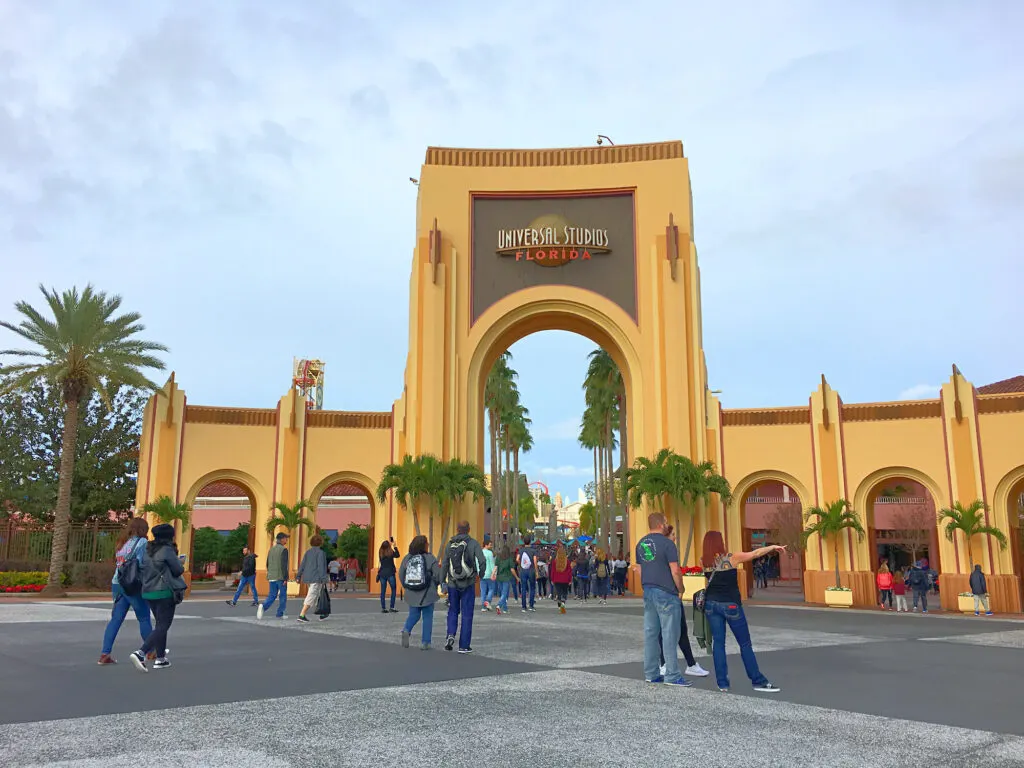 What is a Universal Studios Express Pass?
A Universal Express Pass is an add-on feature to your standard Universal Studios theme park ticket.
Here are 17 great ways to save on the cost of Universal tickets!
An Express Pass will allow you to skip the long lines at most of Universal Studios theme park attractions.
Much like Walt Disney World's Fast Pass, Genie+ and Lightning Lane, you will be able to bypass the queue lines and get to the front of the line quicker.
Will I Still Wait In Line with an Express Pass?
Yes, there will still be a small wait when you use a Universal Express Pass.
Just like at Disney, getting into the express line means that you will miss most of the queue line waiting. However, there will still be a small amount of wait time, usually 10 minutes or less.
That's not bad when the normal queue line can be an hour or so.
What Are the Different Types of Express Passes?
There are two different types of Express Passes for Universal Studios:
Universal Express Pass
Skip the regular lines one time for each participating attraction at the theme park you bought your express pass for. If you choose to ride that ride again in the same day, you will need to wait in the standard queue line.
Universal Express Unlimited
With this more expensive pass, you can skip the regular lines an unlimited number of times for each of the Universal Studios rides. This is perfect for kids or adults who have a favorite attraction and want to ride again and again.
Volcano Bay Express Pass
Yes, there are Express Passes for Volcano Bay water park, too.
How Much Does Universal Express Pass Cost?
The cost of a Universal Studios Express Pass varies depending on time of year the pass is purchased for, as well as expected crowd levels on the day of use.
The base price for a one day Universal Express Pass starts at $89.99.
Universal Express Pass Unlimited starts at $99.99.
These prices are per person, per day.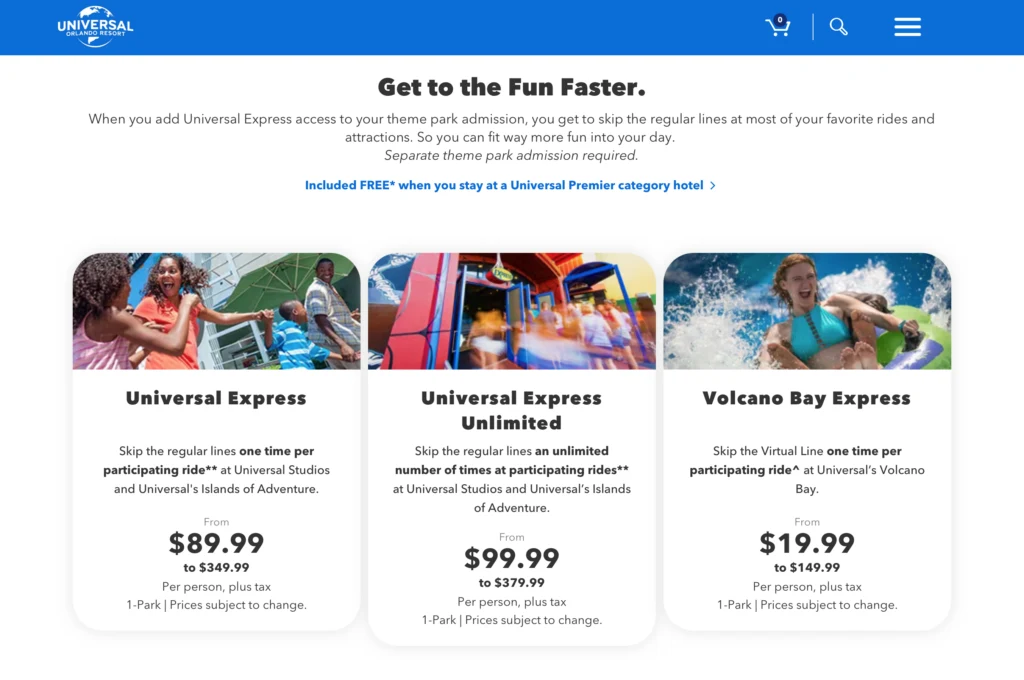 For busy times of the year, such as Christmas, Thanksgiving, Labor Day, Spring Break and Fourth of July, you can expect the price of a Universal Express Pass to be more expensive.
Slow times of the year, such as mid to late January and February typically have cheaper Express Passes.
A Universal Express Pass will cost more the closer to your day of use. Prices generally go up as it gets closer to when you will use them.
Buying a Universal Express Pass on the day of use can be the most expensive option. However, you buy an Express Pass on the day of your visit inside the theme park.
Be sure to see our Ultimate Guide to How Much It Costs to Go to Universal Studios.
Universal Express Pass Discount Options
Want to save money on a Universal Express Pass? Of course you do!
While there are limited ways to save money on a Universal Express Pass, it is still possible to get cheap Express Passes through these tips.
Stay at a Universal Hotel
If you stay at one of Universal Orlando's Premier Hotels, you will receive FREE Express Passes with your room key!
The Universal Hotels with Free Express Pass are:
Royal Pacific Resort
Portofino Bay Hotel
Complimentary Universal Express Pass Unlimited are available for guests at the Universal Premier Hotels for the duration of their stay, including check-in and check-out dates.
That's why many people are booking Universal Studios ghost rooms, even if they don't plan on spending their entire vacation at one of these premier properties.
You will still need to purchase standard theme park tickets.
Only guests on your reservation will be given the Express Pass. If a member of your party does not have a room key in their name, then they will not have an Express Pass.
These Universal Studios hotels with Express Pass DO NOT offer free Volcano Bay Express Passes. You must pay for them separately.
What is the cheapest Universal hotel with Express Pass? Usually it will be Loews Royal Pacific Resort.
Loews Portofino Bay Hotel is generally the most expensive option.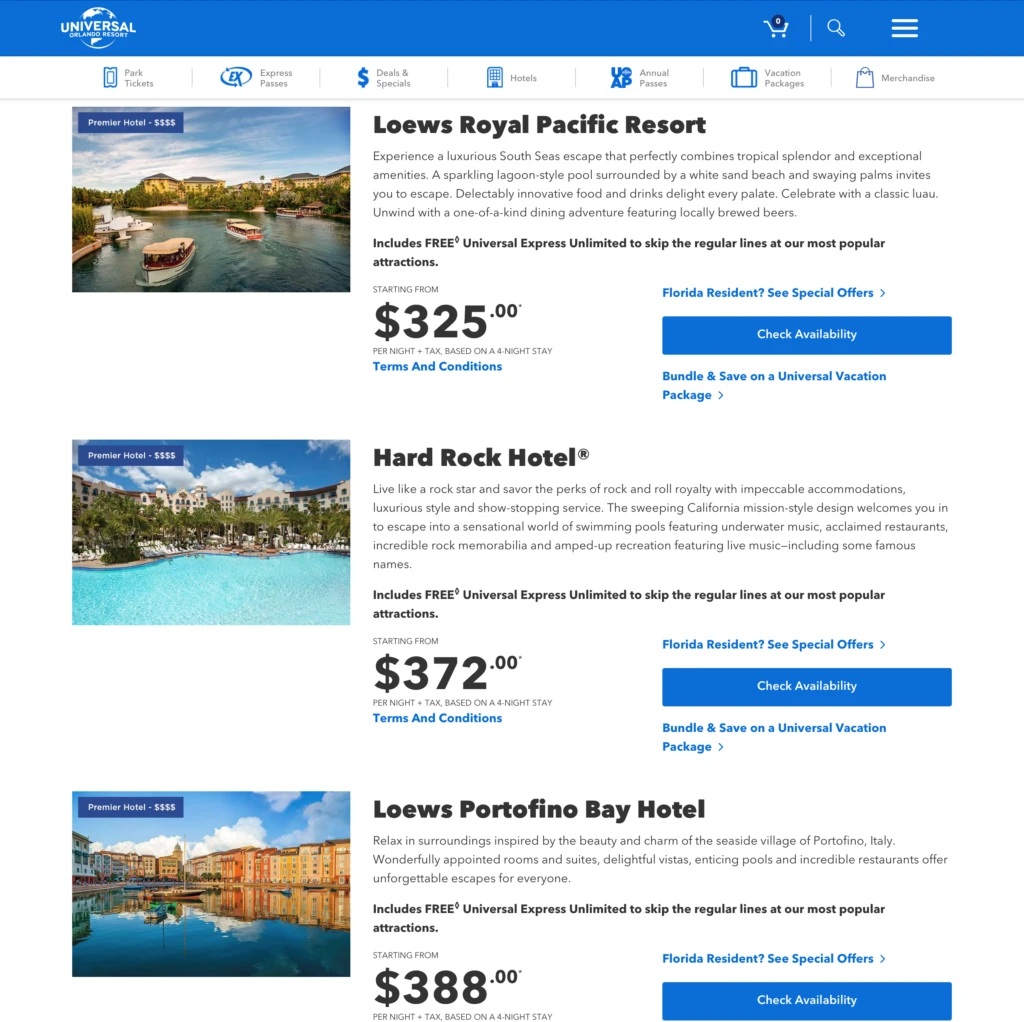 Buy As Soon As Possible
Express Pass tickets are cheaper the earlier that you purchase them.
If you are booking your Christmas visit to Universal Studios in March, then the prices for Express Passes are going to be cheaper to buy in March than in December of that same year.
As soon as you know you want to get Universal Studios Express Passes, buy them.
Prices can, and usually do, fluctuate and increase the closer to the day of use. Sometimes this increase can be hundreds of dollars.
Express Passes can sell out, as well. So if you definitely know you want to use them, get them as soon as you can.
Buy Universal Express Passes at Sam's Club
You can buy a discounted Universal Express Pass at Sam's Club. This is for ONLINE ONLY!
Save $5-11 per pass on average, with some higher discounts on certain days.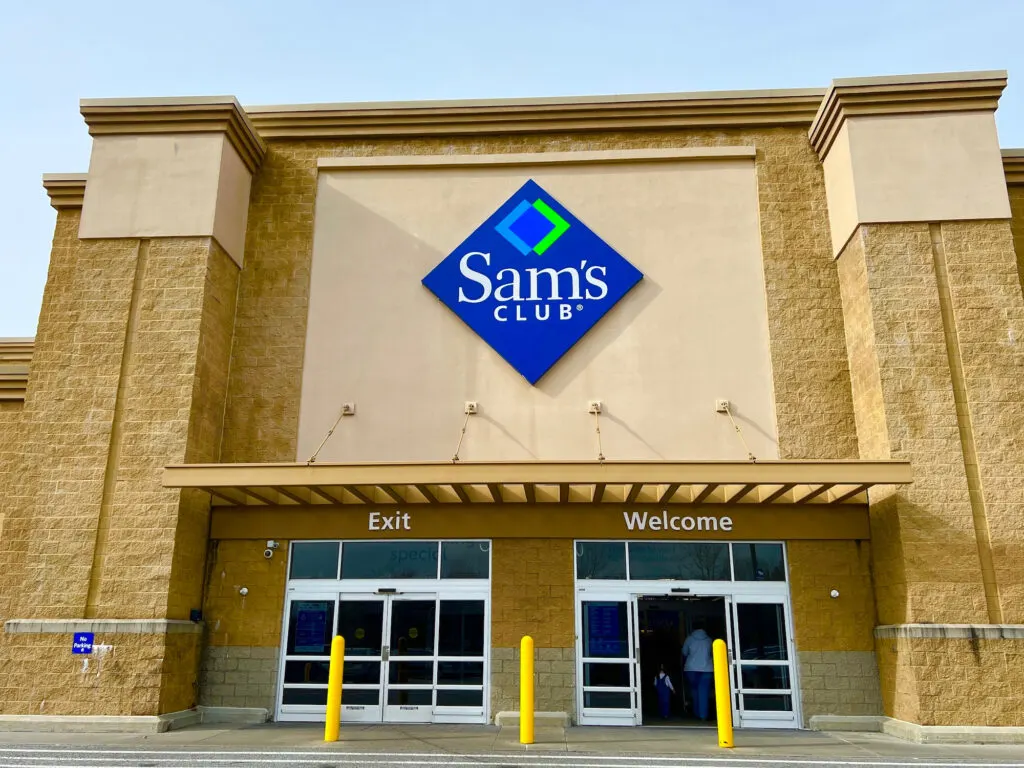 Not only does Sam's Club sell Universal tickets at a discount, they also sell discounted Universal Studios Express Passes.
In September 2023, you can save quite a lot of money on each Express pass. Here are the prices for Express Passes at Sam's Club: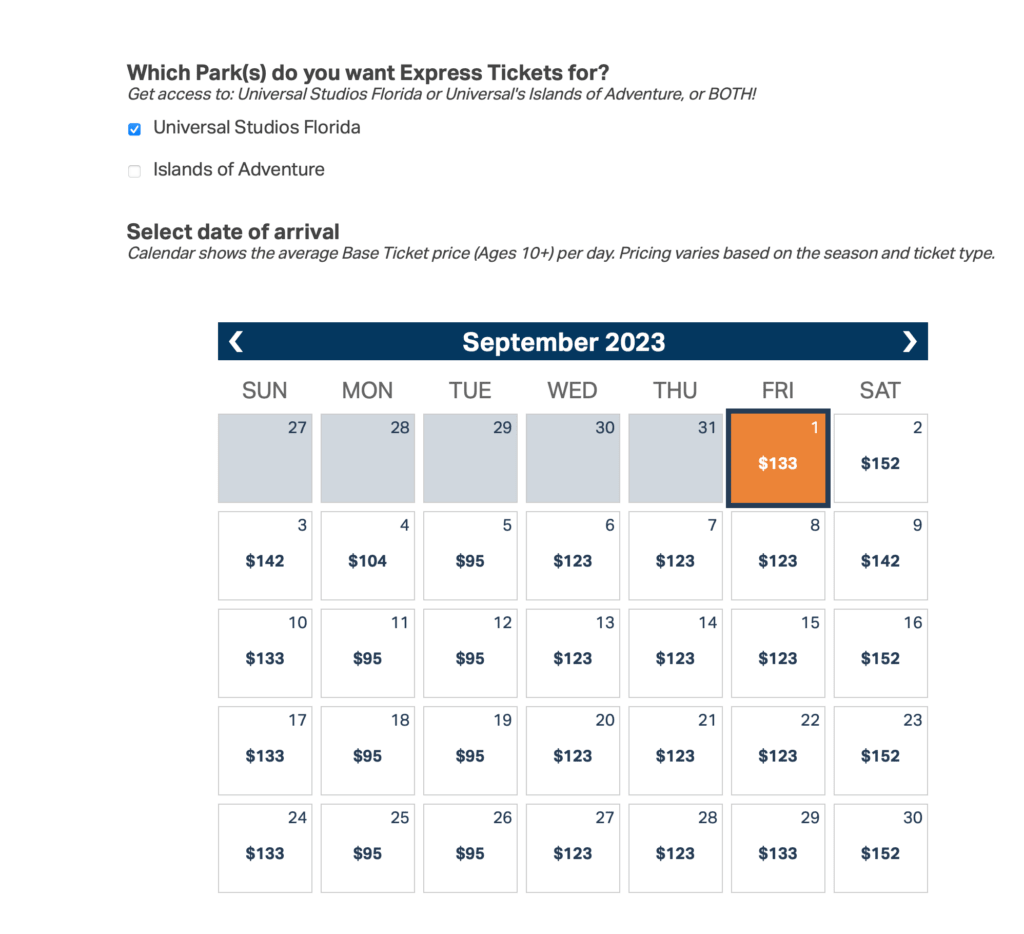 You can compare them to the Express Pass prices from Universal Orlando. These price comparisons were taken at the same time on the same day: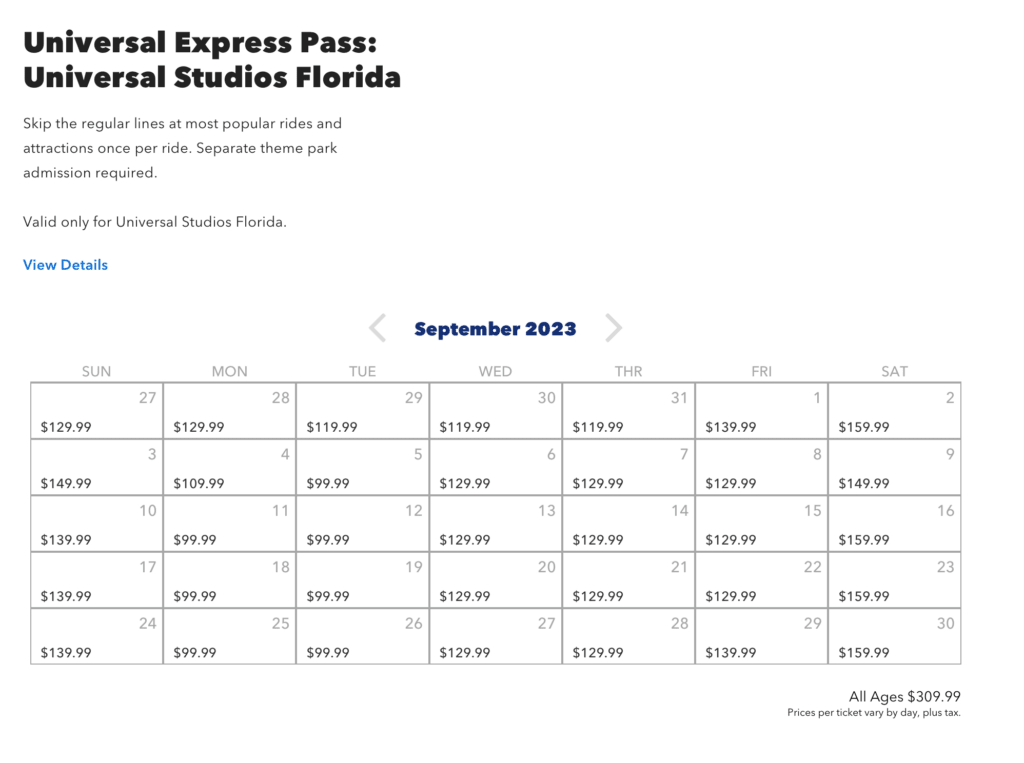 When comparing prices, the Express Pass is about $7 cheaper on September 1 when buying on Sam's Club. On September 3, the Sam's Club Universal Express Pass is about $8 cheaper than buying through Universal Orlando Resort.
You can get a $20 e-gift card with your new Sam's Club membership when you use our referral link. (We'll get a small gift card, too, thank you!)
Even if you need to buy a Sam's Club membership, by the time you get your gift card and save money on the passes and tickets, it's like getting your Sam's Club membership for free! Which will then save you on groceries and other purchases throughout the year.
Choose the Right Days to Use an Express Pass
Not only do prices fluctuate as you get closer to your visit, but prices fluctuate greatly during the week.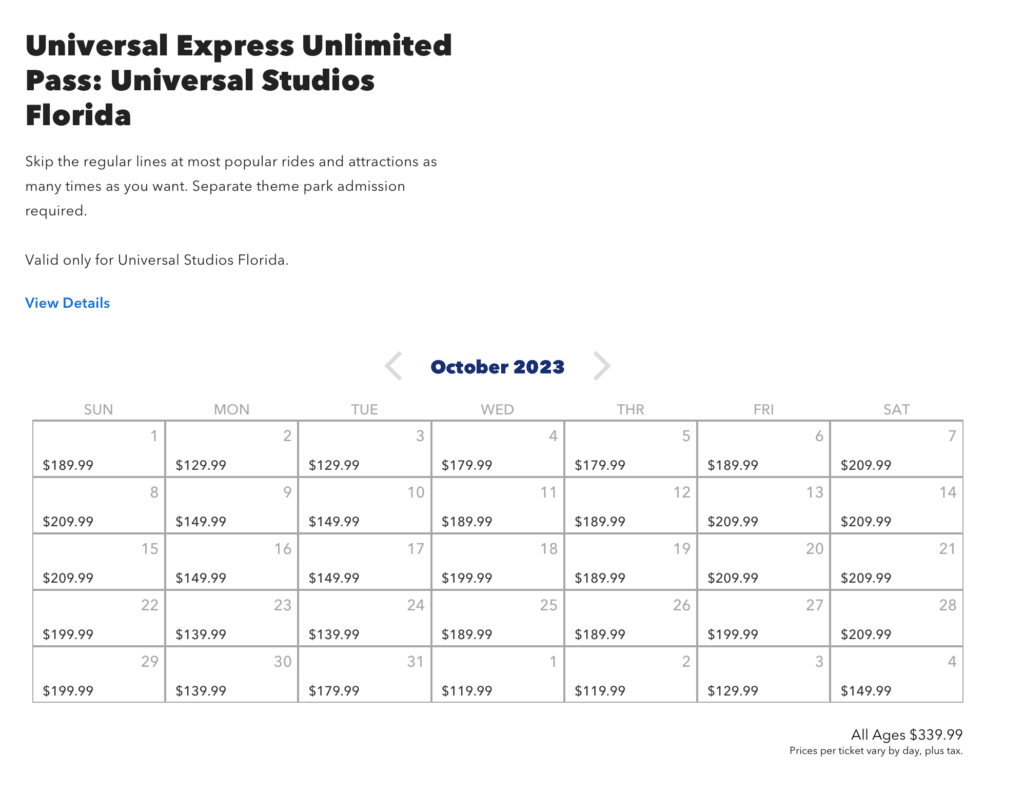 If you have flexibility with your travel plans, choose to visit when the prices are less expensive.
These will usually be the best days to visit Universal Studios when it is the least crowded, too.
Even if you are visiting for a week at Universal Studios theme parks, you may not need to use an Express Pass for each day that you are in the parks.
You can buy an Express Pass for the cheapest day and use it all day long. Then, when you go back to the parks on another day without an Express Pass, you won't feel like you need to ride all of the rides. You will know which rides are worth standing in line for with the normal wait time.
Purchase Combo Tickets with Express Passes
When you bundle your tickets for multiple days, you can save a lot of money on Universal theme park tickets and Express Passes.
Choose Your Combo Tickets Time Frame Wisely
When buying multi-day passes in a combo ticket, the price can fluctuate depending on when you start the ticket package.
Sometimes you may be able to get a cheaper combo ticket with Express Passes included if you say that your visit starts on a Monday rather than a Wednesday.
Combo tickets generally have a wide date range of when you can use those tickets within that time frame.
This will only work if you are buying a ticket package without attaching it to your Universal Hotel reservation.
Choose The Right Park
While you can buy a Universal Express pass for either Universal Studios Florida or Islands of Adventure, the cost is not the same.
A recent price comparison showed that Islands of Adventure Express Passes were $5 more than Universal Studios Florida Express Passes for a one-day pass.
Islands of Adventure definitely does have more thrill rides that use the pass (See our list below). However, if you are traveling with children that are not able to ride those roller coasters due to Universal Rides Height Requirements, or they are scared to do so, then it does not make sense to buy an Express Pass for that park.
This is especially true if you are going to Universal Studios with a Toddler.
To decide on which park makes sense for you, see our comparison of Universal Studios vs. Islands of Adventure.
You do not have to buy an Express Pass for every day of your visit or each park.
Be sure to see all of our helpful tips and tricks for saving time and money at Universal Studios!
Are There Coupon Codes for Universal Express Passes?
No, there are not discount coupon codes for Universal Express Pass through the Universal Orlando Resort.
However, authorized ticket resellers may have promotions offering a discount code.
We use Get Away Today, an authorized ticket reseller with great customer service that sells theme park tickets and packages for less than through the theme parks.
Do Florida Residents Get Discounts on Universal Express Pass?
No, we have not seen Universal Express Pass discounts for Florida residents.
Do I Need a Universal Express Pass?
No, you do not need a Universal Express Pass to enter the theme park.
An Express Pass is an extra amenity that you can choose to pay for to save time. However, you can still enjoy all of the rides without buying a pass.
What Rides Can I Use Universal Express On?
Not all rides and attractions at Universal Studios Orlando theme parks offer Express Pass perks.
Universal Studios Florida Express Pass Rides are:
Harry Potter and the Escape from Gringotts
Hogwarts Express (only with a park to park ticket)
Men in Black Alien Attack
The Bourne Stuntacular
Despicable Me Minion Mayhem (in Minions Land)
Hollywood Rip Ride Rockit
Transformers: The Ride – 3D
Race Through New York Starring Jimmy Fallon
Fast & Furious – Supercharged
The Simpsons Ride (perhaps the worst ride for motion sickness at Universal Orlando)
Kang & Kodo's Twirl 'n' Hurl
E.T. Adventure
Islands of Adventure Express Rides are:
Harry Potter and the Forbidden Journey (in The Wizarding World of Harry Potter)
Flight of the Hippogriff
Hogwarts Express (only with a park to park ticket)
Jurassic World VelociCoaster
Jurassic Park River Adventure
Poseidon's Fury
The Incredible Hulk Coaster
Storm Force Acceleration
Doctor Doom's Fearfall
The Amazing Adventures of Spider-Man
Popeye & Bluts Bilge-Rat Barges
Dudley Do-Right's Ripsaw Falls (among the best Universal Studios water rides)
Caro-Seuss-el
One Fish, Two Fish, Red Fish, Blue Fish
The Cat in the Hat
The High in the Sky Seuss Trolley Train Ride!
Skull Island: Reign of Kong
What Rides at Universal Do NOT Use Express Pass?
You cannot use Express Pass on:
Hagrid's Magical Creatures Motorbike Adventure (in Islands of Adventure)
Pteranodon Flyers (in Islands of Adventure)
***Get Discounted Universal Theme Park Tickets from
Get Away Today!***
We love this Official Universal Ticket Reseller for their customer service and money-saving tickets.
Conclusion
You can get Universal Express Pass discounts if you book ahead of time and carefully consider the ticket package that your purchase. Free Universal Express Passes are available when you stay at select Universal Premier hotels. While Express Passes are not necessary for visiting Universal Studios theme parks, they can help you see more in the day and waste less time standing in lines.