ICE! at Gaylord Palms is one of the most anticipated holiday events in Orlando. And the 2018 theme, A Christmas Story, looks better than any year before, in our opinion!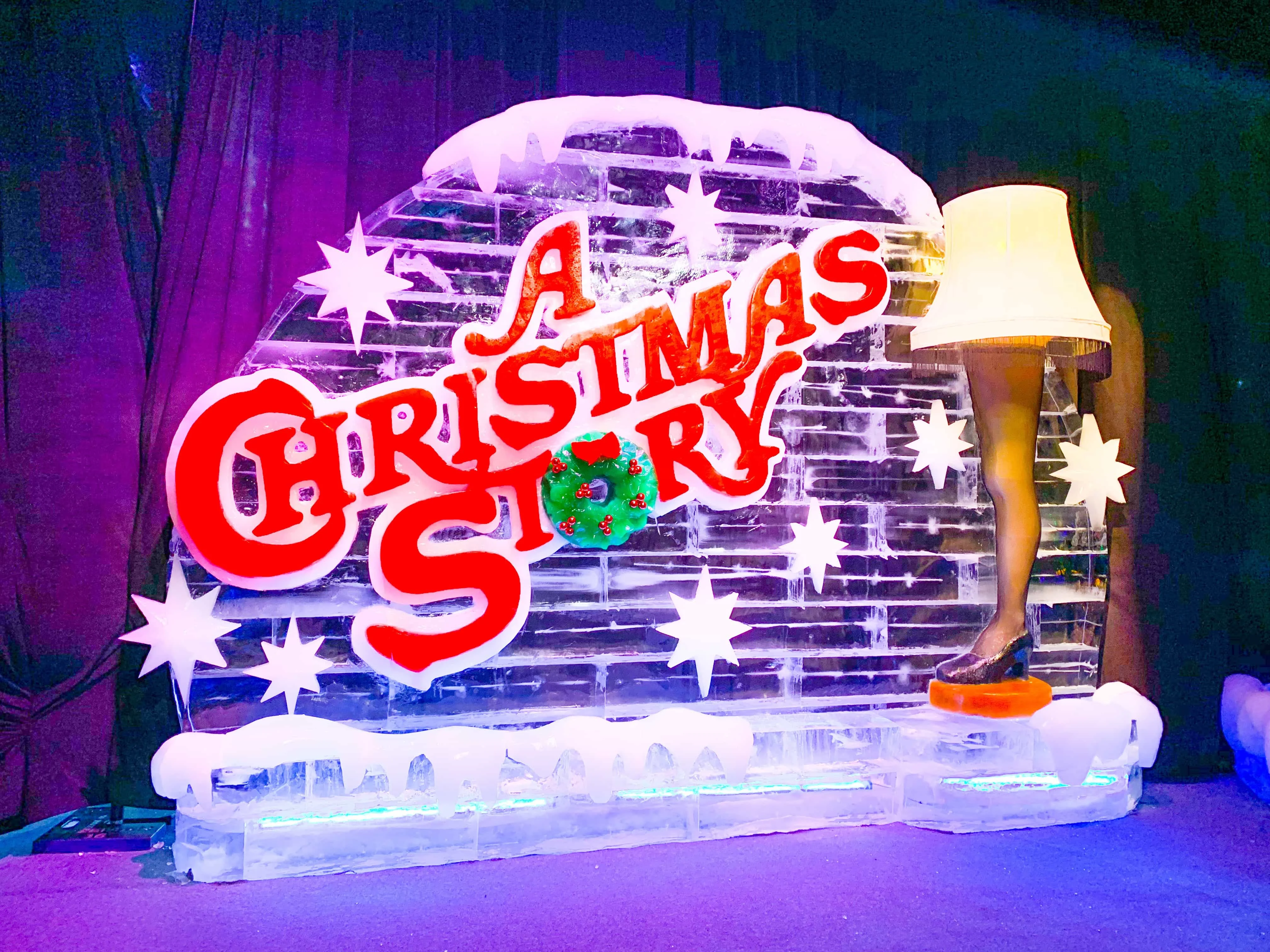 We were thrilled to be there are the grand reveal of ICE! 2018 at Gaylord Palms this year. Honestly, this year's event is so good!!! Here's what you can expect to see at ICE!
P.S. We've got photos and videos below of the 2018 ICE! A Christmas Story at Gaylord Palms. Below the current video and images is how the 2018 ICE! theme was revealed in a festive event in July, plus artist renderings and concepts, and additional photos from the 2018 event.
ICE! 2018 A Christmas Story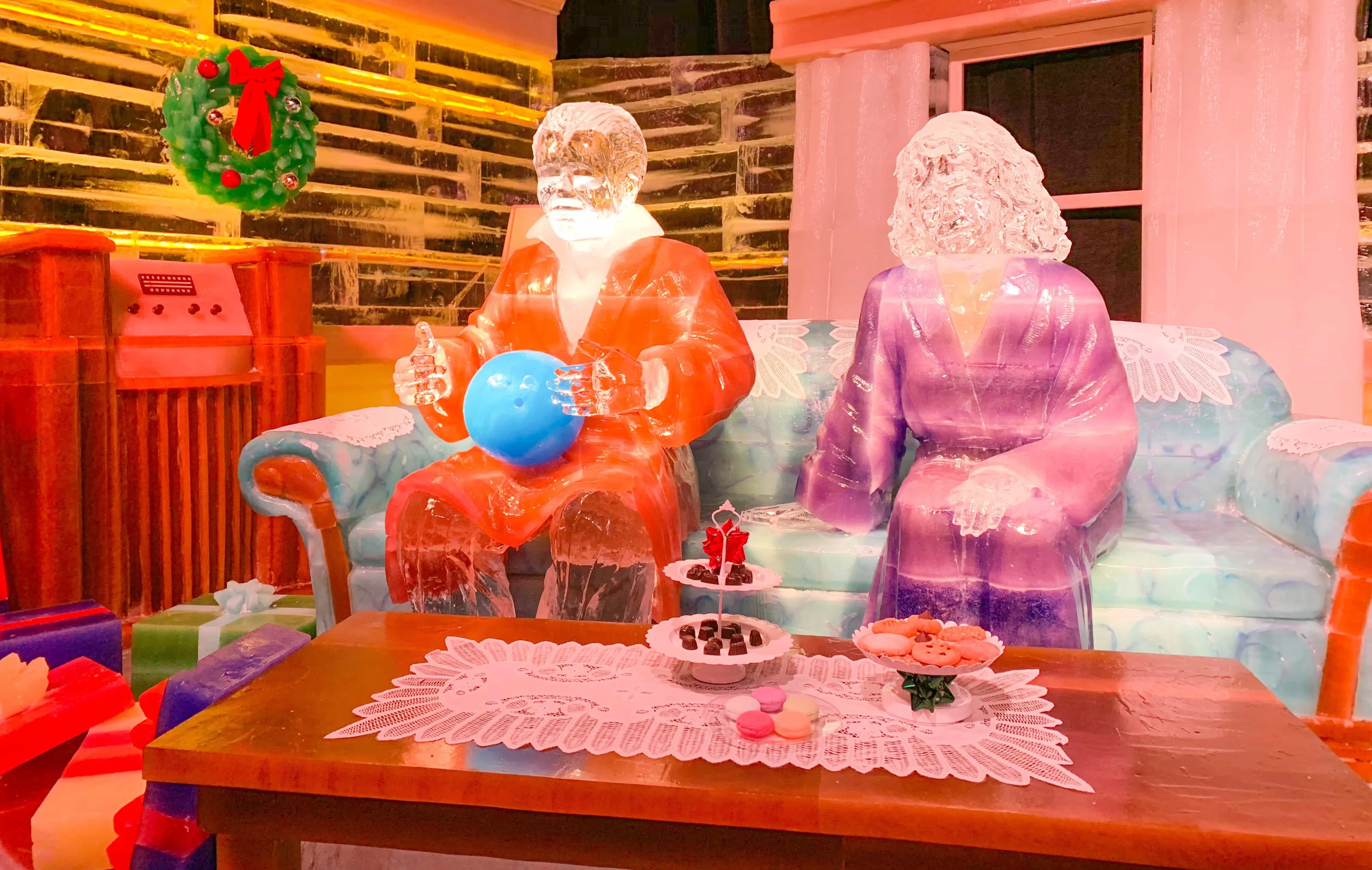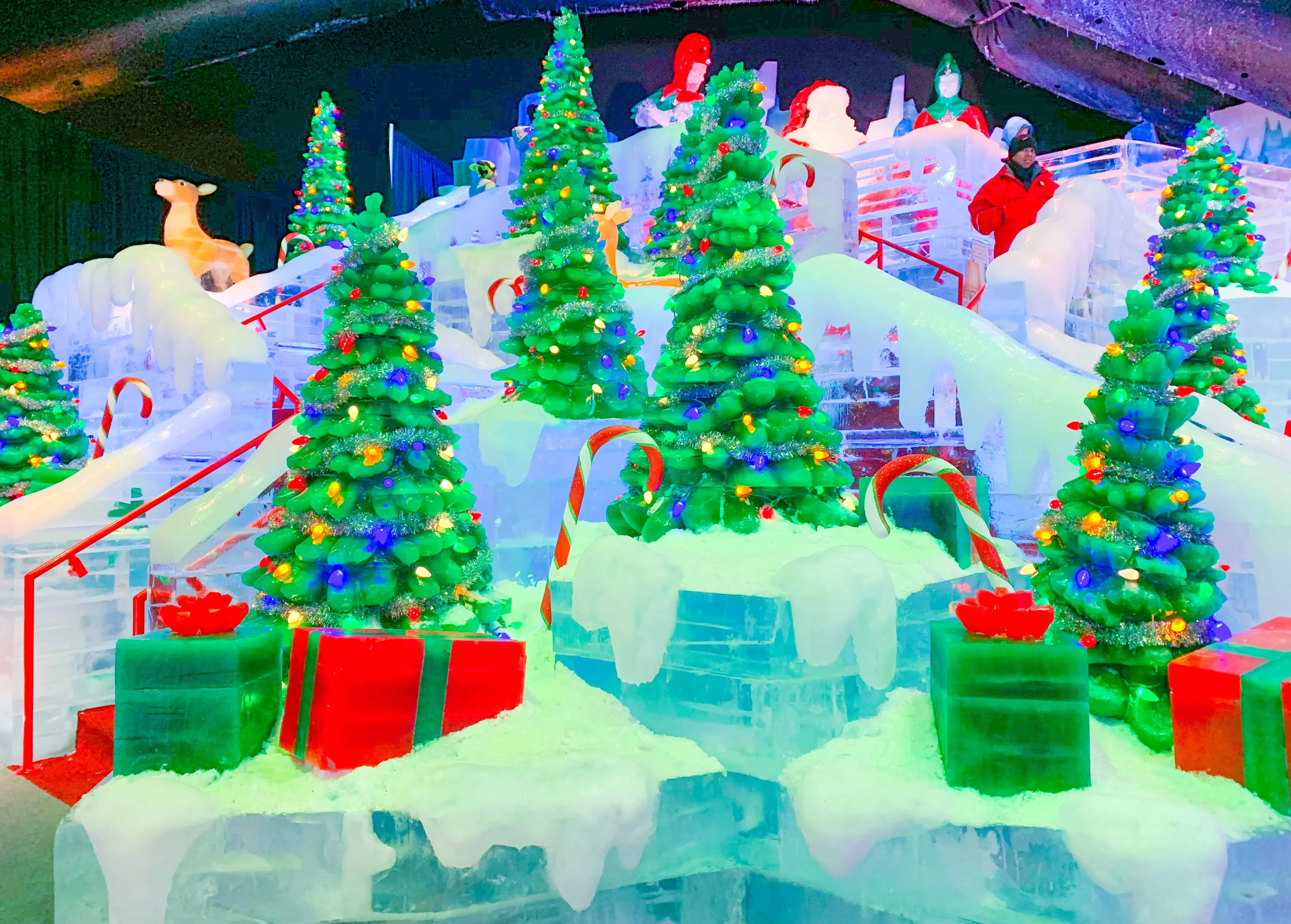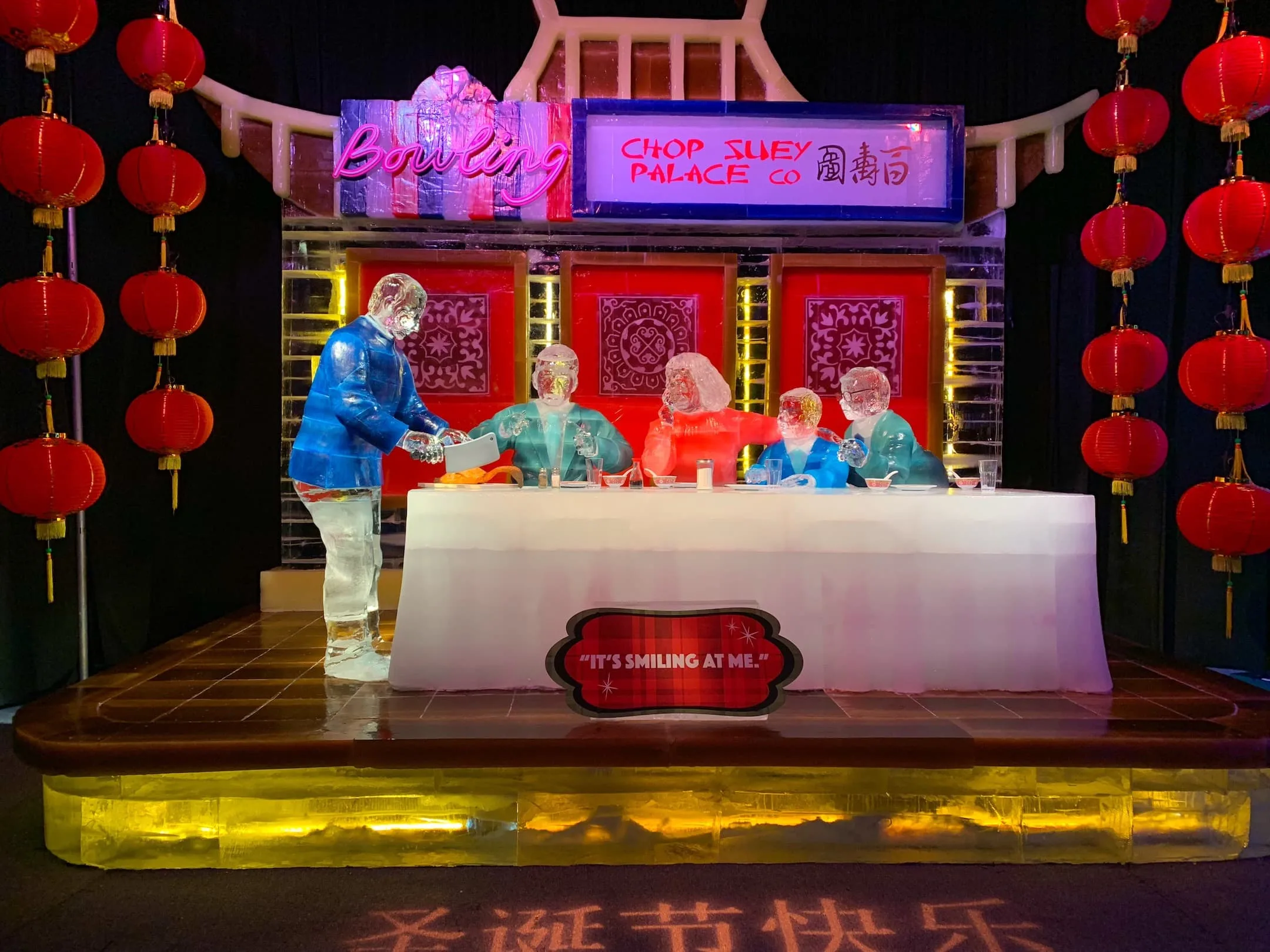 HERE'S OUR VIDEO OF THE ENTIRE WALK THROUGH OF ICE! 2018. ENJOY A VIRTUAL TOUR WITH NEARLY NO ONE IN THE BUILDING AT THE TIME!
BE SURE TO CHECK OUT THIS VIDEO WITH OUR ROOM WITH AN EPIC VIEW, WHAT ALPINE VILLAGE LOOKS LIKE, AND THE BALSAM HILL CHRISTMAS TREE TRAIL!
ICE! 2018 Theme Reveal: Christmas in July
We were thrilled to be at the unveiling of the 2018 theme for ICE! at Gaylord Palms today! And the holiday theme this year is going to be A Christmas Story!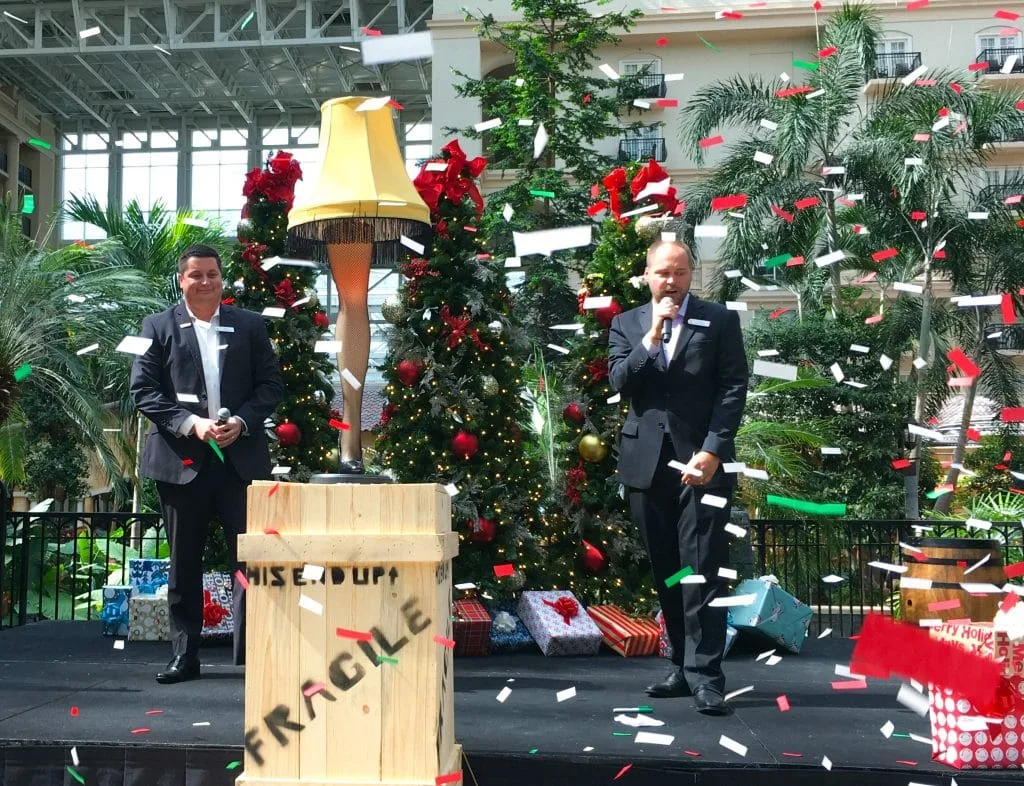 For the first time ever at any Gaylord ICE! experience, the beloved holiday film "A Christmas Story" will be recreated as a frozen, immersive attraction inside ICE!
ICE! is by far one of the best holiday events in the Orlando area. In fact, ICE! is called "Everything Christmas in One Extraordinary Place."
We have absolutely been thrilled with how the Christmas at Gaylord Palms event keeps getting better and better each year. And we've been to most of them since moving to Orlando.
Here's our recaps:
Christmas at Gaylord Palms is open daily from November 16, 2018 through January 6, 2019 including holidays. The chilly event in the otherwise warm weather of the Orlando area will be held for 52-days.
A Christmas Story in ICE! at Gaylord Palms 2018
"A Christmas Story" has always been a holiday classic! But now guests get to experience this holiday favorite in a whole new way inside ICE! presented by DEI. You'll walk through familiar scenes from the holiday movie that's a family favorite, including the film's iconic scenes such as:
The Old Man's Major Award
Aunt Clara's pink nightmare
Ultimate triple dog dare at the school's flagpole
and many more….
Just imagine – being in a 9 degree winter wonderland and thinking of getting your tongue stuck to the frozen flagpole!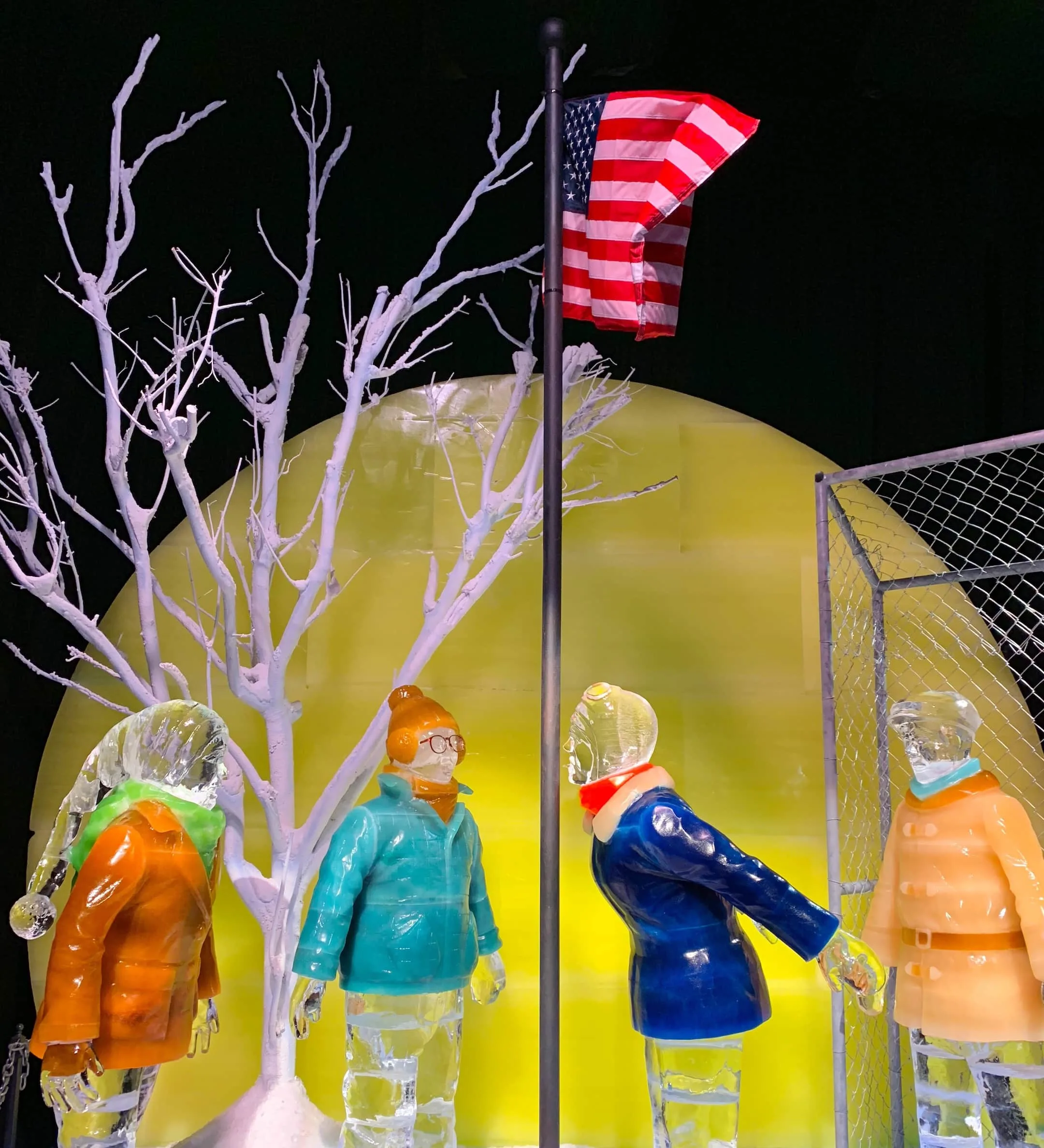 Here are some concept art renderings of what ICE! will look like in 2018 featuring A Christmas Story: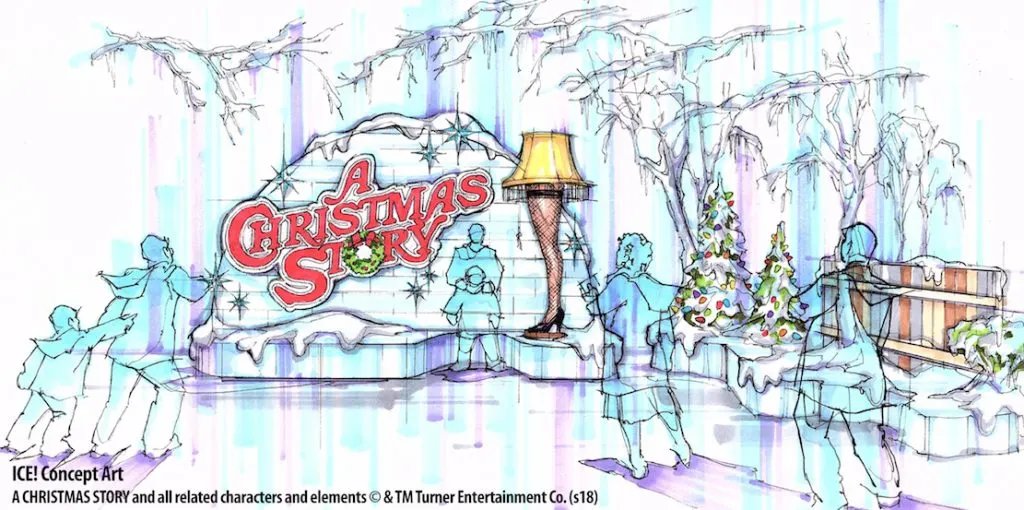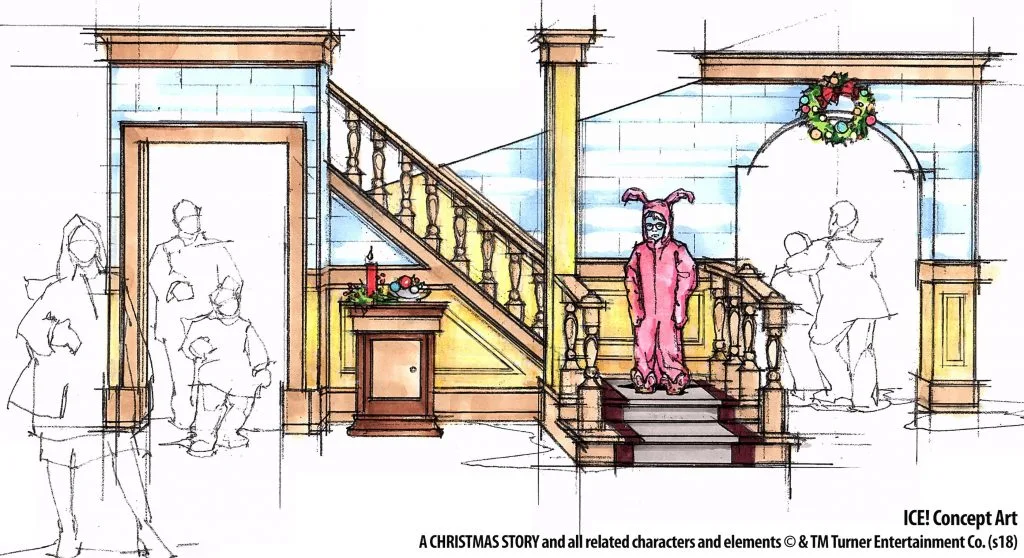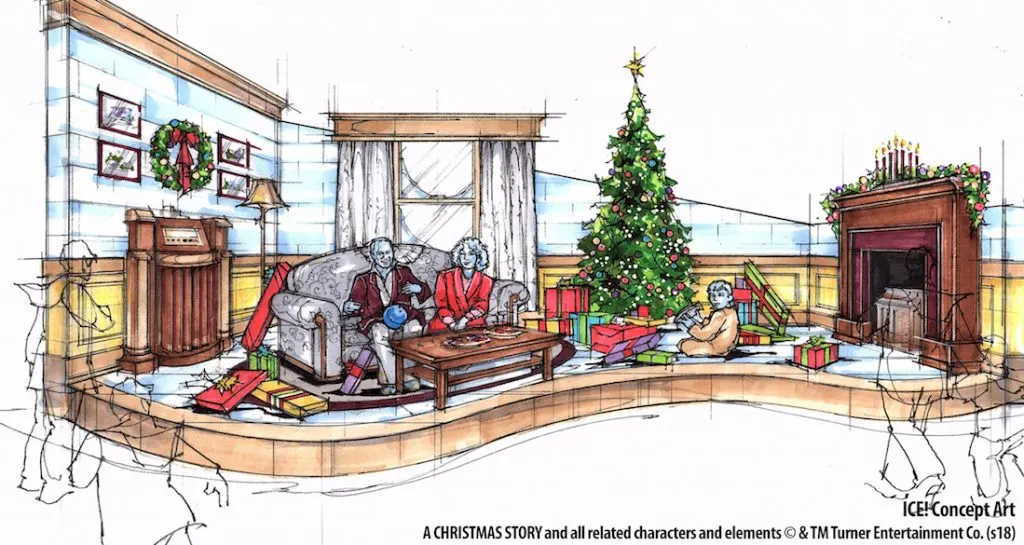 "We're thrilled to see this Christmas classic brought to life inside ICE! for the first time ever," said Johann Krieger, General Manager for Gaylord Palms Resort. "We know that 'A Christmas Story' has been a holiday tradition for so many people over the years, and we hope that guests can join us to make ICE! a part of their tradition as well."
The ICE! attraction is crafted by artisans from Harbin, China, home of the world's largest ice and snow sculpture festival, who travel more than 6,000 miles to hand-carve more than two million pounds of colorful ice, creating larger-than-life sculptures.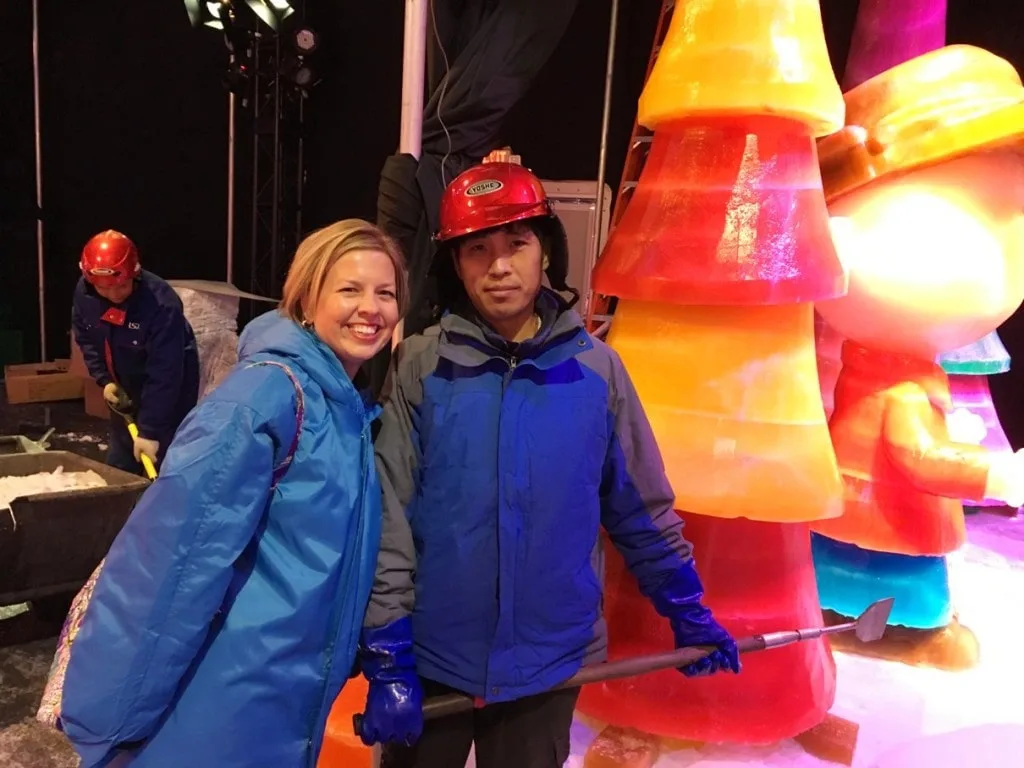 In 2018, there will be more than a dozen fan-favorite scenes from "A Christmas Story."
In addition to wandering among the classic scenes recreated in ice, there will also be the two-story ice slides and the popular Frostbite Factory live ice carving showcase.
The ICE! experience concludes with a separate area dedicated to a traditional Nativity created with crystal clear ice. This one is always our absolute favorite. The stillness and calmness of the nativity carved out of pure, clear ice with hymns playing is a peaceful place to remember the true reason for the season.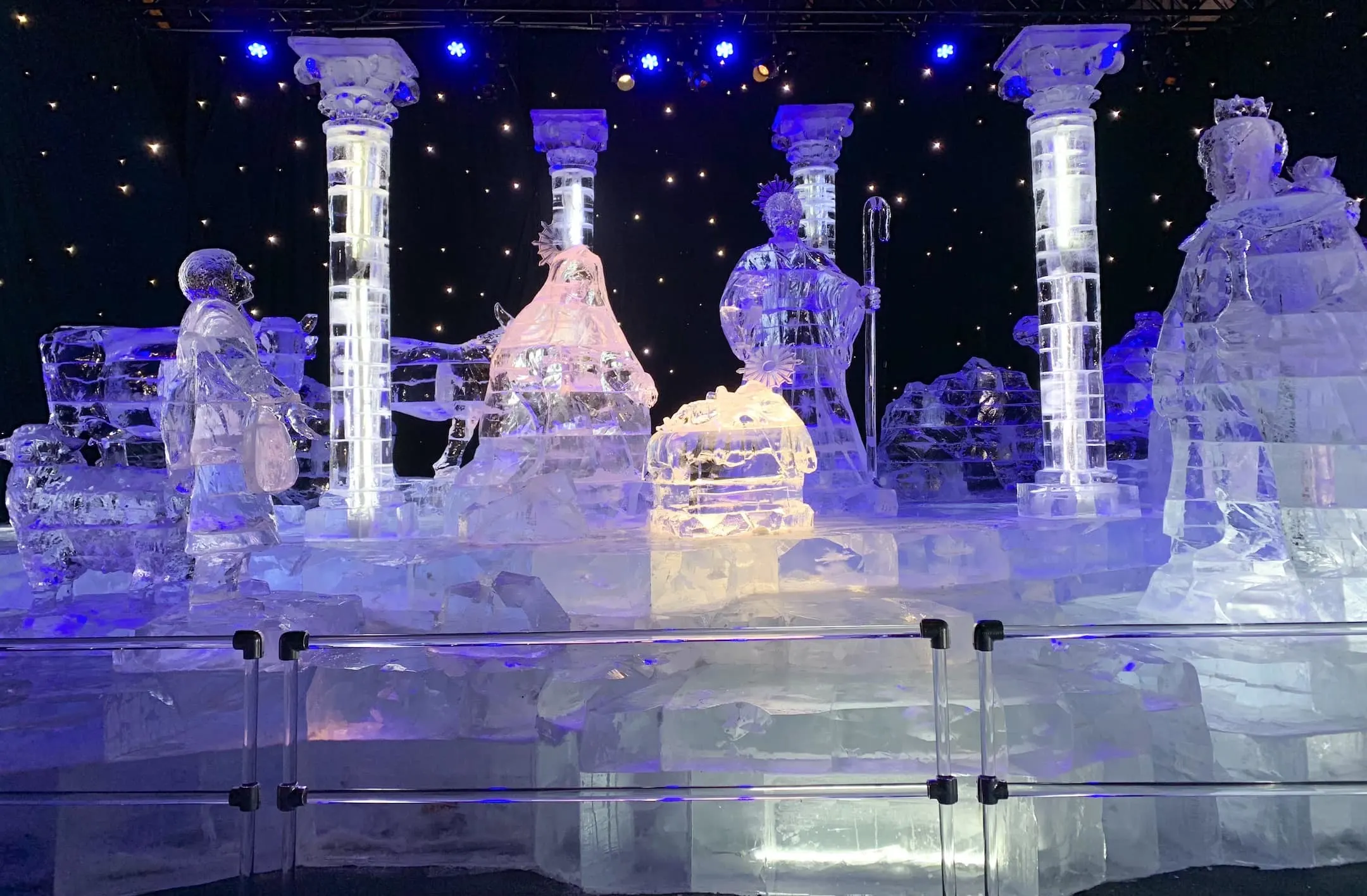 New Experiences at 2018 ICE! at Gaylord Palms
Award-winning buffet restaurant Villa de Flora will welcome special Christmastime friends during The Elf on the Shelf® Character Breakfast, where guests can join Santa's Official Scout Elves for a fun and festive character breakfast. Kids and adults will enjoy a delicious buffet spread complete with classic breakfast favorites and live cooking stations, enjoying special visits from Santa's Official Scout Elves as they dine.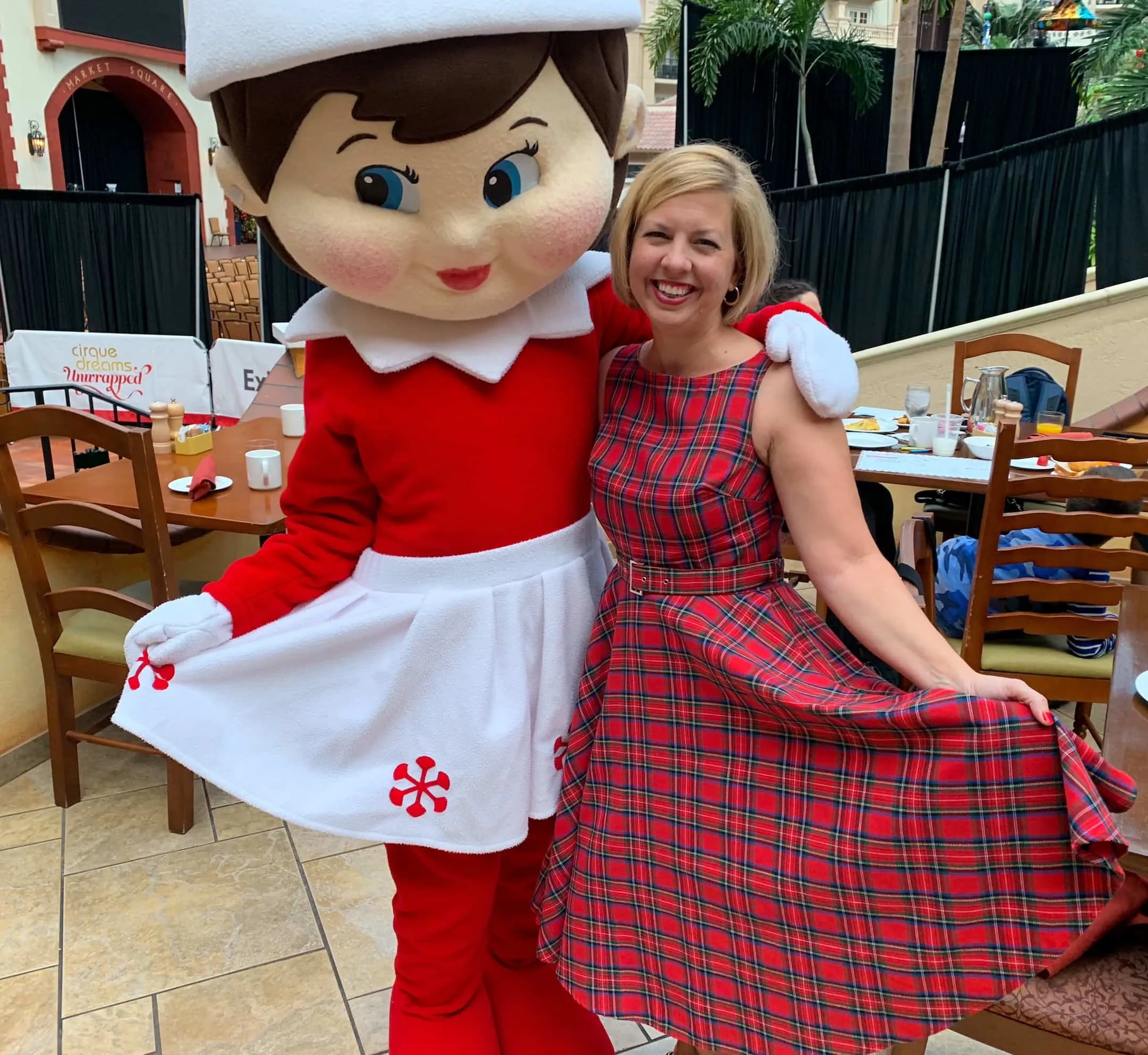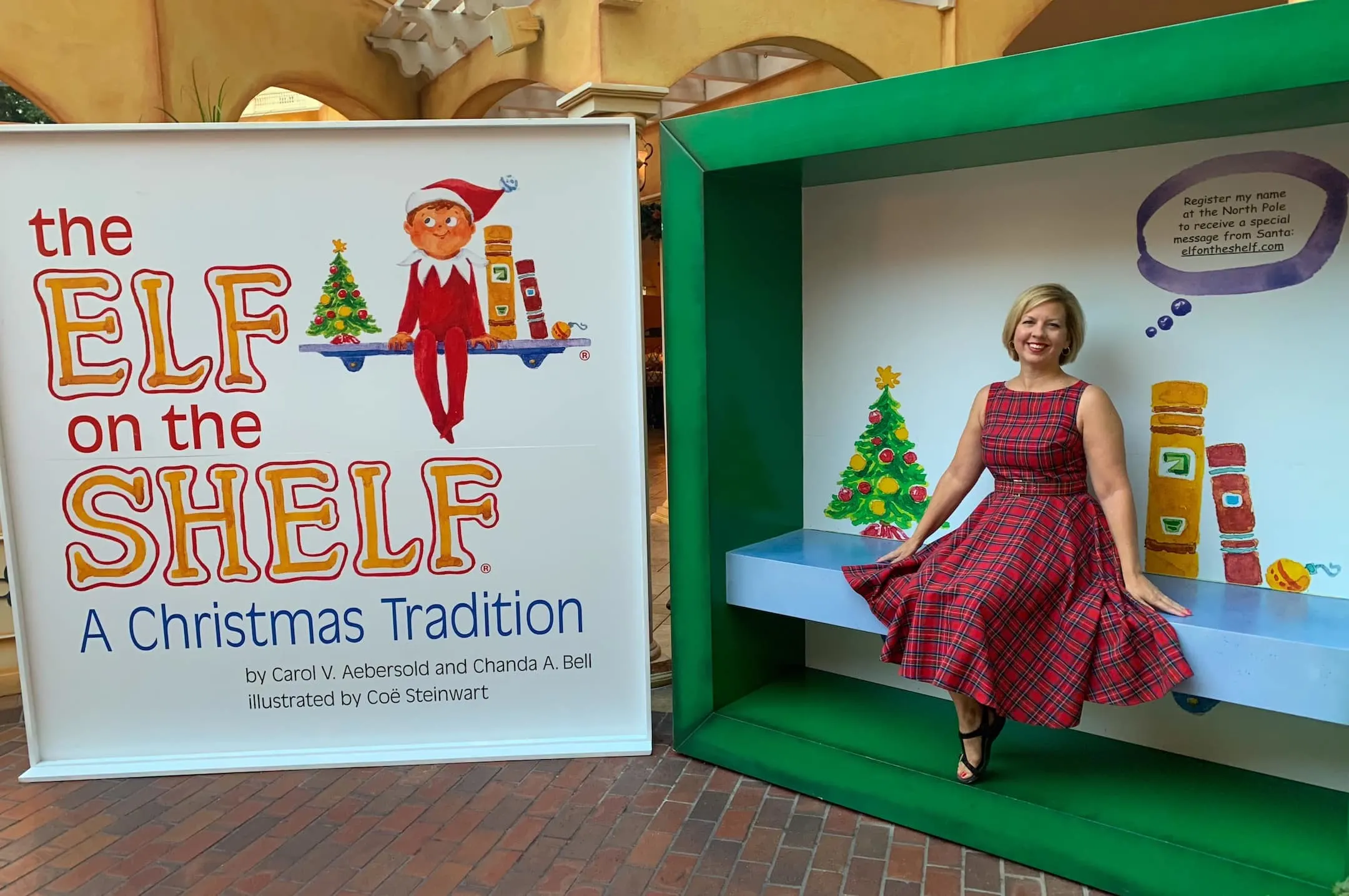 Gaylord Palms' St. Augustine atrium will be home to a brand-new, dazzling light show when Dreams of Christmas makes its debut. This multisensory experience will feature a new musical score accompanied with millions of dancing, choreographed lights all around the resort's six-story Christmas tree during nightly shows.
Classic Holiday Favorites at ICE! at Gaylord Palms
Each year, we always anticipate what new theme will be unveiled for ICE! at Gaylord Palms.
But just as important as the theme of the ICE! experience are all of the other wonderful activities that make ICE! at Gaylord Palms more than just a couple hours visit, but an overnight visit to immerse yourself in the magic of Christmas.
After all, you can only stay so long in the nine-degree ICE! rooms. But you can sit back and enjoy all of these wonderful holiday activities throughout the day and night (and without a parka and gloves!)
FYI: WE HAVE MORE EXTENSIVE DETAILS ABOUT EVERYTHING AT CHRISTMAS AT GAYLORD PALMS IN OUR ULTIMATE GUIDE TO ICE! at GAYLORD PALMS
Cirque Dreams Unwrapped is a 25-minute, action-packed experience, featuring soaring acrobatics, theatricality and imagination that will have guests on the edge of their seats. It is a show like no other. Cirque Dreams Unwrapped features new acts and performers each year to bring to life a magical and timeless Christmas wonderland, all imagined by Broadway director and renowned Cirque Dreams founder Neil Goldberg. This show will leave you spell bound. We have been amazed every year and just sit in the audience wondering how they are able to do what they do!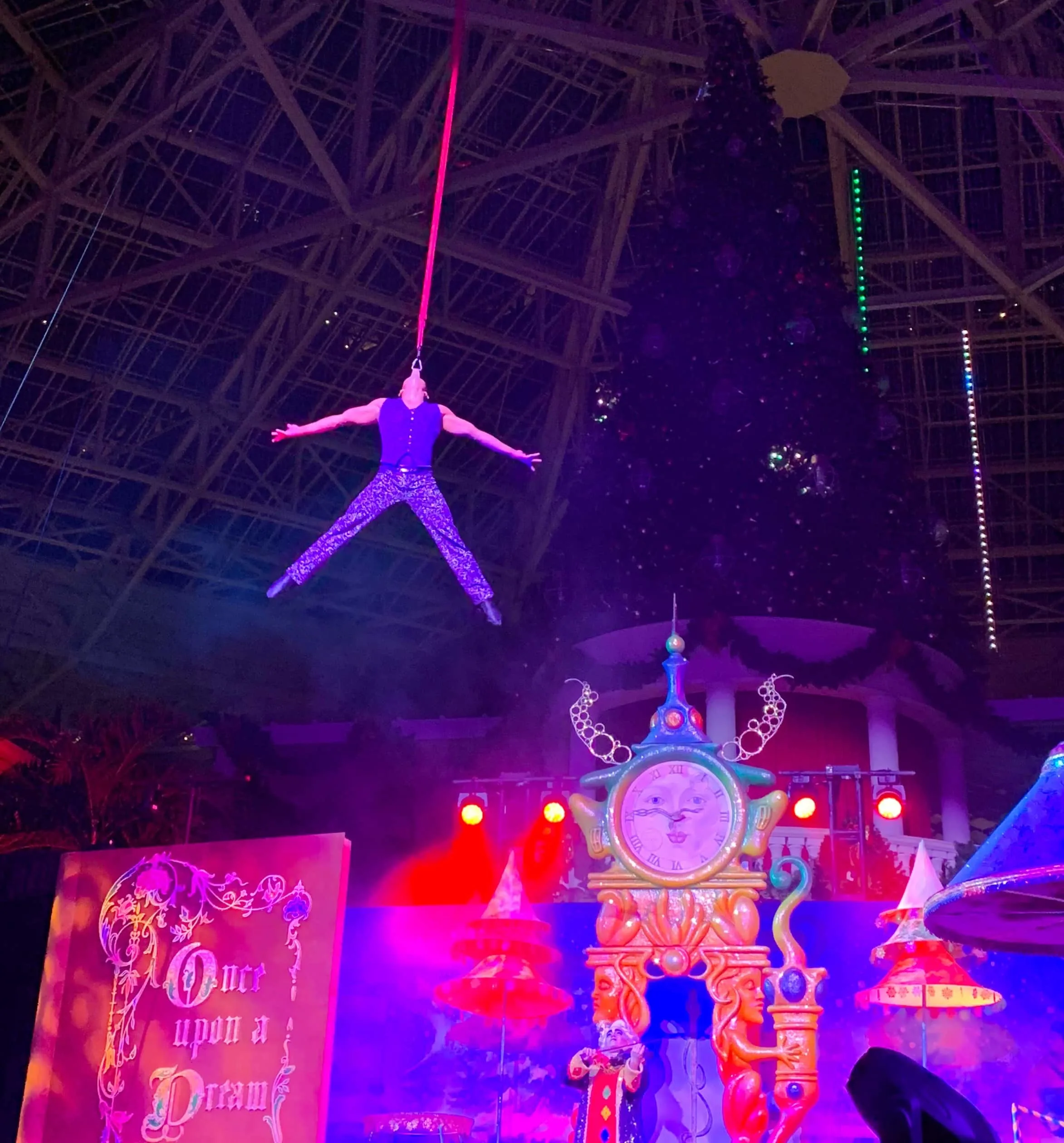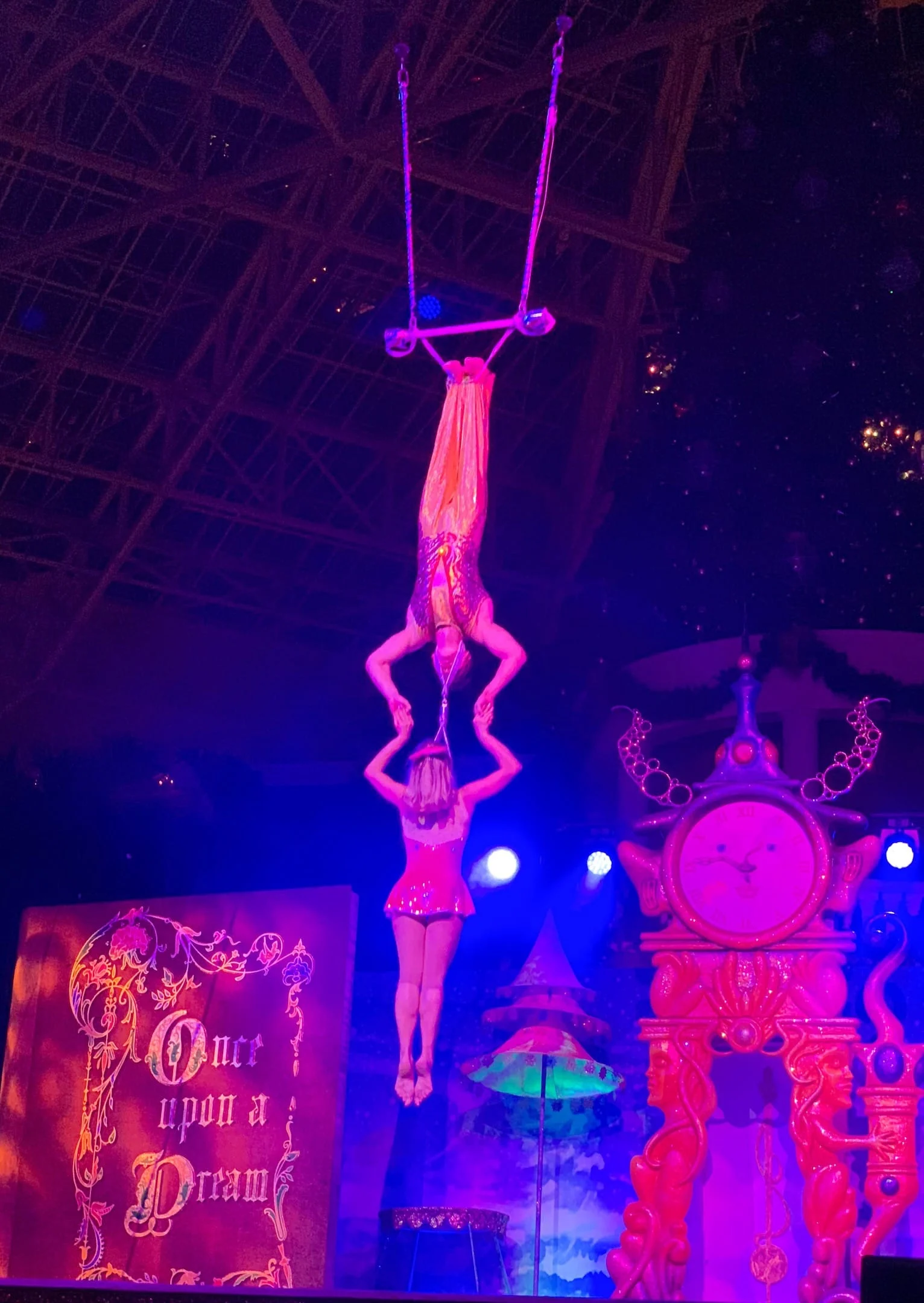 The Christmas Tree Trail is a display of nine magnificent trees provided by Balsam Hill™. Sparkle the Elf, Santa's chief Christmas Tree Decorator, has personally prepared these for display at Gaylord Palms. From snowmen and candy canes to reindeer and nutcrackers, each tree represents one of Sparkle's favorite things about Christmas, with one even honoring the Florida-themed resort!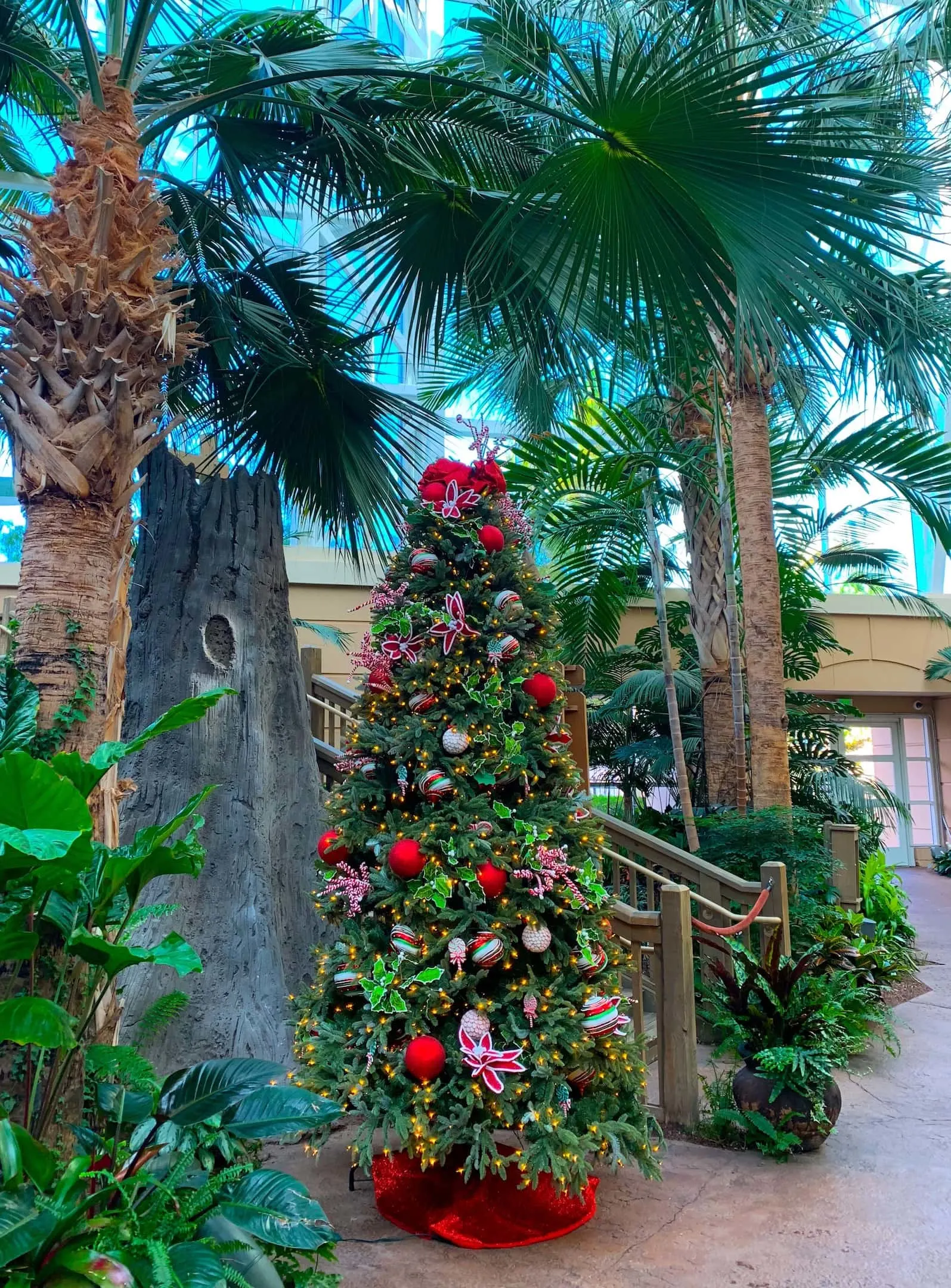 The interactive Reindeer Express Post Office returns this year, where everyone is invited to jot down their top Christmas wishes on a postcard before entering this special facility to launch their wishes off on a journey to Santa.
Festive Alpine Village will again be the central hub for holiday happenings. In addition to ICE!, the village is home to various attractions and shows, Photos with Santa, seasonal food and beverage options plus holiday retail locations, including a Build-A-Bear Workshop®, where imaginations soar. Guests choose from all kinds of furry friends to make and bring home, including the Gaylord Hotels-exclusive light-up Snowburst polar bear.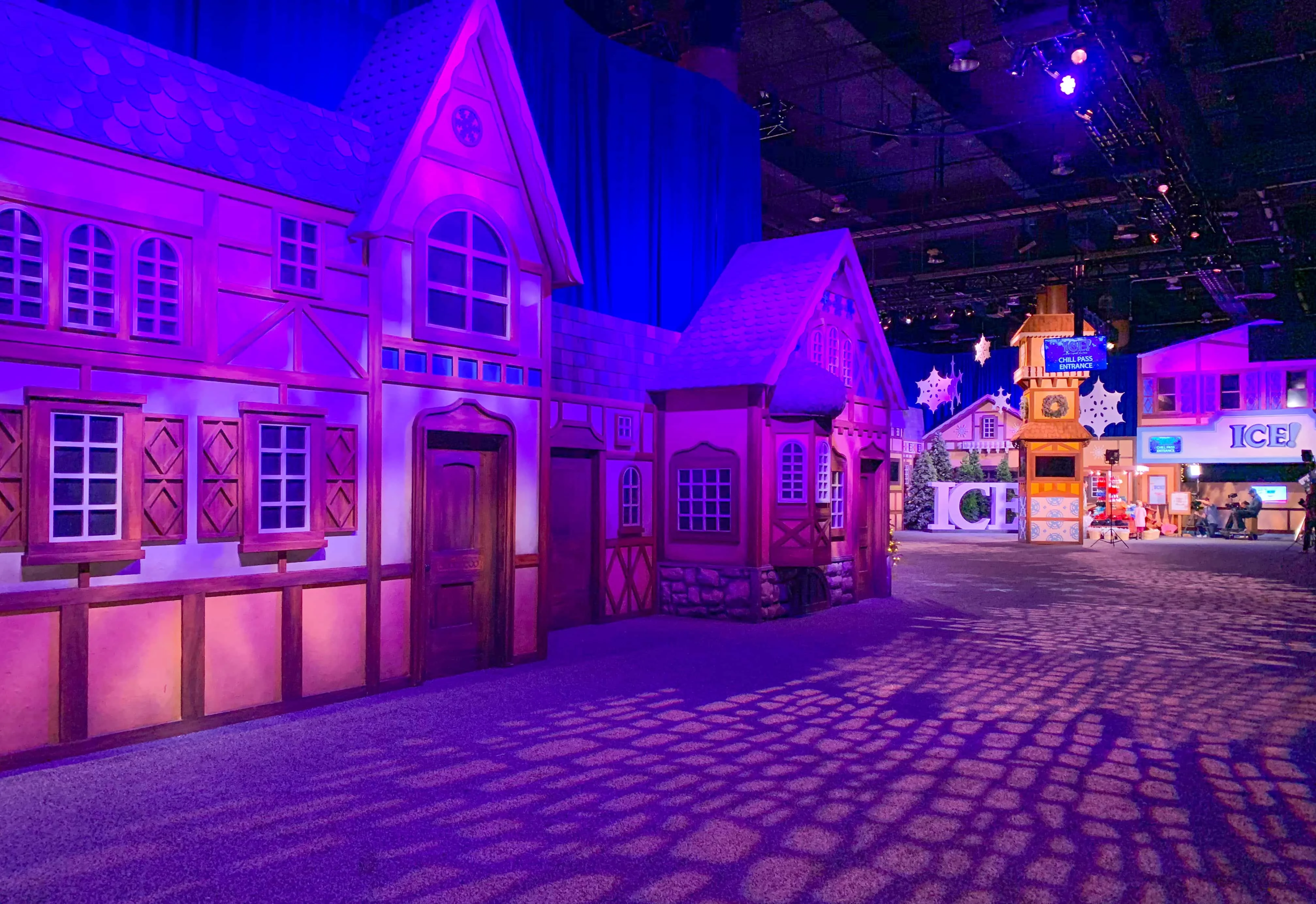 Gingerbread Decorating Corner returns, now located inside the brand-new Alpine Village Sweet Shop! Guests may select a gingerbread house or a themed cookie kit to enjoy a sticky and fun interactive experience, creating sweet souvenirs to take home. The Alpine Village Sweet Shop will offer additional candies and treats for purchase to decorate sugary masterpieces or to delight someone's sweet tooth. The deliciously fun gingerbread pair, Cinnamon and Nutmeg, will also be available for toasty hugs and holiday photos.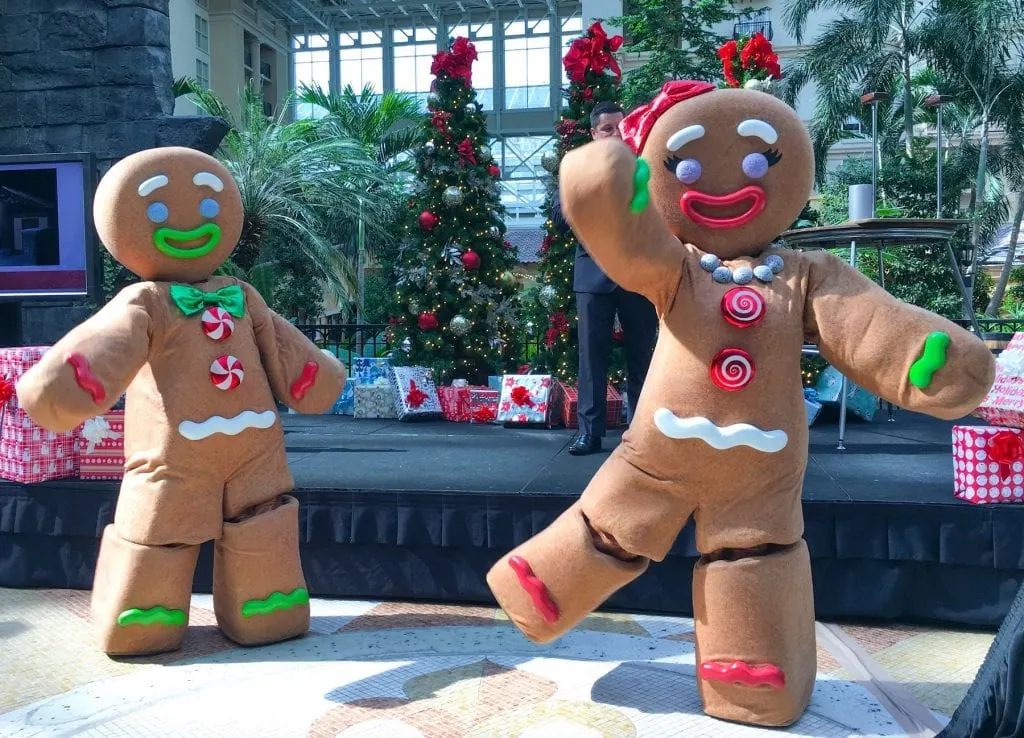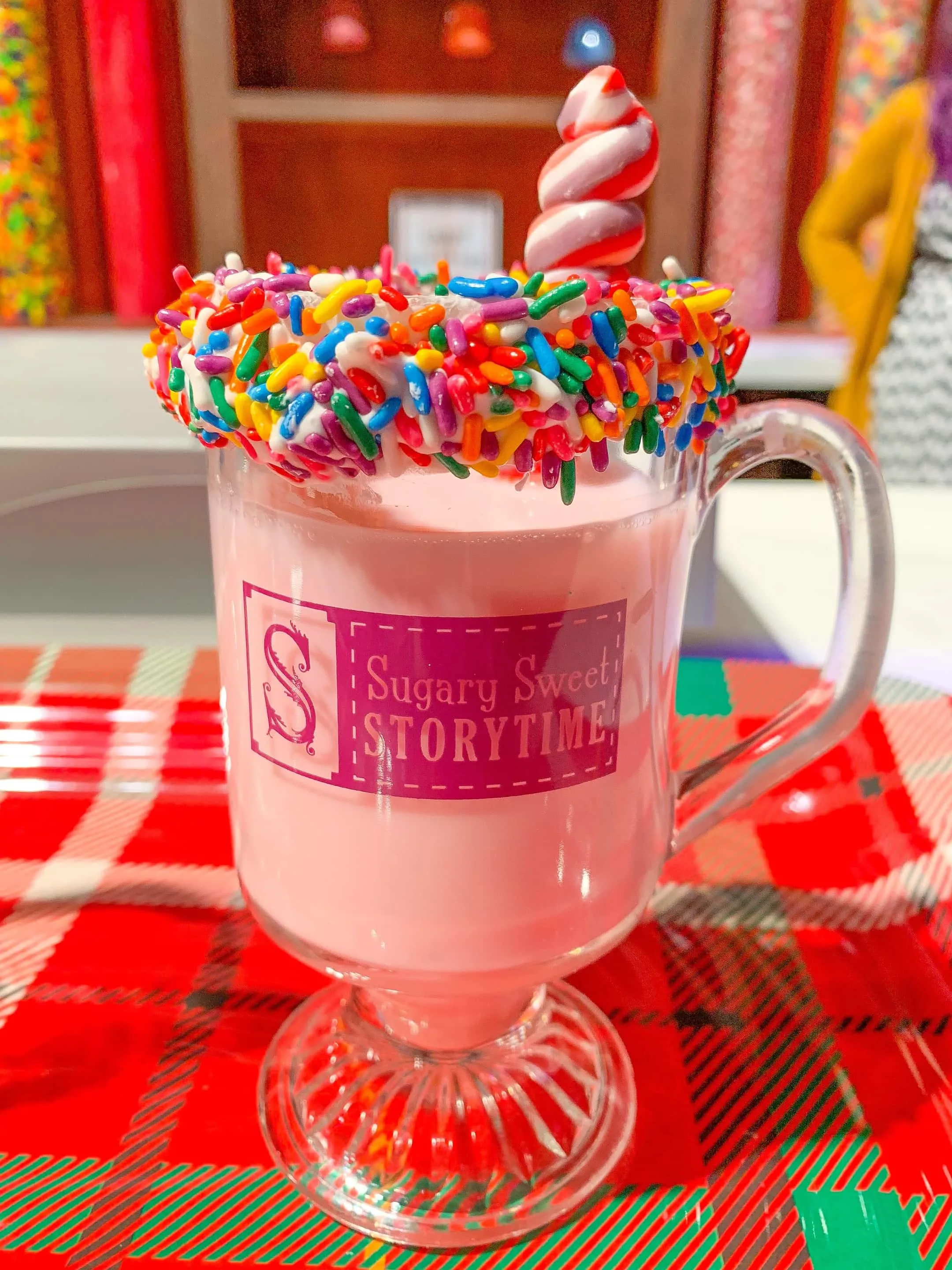 Mrs. Claus' Christmas Traditions brings the First Lady of the North Pole back to Gaylord Palms as she leads a half-hour interactive show. Guests enjoy classic holiday stories and a sing-a-long, plus a delicious finale as the holiday hostess presents everyone with warm cookies and a glass of cold milk.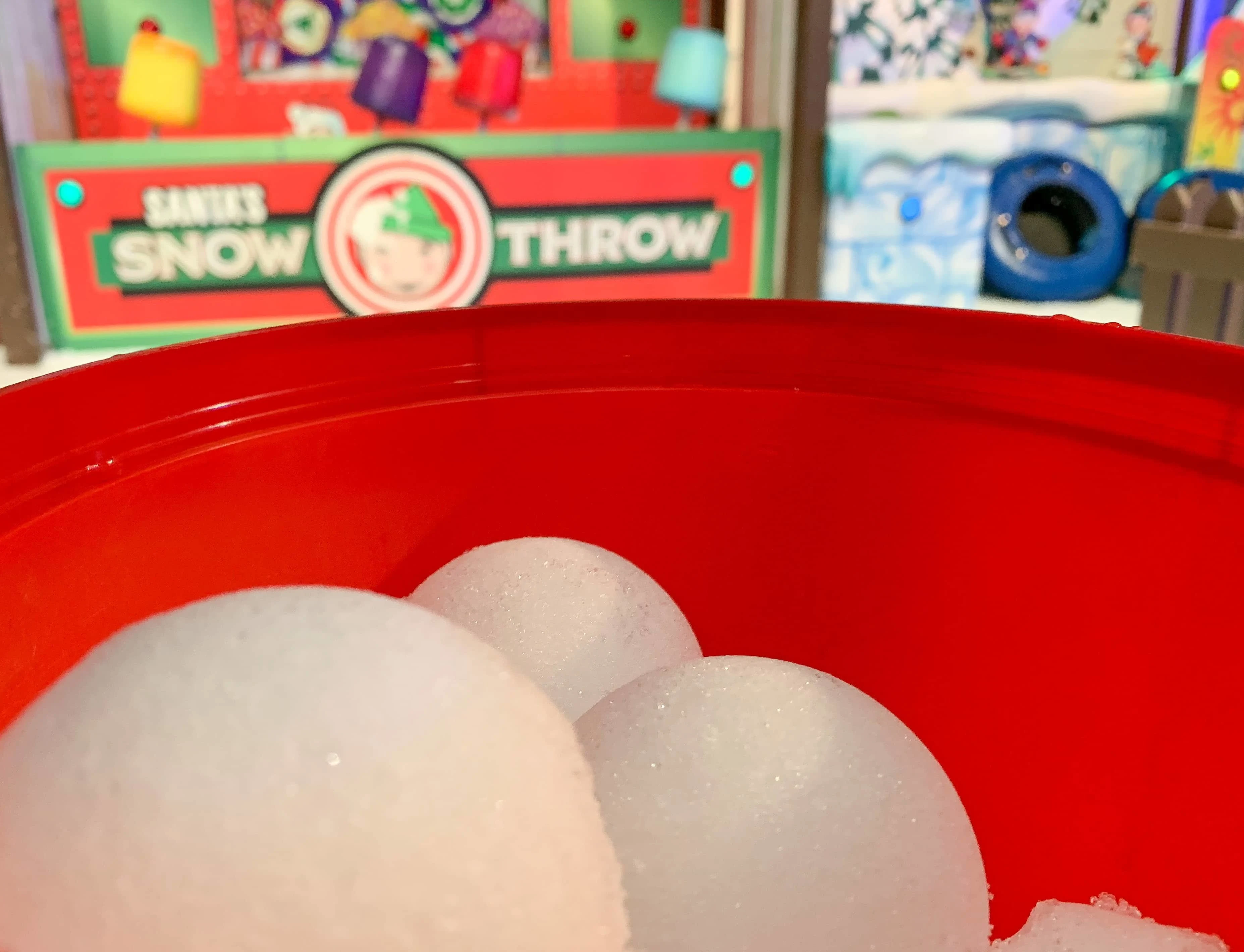 Santa's Snow Throw puts real snow in the hands of guests as they show off their pitching prowess by tossing snowballs at a variety of interactive targets created by Santa's Elves. Bragging rights go to those with the best aim!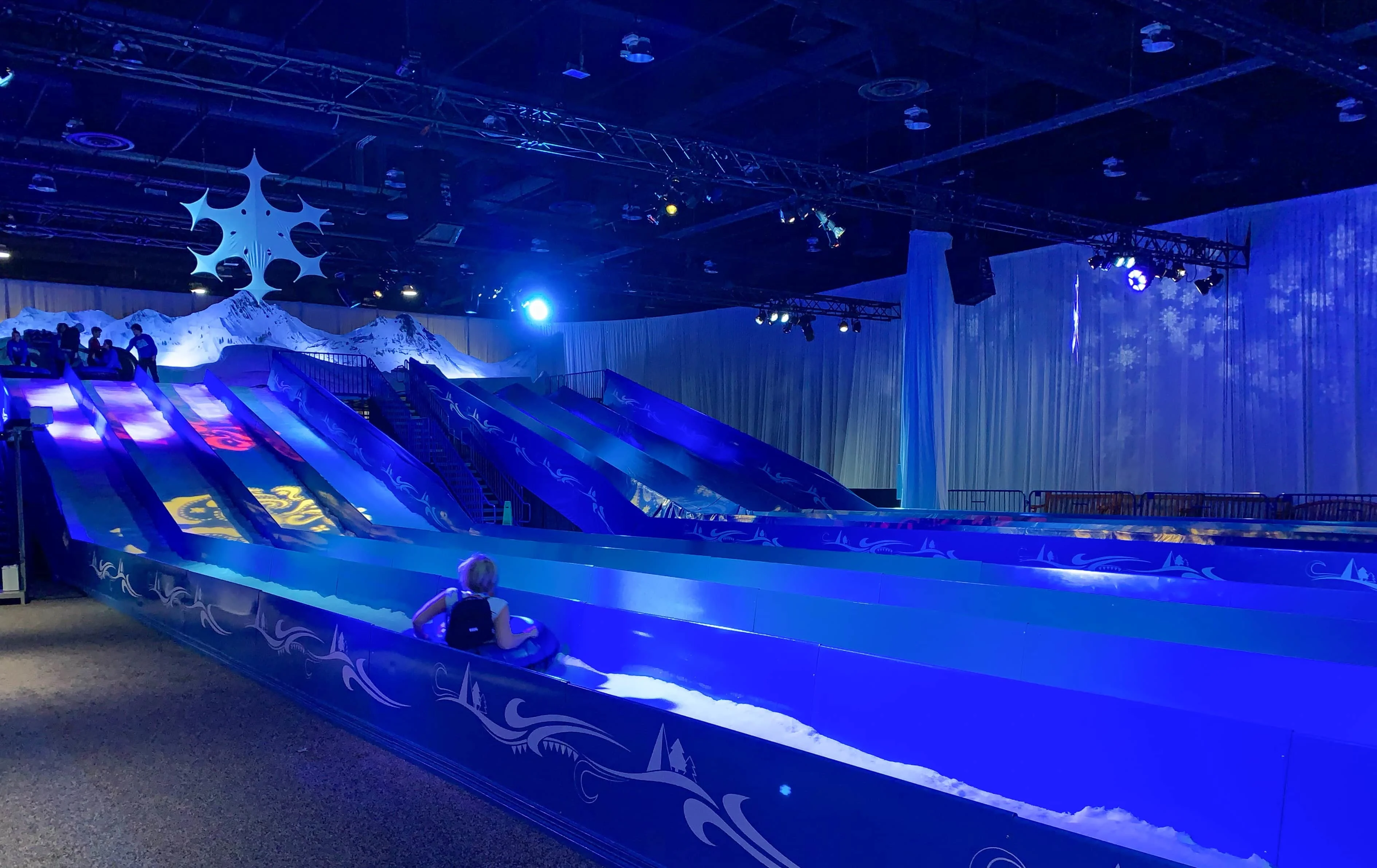 Snow Tubing sends guests zooming down an eight-lane tubing hill covered in real snow. This all-ages attraction offers both single and double tubes to accommodate children and parents.
Staying at Gaylord Palms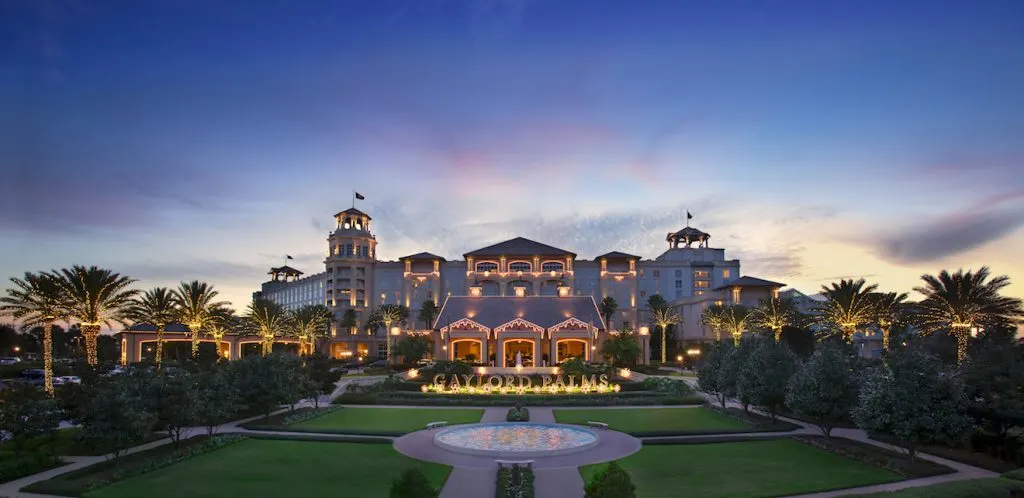 The best way to experience all of Christmas at Gaylord Palms is with an overnight stay.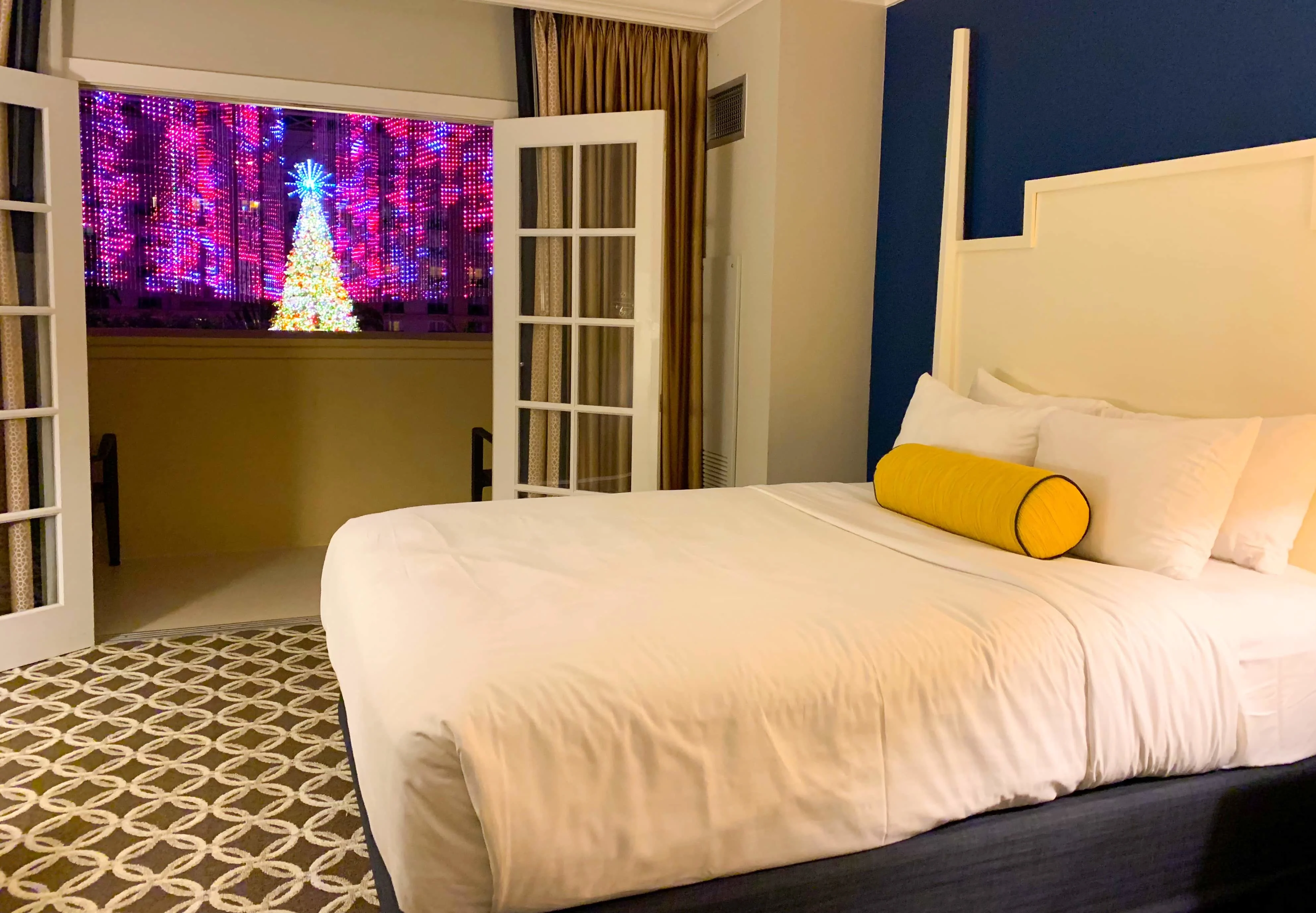 One-night packages start at $250 plus tax, resort fee and parking. Packages include ICE! tickets for two (with option to add additional adults or children) plus a souvenir family photo. Overnight guests may also schedule a visit to ICE! during the daily hotel guest-exclusive Extra Cool Hour from 9 a.m. to 10 a.m.
Make the holidays merrier and extend the package to stay for multiple nights! For additional information and to book packages or tickets, visit ChristmasAtGaylordPalms.com.