From visiting the Maryland Zoo and National Aquarium to being a pirate for the day, the things to do in Baltimore with kids are endless. Below I've rounded up the best kid activities in Baltimore to make planning your visit easy, no matter the age or interest of your children.
A city with an important historical past, located just an hour outside Washington D.C., Baltimore, Maryland is a city worth visiting. There are many family-friendly activities in Baltimore, like major attractions of the Maryland Zoo and National Aquarium, but the city has so much more to offer.
No matter their ages, Baltimore with kids is guaranteed to be an adventure. Whether you're planning a day trip, a weekend visit, or your whole vacation in the area, these suggestions of things to do in Baltimore with kids will help you plan an unforgettable vacation for the whole family.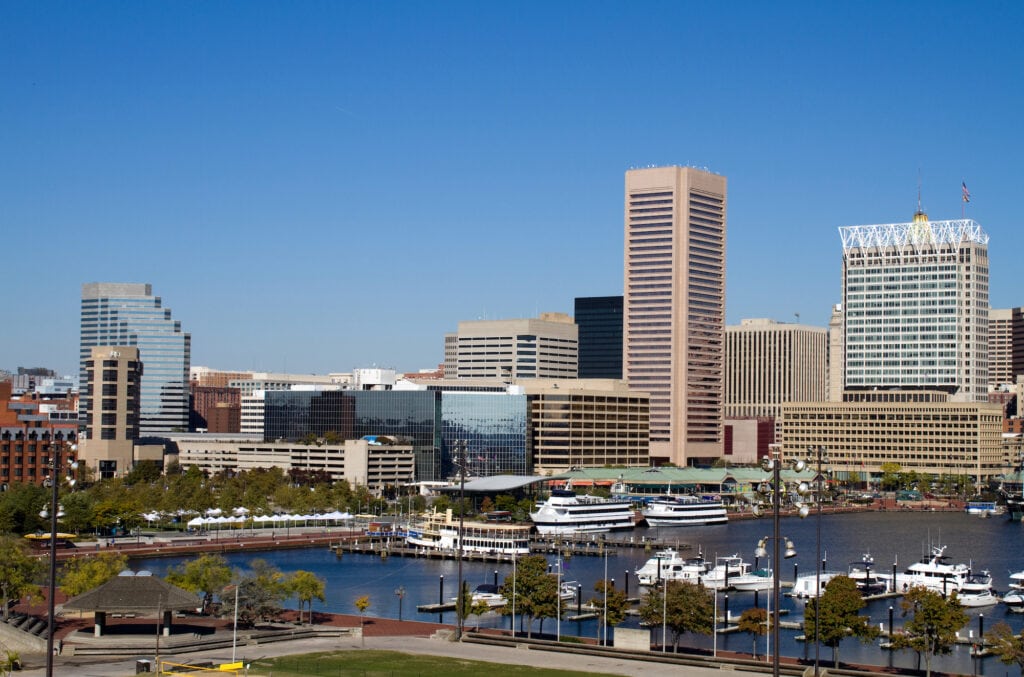 Explore the Inner Harbor
If this is your first time visiting Baltimore with kids, consider basing the majority of your time in the Inner Harbor. There are many specific museums and attractions available within the Inner Harbor (many mentioned below) but the location and overall atmosphere can't be beat.
When exploring with kids that have short attention spans, there is nothing better than being close to the action. You can easily spend an afternoon just wandering and exploring the Inner Harbor area.
Maryland Science Center
From dinosaurs to space, there is something for almost all kids at the Maryland Science Center, located in the Inner Harbor. Exhibits range from Dinosaur Mysteries where kids can pretend to be a paleontologist in a dinosaur excavation site, complete with life-size dinosaurs and a field lab, to SpaceLink where kids can simulate experiments done by NASA probes.
For the younger kids, there's also an interactive kids room.
Kids of all ages will be mesmerized by the planetarium and don't miss stopping by the Imax theater.
Port Discovery Children's Museum
Another attraction in the Inner Harbor for kids is the Port Discovery Children's Museum. The three floors in the museum feature interactive exhibits like the Skyclimber, a life-sized cargo ship, an art studio, an indoor stadium, an over/under weaving wall, and much more. There is even a section specifically designed for toddlers, so kids of all ages can have a blast.
In addition to their regular exhibits, Port Discovery also features many seasonal events and activities, so be sure to take a peek at their online calendar.
Climb Aboard a Historic Ship
Throughout the Inner Harbor, there are 3 historic ships and the lighthouse that guided them safely to the harbor available for exploration. This is a great educational activity for kids in Baltimore.
The USS Constellation is the last remaining ship from the Civil War area while the Chesapeake guided maritime traffic and USS Torsk patrolled enemy ships on the coast of Japan.
Each ship is filled with artifacts and information. Guided tours are also available. Each ship has different opening hours so be sure to check the website first!
Become a Pirate for the Day
Does your child love playing pretend pirate? Then Urban Pirates is the activity for them! During the warmer months Fearless sets sail in the Inner Harbor for an hour and a half of family fun. Not only do those aboard dress up as pirates, but they also learn to sing, dance, and talk just as the pirates do. Then you will be able to use the water cannons to keep away any unwelcome intruders trying to get to the treasure chest!
This is an activity you will definitely want to book in advance as they have limited spaces available and often sell out.
They also offer birthday packages, if you are looking for a special way to celebrate in Baltimore.
Baltimore Christmas Village
Many outdoor activities are closed during the winter months, but if you are looking for things to do with kids in Baltimore in December, the German Christmas Village at Baltimore is the perfect thing! From Thanksgiving to Christmas Eve the Christmas village lights up the Inner Harbor promenade with traditional European Christmas market treats, arts and gifts, and rides.
Attending the market is like transporting yourself to Europe and kids will be mesmerized by the lights, new foods, and the chance to ride the carousel and Ferris wheel.
Baseball Game and Kids' Corner at Oriole Park
Catching a baseball game at Orioles Park at Camden Yard is a great way to pass an afternoon, but for the kids who need a little extra entertainment, the Kids' Corner is just the spot. Located by Gate C, the Kids' Corner is full of extra fun for the little ones. In addition to all of their favorite treats, there is also a moon bounce, skee-ball, larger-than-life Oriole Bird bobbleheads and more.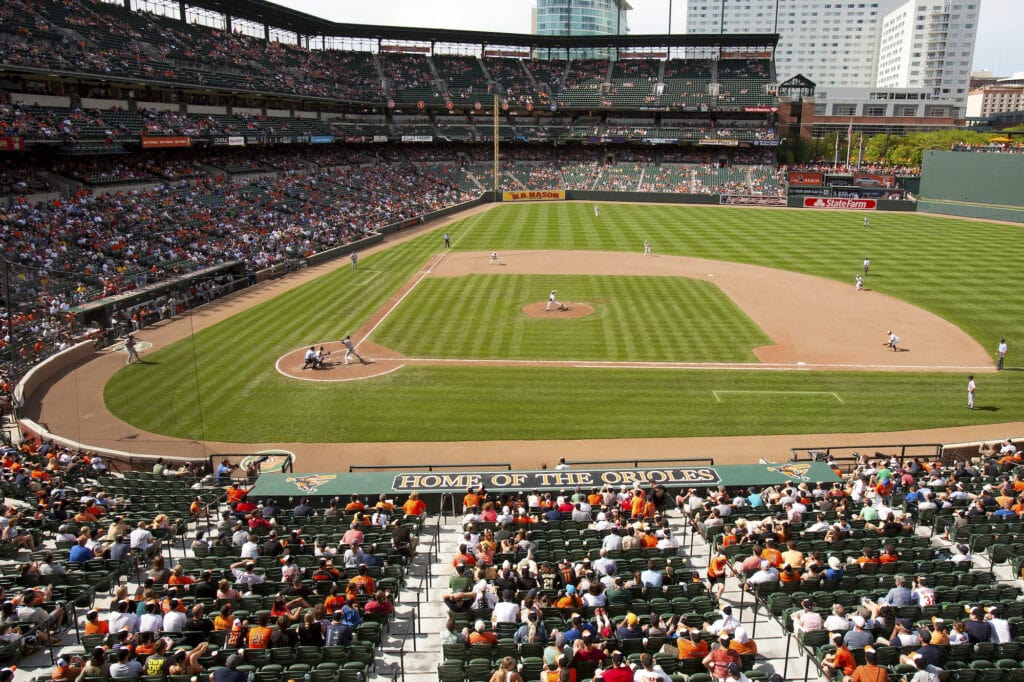 Life Under the Sea at the National Aquarium
One of the biggest attractions in the Inner Harbor – and Baltimore itself – is the National Aquarium. Home to not only an extensive amount of marine life, the National Aquarium also houses a variety of birds, snakes, and even jungle animals like monkeys and sloths. From the Atlantic Coral Reef to the Amazon River Forest, there is a good chance that your child's favorite animal can be found at the aquarium.
There are many hands-on activities and opportunities for extra immersion, like several 4-D experiences and a Dolphin Discovery.
Learn About Farts
If your kid is in the "obsessed with gross and weird" things stage, the American Visionary Museum is a must. While many of the exhibits may not appeal to the younger crowd, there is one that certainly will. In the basement next to the bathrooms you can find an entire exhibit on farts – including a fart machine that makes over 200 noises.
Even those not obsessed with farts will have a hard time not laughing!
Lake Roland Nature Center and Park
If you're ready to get out of the Inner Harbor area, head to Lake Roland. The nature center and park consists of over 500 acres of wetlands, meadows, and forests. There are many trails throughout the property perfect for walking (including an art walk!) and areas along the pier for picnics and fishing.
Those local to Baltimore can complete the annual Nature Quest to earn prizes and kayaking, fishing, and canoeing is open to everyone.
For the little ones, don't miss Acorn Hill for a ride on the wooden train and play stations that reflect the history of the area, including factories, mines, and railroads.
Paddle a Chessie Dragon Boat
Chessie, the Baltimore version of a Loch Ness Monster, has become an Inner Harbor landmark. These bright and colorful dragons have been turned into paddle boats that can be toured around the harbor. Each one holds up to 4 people, so this is a fun family activity in Baltimore.
Feeling too tired to paddle? You can also rent a solar-powered electric pirate ship!
Indoor Sky Diving
For the more daring adventure-seekers, head to iFly for a chance at indoor skydiving. Use the vertical wind tunnel as a chance to learn about STEM or simply enjoy the adrenaline rush of being suspended in the area. Those local to the area may also enjoy attending Flight School to truly master their flying skills!
Buying more than one ticket? Save money with this combo ticket.
Meet the Animals at the Maryland Zoo
No trip to Baltimore with kids is complete without a visit to the Maryland Zoo. It is set apart from the Inner Harbor but well worth the trip.
From the Maryland Wilderness to the African desert, the Maryland Zoo boasts a very large, diverse animal community. The zoo participates in several conservation projects, from the Panamanian golden frog and Maryland native species to polar bears, African elephants and penguins, and great apes. In addition, they have an African journey section featuring lions, giraffes, cheetahs, leopards, zebras, lemurs, rhinos, and more.
Plan to spend several hours at the zoo – arrive early if you can because it gets hot during the summer. Check the feeding times schedule for an extra special experience!
B&O Railroad Museum
While a railroad museum may not seem like the most exciting activity for kids, the B&O Railroad Museum has taken great lengths to create fun and interactive exhibits for the kids. At Junior Junction, you will find a library of train-related and STEM books as well as train tables.
Twice a month you can join Toddler Time for a craft, story, and sing-a-long.
Weber's Cider Mill Farm
If you are looking for things to do with kids in Baltimore in the fall, don't miss the chance to leave the city and head to Weber's Cider Mill Farm. In addition to the tasty apple cider and baked goods, they also have a hayride, straw maze (and a mini one for the youngsters!), farm animals, tractors, duck races, and more.
If you are visiting during peach harvest time (around summer), you can head over to Weber's Peachberry Farm to pick your own peaches as well!
---
Planning on visiting nearby Washington, D.C.? Here's our essential packing list for Washington D.C.
If you liked this guide of the best things to do in Baltimore with Kids, check out our guides for Kid-Friendly San Diego, Things to Do in Gettysburg with Kids and Things to Do with Kids in Hendersonville, NC. And here's the best place to celebrate Mardi Gras with Kids.