If you love Disney, then you will want to make these DIY Mickey Mouse coasters that cost just $2 in supplies!
Why not start off your day with some Disney magic? Chances are you probably have lots of Disney coffee mugs to use every morning. But do you have any Mickey Mouse coasters?
For an extra dose of Pixie Dust, make these easy coasters using Dollar Tree supplies. They are perfect to make as gifts, too!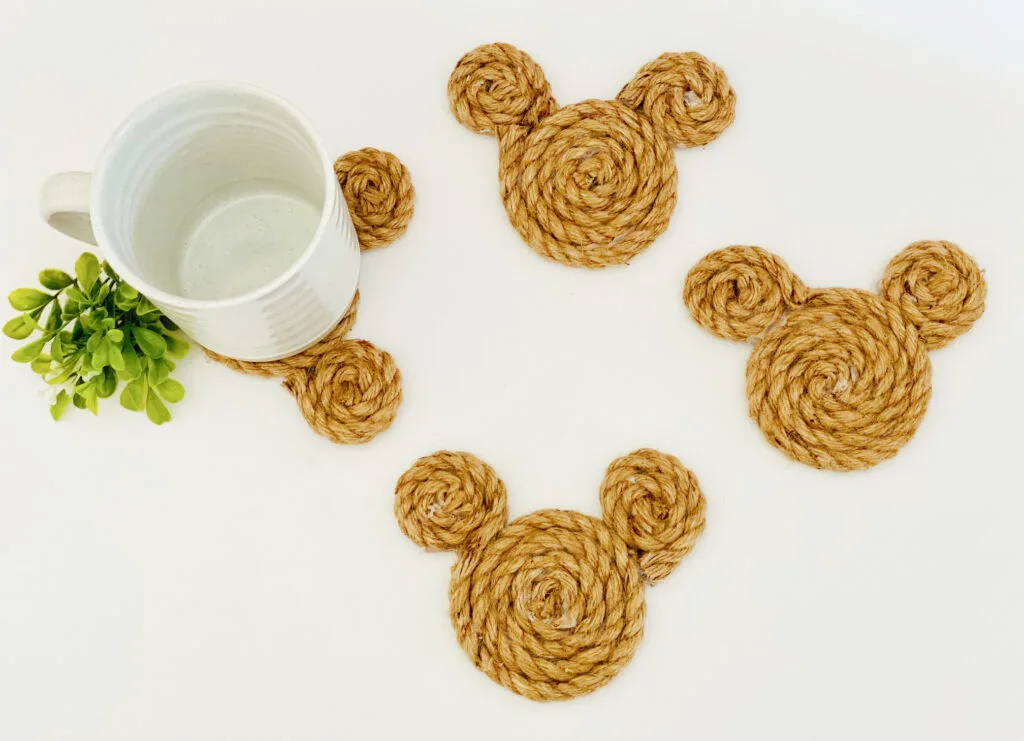 You might also like these cute Disney jars made from Dollar Tree materials, too!
So while you are counting down the days until your next Disney vacation or Disney cruise, or reminiscing about your recent trip, these farmhouse-style Mickey coasters are the perfect homemade souvenirs.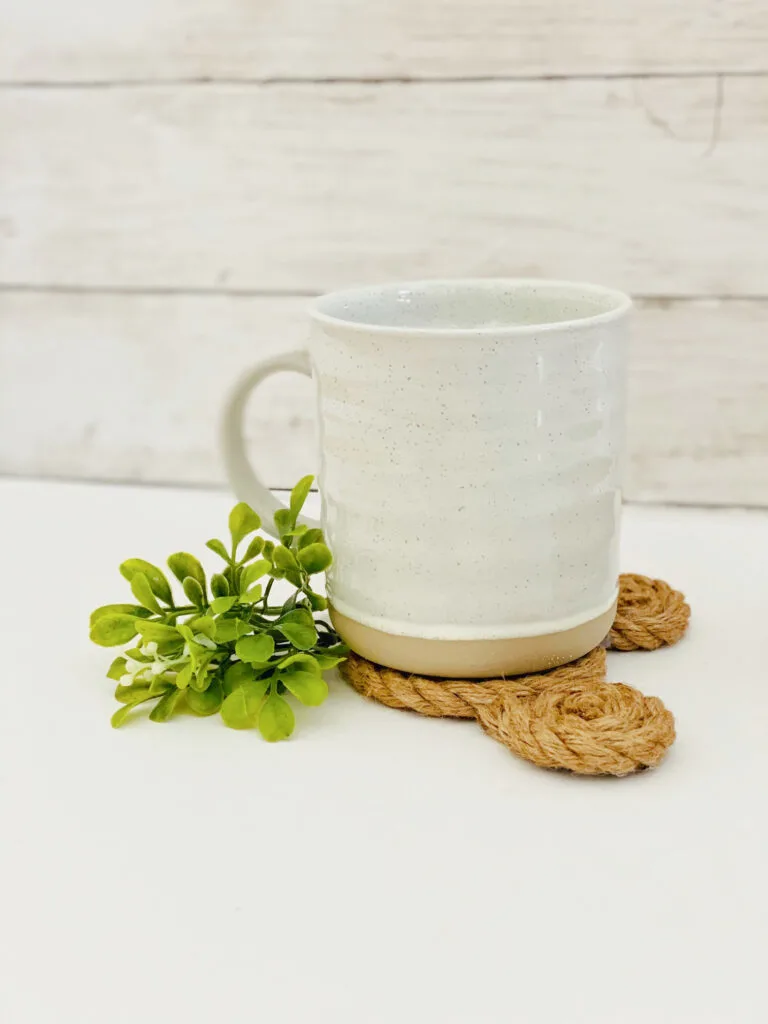 Want to make Minnie Mouse coasters instead? Simply glue a small bow in between the ears.
Be careful to glue to the top of the head, though, so that the knot of the ribbon doesn't sit underneath the coffee mug. Otherwise it can tip over.
DIY Mickey Coasters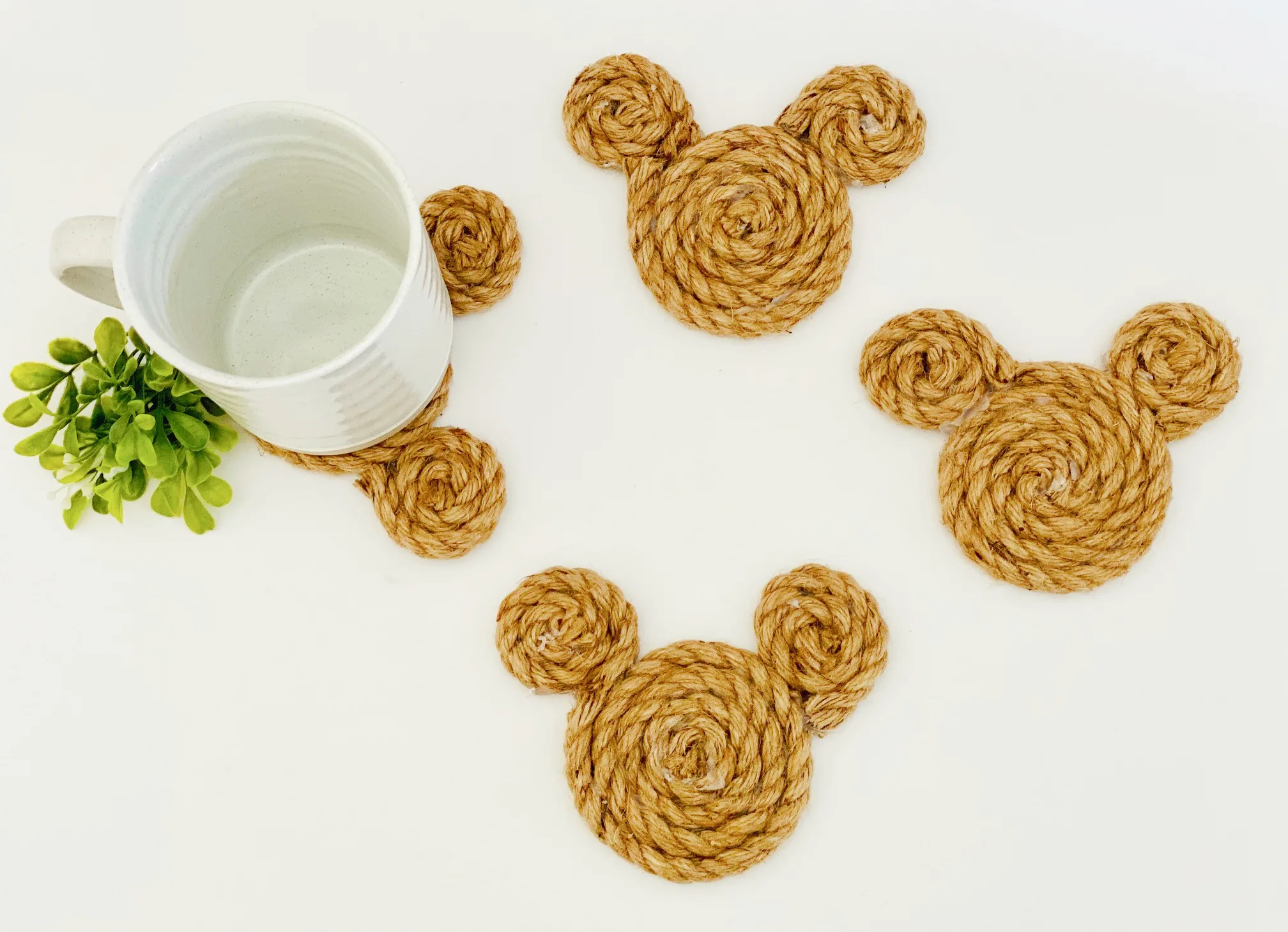 Use Dollar Tree rope to make these cute farmhouse Mickey Mouse coasters to start your day off with Disney magic!
Materials
2 packs of Dollar Tree nautical jute rope
Instructions
To make a set of 4 coasters, cut four 24-inch pieces of jute rope. Cut eight 8-inch pieces of rope, as well.
Apply a line of hot glue on one section of a 24-inch section of rope. Do not apply to the entire piece of rope all at once, because the glue could dry by the time you get to the end.
On a flat surface, start to curl the rope around itself. Make a small circle in the middle that is tight with no gaps, then continue to curl the jute roper around that, making a bigger circle. Add hot glue to the section that you are ready to glue together. Repeat the process for all four Mickey heads.
Do the same process with each of the 8 inch sections, which will become Mickey Mouse ears.
Once all of the pieces are dry, it's time to make the Mickey Mouse head shape. Using hot glue, attach two ears to one Mickey head shape. Let dry completely.

Notes
I bought two packs of the rope (8 feet each) and I had plenty of rope leftover after this project.
If you liked how easy it is to make these Mickey coasters, you might like our other Disney DIY crafts, including: