If you are wondering what to bring to Volcano Bay water park at Universal Studios in 2023, this helpful list will tell you what you can take and what you are not allowed to bring in.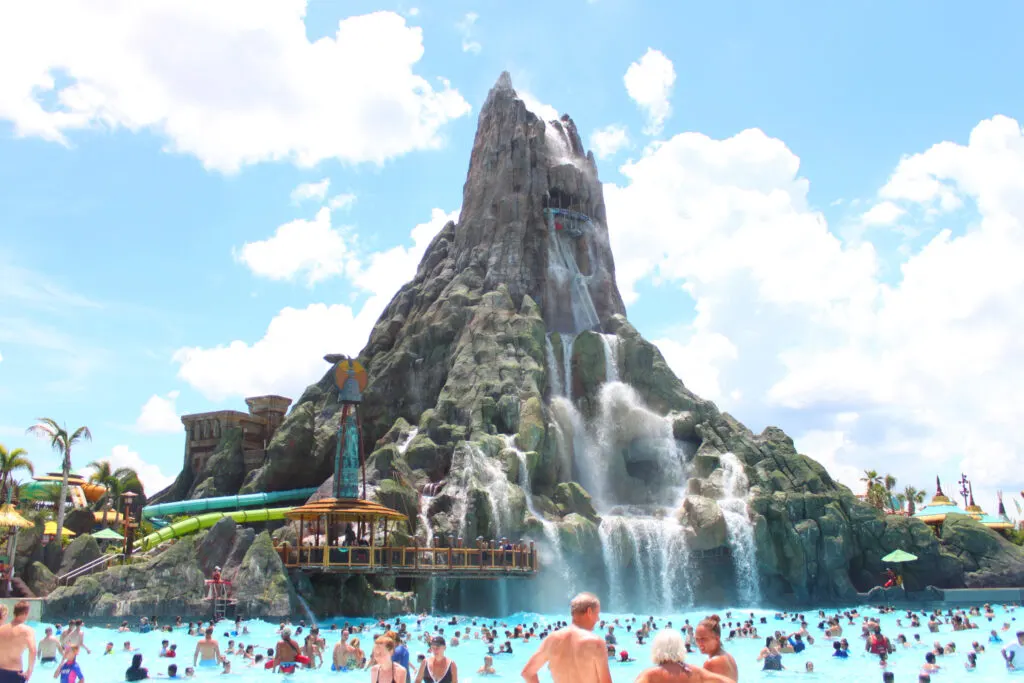 Please keep in mind that you cannot park at Volcano Bay. You will be walking or taking a shuttle bus and will need to carry everything with you.
Towels
Do you need to take towels to Volcano Bay?
Volcano Bay does not provide towels. You can rent them, but they cost $6.
Not only are they expensive, they are also tiny and scratchy! Unless, of course, you get the plush towels provided in a Volcano Bay cabana.
You can bring hotel towels to Volcano Bay (just remember to bring them back to the hotel or you will be charged).
Towels can be bulky to pack or carry. Consider getting Turkish towels that are thin, lightweight, highly absorbent and dry very quickly. Also available on Walmart.com.
Waterproof Phone Lanyard
If you are going to be worried about leaving your phone on your beach chair while enjoying the rides, then a waterproof phone lanyard is a smart thing to bring.
You can carry your phone with you in the water when you use a waterproof phone pouch. Lanyards are not allowed on all rides, such as the fastest rides, but you can bring them on quite a few, including the lazy river.
This allows you to keep your phone handy for pictures, too, if you are not bringing a waterproof camera.
Waterproof Fanny Pack
If you want to bring more than just one phone, consider a waterproof fanny pack. These waist bags allow you to carry several phones, or a variety of items such as your phone, wallet, snacks, sunscreen, etc.
Again, you won't have to be worried or stressed about the safety of your valuables at your beach chair while you are waiting in line for rides.
We have a big list of the best waterproof fanny packs to help you decide which is the right one for you.
Personal Locker
Are there lockers to use at Volcano Bay? Yes. They come in three sizes, and cost from $10-20 to rent for the day.
Do you need to use a locker? No. Lockers can be inconvenient to use at Volcano Bay because they are only in a few locations, they cost money to rent, you need to go back and forth to the locker all day long, and they don't hold that much stuff.
If you are worried about your phone and wallet, but don't need to store bigger things, consider bringing a personal locker. These small lockers can store valuables at your beach chair. Just put your phone, cash, wallet and other items in the container, close it and lock with your personal code, and then attach with the cord to your beach chair.
FYI: There have been some reports of security not allowing in personal lock boxes, however others have been able to bring it in on the same day fine.
Sunscreen
Sunscreen is not provided, unlike at Discovery Cove, so be sure to bring your own. Otherwise you'll need to pay the high prices at the Volcano Bay gift shop.
Be sure to choose waterproof sunscreen.
While waterproof sunscreen sprays and lotions are great, they are hard to travel with because they exceed TSA's liquid regulations. A waterproof sunscreen stick can be easier to travel with.
This is also another great item to have Walmart or Amazon deliver to your hotel with other purchases.
Lip Protection
Many people forget to bring sun protection for their lips, too. You don't want dry, cracked lips so bring a tube of lip balm with sunscreen.
We also like this lip sunscreen with aloe and Vitamin E.
Normal lip balm doesn't provide sun protection. In fact, it could be worse by applying oil to your lips and then being in the harsh rays of the sun!
Polarizing Sunglasses
While not completely necessary, you will find that normal sunglasses might not be as effective against the harsh reflecting light off of the water.
A pair of polarized sunglasses made for water sports can help prevent squinting all day in the glare. Especially if they have a plastic frame so they won't rust being exposed to water and sweat.
We like these polarized sunglasses made for men and women. If you want a really inexpensive pair that you don't have to worry about losing, Walmart has some great choices.
If your sunglasses don't come with a strap, consider getting one so that you don't lose your sunglasses in the water.
Water Shoes
Can you wear water shoes at Volcano Bay? Yes, you can wear them throughout the water park and on some rides.
Walking around on a hot sidewalk in the blistering sun isn't fun. And, walking around on hard concrete all day long without any protection can really be uncomfortable too.
Water shoes and water socks are great to wear because you don't have to remove them when in the water or on some water rides. You do need to remove them on Maku Puihi, Ika Moana and Ohno.
If you don't want to buy water shoes, at least bring a pair of flip flops. You can wear flip flops to the rides, but must leave them in the cubbies provided outside of the ride.
Volcano Bay does have water misters on the sidewalk in a lot of places, so you could find relief from the hot sidewalk while walking. But they are not located everywhere.
Related Posts for Fun Water Experiences in Orlando:
Wide Tooth Comb
For anyone with long hair, you know how tangled and knotted your hair can get after swimming in chlorinated water. Bring a large, wide tooth comb to get the tangles out of your hair easily.
Extra Change of Clothes
If you are staying at a Universal hotel nearby, especially Cabana Bay Beach Resort or Aventura which are within walking distance, you might not bring an extra change of clothes.
However, most people won't want to sit on the Universal buses or in their car with wet clothes. Bring a complete change of dry clothes to change into after your water park day. Remember to bring everything, including underwear, bra, socks, shoes to wear, a shirt and shorts or pants.
Volcano Bay does have shower facilities so you can take a shower before leaving and put on dry clothes.
There are changing rooms at Volcano Bay so that you can easily change your clothes in privacy.
Related Post: Volcano Bay Rain Policy
Refillable Water Bottle
As long as it is not a glass bottle, you can bring in your own refillable bottle and use Volcano Bay's water refill stations.
We're not big fans of using tap water at refillable water stations in Orlando because sometimes it tastes weird and I'm always concerned about the cleanliness and safety of a lot of people sticking their bottle to the refills and using them. We use refillable water bottles with a filter that removes viruses, bacteria, bad taste, chlorine, etc.
Check out our complete list of the best refillable water bottles for theme parks.
Bottled Water
A maximum of 2 liters of bottled water is allowed to be brought into Volcano Bay. Bring water to save money during the day (because you will drink it!).
If you don't bring bottles of water with you while traveling, you can have bottled water delivered to most resorts in Orlando via Walmart.com and it will still save money on what you'd pay in the theme parks.
Refillable Universal Cups
If you have Universal's refillable cups, you can bring those into Volcano Bay!
Small Cooler
If you like having cold drinks on a hot day, then bring your own small cooler to keep things cool. A soft-sided insulated bag is allowed.
However, trying to find a small bag that fits Universal's allowed dimensions is almost impossible. It's best to get a bag that is as close as possible to the size requirement and just don't overstuff it. Security has been known to allow bags around that size to be allowed, even if they are an inch or so off. But there is no guarantee.
This bag is a great size if it's not filled completely, leaving an inch of space to squish down at the side.
Keep in mind, the size of your soft-sided cooler cannot exceed 8.5″ wide X 6″ height X 6″ deep, according to Universal's rules.
You can store the cooler under your beach chair out of the sun, or rent a locker to keep it in.
Food and Snacks
Can you bring snacks to Volcano Bay? Yes, you can. But with some exceptions.
While you can't bring a picnic lunch to avoid paying for costly food (see other things not to bring below), you can bring some food and snacks to save on money and avoid waiting in lines.
Keep in mind that food must not need refrigeration. The snacks must be pre-packaged. Check out our list of 269 Non-Perishable Foods for Travel for some great ideas of what to bring.
For food allergies, medical needs and baby food, there are exceptions to the snack policy.
Large Bag
All of these little things add up! Avoid the stress of trying to hold onto items or keep them in your pockets by bringing a large bag.
There are waterproof bags that are great for going to a water park, the beach, etc. These bags can be used in a variety of ways after your Volcano Bay visit.
Any bag will work, whether a backpack, large canvas bag, etc. Even a plastic grocery bag helps you keep everything organized!
You might want to use the same bag for Volcano Bay that you use in the theme parks. These are the best bags for Universal Studios that will fit into the free lockers at each attraction.
Bag For Wet Clothing
Unless you are wearing your wet swimsuit out of the park, you will need a bag to put your wet clothes in.
Any large plastic bag, even a grocery store bag, will work.
However, I like bringing wet bags with me to store wet clothes. They can seal up, which is important if you are flying or traveling the next day without enough time for your clothing to dry out. You don't want to pack wet bathing suits and clothes in your luggage with just a grocery store bag protecting it! Everything will get damp and smell like chlorine.
Wet bags are nice because they seal up and keep the moisture in. Plus, they work a little bit like packing cubes, keeping everything organized and laying flat for easy packing.
Also available on Walmart.com
Waterproof Camera
There's a lot of moments that you don't want to forget when enjoying the day at Volcano Bay! If you love taking photos and video of the family and your friends, then be sure to get a waterproof camera.
GoPro cameras are allowed (the latest models are waterproof without any other housing needed).
However, GoPros are pretty expensive if you don't already own one. The prices for waterproof cameras are not as high as they used to be! These are well under $100. (They are also available on Walmart.com)
Just know that you are limited in what rides you can bring a camera on. You might only be able to use the camera on the lazy river and at the beach, not on rides.
What to Wear to Volcano Bay
You can wear anything to the water park, as long as it does not violate the Volcano Bay dress code.
In fact, you do not have to wear a swimsuit to Volcano Bay! You can wear normal clothing.
Or wear a water shirt (also known as a rash guard) instead of a bathing suit top to prevent getting sunburned.
Keep in mind, there are limitations to the types of clothing you can wear on rides. Nothing that is loose fitting, or with zippers or buckles, will be permitted on water slides.
There are no official swimwear rules for Volcano Bay. At this time, you can wear whatever type of swimsuit or other clothing that you would like.
However, there are still Universal Orlando clothing rules that could be enforced at this theme park, at the discretion of security, which includes:
No clothing likely to create a danger, incite a disturbance or displaying offensive language or content
No clothing or accessories that represent someone as emergency personnel or a Universal team member
What Not to Bring
There are many things that are not allowed in Volcano Bay. These include the following:
Tubes
Inflatable pool toys
Water guns
Kids lifejackets They have life jackets for kids for free use.
Glass containers This includes water bottles, drink bottles, food containers, etc.
Open containers Don't get a big cup of soda at your hotel and try to bring it into Volcano Bay. It needs to have a screw top lid.
Alcohol
Hard-sided coolers
Soft-sided coolers larger than the dimensions posted above
Folding chairs
Umbrellas
Picnic lunches
Foods that require refrigeration or heating (unless medically necessary or for babies)
Decorations (unless in a cabana)
Portable speakers
These are the essential items to bring to Volcano Bay. With a little preparation before your visit, you can have an amazing day of fun in the sun at the water park.