If you are flying into central Florida, you might be wondering how to get from the Orlando airport to Universal Studios. There are many different types of transportation from Orlando Airport to Universal Studios. Which one you choose depends on your budget and how much time you have.
There are not any free ways to get to Universal Studios from either of the two Orlando area airports, so be prepared to pay for transportation. However, costs of transportation range from $2 to $95 depending on the type of luxury you want.
Closest Airport to Universal Studios
There are two airports near Universal Orlando:
Orlando International Airport (MCO)
Sanford International Airport (SFB)
The closest airport to Universal Studios Florida is MCO. It is approximately 16 miles from the Orlando airport to Universal Studios.
You must be very careful when booking your flight to make sure that you are choosing the correct airport. Many people book the wrong airport and then are confused when they can't get their rental car or airport transportation that they have arranged.
Some airlines will call the Sanford International Airport the Orlando airport on their website. This is common if the airline does not fly into MCO and only flies into SFB. Such as Allegiant Airlines.
The Sanford International Airport is 36 miles from Universal Orlando. This is where many of the budget airlines fly into.
Wondering how to get to the theme parks once at Universal Orlando? Stay at one of the hotels with shuttles to Universal Studios.
Uber or Lyft
Uber and Lyft offer some of the most convenient and flexible transportation options between the airport and the theme parks.
You will not need to schedule transportation or make reservations before you land at the airport. Which can be very convenient if there are flight delays or if you are not in a rush to exit the plane and hop on a shuttle.
(The Orlando Airport has some great shopping and dining, including awesome gift shops from each of the theme park chains and Kennedy Space Center.)
Shopping at the airport is just one of the 38 Best Universal Studios Tips and Tricks that we share. Be sure to see them all!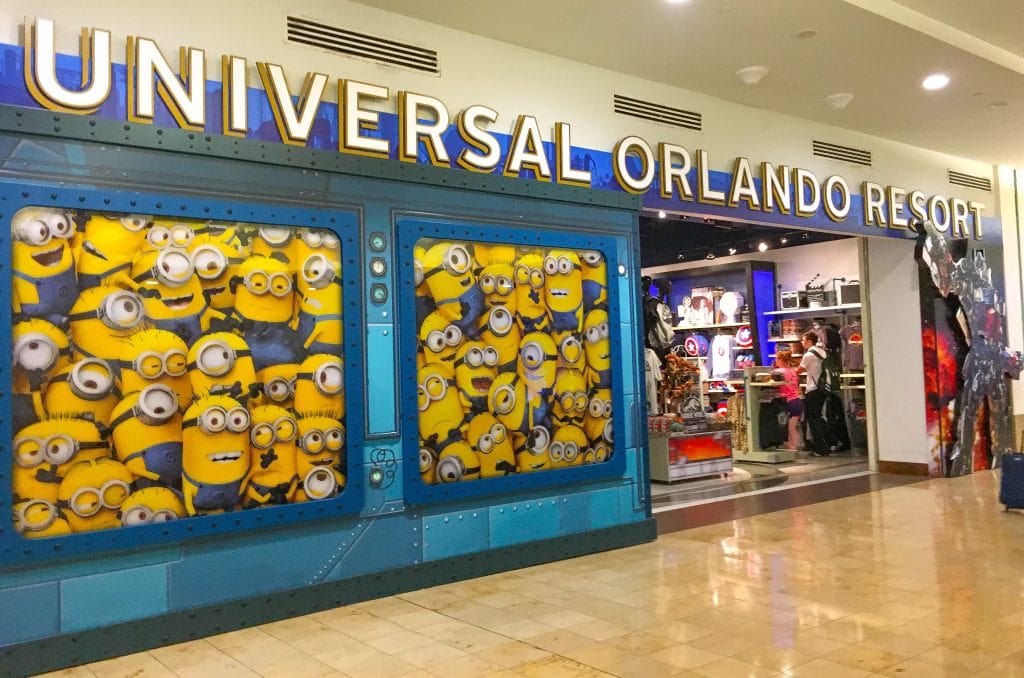 How Much is an Uber from Orlando Airport to Universal Studios?
In December 2022, the average cost of an Uber from the Orlando airport to Universal Orlando is $25-40. Larger vehicles and more luxury rides will cost more.
From Sanford International Airport to Universal Orlando, the average cost is $50-60.
You can use the Uber Price Estimator to find average costs. Or login to the Uber app and put in a route from MCO to Universal Studios to see what the current cost is. Just be careful not to actually book it!
Related Post: 5 Best Ways to Get Between Walt Disney World and Universal Studios
Universal Orlando Airport Shuttle
Universal Orlando Resort offers their SuperStar Shuttle from MCO to Universal Orlando Resort Hotels. The shuttle can either be round-trip or one-way.
After arriving and collecting your baggage, you will then go to the Hotel Transportation Desk in Terminal A at the airport to be met by a Universal Orlando representative. The shuttle looks like a normal Mears bus. Don't expect a lot of Universal theming.
Round-trip tickets start at $39 for adults and $29 for kids age 3-9.
One way tickets are $23 per adult and $18 for kids age 3-9.
No additional charges per piece of luggage.
Call (800) 711-0080 for more details and to book.
The Universal Studios shuttle cannot be booked if you are not using a Universal Orlando Vacation Package or staying at an official Universal Orlando Resort hotel. Which means you cannot book a ride from the airport to the theme parks if you are not staying at one of the hotels on Universal Orlando property.
There is no Universal Orlando SuperStar Shuttle from SFB.
Private Shuttle Companies
Mears
Mears Transportation is the most well-known private transportation company in Orlando and central Florida. In fact, if you are familiar with Disney's Magical Express, that transportation was operated by Mears, not Disney.
Mears Connect is the shuttle service from Orlando Airport to area hotels. It is a shared shuttle service and you will likely be sharing the van with other parties.
Mears runs 24 hours a day. They do not have surge pricing, which is common with Uber and Lyft. All tolls and surcharges are included in the price.
Wheelchair accessible transportation is available.
Mears Connect Standard can be boarded from the ground transportation area of the airport. You will board the shuttle and wait until it is full with other passengers. Then you will potentially make several stops on the way to your destination, depending on where everyone else needs to be dropped off.
*Keep in mind, you can spend a LONG time on this shared shuttle as you go to all of the stops and pick up passengers. It can be very frustrating depending on when your stop is. There might be 30-45 minutes on the shuttle before you even start driving to the airport.
Mears Connect Express costs more, but guarantees that you are the first stop in the shuttle. You will still be sharing the shuttle with other passengers (potentially), but you will get to your destination immediately, without having to wait on the other stops.
This service costs $250 round-trip for 4 people, $55 per additional person.
As of July 2022, Mears Connect does not offer drop off locations at official Universal Orlando Resort Hotels. If you are staying off property, this might be an option for you.
Mears Connect Standard round-trip is $32 per adult and $27 for each child age 3-9. One-way transportation is $16 per adult and $13.50 per child.
If you are traveling solo or as a couple without a lot of bags, then a shuttle system might not be the cheapest transportation option. In that case, consider Uber or Lyft.
Towncar / Limo / Vans
Hiring your own sedan, van or other means of transportation allows you one-on-one service with the driver. Often, the drivers will meet you as soon as you get to the baggage area and help you with baggage and navigating the airport.
If you are traveling with small children who will need a booster seat or car seat and you are not bringing your own, these private companies often provide them free of charge to use during your transportation.
You will need to make a reservation ahead of time. The nice thing is that if there is a flight delay, your driver will be able to track your flight and still meet you at the airport when you land.
One of the best things about hiring private transportation is that you can often ask to have a stop at Publix or another grocery store. This can save you a lot of money on supplies during your vacation!
Sunny Airport Transportation
Sunny Luxury Transportation will provide shuttle service up to 5 passengers from either MCO or SFB airports to Universal Studios.
These prices are for a total of up to 5 people:
One way from MCO to Universal Studios: $69 plus tip
One way from SFB to Universal Orlando: $104 plus tip
They will allow a grocery store visit along the way to your destination. Booster seats and car seats are complimentary to use upon request.
Skippy Transportation
Prices from Orlando Airport to Universal Studios start at $89 for up to five passengers with Skippy Transportation. More passengers increases the cost.
There is no charge for the use of booster or car seats.
Tiffany Towncar
Another provider of transportation from the airport to the tourist areas is Tiffany Towncar. They offer a complimentary 20 minute stop at Publix to pick up groceries as part of their price package.
Rates from MCO to Universal Orlando start at $95.
Mears
Mears offered chauffeured cars, SUVs, vans and limos from the airport to your hotel or other destination.
Related Posts:
Taxi
Mears offers taxis and taxi vans.
Taxis are available without need for a reservation. They will be lined up at ground transportation.
Bus
Let's face it, there are not a lot of great public transportation options in Orlando. If you are traveling outside of the theme parks, don't expect buses or monorails to get you where you want to go easily or quickly.
Until the new Brightline train is available from the Orlando Airport to the theme parks (expected in 2025), there is only the bus available through LYNX.
You can take a bus from the Orlando Airport to Universal Studios. It will take over an hour and cost $2.
There are a few different bus routes that can be taken. The shortest is to take the #11 bus to The Florida Mall and then transfer to the #37 bus to go to Universal Studios.
If you go to the The Florida Mall, it's a great place to go shopping and visit Crayola Experience before catching your connecting bus!
Keep in mind that you will not be dropped off at a hotel with the LYNX bus system. You will still need to walk to your destination, which could be a considerable walk depending on where you are staying. Factor in the heat of Florida, frequent afternoon rainstorms and potentially sub-par sidewalks and this isn't an easy transportation option, however it is the cheapest.
Rent a Car
You can rent a car for use during your Orlando vacation. Or just to get from the airport to the hotel, if your hotel has a car rental location.
For instance, AVIS rental car has a location in Universal's Dockside Resort. You could rent a car from AVIS at the airport and drive to Universal, returning the car the same day or get your full 24-hours of use from it and return the next day.
The benefits of renting a car include:
Private transporation
Allows you to go to the grocery store, outlet stores, liquor stores, and any other shopping you want to do without hiring an Uber or Lyft to get you there
Earn frequent flier points or other loyalty points through membership programs
However, you will need to be comfortable driving from the airport to your destination in Orlando traffic (and there can be a lot of traffic!).
There are tolls to pay along the way, so those will increase the cost. Budget around $2.25 for tolls. You will need to have U.S. currency cash to pay these tolls, preferably coins.
You will also need to pay parking fees at your resort if you keep the car overnight.