Is Shrek part of Disney or Universal? If you are a fan of the ogre, you will want to know which theme park franchise to visit while in Orlando or California.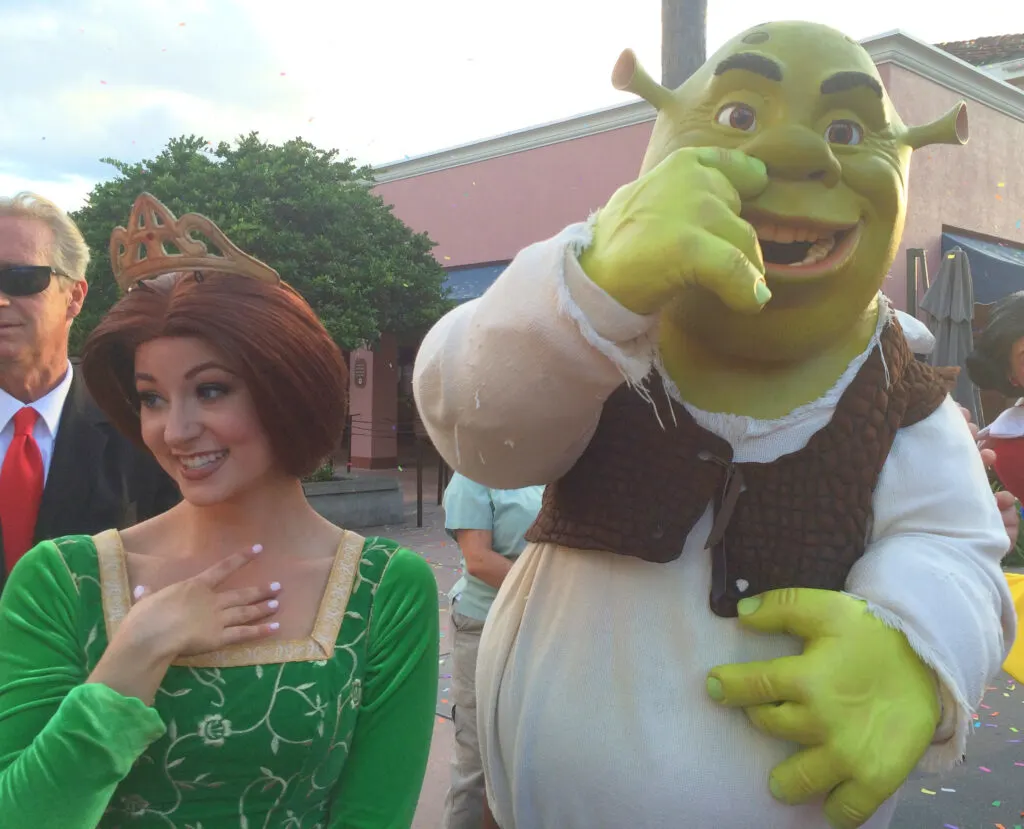 Is Shrek Part of Universal or Disney?
Shrek is part of Universal. DreamWorks produced the Shrek films and is owner of the Shrek franchise.
How is DreamWorks related to Universal Studios?
DreamWorks Animation is owned by NBCUniversal, an acquisition that was announced on August 22, 2016. The parent company of NBCUniversal is Comcast Corporation.
Universal Studios is also owned by NBCUniversal. Therefore, Shrek is part of Universal.
The original Shrek movie debuted on April 22, 2001. The animated character is voiced by Mike Meyers.
Shrek 2 debuted in 2004.
Shrek the Third premiered in 2007 followed by Shrek Forever After debuting in 2010.
Where to Find Shrek at Universal Studios?
Universal Orlando
Shrek 4-D was a simulator ride at Universal Orlando Resort for 18 years. It closed on January 10, 2022.
The ride is just one of the many Universal Studios rides that were closed to make way for newer attractions.
According to Universal Orlando Resort, nearly 75 million guests enjoyed the show during its nearly two decade run.
You can see what the ride and building looked like in this YouTube video below:
The interior of the former building is being renovated to house the new Minions Villain-Con experience.
Shrek can currently be seen in parades at Universal Orlando Resort, including mini-parades and the holiday-time parade at Universal during Christmas.
Meet and greets with Shrek, Fiona and Donkey are often found inside the Universal Studios theme park at Shrek's Swamp Meet in KidZone next to DreamWorks Destination, but not guaranteed.
Shrek merchandise can be found at Universal Studios.
However, you might want to purchase some Shrek merchandise beforehand at Walmart or Amazon to save money.
Universal Hollywood
Shrek 4-D was an attraction at Universal Studios Hollywood, as well.
The show closed on August 13, 2017.
First opening on May 23, 2003, Shrek 4-D operated for 14 years.
See vintage footage of the show in the YouTube video below:
The Kung-Fu Panda Show replaced Shrek 4-D at Universal Hollywood.
Can I Find Shrek at Disney?
No, Disney and Universal are different companies.
You will not find Shrek at Walt Disney World or Disneyland.
Related Posts: